Mizuki Shigeru Road in Tottori Prefecture: A Guide to enjoying the World of "GeGeGe no Kitaro"
The "Mizuki Shigeru Road" (水木しげるロード), which runs from JR Sakaiminato Station in Sakaiminato City, Tottori Prefecture to the "Mizuki Shigeru Museum", is full of bronze Yokai (Japanese monsters) statues. There are Yokai that have jumped straight out of the world of the popular manga "GeGeGe no Kitaro". What's more, there is a total of 177 statues! This time, I will introduce how to enjoy such Mizuki Shigeru Road.

How to enjoy Mizuki Shigeru Road: Photo spots & Yokai Stamp Rally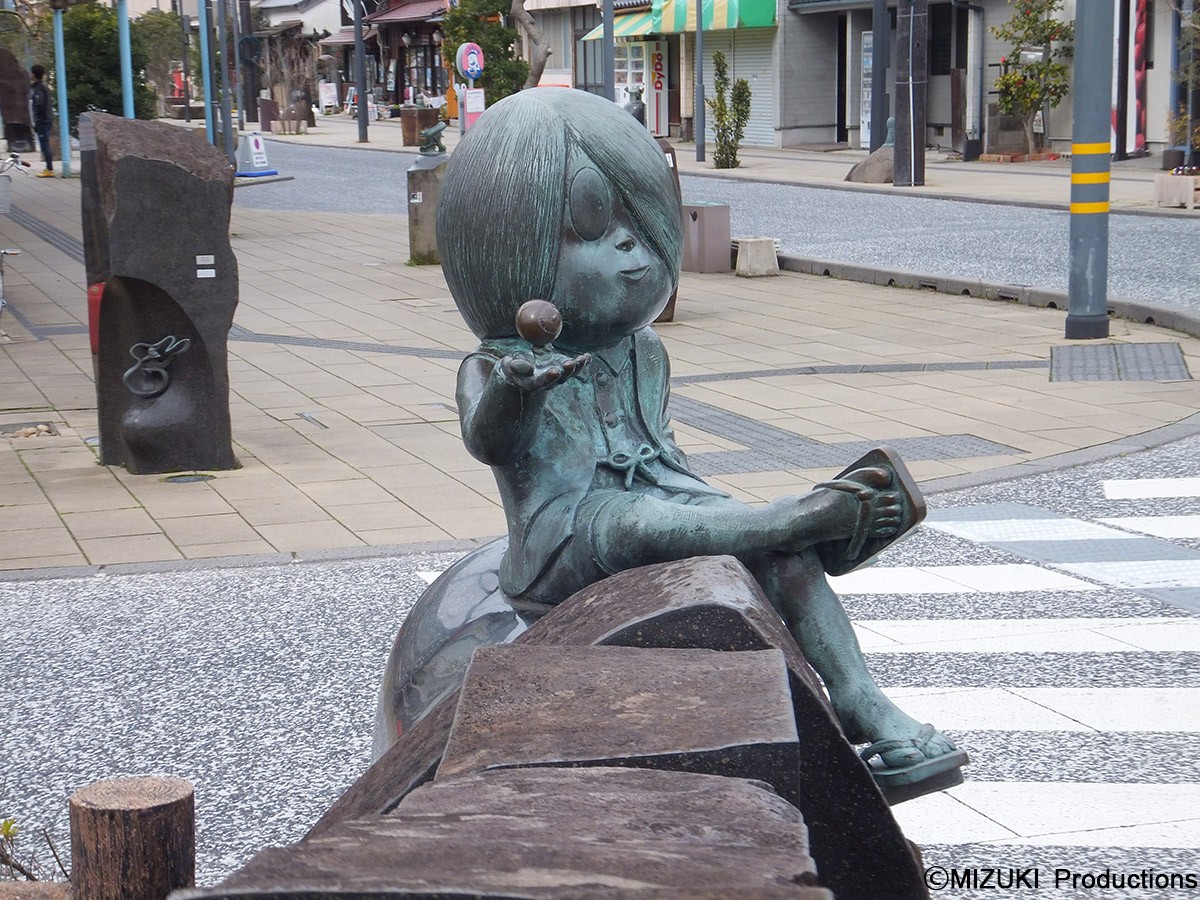 Mizuki Shigeru (水木しげる) is a Japanese manga artist from Sakaiminato. He is also known as the "guru of Yokai manga", as he has produced many hit yokai manga, including "GeGeGe no Kitaro."

Along the 800-meter "Mizuki Shigeru Road" from JR Sakaiminato Station to the Mizuki Shigeru Museum, there are bronze statues of monsters associated with the themes of each of the five zones. As of 2022, the total number is 177 - thanks to the large-scale renewal in 2018, the number has increased more than seven times from the original number at its birth. There are many photo spots that are perfect for taking commemorative photos, so let's take lots of pictures.
When you exit JR Sakaiminato Station (nicknamed "Kitaro Station"), you will see the beginning of Mizuki Shigeru Road in front of you. Say hello to the bronze statues of the author Mizuki Shigeru, Kitaro, and Nezumi-Otoko in "Shigeru Mizuki-sensei Shippitsu-chuu" (水木しげる先生執筆中 - Writting in Progress by Shigeru Mizuki) in front of the station and set off into the world of Yokai. Then, at the nearby JR Sakaiminato Station Park, the World Yokai Conference is being held. Since you are there, how about participating as a human representative?


Kappa Sanpei, Kappa, and Azuki Arai are relaxing at the "Kappa no Izumi" (河童の泉 - Kappa Fountain) on this street. Mixed with the Yokai, you can also see Akuma-kun, a swimming Nezumi Otoko, and a Kitaro who became manneken boy.

In addition, there are bronze statues of Yokai from all over Japan, including familiar ones from GeGeGe no Kitaro such as Sunakake Baba, Neko Musume, and Ittan-Momen. You can interact with the Yokai to your heart's content.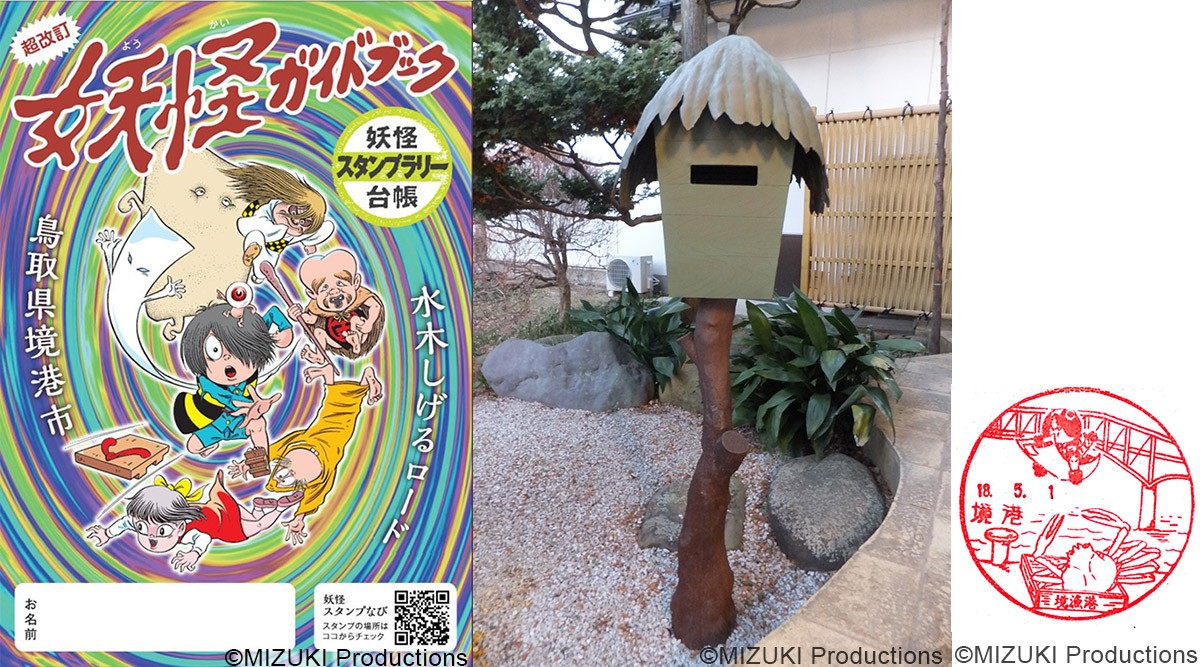 The "Yokai Stamp Rally" (妖怪スタンプラリー) is a place where you can leave these memories other than photos. Purchase a "Yokai Guidebook" (妖怪ガイドブック) at the Sakaiminato City Tourist Information Center in front of JR Sakaiminato Station or at a shop on Mizuki Shigeru Road. While checking the map, collect 35 stamps from shops along the street and complete the mini picture book of youkai.

Also, if you want to send a Yokai postcard as a souvenir to yourself or a friend, we recommend using a Yokai post that has a Yokai postmark stamped on it. You can send souvenirs unique to Mizuki Shigeru Road.
Mizuki Shigeru Road

Address: From JR Sakaiminato Station to Mizuki Shigeru Museum
Access: Take the Hama Loop Bus from Yonago Kitaro Airport and get off at the "Kyu-NTT-mae" (旧NTT前) bus stop, then walk for about 2 minutes. Or a short walk from JR Sakaiminato Station (Kitaro Station)
Official site: http://mizuki.sakaiminato.net/lang-en/
Yokai Shrine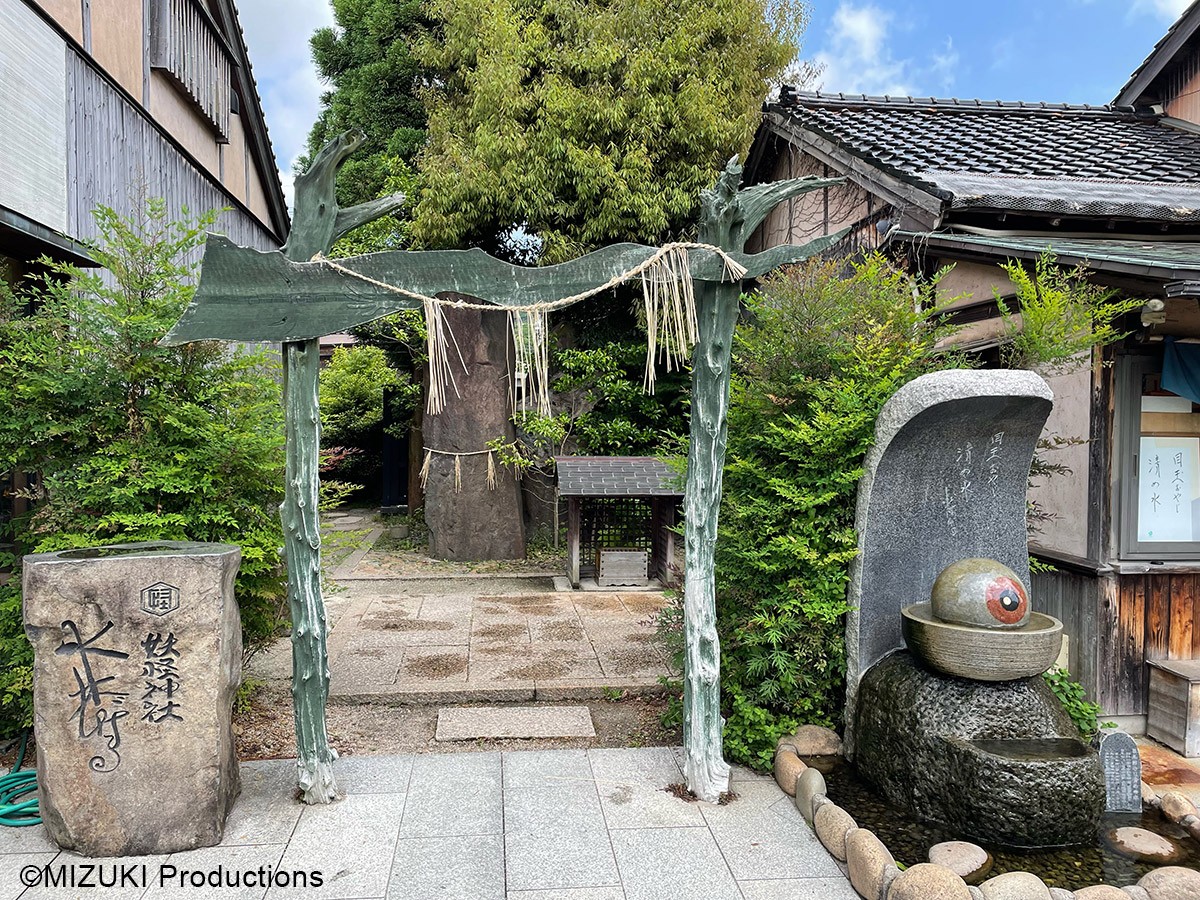 "Yokai Shrine" (妖怪神社 / Yokai Jinja) is located in one corner of Mizuki Shigeru Road. Next to the Yokai Ittan-Momen-shaped torii gate there is a granite stone called "Medama Oyaji Kiyome no Mizu" (目玉おやじ清めの水), which is slowly turned by the force of the spring water.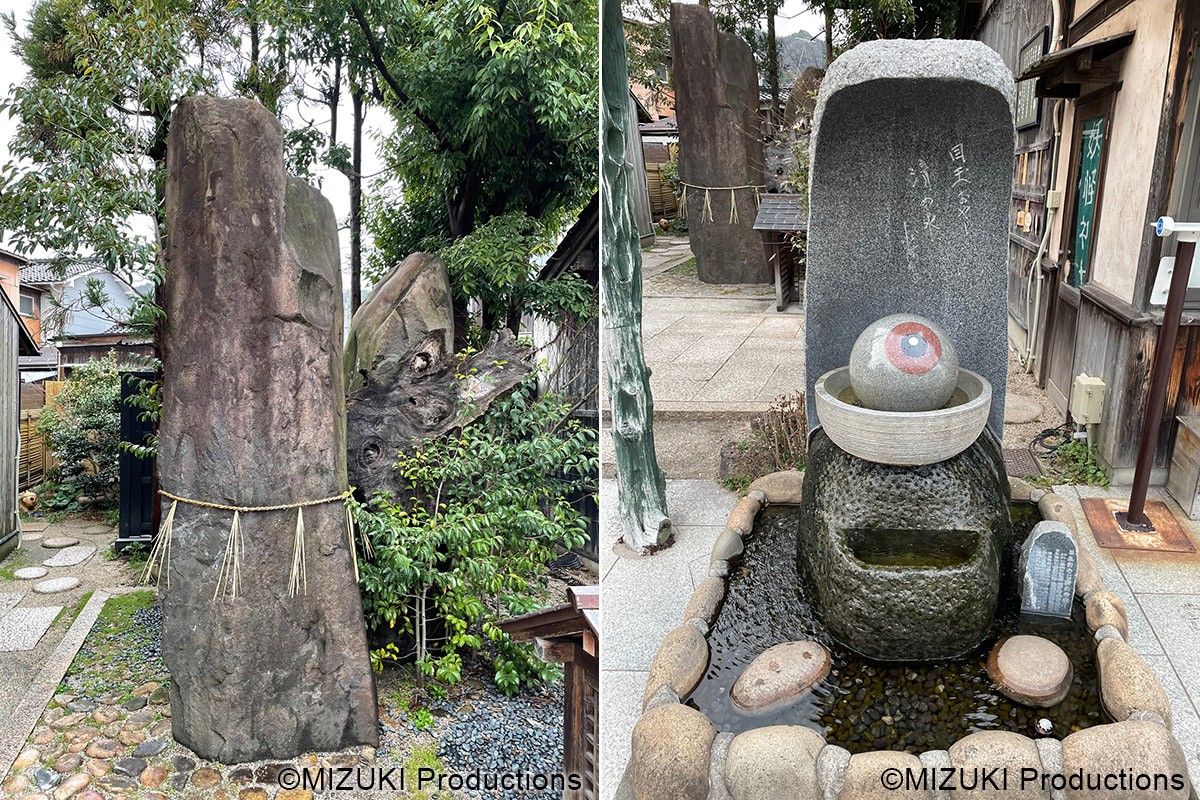 The object that emits an eerie atmosphere of Yokai energy is the object of worship that is made up of a 3-meter high black granite stone and a 300-year-old zelkova tree. Another one is "Medama-ishi" (目玉石). It is an object said be a part which fell off as Mizuki Shigeru pointed at and said "Here's (for) the eyeball" when he was setting up the object of worship.


The votive plaques (ema), amulets (omamori), and omikuji at Yokai Shrine are all Yokai-themed. Among them, we especially recommend the "Karakuri Yokai Mikuji", which is carried by five kinds of Yokai such as Kitaro and Neko Musume from GeGeGe no Kitaro. It depends on your luck which character will carry the result for you!

Yokai Shrine
Mizuki Shigeru Museum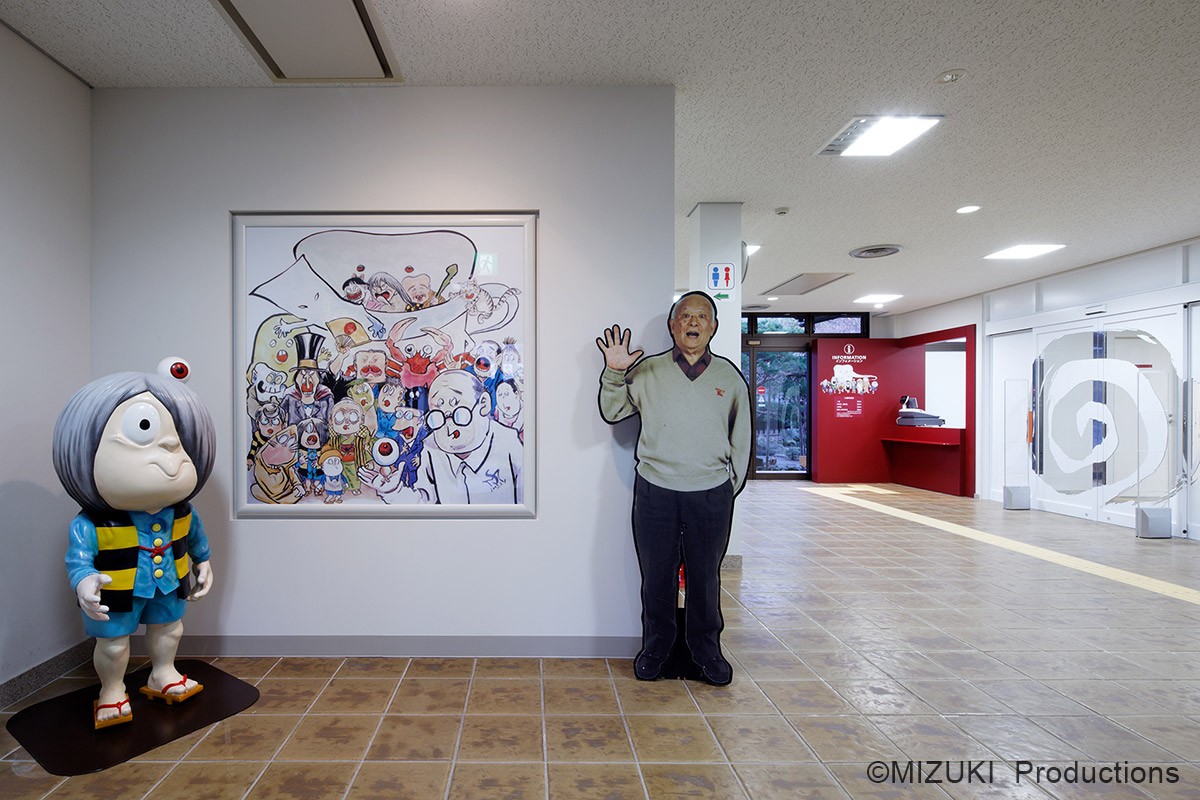 "Mizuki Shigeru Museum" (水木しげる記念館 / Mizuki Shigeru Kinenkan) is located about 10 minutes on foot from JR Sakaiminato Station. Shigeru Mizuki, Kitaro, and Medama Oyaji will welcome you at the GeGeGe Entrance (ゲゲゲの玄関). First of all, let's go to "Shigeru Mizuki Manga World" (水木しげる 漫画ワールド) where selected masterpieces and big hits are introduced together. You can rediscover the charms of the works and the author.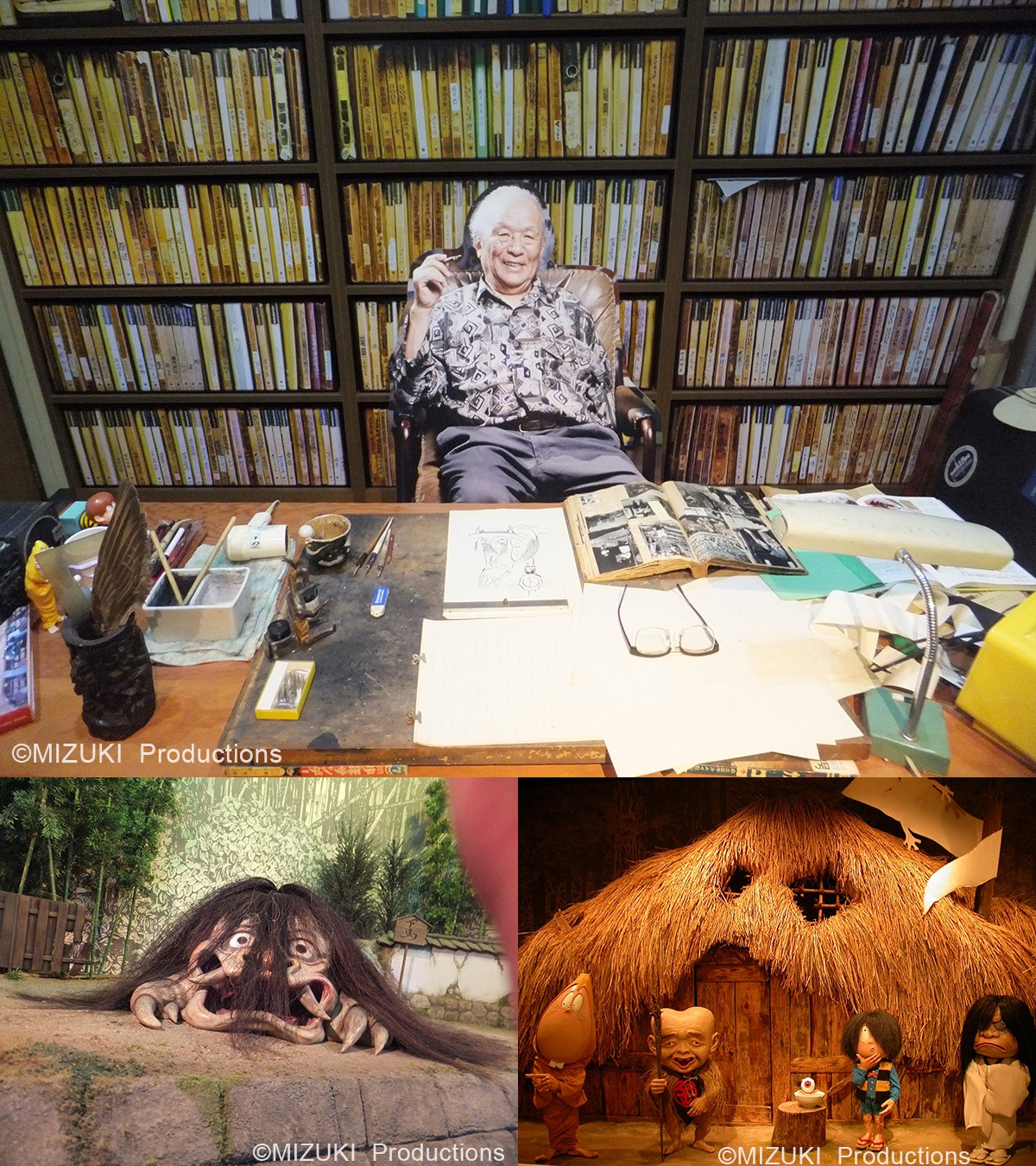 Next, enter "Mizuki Shigeru's Work Room" (水木しげるの仕事部屋), which recreates his workplace in Chofu City, Tokyo. Next door is a Yokai apartment along with the Yokai who live there. Furthermore, in "Nonnonbaa to Ore" (のんのんばあとオレ - Grandma Nonnon and I), you can see the Yokai hidden in everyday life that influenced the young Mizuki Shigeru. Here, you can also see Grandma Nonnon telling stories about Yokai to the young Mizuki.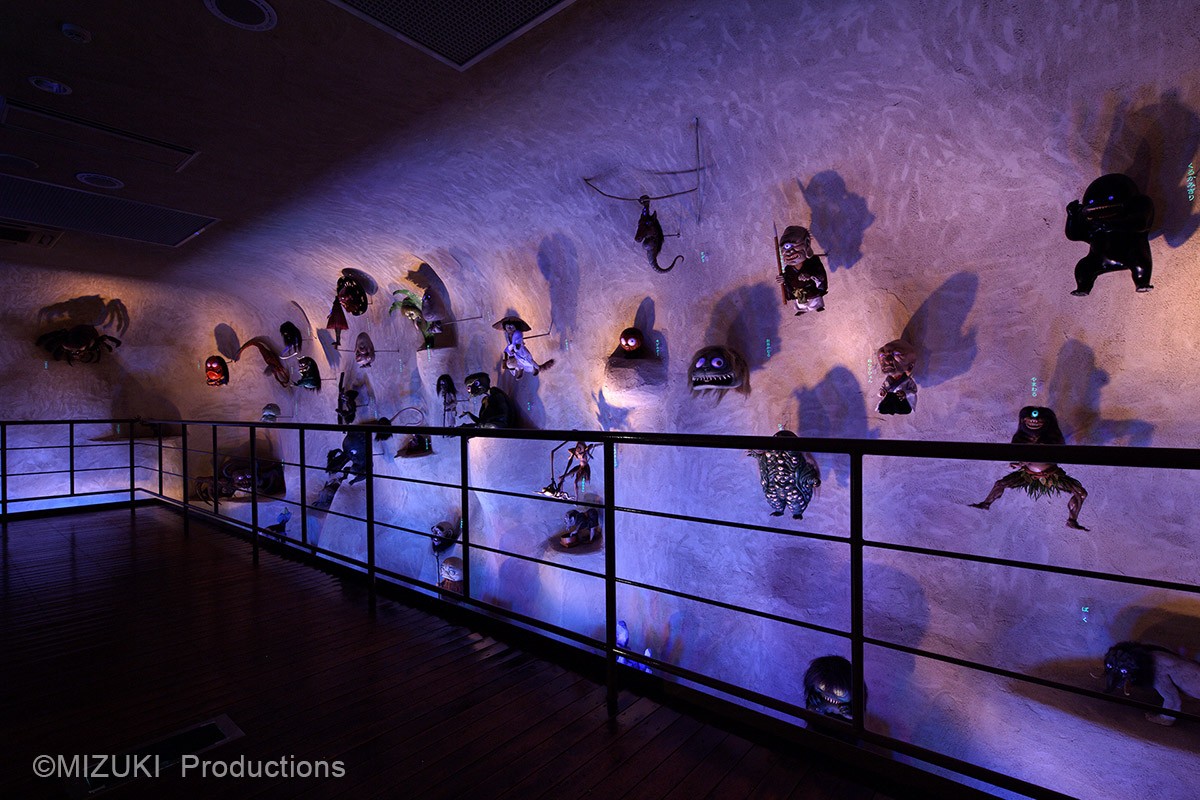 If you go further, you will come to the "Yokai Cave" (妖怪洞窟) where you can meet many monsters that seem to start moving at any moment. If you use the audio guide that supports English, Chinese, etc., you might be able to get to know the Yokai more deeply. And after enjoying the world of Yokai, go to the museum shop. You can buy pin badges and postcards that you won't find anywhere else but here.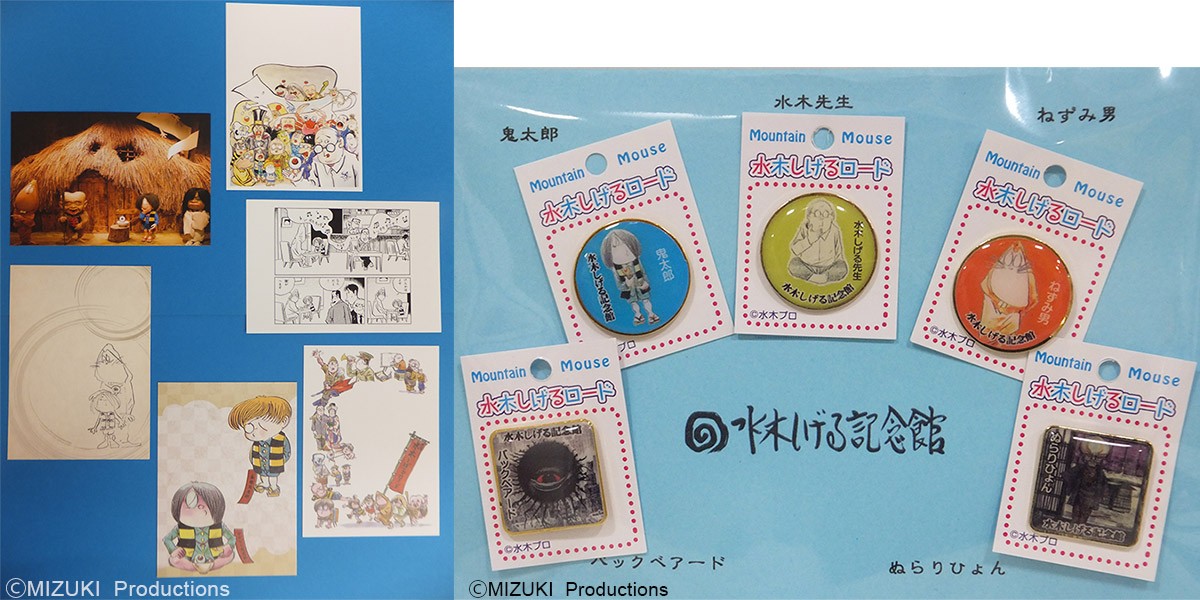 Mizuki Shigeru Museum
Address: 5 Honmachi, Sakaiminato City, Tottori Prefecture
Opening hours: 09:30-17:00
Closed: Open all year round
Fee: 700 yen for adults, 500 yen for middle and high school students, 300 yen for elementary school students
Night lighting performance of Mizuki Shigeru Road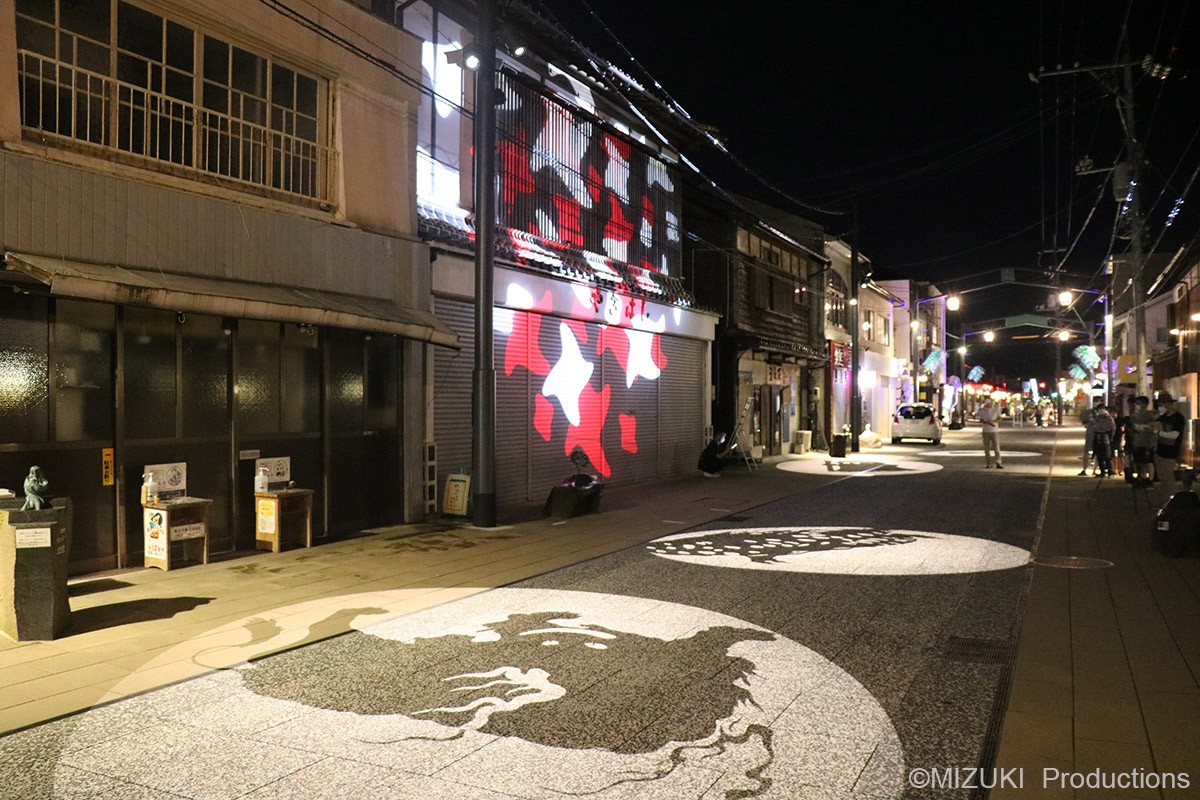 The Yokai of Mizuki Shigeru Road begin their activities in earnest every day at sunset. Bronze statues of Yokai become more suspicious under the light that changes color over time. Around the front garden of the Mizuki Shigeru Museum, shadow pictures of Yokai that move freely appear. This night lighting performance goes on until 10pm.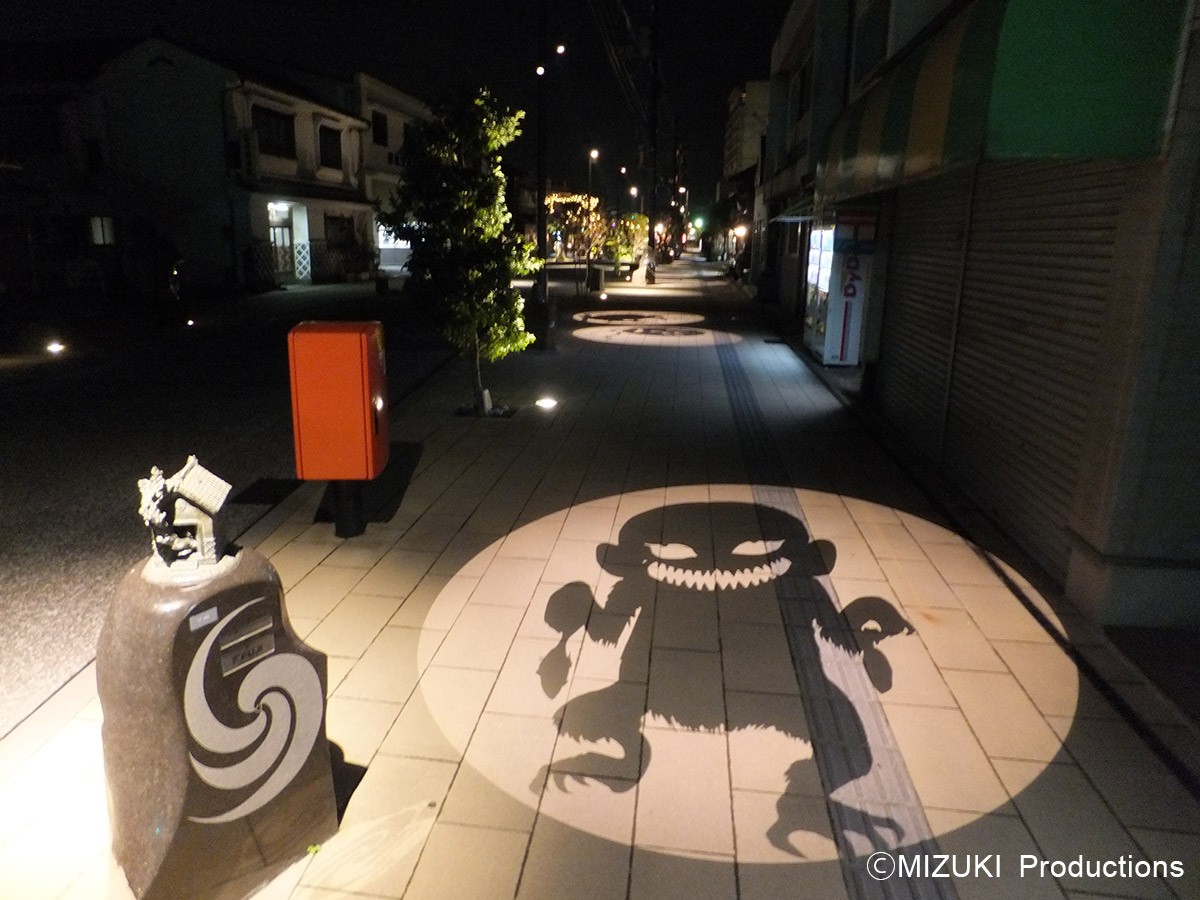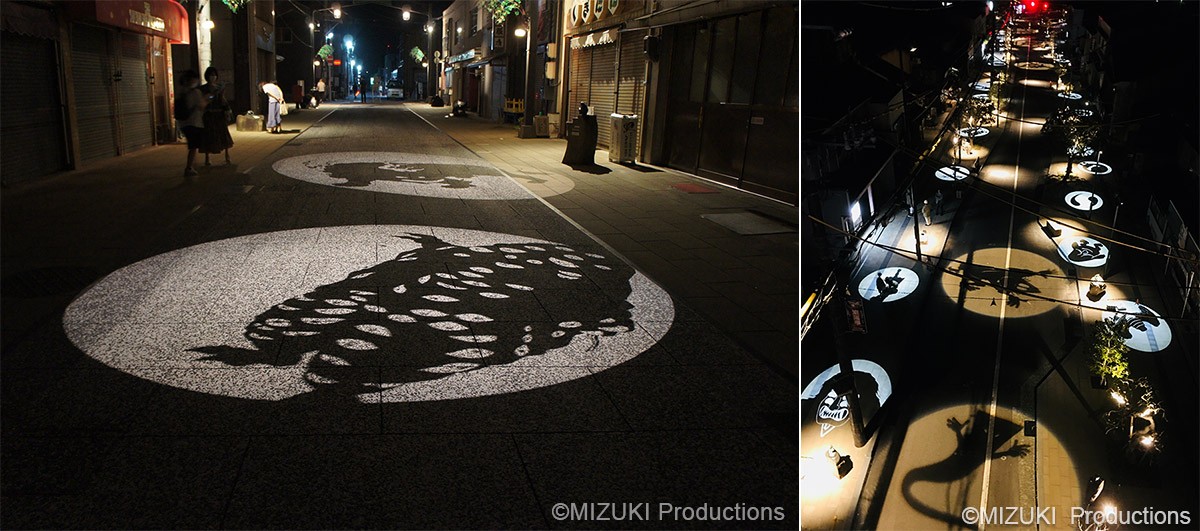 The color of the light up also changes with the season, and the shadow pictures also change depending on the season, such as the summer vacation version, the autumn-only yokai shadow pictures, and even the New Year's version. Why don't you come and meet Yokai that can only be met at night?

Yokai goods and gourmet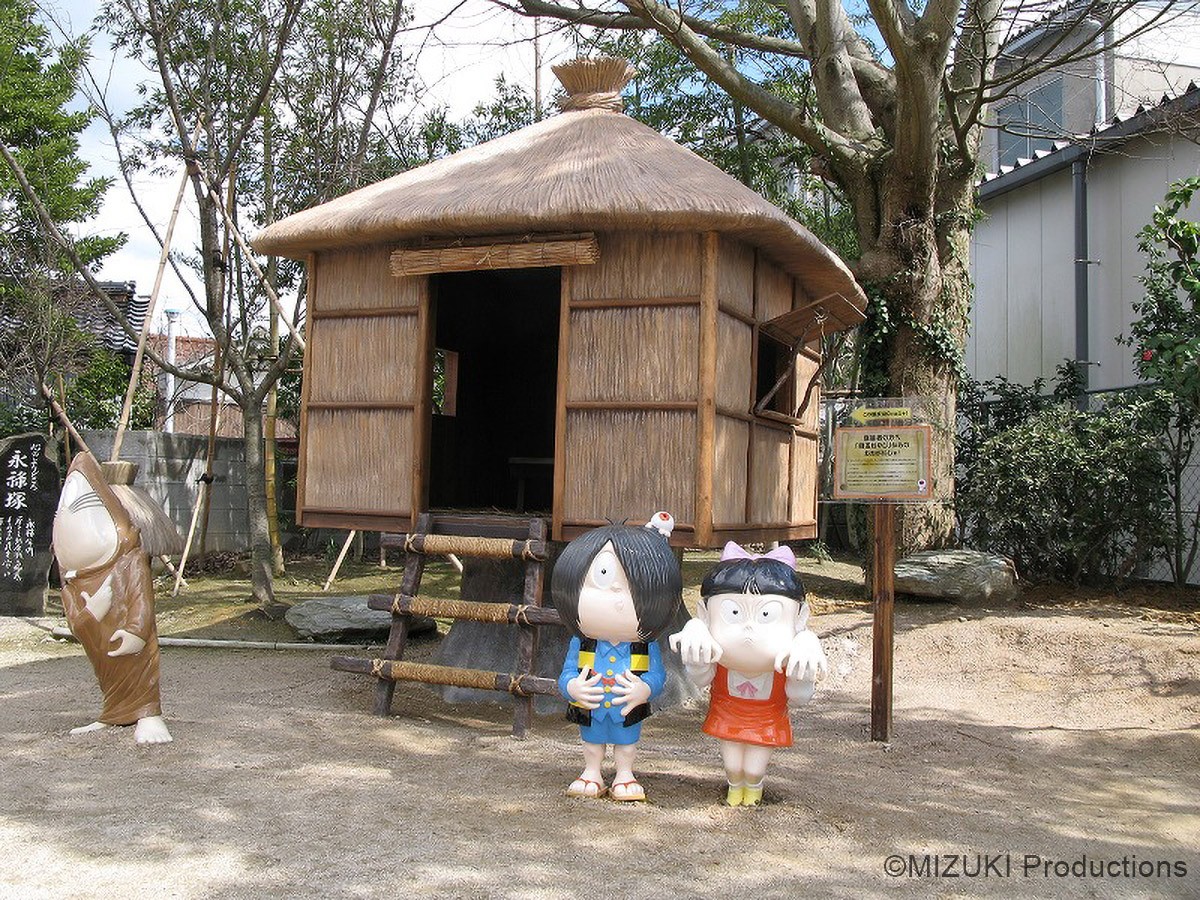 Mizuki Shigeru Road is lined with souvenir shops and restaurants, and there are gourmet foods such as "Yoka Medama Oyaji" that looks just like Medama Oyaji, Kitaro bread, and Ittan-Momen-yaki. In particular, you can enjoy shopping, light meals, and attractions at "GeGeGe no Yokai Rakuen" (ゲゲゲの妖怪楽園).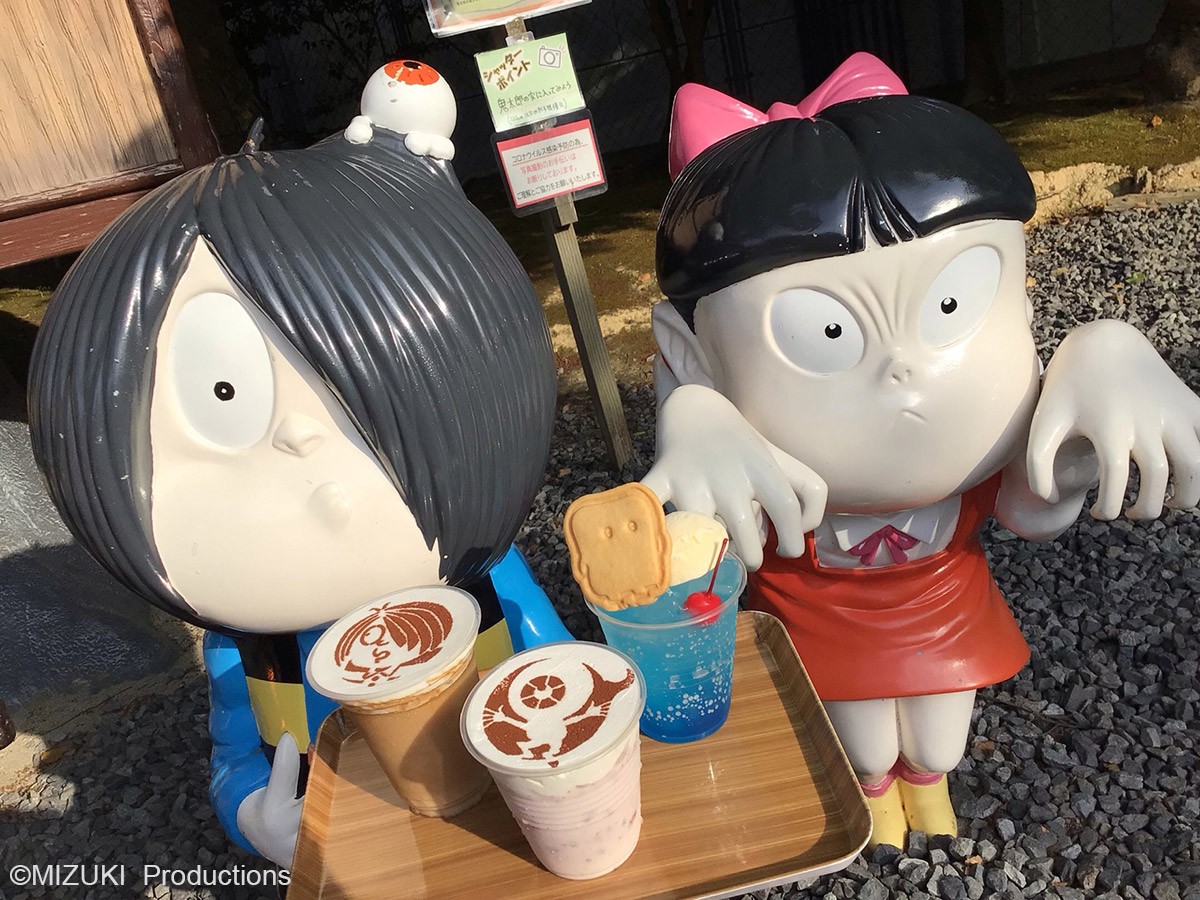 If you get tired from walking around, take a break with menus that you can only find here, such as the popular "Yokai Latte". There are also popular photo spots such as Ittan Momen playground equipment, Kitaro's house, and the giant "Gashadokuro".

GeGeGe no Yokai Rakuen
Address: 138 Eimachi, Sakaiminato City, Tottori Prefecture
Opening hours: 09:30-17:00
Access: Approximately 10 minutes on foot from JR Sakaiminato Station
Official site: https://www.yokairakuen.jp/
[Survey] Traveling to Japan
Recommend