Japanese Local Cuisine Reproduction Series ③: Iwate Prefecture: Morioka Jajamen (Spicy Noodles)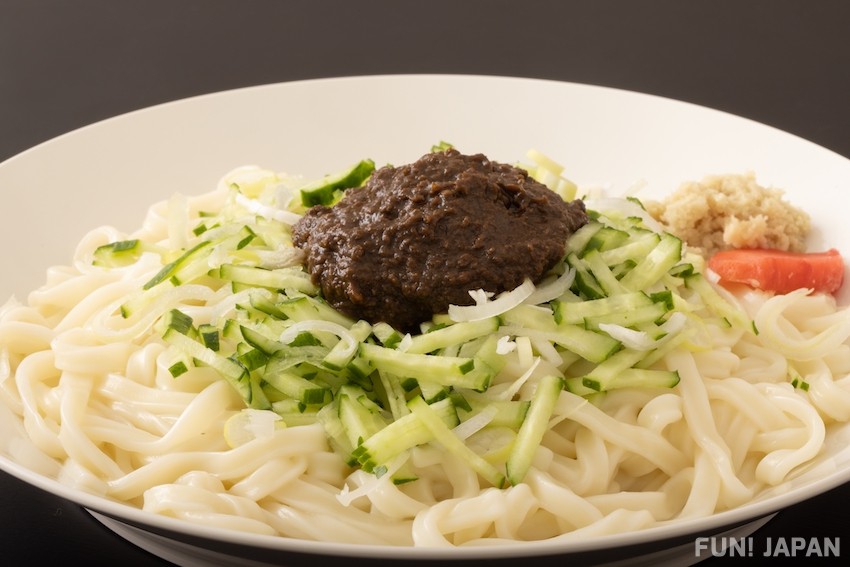 Jajamen (じゃじゃ麺) is one of the local Japanese dishes of Morioka City, Iwate Prefecture, and is one of the noodle dishes designated as "Morioka's Three Great Noodles" along with wanko soba and reimen (cold noodles). Regular jajamen includeds meat, but this recipe is a version that does not use meat so that anyone can enjoy it. In this article, we will introduce a delicious and vegetarian-friendly version of jajamen.

What is a Japanese local cuisine?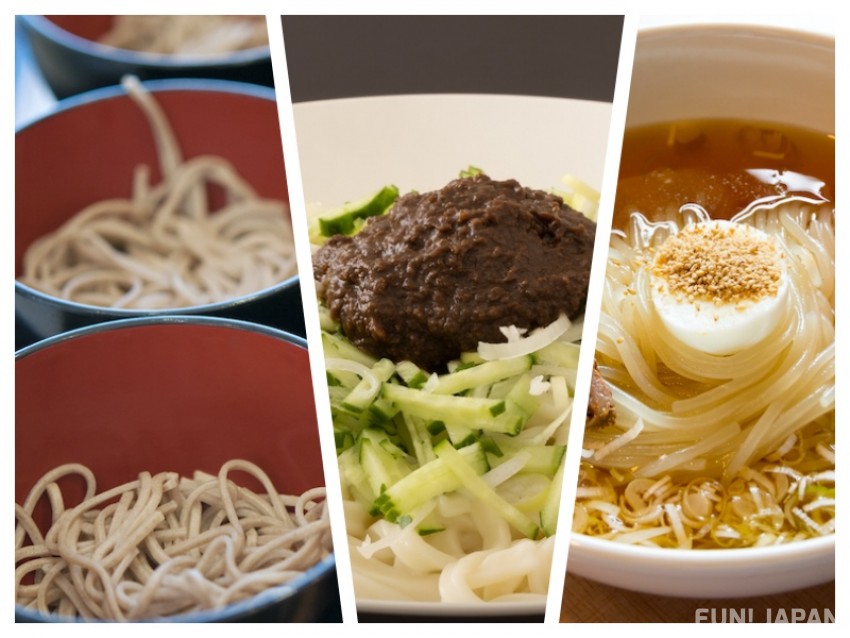 Local cuisine (郷土料理 / Kyodo-ryouri) refers to dishes suitable for the climate that have been eaten in a local area for many years by using regional products. Many of them are comfort food and are popular among Japanese for domestic gourmet trips.
Origin of Morioka jajamen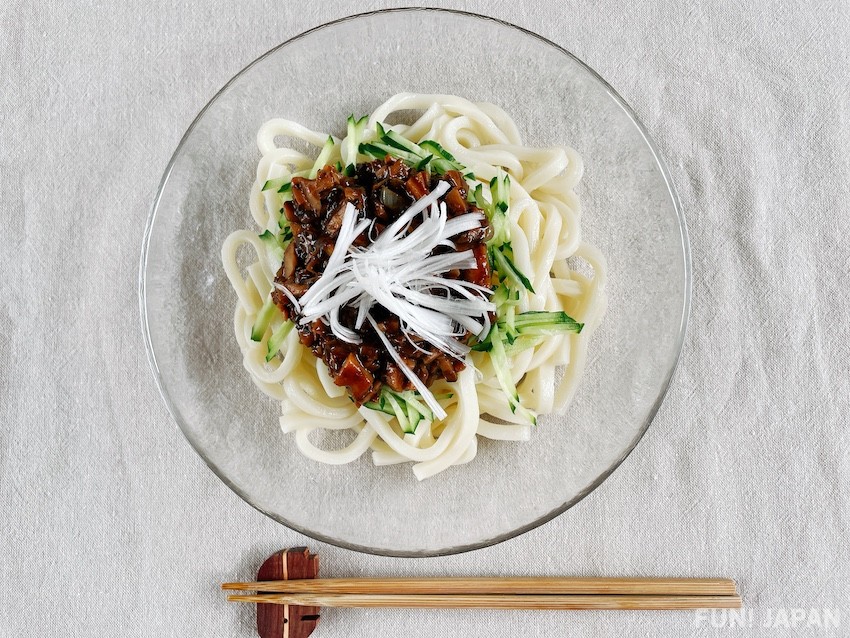 Originally, jajamen is said to be a dish that reproduces the Chinese home-cooked dish "jaajaamen" using ingredients available in Morioka.

There was a Japanese man who had lived in Manchuria, which is now northeast China, before the war. After he was brought back to Japan after the war, he started a stall in Morioka selling a noodle dish based on the meat miso noodles "jajaan mien" (炸醤麺) that he ate in Manchuria. At first, it was a gyoza stand. Around 1953, he started using the rest of the gyoza skin to make noodles, which were topped with meat miso and other ingredients and sold as "jajamen" (じゃじゃ麺). The current Morioka jajamen is said to have originated from Japanese ingredients that were modified to suit the tastes of the people of Morioka. The shop that started from such stall became Morioka reimen shop "PAIRON" (白龍, "White Dragon"), and now it is a super famous shop that almost everyone in Morioka knows.
Features of Morioka jajamen
Morioka jajamen is a local dish of the Morioka region of Iwate Prefecture, which is a noodle dish that is made by putting meat miso, cucumbers, green onions, etc. on top of boiled noodles and/or udon. Then you add grated ginger, grated garlic, vinegar or chili oil to your liking.

Unlike the general jajamen, Morioka jajamen uses flat udon-like noodles, stir-fried meat miso, and seasonings depending on your liking. The trick is to mix the ingredients such as meat miso and seasonings well with the noodles.
Morioka vegetarian jajamen ingredients for 2 people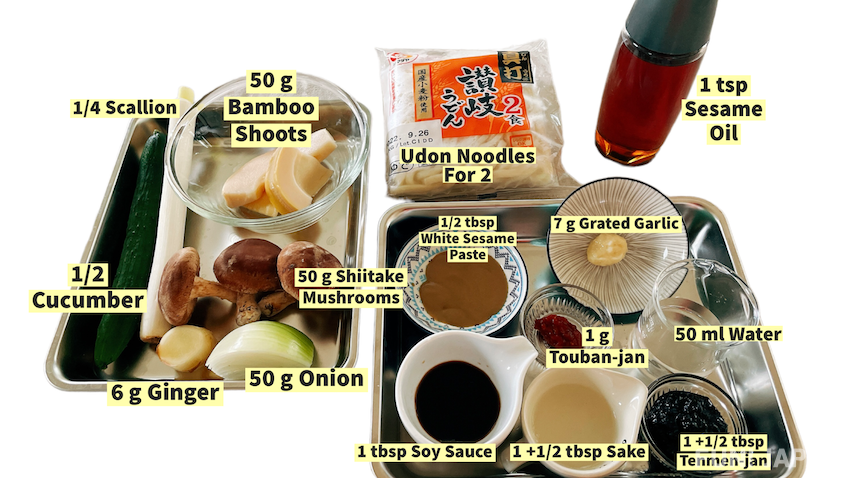 Udon noodles for 2 people
Cucumber 1/2 part
Scallion 1/4 part
Shiitake mushrooms 50g
Boiled bamboo shoots 50g
1/4 onion (50g)
1/2 piece of ginger (6g)
1 tsp (5g) of sesame oil
Combined seasoning:
Clove of grated garlic 7g 
Toubanjan sauce 1g
Tenmenjan sauce 1 & 1/2 tbsp
Sake 1 & 1/2 tbsp
White sesame paste 1/2 tbsp
Soy sauce 1 tbsp
Potato starch 1/2 tsp
Water 50cc
How to make Morioka vegetarian jajamen

Here is the video (with cc subtitles)👇👇👇

Cut the cucumber into strips. Cut the white part of the scallion into thin strips and soak in water. Chop the core of the scallion.
Roughly chop the onions and bamboo shoots.
Chop the ginger.
Remove the caps from the shiitake mushrooms and roughly chop them.
Mix seasoning ingredients in one same bowl.
Put the pot on the fire and heat it on medium heat.
Pour in the sesame oil.
Stir-fry the core of ginger and scallion.
Add onions when fragrant.
Add shiitake mushrooms.
When the shiitake mushrooms have softened, add the bamboo shoots and fry
Add combined seasonings.
Boil for a while until it's no longer watery.
Boil the udon. Let it cool then drain the water.
Place the udon noodles on a plate, then top with the cucumber, meat miso from step#13, and shredded scallion. Viola!
[Survey] Traveling to Japan