【Japanese hairstyle】Popular men's hairstyles in 2022 recommended by Japanese hair stylists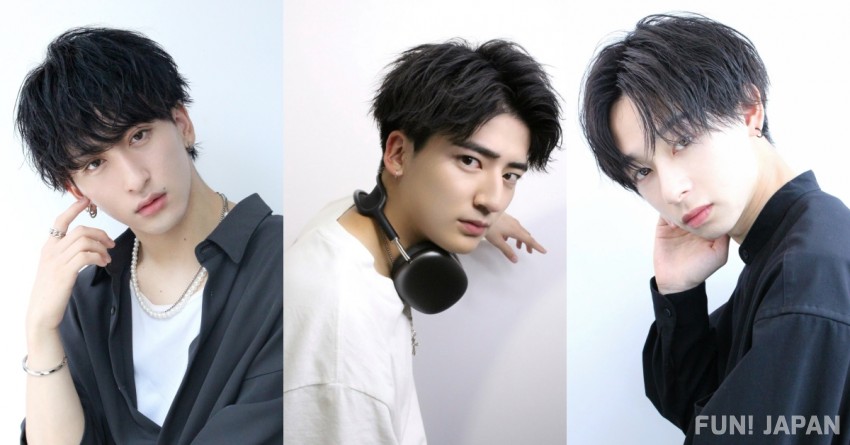 Guys, don't you ever think it's hard to order hairstyles?

Ever our own Rannyu Sensei is also one of the men who is always having trouble about hairstyles (there is also an anecdote that he couldn't go to the hair salon during the corona disaster and his hair was growing like a Yeti, causing an uproar in the company). Even if you have the ideal hairstyle, disaster could occur if you can't put it into proper words... After all, the safest thing to do is to show the image to the hair stylist in charge.

Even among our readers, there may be a lot of people who have an impression that Japanese people are very particular about hairstyles. So if you imitate Japanese hairstyles, you might become fashionable too. That being said, if you are worried about your hairstyle, this article is a must-see for you!

Trending men's hairstyles in 2022 recommended by Japanese hair stylists
If you're interested in Japanese culture, you're probably not just looking for tourist information, but also interested in cutting-edge fashion, trendy makeup and even hairstyles. (It's not uncommon for men to refer to the fashion and hairstyles of their favorite actors, like Takuya Kimura, Takeru Satoh, Masaki Suda...)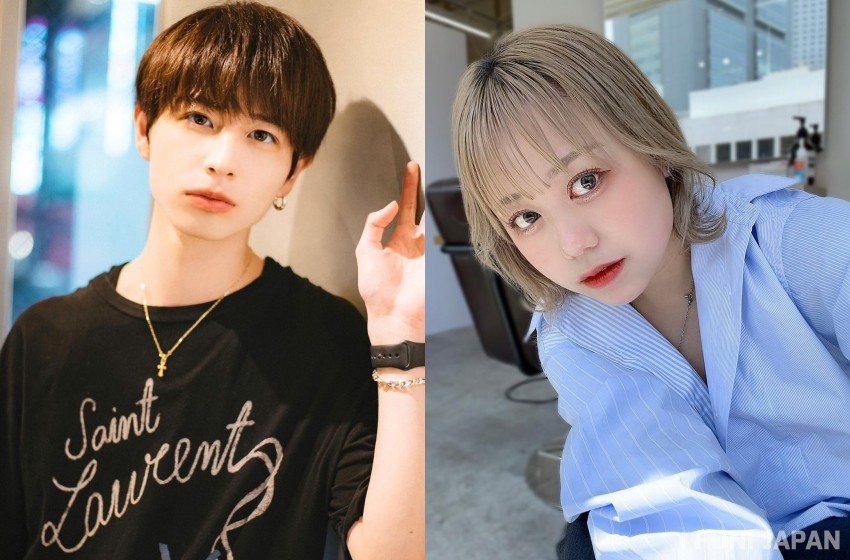 This time, we asked Keiya Iwamoto (left) and Manaka Goto (right), both active Japanese hairdressers, to explain the most popular men's hairstyles in Japan, from classics to trends, along with images for reference.

If you read this article to the end, your hair styling order will never fail!
Japanese men's hairstyle ①: Mushroom Haircut (Bowl Cut Style)
Easy-to-style mushroom haircut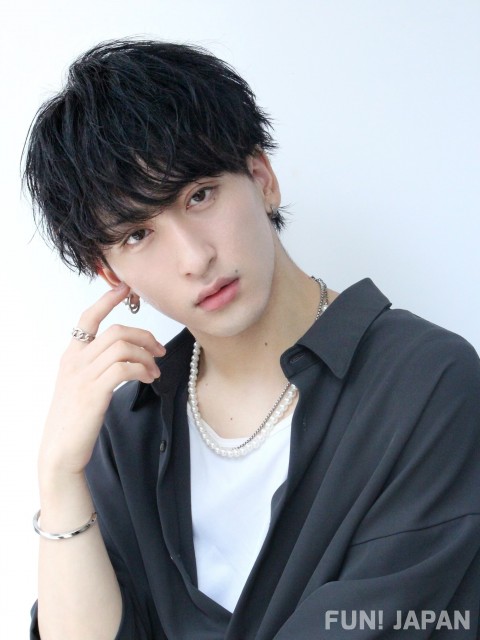 This classic hairstyle is called "Mash" (マッシュ) for short in Japanese because it resembles a round silhouette like "Mushroom - マッシュルーム / Ma-sshu-ru-mu". It's easy to match with any face type, so it's gaining national popularity.

Among the customers that Iwamoto-san and Goto-san are in charge of, the natural, easy-to-style mushroom haircut has the highest order rate. It's definitely the most popular hairstyle in Japan!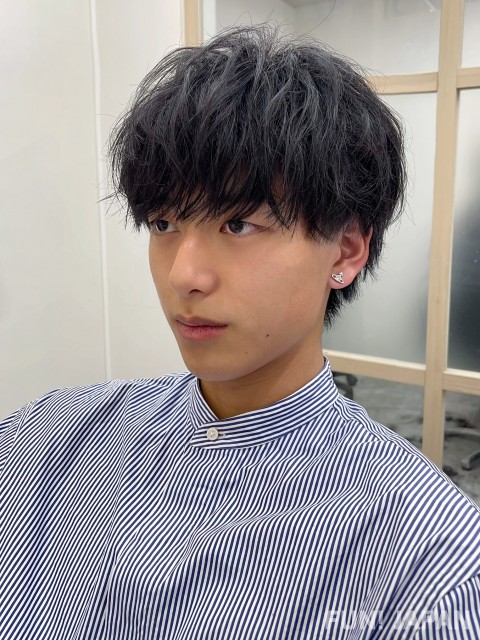 "I finished it with lustrous wax to make it look a bit sexy. The feature is that the neckline is slightly visible."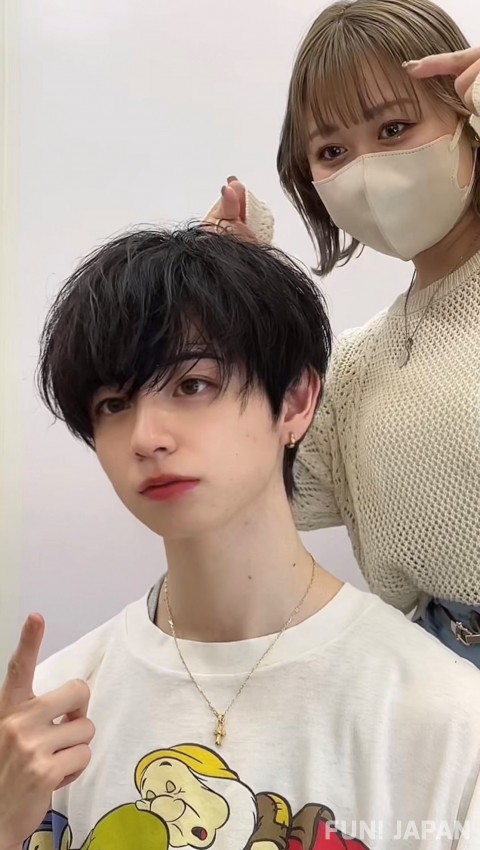 "Mushroom haircut is especially recommended to beginners as it can easily styled at home. The above styling is also finished with wax without any hair ironing!"
Japanese men's hairstyle ②: Short Hairstyles
For readers living in English speaking countries, the heavy mushroom hairstyle might seem uncomfortable under hot weather. If so, we recommend the cool short style introduced below.

Short hair with brushed up fringe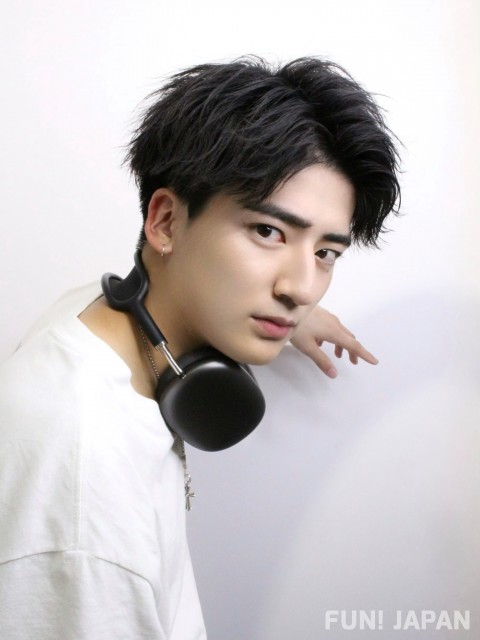 "This frizzled style is done by ironing the short hair style in reverse (*1), " 
With such curtain hair parted down the center, it creates a more three-dimensional effect and makes the shape of the head look better.

*1: Reverse: brushing up the hair backward from the crown. This makes the hair stand up better.
Japanese men's hairstyle ③: Tara-chan Hair
Another recommended style for men who prefer short styles is the "Tara-chan hair".
Tara-chan hair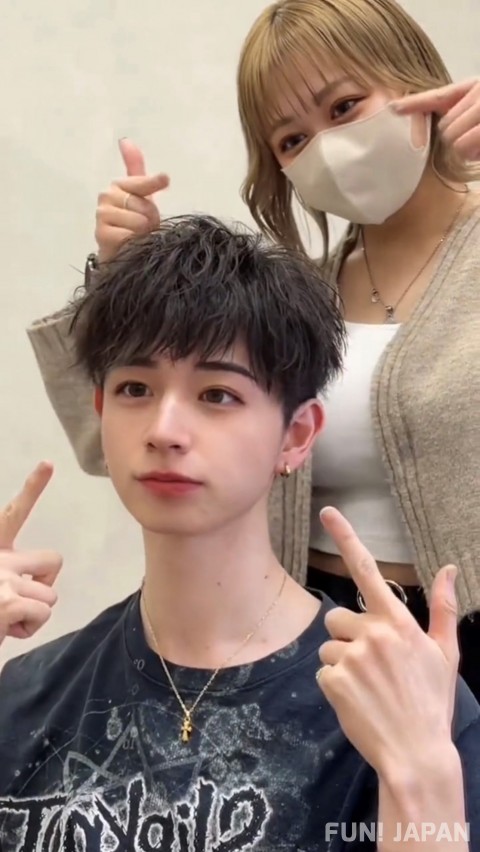 "Tara-chan" is the nickname of the 3-year-old boy "Fuguta Tarao" who appears in the Japanese manga "Sazae-san" by Machiko Hasegawa. It is a two-block hairstyle (*2) that tampers both sides as well as the back of the hair that is refreshing while maintaining a cuteness like "Tara-chan".

"It's a straight style that can be done even with short hair, and it's made only with out curl to make the volume look tight!"
*2: A hair design consisting of two different lengths of hair on the top and bottom. It is a hairstyle in which the top hair is left long from the top of the head to the top of the ears, and let it cover over the parts with shorter hair below such as the sides, sideburns, and nape of the neck.
Japanese men's hairstyle ④: Middle Part
Influenced by the Korean boom in recent years, K-Pop idols' center parting hairstyles are trending in Japan. It is also said that other reasons behind the high popularity are that one's face is barely visible if the bangs are down hidden by the mask during the COVID-19 pandemic, and people are getting tired of the mash style that they have been doing for many years.
Natural middle part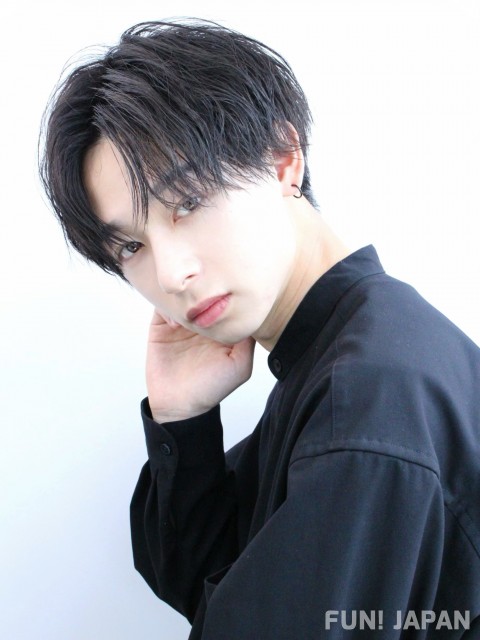 "By making the style texture look as if it weights lighter, I finished it with a natural middle part hairstyle. The characteristic of this styling is not to curve the hair too much with hair iron."

Reverse middle part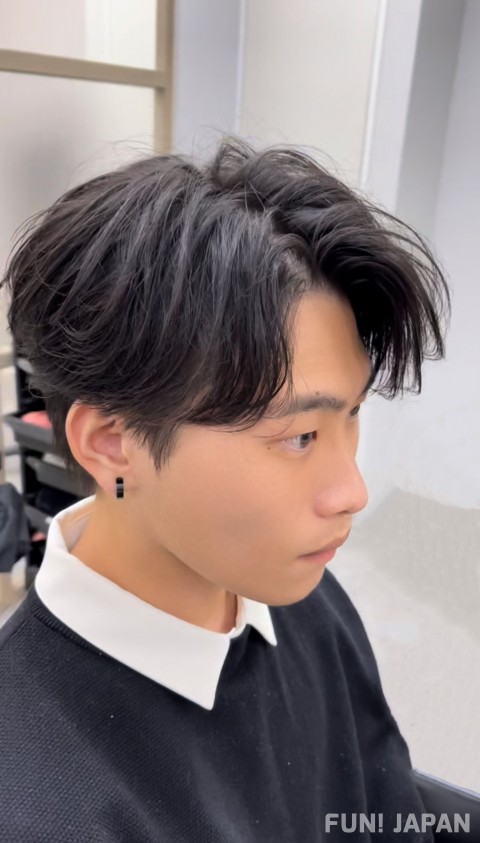 A middle part hairstyle with some "reverse" hair ironing technique. "By improving the three-dimensional effect of the bangs, it is set to bring out the airy feeling by pulling off the bangs to the front and give it a lightweight texture."
Korean style middle part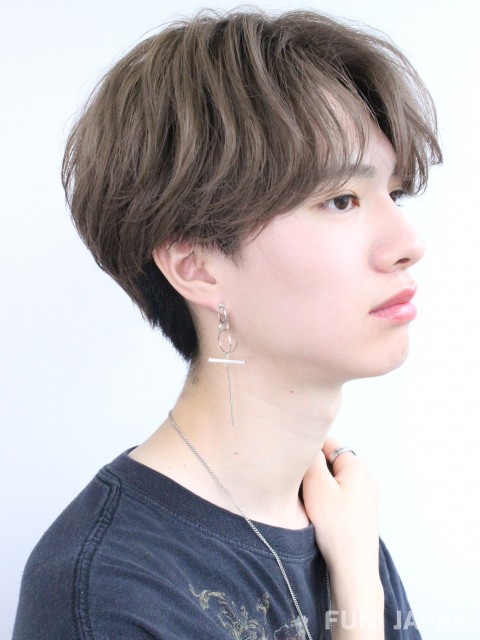 "I was conscious of making it look three-dimensional by brushing up the hair in the middle."
Comma hair bang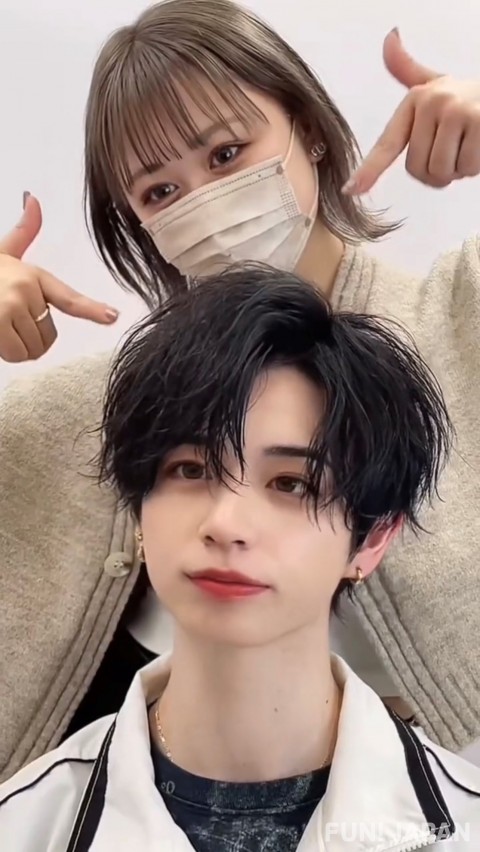 As the name suggests, this Korean-style hairstyle is styled like a comma symbol. It is currently trending mainly among young men, and has been attracting attention in recent years as a hairstyle that appeals to women.

"It's characterized by the fact that it's set to give an airy feeling even with a shiny hairstyle! It's also a style that gives a sexy appearance!" According to Goto-san, the order rate is as high as the mushroom haircut.
Korean style comma bang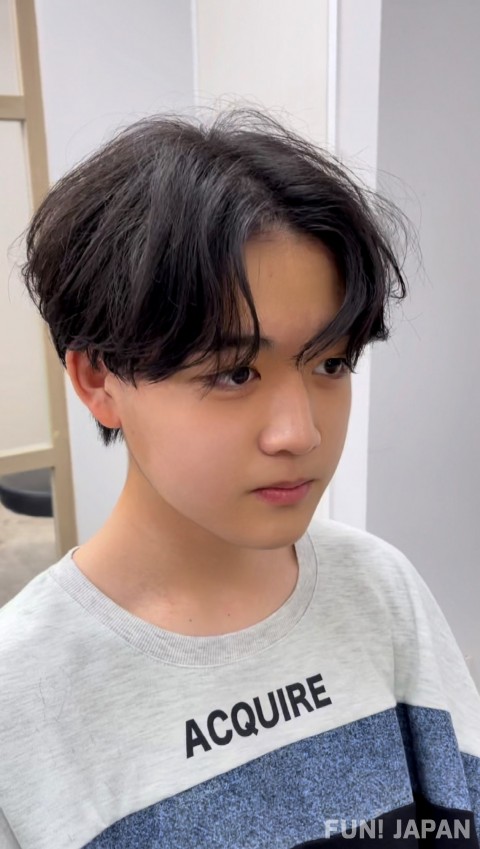 "By allowing the bangs to drop down to eyes level, it really pulls off a Korean style and creates a unique vibe."

Found your favorite hairstyle?
How was it guys? Have you found the style you want to try next?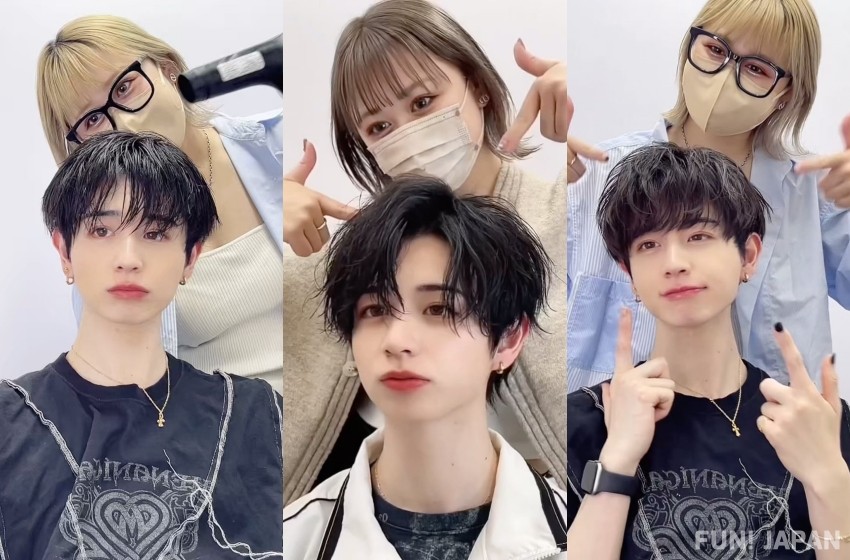 In addition to the hairstyles introduced above, Iwamoto-san and Goto-san also update daily on Instagram and TikTok, so please follow them if you are interested. (If any readers would like to see a hair-remodeling plan for Rannyu Sensei, please let us know in the comments! We'll use the help of a professional to transform his hair!)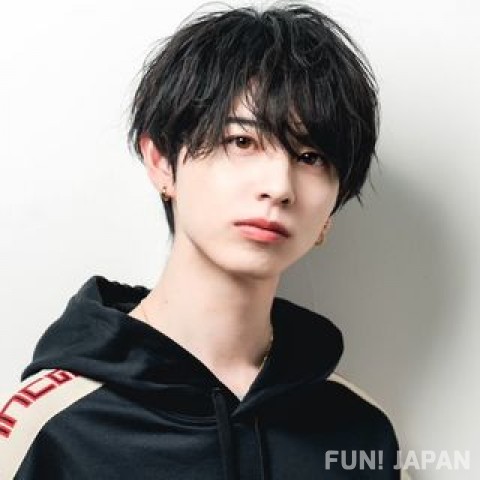 【Keiya Iwamoto's Profile】
A freelance hair stylist who works in Shinjuku, Tokyo and Fukuoka. Ranked 10th nationwide in the "Hair Stylist Ranking 2021" selected by readers of comprehensive media for hair stylists and beauty salons. As of September 2022, the number of Instagram followers is about 140,000.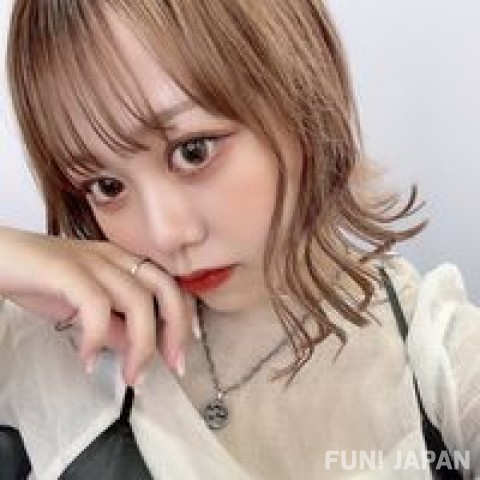 【

Goto Manaka's Profile

】

Keiya Iwamoto's exclusive assistant. She specializes in men's hairstyles that appeal to women from a female perspective.

Related article:
[Survey] Traveling to Japan