New japan travel tips by a travel expert! What exactly are the "Rurubu ONE PIECE" imaginary trip and the new method of castle tour?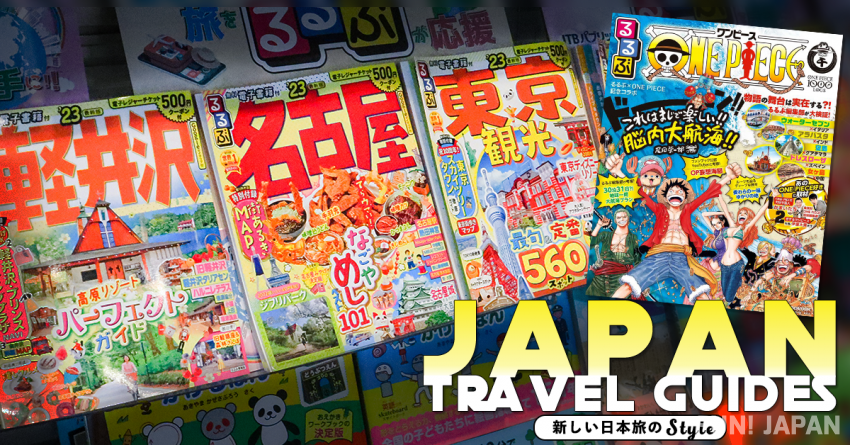 When was the last time you took a travel guidebook with you? Or have you ever traveled with a travel guidebook by your side?

Maybe you might simply ask Google for info, or search for hashtags with the help of Instagram. In this day and age where travel information can be scooped up in seconds with just a smartphone, why would you buy a physical book anyway? If you are one of those who think so, you got it all wrong! There are actually many values unique to books.
Before going on a Japan trip the first time in several years, here are the latest travel tips proposed by Japanese professional travel guidebooks!
What are the travel tips in Japan recommended by professionals?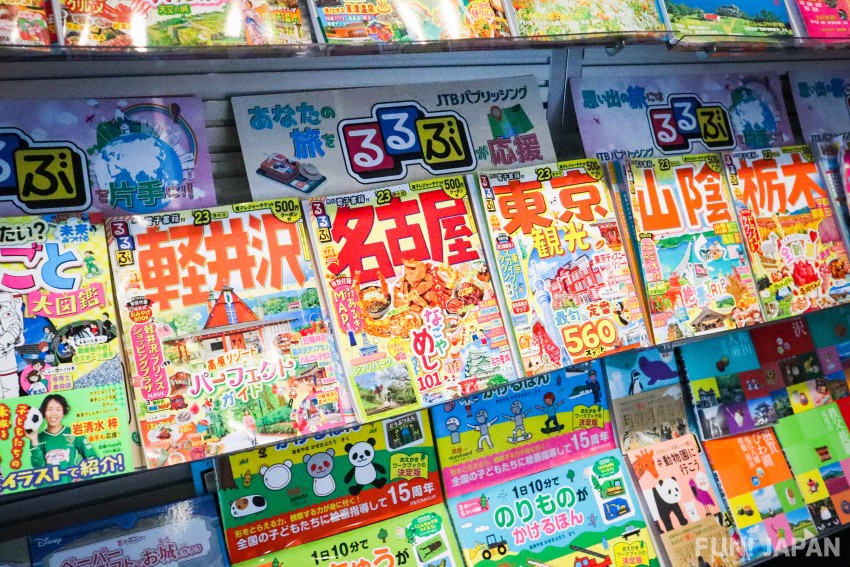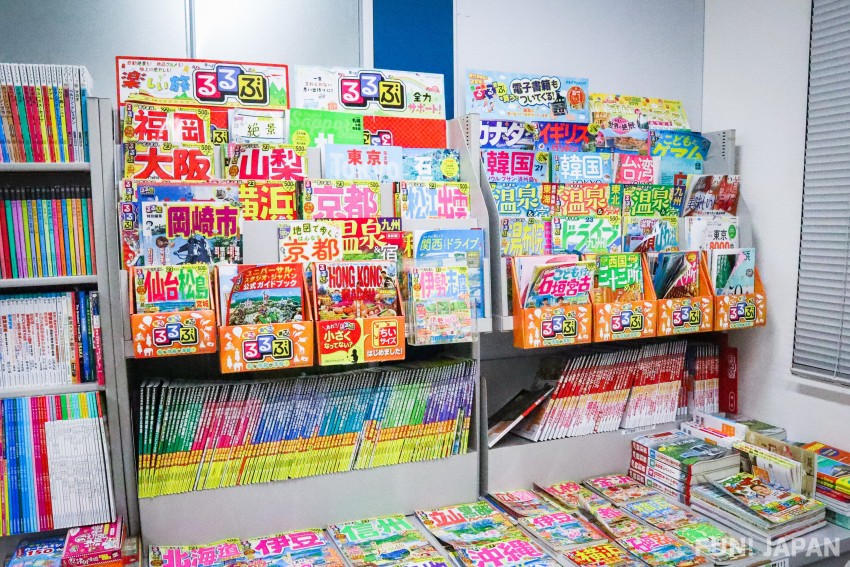 If you ask a Japanese which is his/her most famous travel guidebook, most people will probably think of the name "Rurubu" (るるぶ - published by JTB Publishing Co., Ltd.). It is a travel guidebook that details what to "see", "eat" and "play" all over Japan, and has been certified by Guinness World Records™ in 2010 as "the world's most published travel guide series". As we speak, the "Rurubu" series has already reached its 6,000th issue by the time "Rurubu Honolulu '23" was published in August 2022.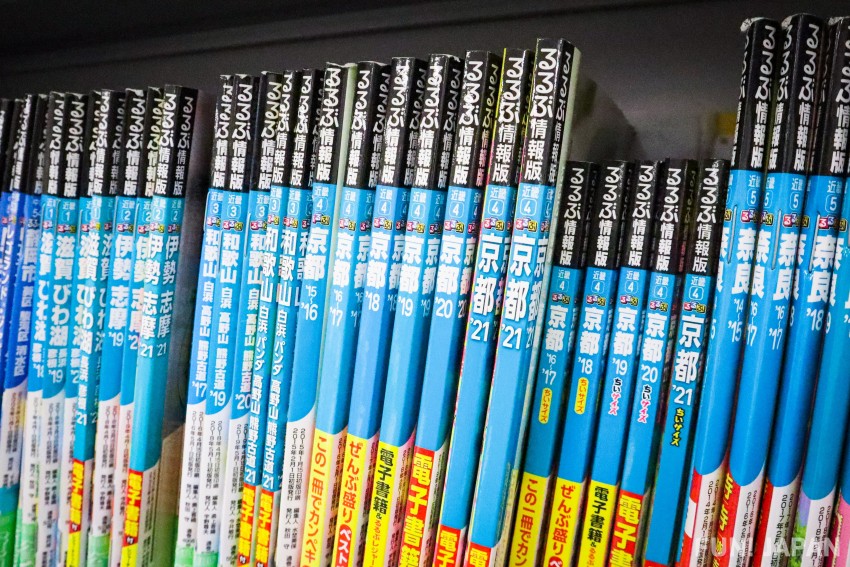 Publishing so many travel guidebooks means that there is no one better in terms of an expert traveler. Now you may wonder what are the travel tips proposed by such a professional, and here are the travel tips that all FUN! JAPAN readers who miss Japan dearly can easily imitate.

Recommended travel tip ①: Go on an "ONE PIECE" imaginary trip where you want to set sail in your mind
Tokyo, Osaka, Hokkaido... If you're going to Japan for the first time in a while, classic tourist spots and itineraries might be on your bucket list. But why don't you rediscover its charm from a different angle?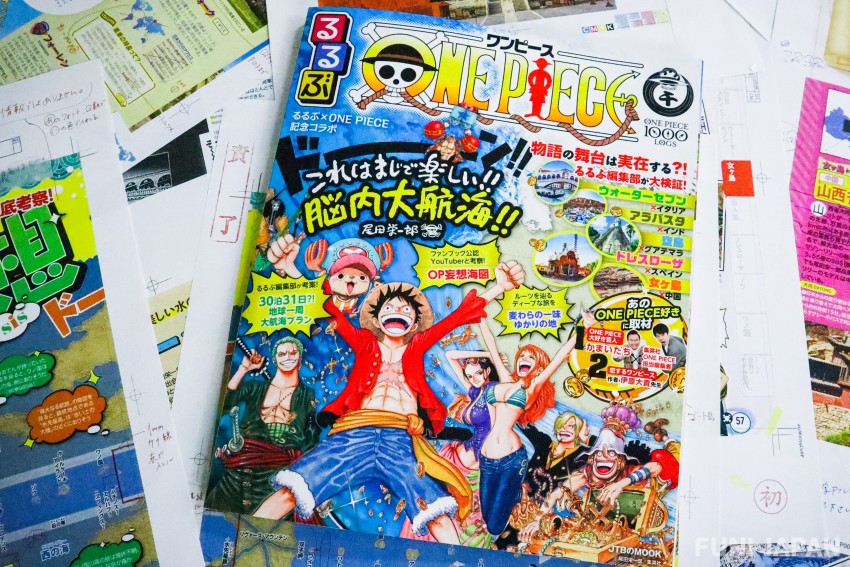 In an age when it was still difficult to travel abroad casually, Rurubu proposed a "imaginary trip" that allows you to experience the feeling of traveling without leaving your home. Rather than just moving the human icon on GOOGLE STREET VIEW and wandering around, the concept is to go on an adventure to spots that look exactly like the stage of the story in various countries in the world in conjunction with the world of manga.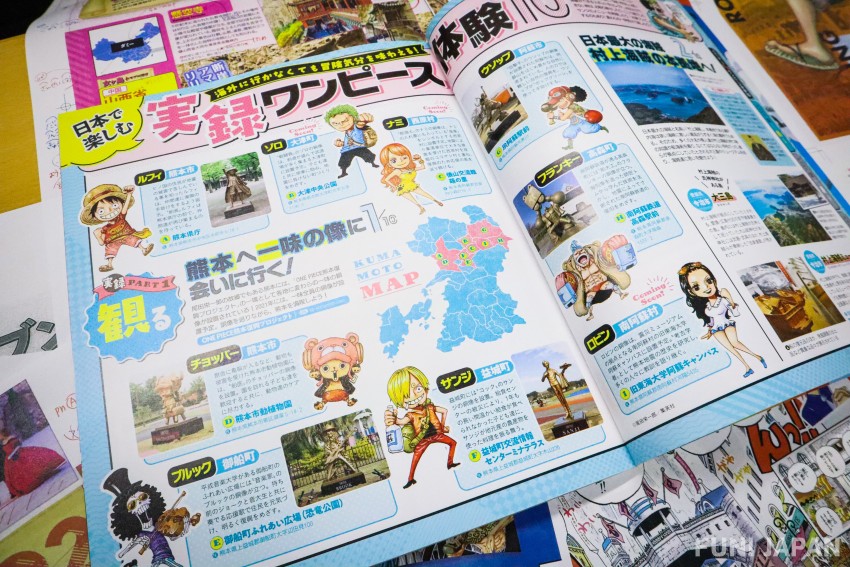 "Rurubu ONE PIECE" (るるぶONE PIECE) was published to commemorate the manga "ONE PIECE" exceeding 1,000 chapters. The manga "ONE PIECE" is distributed in 60 countries and regions overseas, and is a representative work of Japan with over 500 million copies worldwide. Many of our FUN! JAPAN readers are probably familiar with ONE PIECE, right?
For "Rurubu ONE PIECE", the production staff re-read the original manga in every detail, collecting information such as author-approved model locations and rumors among fans. Each spot introduced in the book comes with pictures that perfectly resembles the stage of the story. What's more, it's a collaboration book that has been officially approved by the original manga publisher Shueisha.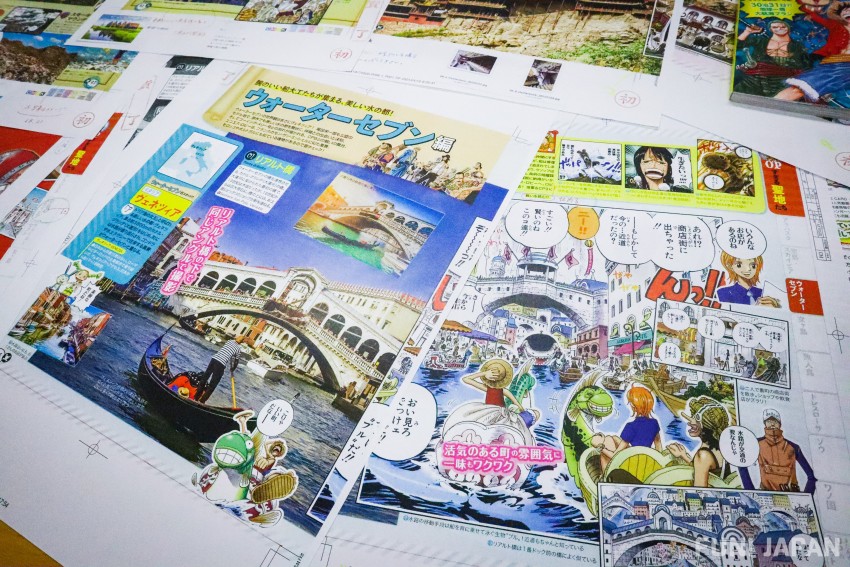 It covers sightseeing spots similar to the stage of the story scattered in 30 countries around the world, including Japan, the United States, Italy, Indonesia, China and Mexico, accompanied by speech balloons of characters that appeared on each island side by side with the original scene images (for example, the above image is Venice, Italy, a model location officially stated by manga artist and author, Eiichiro Oda). It feels like being on the journey around the world just by reading!
All of the spots actually exist around the world, so when you can eventually fly around the world again, be sure to check them out with your very own eyes. Such imaginary style of sailing as a member of the Straw Hats Pirates that redefines "travel" is certainly innovative.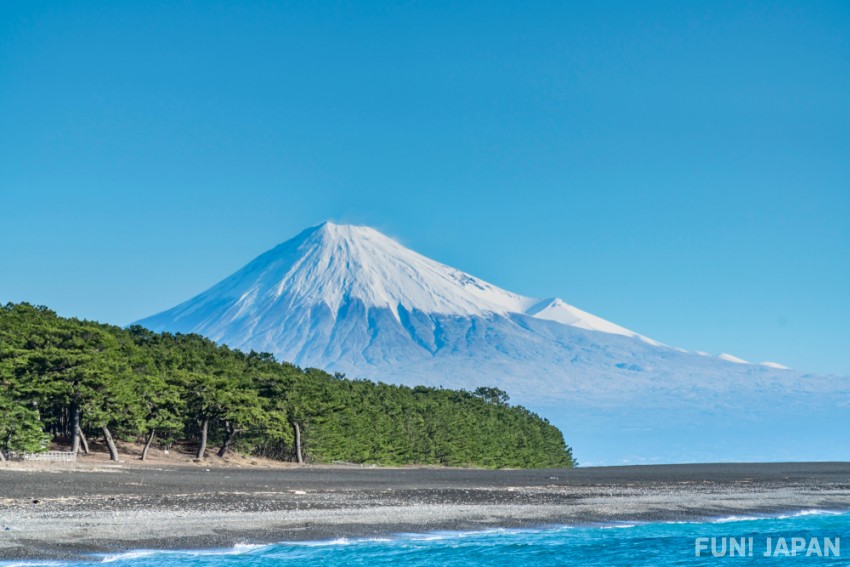 Miho no Matsubara in Shizuoka Prefecture, where Mt. Fuji and pine trees look great together is said to be similar to Kuri Beach (九里ヶ浜 / Kurigahama), where Luffy first arrived in Wano Country.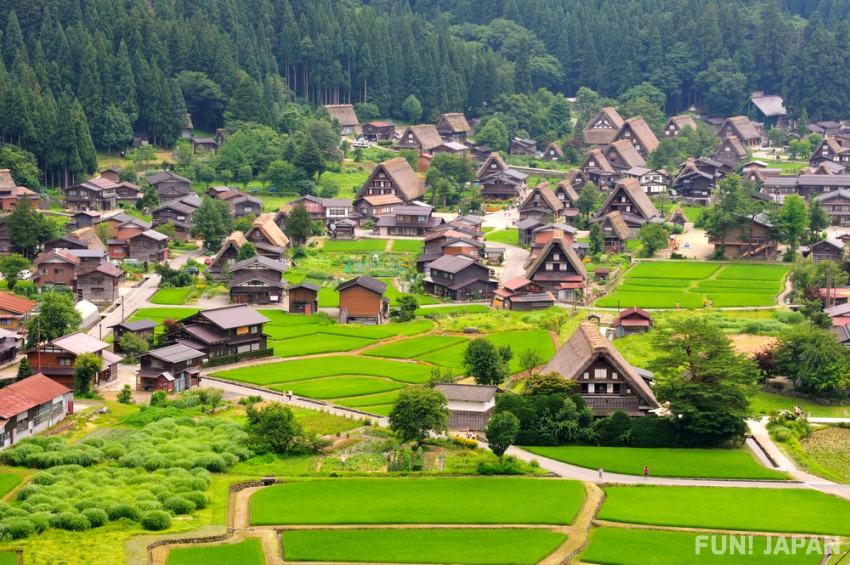 The Gassho-style village in Shirakawa-go, Gifu Prefecture, is another pilgrimage that the author has paid a visit before. In addition, there are a lot more sightseeing spots in Japan that resemble the setting of the story, such as Nagoya Castle in Aichi Prefecture and Kiyomizu Temple in Kyoto. Even if you're a fan who's been there before, you'll definitely see them in a totally different view as "pilgrimages"!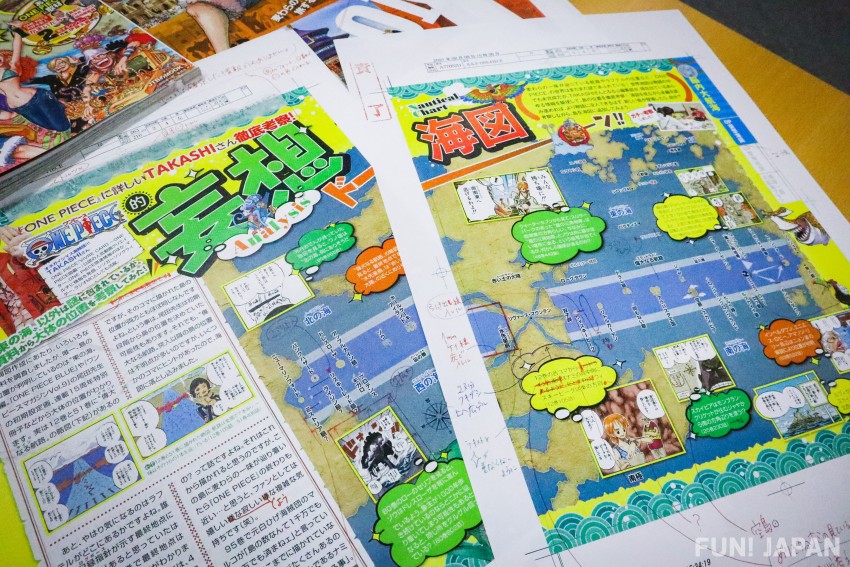 The world map of the islands appearing in ONE PIECE "OP Moso Kaizu" (OP妄想海図 - ONE PIECE Imaginary Map) is created by considering the unfinished world map in the story based on all kinds of information by the ONE PIECE fan-book-officially-approved YouTuber and the editorial department. Now you can see the locations of all the islands at a glance!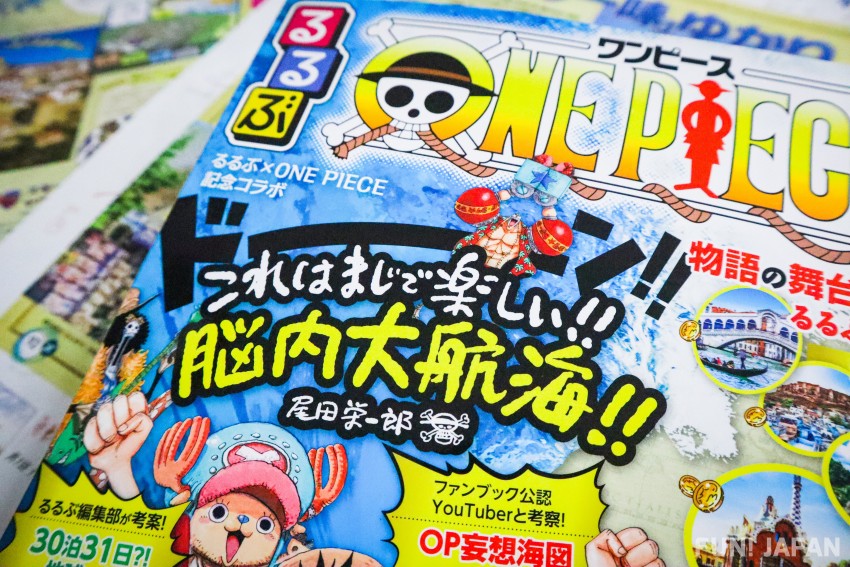 Especially eye-catching on the cover is a handwritten autographed message from Eiichiro Oda. It was also posted on Twitter to commemorate the collaboration  and became a big topic among fans.

Though a translated version has not been published yet, there are many illustrations and photographs that ONE PIECE fans can enjoy just by looking at all of the pages.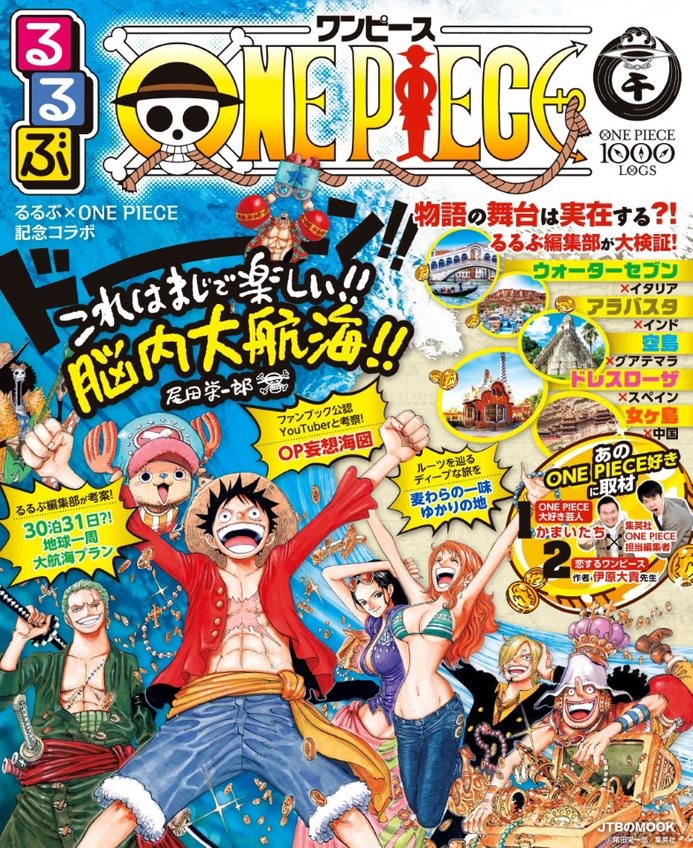 Rurubu ONE PIECE (るるぶONE PIECE)
Price: 1,100 yen (tax included)
Number of pages: 112
Product details: Amazon Japan
Recommended travel tip ②: "Castle stamps" that you might want to collect as if you were completing a Pokédex
The second travel tip we would like to share is the "journey to collect castle stamps".

There may be many readers who know or collect goshuin, which are given as proof of visiting shrines and temples, but castle stamps or gojoin (*1) are perhaps not very well known in many countries.
The origin of the castle stamp dates back to around 1991, when Matsumoto Castle in Nagano Prefecture distributed "Castle Tower Visit Commemorative Vermillion Stamps" (天守閣登城記念朱印符) to visitors to the castle tower. Twenty years have passed since then, castle stamps are now being sold at castles and castle ruins all over Japan, and it is said that more than 1,000 types have been issued so far. The number of types is even greater than the number of Pokémon in the latest generation (*2)...
*1: A commemorative certificate that can be purchased or received when visiting a castle.
*2: Up to 8th generation. Excluding "Pokémon Scarlet & Pokémon Violet" that has not been released as of August 2022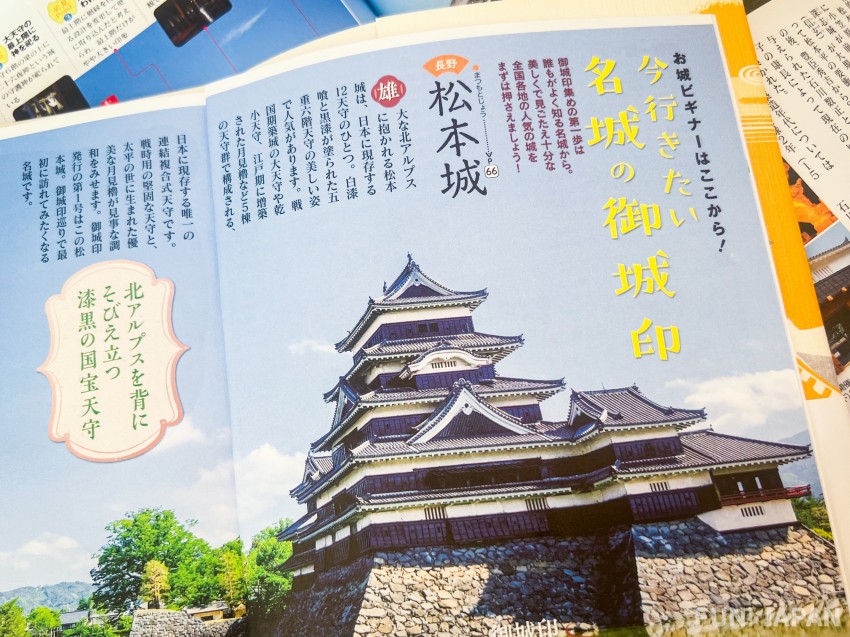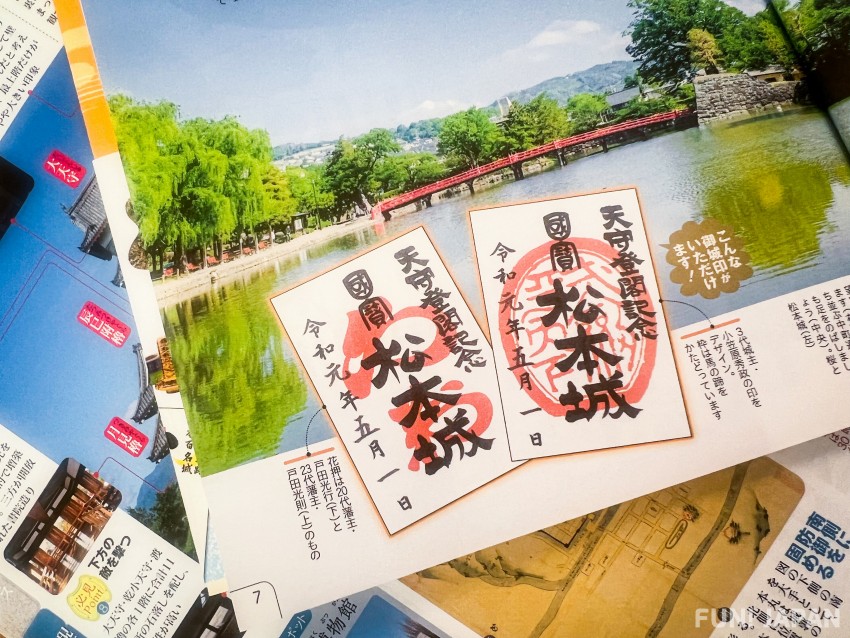 Focusing on the "gojoin boom" which is seeing popularity in Japan, JTB Publishing produced a book called "Hajimete no Goshuin Meguri" (はじめての御城印めぐり).

As the title suggests, this book targets on "first-time" castle stamp beginners (はじめての / hajimete no - first time for [certain activity]), and includes not only basic information about the castles, but also the castle stamps and highlights of each castle while also full of photos, like a Pokédex.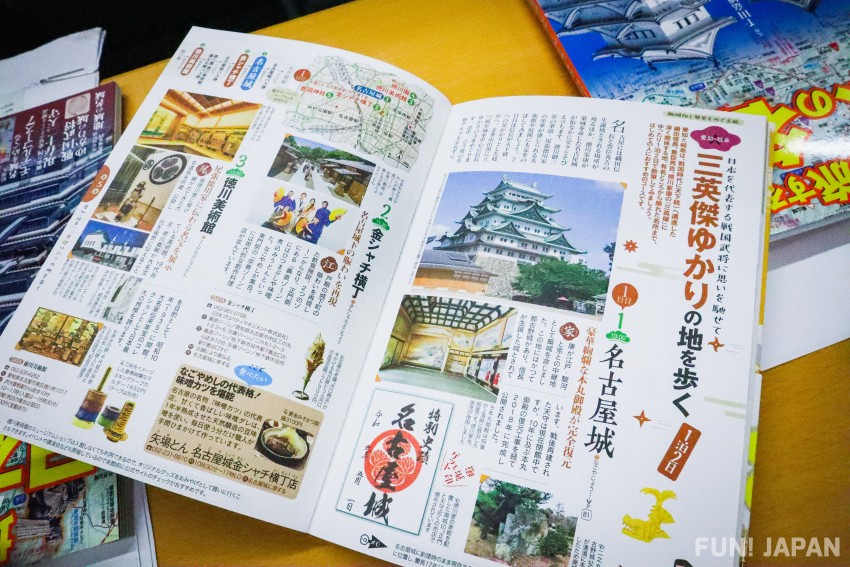 Not only can you collect your favorite castle stamp designs, but touring the castle and its surrounding tourist spots doubles the fun. For example, visit Nagoya Castle in Aichi Prefecture, which is counted as one of Japan's top three castles in the morning. After receiving the castle stamp, have lunch at Kinshachi Yokocho, located in the castle town of Nagoya. Then in the afternoon, visit the Tokugawa Art Museum and Toyokuni Shrine (there is also a goshuin) for a historical trip to Nagoya.

The history and basics of gojoin a.k.a. castle stamps are summarized in this article. Be sure to read it for more details!
It's never too late to become a "Castle Stamp Master"! However, since there are many stamps that can only be purchased during the season when you visit the castle, it is far more difficult to fill the "Castle Stamps Pictorial Book" (御城印図鑑 / Gojoin Zukan) than the Pokédex. But that's where the depth of fun lies!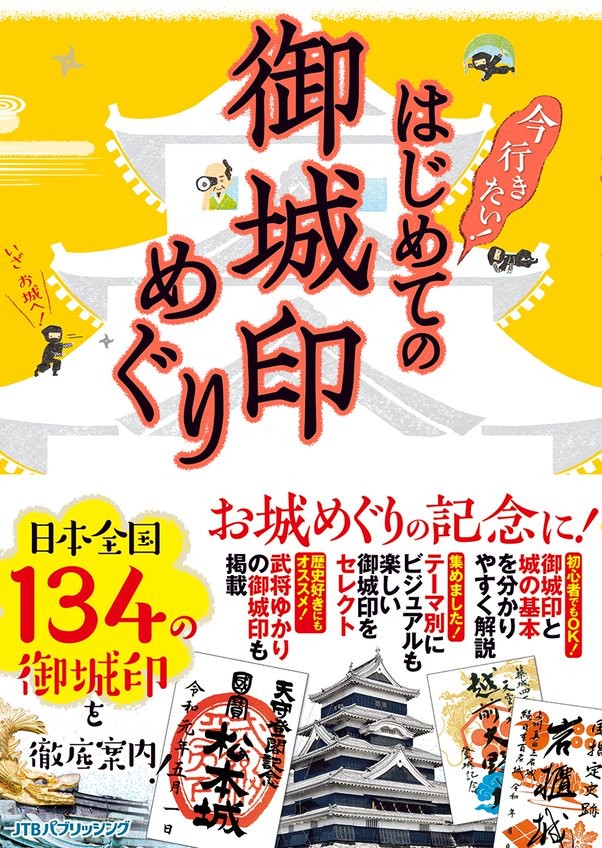 Hajimete no Goshuin Meguri (はじめての御城印めぐり)
Price: 1,430 yen (tax included)
Number of pages: 128
Product details: Amazon Japan
What is the existence value of a travel guidebook anyway?
In this day and age when personal blogs, Instagram, and web media are overflowing with information that can be obtained for free, why would anyone need to pay money to buy a paper-based book?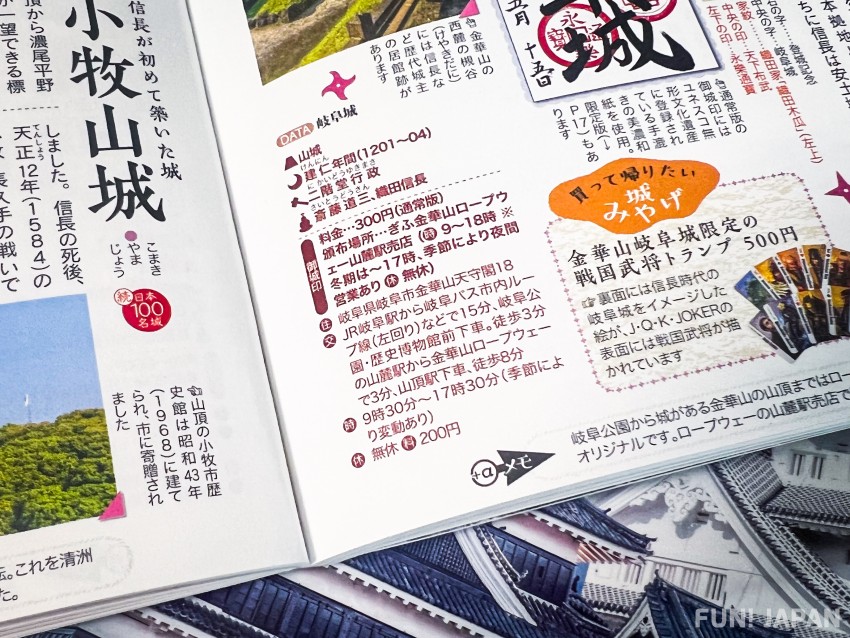 The answer is that accurate information is guaranteed.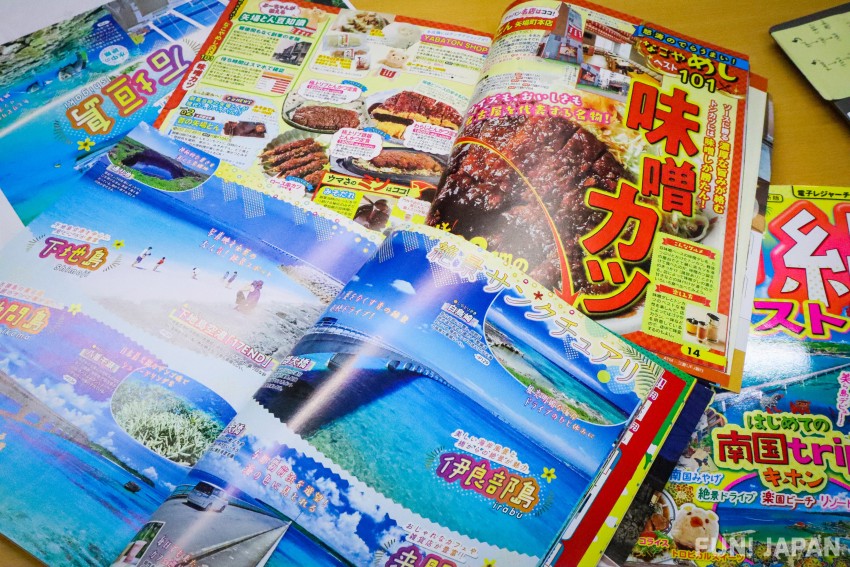 First of all, a writer living in the area goes for information gathering, takes photos, and confirms the current situation of each tourist spot (especially important for rapid-changing cities such as Tokyo and Osaka as the turnover of shops is super fast). Names, addresses, business hours... Misprints and errors in the published information are prohibited, so it is essential to carefully check the facts with the relevant parties before publication. 
Regarding "Rurubu", which is revised every year, the editorial department conducts fact check at least once for each spot featured or mentioned, and twice if a telephone number confirmation is included. Suppose there are 1,000 spots listed on "Rurubu Tokyo" and 2 times of contact with each destination are needed -  more than 2,000 contacts are necessary in total! It may be a large amount of work that you could faint just by imagining it, but it is the important part that promises the correct information.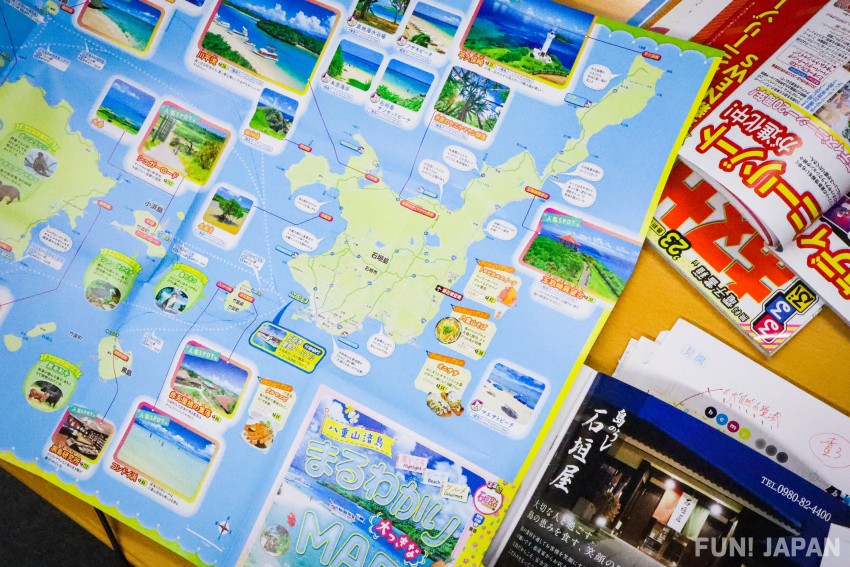 The map on the double-page spread is also a commitment unique to books. The moment you hold it in your hand, you will feel like you are traveling already!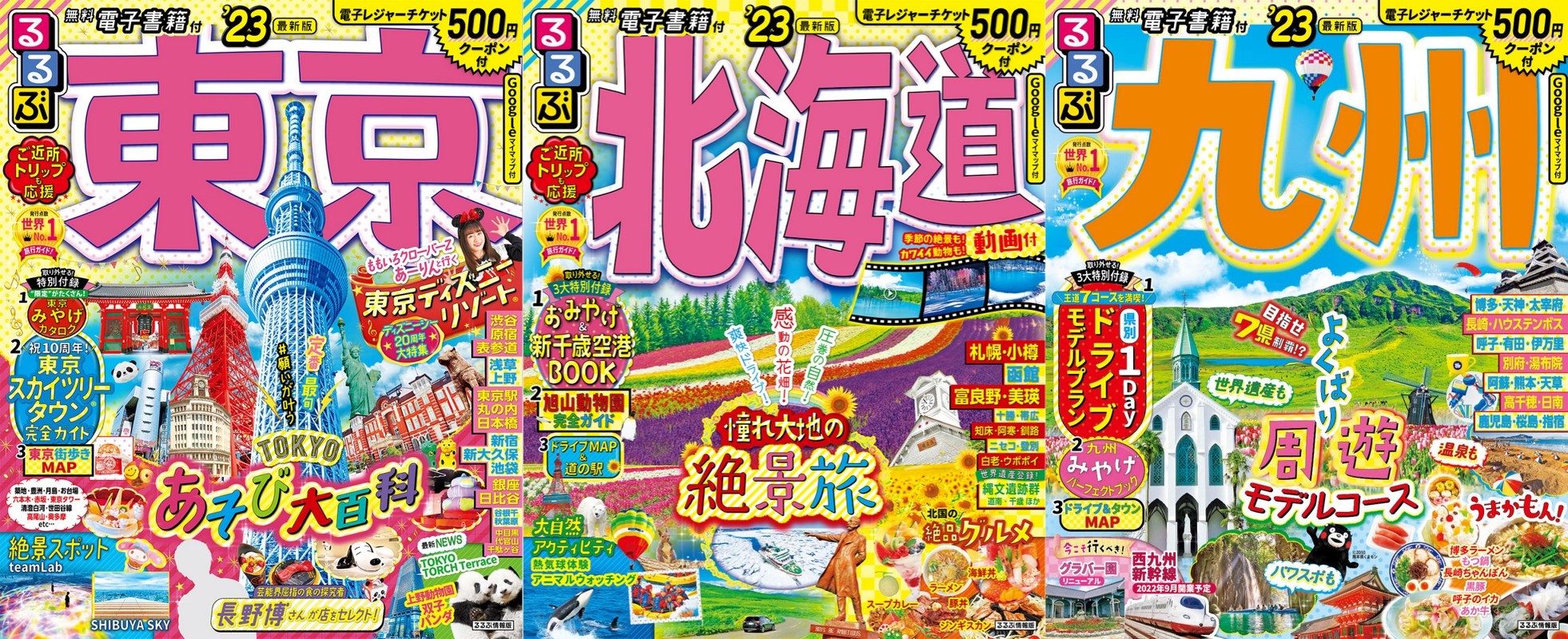 This time, we introduced the "Rurubu Information Edition [Domestic]" (るるぶ情報版[国内]) series, including "Rurubu Tokyo 23" (るるぶ東京23), "Rurubu Hokkaido 23" (るるぶ北海道23), and "Rurubu Kyushu 23" (るるぶ九州23). What about picking up a travel guidebook edited with a Japanese point of view before your next Japan trip?

List of JTB Publishing Books:
[Survey] Traveling to Japan