No Rice Necessary! Edamame Onigiri Recipe Made with Oatmeal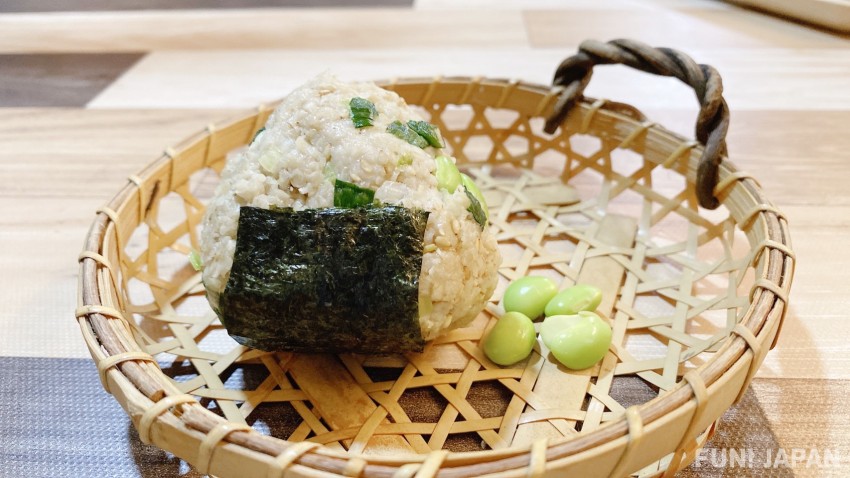 "Onigiri" (riceball) is one boasted comfort food of Japan and a widely familiar food that you can easily eat. When you make such "onigiri", of course, the main ingredient that pops up in your mind is rice, right?

However, the onigiri that has become a hot topic on Japanese social media recently is not made with rice, but uses oatmeal instead! 
The reason is that oatmeal is lower in sugar than white rice, rich in dietary fiber, and has well-balanced nutrient composition. In addition, it is easy to cook in the microwave, and above all, it is simple yet delicious - perfect to incorporate it into your meals without hesitation! This time, I will introduce how to make an "edamame oatmeal onigiri" using such oatmeal!
Before introducing the recipe, let's first know what oatmeal is and what nutritional value it has. Followed by the trivia, there comes a recipe video for oatmeal onigiri. Be sure to use it as a reference and try making ones!
What is oatmeal?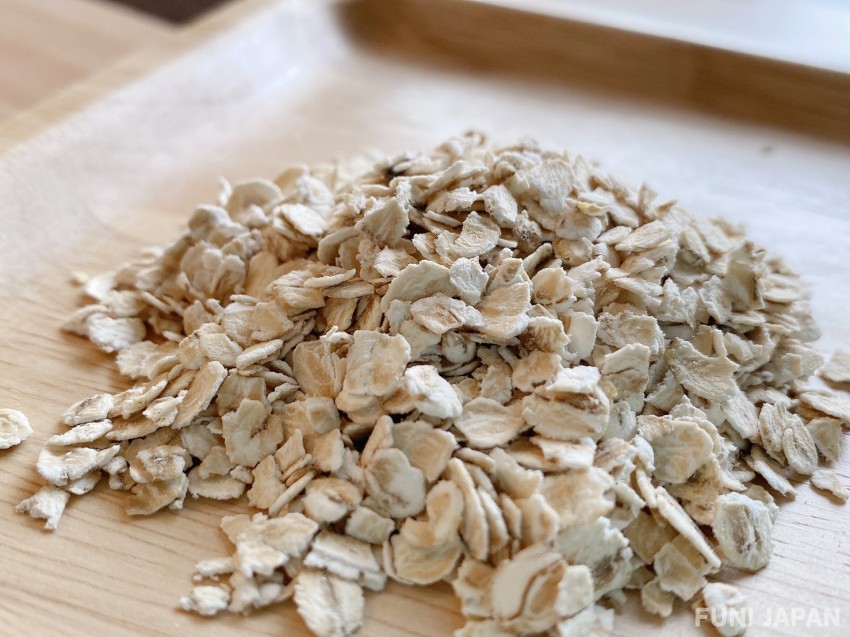 Oatmeal is a food that has been processed in order to make grains, such as oats, easier to eat. It's the same grain as rice, but it has less sugar than rice. Since it's processed with the husks intact without polishing, it's rich in dietary fiber and nutrients.

Oatmeal nutrition facts
Oatmeal contains a lot of minerals such as calcium and iron, and is rich in vitamins such as vitamin E and vitamin B1. In addition, it contains about 20 times more dietary fiber than polished rice (3.5 times more than brown rice), and is effective in regulating the intestines and removing cholesterol from the blood.

Well, now that the explanation of oatmeal is over. Let's see how to make an "Edamame Oatmeal Onigiri" right away!
Here is the video (with cc subtitles)👇👇👇
Edamame Oatmeal Onigiri Ingredients (1 piece)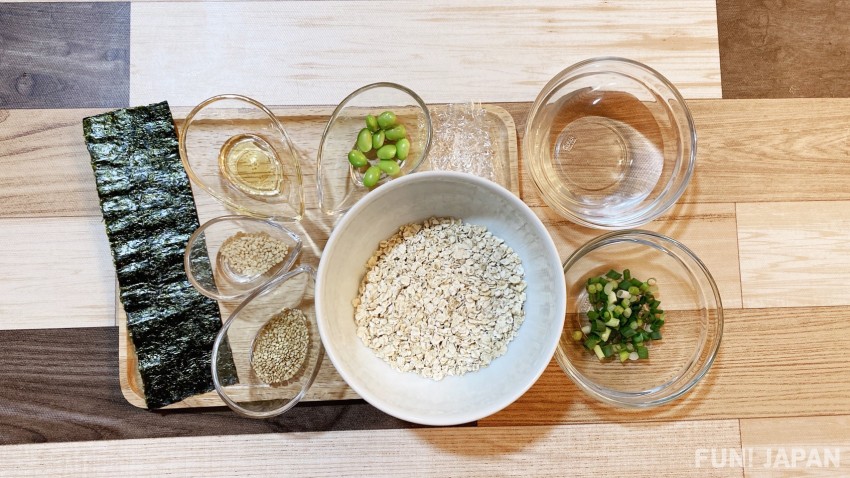 40g oatmeal



70ml water
cooked edamame as needed
chopped green onions as needed
white sesame as needed
a pinch of salt
1/2 teaspoon of chicken stock powder
1/2 teaspoon of sesame oil
seaweed as needed
*You can use whatever ingredients you like. Please enjoy arrangements according to your preference!
How to make an Edamame Oatmeal Onigiri
Put oatmeal and water in a heat-resistant bowl, mix lightly, and heat in a 600W microwave for 90 seconds.
Line another heat-resistant bowl with plastic wrap and put in the bowl the item from step (1).
Add white sesame seeds, chicken stock powder, sesame oil, cooked edamame beans, chopped green onions, salt, then mix them well.
Firmly wrap the whole mixture with plastic wrap and shape into a triangular rice ball.
Wrap lightly with seaweed, and it's done!
[Survey] Traveling to Japan