A must-visit for "Detective Conan" fans, "Gosho Aoyama Manga Factory" in Hokuei Town, Tottori Prefecture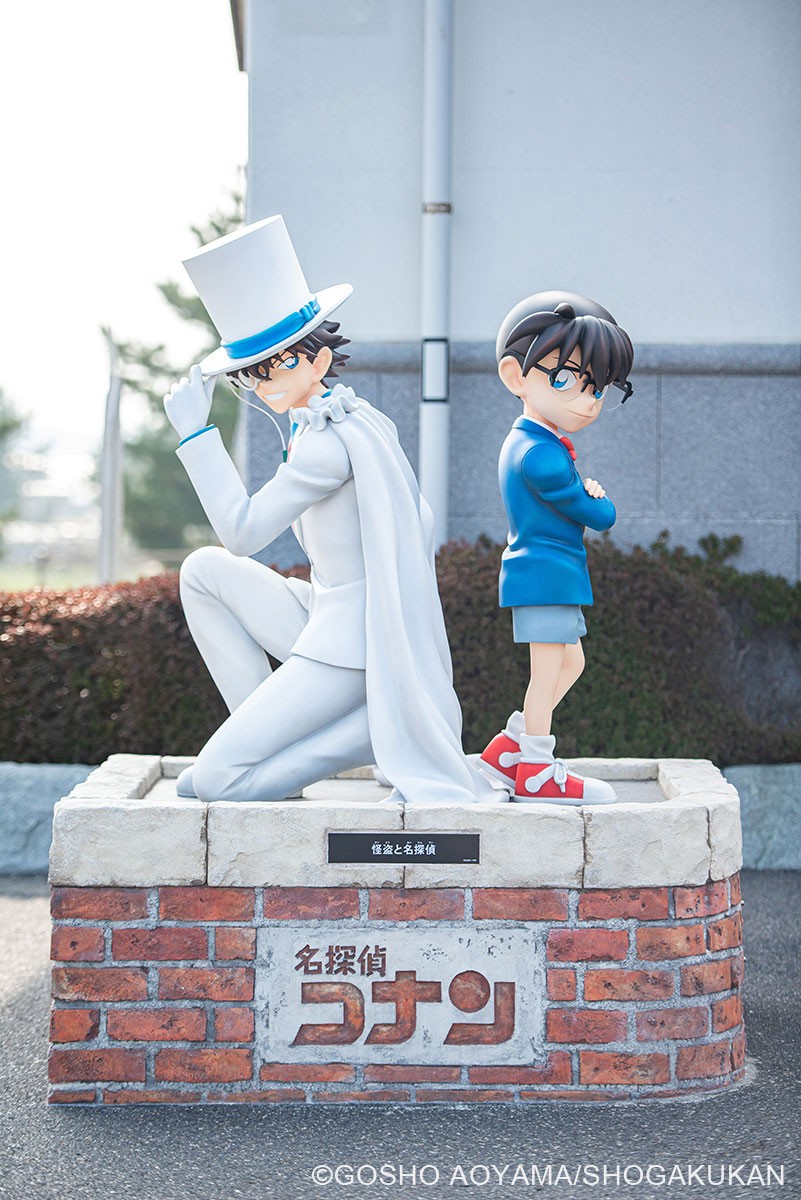 The manga "Detective Conan (a.k.a. Case Closed)" has been translated and published in more than 25 countries and regions around the globe. Gosho Aoyama's hometown, Hokuei-cho in "Manga Kingdom" Tottori Prefecture, is home to the "Gosho Aoyama Manga Factory" where original manga drawings are exhibited and many tricks can be experienced. Once you step inside, you enter a world of mystery. Moreover, you can buy rare goods that can only be found here. In this article, we will introduce its attractions and highlights.

About the author, Gosho Aoyama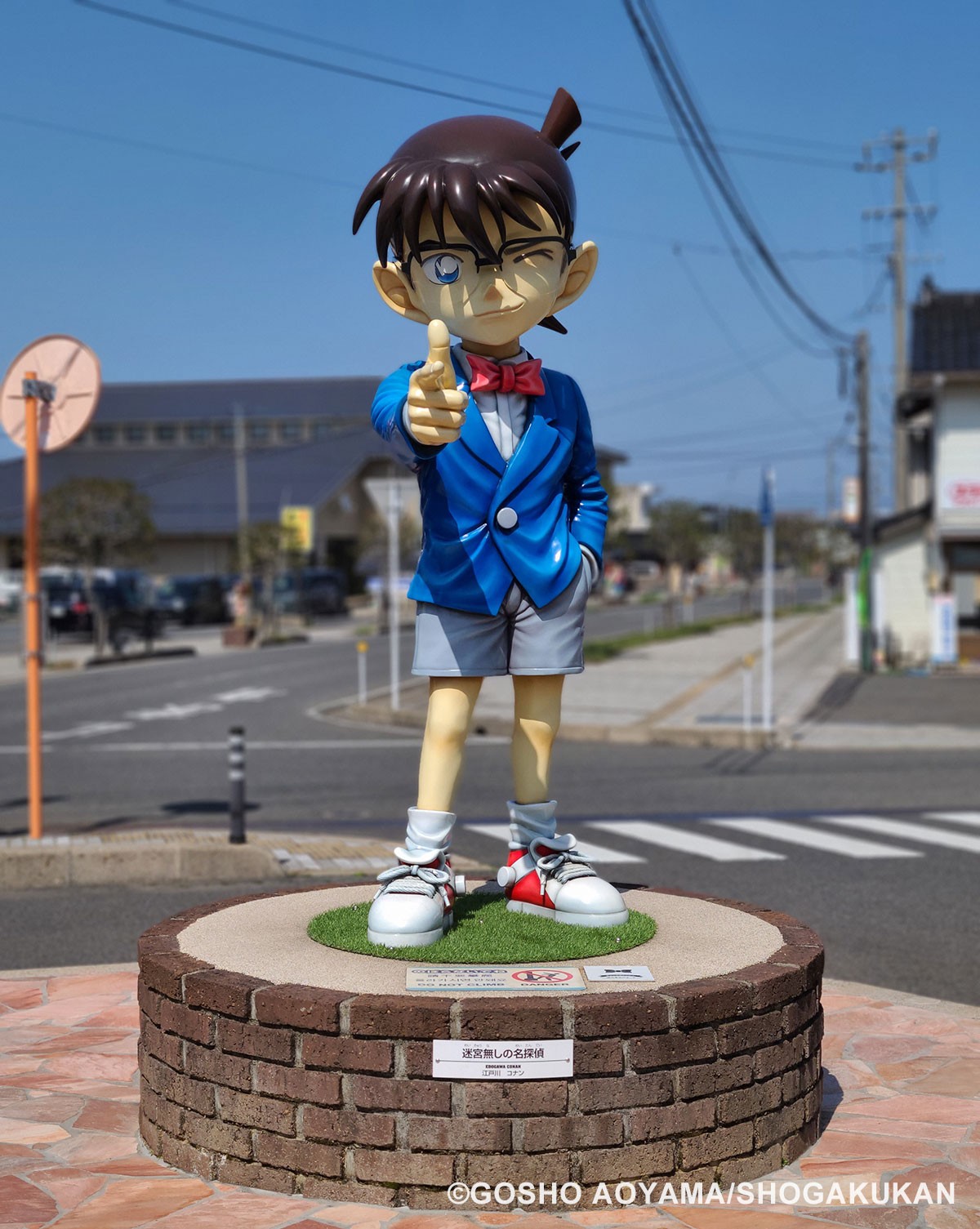 Gosho Aoyama is the original author of many works such as "Detective Conan", which boasts worldwide popularity, "YAIBA" and "Magic Kaito". At the "Gosho Aoyama Manga Factory" (青山剛昌ふるさと館 / Aoyama Gosho Furusatokan), you can experience the manga world in its entirety. Also, one of the pleasures is the admission ticket with an enamel-processed illustration. It's fun to see which of the three designs you will get when you enter the museum.
About Gosho Aoyama Manga Factory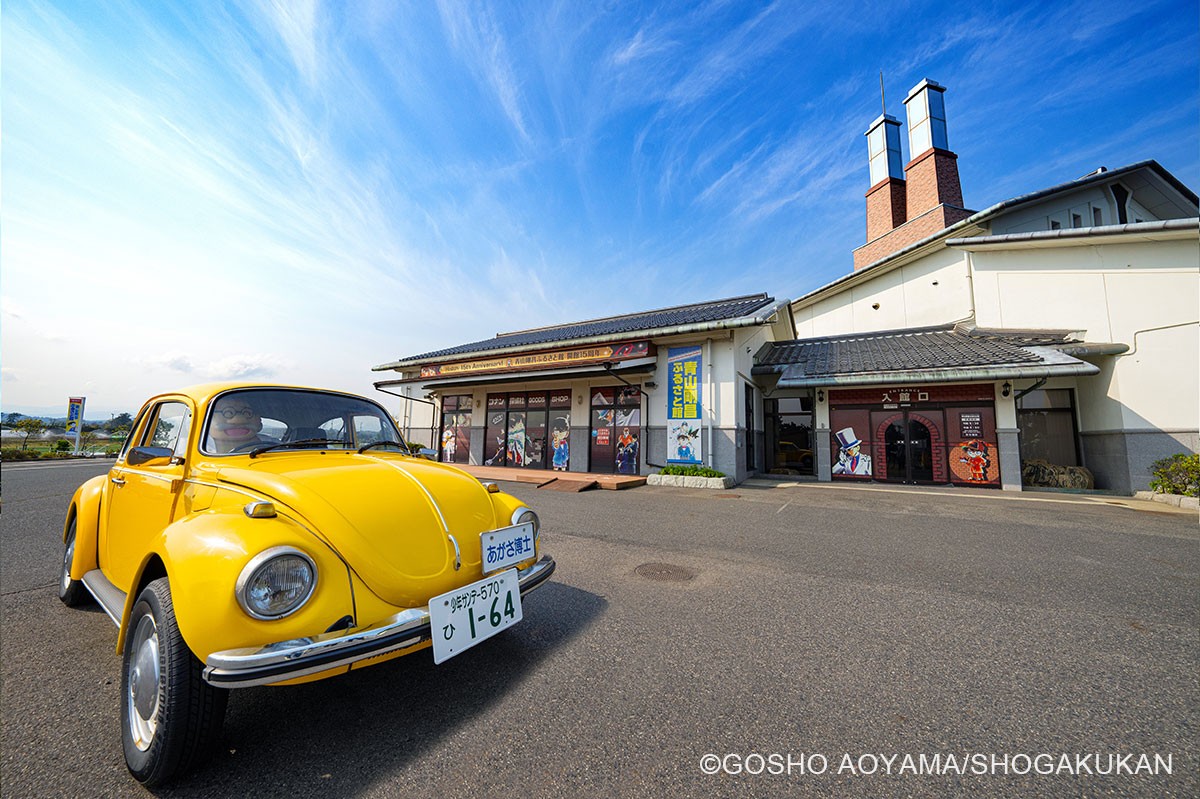 Once you step inside, you'll find yourself in a world of riddle-solving. In the detective team square, there is also Dr. Agasa's favorite car. And as for in each area... The FUN! JAPAN editorial department will introduce in detail the areas of this museum that you should check out.

Area to Check 1: Gosho Aoyama's Dreams - Secrets of His Creativity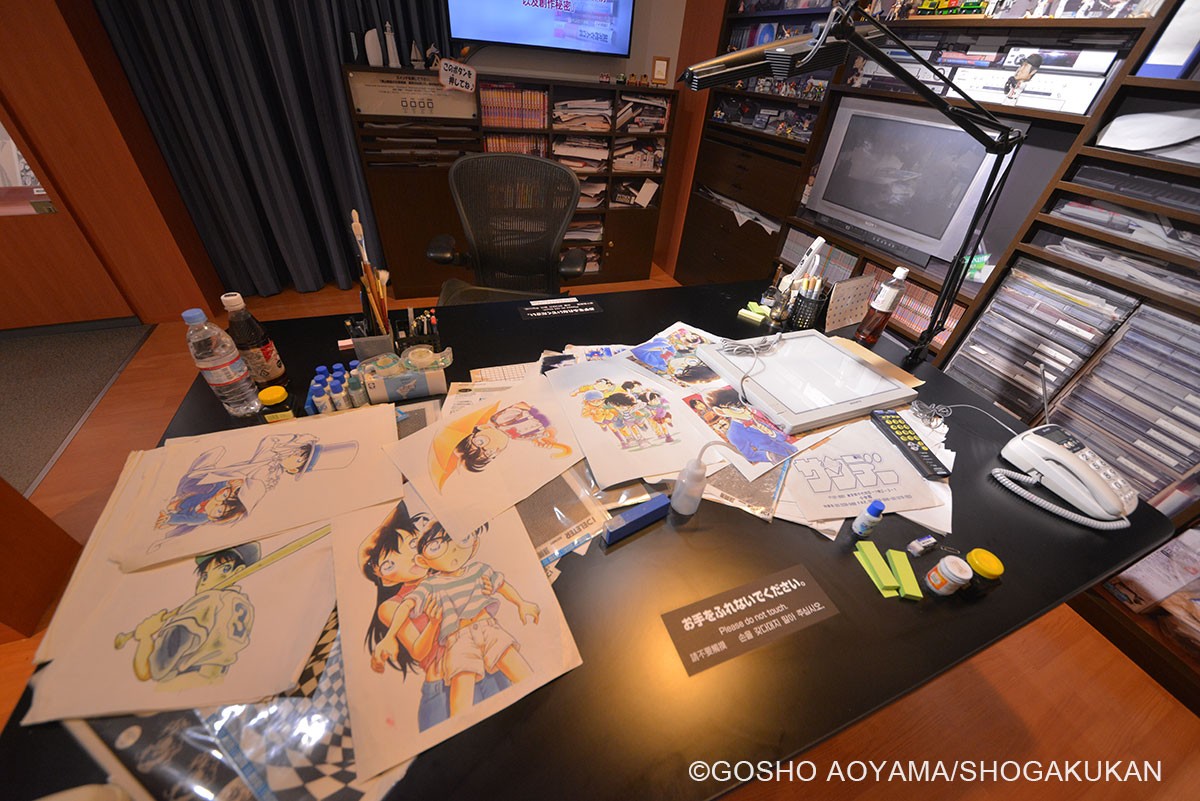 First highlight is the "Gosho Aoyama's Dreams - Secrets of His Creativity". The "Gosho Aoyama's Workroom" which reproduces Mr. Gosho Aoyama's atelier looks so real you may even think he had been working here until just a moment ago.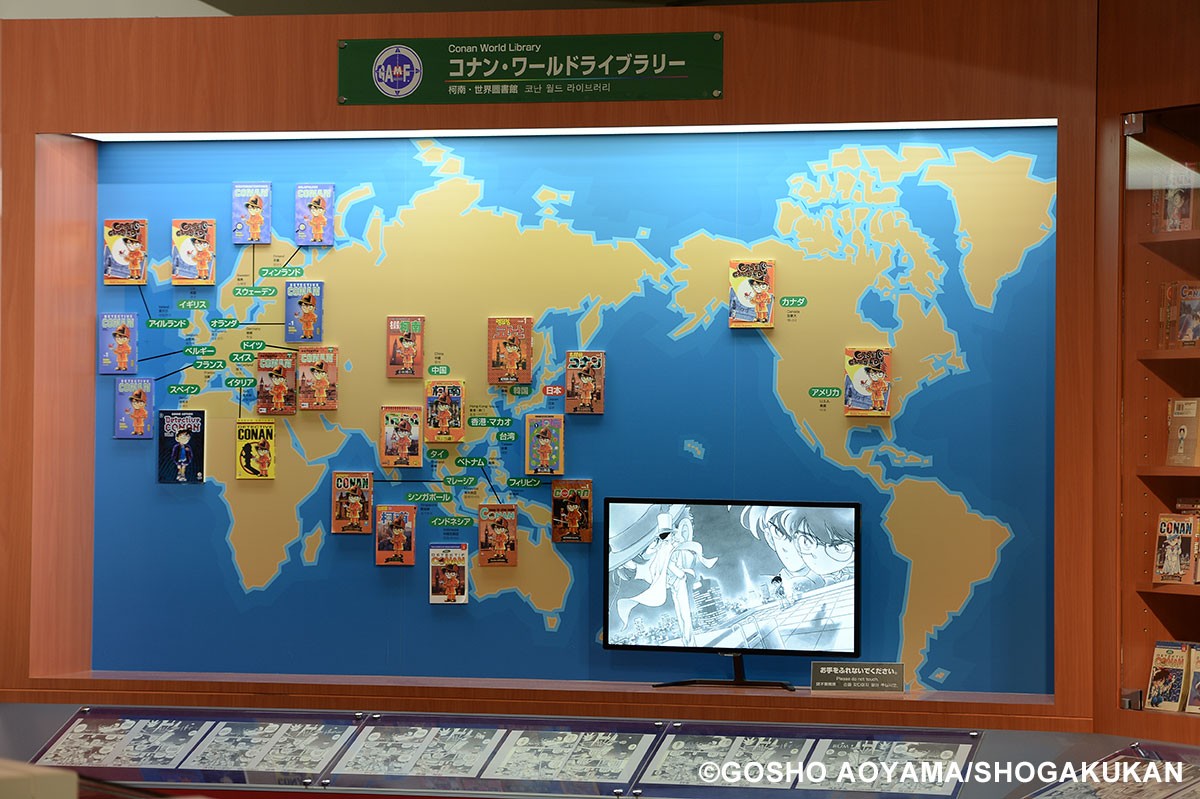 What makes you feel that the ongoing worldwide Conan's boom is the exhibition of books published in 25 countries and regions arranged on a world map.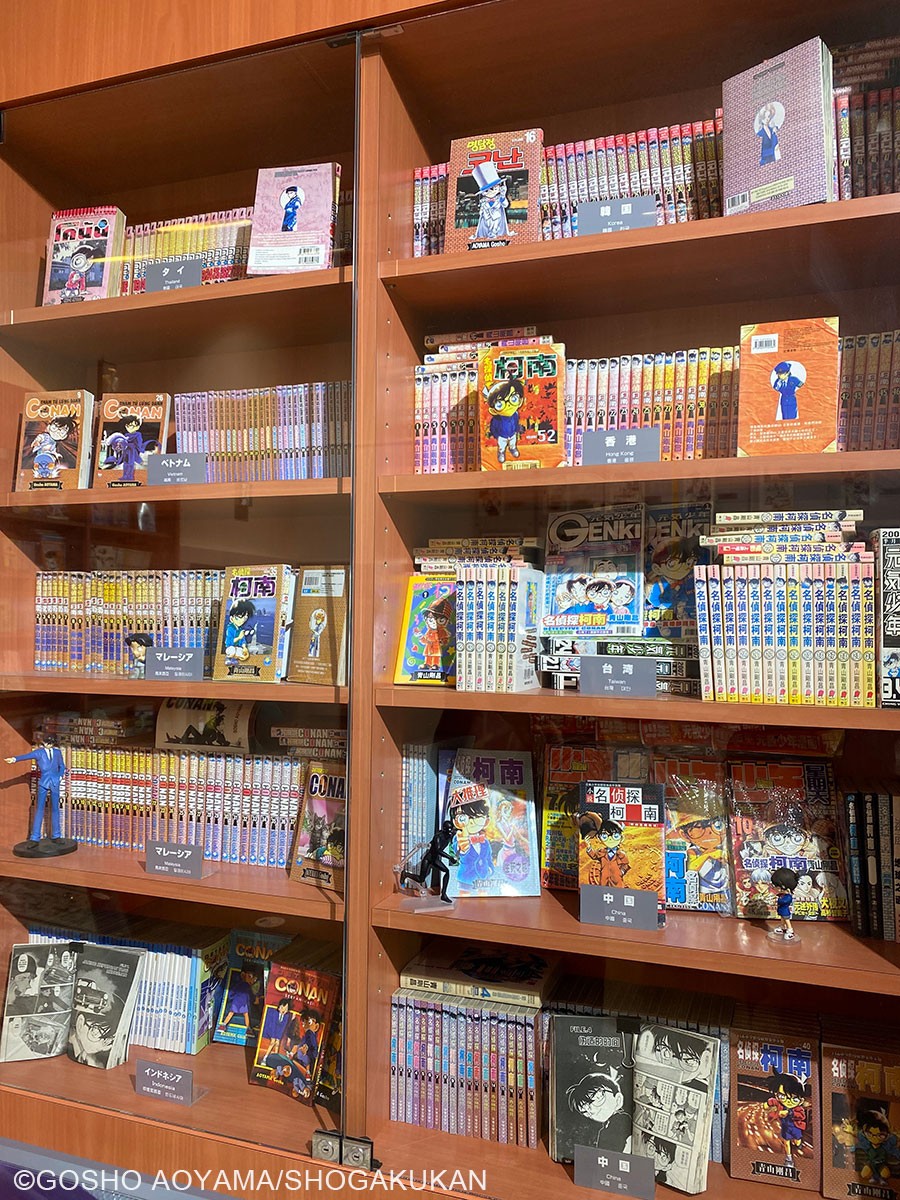 In addition, reproduction original drawings along with Mr. Gosho Aoyama's admired mystery writers and great detectives are also being exhibited in this area. If you pay enough attention, you might notice there are some gimmicks hidden in the portraits...
Area to Check 2: Gosho Aoyama's Dreams - Workshop of Ideas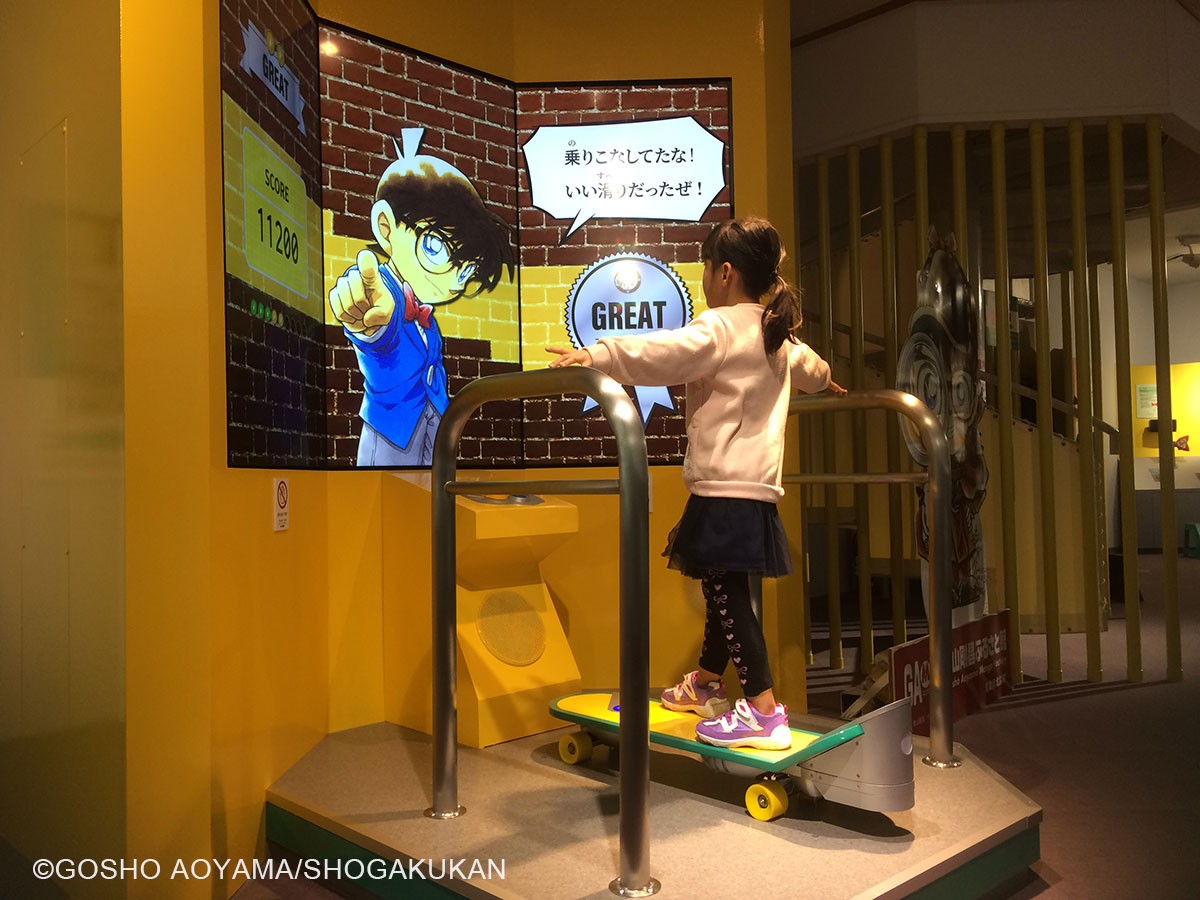 Next must-see is the "Gosho Aoyama's Dreams - Workshop of Ideas",where many of Dr. Agasa's inventions are exhibited. One of the things you can actually experience in this area is the "the Turbo-Engined Skateboard". Aim for a high score by sprinting through Hokuei Town projected on the big screen!

There is also a corner where you can challenge various tricks. After solving the trick, of course, sum up with Kudo Shinichi's quote - "There is always only one truth".
Area to Check 3: Grand Finale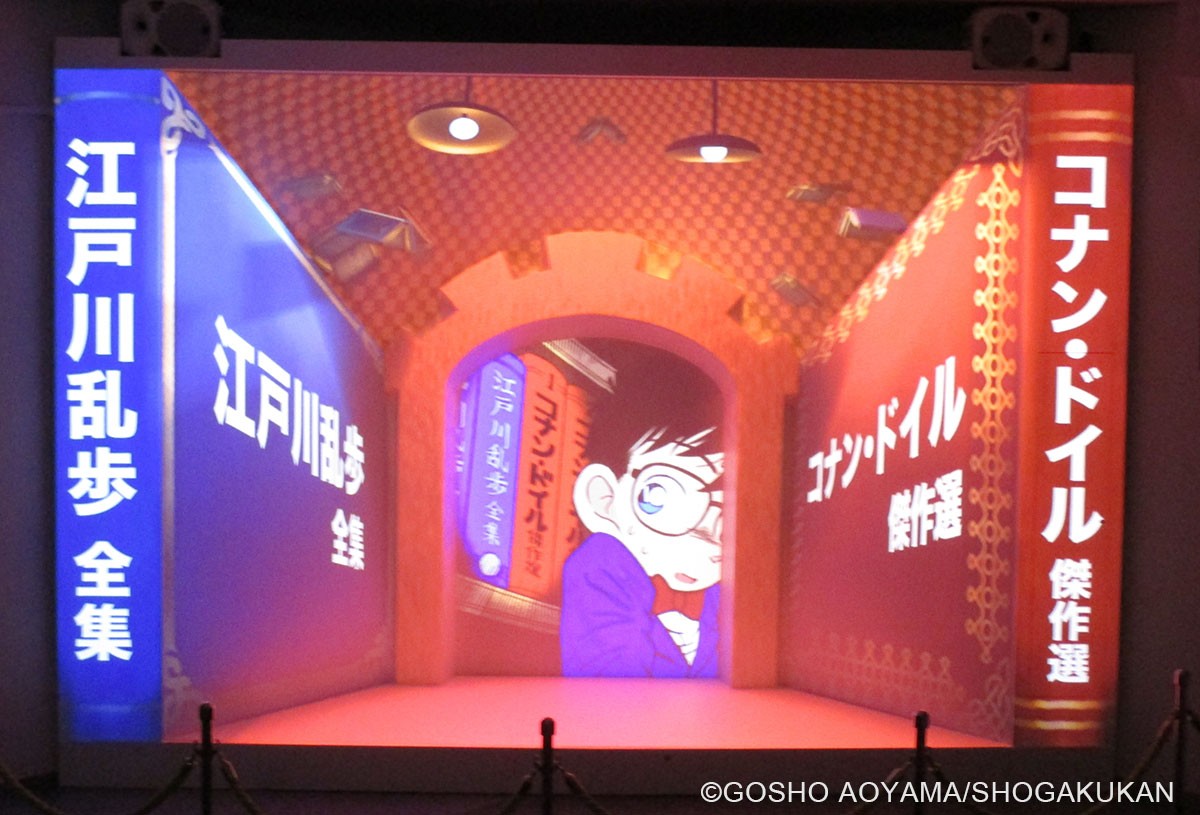 Installation to be enjoyed in this area is the projection mapping. What is projected in the powerful image is the beginning of everything that came to confront the black organization... Another trick that uses video technology that you should also experience in this area is "3D character vision."

The key is the mark pasted on the back of the admission ticket. When you hold it up to the camera, a popular character appears on the screen. Who will appear among "Conan, Kaitou Kid, and Yaiba", well that is the fun to be enjoyed on the visiting day. Be sure to take a picture together and take it as a memory of your visit.
Get Original Goods at Conan Tanteisha
If you enjoy the world of Detective Conan, what would you like to have original goods? The annexed "Conan Tanteisha" can make that wish come true. Starting with the bite-sized langue de chat (1,080 yen including tax) sandwiching the fluffy chocolate cream with 35 popular characters printed on it, there are plenty of limited-edition goods that can only be purchased here, such as sweets, goods, and stationery.

And if you want to send a postcard from the mailbox in the shop, there is also a service where you can get Conan's postmark. Why not send it to yourself or a close friend as a memento of your trip?
* No entrance fee is required for "Conan Tanteisha"

Spot Information
Spot name: Gosho Aoyama Manga Factory (青山剛昌ふるさと館 / Aoyama Gosho Furusatokan)
Address: 1414 Yurashuku, Hokuei Town, Tohaku District, Tottori Prefecture
Business hours: 09:30 to 17:30 (Last entry 17:00)
Closed: Open all year round
Admission fee: Pre-school children: free, Elementary school students: 300 yen, Junior high and high school students: 500 yen, Adults: 700 yen
Payment method: credit card accepted
Access: About 20 minutes on foot or about 5 minutes by taxi from JR Yura Station
[Survey] Traveling to Japan
Recommend