~Money-Saving Tips in Japan~ Are prices too high in Tokyo? Gyomu Super stores are an exception.
Many people have the image of Tokyo as a "city with high living expenses". In fact, that's correct; according to Ministry of Internal Affairs and Communications statistics (2020), the price level in Tokyo is the highest among the 47 prefectures. (By the way, 2nd place is Kanagawa Prefecture, 3rd place is Kyoto Prefecture)

Everything is expensive in Tokyo... but Gyomu Super stores are an exception. This time, we will introduce Gyomu Super stores, the supermarkets that are very popular for their "cheap prices" and "large capacity" in detail.
What is Gyomu Super?
The place that FUN! JAPAN editorial department went for a hands-on report this time is, "Gyomu Super Ueno Hirokoji Store". Located in Taito Ward, Tokyo, this store is within walking distance from Ueno Park and Yushima Tenjin Shrine (Yushima Tenman-gu), and about 10 minutes from Sensoji Temple by train and walking. It is also an easy place for foreign tourists visiting Tokyo to stop by.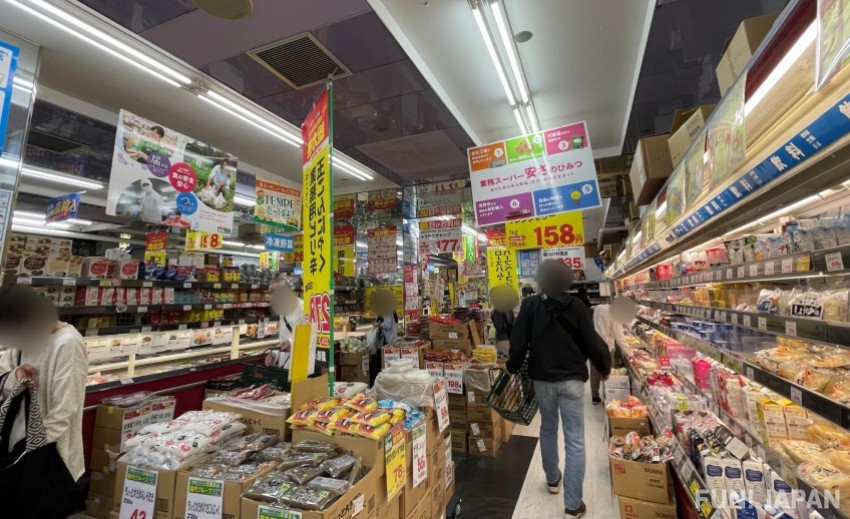 When we entered the store, the food products were displayed in a very narrow space. It seems like you can meet a lot of good-value food products here - getting us excited for a scavenger hunt.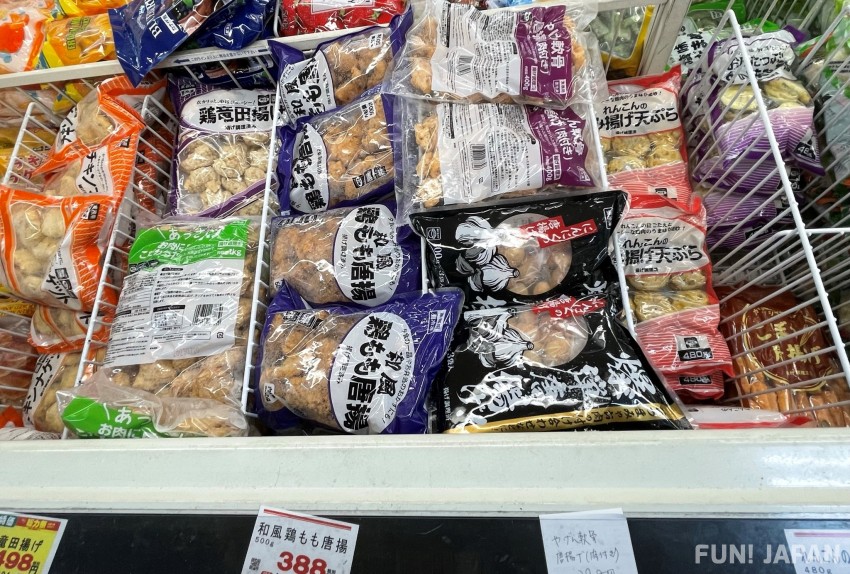 Before we go introducing the products, let's explain the origin of the name "Gyomu Super" (業務スーパー).

In Japan, large-capacity food products aimed to be bought by food and beverage service businesses such as restaurants are called "gyomu-yo" (業務用 business use products, as oppose to consumer products). Gyomu Super stores sell many such business-sized products. Not only people who run restaurants but also general customers are welcome in these stores, so many customers come for large-capacity foods that are not available at ordinary supermarkets.
What are the popular products of Gyomu Super?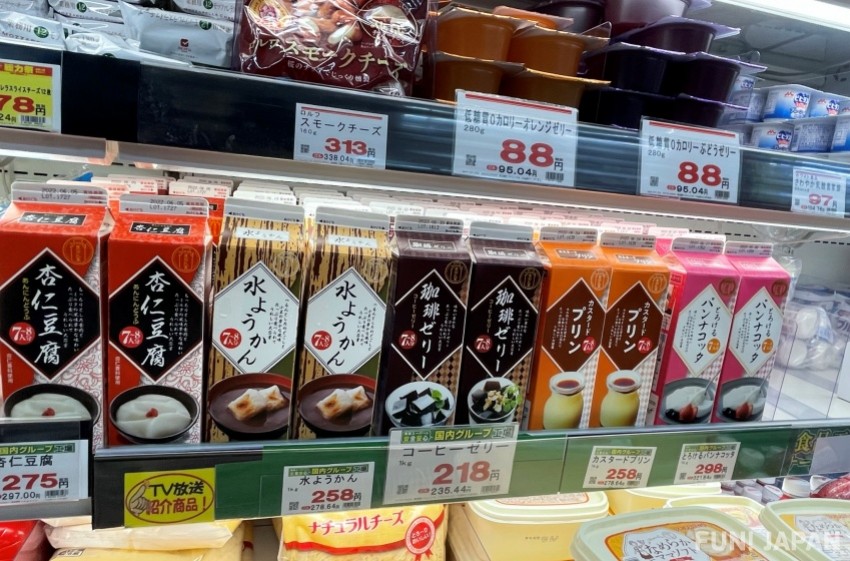 From here, we will introduce plenty of products from Gyomu Super.

First of all, when speaking of Gyomu Super, then there must be these items - sweets in paper cartons. This is an original product of Gyomu Super that can only be bought at a Gyomu Super store, and there are pudding, coffee jelly, panna cotta, almond tofu, and mizu yokan.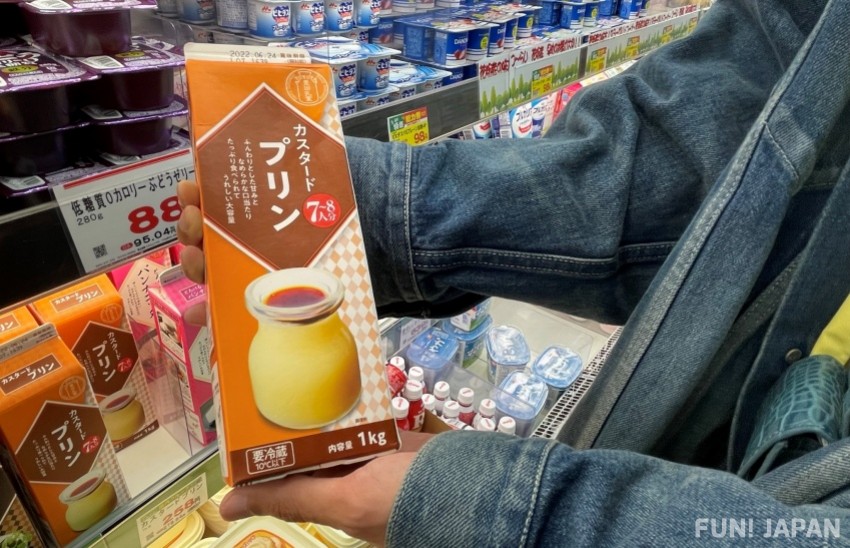 The amount of content of the pudding in the paper pack is 1kg (equivalent to 7 to 8 servings). When you hold it in your hand, you will feel heavy...

The price is 258 yen excluding consumption tax. (* The price of the product may vary depending on the season and the store.) Generally, the price of Japanese pudding is at least 100 yen for one serving, so it can be said that this price for 7 to 8 servings is quite a great value.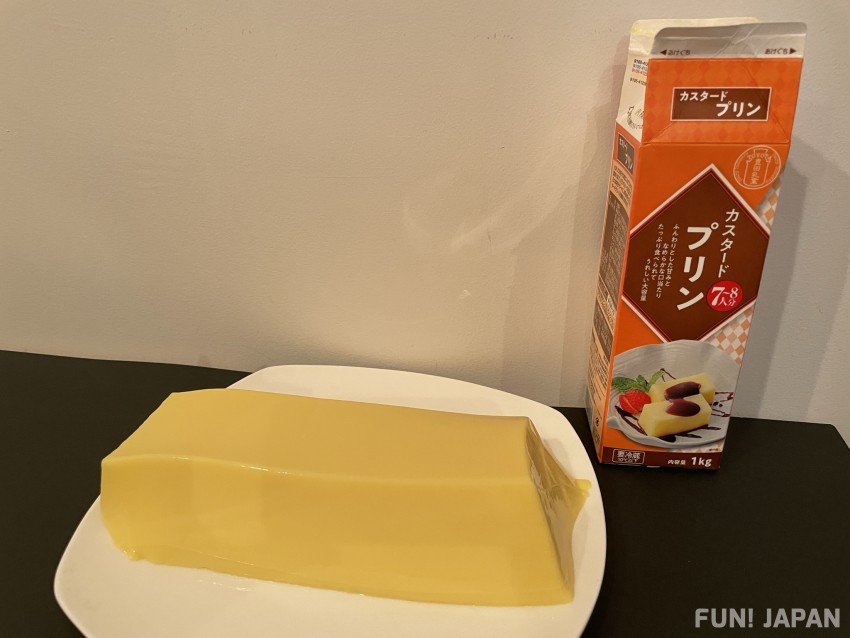 When you take out the pudding from the paper carton, it looks like this. What a sight to behold.

Paper cartons of this shape are commonly used as milk containers in Japan. Gyomu Super makes effective use of milk-producing equipment to produce sweets in paper cartons, and as a result, the selling price can be reduced.
There are many more! Large capacity & great value food products
Next, let's introduce food products that are likely to be useful for dinner and lunch.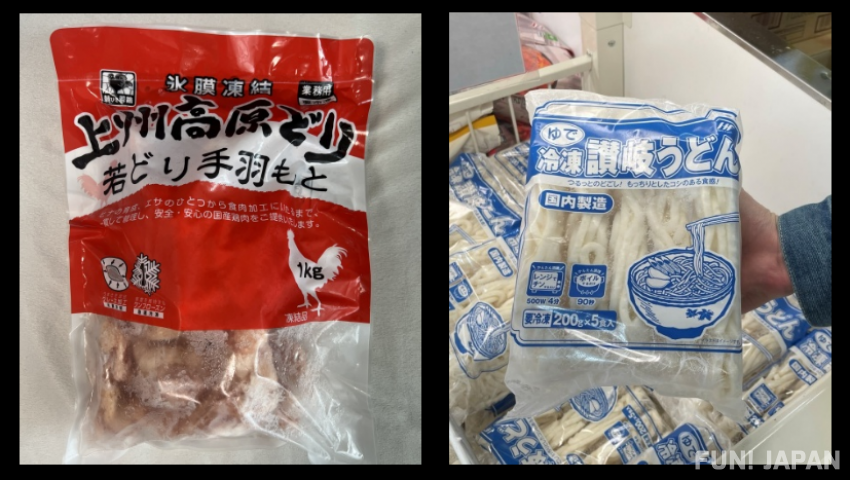 The "Joshu Kogen Dori Wakadori Tebamoto IQF" (Young Chicken Wings) in the photo on the left is 1 kg of frozen domestic chicken at 518 yen. It can be used for various purposes such as fried chicken and stewed dishes, so you won't get tired of eating it every day.

The photo on the right is frozen Sanuki udon noodles. Comes with 5 servings (200g per serving), and the price is only 157 yen! It was boiled once before being frozen, so when you want to eat it, just heat it in the microwave for 4 minutes or boil it in hot water for 90 seconds.
* Product prices may vary depending on the season and store.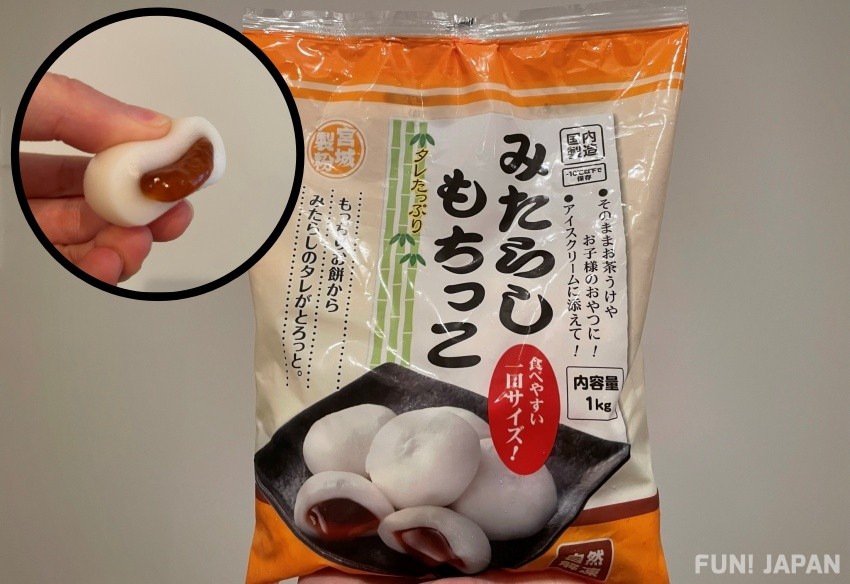 The "Mitarashi Mochikko" (308 yen), which is perfect for snacks, is also an original product of Gyomu Super. The bite-sized rice cake (mochi) stuffed with plenty of mitarashi sauce (sauce using sugar and soy sauce).

Since it comes with 1 kg of content, you can enjoy it in various ways, such as eating it alone without adding or doing anything extra is or using it as an ice cream topping.
* Product prices may vary depending on the season and store.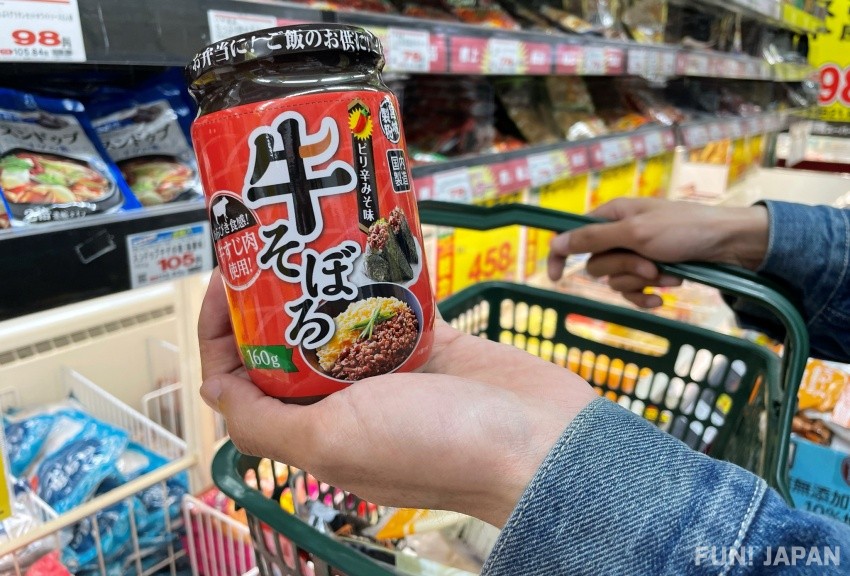 This "Gyu Soboro" (cooked minced beef) is recommended for those who are looking for a simpler food that does not require cooking.

Soboro, furikake, raw eggs... Japanese people love to sprinkle rice seasoning on white rice. It's very easy to make and saves on food costs. It's especially suitable for breakfast menus.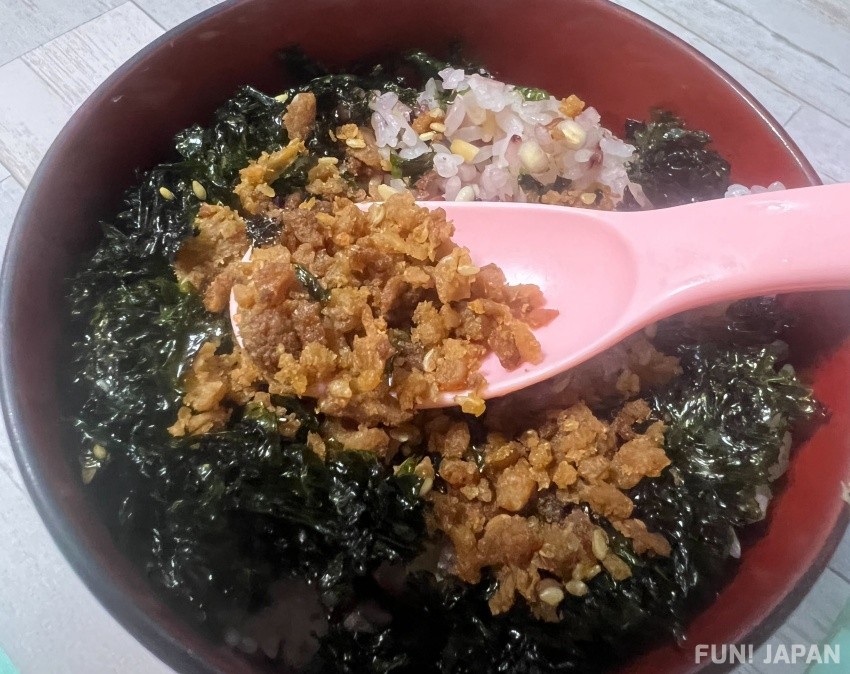 Miso-flavored spicy beef soboro can be used in various ways, such as sprinkle on white rice or as a stuffing for rice ball.

You can find rare foods imported from overseas
Large-capacity original products are not the only reason for the popularity of Gyomu Super. One of the charms is that you can find food products imported from overseas.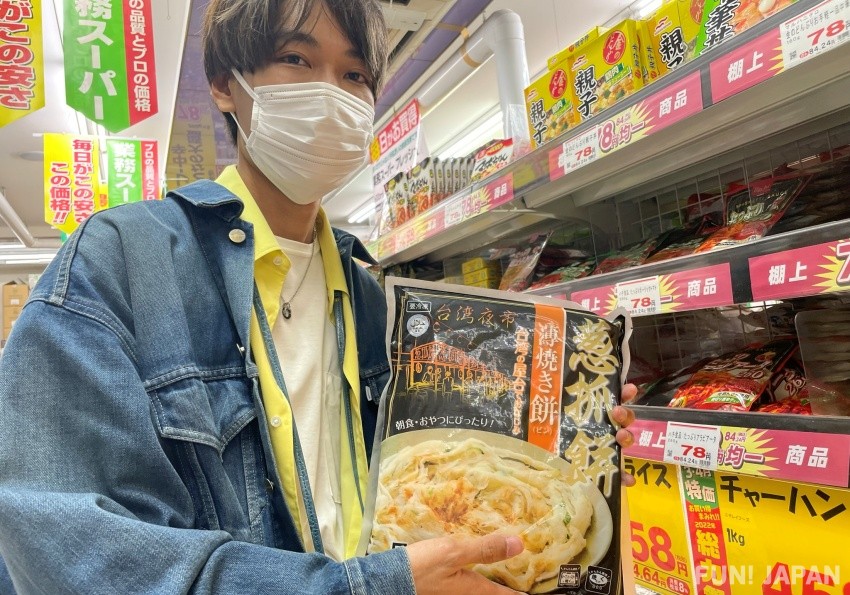 What we found was "thin yakimochi (with green onions)" imported from Taiwan. Green onions and sesame are kneaded into the dough made from wheat flour, and when cooked in a frying pan, the outside is crispy and the inside is chewy. You can easily enjoy authentic Taiwanese gourmet food.

Many people visit Gyomu Super stores for such rare overseas gourmet foods that are not sold at other supermarkets.
Halal products are also available!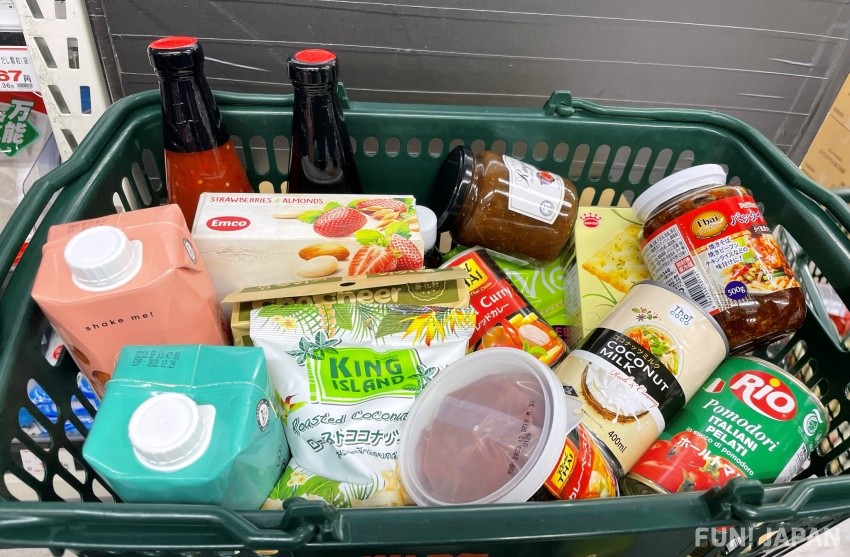 Gyomu Super stores also sell halal products. Foods with halal marks are placed everywhere in the store, so even Muslims will be able to enjoy shopping at Gyomu Super stores.

Maybe you can live for a week with 2,000 yen worth of food?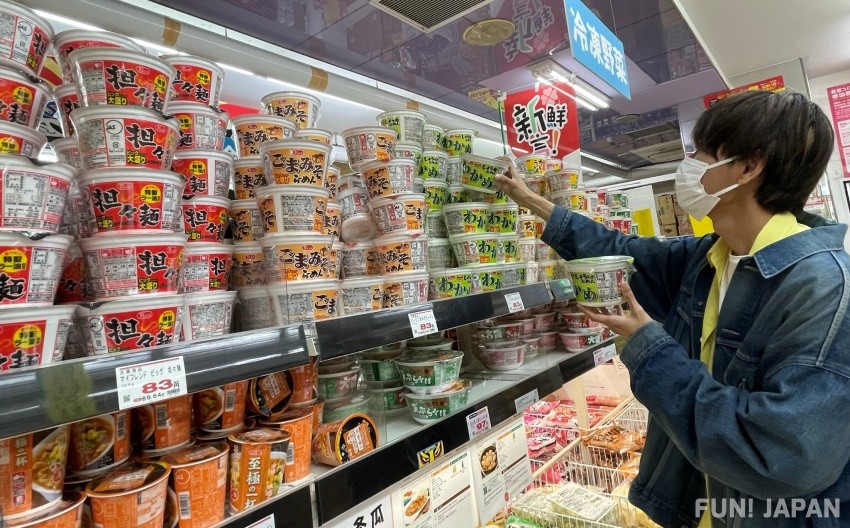 Gyomu Super is house to large-capacity foods and rare overseas foods. While shopping, you'll feel like you're on treasure hunting spree.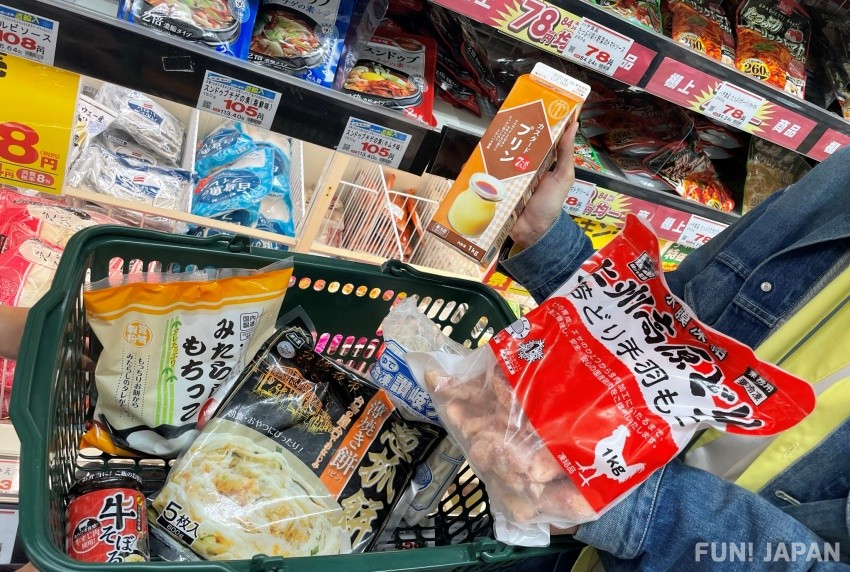 On the day, Jacky, our editorial staff member, purchased the following 6 items.
Custard Pudding 1kg
Joshu Kogen Dori Wakadori Tebamoto IQF 1kg
Frozen Sanuki Udon 1kg
Mitarashi Mochikko 1kg
Gyu Soboro 160g
Thin Yakimochi (with green onions) containing 5 packs
And let's see, how much is the total price...?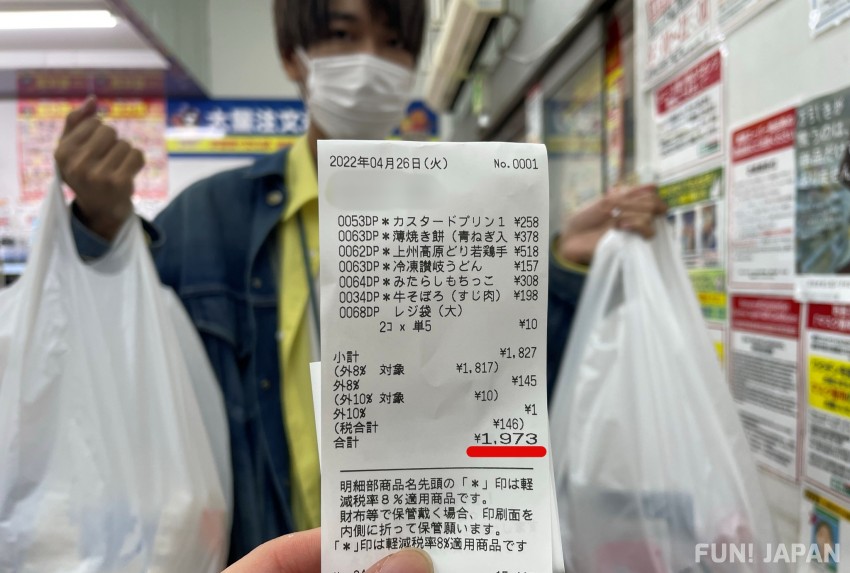 6 items purchased with 2 full shopping bags, but the price including consumption tax is just 1,973 yen!

If you live alone, you can get enough food to live for a week for less than 2,000 yen. Gyomu Super stores are like the savior of people living in high-priced Tokyo.
There are 964 Gyomu Super stores nationwide (as of the end of March 2022), and there are more than 70 stores in Tokyo. When you come to Japan for sightseeing, why not stop by a nearby Gyomu Super store?
* Product prices may vary depending on the season and store.
Hand-on report video
Store for hand-on report: Gyomu Super Ueno Hirokoji store
Address: 2-3-4 Ueno, Taito Ward, Tokyo
Business hours: 09:00 to 22:00
Access:

3 minutes walk from Ueno Hirokoji Station on the Tokyo Metro Ginza Line
3 minutes walk from Yushima Station on the Tokyo Metro Chiyoda Line
3 minutes walk from Ueno Okachimachi Station on the Toei Oedo Line
4 minutes walk from Okachimachi Station on the JR Yamanote Line and Keihin Tohoku Line
Related articles:
[Survey] Traveling to Japan