Hydrangea's Secret of Beauty and the Colorful Rainy Season Scenery
The rainy season in Japan is hot and humid, but it also fosters a sense of anticipation. The reason is that it is the time of the year when the beautiful hydrangea, or "ajisai" (アジサイ) in Japanese, blooms. The more it rains, the more brilliant the hydrangea is. This time, let's introduce such a lovely flower!
About the name "Ajisai"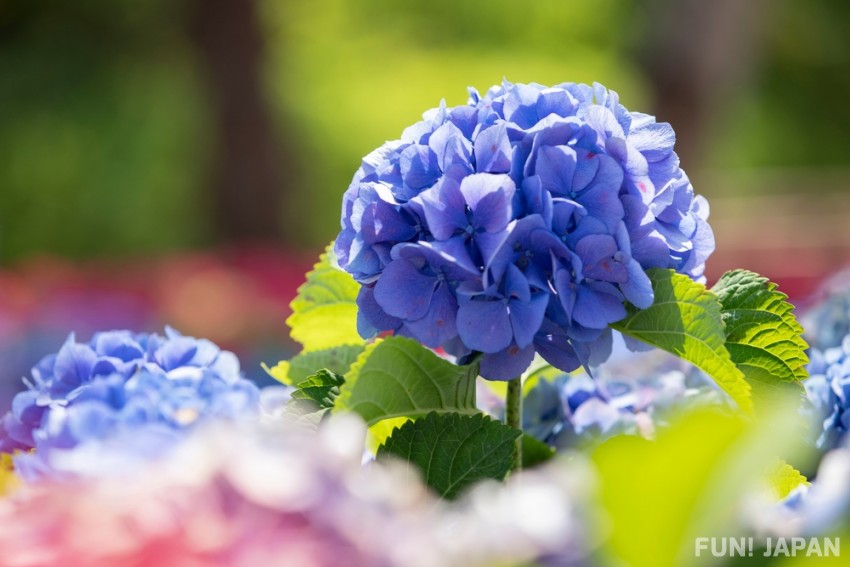 Ajisai is written in Kanji as "紫陽花". In addition, it has other names such as "集真藍" (atzusai: it means a collection of indigo), "七変化" (shichihenge: it means seve changes, from the fact that it changes to different colors as time goes by), "手毬花" (temaribana: the flower has a round shape just like Temari ball).

The Cause of Color Changes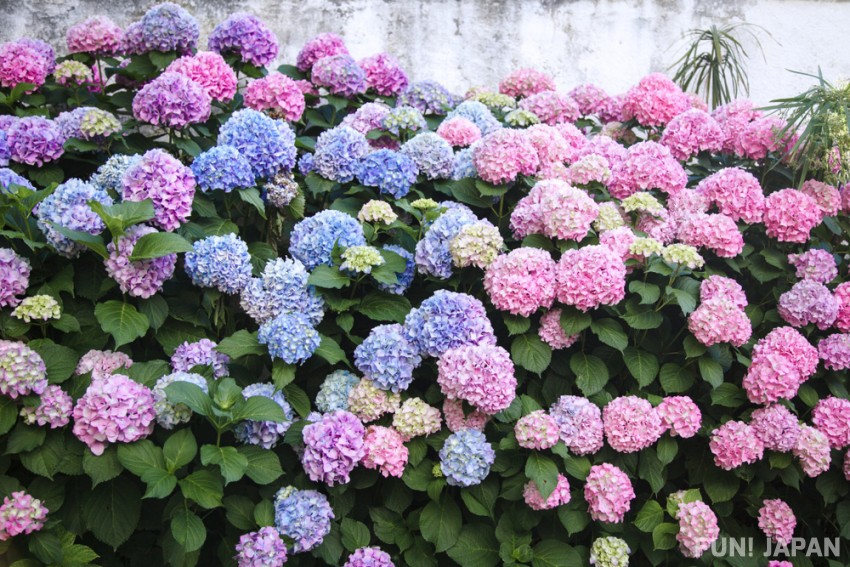 It is no exaggeration to say that hydrangea is the chameleon in the world of flowers. Depending on the acidity of the soil, the color of the same seedling will be different. It turns blue in acidic soils, red in alkaline soils, and purple in neutral soils. If you exclude the potted plants, then blue hydrangea is overwhelmingly common in the streets of Japan.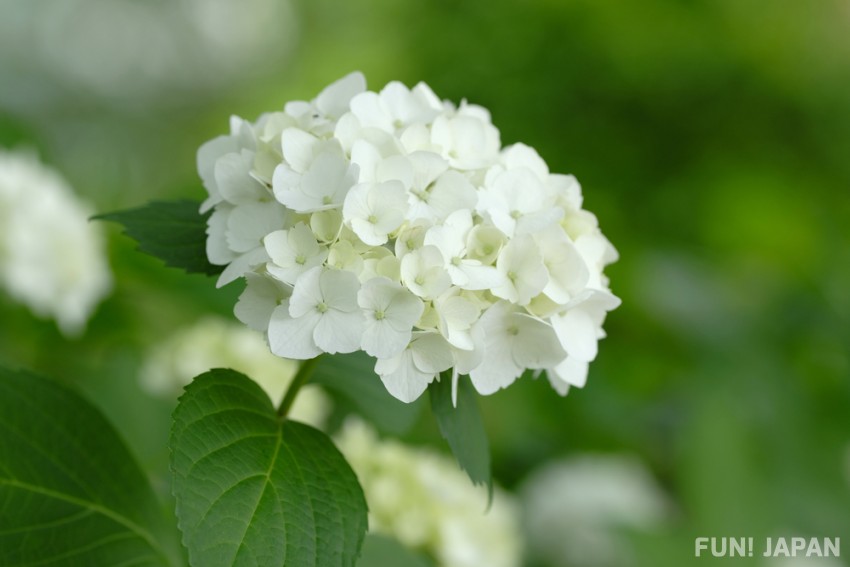 Recently, with the evolution of cultivation technology, many varieties that can be grown without its colors being affected by soil acidity have appeared. Pure white hydrangea is one of the results.

Japanese Hydrangea and Western Hydrangea
The round hydrangea is named "繍球花" (Shukyuka: embroidery ball flower) like "繍球" (Shukyu: the embroidery ball) which is a symbol of Chinese matchmaking. In fact, the 'ajisai' you are familiar with is not native to Japan, but from Europe. It is a cultivar that gained popularity after being improved from the original Japanese species "ガクアジサイ" (Gaku Ajisai) and reimported to Japan.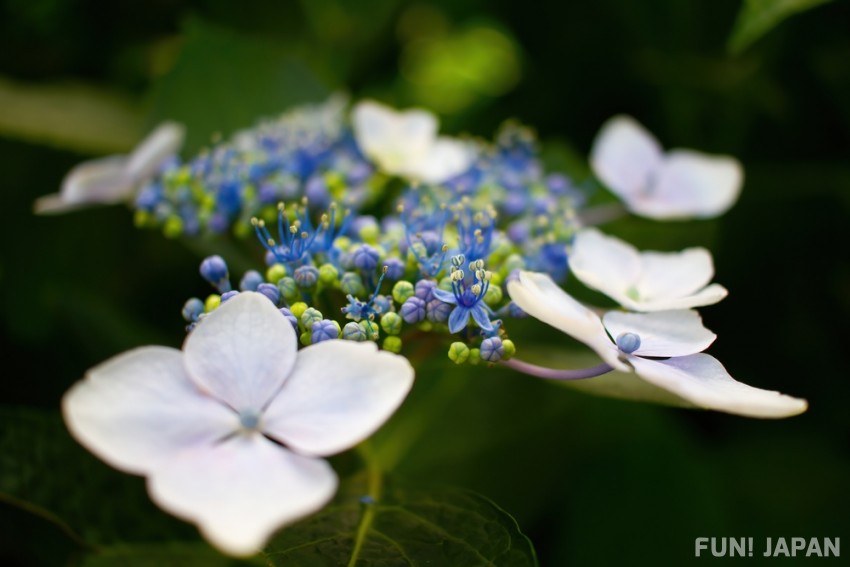 Decorative flowers with large calyxes are lined up around the inflorescence of "Gaku Ajisai" native to Japan. As the name suggests, "decorative flowers" are just for decorations (without any inflorescence like a real flower). On the other hand, the "amphoteric flower" surrounded by decorative flowers is tiny but has stamens and pistils, and can be fertilized by its own flower.

Beauty that Comes with "Poison"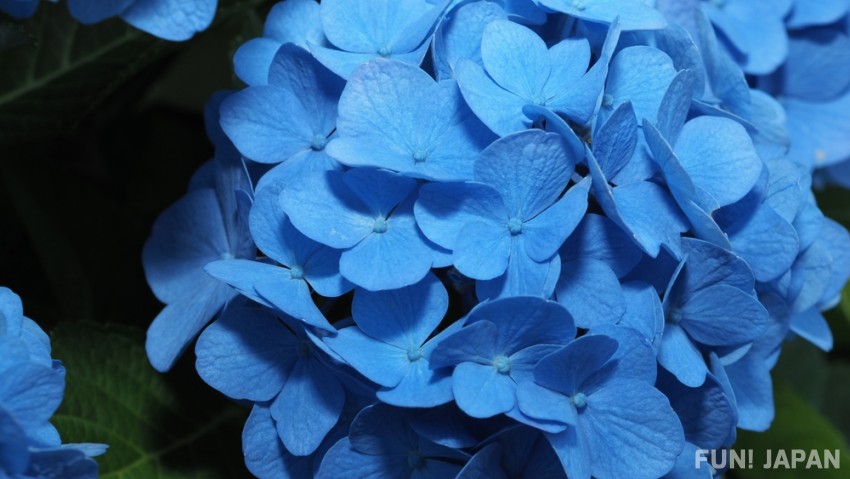 Hydrangea, which is a poisonous plant, has different toxicity depending on the variety. Therefore, you should never make a flower decoration to place on your table just because you are fascinated by the beauty of hydrangea!

What is Ajisai Hana Chozu?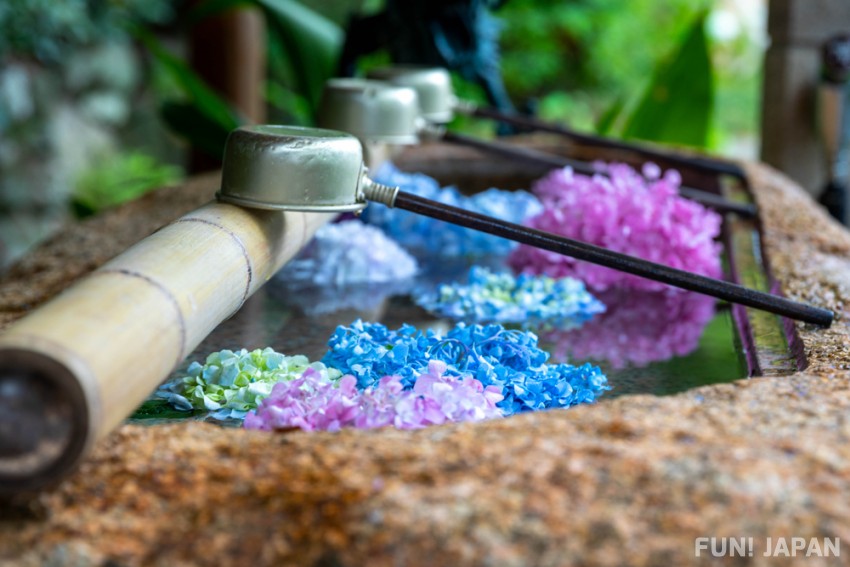 "Hana Chozu" (花手水), which floats colorful flowers in a Chozuya (手水舎, the place to purify your hands before entering a shrine) and water fields in the shrines and others, is being a boom everywhere in Japan right now. The pioneer of this can be said to be "Youkokuji Temple" in Kyoto.

The name "Hana Chozu" originally refers to the act of substituting flowers for cleaning hands outdoors, but at Youkokuji Temple, colorful flowers are used to decorate the Chozuya in the precincts. The main reason why Hana Chozu uses hydrangea is that it blooms more beautifully as it rains, and because of its visual impact, it has become the most colorful decoration for the Chozuya.
As aforementioned, hydrangea is a poisonous flower - now you may wonder if it would cuase adverses effect on the hydrangea-decorated Hana Chozu. Indeed, the water of Hana Chozu flows continuously like a river, and the toxicity of hydrangea is also diluted by it. In addition, in temples and other places, other hand-washing areas are available as well. No worries at all!
Why Do Japanese Shrines and Temples Plant Hydrangeas?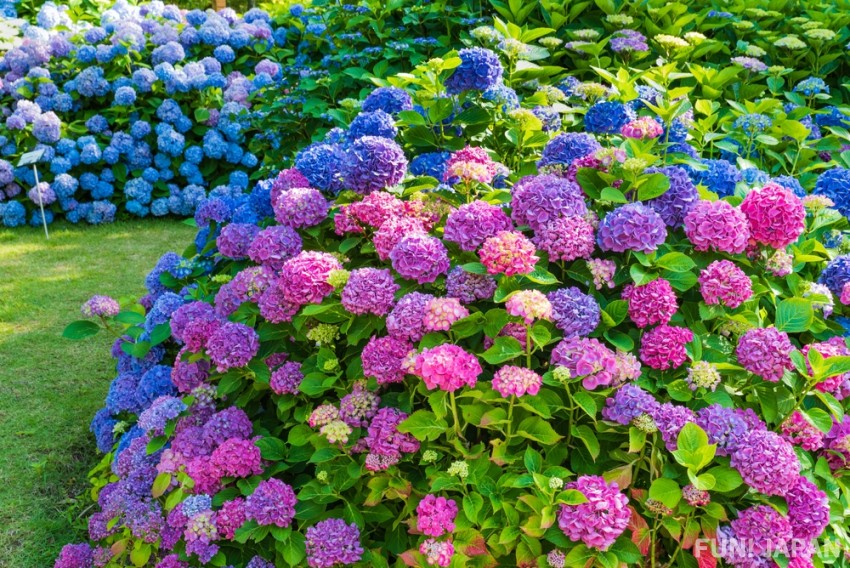 There are several reasons for planting hydrangea in many shrines and temples. First of all, shrines and temples are located in the mountains surrounded by a bright but half-shaded (partly shaded by other trees) and cool natural environment where hydrangeas grow. In addition, hydrangea, which is easy to grow, is sometimes regarded as a land boundary. So it has not just beauty, but also unique convenience too.

On the other hand, in old Japan, where medical technology was still behind, the time when hydrangea blooms was a time when various epidemics were outbreaks. Therefore, there is a theory that the birth of the hydrangea temple is that they planted hydrangea around the tomb in order to commemorate the people who died in the plague.
Famous Places for Viewing Hydrangea
Hydrangea in Japan is a flower that can be seen everywhere, and even on the roadside you can see the cluster in full bloom. For that reason, there are numerous shrines and temples that are famous for hydrangea. For example, "Meigetsu-in Temple" in Kamakura and "Mimurotoji -Temple" in Kyoto. However, it might be difficult having to pay the admission fee every time you go to a shrine or temple. Thus for your budget, this time we would like to introduce you to a hydrangea spot that does not require an admission fee.

Tokyo: Asukayama Park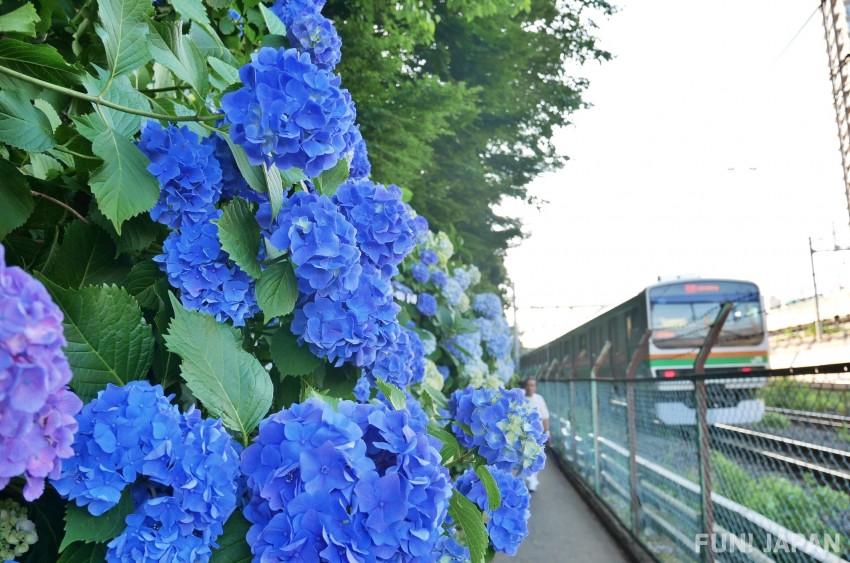 Asukayama Park, which is designated as one of the Japan's first parks along with Ueno Park, is a famous place for cherry blossoms from the planting of 1,270 cherry blossom trees in Asukayama by Yoshimune Tokugawa, the eighth shogun of the Tokugawa shogunate. In "Asuka no Komichi" (飛鳥の小径) or often known as 'Hydrangea Road' which is about 350 meters long, there are about 10 kinds of hydrangea in total of about 1,300 seedlings are grown. You can be surrounded by hydrangeas and watch hydrangeas from above while walking along the small path at the foot of the mountain. Since it was built along the JR railroad tracks, you can also take pictures of trains passing by the road and the hydrangeas together.
Spot Information
Name: Asukayama Park (飛鳥山公園)
Location: 1-1-3 Oji, Kita Ward, Tokyo
Access: 1 minute walk from the south exit of "Oji Station" on the JR Keihin Tohoku Line
Tokyo: Odaiba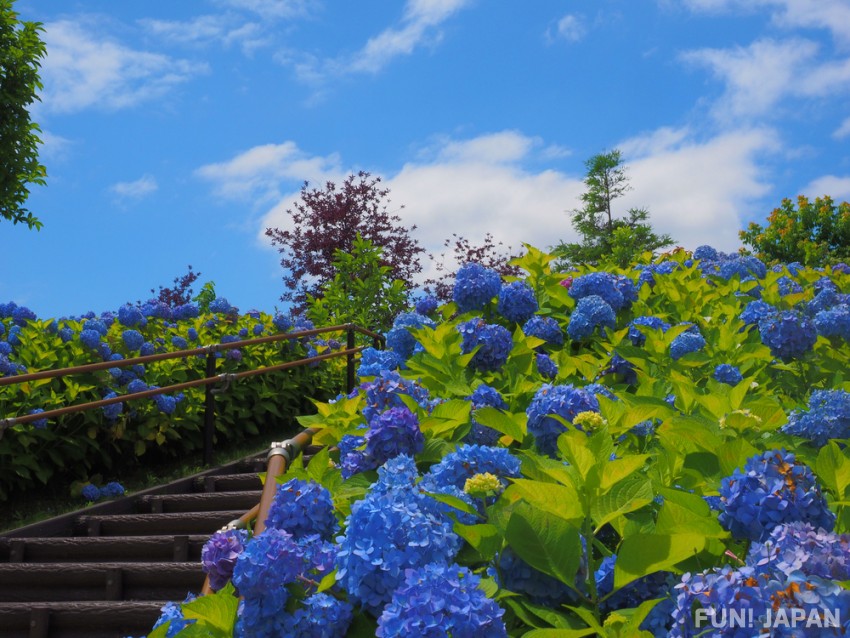 There is also one famous spot for hydrangea-viewing in Odaiba, the place where many commercial facilities are gathered. A cluster of hydrangeas spreads out in the "Mizu no Hiroba Park" at the south exit of "Aomi Station" on the Yurikamome Line. The "Symbol Promenade Park" on the other side is also a famous tourist spot with long stairs surrounded by hydrangea. How about shopping while watching hydrangea?

Spot Information
Name: Mizu no Hiroba Park (水の広場公園)
Location: 1-chome and 2-chome, Aomi, Koto Ward, Tokyo / 3-chome, Ariake, Koto Ward, Tokyo
Access: Right outside the south exit of "Aomi Station" on the Yurikamome line
Spot Information
Name: Symbol Promenade Park (シンボルプロムナード公園)
Location: 1-chome and 2-chome, Daiba, Minato Ward, Tokyo / 1-chome and 2-chome, Aomi, Koto Ward, Tokyo / 3-chome, Ariake, Koto Ward, Tokyo
Access: Get off at "Odaiba-kaihinkoen Station" or "Tokyo Big Sight Station"
Osaka: Yamadaike Park
Speaking of "Yamadaike Park" in Hirakata City, Osaka, the history of Yamadaike (山田池, Yamada Pond) situated in the center of the park can be traced back to 1,200 years ago. Now the p vast ark is divided into 16 areas such as aqautic flower garden, maple valley, flowering trees garden, and observatory square. Surrounded by various hydrangea flowers and a lush natural environment, Yamadaike Park is a tourist attraction that many Japanese wish to visit once in their lifetime.

Spot Information
Name: Yamadaike Park
Location: 1-1 Yamadaikekoen, Hirakata City, Osaka Prefecture
Access: 10 minutes walk from "Fujisaka Station" on the JR Gakken Toshi Line
[Survey] Traveling to Japan