What to do after enjoying Kurashiki and Korakuen sightseeing? Recommended souvenirs for your trip to Okayama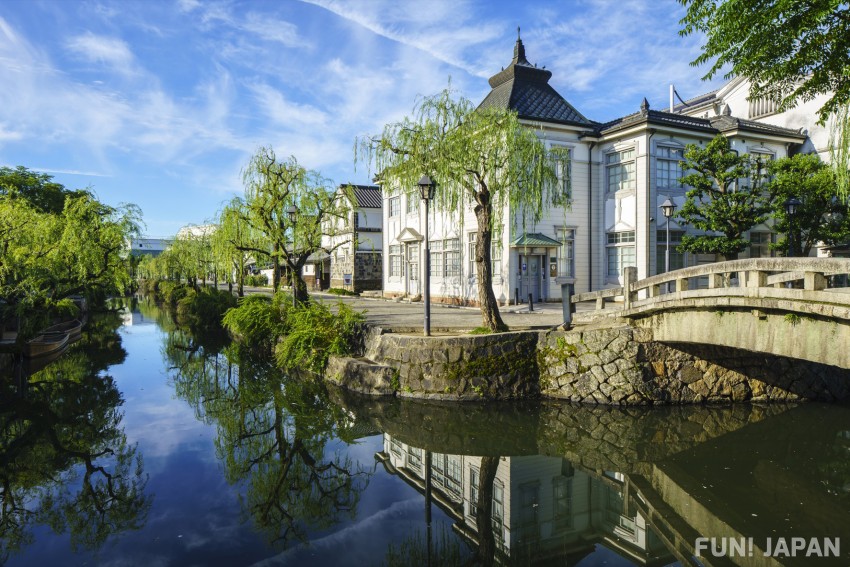 Okayama Prefecture, a place full of beautiful nature, traditional culture, and Japanese landscapes such as the Kurashiki Bikan Historical Quarter, Korakuen, and the Seto Bridge. Traditional Japanese sweets such as kibi dango and fruit cultivation such as peaches and grapes are also famous, yet to mention many more delicious gourmet foods and souvenirs. In this article, we will introduce souvenirs that you should definitely keep in mind when you travel to Okayama!

Related to the fairy tale "Momotaro"?⁇ Okayama's famous kibi dango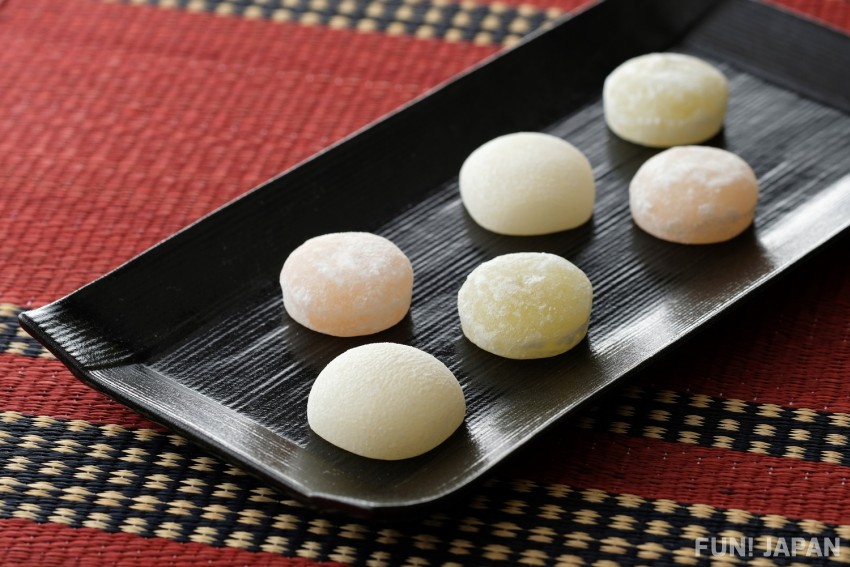 "Kibi dango" (きびだんご) is a souvenir that represents Okayama City, Okayama Prefecture. There are various theories about the origin of Kibi dango, one is that when Okayama was called "Kibi no Kuni" (吉備の国) in the olden days, Kibi dango originated from the making of Gyuhi sweet (glutinous rice sweet) that played a role in the tea ceremony of Kibitsu Shrine (吉備津神社), using the millet dango (黍だんご / Kibi dango) made from millet flour that was eaten at that time as the base.
Kibitsu-jinja Shrine famous for the legend that is said to have been the source of the fairy tale "Momotaro", but since there is no evidence of literature left, the truth of the Momotaro legend is still wrapped in mystery. ..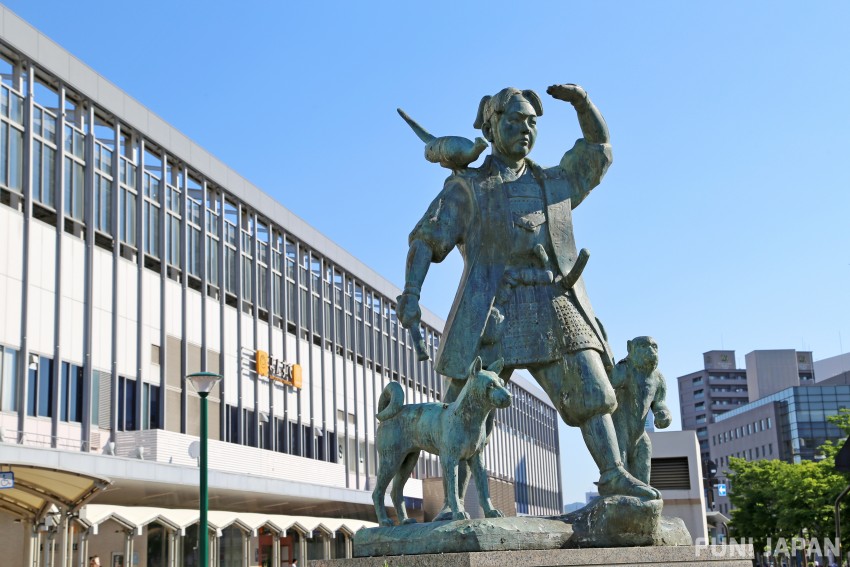 Kibi dango is a Japanese confectionery made by mixing heated glutinous rice, sugar, starch syrup, and millet (黍) powder into a dumpling shape, and sprinkling the surface with dogtooth violet starch. Recently, there are products that do not use millet flour at all, and there are not just simple plain flavor, but also brown sugar flavor and kinako (roasted soybean) flavor, Japanese-style matcha flavor, and Okayama's famous white peach flavor, so you can compare various flavors. We recommend you to try as many as you can and compare them.

In addition, the long-established store KOEIDO, which was founded in 1856, serves flavors like "Original Kibi Dango" (元祖きびだんご), "Brown Sugar Kibi Dango" (黒糖きびだんご), "Kibi Dango with Sea Salt" (海塩入りきびだんご), "White Peach Kibi Dango" (白桃きびだんご), "Kinako Kibi Dango" (きなこきびだんご), "Brown Rice Kibi Dango" (玄米きびだんご), "Red and White Kibi Dango" (紅白きびだんご), and "Once-upon-a-time Kibi Dango" (むかし吉備団子). They also have obtained halal certification in 2015, so even Muslims can enjoy Japanese confectionery without worry!
Other famous confectionary of Okayama such as "Ote Manju" (大手まんぢゅう), one of the three major manju in Japan with a long history, and "Chofu" (調布) which is made by wrapping glutinous rice with sugar and starch syrup and kneading it with a thin castella dough are also not to missed!
Experience Okayama Denim at Kojima Jeans Street!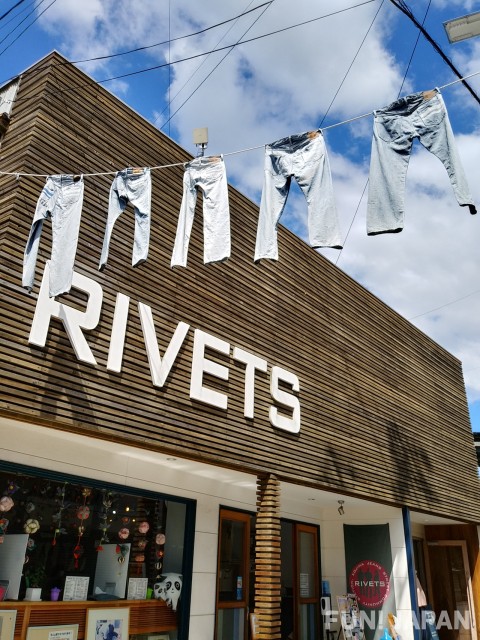 "Okayama Denim" is of high quality that attracts attention from famous brands and designers around the world. Okayama denim is a general term for denim produced in the Kojima area of Kurashiki City, which has developed as a town for the textile industry since ancient times, and the Ibara area around Ibara City.

In particular, the Kojima area is the birthplace of domestically produced jeans. In recent years, attention has been focused on "Kojima Jeans Street," which is lined with jeans shops, museums, and workshops.
Kojima Jeans Street is located in a corner of the shopping district, about a 15-minute walk from Kojima Station on the JR line. When you go through the city from the station and enter the shopping district, you will find jeans hanging from the roof! That is the entrance to the Jeans Street.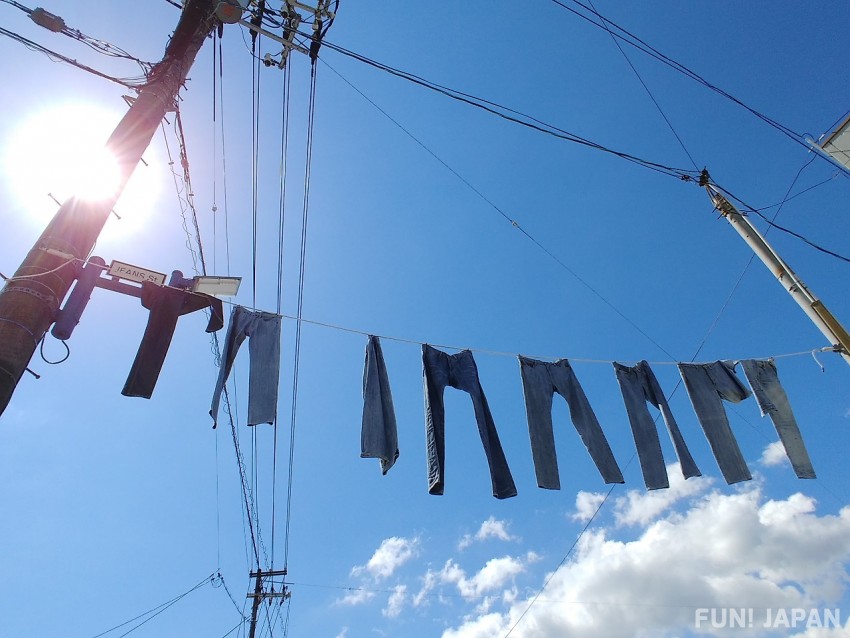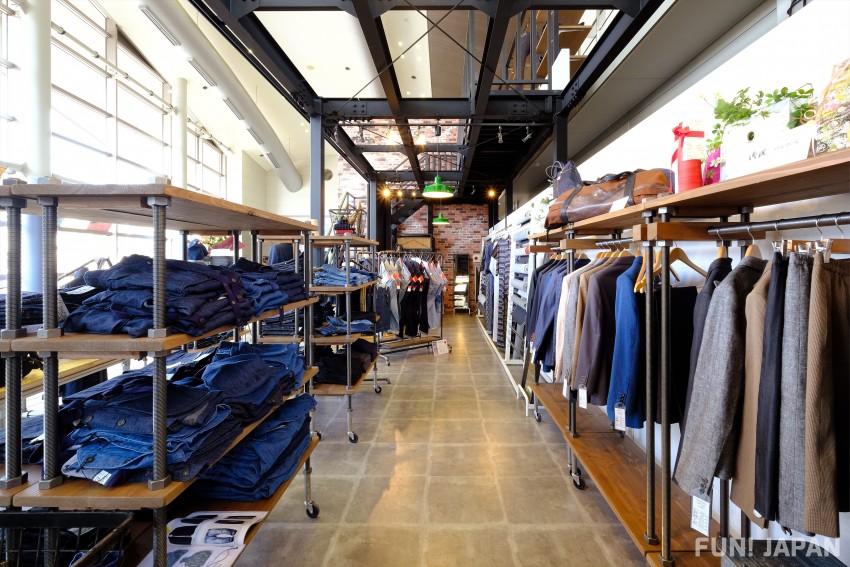 This street sells a variety of denim fabrics and indigo-dyed products, including clothes, wallets, tote bags, key chains and miscellaneous goods. Depending on the shop, not only you can buy ready-made jeans but you can also make custom-made jeans, participate in indigo dyeing experience such as denim fabric and stall, and in denim experience such as making original straps, so it is perfect for making memories of your trip!
There are also famous gourmet foods such as denim buns and denim soda that reproduce the blue color of indigo dyeing. Please try them when you are there!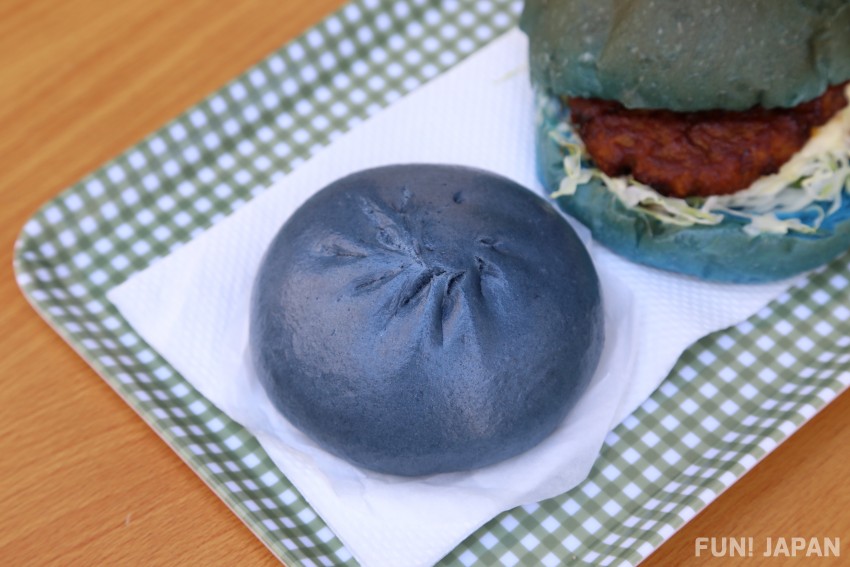 Grapes and even white peaches! Delicious sweets unique to the fruit kingdom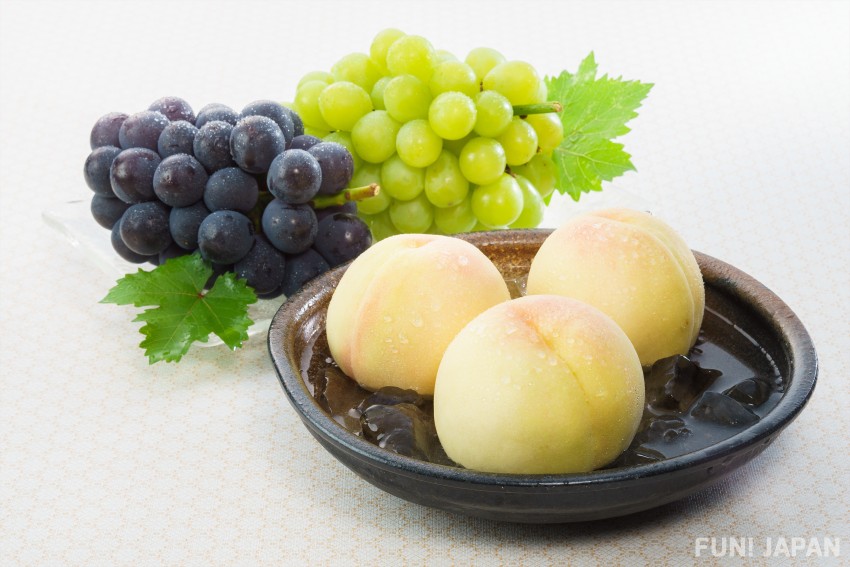 Okayama Prefecture is also known as the fruit kingdom due to its warm Seto Inland climate.
In particular, grapes are famous, and various varieties are produced, such as the Muscat of Alexandria, which has a history of 130 years in the prefecture, the large and seedless New Pione, the seedless Shine Muscat that can be eaten without peeling, and the Aurora Black, which is also called "next generation grape".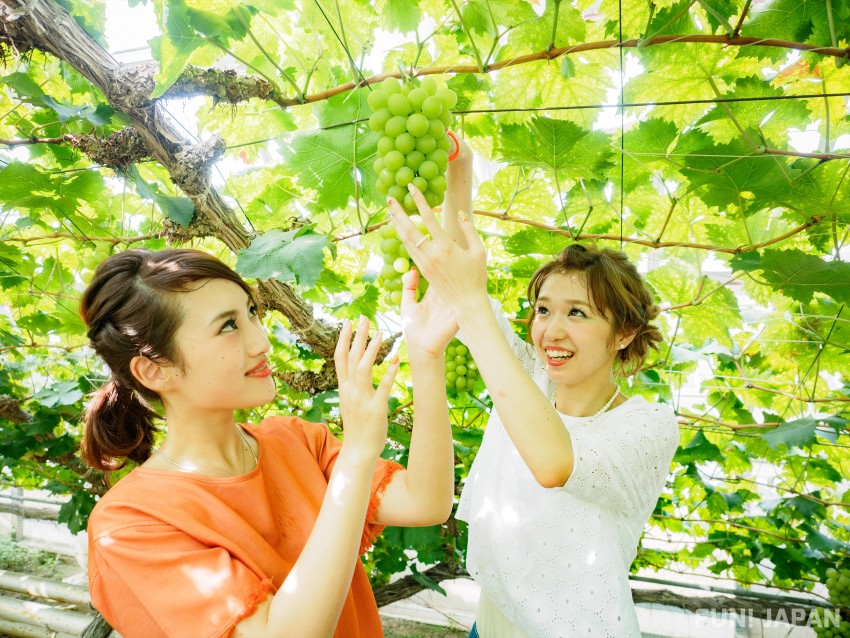 Therefore, you can easily buy not only raw grapes but also processed products and sweets that are ideal for souvenirs at souvenir shops in the prefecture. We recommend jams, canned foods, and juices where you can enjoy the original taste of fruits. Western confectionery such as jelly and cookies, as well as gummies and candies are also popular.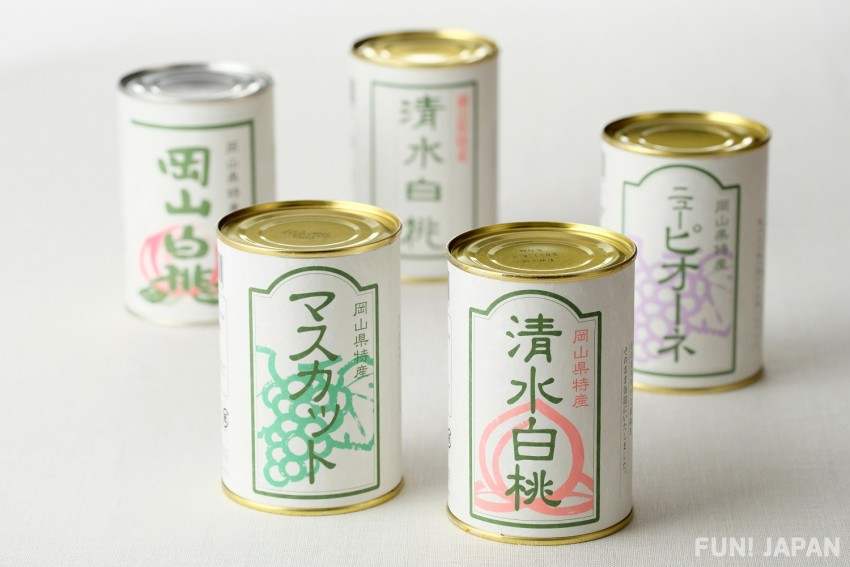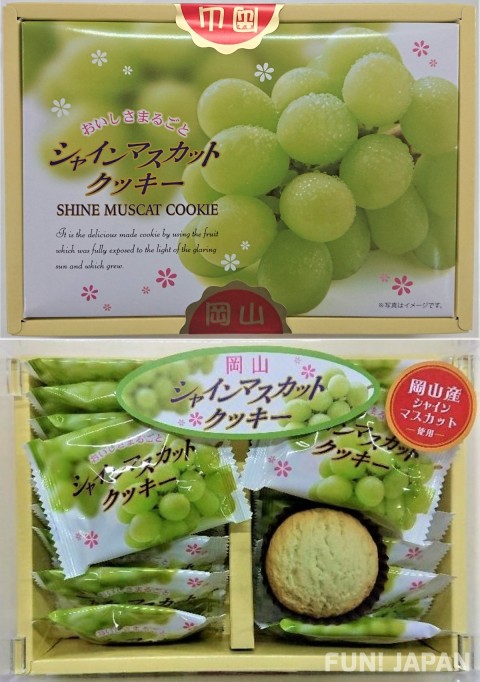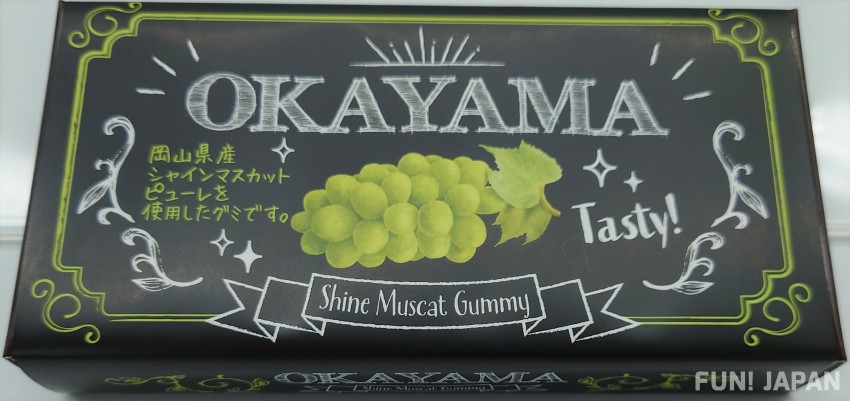 White peach, or locally known as Hakuto (白桃), is a specialty along with grapes. In fact, many of the varieties that are currently mainstream in Japan, such as "Hakuto" and "Shimizu Hakuto", have their roots in Okayama prefecture. Peaches of other prefectures are often cultivated without bagging, resulting in a reddish color, but in Okayama, it is common to cultivate peaches through bagging without exposing them to direct sunlight. Therefore, the skin is thin and beautiful white, and it is soft and sweet so that it melts in your mouth. Baked sweets such as financiers made by kneading white peach puree into cream, cakes, and jellies are very popular for both personal consumption and gifts!


By the way, some of Okayama's famous Kibi dango have muscat and white peach flavors. Why not check them out when you are on the trip there?

Kurashiki glass and masking tape... Easy-to-use traditional crafts are going viral!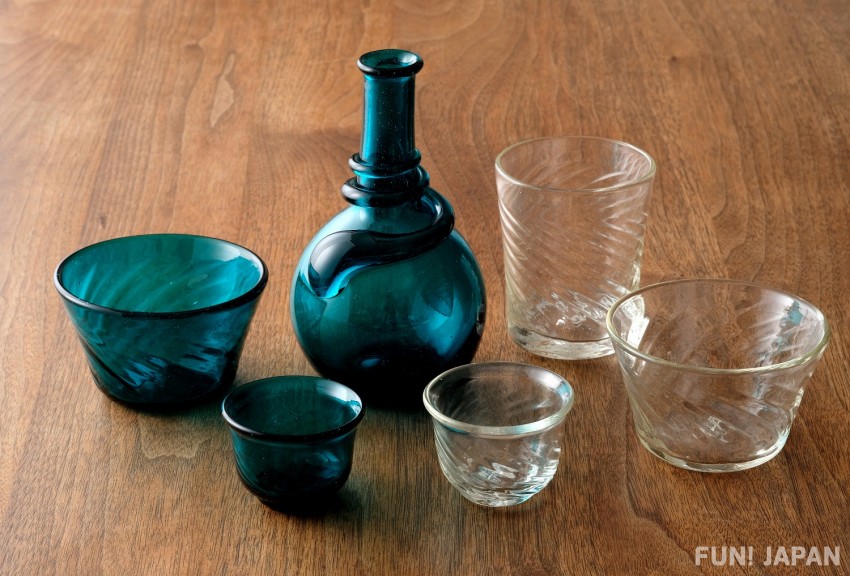 Including Kojima, which is famous for denim, Kurashiki is a region where manufacturing such as folk crafts and hand crafts is thriving. Many of the manufacturers that protect traditional crafts are long-established companies that have been in business for over 100 years, but while valuing tradition, they are continuously creating products with designs that are fashionable and easy to use in modern homes and lifestyles.

In particular, Kurashiki glass, where the beautiful handicrafts of craftsmen can truly shine, has become one popular folk craft thanks to its durable and easy-to-use design. Kurashiki is also known as the birthplace of masking tape. Masking tape with colorful Japanese patterns, Kurashiki cityscape, characters, etc. as motifs is unique to Japan! With cute masking tape, studying and working will be even more fun, right?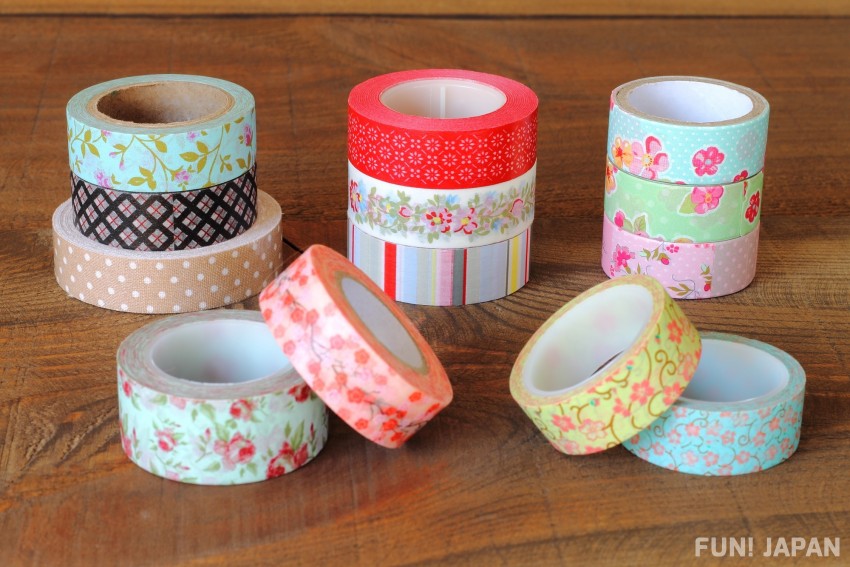 Other must-see Okayama gourmet

When it comes to the Seto Inland Sea, it must be seafood! One-year-old oysters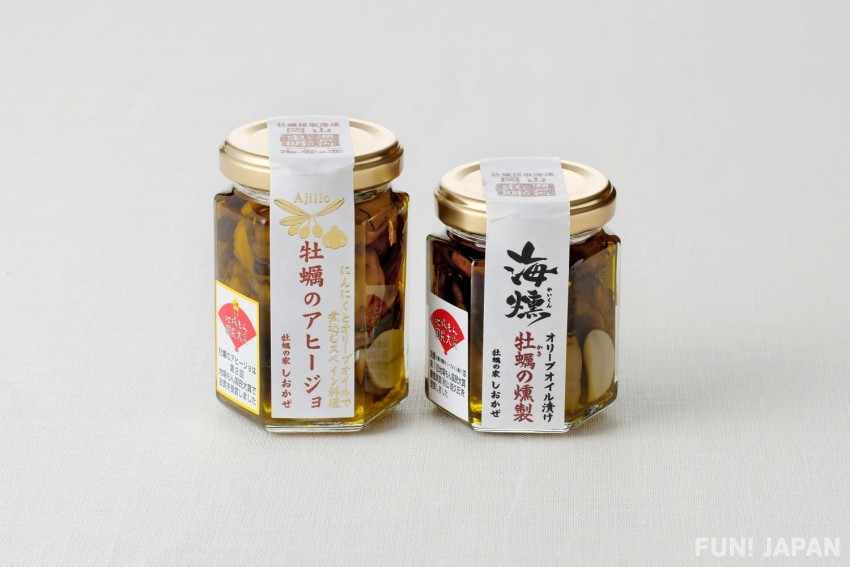 Fishing is thriving along the coast of the Seto Inland Sea, including in Shikoku and Hiroshima, but Okayama also has a lot of delicious seafood. Especially famous are sweet and plump oysters!
This is because the sea in Okayama is rich in nutrients, and the aquaculture period, which normally takes up to two to three years, can be shortened to about one year. One-year-old oysters are white and soft, have no odor, and do not shrink when heated.
There are direct sales offices around fishing ports such as Hinase and Yorishima and in Kurashiki City, where you can buy fresh oysters, and processed products such as olive oil pickles and smoked products are available at the airport. You can easily buy it at the souvenir shop in Yorishima or Kurashiki.
Bichu Tenobe Noodles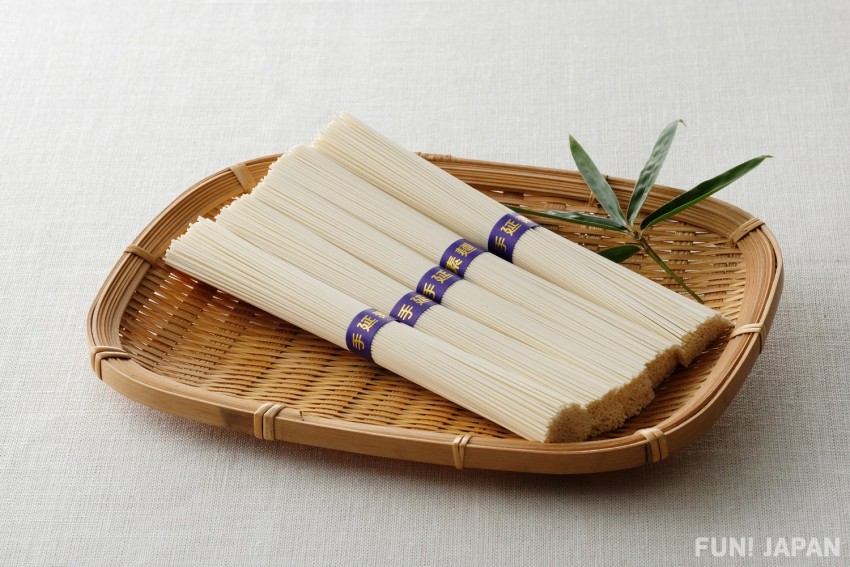 Lastly, we would like to introduce the hand-rolled noodles (Tenobe Men) made in Kamogata town and its surrounding areas. Kamogata town has long been a major producer of hand-rolled noodles, and holds the Kamogata Town Tenobe Noodle Festival every year. The noodles, which are made by repeating aging and stretching according to the traditional manufacturing method, are chewy and smooth.

How was it? Many of the souvenirs introduced in this article can be purchased at Okayama Momotaro Airport and the shops inside JR Okayama Station, so be sure to check them out.
Click here to find out more about the Setouchi area
[Survey] Traveling to Japan
Recommend