Guide to Okayama Prefecture, "The Land of Sunshine"
Okayama Prefecture is located in the Chugoku region of Japan, sharing a border with Hiroshima Prefecture. Since it receives more sun annually than most other Prefectures, Okayama is known around Japan as the "Land of Sunshine." Due to its mild weather, Okayama makes for a pleasant visit year round, though travelers will certainly find the most to do during the warmer months. Here is the introduction of Okayama Prefecture and the recommended attractions that are popular for tourists.

The 4 Famous Travel Destination of Okayama Prefecture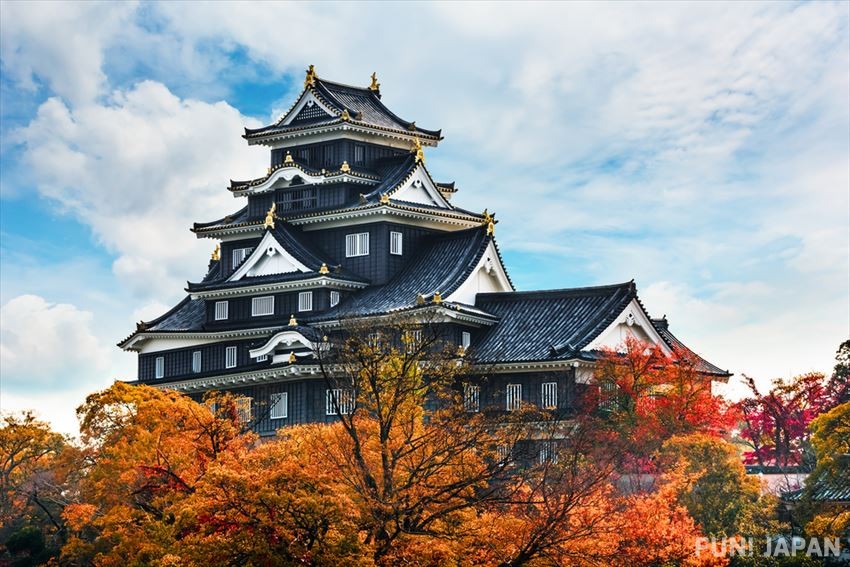 There are 4 main tourist areas in Okayama Prefecture that are famous for tourists. They are Okayama City, Takahashi City, Kurashiki City and the islands in Seto Inland Sea. 

Okayama City
Okayama City is the Capital of Prefecture and the second largest city in the Chugoku area after Hiroshima. Fans of Japanese folklore will appreciate the references to "Momotaro", the Peach Boy, scattered around the city. Besides being a transportation hub for the region, the city is also known for its beautiful garden and castle.
Kurashiki City and 
Takahashi City
Okayama Prefecture's other major city is Kurashiki, known for its preserved Edo Period canal district. The former storehouses in this area have been turned into museums, boutiques, and cafes. All of Kurashiki's attractions are located nearby this district, which is about a 15 minute walk from Kurashiki Station. For the countryside of Prefecture, Takahashi is located in the mountains and is famous for its main attraction, Matsuyama Castle.
The Islands 
in Seto Inland Sea
Okayama Prefecture includes several small islands in the Seto Inland Sea within its jurisdiction, most of which have declining as well as aging populations. To revitalize these communities, many of the islands have recently begun to participate in a modern art scene. The Setouchi Triennale Modern Art Festival is held every three years within the participating islands.

7 Famous Attractions in Okayama 
1. Okayama City: Okayama Castle
Known as "crow castle" because of its black facade, Okayama Castle was originally built in 1597. After being destroyed during World War 2, the six-story main building was rebuilt in 1966. One of the original buildings, the Tsukimi Yagura, avoided being destroyed and still stands. Inside the castle is a museum where visitors can view exhibits about the history and development of the castle. It can be reached either by foot or by taking the Higashiyama Line from Okayama Station to Shiroshita.

2. Okayama City: Korakuen Garden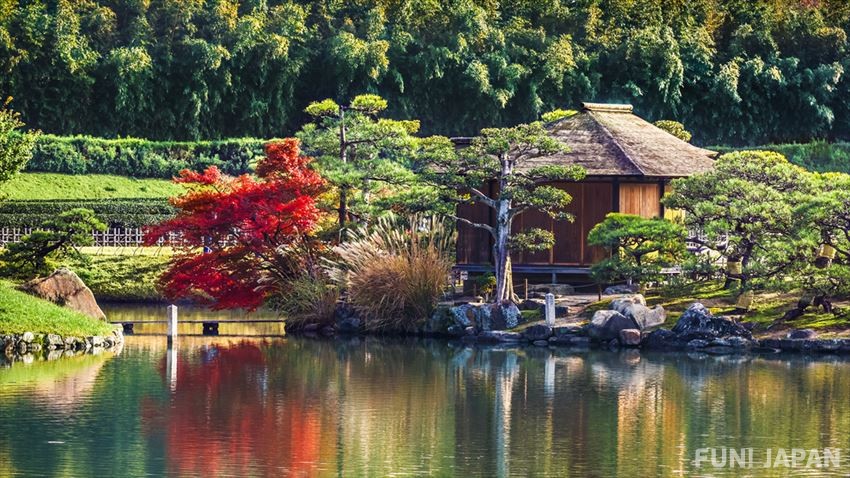 Okayama's main attraction, Korakuen is considered one of Japan's three best landscape gardens. The garden is accessible by foot from Okayama Castle, being conveniently located across the Asahi River. Historically, Korakuen served as a place of entertainment for the local ruling family, and had been closed off from the public except on special occasions.
3. 
Kurashiki City: Bikan Historical Quarter (Canal District)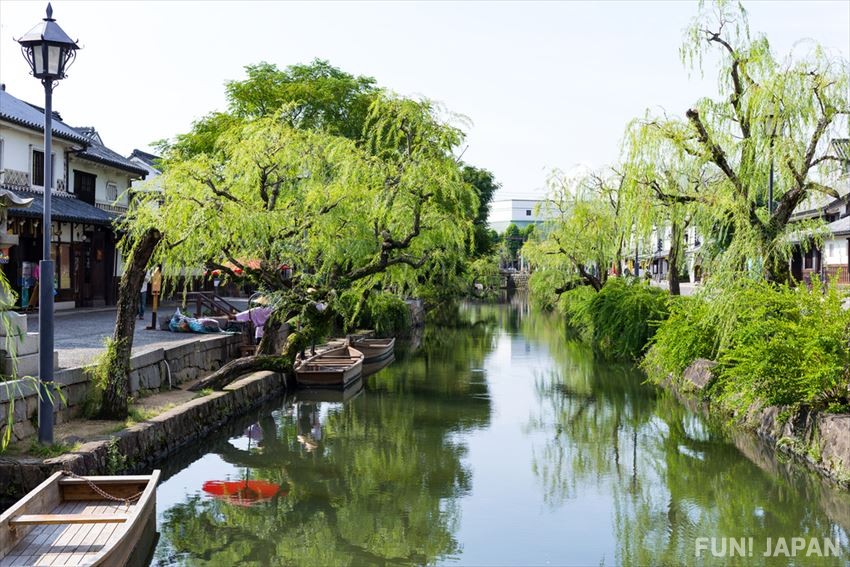 During the Edo Period, Kurashiki was a vital rice distribution center. Canals were constructed so boats could easily navigate between the storehouses and nearby port. Nowadays, the many shops and museums located along the serene waterways make for a relaxing afternoon stroll.

4. Kurashiki City: Ohara Museum of Art
One of the converted storehouses is the Ohara Museum of Art, which was Japan's first museum to feature Western art. It consists of three buildings right on the canal, as well as a fourth located in Ivy Square. The main gallery features pieces by famous Western artists including Picasso, Gauguin, Pollock, and Kandinsky. The building in Ivy Square is dedicated to a gallery for Kojima Torajiro, a Japanese artist who's work was in the Western style.

5. Takahashi City: Bitchu-Matsuyama Castle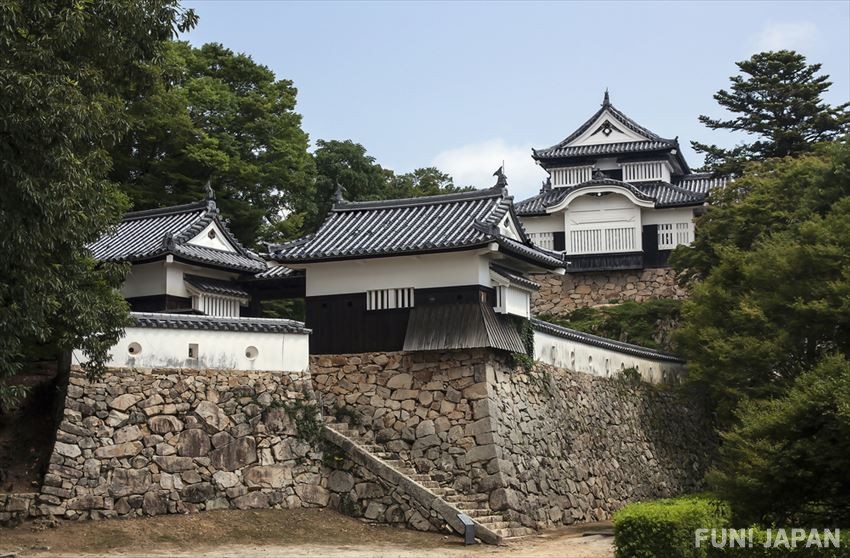 Matsuyama Castle was constructed on top of a steep mountain in 1240, making it both Japan's oldest surviving castle, and its most highly elevated at 430 meters. Because it is built on the peak of a mountain, the approach to the castle involves a 20 minute hike from the nearest parking lot.

6. Takahashi City: Raikyuji Temple
At the base of the mountain upon which Matsuyama Castle was built lies Takahashi City's Old Town, preserved to resemble its appearance from the Edo Period. Some of the samurai and merchant residences as well as temples located in the historical streets near the castle have been restored and are available for viewing. One of these temples is the 16th-century Raikyuji, which is known for its garden. The garden was designed by Kobori Enshu, a feudal lord and famous architect. 
7. The Small Island, Inujima, in Seto Inland Sea
The island of Inujima in the Seto Inland Sea, whose name translates to "dog island," features a peaceful village within which a handful of galleries have been founded. The Inujima Seirensho Art Museum and Inujima Art House Project were both constructed for the Setouchi Triennale festival and feature works of modern art. Aside from the art scene, this peaceful island also has a nice beach.
Festivals held in Okayama
One of Japan's most unusual festivals, the Hadaka Matsuri (translates to "naked man festival") take place in Okayama City. On the third Saturday of February, 9,000 men wearing only loincloths crowd into a temple and fight over a pair of lucky wooden sticks as well as bundled strips of willow. Priests throw these items through a window of the temple, which the men then try to grab for good luck.

Hotels and Japanese Inns in Okayama
It would generally be a good idea to base your stay in Okayama City. From there, it's easy to find a connection to the other cities in Prefecture and explore them as a day trip. There majority of the accommodation in Okayama City are hotels, such as Okayama Koraku Hotel and Okayama City Hotel Koseicho. 
Access to Okayama
How to Get to Okayama City
There are international flights from Hong Kong, Taipei, Shanghai, and Seoul. From the airport, a 30 minute bus brings passengers to the city. From other cities within Japan, you can take a domestic flight, bullet train (Shinkansen), overnight train (Sunrise Seto or Sunrise Izumo) or bus (Ryobi Express or Chugoku JR Bus).
Transportation Within Okayama Prefecture
Once you get to the Okayama City, you can simply take trains to the other main cities within the Okayama Prefecture, such as Takahashi City or Kurashiki by JR trains.
If you visit Takahashi City, firstly get to Bitchu-Takahashi Station by JR train. In Takahashi, all the sights can either be explored on foot or by taking the Youme Town Shuttle Bus or Takahashi City Loop Bus, which circle through town about once per hour.
For those who want to travel to Inujima, take the JR Ako Line from Okayama City to Saidaiji Station. Then board a bus to Nishi Hoden bus stop. From there, find a nearby ferry terminal from which ferries leave for Inujima once an hour.
[Survey] Traveling to Japan
Recommend