The Charm of Bikan District in Kurashiki, Okayama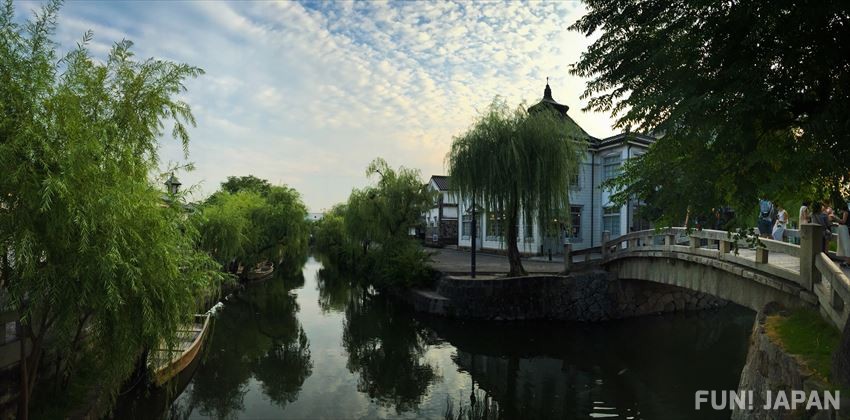 If you travel to Okayama, it is recommended to add Bikan District into your itinerary. Bikan District in Kurashiki is a canal area famous for its well-preserved old city landscape. 

About Bikan District in Kurashiki
Bikan historical district, also known as Bikan Chiku, is one of the main tourist attractions in Kurashiki City, Okayama Prefecture. This area was an important trade center for the distribution of rice or textile, where wooden buildings and old houses were once used as warehouses. 
The old city landscape from Edo and Meiji era is still well preserved even now, which has given a sense of retro-modern to this area, making it attractive for both local and foreign tourists.

Highlights of Bikan District
The Beautiful City Landscape 
A few of those old buildings have now been turned into museums, inns, cafes or restaurants, and also the typical local souvenir shops, including the Kurashikikan (Tourist Information Office), which was originally built as Kurashiki town hall in 1917.

The municipality itself has put a lot of effort in to attract more visitors, including the work to bury the electrical poles and cables underground in order to make the city landscape looks more elegant and beautiful as it was in the old times, living up the name of "Bikan", which means "beautiful view" in Japanese, while still maintaining the convenience for the local citizen's daily life.

Traditional Boat Tour of Kurashiki Canal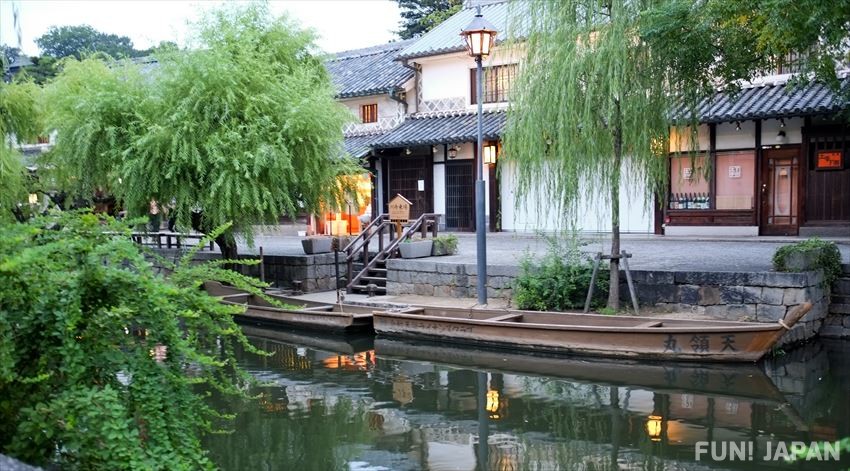 Since this area served as the center of trade and commodities' distribution in the past, canals were built back then to facilitate the transportation. But now, the canals in Kurashiki had become the main tourist attraction, where visitors can enjoy the old city landscape while sailing along the canal on a traditional boat. The boat's passenger can also put on a traditional conical hat which is provided, allowing you to feel more of the old time atmosphere of the city.

Spot Information
Spot name: Traditional Boat Tour of Kurashiki Canal (Tickets available at Kurashikikan Tourist 

Information Office

)
Address: 1-4-8, Chuo, Kurashiki City, Okayama Prefecture
Opening hours: 9:30–17:00 (depending on weather conditions)
Holiday: 

For Mar-Nov: Close on second Monday (but open all national holidays).
For Dec-Feb: Open on Saturday and Sunday only, and national holidays (but close on Year-end and New Year holidays)

Fee: Adults: 500 yen, children: 250 yen
Access: 15 minutes on foot from JR Kurashiki Station
The Namako Wall Patterns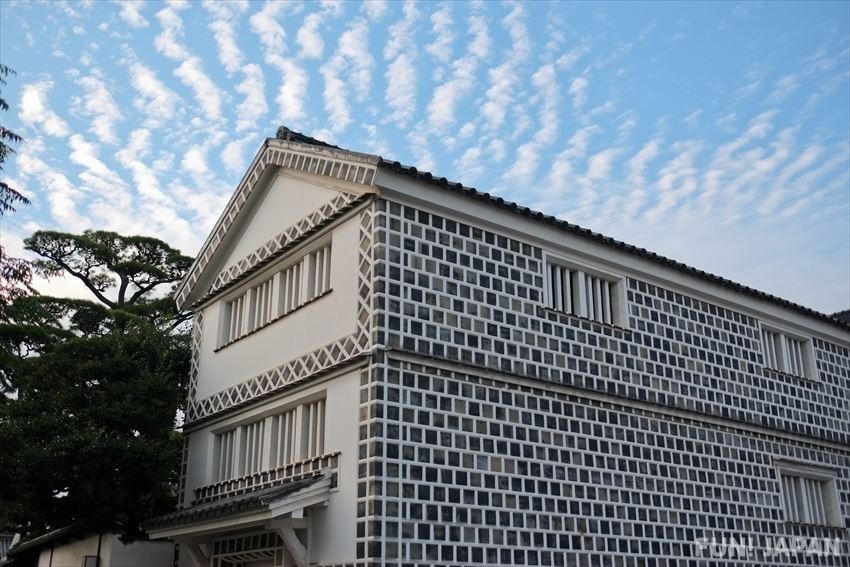 Here in the Bikan District, you can also find buildings with unique wall patterns called "Namako". This pattern is made by putting half-circular plaster between the tiles, and was given the name "Namako" because the shape resembles the sea cucumber, or "Namako" in Japanese. Besides the artistic appearance of this pattern, "Namako" walls also protect the building from damages caused by rain and wind, as well as preventing the spread of fire.

The Special Narrow Alley, Hiyasai in Bikan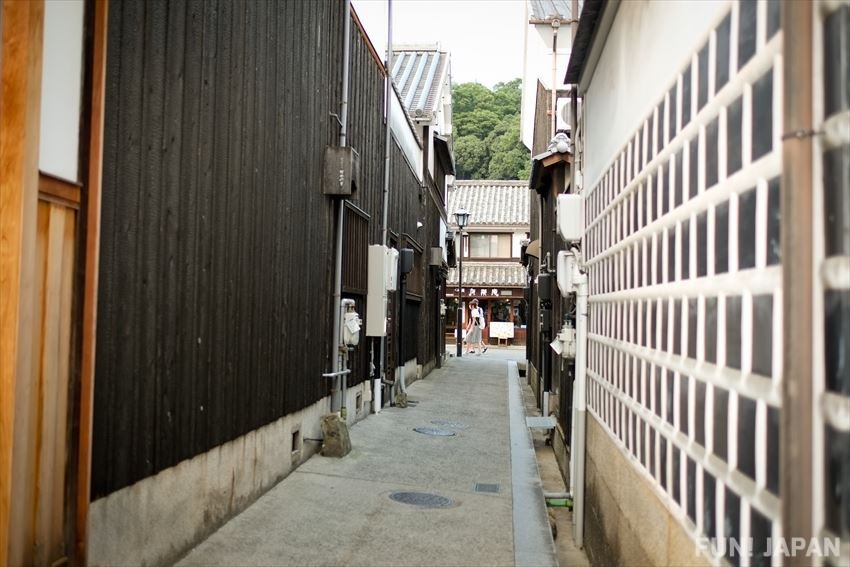 The other thing that you cannot miss on your visit to Bikan District is strolling down the narrow alley in the area, which is called "Hiyasai" in the local dialect. Walking down the small street, you can experience a different sense of view, where old wooden houses stand next to each other with "Namako-kabe" (wall pattern) buildings, that have now been turned into craft stores and such.
Ohara Museum of Art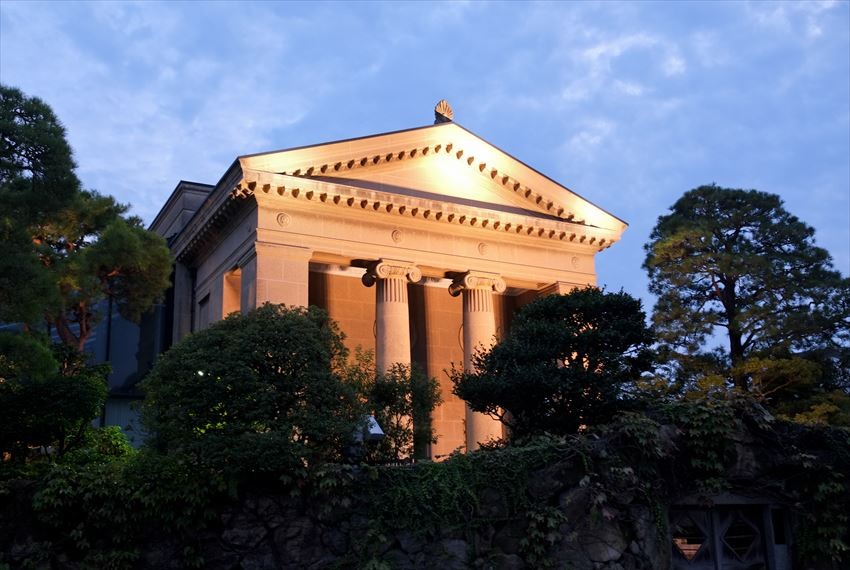 Some of the buildings, which were warehouses or traditional merchants' houses in this Bikan District, have evolved into museums for traditional or modern arts. However, there is one museum named Ohara Museum of Art, which was built specifically in 1930 as the first Western art museum in Japan. At present, the art collections in this museum also include the modern and contemporary arts from Western countries and Japan itself.

Spot Information
Spot name: Ohara Museum of Art
Address: 1-1-15 Chuo,Kurashiki,Okayama 710-8575
Opening hours: 9:00 - 17:00 (Last entry: 16:30)
Admission fee: Adult:1,300 yen, University Student: 800yen , primary school to secondary school students: 500 yen
Access: 15 minutes on foot from JR Kurashiki Station
The Specialties of Kurashiki
Kurashiki City, or Okayama Prefecture as a whole, also offers many kinds of souvenirs to bring home from your visit. In addition to the well-known products made from high-quality "Kurashiki Hampu" (canvas), you definitely have to taste the delicious "Kibi dango", one of Okayama's traditional Japanese sweets, which also appear in the Japanese folk story, "Momotaro". The fluffy and chewy texture of kibi dango is now even available in a Halal-certified version, making it easier for Muslim tourist visiting Okayama to get to taste the local flavor. So, better get your bag ready, and visit this Bikan District fast!

How to Get to Bikan, Kurashiki
To visit Bikan, you need to get to Kurashiki Station first. It takes 18 minutes from Okayama Station to Kurashiki Station by JR Sanyo Main Line and 10 minutes from Shin Kurashiki Station to Kurashiki Station via JR Sanyo Main Line. From Kurashiki Station, walk 15 minutes to Bikan.
[Survey] Traveling to Japan
Recommend