Okayama Specialities: Denim and Delicious Dishes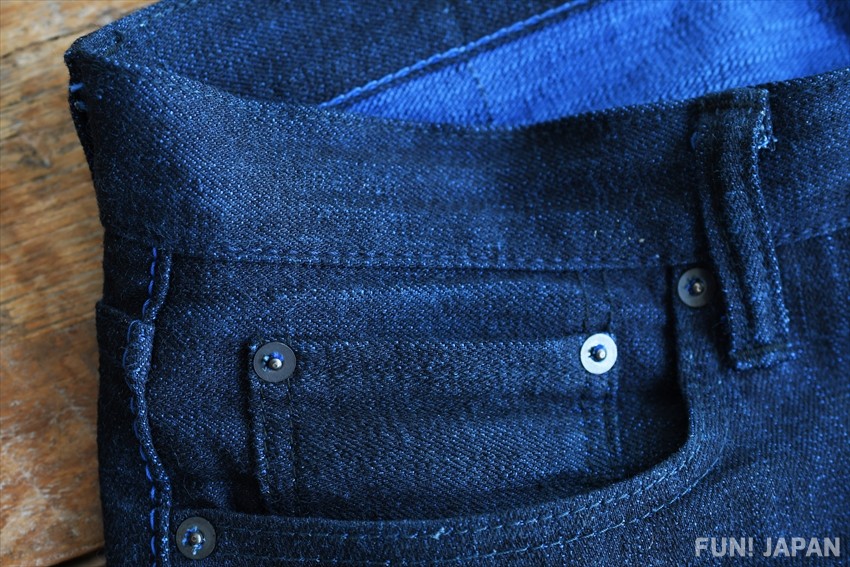 Okayama is known as the fruit kingdom of Japan thanks to its abundance of delicious produce including grapes and peaches. It is also home to the age-old tradition of indigo production and dying, a craft perfected and still used today to make high-quality jeans and denim products. Visitors to the region can enjoy picking and eating fruits as well as trying their dying process, with plenty of great souvenirs to take home and enjoy later. 

Okayama's Indigo Dye and Denim Products
Okayama has a long tradition of producing Indigo dye, a natural deep blue coloring made from plants. Associated with the dying of denim specifically, Okayama has become synonymous with handmade, high-quality jeans and denim clothing.
The denim gains its incredible color from the Natural Indigo Dye, made from the Indigofera plant. While it has delicate purple flowers, it is the plant's leaves that are crushed to make the sukumo – an indigo paste. The mix contains leaves, water, sake and sugar and is hand-mixed and left to rest in the vats. Fabric is dipped into the surprisingly thick mix and massaged to ensure good coverage, repeatedly removed, squeezed, and re-dipped in a cycle. Once the fabric has absorbed as much of the dye as possible, it is rinsed in cold water to remove any excess dye. Once it has been re-shaped and checked for even coverage, the fabric can be dried. This entire process is repeated a number of times to achieve the depths indigo is famed for, offering a variety of shades.
Where to Buy Jeans and Indigo Products in Okayama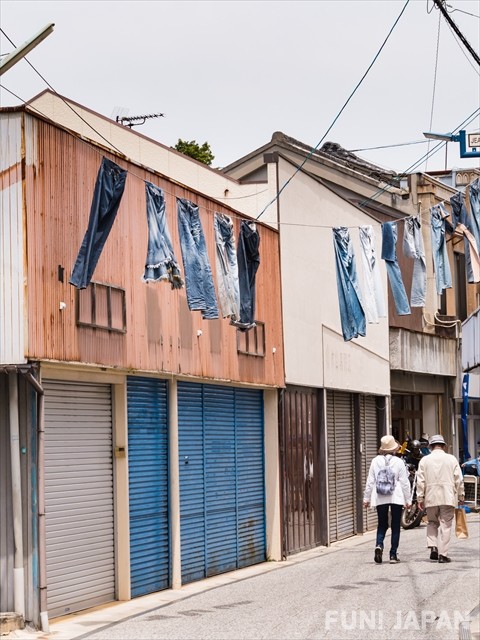 The region is home to a number of companies and artisans who produce Indigo and denim products, including the Betty Smith brand, one of Japan's first domestic jeans producers. They have a museum in Kurashiki detailing the process and history, with a chance to see modern workers making jeans during the week. The store sells custom-order jeans as well as same-day omiyage jeans, with visitors also able to try their hand at pushing rivets and making keyrings.
In Kojima, there is Kojima Jeans Street, a revitalized area dedicated to the craft of denim production. The street is home to a number of different shops selling hand-made items, so it's the perfect place to look for souvenirs and explore the world of indigo dye and denim.
Kojima-based Momotaro Jeans create high-quality denim clothing stitched by local craftsmen and washed on the Okayama coast before they're sold, they have the perfect fit and will last a lifetime. Their artisanal brand is available online with unique products such as hand-painted jeans – each unique in their splatter design. Of course, their denim is made using Natural Indigo Dye with no chemical additives or fillers, ensuring a stunning depth of color. Their products are available online directly or through a number of stockists, including one just a few minutes from Kojima Jean Street. If visitors get peckish they can try the street specialty of the 'denim bun' a blue steamed bun and blue ice cream!
Spot Information
Name: The Betty Smith Jeans Museum ベティスミスジーンズミュージアム & ヴィレッジ
Address: 5-2-70 Shimono-Cho, Kojima, Kurashiki, Okayama
Location: The museum is located to the south of Kurashiki city, in Kojima, close to the local school uniform museum.
Access: The museum is a 4-minute drive or a 20-minute walk from Kaminocho Station on the JR Seto-Ohashi Line. Kaminocho is a 25-minute train ride from Okayama's Omoto Station costing 420 yen.
Hours: 10:00 – 17:00 Everyday
Spot Information
Name: Kojima Jeans Street (児島ジーンズストリート)
Address: 2 Kojimaajino, Kurashiki, Okayama
Location: The street is located to the south of Kurashiki city, in Kojima, close to Kojima Station and the Oda River.
Access: The street is an 8-minute drive or a 20-minute walk from Kojima Station on the JR Seto-Ohashi Line. Kojima is a 30-minute train ride from Okayama's Omoto Station costing 420 yen.
Hours: Opening hours vary according to store
Okayama's Grape Products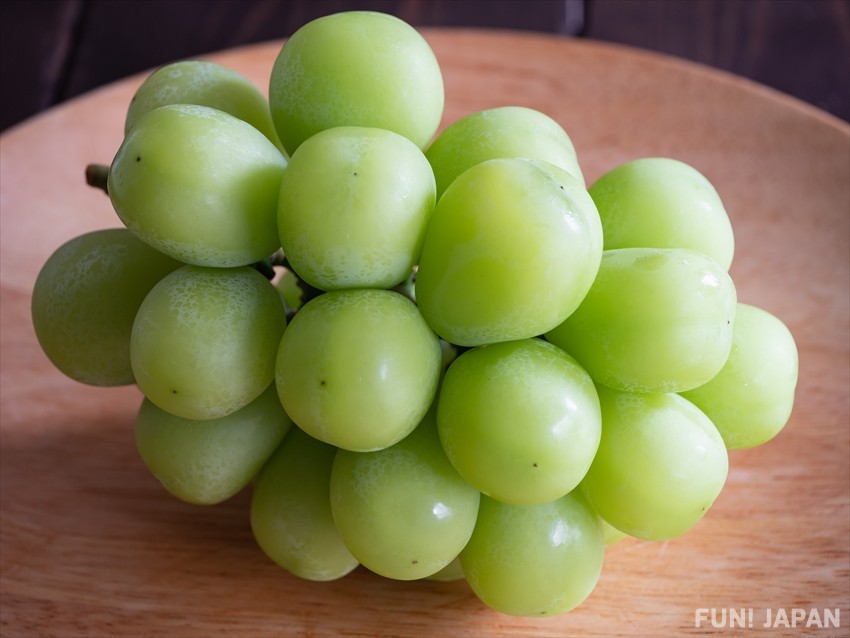 Okayama's grapes are popular nationwide, with a cultivation history dating back to the Meiji period. There are different varieties to try including New Pione, Aurora Black, Shine Muscat and Muscat of Alexandria, with many farms offering the chance to pick your own bunches to take home. Grapes are also a delicious ingredient in refreshing desserts and sweets too,
Okayama's Peach Related Products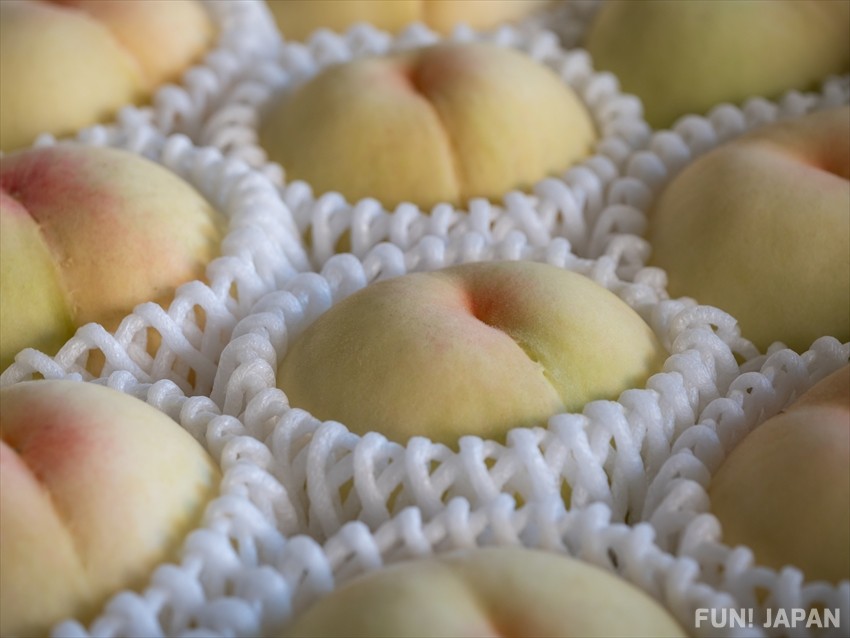 Peaches are the heart of Okayama, with the prefecture's national flower selected as the delicate peach blossom. The local favorite is the White Peach, known as Hakuto, within which there are many different varieties. These include the Hanayome, Hakurei, Hakuhou, Shimizu White Peach and Okayama Yume Hakutou. To maintain their perfect soft pale skin, the peaches are often individually bagged by dedicated farmers as they grow, protecting them from sunlight and insects.
Where to try Okayama's Fruit Products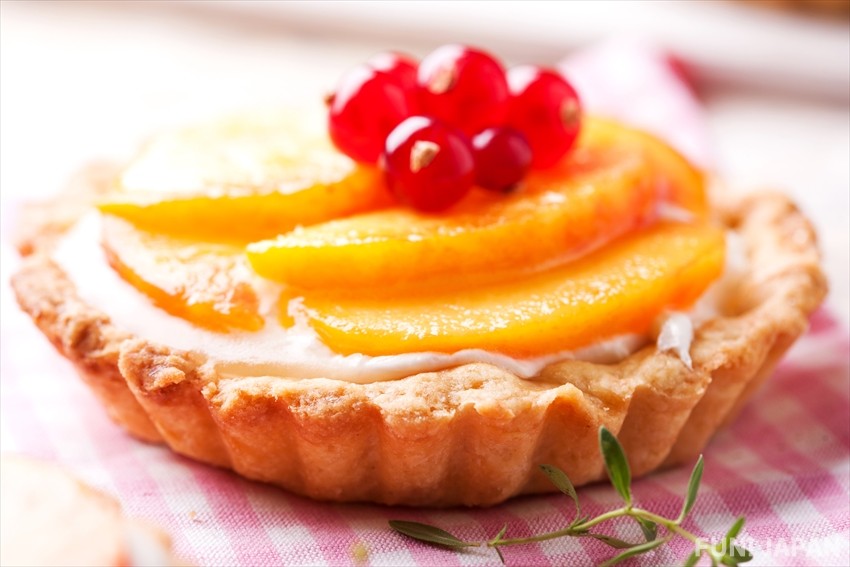 There are many opportunities to try picking your own peaches and grapes, with farms offering tempting 'all you can eat' plans too – check our guide on where to enjoy an afternoon of peach or grape picking.
Aside from picking your own, it's also possible to enjoy peaches as a dessert in Okayama's popular cafe Omachido & Frutas. Located right beside Kitanagase Station, the stylish cafe uses the best selection of local produce to create delicious desserts that are also beautiful to look at. Preferring to keep their desserts simple, they allow the flavor and colors of the seasonal fruit to shine. Thanks to this, their menu changes with the seasons, with kakigori (shaved ice) desserts being a popular option. Towers of cloud-like ice are topped with home-made fruit syrups, turning a childhood favorite into a contemporary dessert. They also serve fresh fruit juices for an energy pick-me-up and elegant cakes and tarts for an afternoon treat. Their locally-made parfaits are carefully decorated with seasonal fruits and served in clear classes, accentuating the stylish aesthetic.
For those seeking a portable souvenir option, Okayama Station's Omiyage Kaido (souvenir road) is the perfect destination. Ideally located for picking up gifts before you return home, it has a wide selection of local specialty items, all designed for travel. It is located in the south building of the shopping complex offers confectionary and souvenir foods, including fruits and desserts as well as the traditional omiyage - small, individually wrapped gift traditionally given after holidays in Japan. There are a selection of liquors including fruit flavors, as well as fruit-themed small gifts if you can't take the real thing home.
Spot Information
Name: Omachido and Frutas
Address: 2-17-80 Kitanagaseomote-machi, Kita, Okayama
Location: The cafe is beside Kitanagase Station
Access: The cafe is a minute's walk from Kitanagase Station on the JR San-yo Line, one-stop from Okayama Station, costing 190 yen.
Hours: 10:00 - 21:00
Spot Information
Name: Omiyage Kaido
Address: 1-2 Ekimotomachi, Kita, Okayama
Location: The Omiyage section is located on the second floor in the South building of SUNSUTE Sun Statio Terrace Okayama.
Access: The stores are connected to the Okayama Train Station.
Hours: 07:00 - 21:00
[Survey] Traveling to Japan
Recommend