Okayama: The Fruit Kingdom of Japan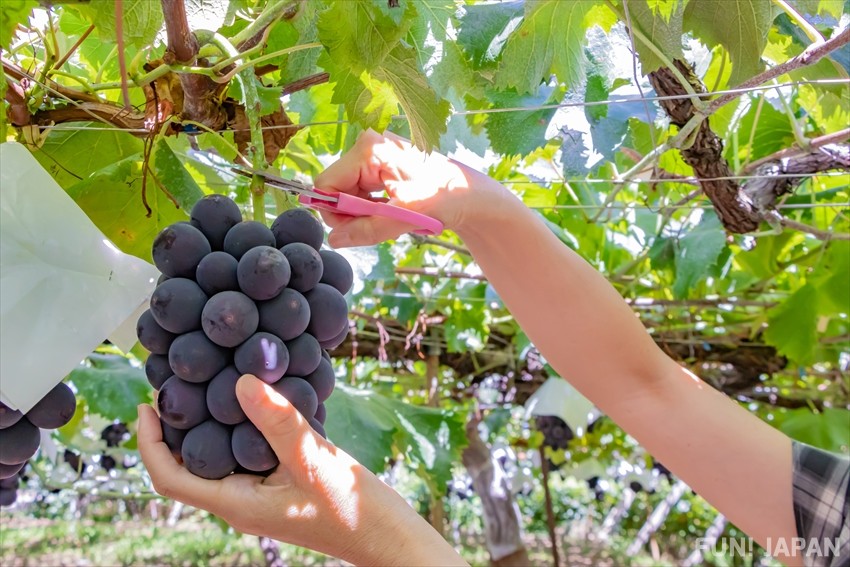 A prefecture whose official flower is the peach blossom, it's no surprise Okayama is known as the fruit kingdom of Japan. Located in Western Japan, it borders Tottori, Hyogo and Hiroshima Prefectures and has a coastline on the Seto Inland Sea. The prefecture is known for famous castles and gardens in Okayama city but is also a lush haven of fruit orchards and farms.

Why Okayama's Fruits are Delicious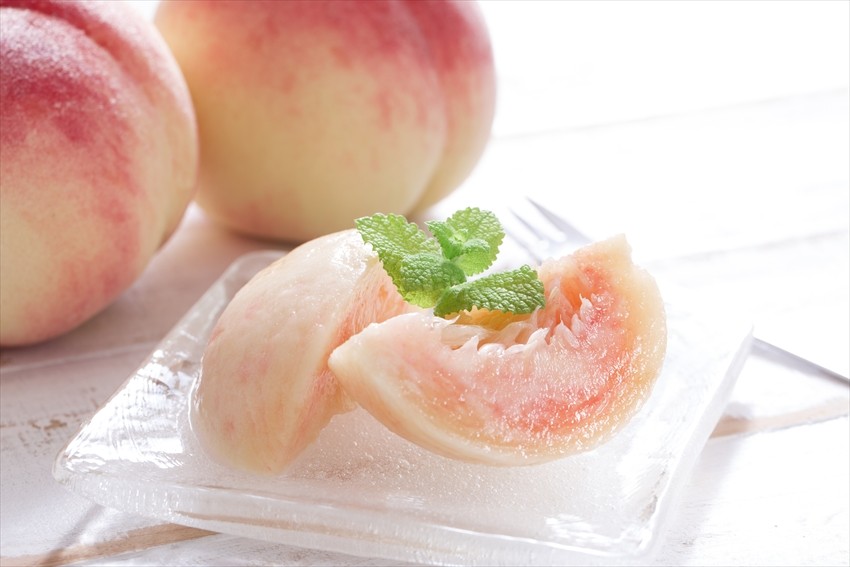 Okayama has the perfect mild climate, low rainfall and sunny skies to grow a wide variety of delicious fruits. The prefecture borders the Seto Inland Sea and enjoys the warm sea breeze along with hills perfect for orchards. Many farms have been growing fruit for generations, with dedicated practices passed down from farmer to farmer, ensuring the best quality fruits possible.
Okayama's Best Fruits
Okayama has fruits in season throughout the year, and is known for producing some of the most delicious varieties in the country. This includes white peaches, strawberries and grapes.
White Peaches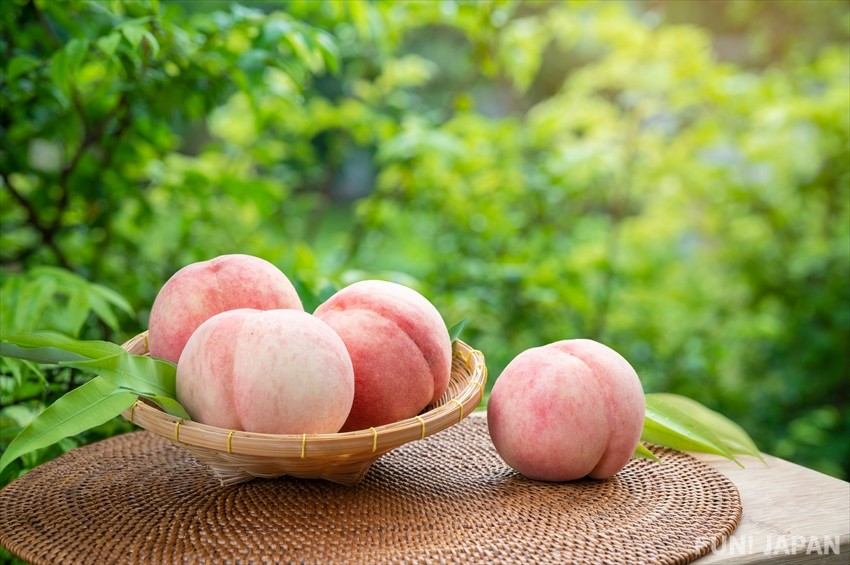 The milky white peaches of Okayama, known as Hakuto, are famed nationwide for their hint of pink and soft skin. There are multiple varieties of white peach grown in Okayama, including Shimizu Hakuto, Hon Hakuto, Hakurei and Okayama Yume Hakuto. One method of keeping the peaches a perfect white is to bag each fruit individually when it reaches a certain size - a job that must be done by hand and with great care. Protected from the sun, any harsh weather and insects, the peaches develop a soft, easy-to-peel skin.
When to eat: Late June to late August
When to pick: Early July to late August
New Pione Grapes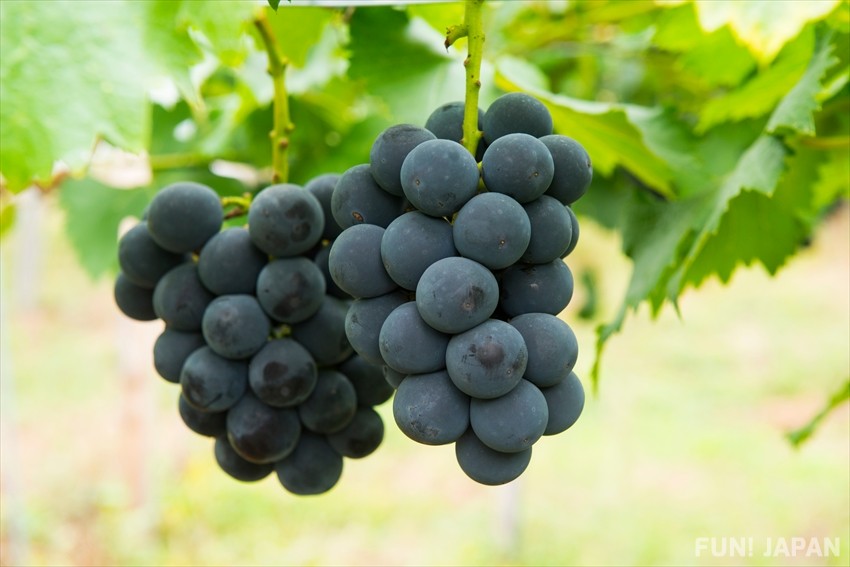 A remarkably large, seedless variety of grape, New Pione is an Okayama-bred grape variety while the original Pione was first produced in Shizuoka prefecture in 1957. They are a combination of Japanese Kyoho grapes and Canon Hall muscats, often sold as premium products in supermarkets across Japan. They are considered to have a wine-like flavor, with sweet flesh and low acidity.
When to eat: Late April to late November
When to pick: Late August to mid-September
Shine Muscat Grapes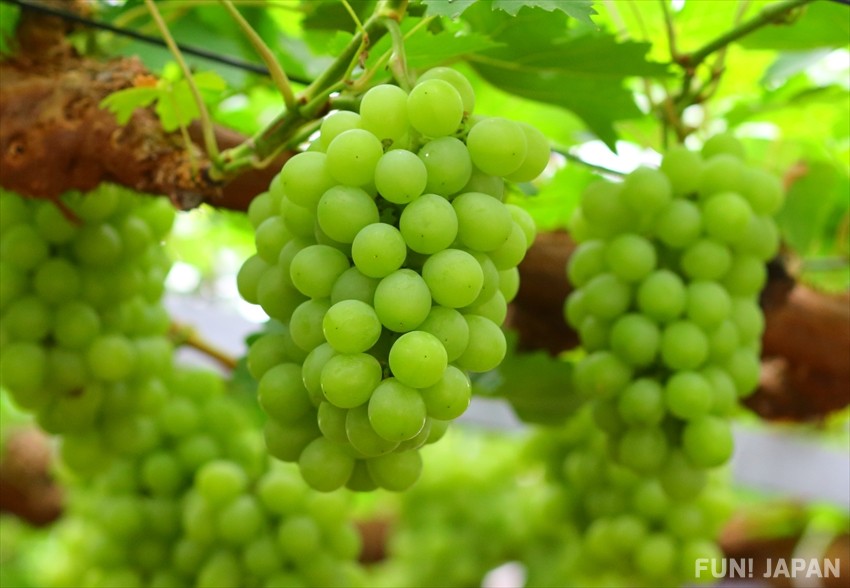 One of the prized varieties of Okayama, the Muscat Grapes is a pale green fruit with a couple of popular kinds. The Muscat of Alexandria were once grown in glass greenhouses and in some places still are, with a refined sweet flavor. The newer variety, the Shine Muscat, is a seedless grape with soft skin, known for its beautiful flavor and sweetness.
When to eat: Late May to mid-November
When to pick: Early September to mid-October
Strawberries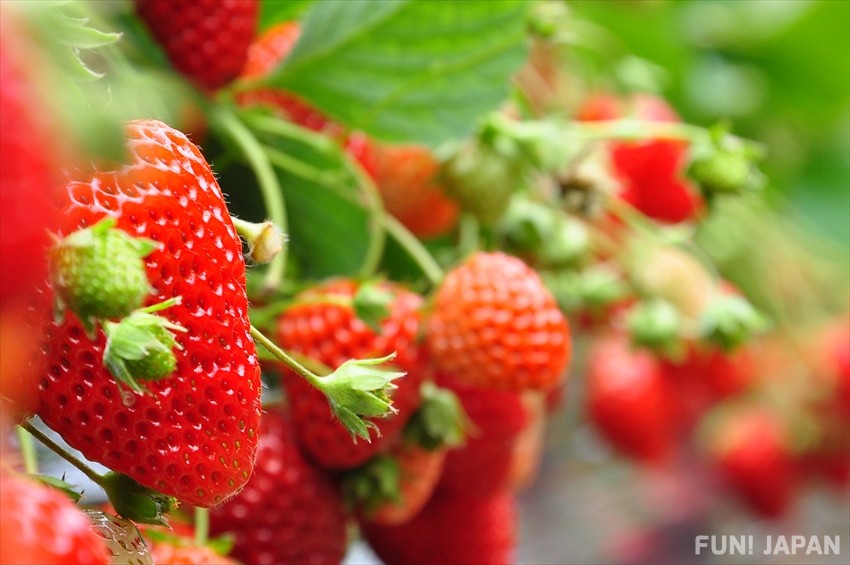 Strawberries are a Japanese fruit staple, and Okayama has perfected the bright red coloring and sweet taste perfectly. Grown in greenhouses in winter, they are ready to be picked from the vine when ripe, with unusual white varieties also available.
When to eat: December to May
When to pick: December to May
Where to go Fruit Picking in Okayama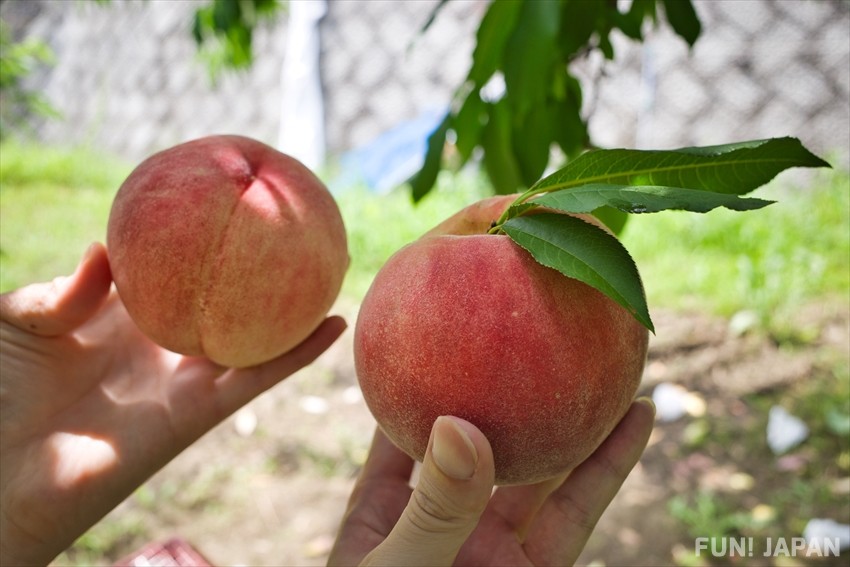 Tomomien Fruit Farm: Peaches and Grapes
A highly-recommended spot for peaches in Okayama, Tomomien Farm even has a kanji character  of peaches "Momo (桃)" in its name. They grow 23 peach varieties meaning guests have a unique chance to taste the many local kinds and compare. Peaches are available from late June to the end of August, costing 1,540 yen for picking one and tasting one, 2,200 yen for picking two and tasting two. Visitors can also opt to taste two peaches for 1,210 yen or one for 605 yen. There is a discount for anyone booking in advance. Grapes are available from early September until late October. Reservations are required for peach picking and can be made online in English, Japanese and Chinese. They also have a gift shop and serve delicious Hakuto peach ice cream, made using fresh peach and served with a peach slice on top.
Spot Information
Name: Tomomien Farm (桃茂実苑 観光農園)
Address: 843 Odani, Akaiwa, Okayama
Access: The farm is a 15-minute drive from the Sanyo Interchange on the Sanyo Expressway. The farm is 55 minutes from Uno Bus bound for Neopolis Nishi 9-chome and get off at Sakuragaoka Athletic Park Bus Stop and walk for approximately 10 minutes.
Hours: 09:00 - 16:00
Mimasaka Farm: Grapes and Strawberries
Found in northeast Okayama, this farm has been growing grapes for over 40 years and strawberries for nearly 20 and has plenty of experience in guiding visitors. They opened new strawberry greenhouses in 2016 and are now one of the largest in the prefecture.
Strawberry picking is a 40-minute all-you-can-eat experience available from mid-December to early June, costing from 1,210 yen (from Golden Week to early June) to 2,280 yen (from December to early May) for adults depending on the season time, with a slight increase for weekends.
Grape picking has mainly two options: a 40-minute all-you-can-eat experience or a picking and take-home experience. For the all-you-can-eat, visitors choose their grape variety from New Berry-A, Shine Muscat, New-Pione or Seto Giants - each variety has a price variation. It costs between 1,650 yen and 3,630 yen for adults and between 1,320 yen and 3,300 yen for children, depending on the combination of grapes selected. For the take-home option, visitors can either select one bunch of New Berry-A and one of New-Pione or one New Berry and one Shine Muscat. These options cost 1,980 yen and 3,080 yen respectively, with only one price for both adults and children.
Spot Information
Name: Mimasaka Farm Orchards ((有)美作農園)
Address: 585-1 Oku, Mimasaka, Okayama
Access: The farm is a 20-minute drive from the Mimasaka Interchange on the Expressway - a vehicle is recommended as it is difficult to reach by public transport.
Hours: 09:00 - 16:00 (may close early if all ripe fruit has been eaten)
[Survey] Traveling to Japan
Recommend