Hiroshima Activities: Explore Nature with Adventure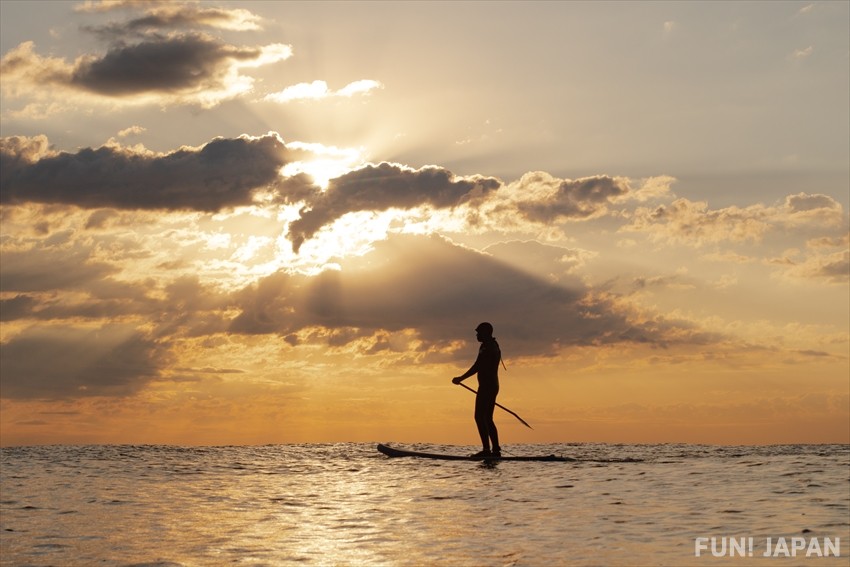 Exploring Hiroshima can take visitors into a world of adventure, combining new experiences with traditional sights. Sea-kayaking, hiking and cycling are fantastic ways to blend nature and exploration, with the opportunity to learn a new skill while seeing something new. For those who struggle to stay still on a sightseeing bus or those who have visited before, adding some activities into the schedule can make for a memorable experience.
Luckily, Hiroshima has mild winters and distinct seasons, meaning each experience can differ depending on the time of year. Whether it's snowy surroundings for a hike or autumn leaves, the sights are as beautiful each time.
Hiking in Hiroshima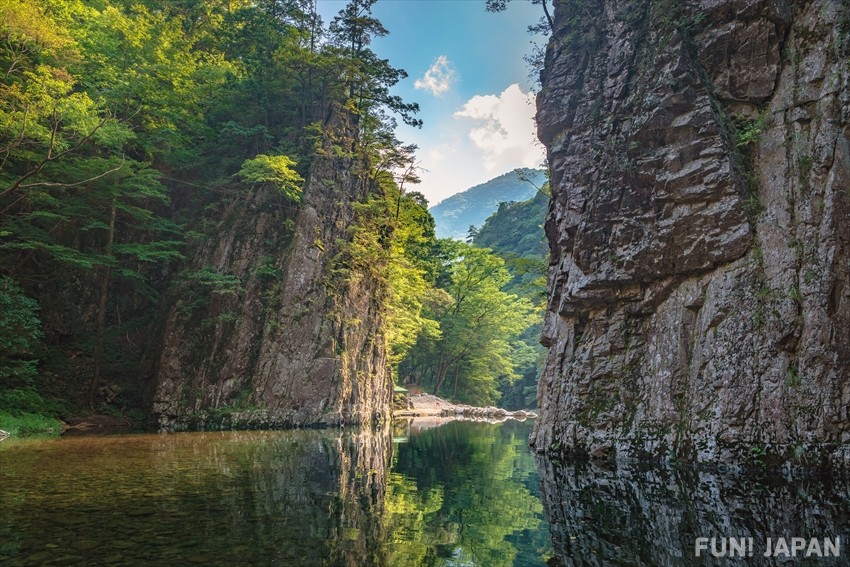 Sandankyo Gorge is one of the most accessible hiking routes in Hiroshima and has stunning views to boot. The area is one of Japan's top five scenic valleys, the gorge leads down to the Hijiri Lake and has a mix of different routes. The longest is five hours, with a 'couples route' and a medium-difficulty level. The main entrance to the gorge is the starting point for all routes, with a small hotel and shop. Just beyond the initial bridge is a kayak rental spot for those looking to explore from the water. There are five different sightseeing spots along the full route, including waterfalls and tranquil water pools. There are boat rides offered at the calm Shibakigawa River area from April to late November costing 500 yen. The boat will take you across to a small local restaurant that serves rice balls and grilled fish in season.
Spot Information
Name: Sandankyo Gorge
Address: Yokogou, Akiota, Yamagata, Hiroshima
Location: The gorge is located to the northwest of Hiroshima City, close to the border with Shimane.
Access: The gorge is reached using a daily bus from Hiroshima Bus Centre leaving at 08:18 and costing approximately 1,500 yen.
Season: Year-round (boats from April to November)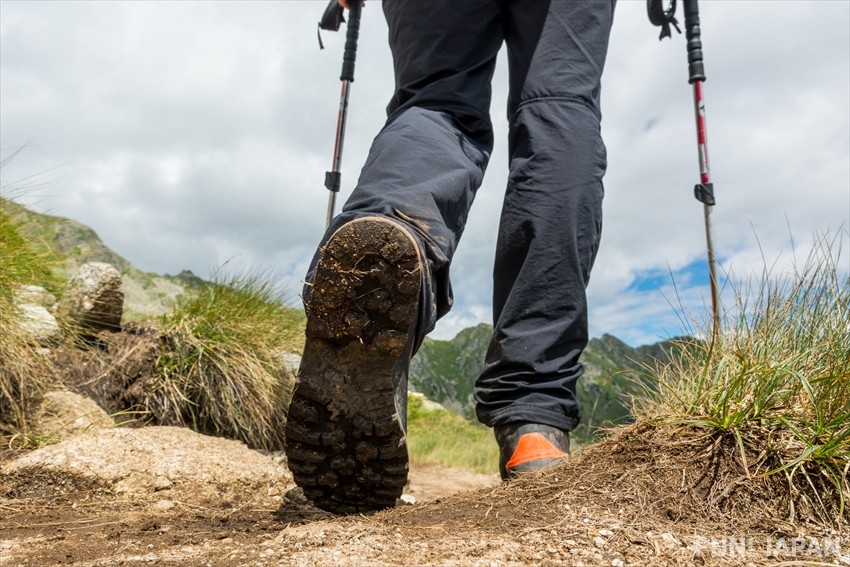 Mount Hiba is found in the Hiba-Dogo Taishaku Quasi-National Park and is famed for its stunning autumn leaves. Close to the prefectural border with Shimane, it is covered in Beech Trees designated as a national treasure, bright green in Spring and a wonderful blend of orange and gold in fall. The mountain has a long religious history, recorded in ancient texts as the location of the Hibagon of the Apes, Japan's equivalent to Bigfoot. There are a variety of camping spots, a nearby ski-resort and well-maintained hiking trails to enjoy in the area, with Kumano Shrine a draw for many visitors.
Spot Information
Name: Mount Hiba (比婆山)
Address: Yuki Saijo-cho, Shobara, Hiroshima
Location: The mountain is on the northern border of Hiroshima prefecture.
Access: The Mountain is a 20-minute taxi ride from Bingo-Ochiai Station on the JR Geibi Line.
Cycling in Hiroshima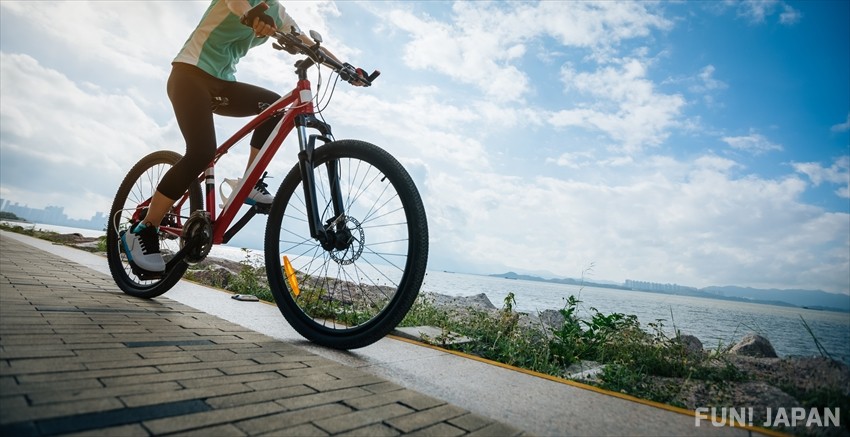 The Tobishima Kaido cycle scheme is a fantastic cycle route that explores the islands of the Seto Inland Sea. While the Shimanami Kaido is well known, this quieter route offers an experience further west. Visitors can cycle across five islands: Shimo Kamagari, Kami Kamagari, Toyoshima, Osaki Shimojima and Okamura. There are a number of impressive bridges connecting the islands, including the Akinada Ohashi Bridge. The islands all have great sightseeing opportunities including the old port town Sannose salt farms of Kami Kamagari. Rental includes the bicycle, a helmet, a bottle cage and a chain lock and bikes are available for between 3-6 hours. There is a pick-up and drop-off service for 1,000 yen at the different ports - please reserve in advance.
Spot Information
Name: Camp Cottage Kajigahama (梶ヶ浜海水浴場)
Address: 839 Shimokamagari, Kure-shi, Hiroshima
Location: The bike rental spot is on the Shimokamagari Island
Access: The islands are accessible by ferry from Hiroshima, with bikes available to be dropped off at each port for 1,000 yen.
Season: Year-round
Cost: 3-hours: 1,000 yen (adults) 500 yen (children) 8 hours: 2,000 yen (adults) 1,000 yen (children)
Sea Kayaking and SUP Experience in Hiroshima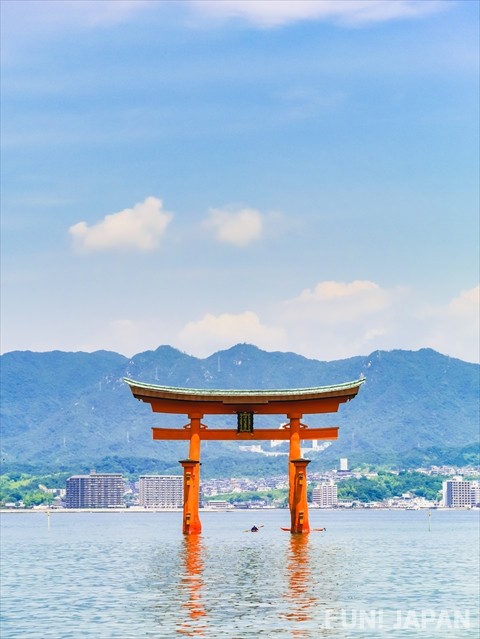 Exploring the waters of Etajima Island in the Seto Inland Sea is a fantastic opportunity for water lovers. An area not often visited, Etajima has beautiful waters and sea views, with sandy beaches to set off from. The Canoe Club offer kayaking and SUP classes for all levels, with sessions lasting three hours.
Spot Information
Name: Etajima Canoe Club
Address: Nagase Kaigan, Nakamachi, Nomicho, Etajima, Hiroshima
Location: The island of Etajima is in the Seto Inland Sea, to the south of Hiroshima
Access: The island is a 30-minute boat ride from Hiroshima Port.
Season: Year-round
Cost: 5,000 yen for adults, 3,000 yen for high school students and younger
Miyajima is one of Hiroshima's most famous sightseeing spots thanks to the beautiful floating torii gate of Itsukushima Shrine. While observing this gate from the shore or on foot at low tide is impressive, kayaking out to it is an entirely different experience. Visitors can spend an hour or half a day kayaking, with beginners welcome at the HART Adventure center, found beside Itsukushima Shrine's exit.
Spot Information
Name: HART Adventure Center
Address: Sumire House, 18-36, Higashihon-ura-cho, Minami-ku, Hiroshima City, Hiroshima
Location: The HART Adventure Center is 1-minute away from the exit of Itsukushima Shrine
Access: The island is accessed by ferry from Hiroshima and the school is within walking distance of the port and shrine.
Cost: Short course (1 hour): 4,000 yen - adults, 3,500 yen - children. Half-day course: 7,000 yen - adults, 6,000 yen - children. There is an additional 500 yen charge for Winter Season, which is determined each year. 
[Survey] Traveling to Japan
Recommend