Hiroshima's Hot Springs: Soak in Nature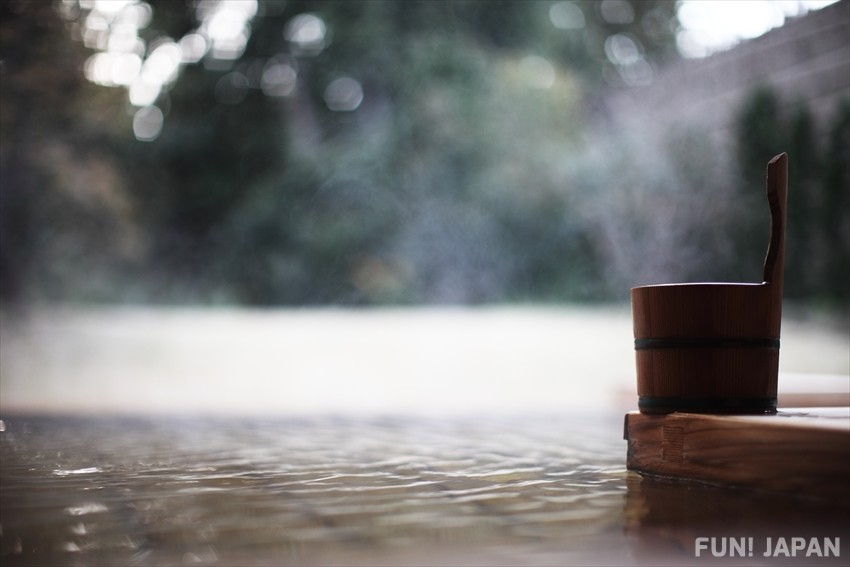 Hiroshima offers a scattering of stunning hot springs, with a mild radioactive water type. While this may sound unusual, it is a common and beneficial hot spring variety and is perfect for fatigue recovery, muscle pain and more. The hot springs from the sources are also cooler, meaning the water is heated up artificially and those who enjoy cooling off in warmer months can enjoy them too as there are some unusual bathing styles. The highlight of Hiroshima's onsen has to be the views, with coastal springs and snow-surrounded baths to choose from.

Yuki Onsen: A Riverside Escape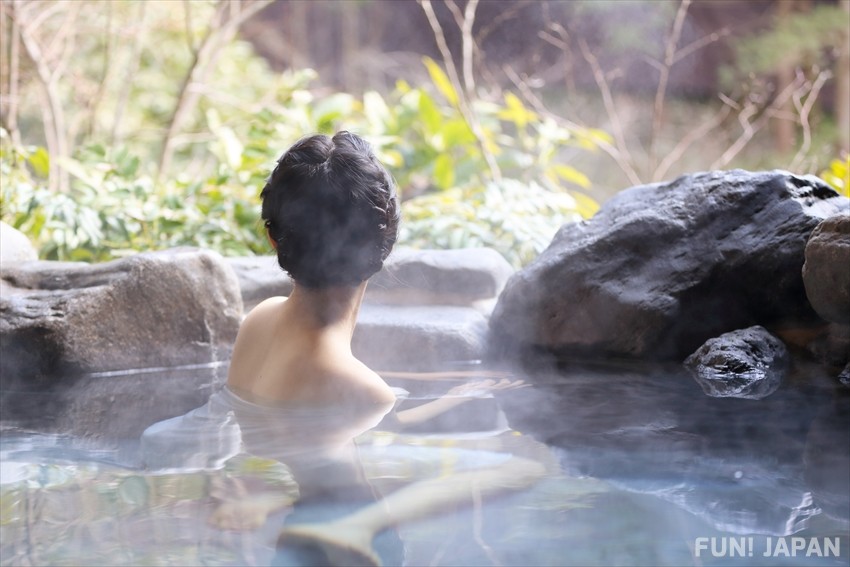 Deep in the Hiroshima countryside, this riverside lodge offers the perfect escape into nature, complete with natural hot springs to relax in. They have open-air baths with views onto the Minochi River as well as a range of indoor baths and both dry and mist saunas, welcoming day guests as well as overnight guests into their waters. There is an on-site restaurant servings delicious locally sourced and seasonal dishes in the kaiseki style, as well as a more casual option with simple dishes like soba and curry rice.
The waters are a simple weak radioactive water of a natural temperature of approximately 28 degrees Celsius and are good for nerve pain, stiff joints, digestion issues, hypertension, skin issues and gall stones.
Spot Information
Name: Yuki Lodge (湯来ロッジ)
Address: 2563-1 Yukicho Oaza Tada, Saeki, Hiroshima
Location: This lodge is beside the Minochi River close to the Yukinishi Community Center to the northwest of Hiroshima City.
Access: The lodge is a 1-hour drive from Hiroshima city or visitors can catch the JR San-Yo Line to Itsukaichi (17 minutes) and catch a local bus to Yuki Lodge Mae Bus Stop (1 hour and 15 minutes), costing 1,000 yen per person.
Cost: Once: 600 yen (adults) 240 yen (children) Day: 900 yen (adults) 440 yen (children)
Yunoyama Onsen: An Ancient Bathing Spot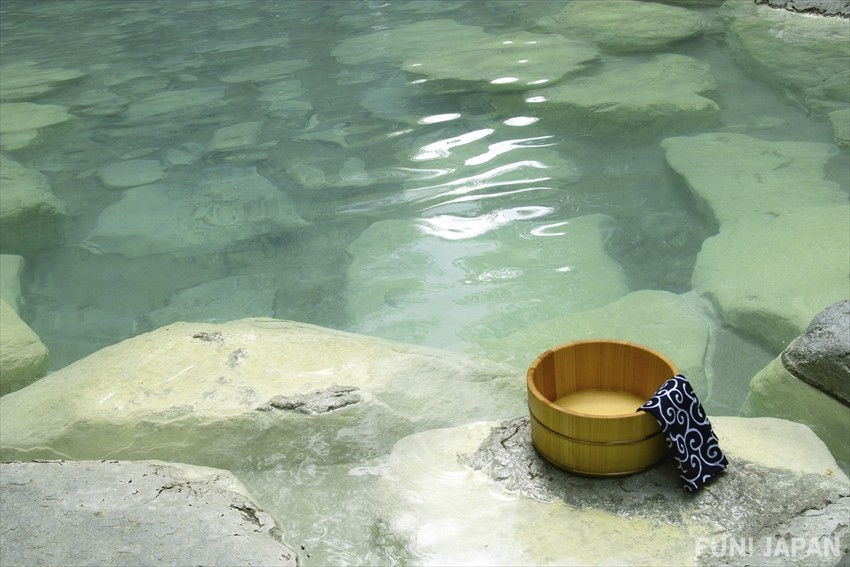 In the southwest of the prefecture, Yunoyama Onsen is a centuries-old hot spring resort. Discovered over 1,200 years ago, it was built by Lord Asano - Hiroshima's feudal master. The area was designated as a national recreation hot spring resort in 1972 and an Important Tangible Folk Cultural Property in 1974, making it a firm part of Japanese history. The area has a special Utase-yu bath, which is a massage-style experience using water piped from above the bather, who stands below.
The water's average temperature is about 23 degrees celsius and while this may seem a bit cooler than normal, it maintains the benefits of the water type. The famouse bathing style, called Utase-yu, use the water right from the source pouring from the height of 4 meters above the ground to maintain its full effect. As it is weak-radioactive water with radons, which can disperse easily when they come into contact with air, adding the heat will cause the water to turn into vapor faster and diminish the amount of radon. There are hotels and a sport facility with a spa called the Kurhaus Yunoyama, with heated baths for a warmer dip.
Spot Information
Name: Yunoyama Onsenkan (湯の山温泉館)
Address: 471 Oaza-Wada, Yuki-cho, Saeki-ku, Hiroshima
Location: The resort is on the Minochi River, to the northwest of Hiroshima City.
Access: It is a 40-minute drive from Itsukaichi IC or visitors can take the train from Hiroshima to Itsukaichi and then catch a bus from the south exit to Ohashi Bus stop and walk for 20 minutes.
Cost: 430 yen for adults to use the Utase-yu bath, 150 for children.
Miyahama Onsen: A Seaside Resort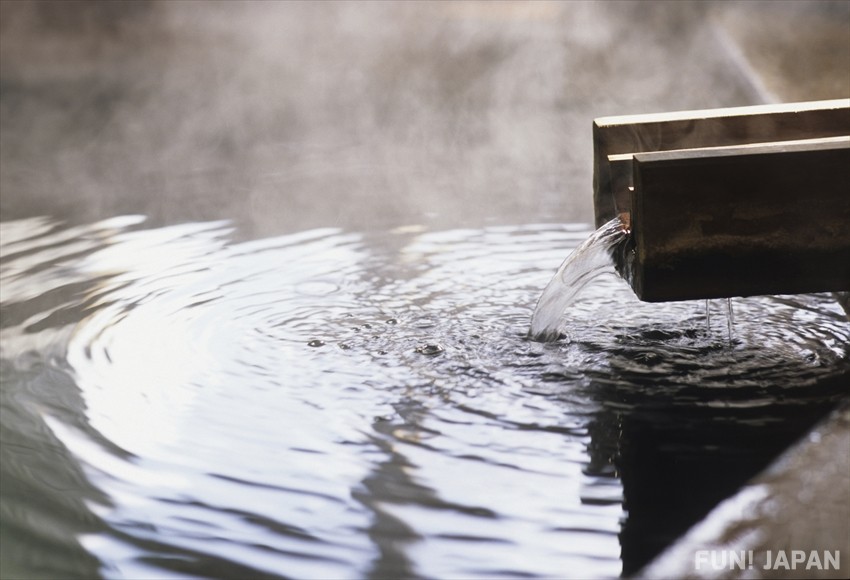 Located in the popular area of Hatsukaichi, this small resort area has a handful of hotels and offers views of the Seto Inland Sea. The Miyahama Grand Hotel offers stunning contemporary infinity-style baths overlooking the sea as well as communal indoor ones. There is a private bath available to rent made using shigaraki-ware, a kind of stoneware pottery, surrounded by cypress for that traditional onsen experience. Bathing costs 800 yen for adults and 400 for children at the hotel. The water is a weak radioactive and weak alkaline type, with a natural temperature of 22 degrees celsius and a ph of 8.1. It's beneficial for those suffering from muscle pain, circulation issues, stiff joints, skin diseases and more.
In addition, Ryokan Kanzaki nearby is surrounded by cherry trees and has baths with views of the traditional Japanese garden while Sekitei has outdoor onsen with private terrace baths attached to some rooms. Local specialties can be enjoyed at the restaurants, including locally brewed sake, oysters and freshly caught fish.
Spot Information
Name: Miyahama Onsen (宮浜温泉)
Address: Miyahama Onsen, Hatsukaichi, Hiroshima
Location: Miyahama Onsen is located southwest coast of Hiroshima, facing Itsukushima Island.
Access: The area is an 10-minute drive from the Ono IC on the Hiroshima-Iwakuni Road, or it is a 25-minute walk from Onoura Station on the JR Sanyo Line.
Tomonoura Onsen: Japan's Healing Port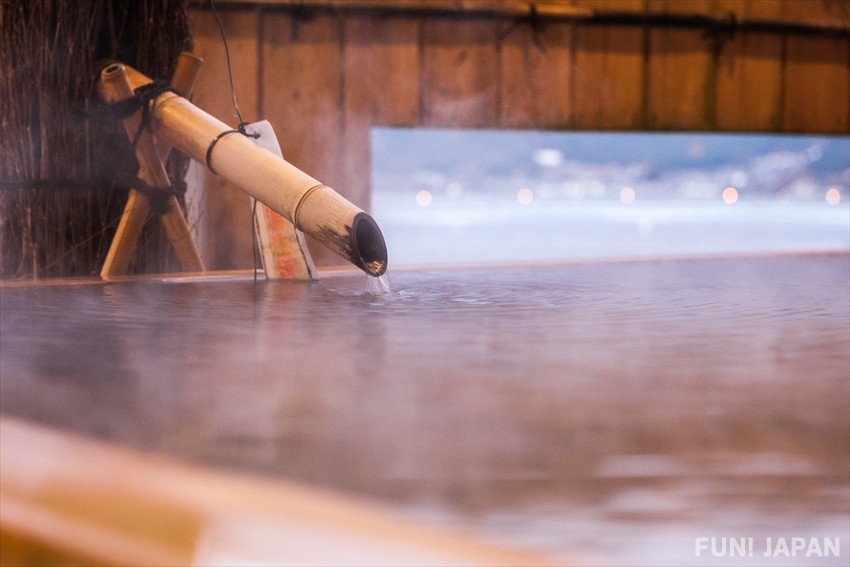 A small seaside resort town with hot spring hotels, Tomonoura is the perfect escape from a busy trip. Perched on the coast beside Sensui Island, it has a number of hotels and ryokan with hot springs and stunning views and is known as the most healing port in Japan. The area has also been used for filming popular tv dramas and Ryusei Wagon was filmed at Keishokan Sazanamitei. A highly-rated local hotel, it offers recently refurbished baths with glass-fronting, allowing bathers to look out across the water. 
Hotel Ofutei also has outdoor baths with stunning views, including private options and rooftop baths. Day visitors can enjoy the baths for 1,400 yen for adults and 700 yen (tax excluded) for elementary school students.
Tomonoura Spring waters are also of a radium kind, with a weak radioactive presence, good for neuralgia, muscle pain, poor circulation, skin beautification, skin disease and fatigue-recovery.
Spot Information
Name: Tomonoura Onsen (鞆の浦温泉)
Address: Tomo, Tomo-cho, Fukuyama, Hiroshima
Location: The resort is located on the eastern side of Hiroshima's coastline, right beside Sensui Island.
Access: Tomonoura Onsen is just under two hours from Hiroshima by car. Visitors can catch the bullet train from Hiroshima to Fukuyama (20 minutes, 4,510 yen) and then catch a local bus to Tomonoura (45 minutes, 560 yen).
Geihoku Oak Garden: A Snow-covered Bath
A single hotel with incredible mountain views, Geihoku Oak Garden gives that snow-surrounded bathing experience many crave. There are options for an indoor bath, a jacuzzi and the mountain-view outdoor bath. Whether it's surrounded by autumn leaves, snow or spring and summer foliage, it is a view no visitor could tire of looking at. As the hot springs are naturally cool, they are heated using firewood for a more relaxing bathing experience.
The water is a weak radium cool bath, with a natural benefit for those with muscle pain, neuralgia, skin disease, hypertension, gout, poor circulation, and fatigue recovery.
Spot Information
Name: Geihoku Oak Garden (芸北オークガーデン)
Address: 145-104 Hosomi, Kita-hiroshima, Yamagata, Hiroshima
Location: The hot spring is in the north-west of Hiroshima close to the Geihoku Shinsui Park.
Access: The hotel is best-reached by car as there is limited public transport in the area. It is a 30-minute drive from the Togochi IC on route 186. It is an hour and 15 minutes from Hiroshima using the expressway.
Hours: 10:00 - 21:00
Cost: 600 yen (adults) 200 yen (children) 100 yen (infants)
[Survey] Traveling to Japan
Recommend