Enjoy the sublime Shimane in Japan, a hidden gem steeped in culture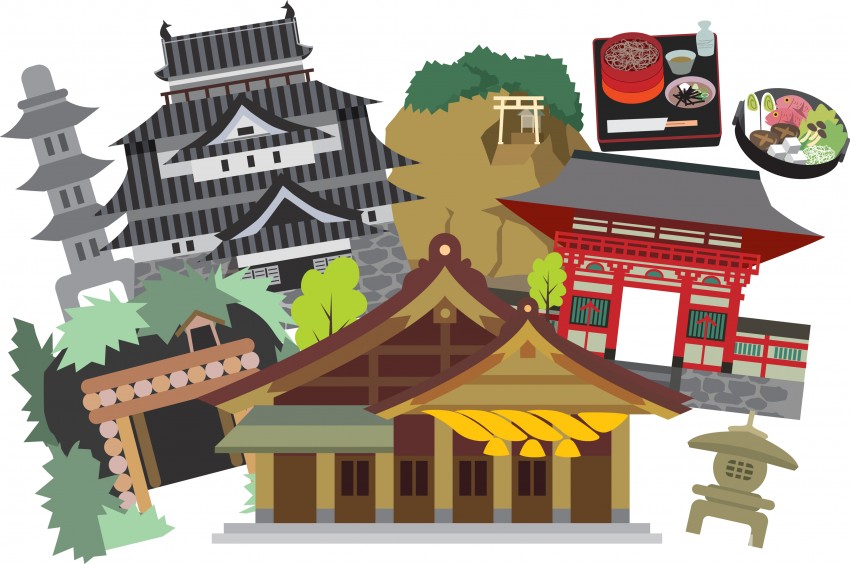 Shimane is a place brimming with history and culture. Known for being the birthplace of Waka poetry and home to one of the only castles which retains its own original wooden frame. Then of course there are the mountains, which have granted the nickname of the Sanin region, which literally means the shady side of the mountains.
About Shimane in Japan
Located in the western Chugoku Area of Japan, Shimane is an ideal location for those seeking a more relaxed and quiet holiday. This distinction can be attributed to Shimane's relatively low population, boasting an overall population of just under 700,000 people. 

Famous and Hidden Tourist Attractions in Shimane

Visit Shimane Must-go Spot - Matsue Castle

In the entirety of Japan there exists 12 castles, of which only 5 have been given the title of National Heritage Site, and within this group of 5, Matsue castle carries this distinction. It is also the last remaining castle in the entire Sanin region. Nicknamed the 'Black Castle', the building of Matsue castle was commissioned by Matsue domain founder Yoshiharu Horio.
Though Matsue castle was a victim to the Ordinance for Disposal of Castles 1873, by which all castles required to be torn down, much of the original castle tower still remains in its original state from over 400 years ago and it remains one of the only castles to retain its original wooden interior structure, including the flooring.
Aside from the beauty of its interior, the castle is home to many exhibits and relics of the past for you to marvel at. The exhibits also offer English audio descriptions regarding the items. An example of what makes Matsue castle truly stand out is that whilst visiting you might there are many actors located on the grounds adorned in samurai and ninja costume which gives the castle an almost colonial fair like astrosphere. 
Spot Information
Spot name: Matsue Castle
Address:  1-5, Tono-machi, Matsue-City, Shimane-Prefecture

Opening Hours:

 

For Main Castle: from April to September: 7:00-19:30; from October to March: 8:30-17:00
For Castle Tower:  from April to September: 8:30-18:30 (Last admission 18:00); from October to March: 8:30-17:00 (Last admission 16:30)


Admission fee to Castle Tower: 340 yen for adult and 140 yen for child (

discount price, only for international visitors when showing passport)
Access: JR Matsue Station → [Lake Line Bus] 10 minutes → "Matsue Castle Ote-mae" bus stop
The Hidden Cultural and Natural Spot in Shimane - Mt. Yakumo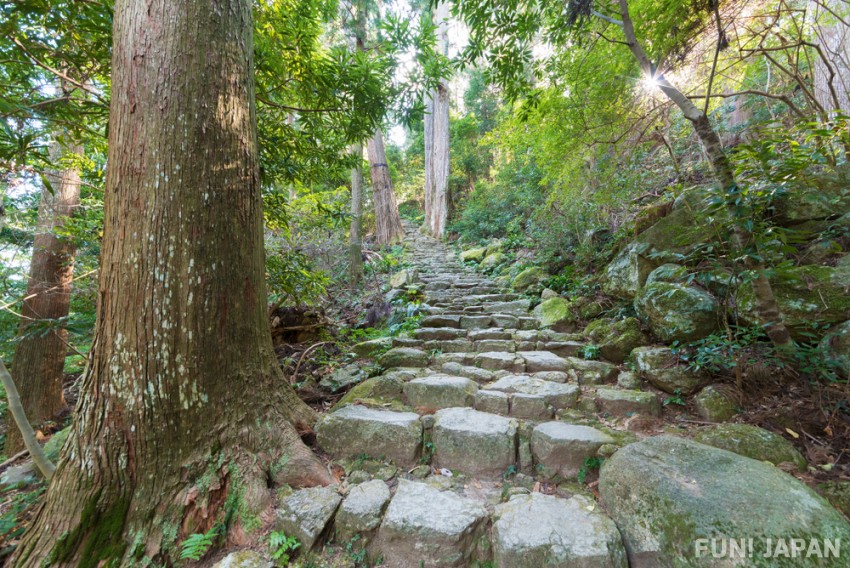 For a hiking trip, Mt. Yakumo is an ideal stop with its 2 kilometers hiking course. It is often believed that "Waka" poetry was born on this trail. This is noticeable due to the fact that as you walk along the trail you are greeted by a number of rocks with Waka engravings on them. Waka is a type of poetry in classical Japanese literature. Waka are composed in Japanese, and are contrasted against poetry composed by Japanese poets in Classical Chinese. Mt. Yakumo is a truly beautiful, and the giant red "mon" (gate) was actually my favourite aspect about it.
To get to Mt. Yakumo walking trail, take the Ichibata Bus towards Daito from JR Matsue Station. Get off at Suga and you can find the trek entrance near Suga Shrine. The journey takes around 40 minutes in total.
The Holy Place to Protect the Evening of Japan - Hinomisaki Shrine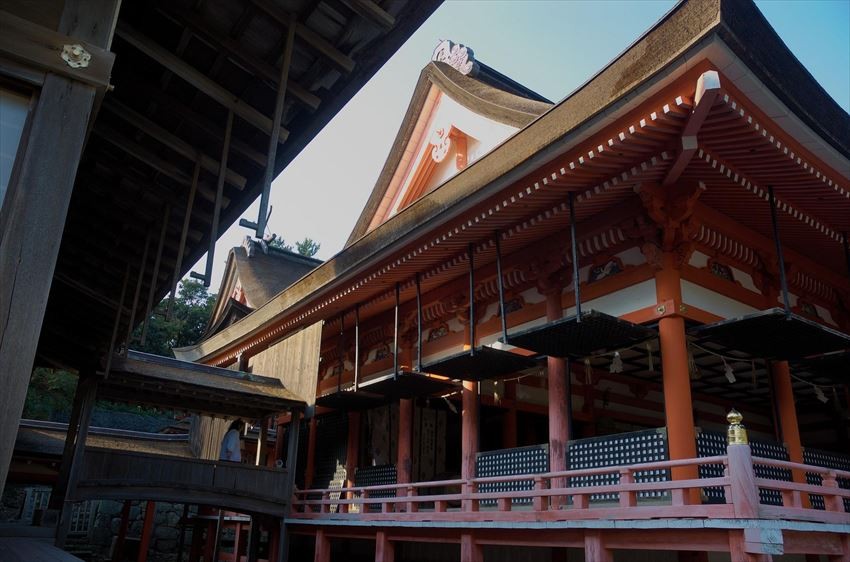 Hinomisaki Shrine located in Izumo is one of the most beautiful shrines in all of Japan. Hinomisaki Shrine was built in honor of the mother and sun goddess Amaterasu and her brother Susano the god of storms and sea. The shrine is coloured in vermillion and is split into 2 sections the upper and sunset shrines.
Whilst the exact time in which the shrine was built is not clear, it is believed to have been here as early as the 9th century. Legend has it that the shrine is built in the exact direction of the sun and is responsible for protecting Japan at night.
Whilst visiting the shrine a point of interest maybe the stores located inside. These stores offer protective amulets packed with sands from the grounds that are believed to have protective effects. 
Spot Information
Spot name: Hinomisaki Shrine
Address: 455 Hinomisaki, Taisha-cho, Izumo City, Shimane Prefecture
Access: Izumo Station → [Ichibata bus] 45 minutes → Hinomisaki stop...2 minutes walk 
※Beware that there are actually two Hinomisaki Shrines located in Shimane, one in Izumo and the other in Matsue

How to Get to Shimane From Fukuoka
As Shimane Prefecture is close to Fukuoka Prefecture, many tourists travel Fukuoka together with Shimane in one trip. It is convenient to access from Fukuoka via several means, either direct flight, train or night bus.
By Domestic Flight
Japanese airlines run 2 flights a day to Izumo airport which is the sole delta hub of Shimane Prefecture. This flight usually takes 1 hour and costs around 25,000 yen.
By Train (Shinkansen)
You can take the JR Tokaido-Sanyo shinkansen (bullet train) from Hakata Station, where upon you change to Limited Express Yakumo at Okayama or Limited Express Super-Oki at Shin-Yamaguchi station for Matsue, which is the capital city of Shimane. The train journey cost around 12,000-16,000 yen for one way.
By Night Bus
The night bus operated by JR Kyushu Bus departs from Hakata Bus Terminal in Fukuoka at 22:45, where upon it arrives at Matsue Station at 6:48 the following morning. The return bus schedule requires that you arrive back for its 23:10 departure, this service then arrives back to Hakata Bus Terminal at 7:02 the following morning.
[Survey] Traveling to Japan
Recommend