Wanko Soba: The All-You-Can-Eat Noodle Dish of Iwate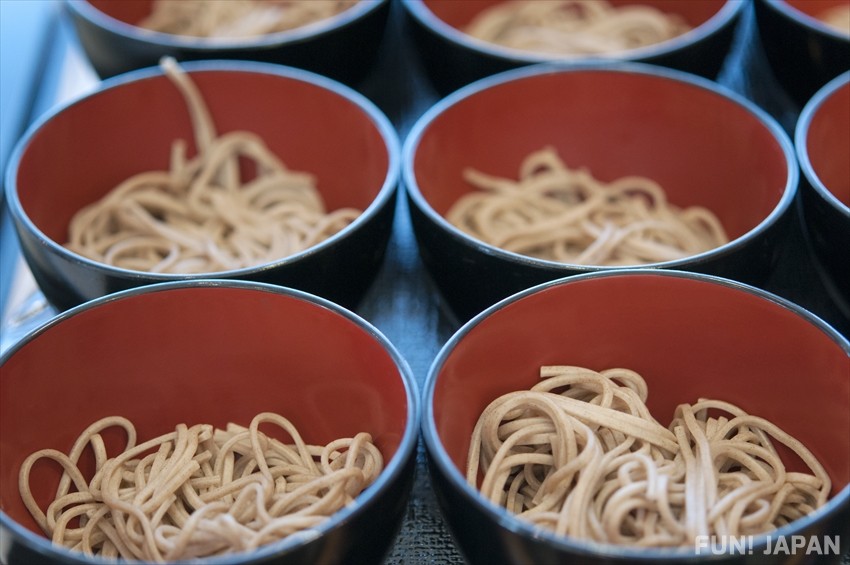 An all-you-can-eat dish that has its own championship, wanko soba is an Iwate speciality that is known nation-wide. While stacked sushi plates are a more common elsewhere, in this region you pile your soba-bowls high to showcase your appetite. The plain noodles are one of Iwate's three great noodles, along with Morioka Reimen and Morioka Jajamen Noodles.

What is Wanko Soba?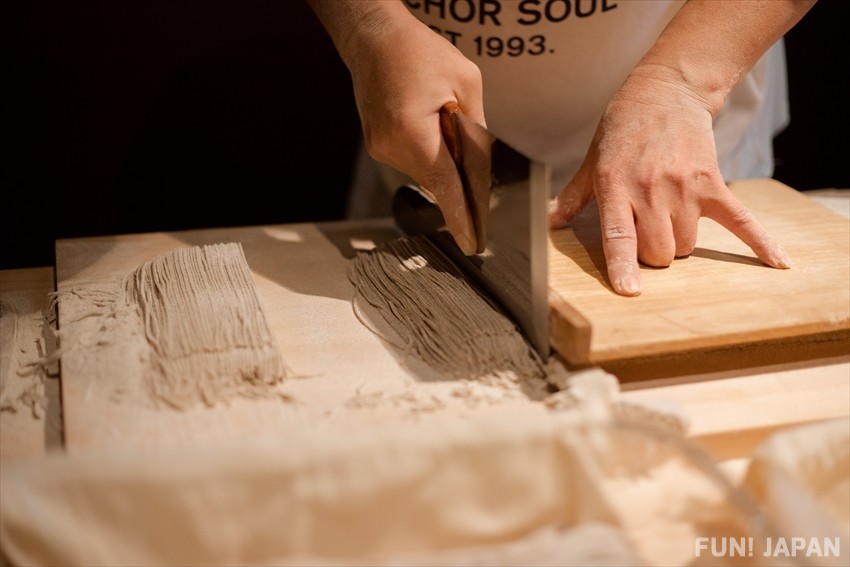 Wanko soba is an Iwate speciality, mostly found in Morioka and Hanamaki, to the west of the prefecture. The buckwheat noodles, called soba in Japanese, are served in small wooden bowls, with diners eating between 35-60 in a normal meal. There are many tales as to why the noodles are served this way, including a farmer feeding large crowds with small portions to ensure everyone received at least a little food. Another describes the embarrassment of locals at having to serve their simple local speciality, to a visiting lord. Presenting him with a small bowl and an array of side dishes, he instead found the noodles delicious and repeatedly asked for more, beginning the trend of multiple small bowls.
The name of the dish comes from 'wan' meaning bowl and 'ko' which is added to the end of words to mean cute.
How to Eat Wanko Soba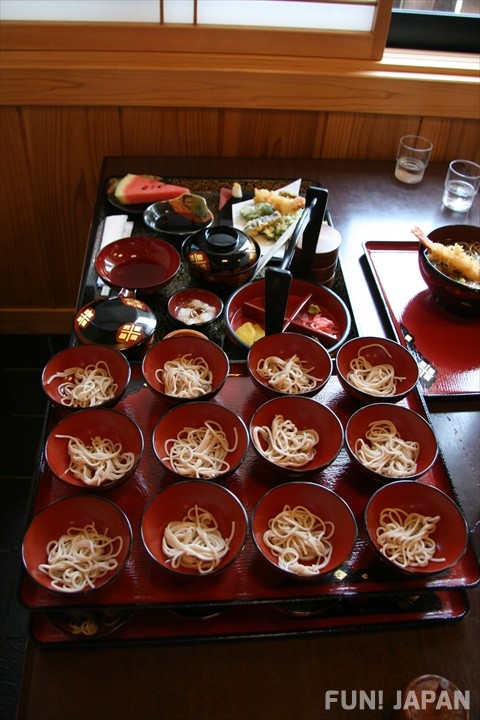 When you order a wanko soba meal, you'll be ordering an all-you-can-eat course, meaning you will have as many refills as you can manage, along with toppings. The waiter will be available to refill your bowl as often as needed, often shouting the encouraging cry of 'hai dan dan". Depending on the restaurant, it takes between 10-15 wanko bowls to make one regular bowl of soba
Tips for Eating Wanko Soba
The meal is seen as a challenge, so it is best to try when you are prepared and very hungry - otherwise, you can simply eat a regular bowl.
It is important you wear your apron while you take part in the soba eating competition.
As each pot will have some soup, there is a special bowl to put your unwanted soup in, allowing you to change the flavour when needed and stopping you from getting too full on soup.
When you are ready to stop, you simply place your lid on the bowl as a sign you are finished, and say 'maitta!'.
Side Dishes to have with Wanko Soba
To mix up the flavour of the many small bowls of noodles, a range of side dishes are often provided. You will be served some of the following, depending on the restaurant:
Raw Tuna
Grated daikon (Japanese radish)
Sesame paste
Nori (dried seaweed)
Wasabi
Soy sauce
Nameko mushrooms
Minced chicken (cooked)
Grated taro (a starchy root vegetable)
Chopped leeks
The Wanko Soba Eating Competitions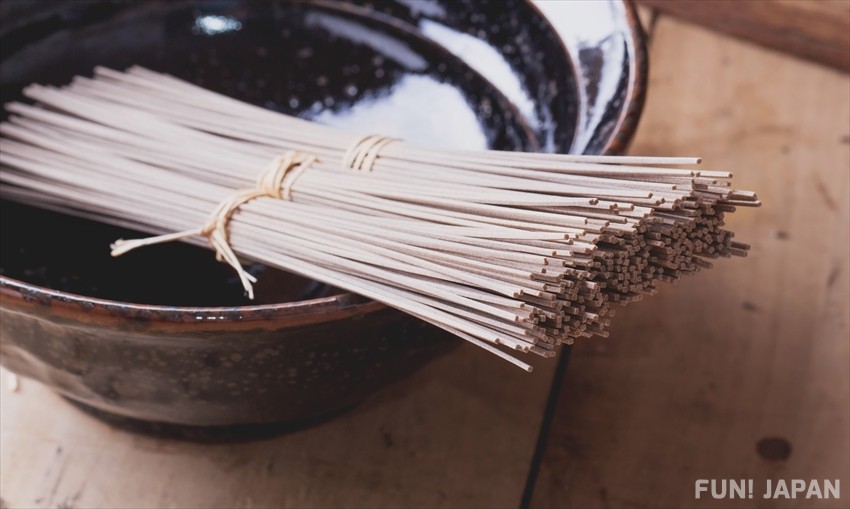 There are two wanko soba eating competitions in Iwate. First held in December 1957 in Hanamaki, the Wanko Soba All Japan Tournament (or All Japan Wanko Soba Contest) is held annually in Hanamaki on February 11th. Another competition is the All Japan Wanko Soba Championship, first started in Morioka in 1986, and is held annually in November. Dozens of competitors attempt to win the record of who can eat the most bowls within 5-15 minutes (Tournament in Hanamaki uses 5 minutes format while Championship in Morioka varies over the year). Each bowl must hold 10g of noodles, which is around 1/10th of a normal bowl of noodles. Each competitor has a dedicated server and the previous year's winners are given a strict time handicap to even the playing field. The highest number is 258 bowls in 5 minutes, while those competing for 15 minutes have eaten as many as 632 bowls.
*Due to the spread of COVID-19, the events may be canceled or rescheduled.
Where to Eat Wanko Soba
There are a good selection of restaurants in Iwate where you can try a wanko soba noodle challenge:
Azumaya Soba Shop, Morioka
One of the most popular options for the challenge is Azumaya, with a handful of stores to choose from. Their main restaurant is in Morioka, with experienced staff waiting to fill customer's bowls both at lunch and dinner time. Diners who manage 100 bowls or more are awarded with a wooden tegata bill, and the challenge course comes with 10 side dishes plus a small dessert (if you have space!).
Spot Information
Name: Azumaya Honten Soba Shop (そば処 東家 本店)
Address: 1-8-3 Nakanohashi-dori, Morioka, Iwate, Japan
Location: The store is just across the river from the Morioka Castle Site Park,
Price: 3,700 yen for adults,
Access: It is a 25-minute walk from JR Morioka Station which is accessible on the Akita and Tohoku-Hokkaido Shinkansen as well as the Tazawako, Iwate Ginga, Tohoku and Yamada lines.
Hours: 11:00 - 15:00 and 17:00 - 18:30
Hatsukoma Honten, Morioka
Hatsukoma offers Wanko Soba for those who reserve in advance, with three options for side dishes. The Plum Course has seven dishes, costing 2,640 yen. The Pine Course has ten dishes and costs 3,190 yen while the Cherry Course has 12 dishes, costing 3,850 yen per person. Alternatively, if you have a smaller appetite you can try a 30-limit Wanko soba course for 1,980 yen, with all the side dishes from the Plum Course. The restaurant also offers the opportunity to try being a Wanko Soba waitress, although this is mainly for student groups.
Spot Information
Name: Hatsukoma Honten (初駒本店)
Address: 10-21 Hachimancho, Morioka, Iwate
Location:
Access: The restaurant is a 10-minute walk from Morioka Bus Center, which is a 20-minute bus journey from Morioka Station.
Price: 1,980 yen for 30 bowls course.
Hours: 11:00 - 20:00.
Kajiya, Hanamaki
This small, local-feel restaurant offers regular soba dishes as well as their Wanko soba challenge. They buy all ingredients from local butchers and farmers each day and make their own noodles to a family recipe. The set course includes eight side dishes for adults and students and five for children.
Spot Information
Name: Kajiya (嘉司屋)
Address: 2-19 Azumacho, Hanamaki, Iwate
Location: The restaurant is in south-east Hanamakitowards the Toyosawa River.
Access: The restaurant is a 15-20 minute walk from Hanamaki Station on the JR Kamaishi and Tohoku Lines.
Price: 3,500 yen for adults, 2,800 for elementary school students, 1,700 for children.
Hours: 11:00 - 15:00 and 17:00 - 21:00
[Survey] Traveling to Japan