New Year Dish "Ozoni" Video Recipe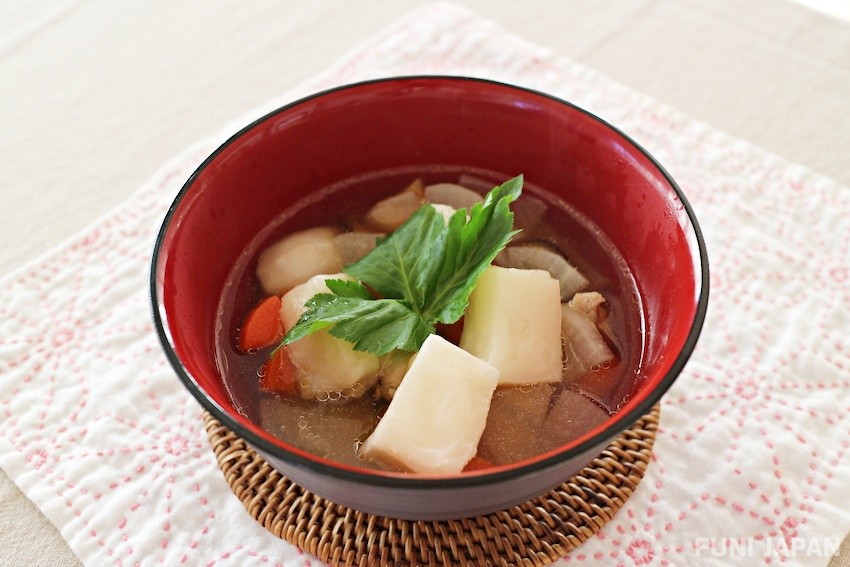 As Japan heads towards the new year, one dish you'll find many people eating is known as "Ozoni", there are many types and ingredients that change depending on the region and household. There are soups that don't use miso and are transparent or ones that use miso. The mochi used within the dish can be boiled or toasted. There is even a wide range of methods for cooking, all of which create a delicious dish! The methods for cooking this dish aren't that difficult, so how about using this article as a reference and trying to make it for yourself to help create that new-year feel.

Ozoni Ingredients (2 Servings)
Chicken Thigh 300g
Carrot 60g
Daikon Radish 60g
Shiitake Mushroom 1
Taro x2
Sliced Mochi x2
Cow Parsley (Mitsuba) To Taste
(A)
Water 800ml
Alcohol 1 Tablespoon
(B)
Granulated Japanese-style Dashi (Stock) 10g
Light Soy Sauce (or normal) 2 Tablespoons
Ozoni Recipe
Preparation
Take the skin off the carrot, taro, and daikon radish. Slice the ends of the shiitake mushroom.
Slice the carrot and daikon radish into bite-size pieces, and chop the taro into chunks. Slice the shiitake mushroom into thin slices.
Cut the chicken thigh into bite-size pieces.
Place (A) into a bowl alongside (2) and heat on medium heat.
Once boiling, remove any scum off the top, and add in (1).
Once cooked through, add in (B) and mix well, lowering the heat.
Grill the sliced mochi in an oven toaster for around 5 minutes until soft.
Place (5) into a bowl, add in (6), and sprinkle some cow parsley over the top to finish!
[Survey] Traveling to Japan