Hateruma Brown Sugar & Cinnamon Carrot Cake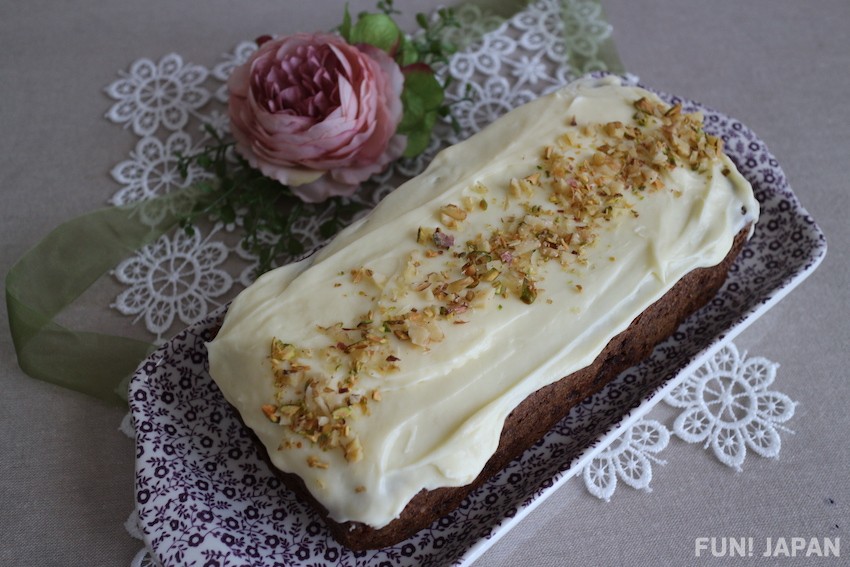 Have you ever heard of carrot cake before? We're sure a lot of people who've never had carrot cake before probably think it doesn't really go well with something like a cake, but if you make it brown sugar, you don't actually taste the carrot, and it's not overly sweet. Even if you don't typically like cinnamon, don't worry, it's not overpowering in this recipe. Finally, the cream cheese frosting finishes off the cake perfectly, doubling the overall deliciousness. Try making it yourself!

Ingredients:
Carrot 120g
Cake Flour 100g
Yashima Brown Sugar(Okinawan Brown Sugar) 85g
Egg 1
Oil 65g
Baking Soda 3g
Baking Powder 4g
Cinnamon 3g
Raisins 20g
Walnut 20g
Frosting:
Cream Cheese 80g
Sugar 30g
Lemon Juice ½ a Teaspoon
Toppings(To Taste)
Recipe:
Pre-preparation:
Mix all powders & sieve.
Peel the skin off the carrot then either grate or chop finely.
Rest the raisins in boiling water, then roughly cut.
Roughly cut the walnuts. Ensure to roast raw walnuts before use.
Place the egg and brown sugar into a bowl. Whisk until stiff peaks are formed.
Slowly pour in the oil, and mix well.
Put the cake flour, baking soda, baking powder, and cinnamon into the mix. stir well until all powder has been mixed well into the mixture.
Put in the carrots, raisins, and walnuts. Mix well.
Place mixture into the mold. Drop mixture 3-4 times on tabletop to ensure no bubbles are formed.
Bake for 40 minutes in an oven pre-heated to 180 degrees centigrade.
After baking, place on a cooling rack.
Place the cream cheese into a bowl, and whisk. Add the sugar and lemon juice before mixing until thick. Leave the mixture to rest in the refrigerator until the carrot cake has cooled down.
Pour the frosting mixture over the top of the cooled carrot cake.
Sprinkle walnuts and Pistachios over the top to taste. DONE!
[Survey] Traveling to Japan