Simple but Delicious: Grilled Eggplant with Ponzu Sauce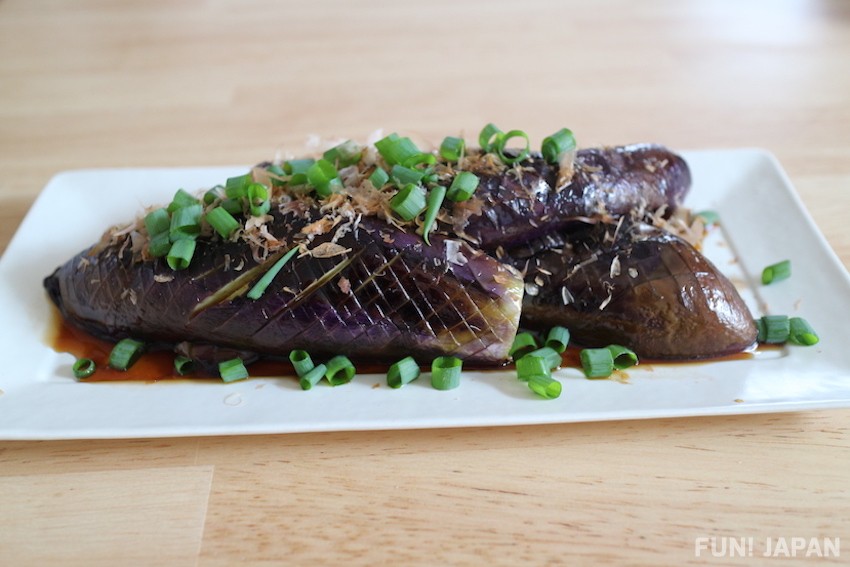 Summer is the perfect time to enjoy light and refreshing dishes. However, we're sure some of you agree that cooking can become a little daunting with the heat, right? This dish can be cooked in under 5 minutes and doesn't require you to work up a sweat to make it!
Ingredients for 4 Servings
6 eggplants (approx. 480g)
2 tbsp sesame oil
2 tbsp Ponzu Shoyu
A little dried bonito
Chopped green onions
Recipe
Cut off the end of the eggplant and then cut it in half vertically. Make various diagonal 5mm wide cuts across the eggplant forming a lattice-like pattern.
Put sesame oil in a frying pan, heat over medium heat, and then place the eggplants in the pan face down. When the surface becomes brown, flip it. Cover and steam over low heat for about 5 minutes until soft.
Serve in a bowl and sprinkle with ponzu soy shoyu, dried bonito flakes, and chopped green onions.
[Survey] Traveling to Japan