Gintama Fan's Destination: Toyako Echigoya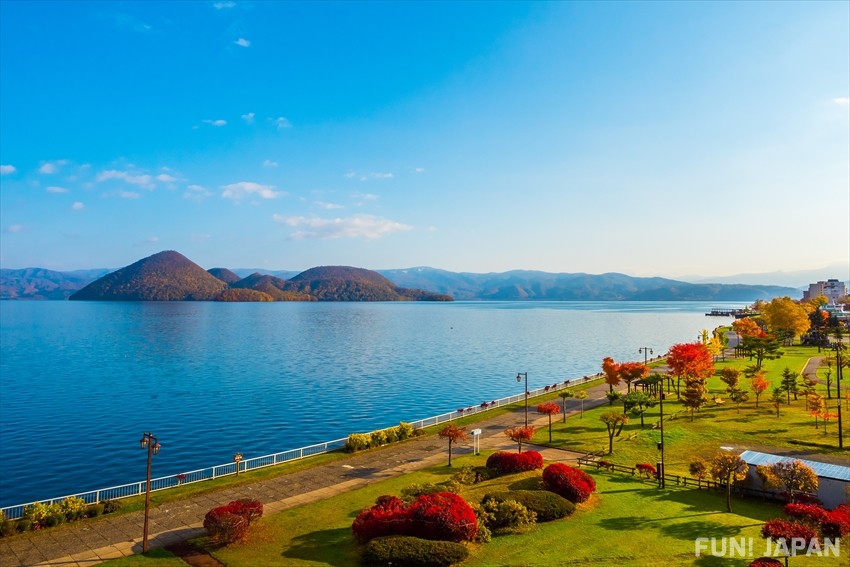 The long running manga and anime series Gintama has grown in popularity over the years, since the first episode of the anime aired back in 2006. The quirky cast of the Yorozuya group with their leader – Gintoki Sakata, the powerful but lazy samurai main character, has taken the series from manga page to tv anime, and more recently on to the big screen with both the concluding anime film and live action movies.
For fans of the series, there is a certain location where faithful Gintama followers carry out their pilgrimage: Toyako-Echigoya, located in Toyako-cho of Hokkaido. Let's take a look to see why Gintama fans from all over are heading to this spot of northern Japan!
Lake Toya: Toyako-cho
Toyako-cho is a town located on the northern island of Hokkaido. "Toyako" is the name of the volcanic Lake Toya, the area is known for their hot spring resorts. The lake itself is quite beautiful but what significance does this have with Gintama?
Fans will know that on Gintoki's iconic Bokuto (wooden sword), the kanji for Toyako "洞爺湖" is engraved and he refers to his sword as Toyako Bokuuto. It's a bokuto that he bought at Lake Toya during a school trip when he was younger.
Toyako Echigoya
Toyako Echigoya is a traditional bokuto and souvenir shop - and no doubt the location where Gintoki bought his wooden sword as a schoolboy. With a history of 30 years, this shop creates fine hand crafted bokuto. The exterior is impressive with an old Edo-era look which would fit perfectly the setting of Gintama, making this a perfect photo spot. The interior is fantastic as well with a variety of swords on display, traditional wooden figures, and a lot of novelty souvenirs.
Gintama fans will be excited to see not only the variety of Gintama merchandise available, but they will also find the exact bokuto wielded by Gintoki Sakata himself, and a replica of the silver "銀" (Gin) branded scooter that Gintoki rides and helmet that Gintoki wears as well! If you're lucky you might be able to ride the bike and have a photo taken! Become one with our Yorozuya hero!
If all of this excites you, then try planning an onsen trip up to Hokkaido, enjoy the view of Lake Toya with the onsen resorts and spend your time at Toyako Echigoya to your hearts content and pick up all the great Gintama souvenirs to take home!
Toyako Echigoya
Address: 71 Toyako-Onsen, Toyako-Cho, Abuta-gun, Hokkaido 049-5721
Access: 15 minutes by Bus from Toya Station on Muroran Main Line
Hours: 9:00AM to 8:30PM
[Survey] Traveling to Japan
Recommend