Hyouka: Hida Takayama, Gifu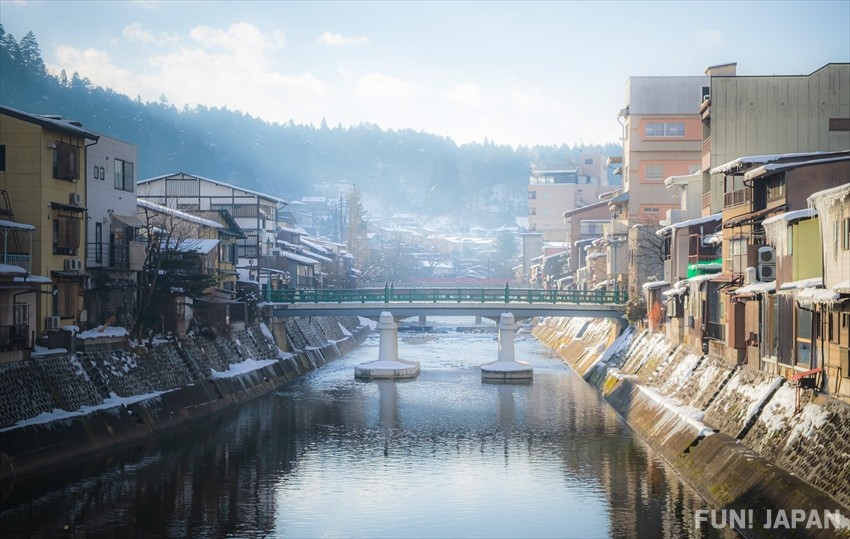 Hyouka is the popular mystery/slice of life anime by Kyoto Animation which aired back in 2012. Jump into the world where Houtarou Oreki, Eru Chitanda, and the rest of the Classic Literature Club had their adventures by visiting Hida Takayama! Relive the scenes from the show and maybe solve a mystery or two along the way. Curious? Let's get started.

Hida High School
"Kamiyama High School" as it's called in the anime, is based off this school – Hida High School. While like any public-school trespassing is prohibited, but feel free to walk on by and imagine what mysteries Eru has dragged Houtarou into this time. Maybe you will hear Mayaka and Satoshi arguing somewhere in the distance as well.
Takayama City Main Library
Let's visit a spot where you can actually enter this time, the Takayama City Main Library (Kamiyama Public Library from the show). This is the library Houtarou and Eru visited in episode 18 – when trying to find newspapers with information on what happened to their teacher Ogi-Sensei in the past. This library with a French style architecture has been around since the Meiji era. An 18 Minute walk from JR Takayama Station, this library is open from 9:30AM to 9:30PM. Enjoy both the unique look of the building and the knowledge you can find inside!
Takayama City Main Library
Address: 2-chōme-115 Babamachi Takayama, Gifu 506-0838
Access: 18 minute walk from JR Takayama Station
Hours: 9:30AM to 9:30PM
Café Bagpipe
Café Bagpipe is the café where Eru asked Houtarou to help her to solve the mystery about her lost uncle, Jun Sekitani, and about what he told her when she was little that made her cry. This café was also featured in the live action Hyouka movie. The interior of the café was depicted accurately in the show, so you can enjoy everything from the counter, the clock on the wall, the seat next to the window where the 2 characters sat, and even the cups that the café uses for coffee.
Café Bagpipe
Address: 75 Kataharamachi, Takayama, Gifu 506-0847
Access: 10 minute walk from JR Takayama Station
Hours: 9:00AM to 6:00PM
Hie Shrine
Next let's visit some shrines! Hie Shrine is featured many times throughout the Hyouka series, but the most notable episode was episode 20 when Eru and Houtarou visited the shrine on New Years Day and ended up getting into some trouble. Find all the spots you recognize and then head to the shrine building to get some omamori talismans and have your fortune told! Hopefully, you'll have better luck than Houtarou did…
Hie Shrine
Address: 156 Shiroyama, Takayama, Gifu 506-0822
Access: 24 minute walk from JR Takayama Station
Hours: 8:30AM to 4:30PM
Hida Ichinomiya Minashi Shrine
Finally, we will visit the Minashi Shrine, a bit further away from Takayama Station. This is where the anime series concluded with the "Ikibina Matsuri" (Hina Doll Festival). This festival is a real festival which takes place every year on April 3rd. The highlight of the Ikibina Matsuri is the parade where women are dressed in costumes from the Heian-period – much like Eru did on the final episode of Hyouka season 1. If you want to see this festival and parade take place, make sure to mark your calendar for April 3rd when you visit!
Hida Ichinomiya Minashi Shrine
Address: Ichinomiya 5323 Gifu, Takayama 509-3505
Access: 15 minute walk from Hida-Ichinomiya Station on the Takayama Line
Hours: Open 24 hours
There are multiple other spots to visit around Hidatakayama which were referenced in Hyouka. Hidatakayama and Hyouka have a collaborative map which we recommend picking up. It lists many of the scenes from the show and where they are located for easy visiting. This map can be picked up in various locations including the antenna shop "Marutto-plaza." The shop also has Hyouka souvenirs, so if you're a fan it's a shop you definitely want to visit!
Marutto-plaza
Address: 2-60 Honmachi Takayama, Gifu 506-0011
Access: 8 minute walk from JR Takayama Station
Hours: 10:00AM to 6:30PM
[Survey] Traveling to Japan
Recommend