Yufuin - A Peaceful Hot Spring Haven in the Mountains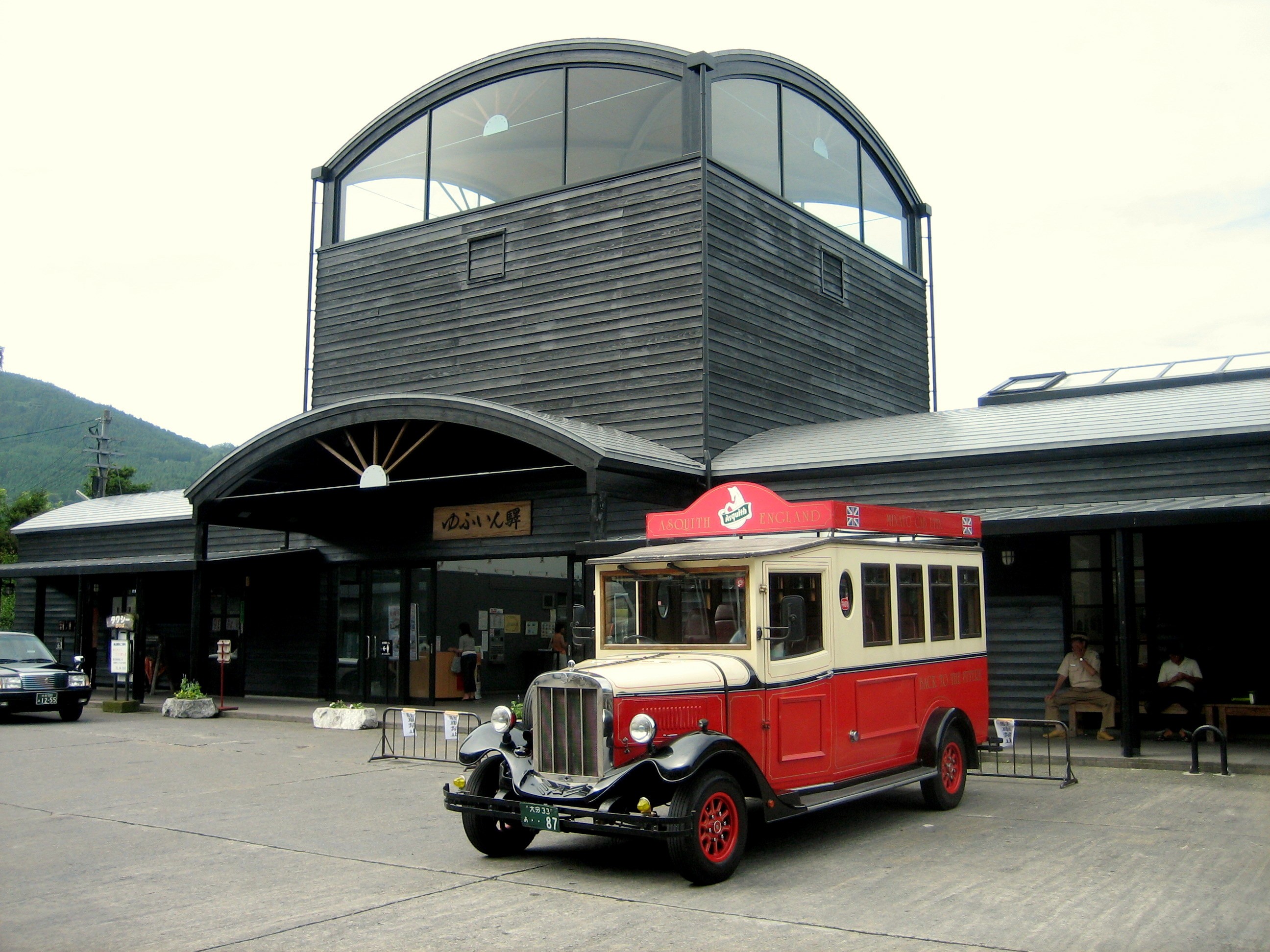 Yufuin boasts Japan's 2nd largest quantity of hot spring water, but has no pleasure quarter, and has undergone no large-scale development leaving it with its untouched peaceful atmosphere. There are many things to see and do here, for example, Kinrinko, a lake with a fairytale-like view, as well as many local dishes and ingredients which are a must-try for anyone visiting.

Yufuin's History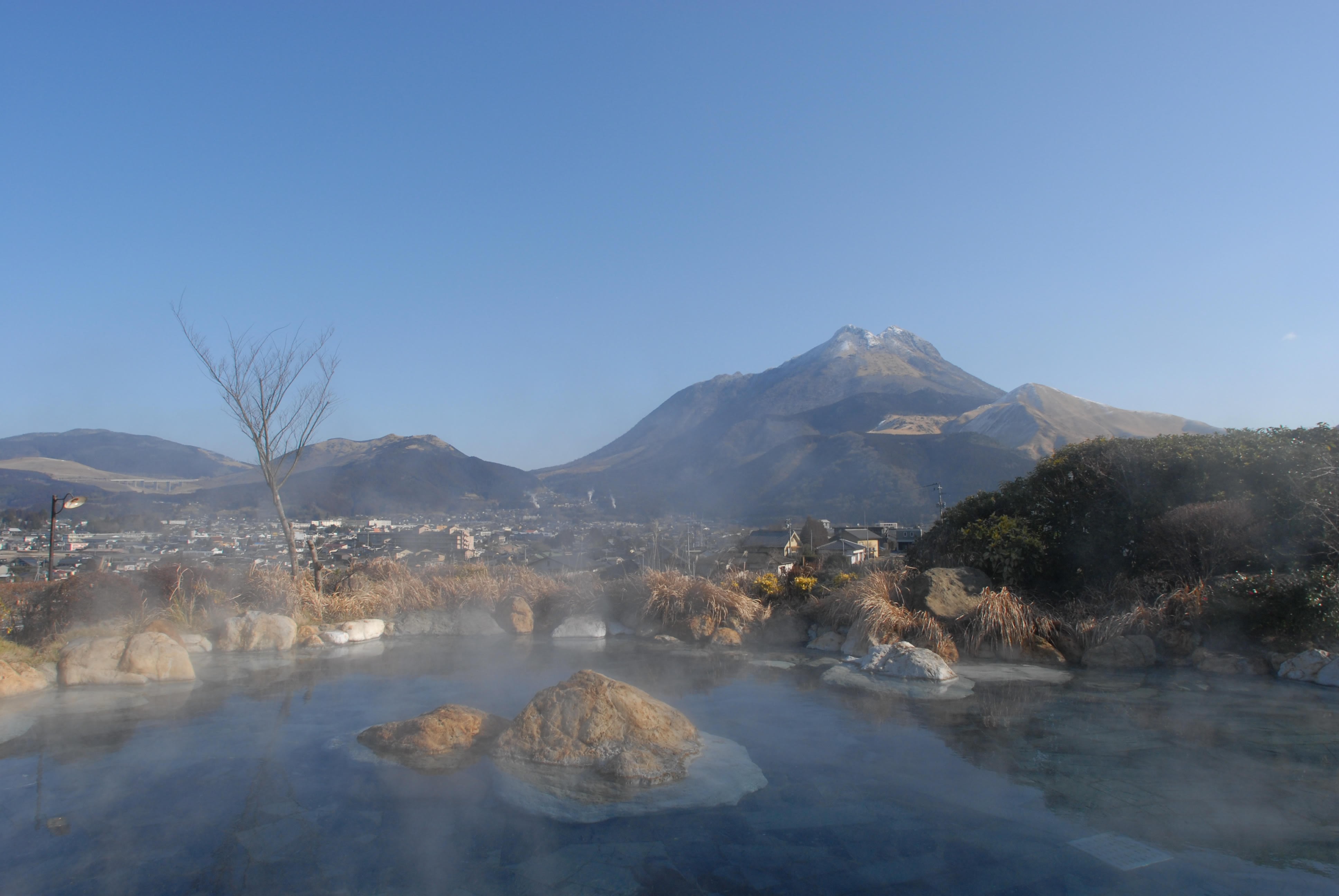 Yufuin's hot springs can be found in its basin surrounded by mountains such as Mount Yufu.

Yufuin's Folklore
Yufuin basin was originally a large lake filled with water. It was said that one day, the goddess of Yufuin, Unakihimenokami, after looking down onto the large body of water decided to dry it up and create a large and fertile land, this land helped with the daily lives of the surrounding residents, bringing them joy and happiness. It was said that she told her subordinate "Kesaki Gongen" to ensure to break one corner of the lake.

However, it turns out a dragon lived within this lake. The dragon asked the goddess for new land in which to live in peace, to which the goddess decided to bring spring water forth, allowing the dragon to live in peace here as long as it protected the land. This is said to be how lake Kinrinko came to be.

Current Yufuin
Yufuin Hot Springs was originally a more rustic and rural hot spring, with no surrounding large-scale hotels or entertainment-related establishments. During the latter half of the 1960s, every year during summer, a film and music festival was held which brought attention to the hot springs. In 1980, there were plans for a large-scale development project, however, the locals protested heavily against this protecting the location's original scenery.

Yufuin's Sightseeing Spots
Let's take a look at some locations you should visit if you're planning to head to Yufuin!
Kinrinko (Kinrin Lake)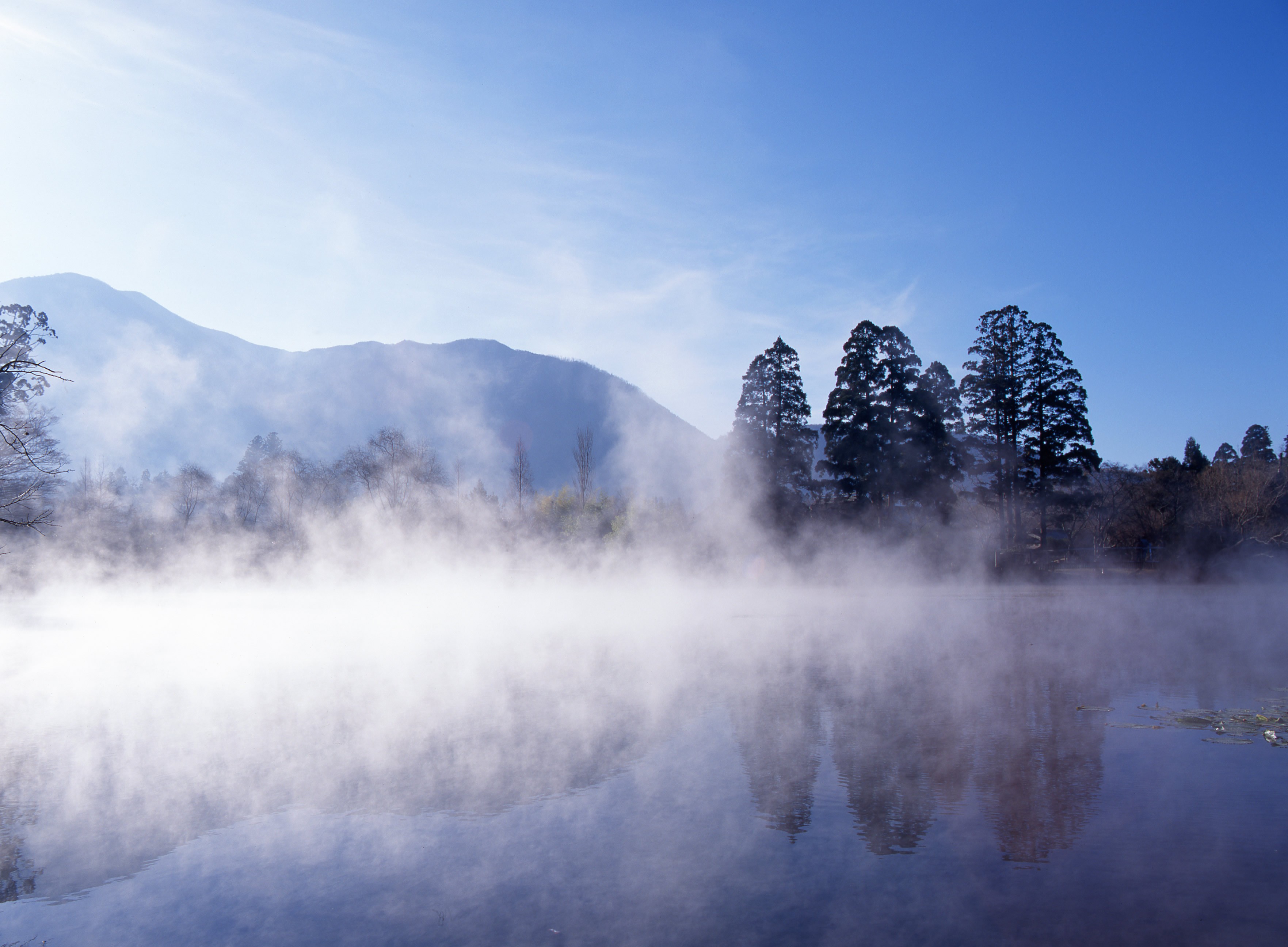 Kinrin Lake, which we introduced in the folklore above, is most likely Yufuin's most well-known sightseeing and power spot. It is said that both spring water and hot spring water can be found in this lake. Because of this, the temperature of the water is quite high all year round, and you may even be able to see the magical-like scene of the steam rising from the water's surface depending on when you visit. Around the lake, you'll find various promenades allowing you to take a leisurely stroll while enjoying the scenery. Note that this location is also quite well known for its beauty during the fall!

Access:10 minutes via car from JR Yufuin Station
Unakihime Jinjya (Unakihime Shrine)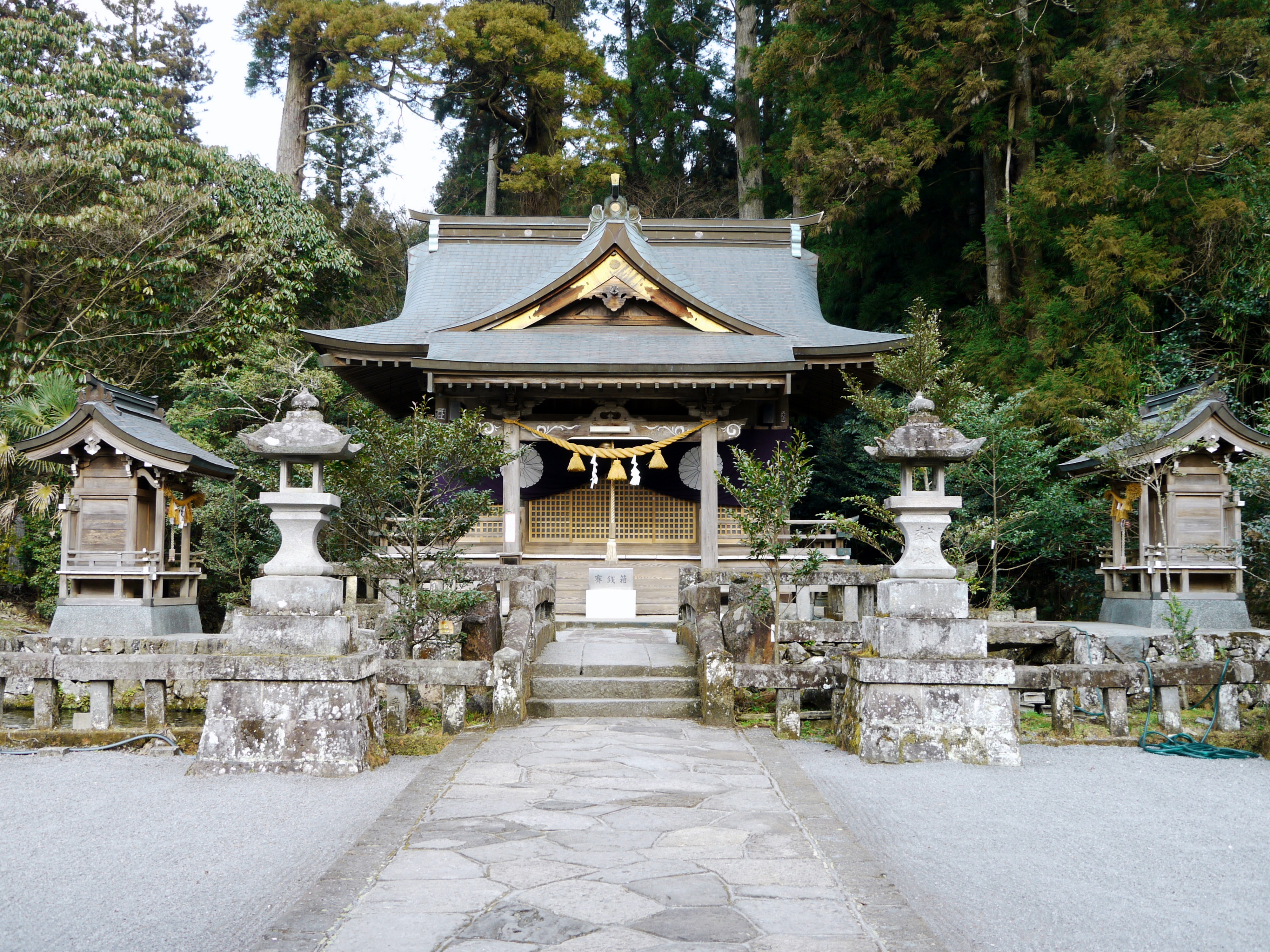 Unakihime Shrine is said to have been built and completed around the year 720 in the "Chronicles of Japan" history book, and is said to enshrine the Kuninotokotachi no Mikoto (eternal god of the land), the first god said to have appeared during the contrition of the universe, this god has another alias known as "Rokushogu". Because it is said in the folklore that Yufuin Basin was originally a large lake, the spirit which was chosen to be worshipped here was a rabbit.

Access:20-minute walk from JR Yufuin Station
Sagiridai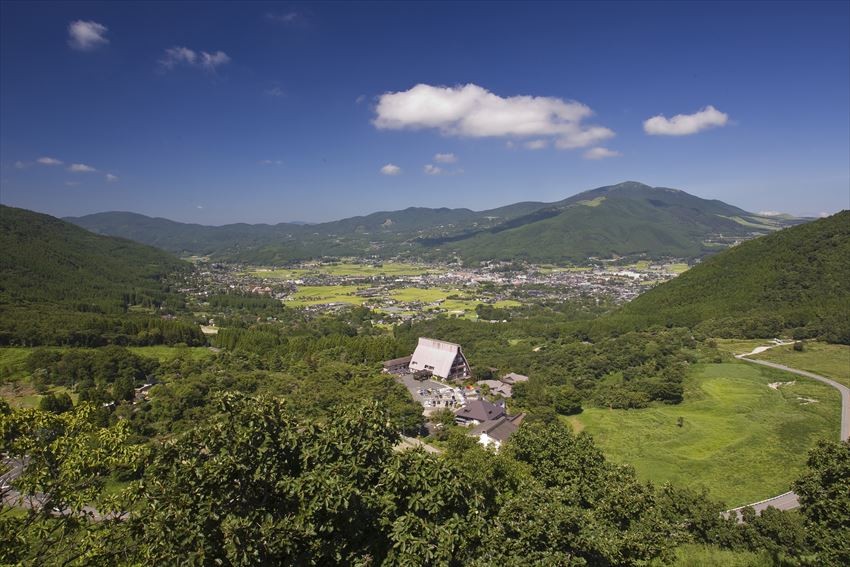 This is an observation deck that is located at the foot of Yufudake, at an elevation of 680m from which you can see Yufuin in its entirety. Each season offers its own unique views, and if you decide to visit during the chilly early hours, you're able to see the sight of the steam rising from Kinrin Lake. 

Access:15 minutes via car from Yufuin IC
Sightseeing Horse-drawn Carriage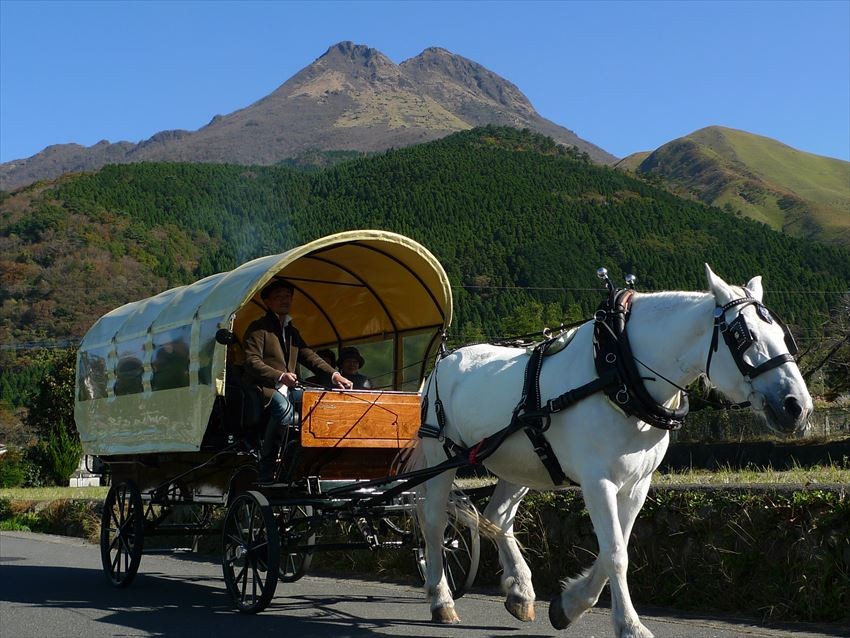 This carriage started its business over 30 years ago and has become well-known in Yufuin. It departs from JR Yufuin Station and takes you around the many sightseeing spots before returning to the station. The sightseeing course takes approximately 60 minutes. You're able to reserve a time slot from 9:00 on the day of travel.

Passengers:9〜10 People
Availability Period:Mar 2nd - December
Business Hours:Mar - Nov 9:30 - 16:00, Dec 9:30 - 14:30
Fee:Adult (Middleschool Student and above) 1,800 JPY, Child (4 and above) 1,300 JPY
Homepage : http://www.yufuin.gr.jp/ride.html
Reccomended Local Foods in Yufuin
There are many foods we could recommend in Yufuin, but we're going to introduce just 2 amazing restaurants you can visit to try these foods today.

Yufumabushi Shin Kinrinko Store

A restaurant that specializes in Yufuin's famous product "Yufu Mabushi". The dish uses Yufuin's own brand of rice "Hitomebore" which is made-to-order for each individual customer. You're able to choose from 3 different types of meat, being Bungo Beef, Yufuin Shamo (chicken), and Kyushu rabbit, before finally pouring over some dashi soup over the scorched rice. This restaurant not only has a store at Kinrin Lake but also in front of Yufuin Station.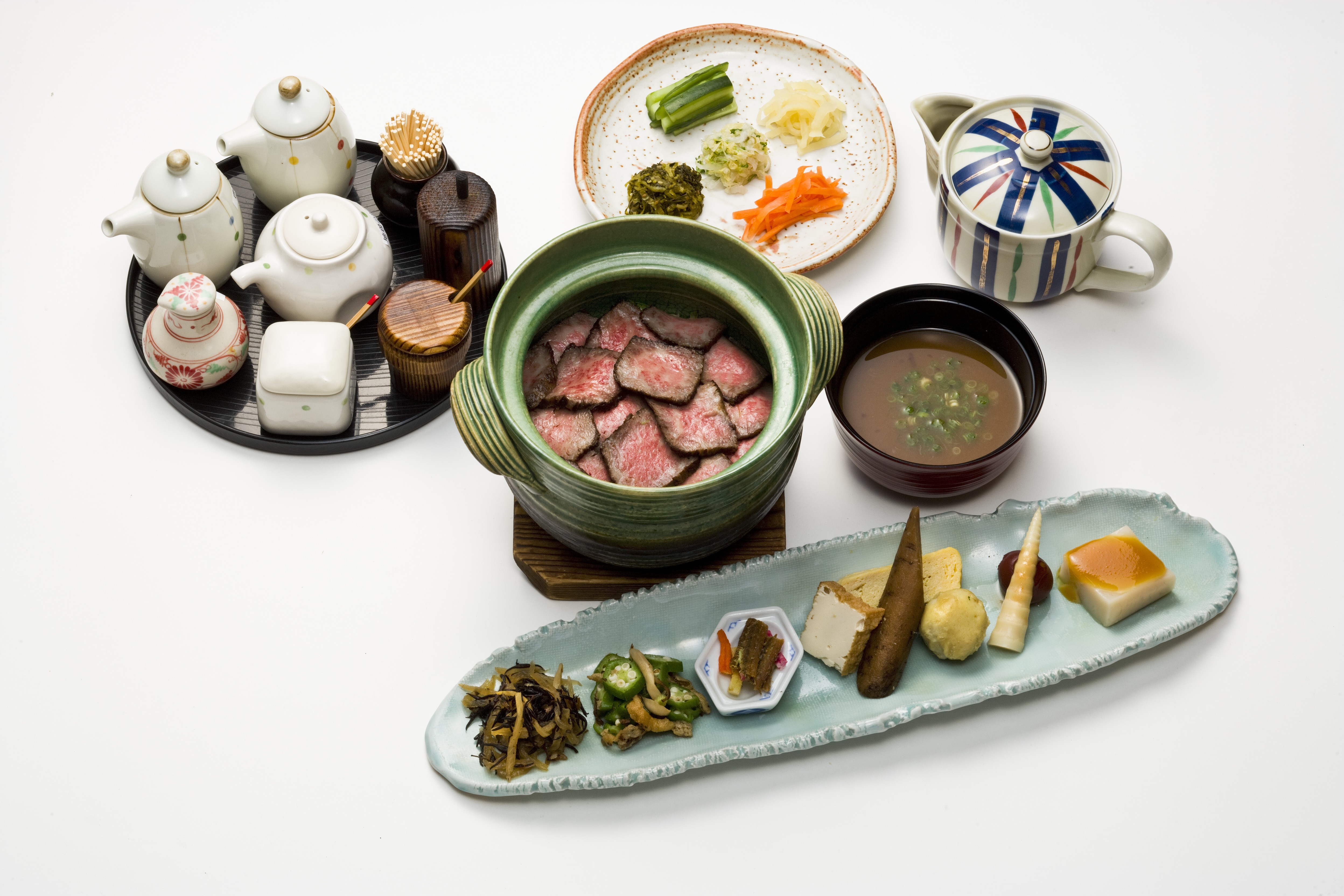 Access:1-minute walk from Kinrin Lake
Address:1492-1 Yufuinchō Kawakami, Yufu, Oita 879-5102
Business Hours:10:30〜18:30 *Set Holiday every Tuesday
Fee:Bungo Beef Mabushi 2,454 JPY + Tax.
TEL:0977−85−7880
Reservations Available
Milch
At Milch, you're able to try some sweets that use 100% Yufuin Milk. The cafe's drinks use milk that has been freshly squeezed the same day. The menu consists of many popular and delicious items such as freshly baked cheesecake, Käsekuchen, and more. Some more popular items include baked donuts and Milch Krapfen. Milch has stores not only here, but in Taiwan and Thailand as well, so maybe you've tried some of their delicious sweets already? Even if that's the case, make sure to check out this store as we're sure you'll be able to try something new and interesting!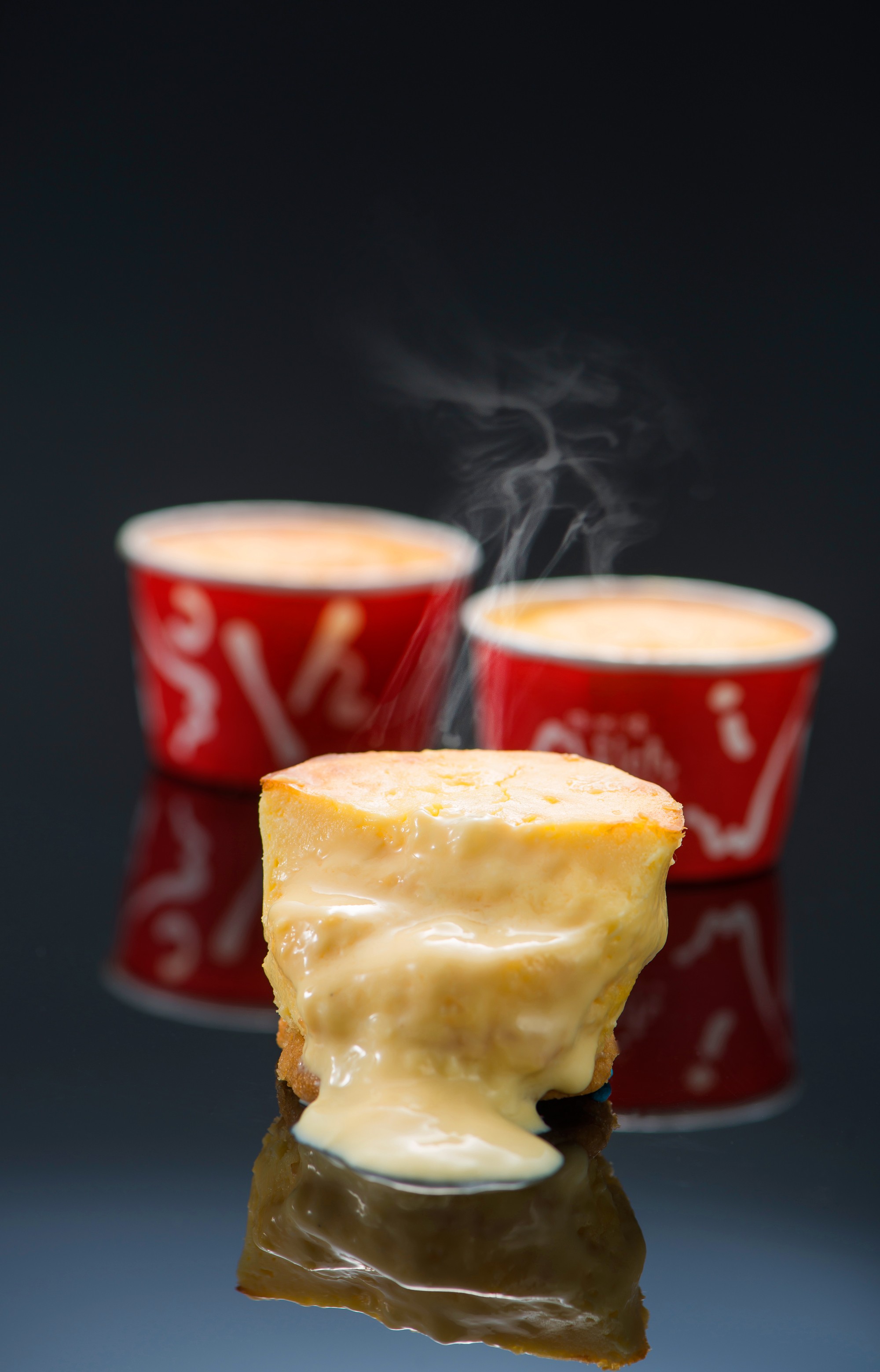 Access:9-minute walk from JR Yufuin Station
Address:3015-1 Yufuinchō Kawakami, Yufu, Oita 879-5102
Business Hours:9:30〜17:30 *Irregular Holidays
Price:Käsekuchen x1 180 JPY
TEL: 0977-28-2800
How to Get to Yufuin
Traveling by bus from Oita Airport: Get on the Kamenoi Bus, and debark at Yufuin Station.
Traveling by train from Hakata Station: Ride the "Tokyu Yufuin-no-Mori" train until Yufuin Station.

Traveling by car from Fukuoka: Take the highway from Fukuoka IC and get off at Yufuin IC.
How did you find this article? We've introduced you to some of Yufuin's most interesting history, folklore, and sightseeing spots. How about visiting next time you're planning a trip to Japan?

[Survey] Traveling to Japan
Recommend