Kansai's Top 5 Must-Ride Tourist Trains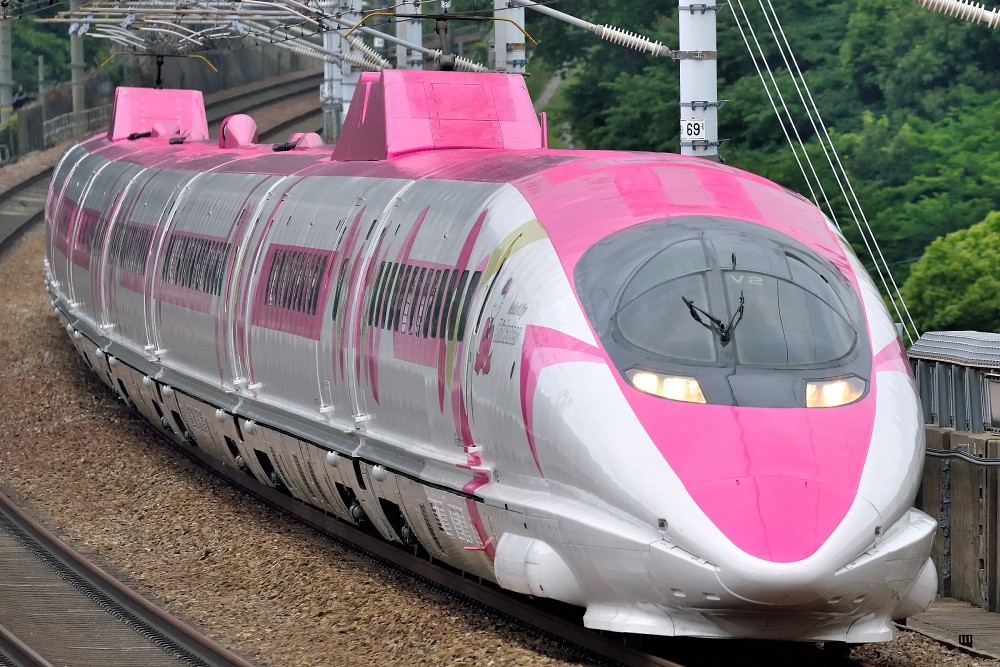 Ride luxury trains and experience delicious foods and beautiful sights. Here are our top 5 must-ride tourist trains from the ever-popular Kansai region!

※To help in the prevention of the spread of COVID-19, certain trains within this article may have schedules different from those stated within this article. For accurate information, please ensure to check each train line's official homepage.
1. HelloKitty Shinkansen - Journey Alongside HelloKitty!(JR West Japan Railway Company)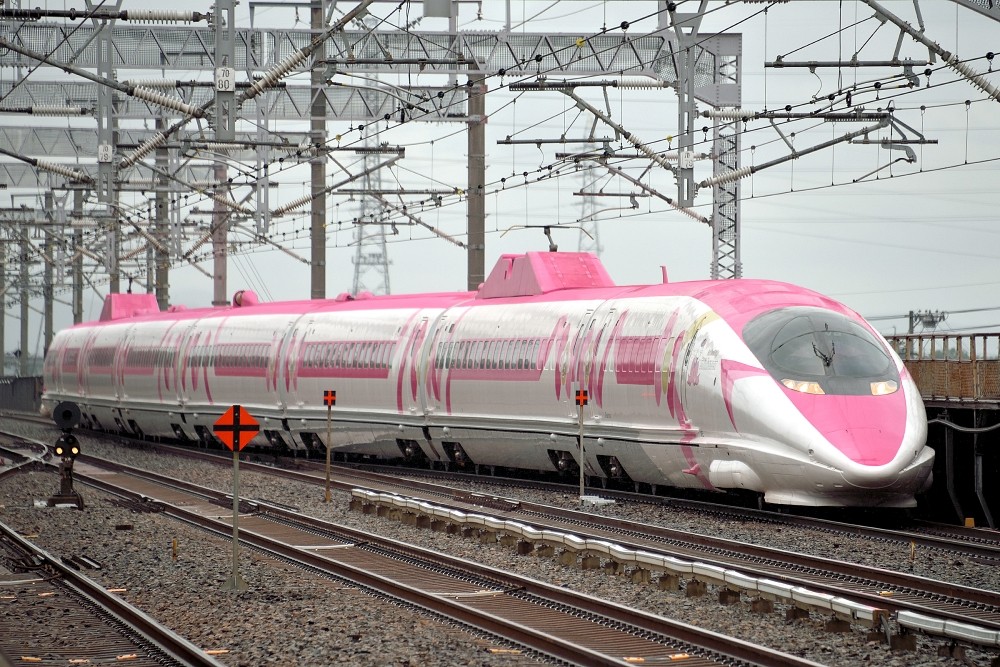 The "Shinkansen Kodama" stops at every station during its 600km journey from Osaka to Hakata. The exterior design on the train is decorated with pink ribbons that are said to symbolize the "connections" between different regions. Within carriages 1 through 8, staff wearing HelloKitty uniforms will greet you. Within each car, you'll find original HelloKitty design goods exclusive to various regions across Japan. The train's exterior and interior is a special and original HelloKitty design that lets you feel the world of HelloKitty expand before you. Make sure you don't forget to take a commemorative photo with HelloKitty at the onboard photo spot to remember your journey.

Information
Route: Osaka - Hakata
Time: One-way Approx. 4 hours 40 minutes
Schedule: All-year-round (Until 6/30/21) 1 Round-trip per Day
Fee: Adult Ticket Price + Seat Reservation Fee
https://www.jr-hellokittyshinkansen.jp
https://www.jrailpass.com/blog/hello-kitty-shinkansen
2. Blue Symphony - An Elegant Train for a Journey to Yoshino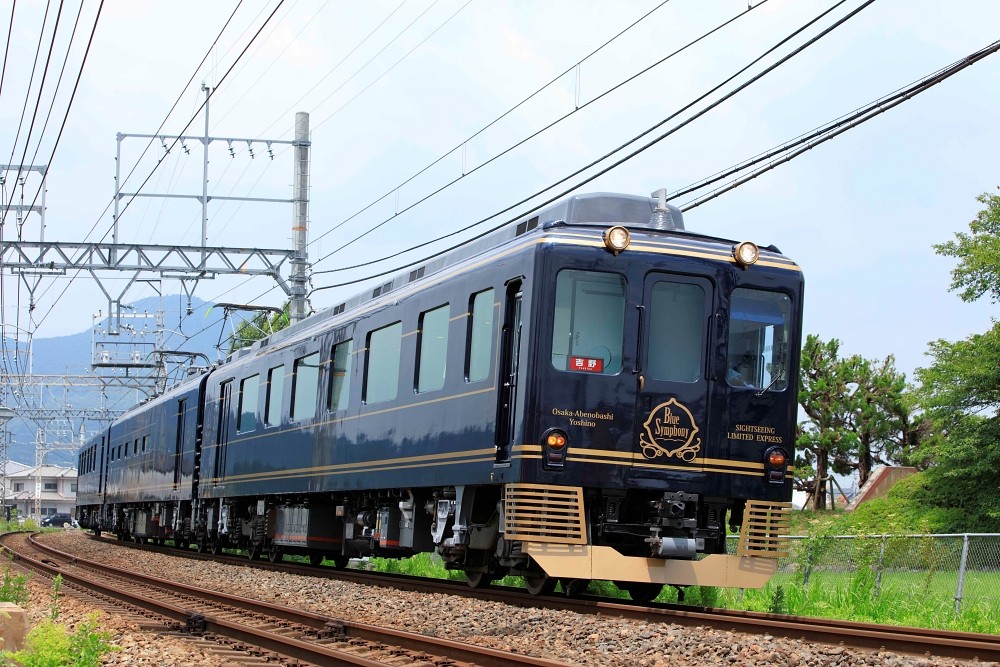 This train is elegant in design with its rich color and golden ribbons and allows for a high-quality journey. You'll find designs at the top of all the seats which represent mountain ranges. The seats themselves use bamboo material from Nara Prefecture. Every turn within this train has had each detail crafted perfectly. In the lounge car, a special attendant will be available to take your orders of sake, sweets, or wine. This train offers a space similar to that of a hotel where you can relax and enjoy the beautiful scenery laid out before you.


Information
Route:ŌSAKA-ABENOBASHI Station - Yoshino Station
Time:One-way approx. 1 hour 15 mins 
Schedule: 2 Round-trips Daily (Runs every day apart from Wednesdays)
Fee:Adult Ticket 990 + Express Fee 520 + Special Vehicle Fare 210 JPY
https://www.kintetsu.co.jp/senden/blue_symphony/
https://www.kintetsu.co.jp/foreign/english/about/limited_express/type.html
3. Tango KURO-MATSU (Kyoto Tango Railway (WILLER TRAINS)) - A Dining Train that Travels Over the Sea of Kyoto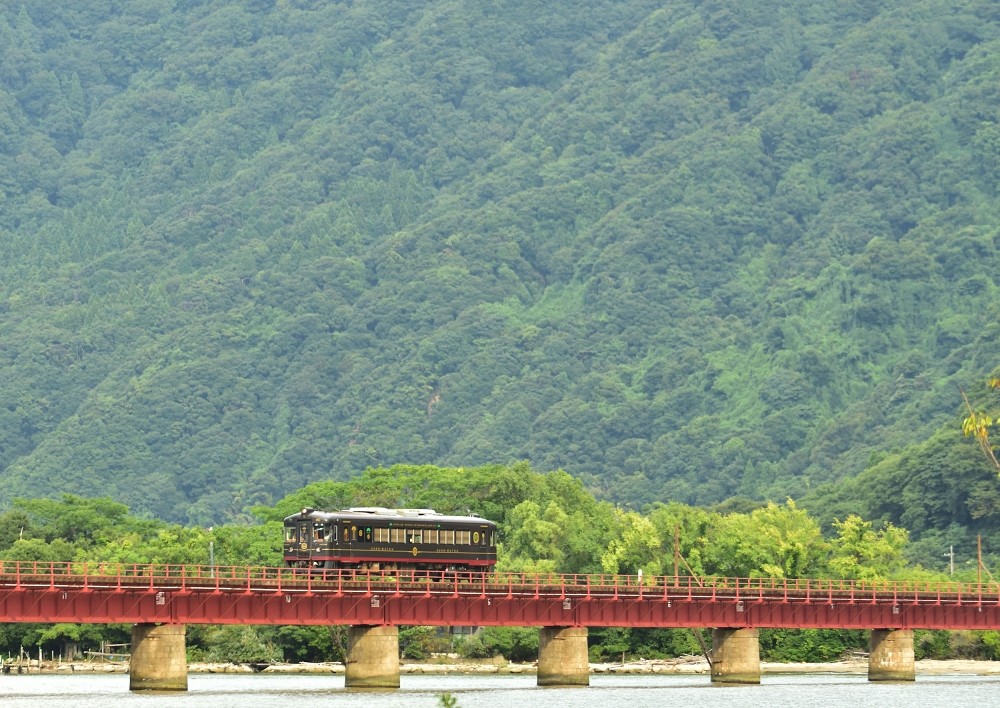 Beautiful ocean, peaceful mountains, and tranquil views, all from the comfort of your window. Enjoy these whilst trying some foods that use local cuisine. On the long course, you're able to enjoy seeing the Amanohashidate bridge and delicious traditional Japanese meals and sweets. The interior of the train uses natural wood giving it an elegant atmosphere. This is surely a train where you're able to experience everything Japan's tenderness has to offer.


The food course differs depending on the route of the train.
4/2/2021 - 26/9/2021 Food Course ①
Course Name:Travelling Traditional Course
Schedule:Fukuchiyama(10:20 Departure)→ Amanohashidate(11:37 Arrival)~Amanohashidate Sightseeing(Indvidual)~Amanohashidate(13:05 Departure)→Nishi-Maizuru(14:50 Arrival)
Time:Approx. 4 hours 30 mins
Dates:Fri/Sat/Sun 1 Round-trip per Day
Fee:19,000 JPY~
4/2/2021 - 26/9/2021 Food Course ②
Course Name:Choose Your Tango Flavour Course
Schedule:Nishi-Maizuru(15:44 Departure)→Amanohashidate(16:47 Arrival)
Time:Approx. 1 hour
Dates:Fri/Sat/Sun 1 Round-trip per Day
Fee:4,500 JPY~
※Bringing in food and drinks to the train is strictly prohibited. The menu changes depending on the season.
https://travel.willer.co.jp/train/tantetsu/
https://willerexpress.com/en/train/tantetsu/
4. Head to the World Heritage Site Mount Kōya on Tenku(Nankai-Koya Line)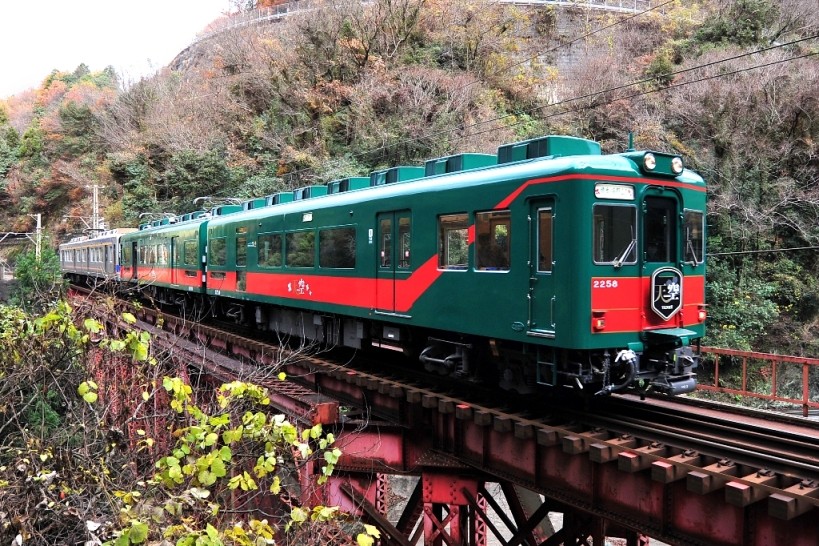 This tourist train runs from Wakayama Prefecture's Hashimoto Station to the Shingon sect head temple (Mount Kōya). The mountain itself is 443 meters in height and the train runs through 24 unique tunnels.

The concept of this train which heads towards the temple is a "Change of mode" heading from the earthly plane to your inner psychological world. Through running through the deep forest you're able to forget the troubles of everyday life and heal your busy heart. You're able to look out the wide windows available on the train, and look down from atop the mountain into the valleys. Make sure to check out the observation deck.


Information
Route:Hashimoto Station-Kōyasan Station
Time: One-way Approx. 44-55 minutes
Schedule:
MarーNov:Runs every day excluding Wed/Thu (However, in the event that Wed/Thu is a public holiday they will be running)
DecーFeb:Sat/Public Holidays (The New Year Period (12/30 - 1/3) runs 2 round-trips per day)
Fee:Adult Ticket 950 + Seat Reservation 520 JPY
https://www.nankai.co.jp/koya/tenku/
5. Sagano Sight-Seeing Tram (Sagano Scenic Railway)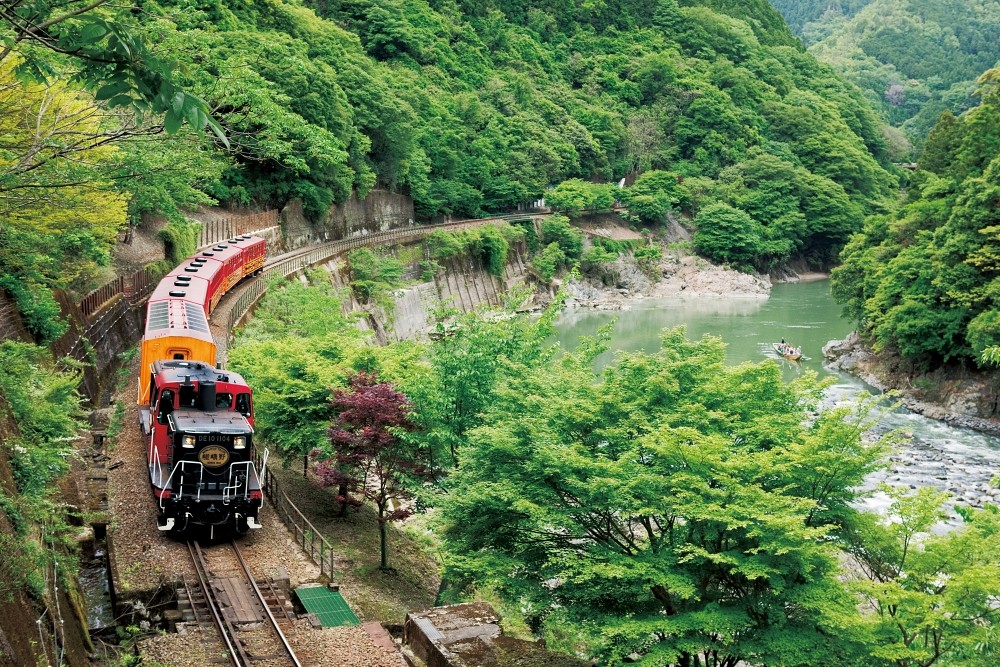 This train runs for 7.3 kilometers for around 25 minutes from Torokko Saga Sta. to Torokko Kameoka Sta., in spring and summer you're able to see the cherry blossoms and fresh green leaves, see the orange trees in fall, and the fresh snow in winter. It's a leisurely train ride that runs at 25km allowing you to enjoy the scenery. For areas where the scenery is especially beautiful the train will slow down even further.


Information
Route:Torokko Saga Sta. ~ Torokko Kameoka Sta.
Time:Approx. 25 mins
Schedule:Feb〜Dec 8 round-trips per day ※Other than Aug-Nov No Service on Wednesdays
Fee:Adult 630, Child 320 JPY
[Survey] Traveling to Japan
Recommend