Top 4 Best Sendai's Onsen (Hot Spring)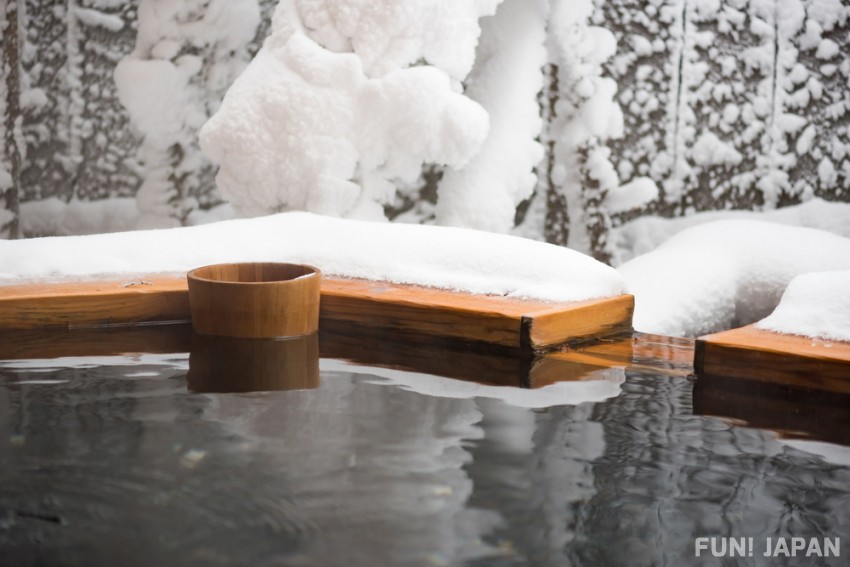 The largest city in the Tohoku region of Japan, Sendai is known as the city of trees, but its connection to nature travels underground as well as above it. In surrounding towns, natural hot springs flow freely, offering gloriously warm baths to relax in while you enjoy the region's stunning landscapes.
Sakunami Onsen: Historical Hot Springs
Just 25km from Sendai, Sakunami is an onsen retreat hidden away in the mountains. Believed to have been a resort town since the 18th century, it was patronised by Gyoki, a leading Buddhist Priest, and warriors from the Minamoto clan. Compared to some of the other nearby onsen towns, Sakunami is small, with only five hotels which are neighbors on the old road to Sendai. If you're staying, you can choose between Katakuri no Sato, Yunohara Hotel, Yosenkaku Iwamatsu Ryokan, LaLa Resort Hotel and Yuzukushi Salon Ichibo. All have beautiful outdoor and indoor onsen, with the famous
For sightseeing, the onsen is close to some great sightseeing options including the Nikka Whiskey Sendai Distillery where you can enjoy a guided tour and try out samples. Saihoji and Risshakuji Temples are also nearby, with the former visited by Basho Matsuo was inspired to write his haiku poetry. For natural beauty, you can stroll along the Hirose and Shinkawa rivers and visit the Homei Shijuhachi Falls.
How to get to Sakunami Onsen
The onsen town is 3km from Sakunami Station on the JR Sanzan Line. It's a 30-minute journey from Sendai and costs 510 yen one way. Many hotels offer a shuttle service from the station, but if you're visiting for the day it's easier to take a direct bus from Sendai Station West Exit Bus Terminal, which takes you into the town (approximately 70 minutes).
Akiu Onsen: Falls and Gorge Walks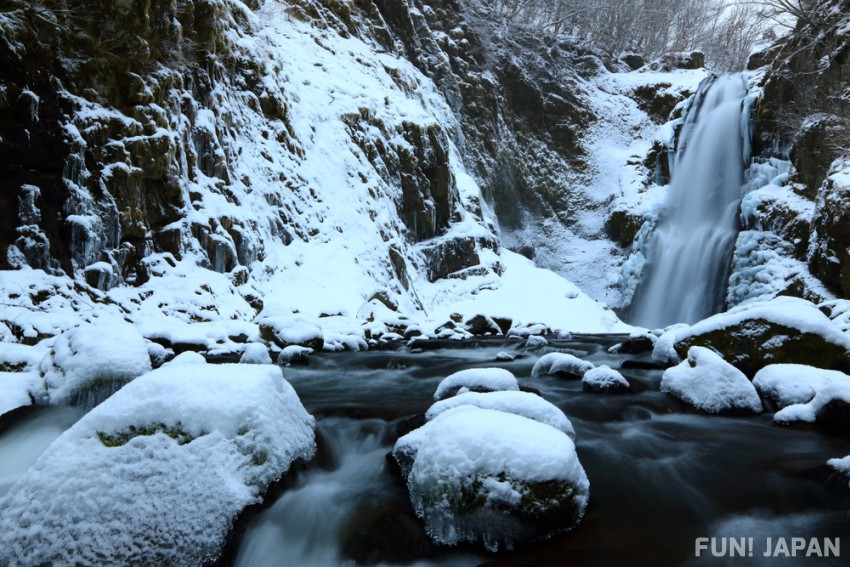 Relaxing visitors for over 1,500 years, the waters of Akiu Onsen are believed to be especially good for the skin. The small hot-spring town is a popular day-trip and overnight destination from Sendai due to proximity and frequent bus services - the perfect balance of remote and accessible. The town has a public bath as well as numerous hotels and ryokan, some of which offer day access for visitors. Many of the baths are outdoors, making them especially beautiful in snowy weather. Some of the popular hotels include Akiu Onsen Hananoyu which has its own private water source while Hotel New Mitoya, and Iwanumaya having stunning outdoor baths with day-access.
Along with the baths, you can enjoy a stroll along the Natori river which runs through the town, visit the Rairaikyo Gorge, the Akiu Otaki Waterfall and Banji Iwa - an area of scenic natural beauty. There are some museums including the Sendai Kaleidoscope Museum and the Akiu Traditional Crafts Museum which highlight local artisanal crafts such as wooden doll painting and indigo dying. The Akiu-Sato Center is a visitor center in the middle of the town and has great local information for those new to the town.
How to get to Akiu Onsen
From Sendai Station, you can catch the Miyagi Kotsu bus for Akiu Onsen from Stop.8 at the West Entrance. The journey takes approximately 50 minutes and is not as frequent as you may expect, so do check timetables in advance.
If arriving from Sendai Airport, you can take the 25-minute Sendai Airport Access Line to JR Sendai Station and catch the direct bus to Akiu Onsen from there. Alternatively, many of the hotels offer shuttles from the airport although reservations are required in advance.
Matsushima Onsen: Picture Perfect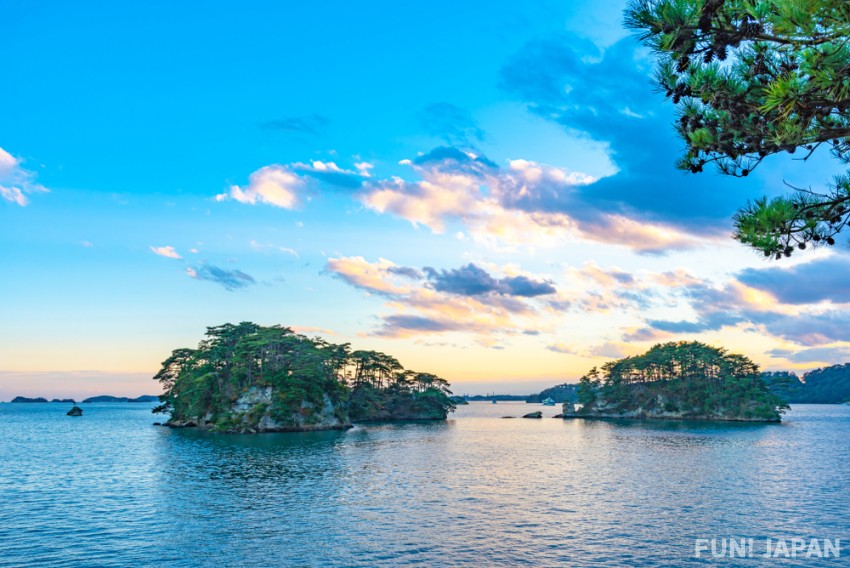 Matsushima Onsen has some of the most stunning sea views of any onsen town in Japan, with a dedicated Hot Spring association. Made of around 260 small islands, Matsushima is known as one of the three views of Japan. Soaking in an onsen is a great way to admire the landscape and there are plenty of beautiful onsen hotels to choose from. Komatsukan Kofutei and Matsushima Ichinobo offer stunning sea-views from their baths along with Ubudo. Many of the hotels allow day visitors and there is a public bath called Basyonoyu a 15-minute walk from Matsushimakaigan Station (although it is inland, so does not have sea views).
Although Matsushima is a small town, it has a number of popular sights to combine with your hot-spring adventure. The sightseeing boat tours offer a great chance to enjoy the scenic views of the many islands, while the largest (Fukuurajima) is connected by bridge and is home to an island park complete with teahouse and temple. Back on the mainland, the Kanrantei Tea House overlooks Matsushima Bay and is the perfect place to unwind with a traditional Japanese tea set. It once served the ruling Date family, who have a dedicated museum in the town called the Date Masamune Historical Museum. The local fish market is an ideal spot for breakfast while a stroll around the grounds of Matsuchima castle are a great way to walk it off in time for lunch.
How to get to Matsushima Onsen
Matsushima is a 25 minute train journey from Sendai on the JR Tohoku Line and a one-way ticket costs 420 yen. You can alight at Matsushima-kaigan for more of the sightseeing attractions including the sightseeing cruises.
If arriving from Sendai Airport, simply catch the 25-minute Sendai Airport Access Line to JR Sendai Station and then change to the JR Tohoku line from there.
Togatta Onsen: Small but Special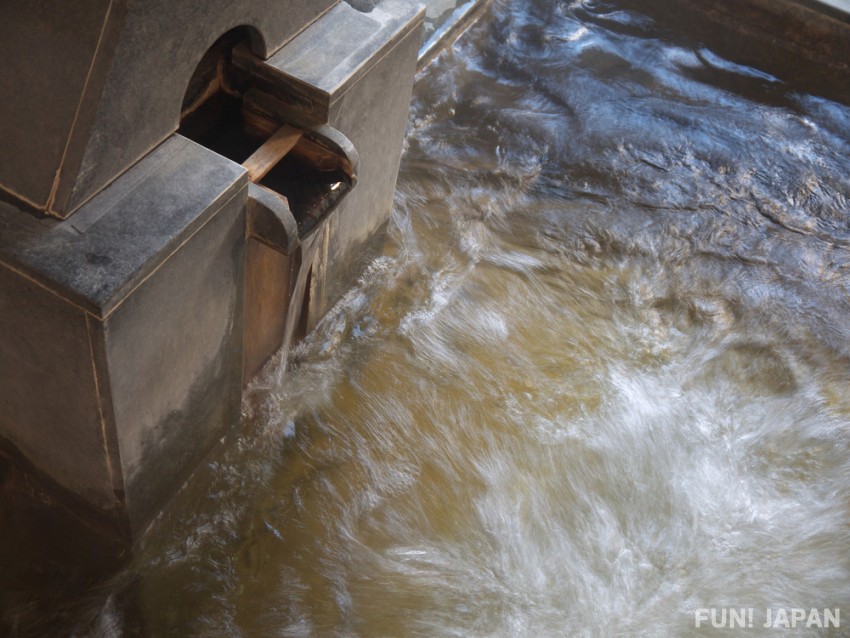 At the foot of the Zao mountains,Togatta onsen is a small town with a long history. Famous for beautiful baths and traditional wooden kokeshi dolls, it's a good day trip but a great overnight stay. The town has two public baths including the striking Kami no Yu, which means bath of the gods. A soak costs just 330 yen and there is a free footbath outside. The baths in the town are not cooled with additional water, so you have to get used to the temperatures (around 68C at the source) but will soon be able to relax. Shunsai Yuyado Daichu is a popular place to stay and is known for its winter apple bath while Chikusenso Onsen is one of the more luxurious resorts with private baths.
The town's tourist information center is located in front of the Kami no Yu public bath and has guides for the local area. Popular sights include the Miyagi Zao Kokeshi Museum which has dolls from the Tohoku region, a display of the different stages and a craftsman who works on dolls during the day. The nearby Okama crater is a beautiful spot to visit and the Zao Echo Line offers a scenic drive if you are traveling by car.
How to get to Togatta Onsen
From Sendai you can catch the Togatta Onsen Yunomachi express bus at stop 33 which takes 70 minutes. Alternatively, you can catch the JR Tohoku Line to Shiroishi Station (50 minutes, 770 yen) and catch the Miyagi Kotsu Bus to Togatta Onsen - the journey takes just under an hour. Some of the hotels and resorts offer shuttle services from Sendai and Shiroishi, but this must be arranged in advance. 
[Survey] Traveling to Japan
Recommend