Sendai's Beautiful Autumn Leaf Spots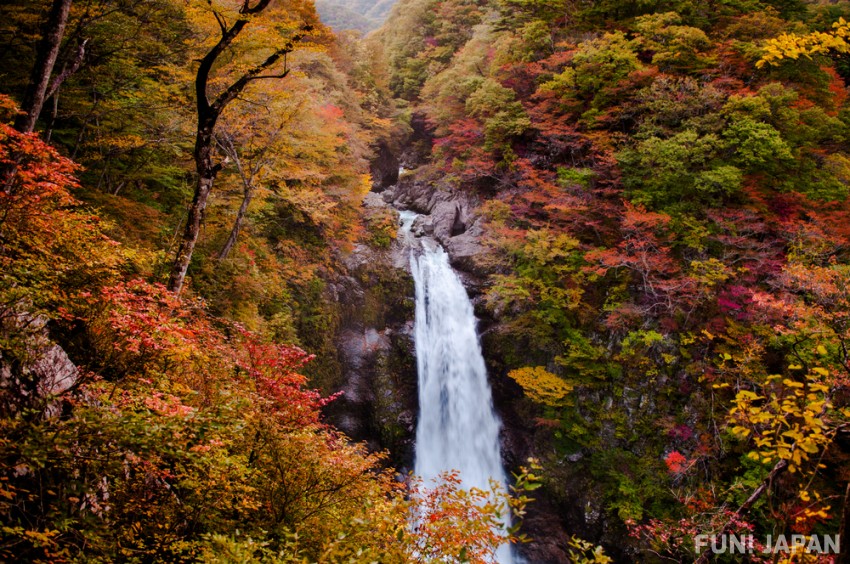 The stunning natural beauty of Sendai is enhanced tenfold by the hues of Autumn, and there are countless scenic spots to choose from. Located in the Tohoku region of Northern Japan, Sendai is snow-covered in winter, with autumn leaves generally changing from mid-October to late-November, but factors such as elevation and tree type can lead to some variation in this. In Japan, leaf-viewing is nearly as popular as blossom-viewing, and is known as koyo.
Jozenji-Dori: Trees Galore
Sendai is known as the city of trees, and in Autumn there's one street that truly lives up to that name. Called Jozenji-dori, it is lined with towering zelkova trees and sculptures, creating a contemporary city atmosphere. The trees turn a delicate shade of golden yellow in Autumn, keeping to the classical look of the area. While it is better known for the winter illuminations, a visit in autumn will certainly not let you down - and will be much quieter!
Spot Information
Name: Jozenji-dori (定禅寺通緑地)
Address: Aoba Ward, Sendai, Miyagi
Location: Jozenji dori is located close to Kotodai Park, to the north-west of Sendai Station.
Entry: Free
Access: The street is a 15-minute walk from Sendai Station, or a 1-minute walk from Kotodaikoen Station on the Namboku Line (1 stop from
Zuihoden: A Magical Mausoleum
Designed in the ornate style of the Momoyama period, Zuihoden is a bright and eye-catching mausoleum surrounded by towering cedar trees. It is the mausoleum of Date Masamune, the first of the Date Lords and one of the Edo Period's most powerful feudal leaders. Visitors can visit the small museum on the grounds to learn more about the family along with some displays of human remains. The bright painted colours of the building are complemented perfectly by the autumn leaves, with bright reds and oranges adding to the grandeur of the design. There is an evening illumination event held during peak foliage season, usually covering two weekends of peak foliage in Mid November.
*Peak Season: Late October - Mid November
Spot Information
Name: Zuihoden (瑞鳳殿)
Address: 23-2 Otamayashita, Aoba Ward, Sendai, Miyagi
Location: Zuihoden is located in the south-west area of central Sendai, in a curve of the Hirose River and close to the Remains of Sendai Castle.
Entry: 570 yen
Access: The mausoleum is served by the Sendai Loop Bus, with the closest bus stop being number 4 and the journey taking around 15 minutes from Sendai Station.
Akiu Great Falls and Akiu Onsen: Escape the City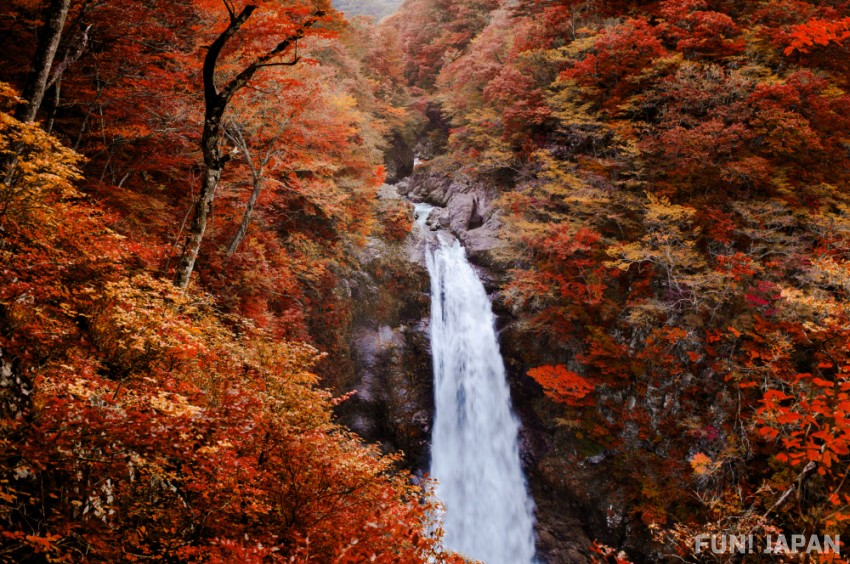 Impressive at any time of year, the 55m waterfall of Akiu is one of Japan's 100 Great Waterfalls. Located near the onsen town of Akiu, there is a small rest area with stalls near the bus stop - a great place to grab seasonal snacks before you head out to enjoy the views of the falls. There is an impressive shrine along the way and a viewing platform not much further on, with the option of venturing to the base of the falls. If you are staying in Akiu Onsen, be sure to follow the trail from the town into Rairaikyo Gorge (around 600m) as there is plenty of beautiful autumn foliage to enjoy. The town of Akiu Onsen has evening illuminations in the vast Tenshukaku Gardens and in Rairaikyo Gorge - both coinciding with peak foliage dates and confirmed close to the time.
*Peak Season: Mid October - Early November
Spot Information
Name: Akiu Great Falls (秋保大滝)
Address: Otaki Akiumachi Baba, Taihaku Ward, Sendai, Miyagi
Location: Akiu Great Falls are 40 minutes from Sendai, close to the Akiu Otaki Botanical Garden by the Natori River.
Entry: Free
Access: Take the bus bound for Akiu Otaki from bus stop 8 at Sendai Station - the journey takes approximately 50 minutes depending on traffic.
Entsuin Temple: Evening Illuminations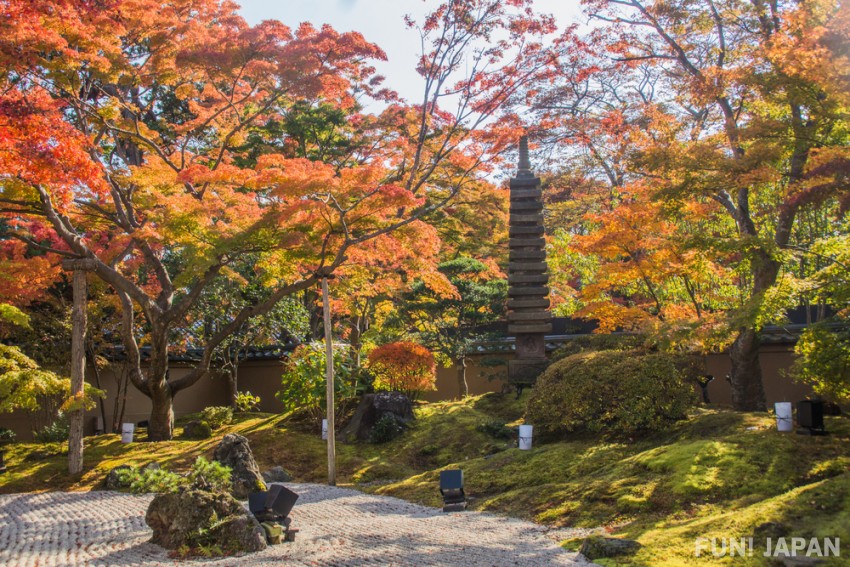 Built back in 1647, Entsuin Temple is the mausoleum of local feudal lord Date Terumune's son, Mitsumune. Located next door to Zuiganji Temple, it features a tree-surrounded main hall (the relocated summer residence of Mitsumine) and gardens. The natural surroundings transform into an Autumnal paradise in fall, with hues of red, gold and orange surrounding the simple wooden hall. There is an annual illumination event with extended opening hours as part of the Matsushima light up, which takes place from Late October to mid-November.
*Peak Season: Late October - Mid November
Spot Information
Name: Entsuin Temple (円通院)
Address: Chonai-67 Matsushima, Miyagi District, Miyagi
Location: Entsuin is located next door to the well known Zuiganji Temple in the city of Matsushima, close to the main train station.
Entry: 300 yen
Access: Entsuin is a five-minute walk from JR Matsushimakaigan Station, which is a 25-minute train ride on the JR Tohoku Line from Sendai Station.
Nishi Koen: Sendai's Oldest Park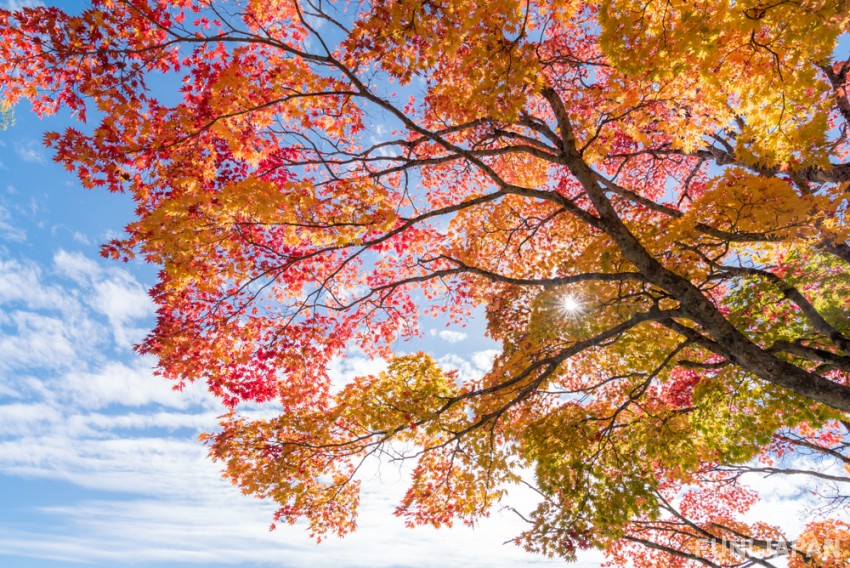 In the heart of Sendai, this local park is a surprisingly easy spot to enjoy some fall foliage. Located beside the Hirose river, it's a natural haven in the urban surroundings and while it is mainly known for cherry blossoms in spring, the autumn leaves are beautiful too. The park was opened in 1875 and was the first park in the city, meaning it has a well-developed garden with impressive trees. Popular spots to visit include Sakuragaoka Shrine, various sculptures and a monument to poet Matsu Basho's work.
*Peak Season: Late October to Early November
Spot Information
Name: Nishi Park (西公園)
Address: 1-3 Sakuragaokakoen, Aoba Ward, Sendai, Miyagi
Location: Nishi Park is in
Entry: Free
Access: The park is close to Omachi Nishi-koen Station on the Tozai Subway Line, approximately 5 minutes from Sendai Subway Station.
Rinnoji Temple: A Mini Kyoto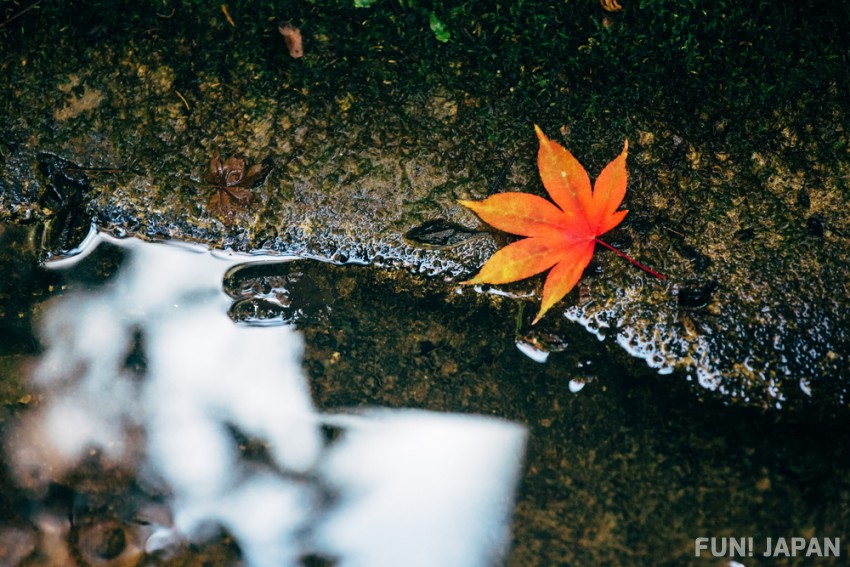 A three-story pagoda is the symbol of Rinnoji Temple, with its gorgeous gardens coming a close second. While the modest temple hall is pleasant, the best spots lie behind it, and while the temple is free, the gardens carry a small charge. The koi-filled pond, carefully manicured landscaped gardens and ornate pagoda create a Kyoto-esque atmosphere. Originally founded in 1441, the temple was moved by the Date Clan as it was their family temple, eventually landing in its current spot in the early 17th century. In autumn, the gardens turn a range of fall hues, with picture-perfect scenes carefully designed by the original designers.
Spot Information
Name: Rinnoji (輪王寺)
Address: 1 Chome-14-1 Kitayama, Aoba Ward, Sendai, Miyagi
Location: Rinnoji Temple is located in the North of Sendai City, beyond the Hirose River.
Entry: 300 yen
Access: Rinnoji Temple is a 10-15 minute walk from Kita-Sendai Station on the JR Senzan Line, which is a 5-minute journey from Sendai Station. 
[Survey] Traveling to Japan
Recommend