Things to See in Red-Bricked Nikka Whisky Sendai Factory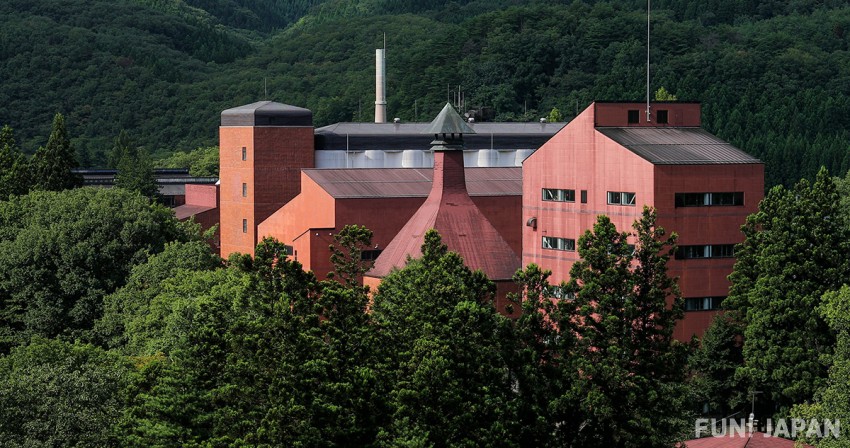 Nikka Whisky Sendai Factory is, as the name suggests, a whisky factory that can be found in Nikka, Aoba Ward, Sendai, Miyagi. It's located in a valley surrounded by greenery and is producing some of the rarest whisky, malt whisky, and grain whisky.

Nikka Whisky Sendai Factory Outline
Nikka Whisky Sendai Factory is a whisky distillery owned by "Nikka Whisky Yoichi Distillery". It is located 20km to the west of Sendai's center and is surrounded by 2 clear-stream rivers and a lusciously green valley.
It was here that Masataka Taketsuru, also known as "Japan's father of whisky" decided to build a new whisky distillery, within which young staff would work, to further the future and evolution of whisky. Thanks to their refined malt and continued experiments, new and delicious items are constantly being discovered.
At Nikka Whisky Sendai Factory, the first whisky they began producing was single malt whisky, and then grain whisky (Main ingredient: corn).
The distillery itself is very close to some popular sightseeing spots within West Sendai such as Sakunami Onsen and Saihoji Temple, with over 200,000 people visiting in the average year, it's become one of the more popular sightseeing spots within western Sendai.
Nikka Whisky Sendai Factory Guided Tour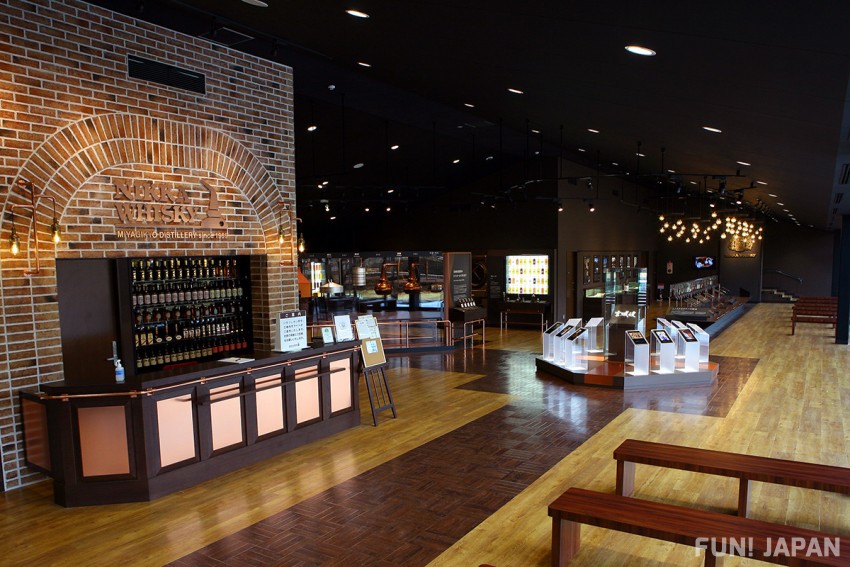 At Nikka Whisky Sendai Factory, there is an available guided tour for visitors, within this tour you're able to see the factory, drink some whisky, and buy souvenirs to commemorate your trip.
Within the tour, you will be shown around the distillery, and be given an explanation of the history of Nikka Whisky Sendai Factory. Furthermore, you will be given a tour of the various areas that have been masterfully placed within the surrounding luscious greenery such as the kiln tower and the buildings where the whisky itself is made including the red-bricked storehouse! After that, you can even enjoy a free tasting session.
Guided Tour Business Hours: 9:00~11:30, 12:30~15:30
Required Time for Guided Tour Approx. 45 minutes 

Breakdown: Tour (Approx. 25 minutes)⇒Free Tasting(Maximum 10 Minutes)⇒Shopping(Approx. 10 minutes)
Regulations for December 2020
When testing whisky, it will be limited to 1 type per 1 person.
Depending on the weather, there may be events in which we are not able to give guided tours of the factory, we ask for your understanding on this matter.
Guided tours for the distillery are reservations ONLY. You will be unable to participate in a guided tour if you have not made prior reservations.
There are events in which visitors wishing to use the shop only are not permitted entry, we ask for your understanding on this matter.
Buying Souvenirs from Nikka Whisky Sendai Factory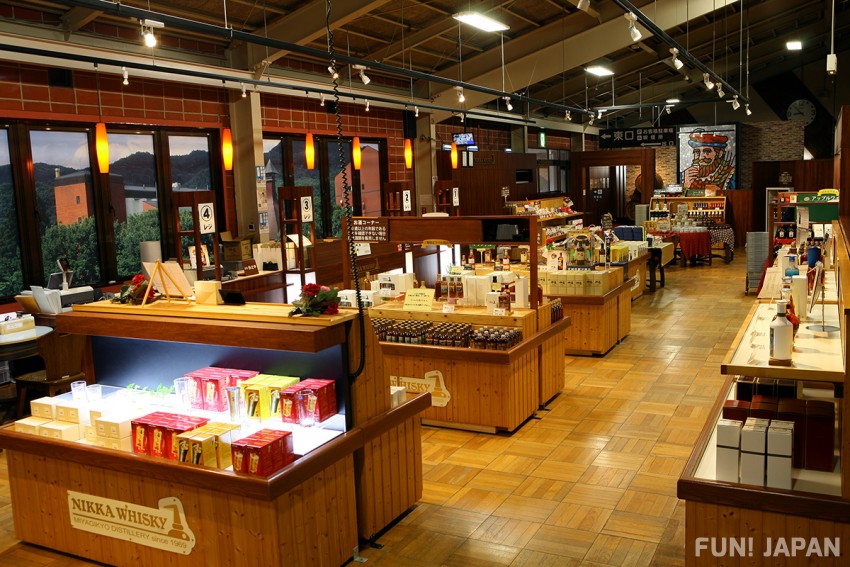 Within the Nikka Whisky Sendai Factory guest hall, you'll find a gift shop with many exclusive whisky-related goods that can only be purchased here.
For example, we highly recommend the Nikka Whisky Sendai Factory Exclusive Blended Whisky and Single Malt Miyagiko Key Malt. These whiskies have 3 different options to choose from being fruity and rich, sherry and sweet, and malty and soft. (These items have limited stock, there is a limit to how much a single person can purchase)
If you're not all that good with whisky, we highly recommend the "Apple Wine". It's sweet and fruity, perfect for drinking, freezing as ice, or even for making sweets. While this alcoholic beverage is widely available, it comes with an exclusive label that can only be purchased from the Sendai Factory.
There are many more exclusive goods in the gift shop including chocolates and snacks so make sure to look around!
Visit the Nikka Whisky Testing Corner (Paid Area)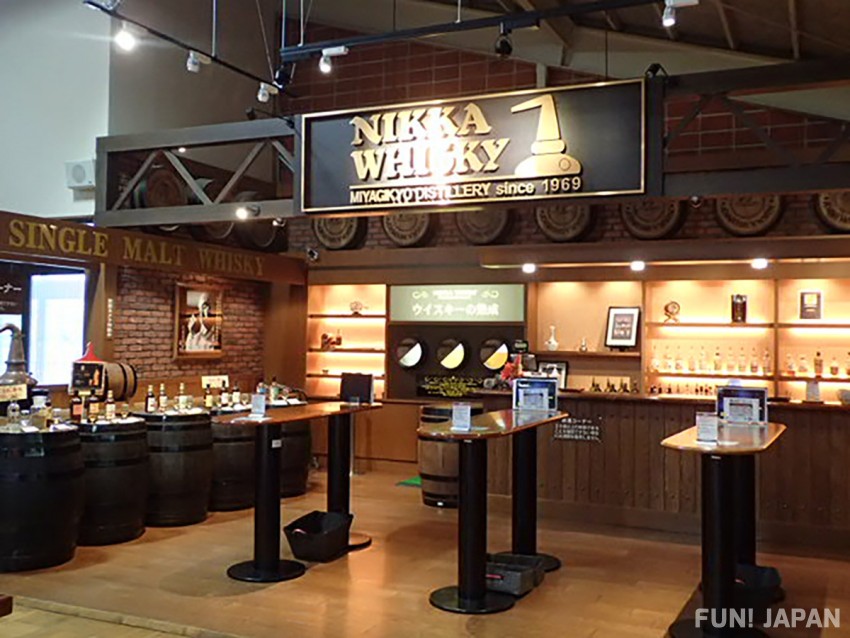 Next to the gift shop, you'll find a paid testing corner where you can drink many different types of whisky. If you want to test the smell and flavor before committing to buying an entire bottle, this is the best place to go, maybe even try consulting the bartender!

Sales Location: Guest Hall
Business Hours: 9:00~16:30
※Entry to use the store only is also permitted.
How to Get to Nikka Whisky Sendai Factory, Entrance Fee, and Business Hours
Address: 1 Nikka, Aoba Ward, Sendai, Miyagi 989-3433
Access: There is a shuttle bus that travels to and from JR Sakunami Station to Nikka Whisky Sendai Factory on Weekends and Holidays
Business Hours: 9:00~11:30, 12:30~15:30
Shop Business Hours: 9:00~16:30
Entrance Fee: Free
[Survey] Traveling to Japan
Recommend