Sendai Daikannon - Japan's Largest Statue of Kannon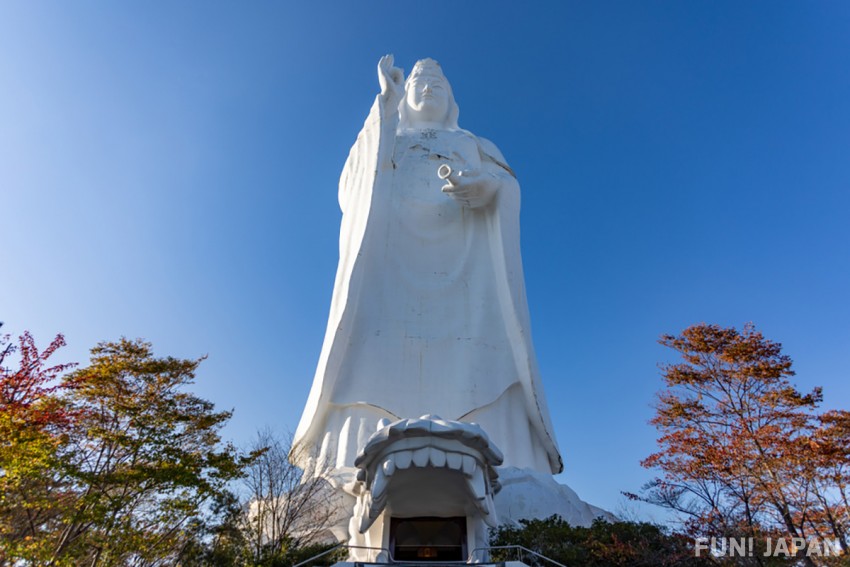 Sendai Daikannon is a Buddhist statue that can be found in Daikanmitsuji Temple, Sendai, Miyagi Prefecture. It has a characteristic pure white body and is one of the more popular sightseeing spots within Sendai. Thanks to being able to see the large statue from everywhere within Sendai, we recommend looking at it from various places as you explore the city.

About Sendai Daikannon
Sendai Daikannon is 100 meters tall. The view when you stand in front of it and look up is overwhelming. The origin of Sendai Daikannon is said to be the Byakue Dai-kannon which is also said to be its mother.

You can also go into the inside of the statue. You can either use the elevator or spiral staircase to get around inside.
What to See inside of Sendai Daikannon
Before entering inside, the first thing you'll see is the amazing entrance. It's located at the feet of the statue and is shaped like a dragon's mouth thanks to this bring good fortune.

The inside of the Sendai Daikannon is split into 12 floors. Each floor has different things to see, which we will go into more detail about below.
Standing Twelve Heavenly Generals
On the first floor, you'll find the Standing Twelve Heavenly Generals all holding weapons and wearing armor. These are also said to be incarnations of Bhaisajyaguru. Each of these 12 generals also represents the protection of the 12 signs of the Chinese zodiac, and if you figure out which one represents the year in which you were born, you can pray for sound health and good fortune.
33 Statues of Kannon
You can also see 33 statues of Kannon on the first floor of the statue. These 33 different statues are what's known as accommodating bodies, and it is said that all 33 are needed to save people from their worries. Within the Kannon Sutra, it is said that these forms are able to transform into Śakra (Deva), Vaisravana (guardian god of Buddhism), and a pious woman. 
Main Palace
The main palace is located in the central part of the Sendai Kannon statue.
There are small windows placed around, in front of, and behind the main palace within the corridors. You can look out onto Sendai as well as the Pacific Ocean, truly a beautiful sight to see.
Within the two-storied Buddhist tower found in the center, there is a Cintamani stone which is a wish-fulfilling jewel, as well as a statue of Vairocana. 
People who wish upon the Cintamani stone are said to be given good fortune in both economics and knowledge.
How to Worship
You must press your hands together, stand calmy before the two-storied Buddhist tower, and say this mantra:
 "On Shibeitei Shibeitei Handara Bashini Sowaka" 3 times
108 Buddha Statues
Over floors 3~11 there are a total of 108 Buddhist statues lined up. This is said to be because there are 108 human desires, all of which must be driven out to become closer to the teachings of the Buddha,
Due to every single form of the Buddha being different, it can fun and interesting to compare the statues.
How to Get to Sendai Daikannon, Businesses Hours, and Entry Fee
Address: 31-36 Nakayama minami, Sanezawa, Izumi-ku, Sendai, Miyagi 981-3217
Access: Directly next to "Sendaidai Kannonmae Bus Stop" using the Sendai Bus from Sendai Station
Business Hour:

1st May - 31st Oct: 10:00 ~ 16:00
1st Nov - 30th April: 10:00 ~ 15:30

Entrance Fee: 500 Yen (Currently, due to COVID-19, the business hours may differ, please check beforehand)
※When including the pedestal that the statue sits on, the Ushiku Buddha is seen as the biggest statue in Japan (120m), however, when looking at just the statue itself, the Sendai Daikannon comes in at 100m in size, making it the largest statue in the entirety of Japan.

[Survey] Traveling to Japan
Recommend