The Delicious Varieties of Sushi and Sashimi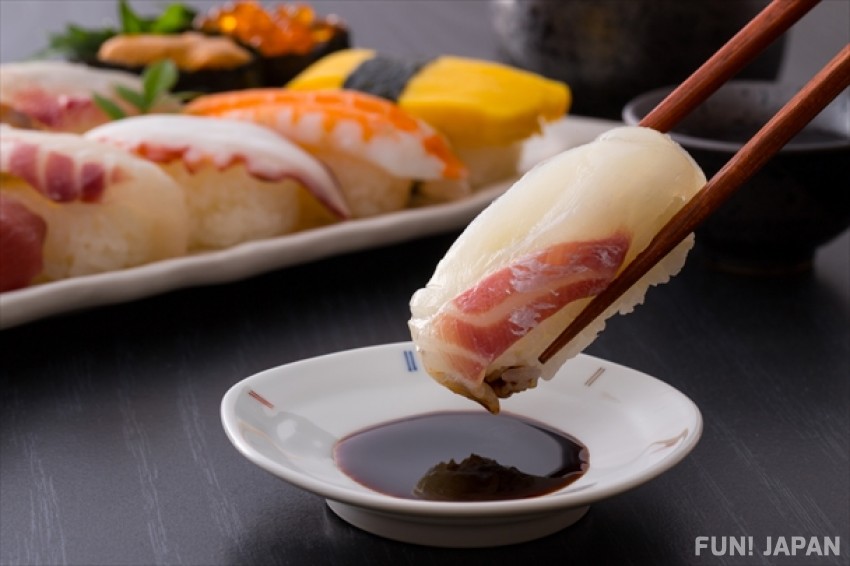 Today we will introduce the different varieties of sushi and sashimi you can eat at sushi restaurants and Japanese restaurants in Japan, and also the kinds of fish and seafood you can find at supermarkets in Japan.

Tuna (マグロ-Maguro)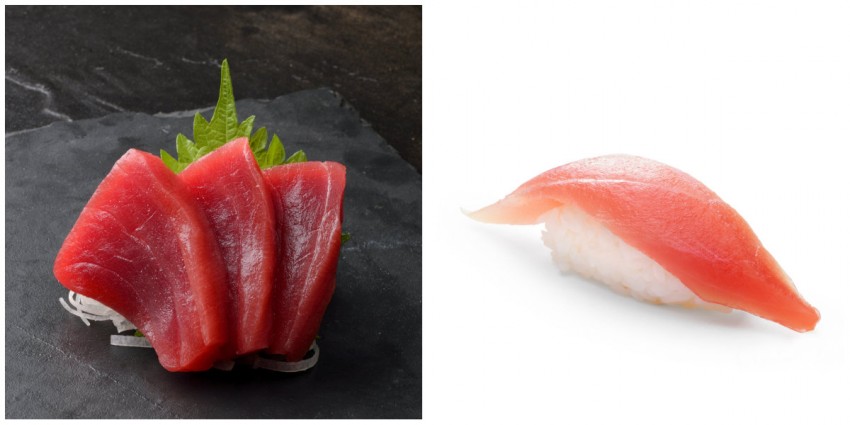 The most common type of tuna is the lean, red colored tuna called "Akami (赤身)". Tuna with a more pink color are called "toro (トロ)" which come from the tuna belly, being more fatty with a sweetness to it. There are several levels of fattiness to toro, categorized between "toro (トロ)", "chutoro (中トロ)" and "ootoro (大トロ)". From toro to ootoro, the fattiness of the tuna increases with ootoro being the most fatty and the highest grade of tuna. Tuna is often eaten as nigiri sushi (fish on rice), sushi rolls, or handrolls.
Trout Salmon (サーモン-Saamon)

With a bright orange color, this fish is tender and fatty. There are even items called "toro-salmon (トロサーモン)" which similar to toro tuna, has an increased level of fattiness to them. 

A bit of trivia - domestic salmon in Japan cannot be eaten raw. Salmon used in sushi and sashimi are actually a type called "trout salmon". As with Tuna, salmon is also often eaten as nigiri sushi, sushi rolls, or handrolls.
Sea Bream (
タイ-Tai
)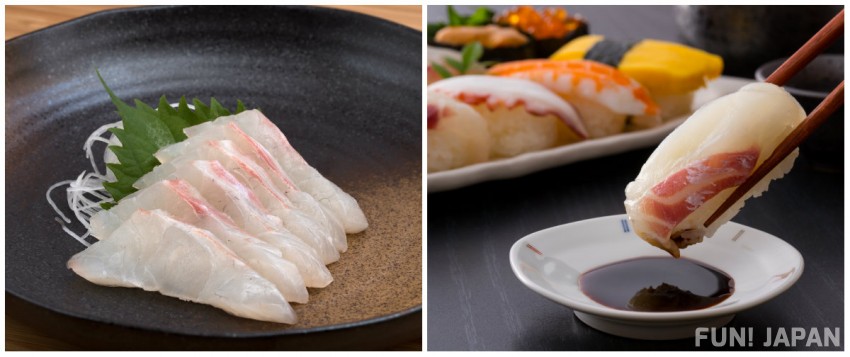 This fish is a mild and delicate white fish. Sea bream is considered a high class fish in Japan and is often eaten on special occasions. 

A bit of Japanese word play is involved with "tai (タイ)" being part of the word "medetai (めでたい)" which means "celebratory". So this fish is very often eaten on days of celebration, such as on wedding days or during New Year's. As sushi it is mainly eaten as nigiri sushi. 
Mackerel (サバ-Saba)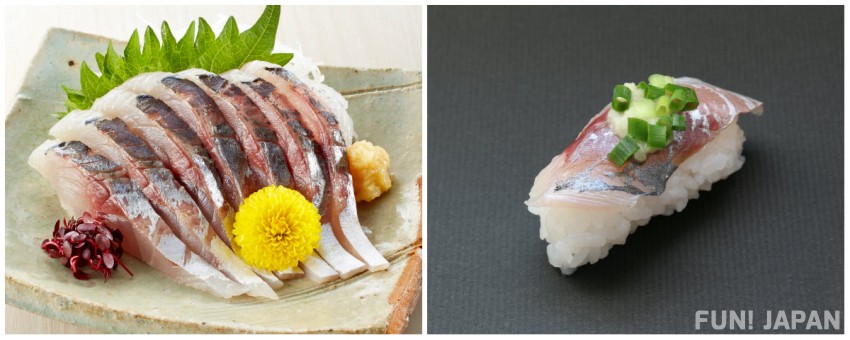 This fish may visually look meaty, but it is actually quite fatty.  Mackerel is often eaten with green onions or grated ginger. As this fish does not stay fresh for long, there is a cooking method called "shimesaba (シメサバ)" to extend its expiration date. Shimesaba involves soaking the fish in vinegar for 15 minutes, allowing it to stay fresh and also suppressing its smell. Mackerel is often eaten as nigiri sushi.

Oceanic Bonito (カツオ-Katsuo)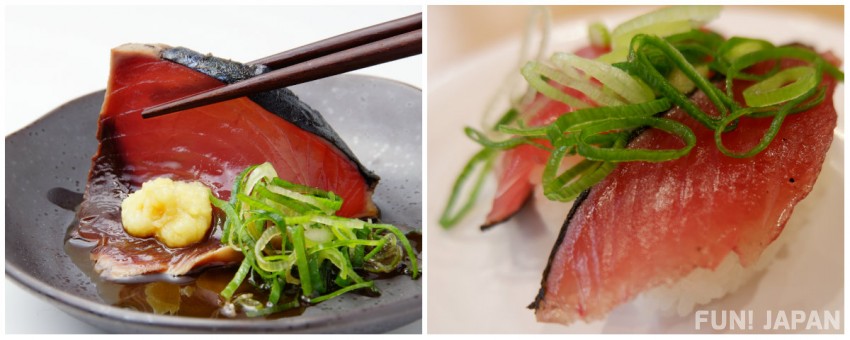 The visual appearance and texture of this fish is very meaty, and the fish is not fatty at all. It is commonly eaten as sashimi and also prepared as a "tataki (たたき)". Tataki involves searing the fish skin, then adding salt or ponzu (ポン酢) and pressing down on it to draw out its flavor. This act of pressing down or "tataki" has led to this preparation to be called "Katsuo-no-Tataki" or "Bonito Tataki" which can be found on restaurant menus. As sushi it is eaten as nigiri sushi.   

Yellowtail (ブリ&ハマチ-Buri&Hamachi)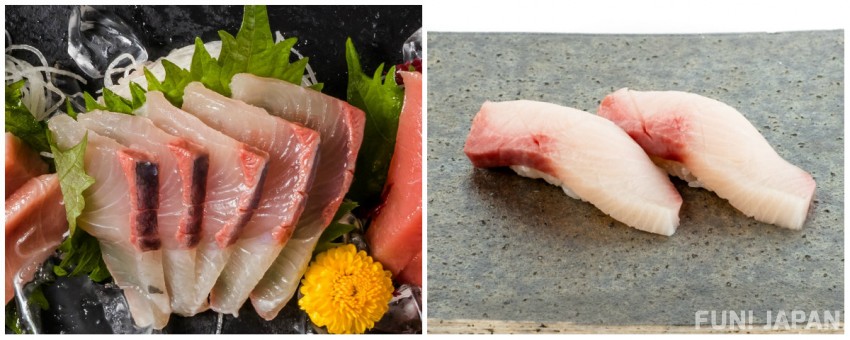 Both "Buri (ブリ)" and "Hamachi (ハマチ)" are from the same fish - yellowtail, however they are called different names depending on the size of the fish. This act of changing the fish's name depending on its size is known as "Shusseuo (出世魚)" meaning "promoted fish". 

These fish are called "hamachi" when a buri is still growing (40-60cm in size). They are then called "buri" when fully grown, reaching a size of 80cm. Both have a translucent white and pink color to them, and are quite fatty.
Buri is available all year round, however the most fatty buri are available during the winter season. As sushi, yellowtail is often eaten as nigiri sushi.
Greater Amberjack (カンパチ-Kanpachi)

This fish is a type of yellow tail in the family of Carangidae (Japanese horse mackerel). This fish is also a Shusseuo and called "Kanpachi" when fully grown (over 80cm).  This fish is in season from summer to autumn, and is less fatty compared to buri and hamachi. This fish is chewy and is light to the taste. It is often eaten as nigiri sushi.

Squid (イカ-Ika)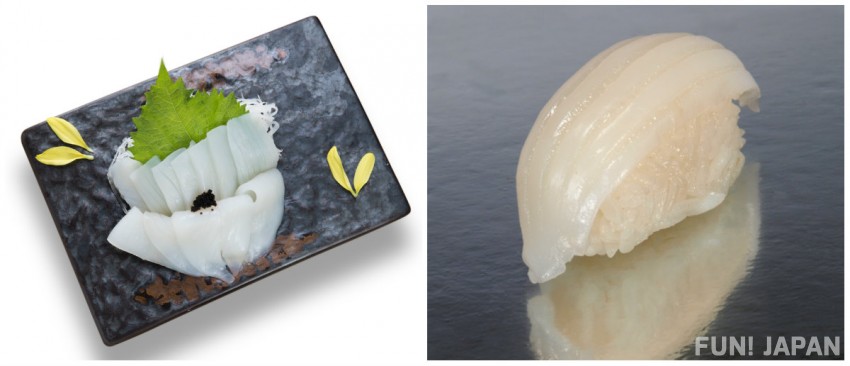 Squid is one of the most common types of seafood used as sashimi. To make eating it easier, squid is often thinly cut into strips. These strips look like Japanese somen noodles (そうめん), so squid sashimi is often called "ika somen (いかそうめん)". As sushi it is often eaten as nigiri sushi, sushi rolls, and as handrolls. When used in rolls or handrolls, the squid is often wrapped in shiso (紫蘇) leaves with kneaded sour plum added to it. 

Octopus (タコ-Tako)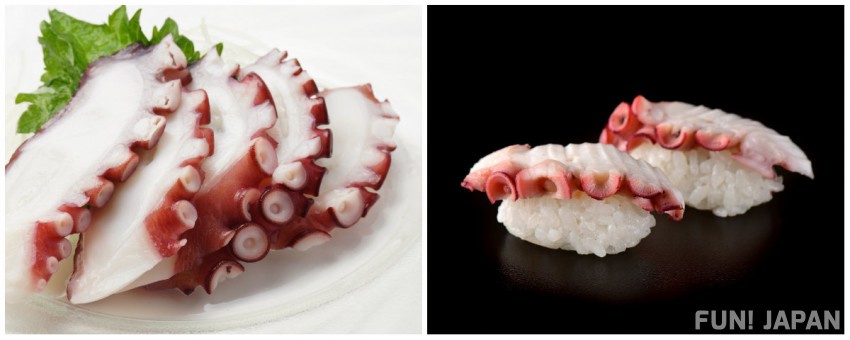 At fancy high end restaurants octopus can be served raw, but in general most restaurants serve octopus after having them boiled. Raw octopus is known for having a crunchy texture and sweet taste. Boiled octopus is soft, but has a different kind of sweetness to it. Octopus sushi is usually served as nigiri sushi.

Sweet Shrimp (アマエビ-Amaebi)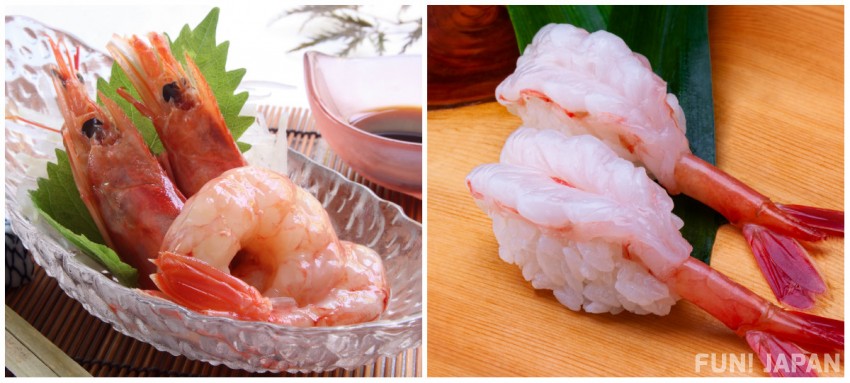 Of all the varieties of shrimp served in Japan, the sweet shrimp - amaebi (アマエビ) is the most commonly eaten kind. The outer shell of the shrimp is removed, but served with the tail still attached. This shrimp is very sweet and melts on your tongue. As sushi it is served as nigiri sushi or as gunkan (boat shaped) sushi.

Scallop (ホタテ-Hotate)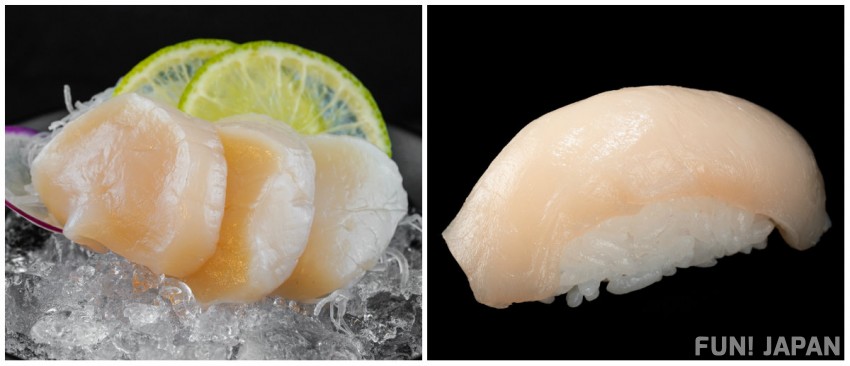 Scallop has a firm texture with a sweet creamy taste.  Some restaurants also serve scallop offal as well. The bitterness of the offal and the gentle smoothness of the clam makes it go well with Japanese sake. As sushi it is served as nigiri sushi or as gunkan sushi.

Salmon Roe (イクラ-Ikura)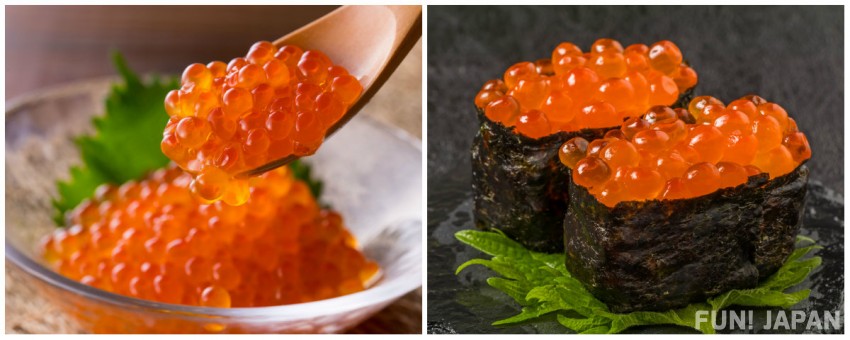 Japanese Salmon eggs, known to be a type of caviar. The taste of the salmon roe are prepared by soaking them in either salt or soy sauce. These translucent bright orange eggs burst in your mouth when eaten, giving it a enjoyable texture. As sushi, salmon roe is eaten as a gunkan (boat shaped) sushi, as shown above.

Urchin (ウニ-Uni)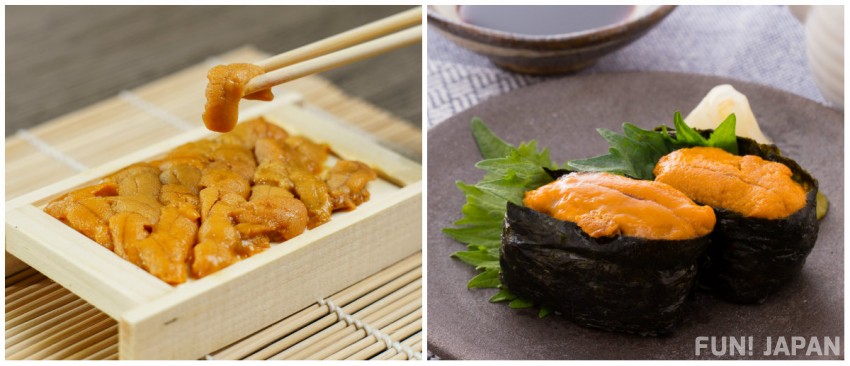 Sea urchin is a seafood that is particularly prized and an expensive delicacy in Japan. With a dark yellow-orange hue, it has a rich buttery taste to it.

The best way to eat uni is to eat it freshly caught, available in areas such as the famous fishing ports of the Hokkaido region. In general stores of Japan, alum is added in order to keep the urchin's color and shape. This causes the original taste of the ocean to diminish, adding a bitterness to it. Sea urchin is one of the most common seafood to eat as gunkan sushi. 
Sushi vs Sashimi
Learn more from the articles below:

[Survey] Traveling to Japan