Black Kimono, High Prestigious Among the Kimono in Japan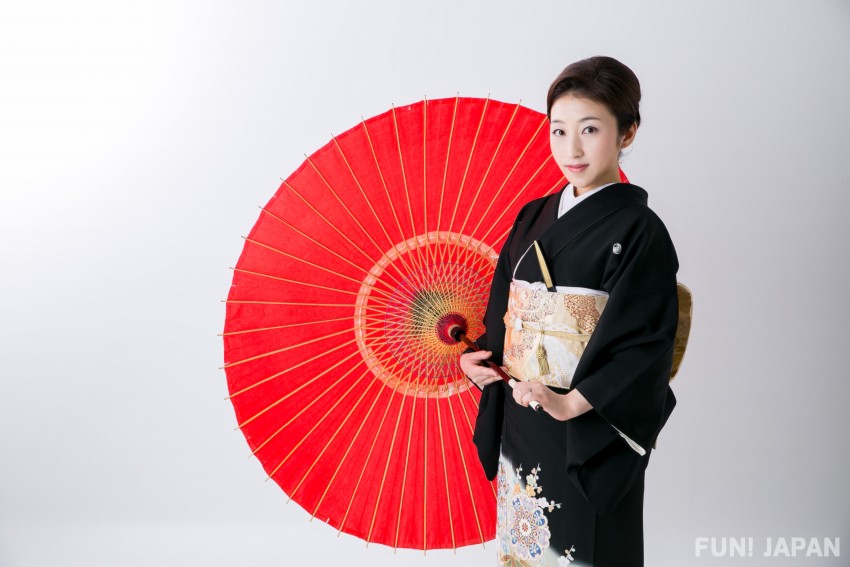 Black kimono has a high reputation and is worn at ceremonial occasions, but recently, black kimono, which has high fashionability in furisode (hanging sleeve kimono) and yukata, is also popular. Here, we will explain in detail what kind of occasions you should wear a black kimono. Actually, even though they are called black, it is interesting that there are various colours available.

Black Kimono Worn at the Wedding Ceremony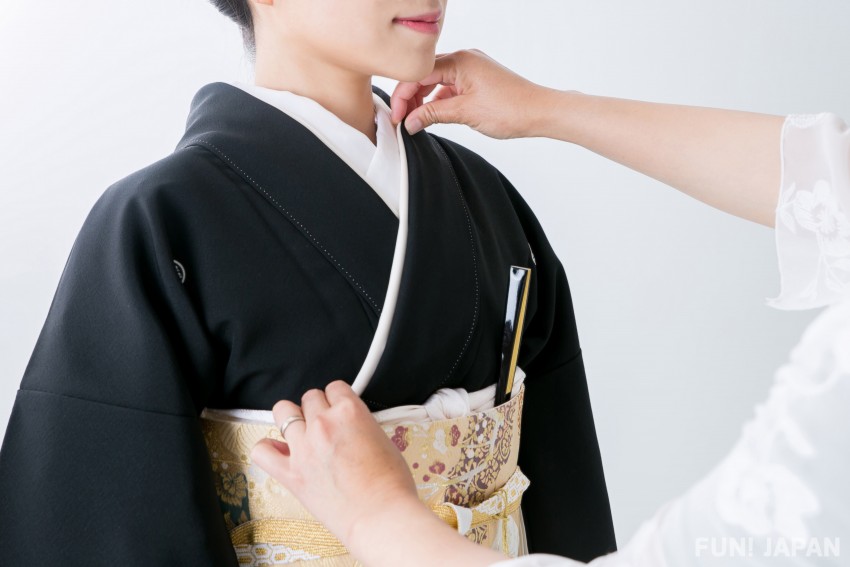 Speaking of the kimono worn by the bride at a wedding, white is a standard item. Then, at what time and who does wear a black kimono?

Black Kimono Worn by Bride in the Past
There was a black kimono called Kuro-bikifurisode (黒引き振袖 Black long hanging sleeve). From the latter half of the Edo period to the early Showa era, it was said that black was the most prestigious bridal dress among the Hikifurisode that was commonly used. Black colous symbolized the bride's strong intention to "not be dyed by anyone else", and it is a kimono that gives an image of "hard chastity" like Shiromuku.

Black Kimono worn by Groom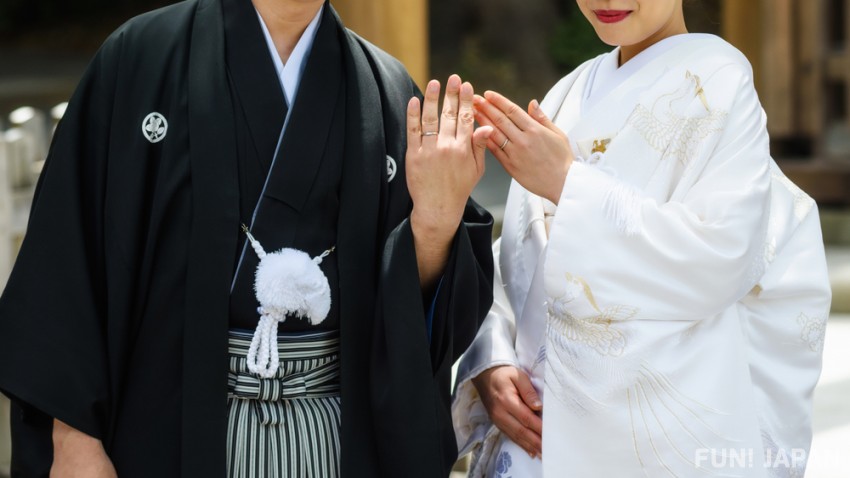 There are various colors of haori hakama with family crests (紋付き羽織袴 Montsuki Haori Hakama), but the most prestigious is the black haori hakama with family crests.

Black Kimono Worn by the Invited Wedding Guests
Black Tomesode (黒留袖 black cut-sleeve) is the "first formal dress" for married women. It features a simple and plain kimono with a gorgeous pattern drawn from the hem.

Gorgeous Wedding Kimono that Inherits Japanese Tradition
Black Kimono Worn at the Funeral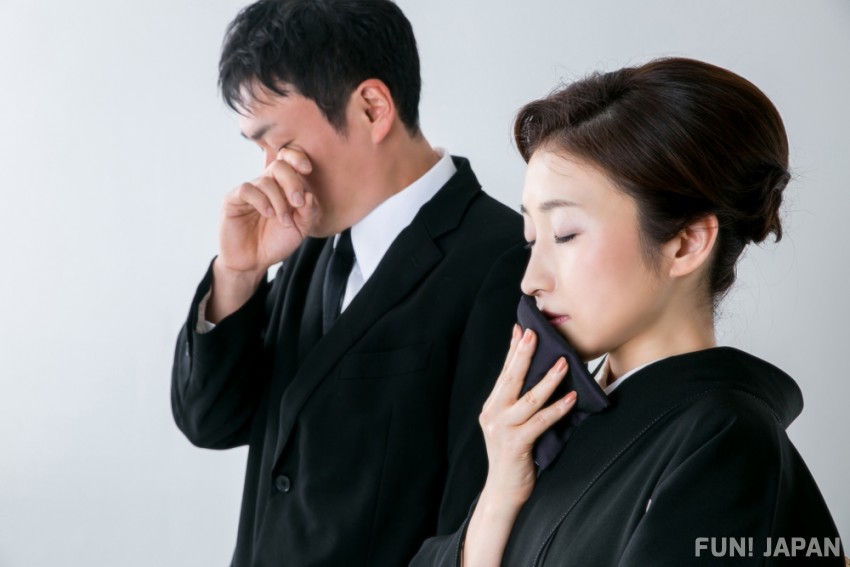 For the mourning garment (喪服 mofuku) worn at the funeral, a plain black kimono is preferred, and tied with a black obi as well. Kimonos with five family crests are said to be the most prestigious. Bereaved family wear this at funeral.

Occasions Where you can See Black Kimono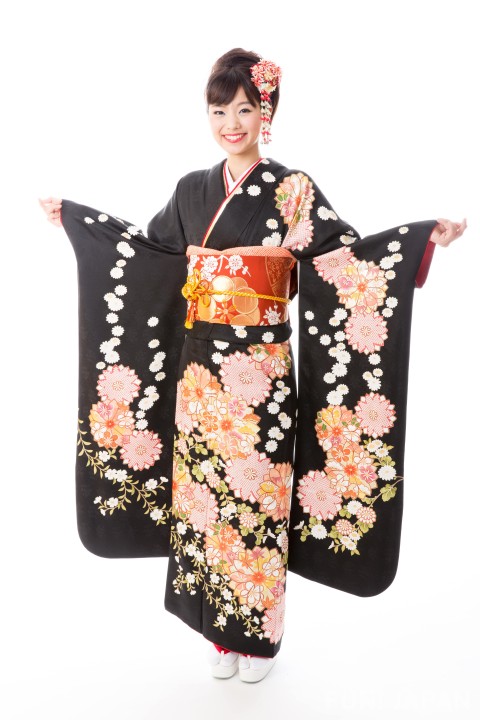 Have you ever seen black kimono during your visit to Japan or in the information related to Japan on the media? Probably you might have seen them in these occasions.

Black Kimono Worn by Geiko or Geisha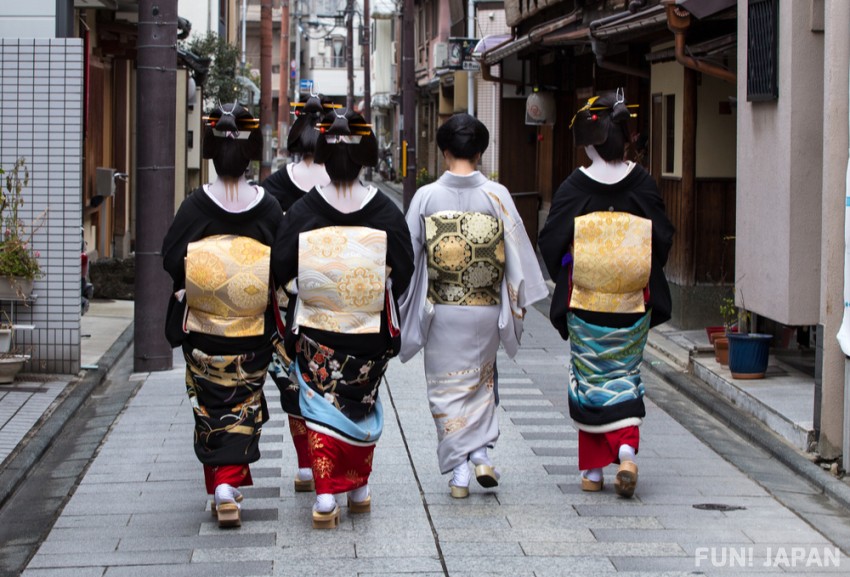 Maiko (舞妓) and Geiko (芸妓 sometimes read as Geigi) are women who perform singing, dancing, and shamisen at the banquet. A woman after completing her training is called a Geiko. Geiko generally wear black or plain chic kimono, and the obi is tied in a drum-like style.

On the other hand, Maiko refers to women under training from about 15 to 20 years old. A maiko wears a colorful furisode with a pattern and ties the belt in a hanging style.
Colour Types of Japanese Black Kimono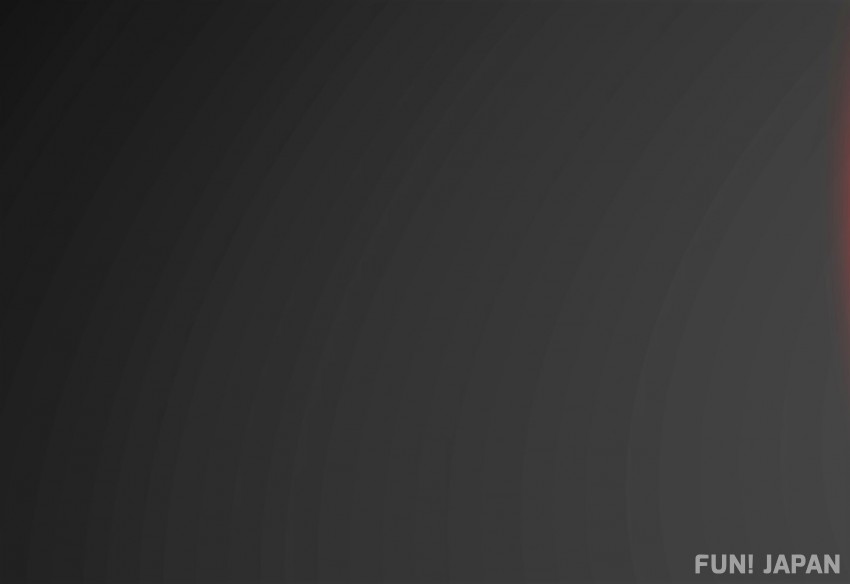 Although black is black, there are various black colors in traditional Japanese colors.

Lacquer Black (漆黒 Shikkoku): A deep, glossy black color like lacquerware painted with black lacquer (黒漆 Kuro-urushi). It is a pure black.



Betelnut Black (檳榔子黒 Binroji-guro): Black with bluish color. Betelnut (檳榔子 Binro-ji) is an evergreen tree in the palm family, native to Malaysia. It is a color dyed black using this plant.
Raven colour (濡羽色 Nureba-iro): A glossy black colour, like the wings of a raven. Also known as "Nuregarasu" (濡烏 raven) and "Karasubairo" (烏羽色 crow's wing colour).
Ink colour (墨色 Sumi-iro): The color of black used for calligraphy. A variety of materials were used for dyeing, depending on the time, such as not only black ink, but also Tsurubami (橡) and Betelnut trees.
Black Tsurubami (黒橡): bluish black. It is made by crushing and brewing Tsurubami nuts and colouring it with iron mordant.
Black Kite (黒鳶 Kuro-tobi): A slightly dark reddish brown like the kite bird.
How was it? There are meanings of the Japanese black kimono and many types of black colours; very surprising right?

[Survey] Traveling to Japan