Kurashiki Ivy Square Hotel: Stunning Views of Red bricks and Ivy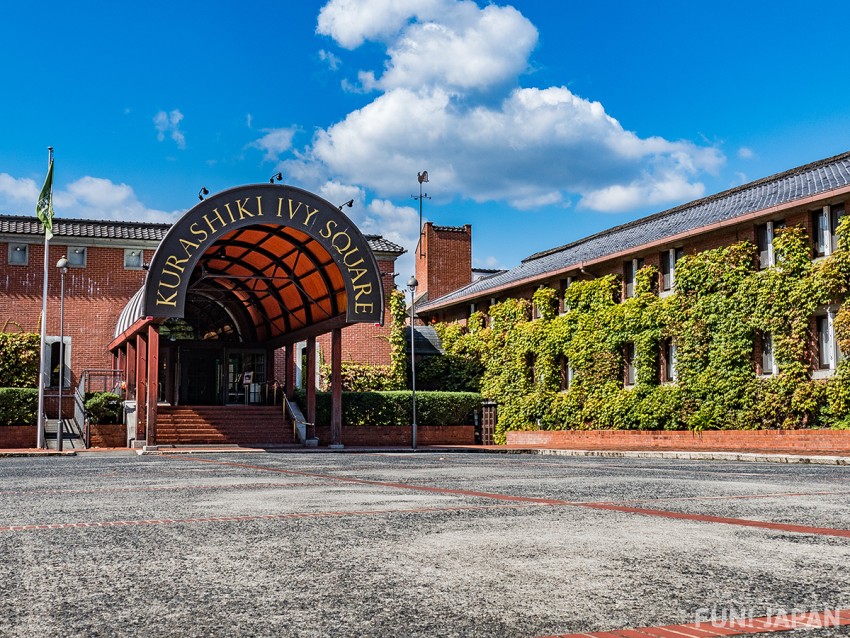 Kurashiki Ivy Square hotel is located in an ideal area called the "Kurashiki Bikan Historical Quarter". It is part of a restored spinning factory made into cultural facilities, with keeping the looks of the building the same as when it was in production the same. With a beautiful contrasting color of red bricks and green ivy, a large courtyard with relaxing music, and beautiful buildings all around are just some of the amazing things about this location.
Rooms with Different Designs and Atmospheres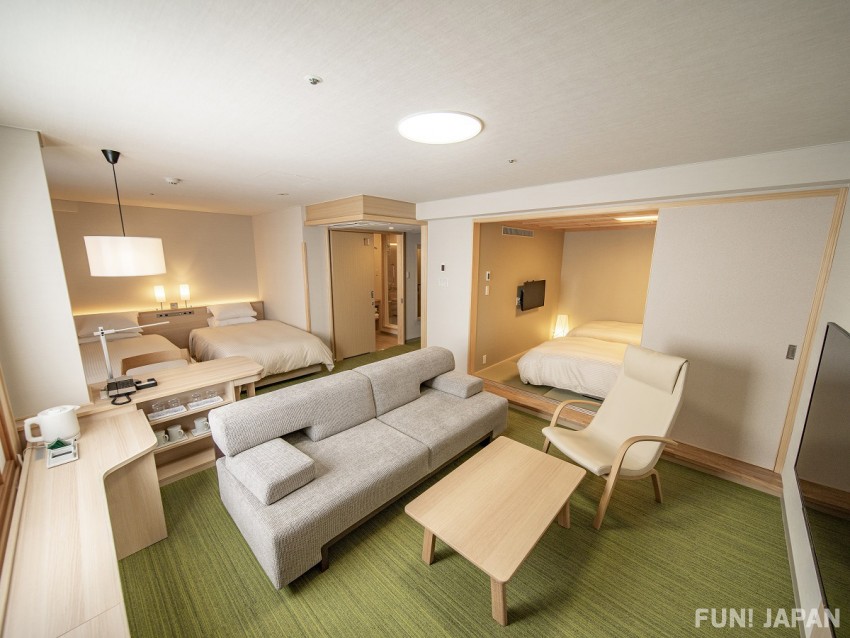 There are 3 tiers of room which are economy, standard and deluxe, with 4 different types of rooms including twin bedrooms and family rooms.

The "Economy Twin" room has taken the warm image of Okayama's climate painting it yellow, whilst having a blue color with the image of the Seto Inland Sea made from locally spun denim.
Furthermore from the 1st of October a new "Standard Twin" room was created with the images of local Okayama fruits in mind giving it a beautiful red color. Furthermore you have a large western and Japanese-style family room with over 4 beds as well as a chic and luxurious deluxe room for you to choose from.
Another great feature of these rooms is the warmth you can feel from the wooden walls, enjoy a relaxing stay in any of these rooms.
A Buffet where You can Eat some of Okayama's Local Specialties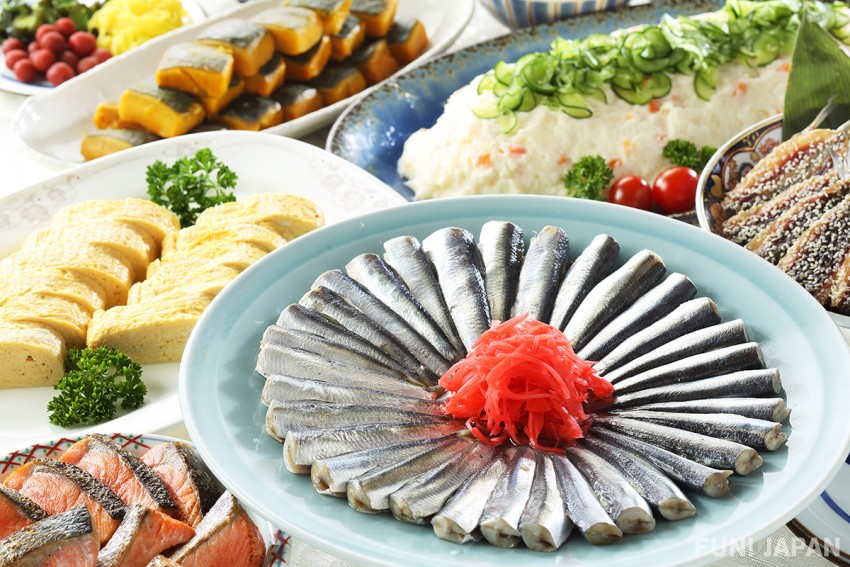 In the morning and evening, the food will be served at the "Restaurant TSUTA" within the institution. In the evening there are various items on the menu to choose from including sushi dishes as well as various banquet style dishes.
In the morning there is a buffet with a blend of both Japanese and Western style foods to suit anyone's taste! There are lots of dishes which use local fish from the Seto Inland Sea as well as other seasonal ingredients from the nearby mountains. Within those ingredients is one of Okayama's staple foods, its white rice "Asahimai", and one of its staple fish, "Mamakari", please make sure to try these if you get the chance!
A Large Bath with Stained Glass Windows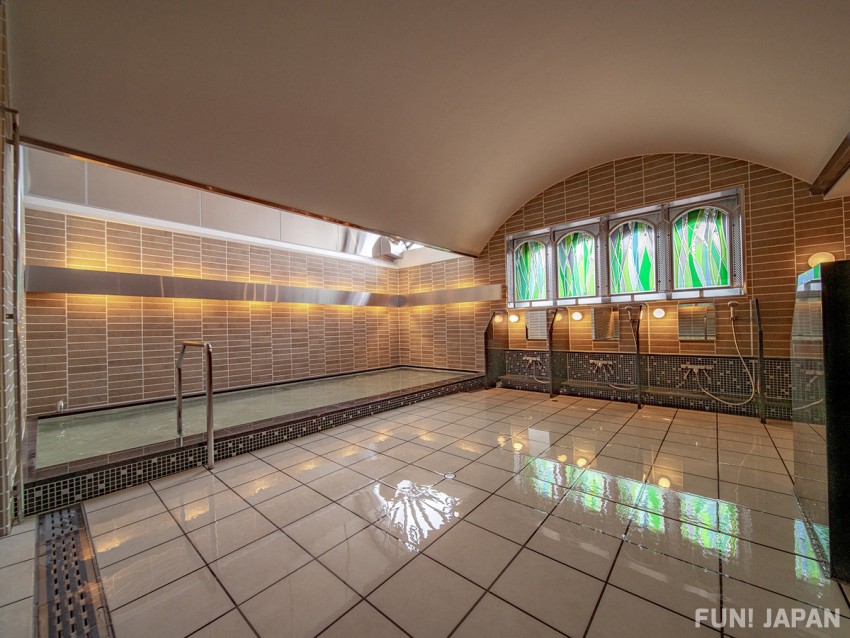 Of course there is a private bath tub and shower for every room, but since you have the chance, you should try out the larger public bath!
Each gender has a different theme and interior design, the males "the spring where water gushes", and the females "the forest where green is abundant". In the male bathroom the stained glass windows are a blue color, whilst in the female bathroom they are more of a green, when the sun shines through the windows glow vividly.
Furthermore, for both the male and female bathrooms, they each have 3 separate bath tubs prepared. One of these is a jet bath spa where you can stretch your legs and is very relaxing.
Joint-establishment of Shop and Museum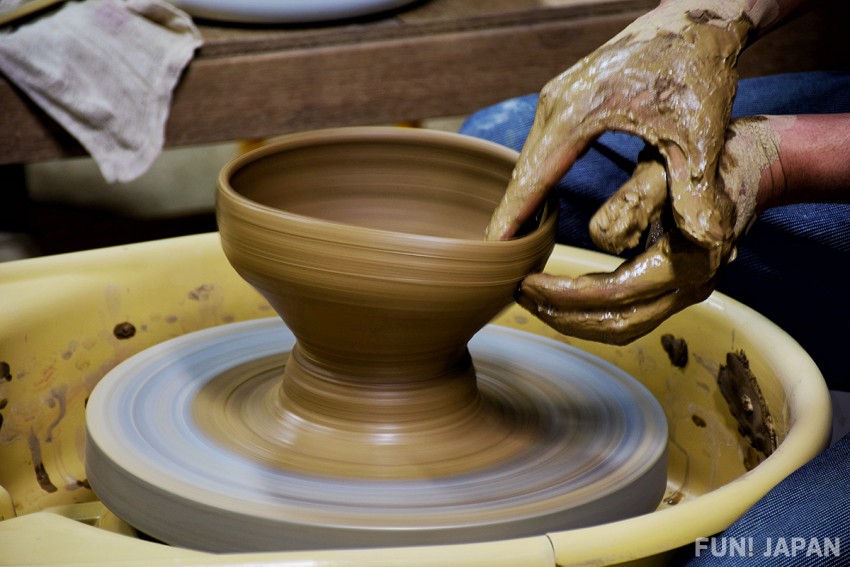 Kurashiki Ivy Square is not only a place to stay, but a location that has various tourist facilities as well.  Within the institution there are various places with the history of the location up for display, such as the Kurabo Museum as well as various places throughout where you can experience different activities such as clay pottery making, ceramics painting and other pottery related activities.  These take place in the "Ivy atelier Pottery classroom".
You can also purchase local specialties and pottery goods at the various stores located around the institution.
Spot information
Spot name: Kurashiki Ivy Square
Street address: 7-2 Honmachi, Kurashiki, Okayama 710-0054
Access: Okayama Station→[JR]Approx. 20 minutes→Kurashiki Station...Walking 15 minutes
Wi-Fi: Available(All rooms have free wifi)
Language: English
Credit cards: VISA, MasterCard, JCB, AMERICAN EXPRESS, Diners Club International, UnionPay 
[Survey] Traveling to Japan
Recommend