teamLab Is Back With Art Exhibition at Shimogamo Shrine, World Heritage Site in Kyoto
teamLab, the art collective that made their name internationally with their mesmerizing combination of technology and contemporary art, will mount the Digitized Forest at the World Heritage Site of Shimogamo Shrine  exhibition at Shimogamo Shrine  (the common name for Kamomioya Shrine) and Tadasu Forest in Kyoto. Let's take a sneak peek of some of the artwork to be displayed!

Title: Walk, Walk, Walk – Tadasu Forest at Shimogamo Shrine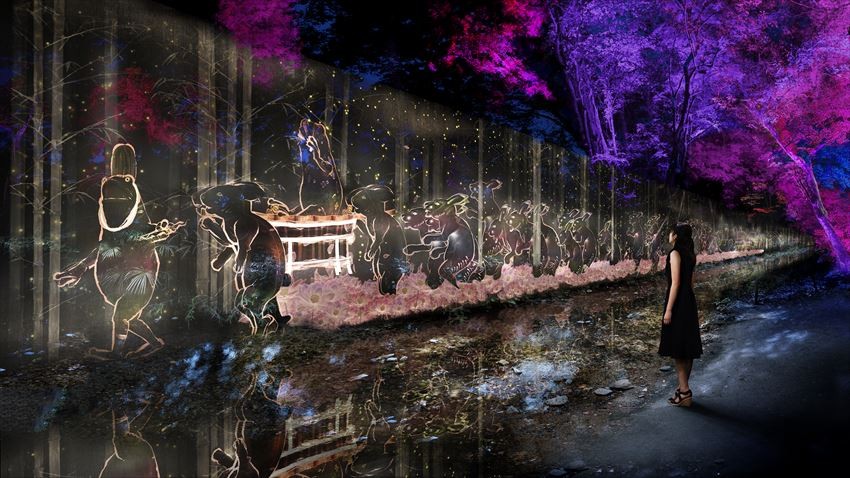 Along the bank of Izumigawa River that flows through Tadasu Forest, a group of anonymous figures in various forms continuously walks by.

Since this display is being rendered in real time by a computer program and not pre-recorded and projected, the image is ever-changing.  So the image at any one moment will be gone in the next instant and never reappear.
Title: Resonating Forest and Autonomous Resonating Life - Tadasu Forest at Shimogamo Shrine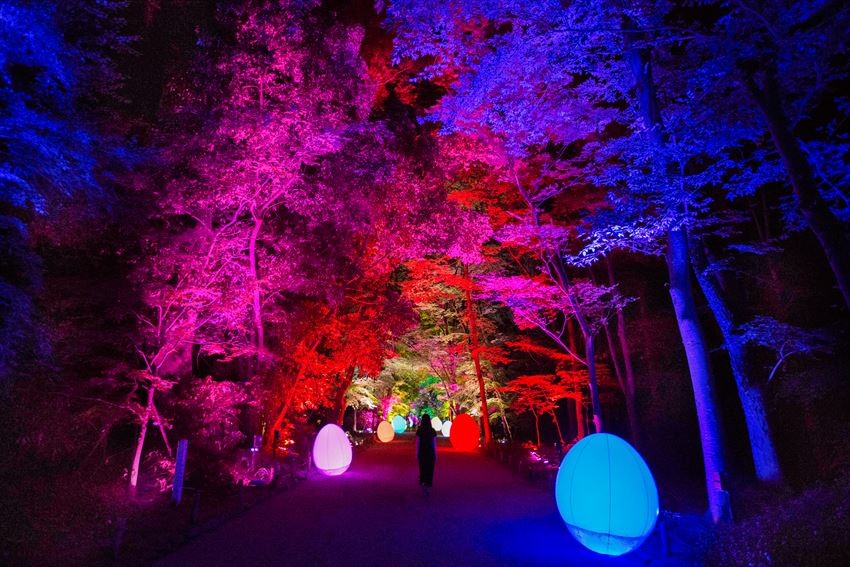 Ovoids and trees found along the path towards the buildings of Shimogamo Shrine are lit up in different colors. The objects are autonomous and they brighten and fade, change color and sound as people pass by. The ovoids and the trees spread over the long path and seem to have an effect on each other's light.

Have a look at this video:

Title: Autonomous Resonating Life on the Water - Mitarashi Pond at Shimogamo Shrine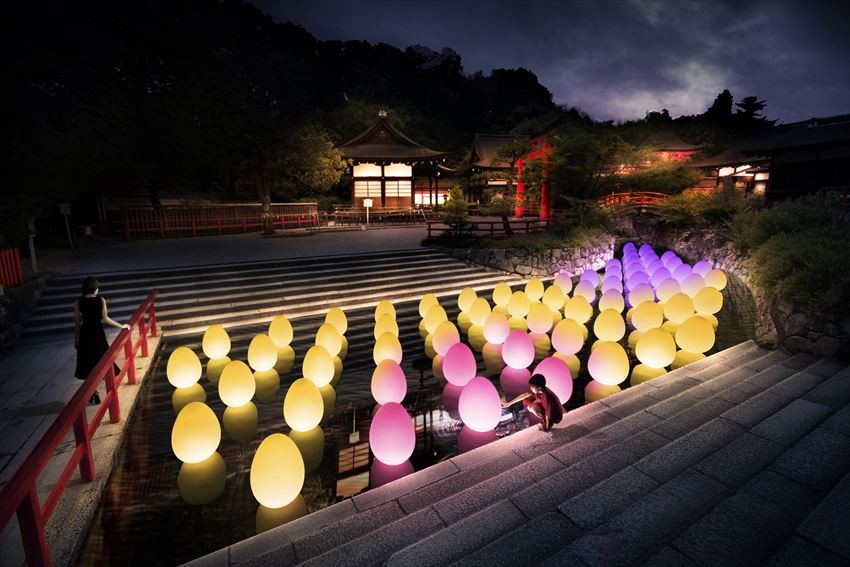 While it is great to share pictures of these wonderful installations with your friends on social media, immersing yourself in the environment of these avant-garde artworks and the surrounding nature will be an other-worldly experience. Come and experience this unique exhibition firsthand if you have the chance!

Information
Digitized Forest at the World Heritage Site of Shimogamo Shrine, Kyoto Art by teamLab - TOKIO INKARAMI

Exhibition period: 17 Aug - 2 Sep 2019
Exhibition hours: 18:30 ~ 22:00 (last entry 21:30) 
※Subject to change depending on crowd size
Admission: Weekdays: 1,300 yen, Weekends: 1,500 yen
※Free for primary school students and younger who must be accompanied by a parent or guardian above the age of 20
Venue: Shimogamo Shrine (Kamomioya Shrine), Kyoto City, Kyoto Prefecture
Access: 12 min walk from Demachiyanagi Station (Keihan Line)
Tickets: Available at Lawson and Ministop convenience stores, or Lawson Ticket (https://l-tike.com/tl-shimogamo)
※Tickets can also be purchased at exhibition venue
Website: http://shimogamo.teamlab.art
[Survey] Traveling to Japan
Recommend