Complete Guide to Highlights of Miyazaki's Udo Shrine in Japan
Udo Shrine is a famous tourist spot in Miyazaki, located southeast of Kyushu. It is a shrine in the cave at the tip of Shishizaki Pass that protrudes out to Nichinan Pass, and there is a vivid red-painted Ohon-dono. Here are some highlights and history that you want to know before visiting Udo Shrine.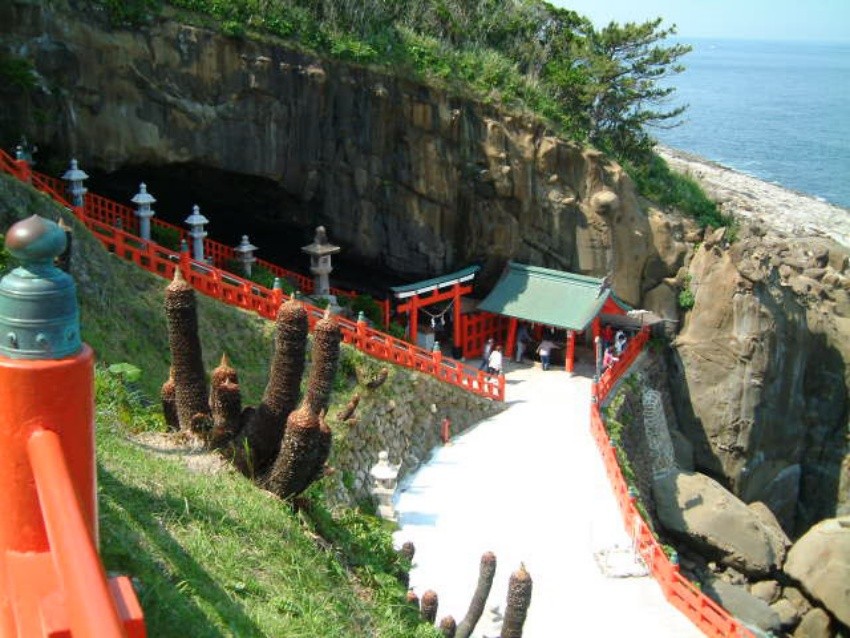 About Udo Shrine

Udo Shrine's Honden is located in a cave facing the Nichinan Nada along the coast of the Nichinan Kaigan Quasi-National Park. Many tourists visit, as a shrine with its Honden in a cave is a rare sight throughout the country. The cave, about 1000 square meters in size, is a sacred place that is said to be the Sanden of the main shrine deity. The Sanden refers to the palace that was assigned to the maternity room. Locally called "Udosan", it has long been popular for being said to provide easy birth and matrimonial happiness.

Every March, "Shan Shan Uma", a poem of Miyazaki, is held. It began in the middle of the Edo period, and it was derived from the custom of putting the bride on a horse, the bridegroom taking on the reins, and going to Udo Jingu. Currently, there is no such custom, but every year, this custom is reproduced, and things such as Minyo Taikai are held.
Highlights of Udo Jingu
The highlight is the colorful red-painted Honden. It is Yatsumune-zukuri, and designated as a tangible cultural property of Miyazaki. To worship, you go down the steps made along the cliff. It is "Kudarimiya", which is unusual for a shrine.

In addition, the stratum located on the southern face of Udosaki where Udo Jingu is located, Udo-Senjojiki rock formation, is sandstone and mudstone alternately deposited from about 10 million to 1 million years ago, and has eroded over many years, giving it a wavy shape.
Accessibility to Udo Shrine
From JR "Miyazaki" station, it is about 50 minutes by JR Nichinan Line, get off at "Ibii" station, transfer to the fixed-route bus bound for "Nichinan, Obi, Toi Misaki" for about 20 minutes, get off at "Udo Jingu" bus stop. 

Alternatively, it takes about 1 hour and 30 minutes on JR Nichinan Line, about 20 minutes on the fixed-route bus bound for "Miyazaki Station Airport Station" and bus stop "Udo Jingu". 
When coming from Miyazaki Airport, take the fixed-bus bound for "Nichinan, Obi, Toi Misaki" for about 60 minutes and get off at the bus stop "Udo Jingu". It is about 10 minutes on foot from bus stop "Udo Jingu".
Spot Information
Spot name: Udo Jingu (Udo Shrine)

Street address: 3232 Miyaura Nichinan, Miyazaki 887-0101
Ticket: Free
Hours: 6:00~19:00 from April to September, 7:00~19:00 from October to March
Holidays: None
[Survey] Traveling to Japan
Recommend