VISIT JAPAN CAMPAIGN TOHOKU Winner Report Day 1: Visiting Aomori
After nearly 6 and a half hours of flying with Malaysia Airlines, I finally arrived at Narita International Airport around 7 o'clock in the morning. From there, I took a limousine bus to Haneda Airport as it was the meetup point for all of us and we will fly domestically from there to Aomori later at noon. The fare of the shuttle trip to Haneda for one way is 3100¥ per person. It takes more than 1 hour to commute from Narita to Haneda.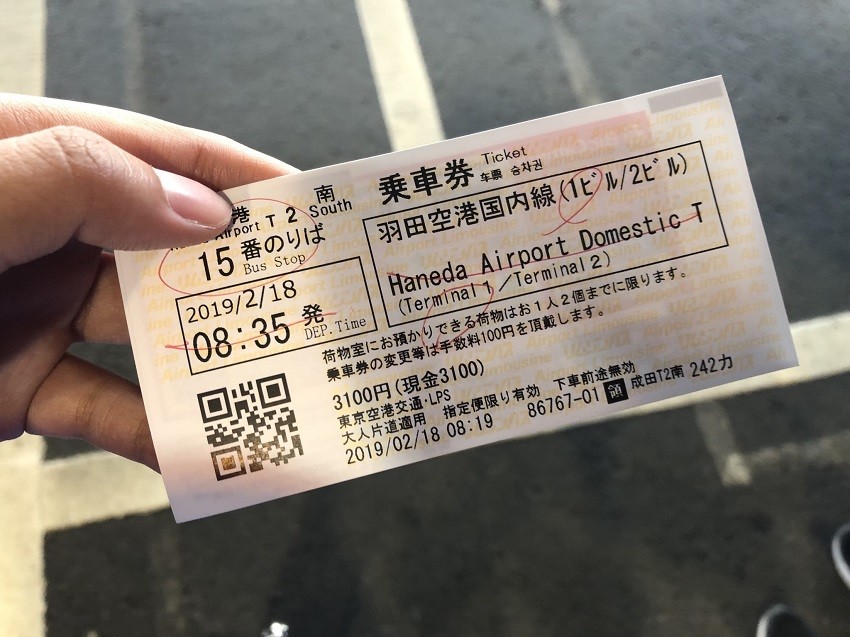 Gathering with other winners for this Visit Japan Campaign
Gladly I met Wendy; the winner from Taiwan inside the bus. We finally got to meet the rest of the winners and FUN! JAPAN staffs at Haneda. Everybody seemed to give good first impressions and yes they are all friendly. After the trip briefings and FUN! JAPAN staffs gave us some welcome freebies such as skin care set, shoe covers, and health supplements. Thank you. I was so happy!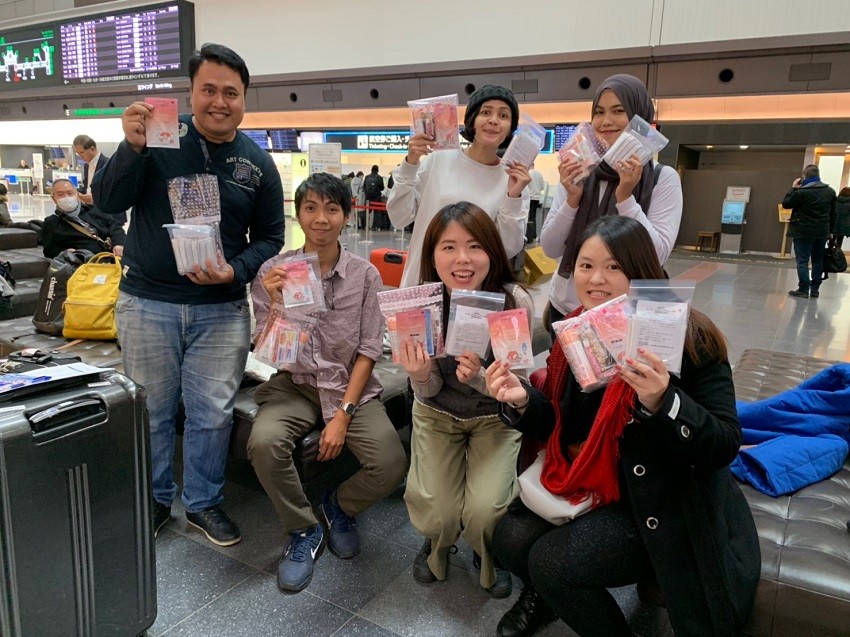 After we checked in our flight and dropped the baggage, we still have some times before the departure. So we decided to have lunch there.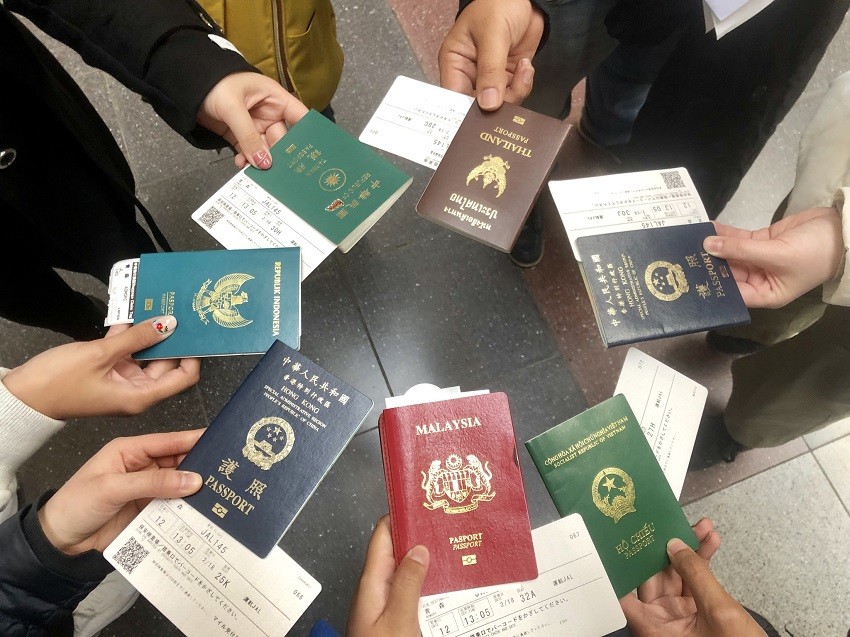 I love how the staffs were so considerate and understanding about my concern with halal food. They kept checking the ingredients of every food and we went from one restaurant to another until all the Muslim winners felt at ease to eat. I somehow feel a bit sorry for being a burden to the group, so I kept telling everybody to just eat whatever they wanted as I can just eat convenience store foods. However, everybody refused to leave me out. I couldn't stop being thankful.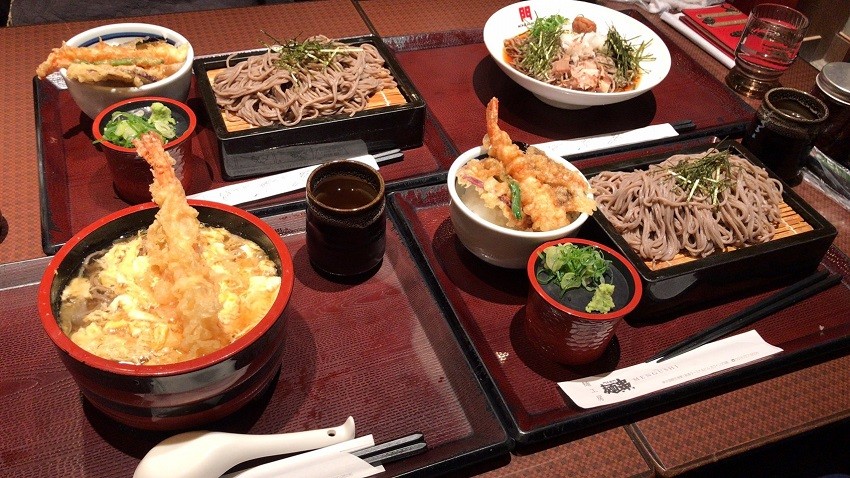 Heading to Aomori from Haneda Airport (Tokyo)
After lunch, we flew to Aomori with Japan Airlines. Here comes the privilege of being a FUN! JAPAN member, we could earn JAL mileages using our membership card. Yay! After one hour of flight, we arrived Aomori. Then we took a bus from the airport to Hirosaki station. Aomori was super cold at that moment. The road trip was really fascinating as the scenery throughout the journey was spectacular; the towns, the apple farms, the hills, and mountains were all covered by thick fluffy white snow. It gave out such a dreamy vibe.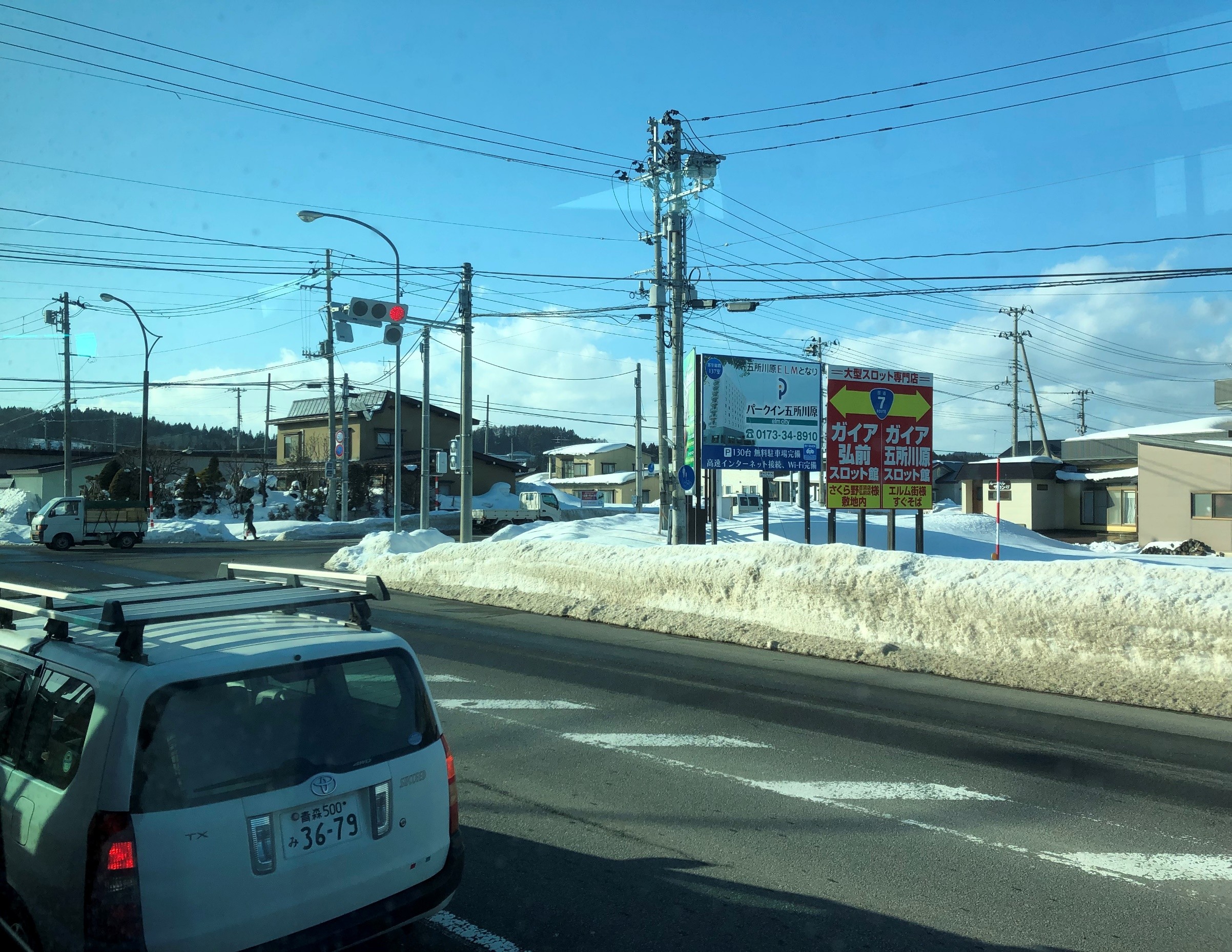 We finally arrived at Hirosaki station late in the evening. Our hotel; Toyoko Inn Hirosaki was just a few steps away from the stop.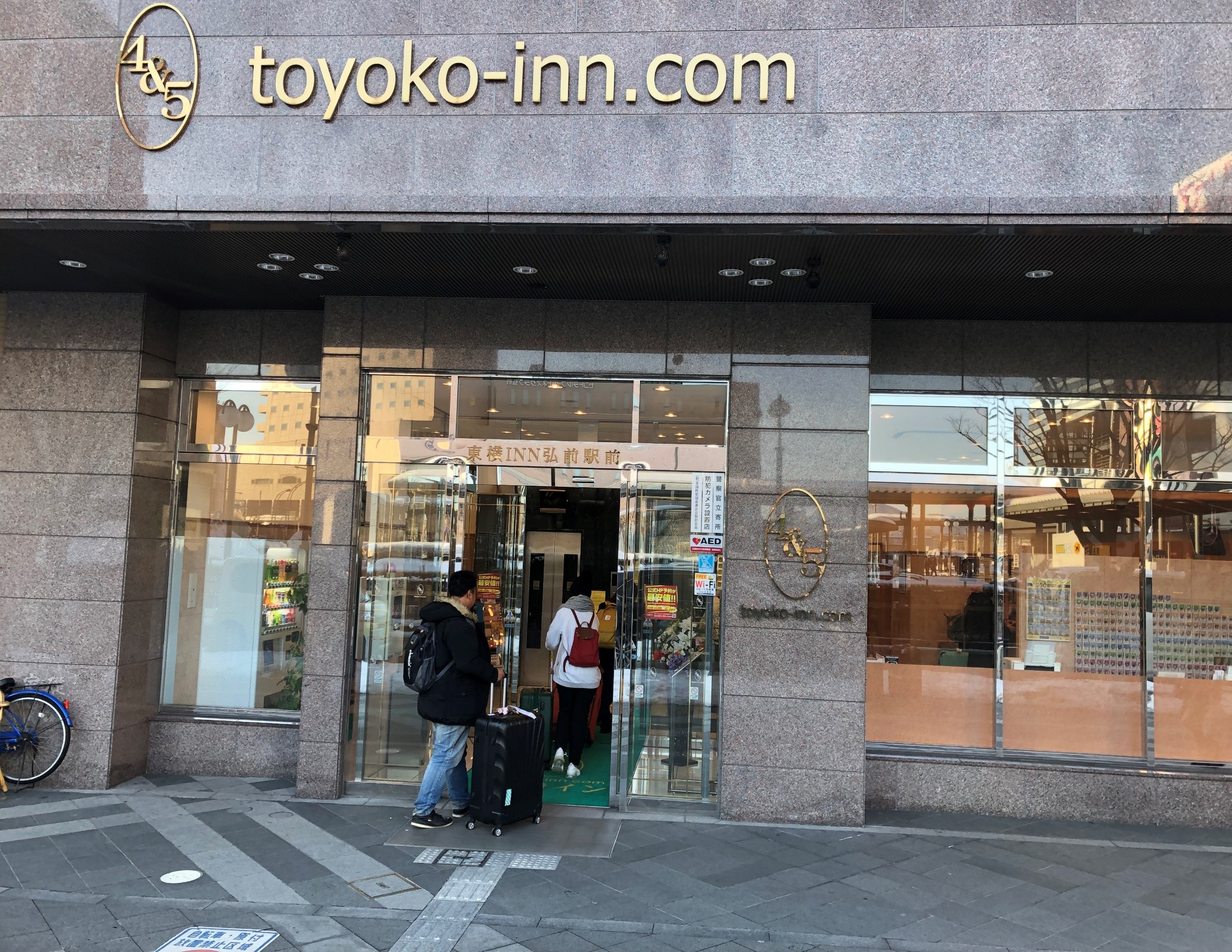 We gathered again when the sunset. We took a bus to Hirosaki park and castle. The castle looked stunning even during the night!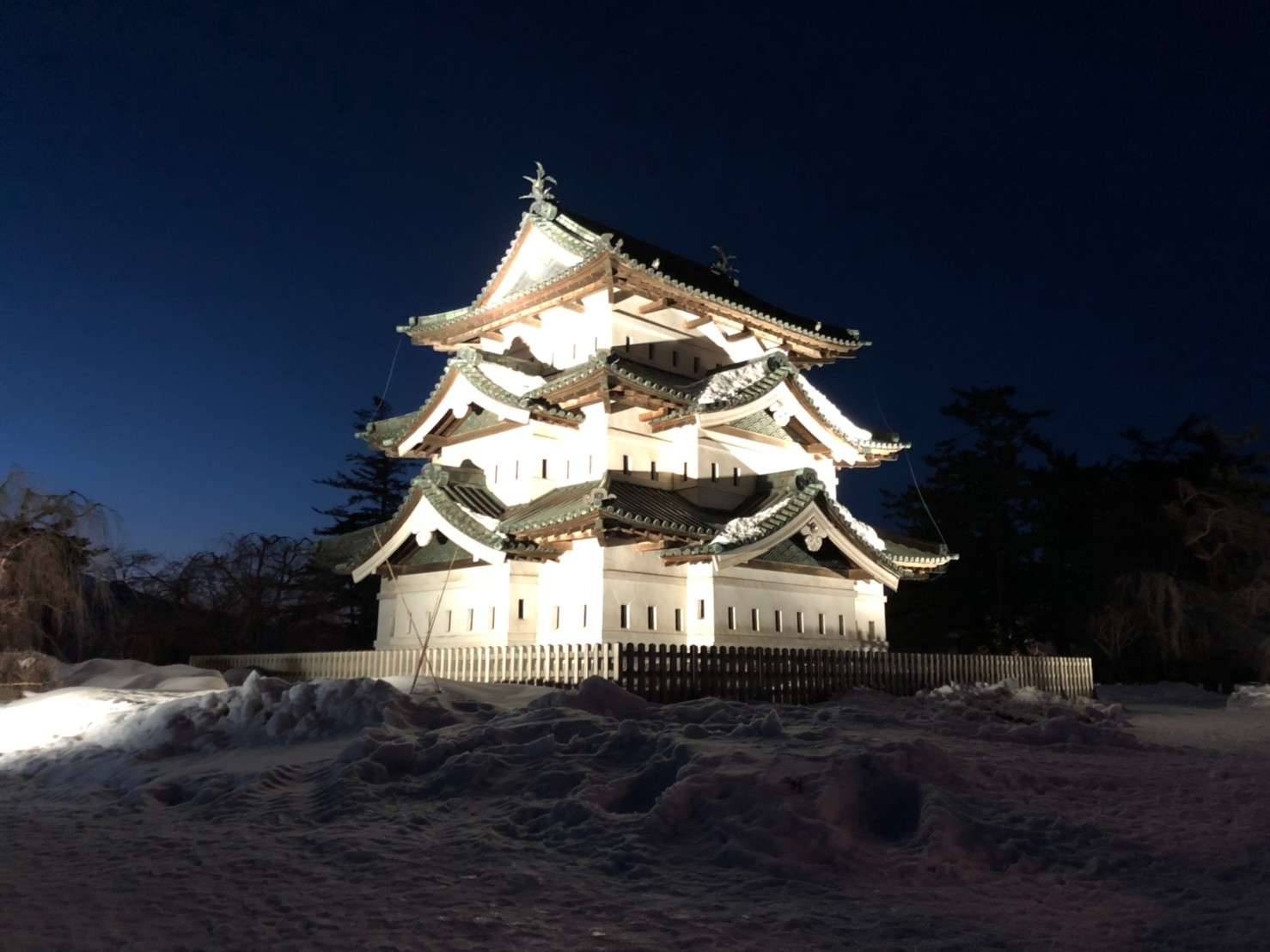 Then we took taxis to have our dinner somewhere nearby the hotel. We chose an izakaya which has mainly seafood menu. I was not that hungry that night because I was too exhausted plus sleepy from my long flight, so I only had some fish tempura there. Then some of us went back to the hotel soon after eating to get some rest. While others got to enjoy seafood hot pot there. I heard it was so yummy!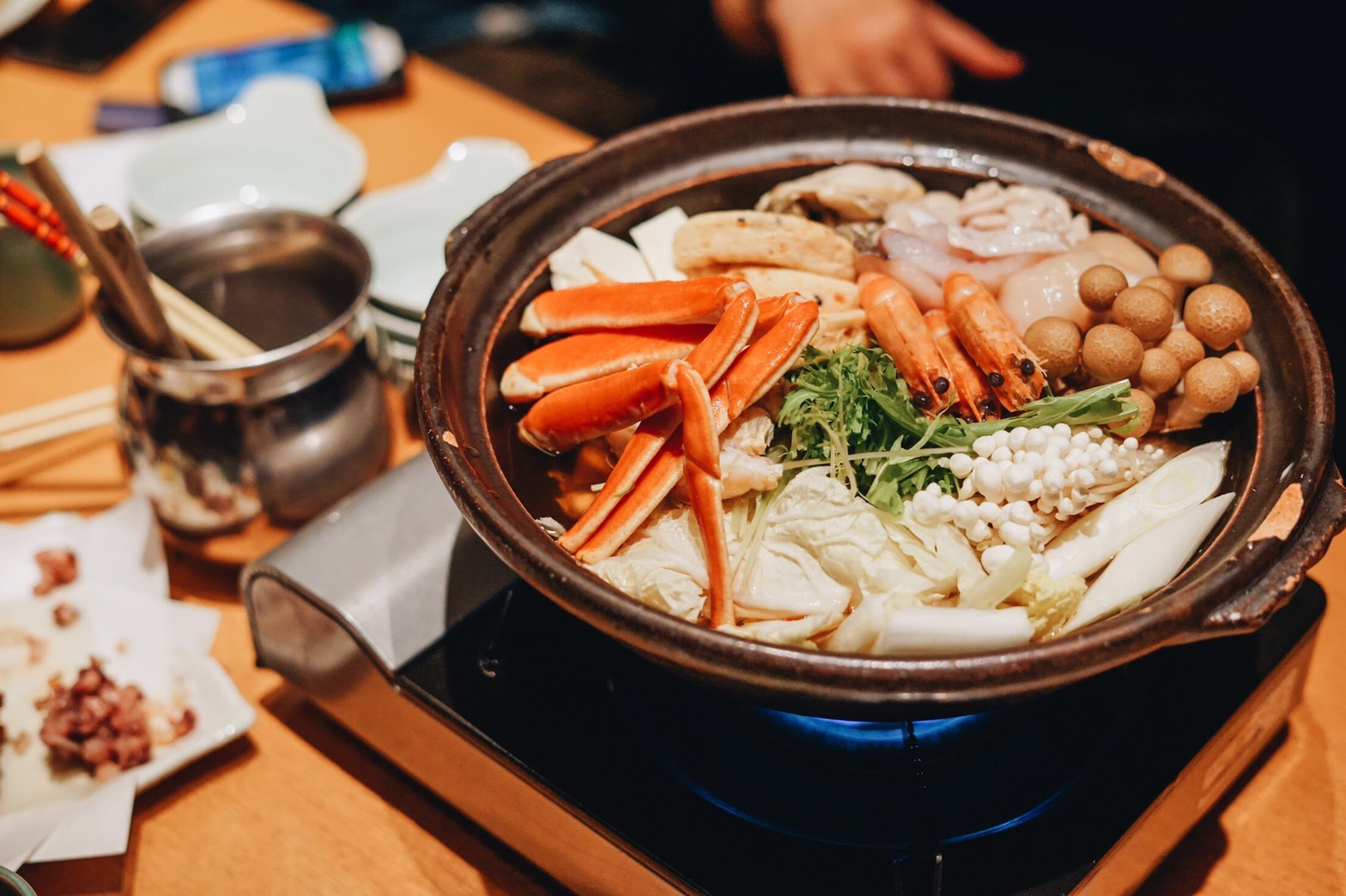 So yeah. That is it for the first day of the trip. It was a great start in Aomori.
Tsugaru Railway, a Stove Winter Train heading to Nakasato!
The next day we took a train to Goshogawara station and changed to another train to Nakasato station via Tsugaru railway. Here comes the interesting part. The train to Nakasato was not a common train we that we could see in Japan. It was a stove train! 
The train looked so classic inside out. There was a traditional charcoal stove in every coach that we can be used to grill dried squid as a snack. Plus the heat from the stove helped to warm the surrounding. So we did not feel cold despite riding it in winter. I find this very cool as I never had such experience before. Sugoiiii!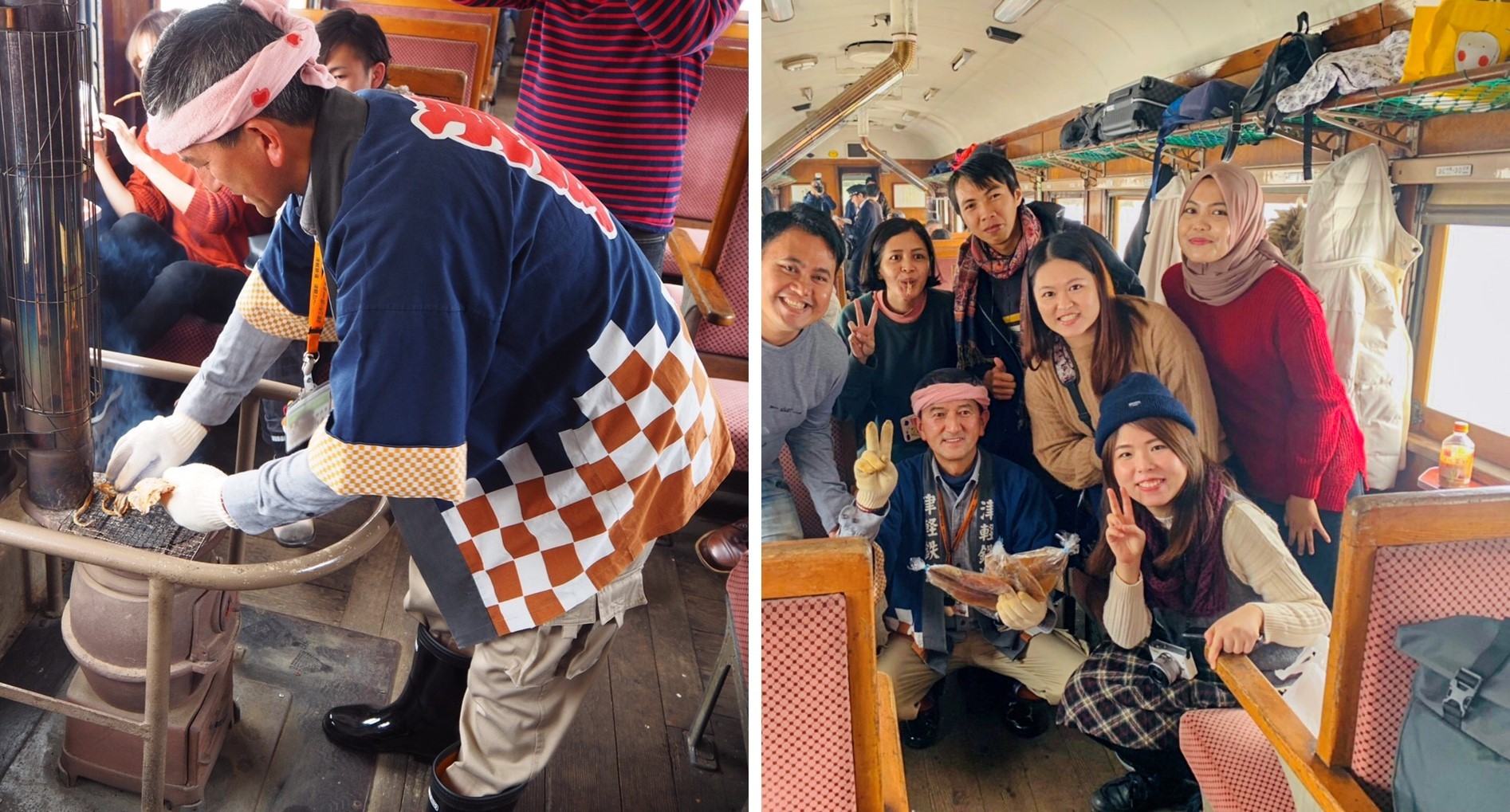 A chartered van picked us up at the Nakasato station to go to Lake Towada for Winter Snow Festival which is usually held around February annually. It was such a long journey to reach Towada, probably around 3 hours including our stop at Oirasekeiryu. The view throughout the journey was magnificent. It was super mesmerizing.
We finally reached Lake Towada for the festival when the sun was about to set. Since we went there on a weekday, the festival was not that crowded so kinda had our space to take photos here and there.
Experience the Banana Boat Ride at Towada Lake!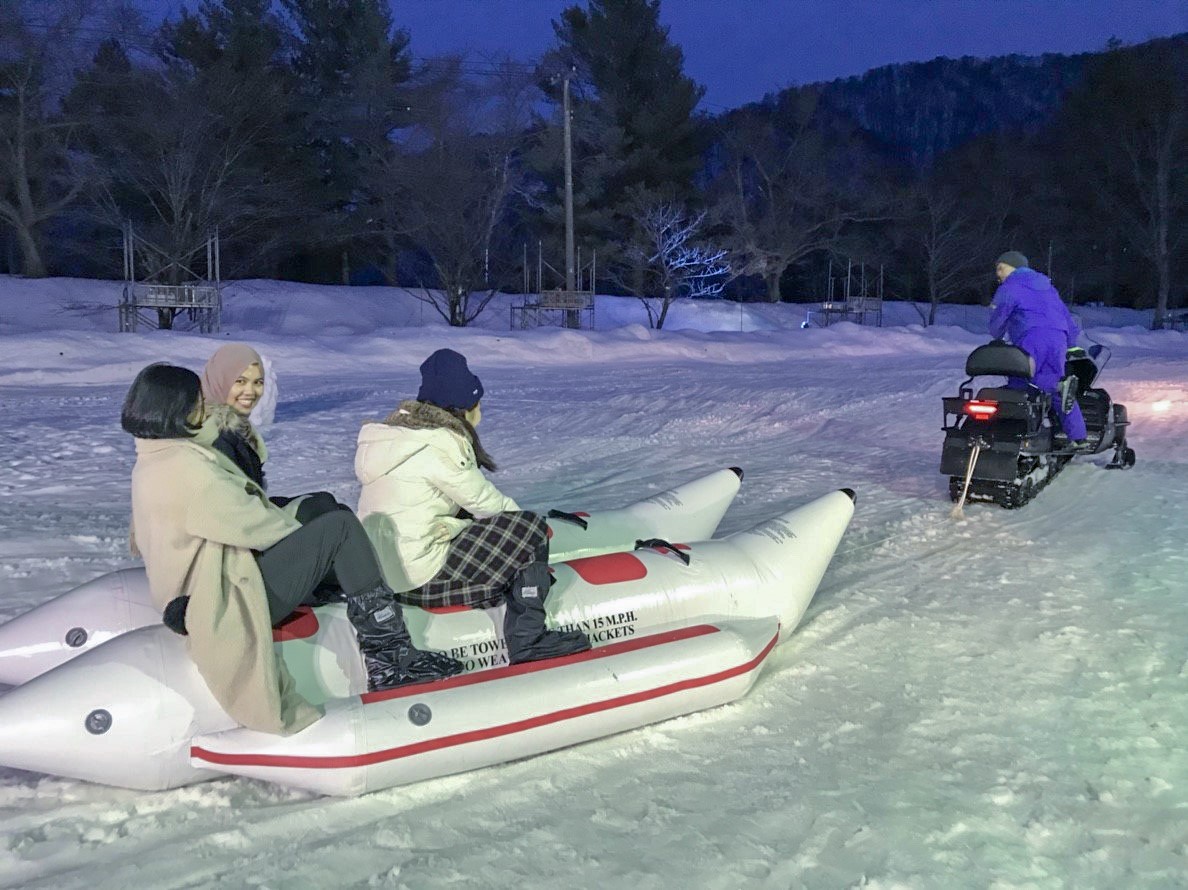 Oh yeah! We saw a banana boat there and since nobody rode it, we quickly grabbed our chance to ride it. It was so fun! I screamed so loud till I got a sore throat the next day. Haha. 
Related Articles:
[Survey] Traveling to Japan
Recommend