Quick Cook Recipe Series ~ Imo mochi ~
Imo-mochi is one of Hokkaido's local foods. It is delicious with an original taste. You only need a potato and potato starch powder to make this dish which is a perfect snack. You can also make plenty of it and keep in the refrigerator.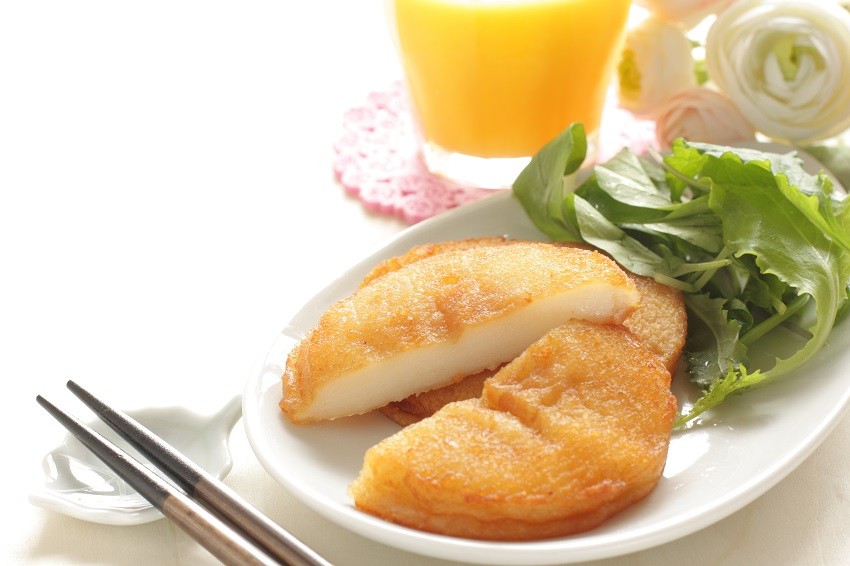 Ingredients (12 pcs)
Three potatoes (300g)

Potato starch powder

3 tablespoons of water

Pinch of salt

An appropriate volume of Seaweed

Sauce
2 tablespoons of soy sauce

2 tablespoons of mirin

2 tablespoons of sugar

2 tablespoons of water

Instruction
Put the peeled potatoes into a plastic bag and heat them in a microwave for about 6 minutes at 500 W until the potato is soft enough to be skewered by a bamboo stick.

Mash the potato from outside of the plastic bag. It will be easier to mash if you use a rolling pin or the core of some wrapping paper. Then, add salt, potato starch powder, and a little water into the plastic bag and knead until it becomes soft.
Make the potato dough into a stick-like shape in the plastic bag, open the plastic bag and then cut the potato dough into 12 equally size pieces.
The kneaded dough can be kept in the refrigerator. Wrap each dough piece in an individual plastic bag and then keep in the refrigerator. When eating, you do not need to unfreeze. All you need to do is just bake it in a frying pan, heat it in a microwave oven, or heat up and eat together with soup.
Melt some butter in a frying pan and fry it well on medium heat. Flip the Imo mochi upside down, add sauce for coating, close the lid and fry for another 4 to 5 minutes with low heat.
Open the lid and flip the mochi, the dish is ready after coating with sauce. Roll in seaweed and serve.

Please refer to the video for more detailed instructions!
[Survey] Traveling to Japan