A look into the KEIO University Mita campus. One of the oldest private universities in Japan, located in Tokyo. ~ Part One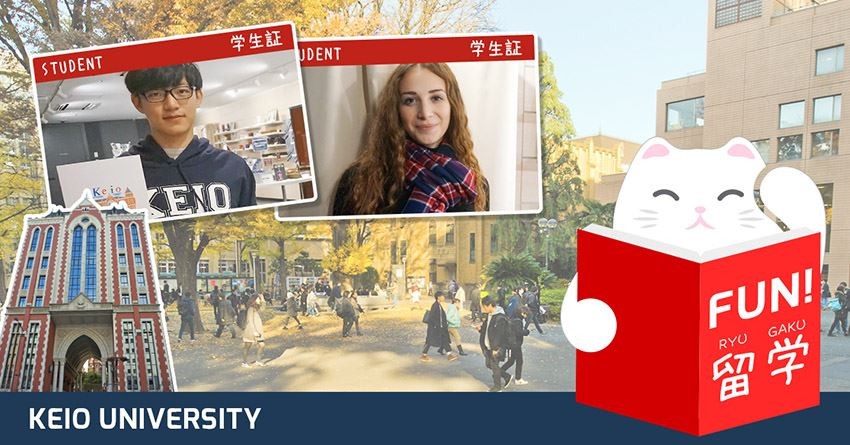 Isn't that Keio University?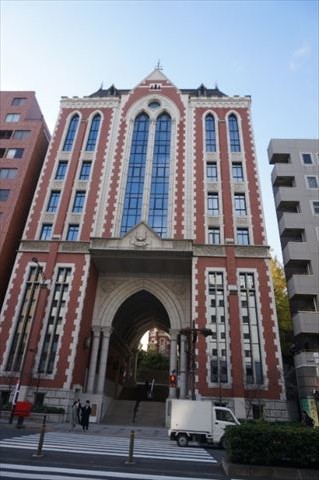 According to my colleague (K san), this university is famous throughout Japan and is one of the top university in the country with the "Most graduated students who have become the presidents of the listed companies in the First Section of Tokyo Stock Exchange", the "Highest research investment amount" and the "Highest pass rate of national examination of accountants and lawyer licenses". Let's take a look into the university together.
It's like a building in Harry Potter. . .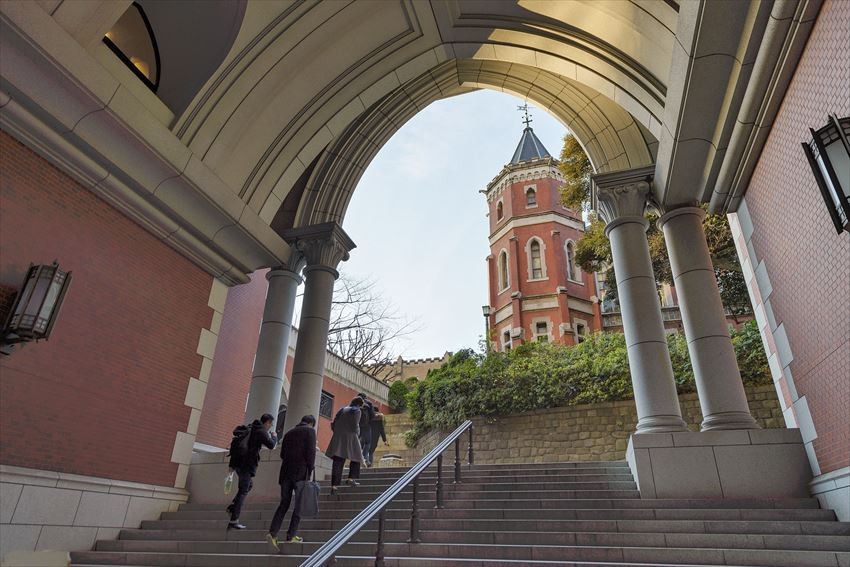 There is a big ginkgo tree.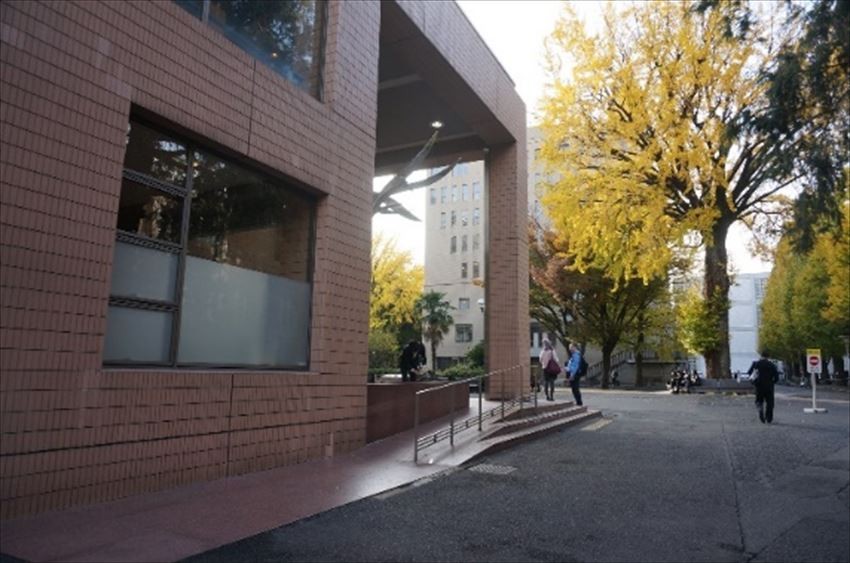 Well, I guess this is the interval between the lectures. There are more people now comparing to before. It seems like everyone is walking towards the classrooms for their next class.

There is a beautiful modern building, which is nicely harmonized with the other historical buildings.
I could see those students are having their lecture in that building. Therefore, this must be the building where their classroom is.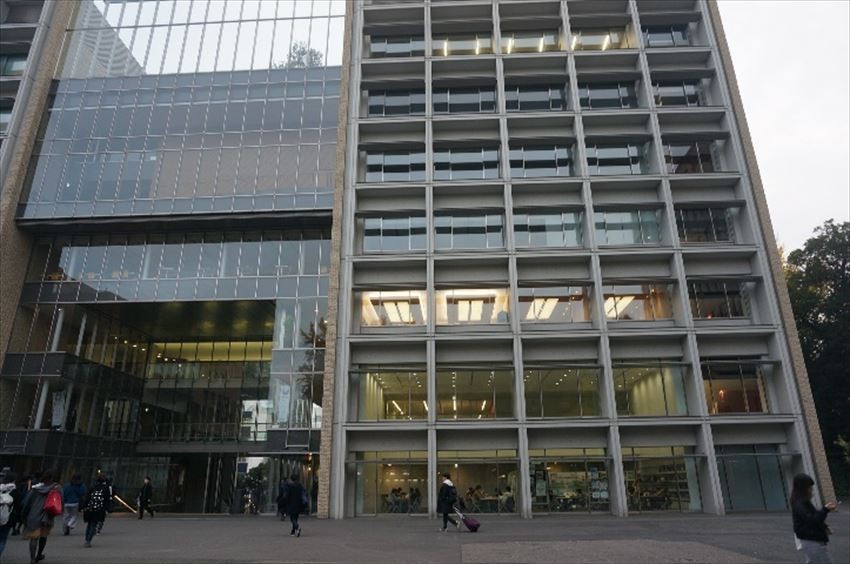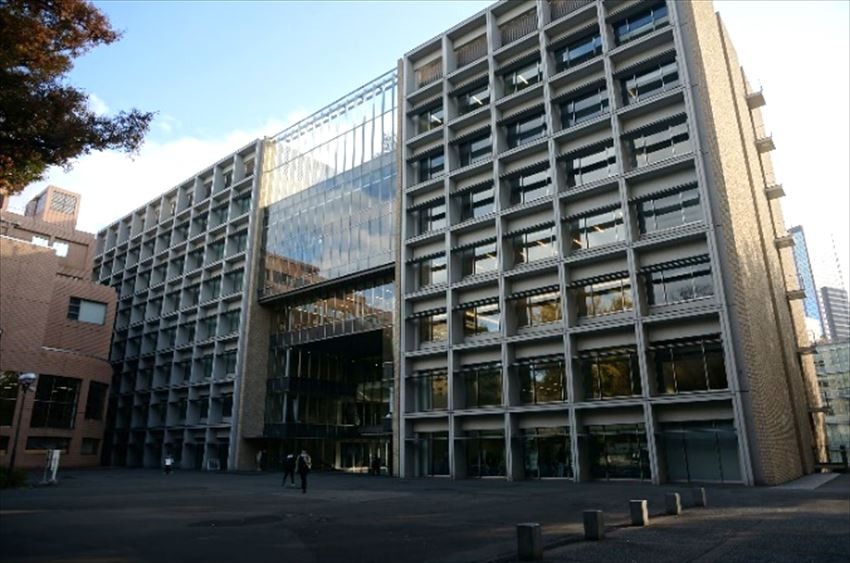 This current building is rather old.
 It was built in 1926, I could see that there are a lot of people walking in and out, and most of them don't look like a students. I guess this building is the office building for the management staff and or teachers.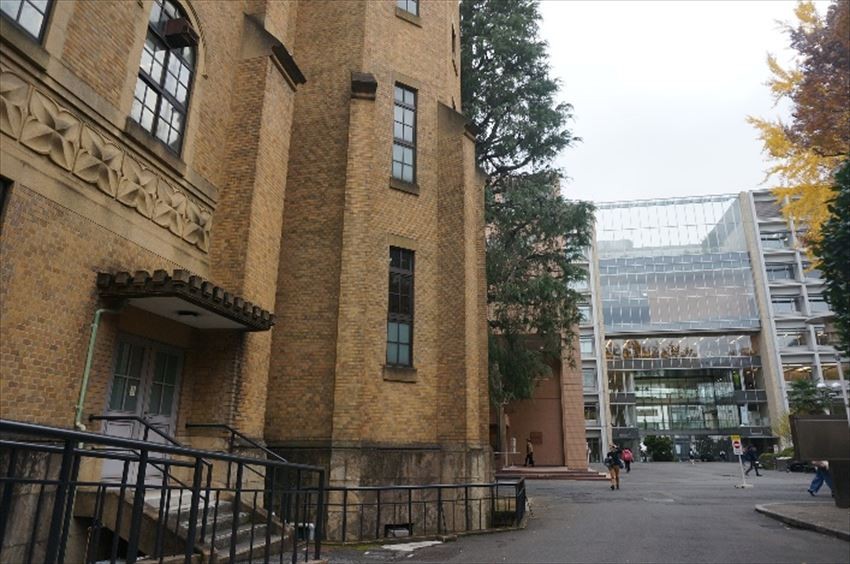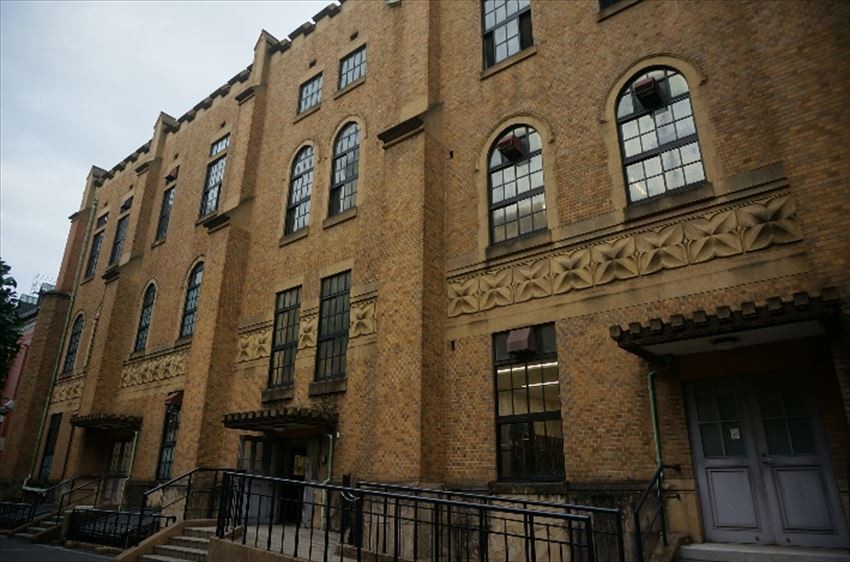 There is a building, which is even older than the previous one! However entrance into this particular building is prohibited.
This is the first Public Speaking Hall, which was built by Fukuzawa Yukichi in 1875 and it is an important cultural asset of Japan. 
 The official name of the building will be Mita Public Speaking Hall

This particular building is not only important to Keio University, but it is also an important building in the history of Japanese universities. 
 The speaking hall is only opened for few times in a year during important events.

=====
Well well well. . .
There are a cute girl and a cool boy there, they seem like they're buying something in the souvenir store.
 Let's go and meet them and see if they'll be able to give us some insight on the university.
FJ:What are you doing?

BARBARA:I am choosing souvenirs for my family and friends in my home country.
EDWARD:Oh yeah, could you please help to choose something for my family as well.
FJ:The product lineup is wide. There are pencils, cookies, cups, and even mufflers!
BARBARA:I think the muffler would be great!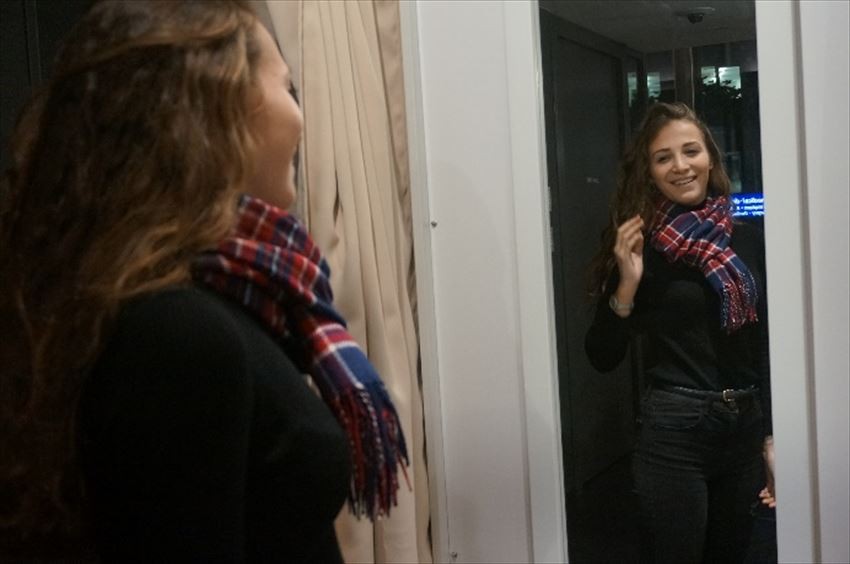 BARBARA : How is it? Do you think it's cute?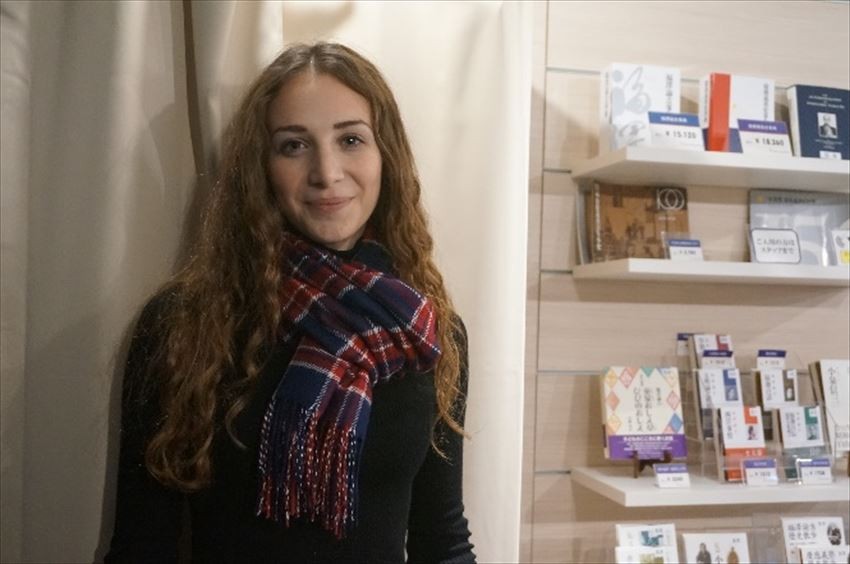 BARBARA:And this tote bag, wallet and business card holder, all of them are look so nice with the logo of KEIO University.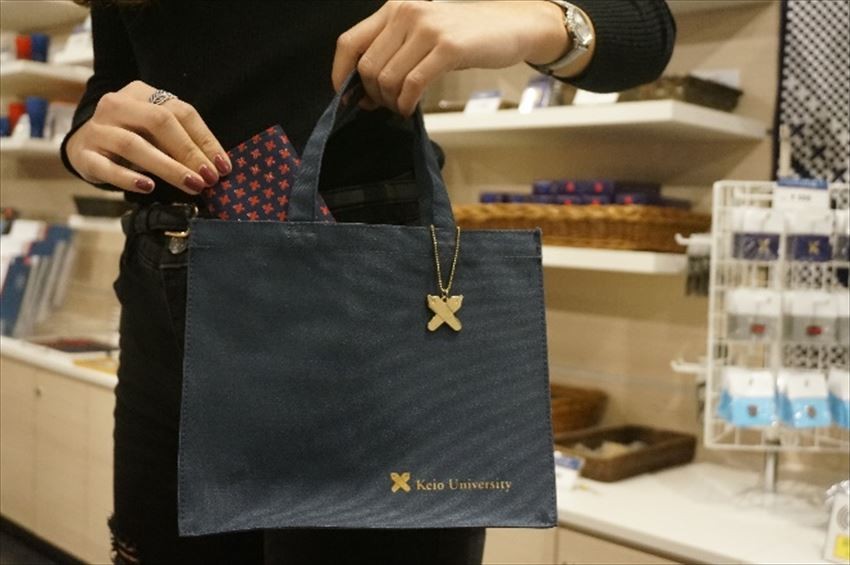 EDWARD:Erm..
BARBARA:What?
EDWARD:Let's choose the souvenirs for our family and friends first.
BARBARA:Oh, I've almost forgotten.。
After five minutes

EDWARD:Okay! I've decided. I like this note book the most, especially the cover design. I also like this fan; I think my mum will like it since it is covered with Japanese designs. The stainless steel bottle is also good as for me it is very practical and useful.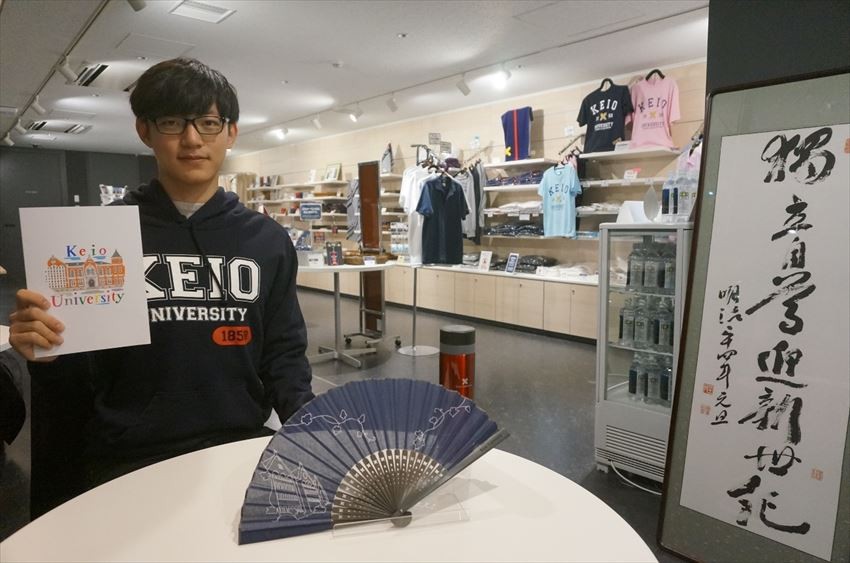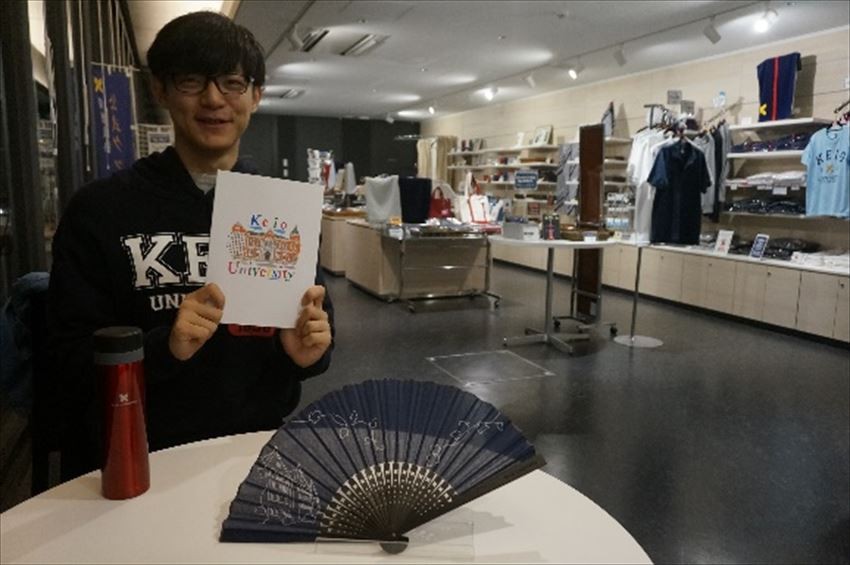 After another 15 minutes
FJ&EDWARD:Have you decided yet?

BARBARA:Still wondering which one I should choose
After 30 minutes
FJ&EDWARD:Have you still not decided?

BARBARA:Okay, okay, I've decided. I will choose this "Yamasyoku Curry" which is delicious and yet still affordable. Since I ate mine about once a week in the school canteen, I have been thinking to bring back and letting my family try it.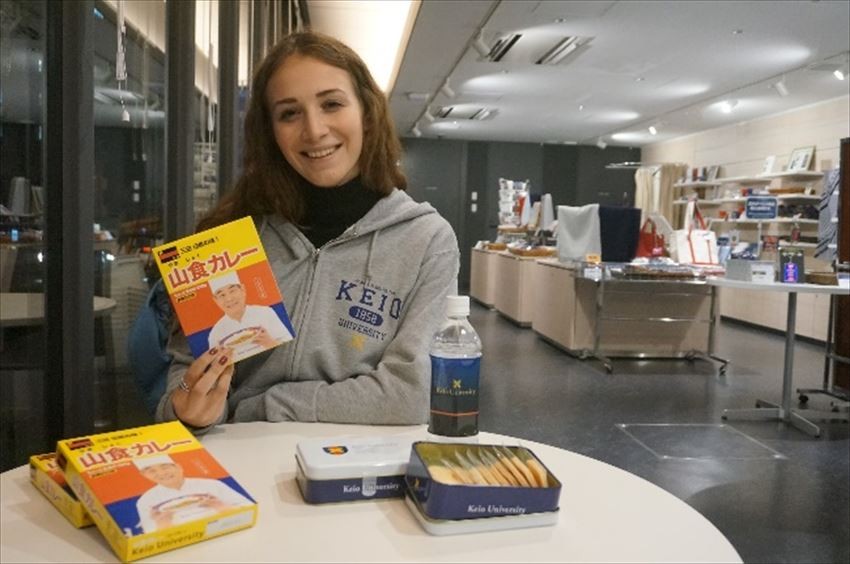 BARBARA:After eating the curry they can also try this "Keio water"! And also these cookies!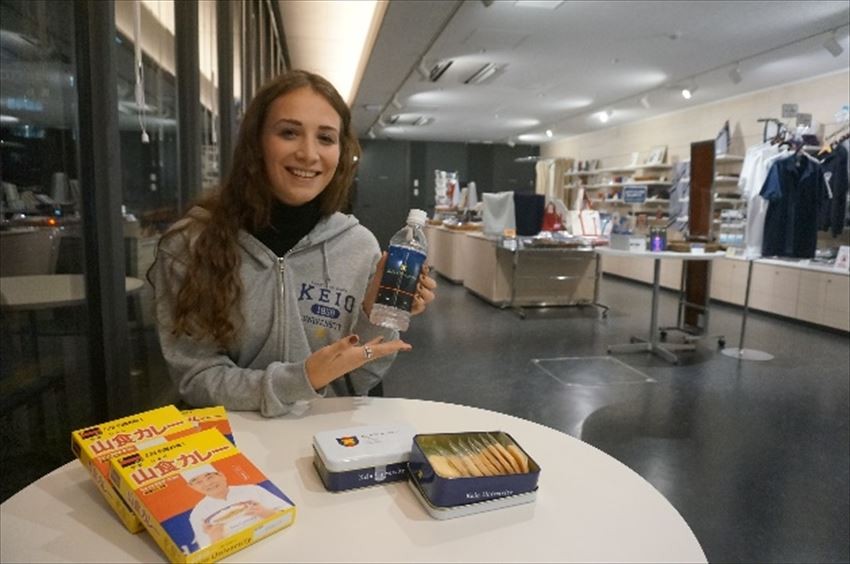 *You can purchase the products that are listed above from Japan via this link:
https://keiogoods.jp/
Institute Introduction:
Keio University opened in 1858 and was first started by Fukuzawa Yukichi as Rangakujyuku (Education Center). It has over 150 years since it was founded with the longest history in Japan, which has a number of talented graduated students. Currently, it owns a primary school, university and graduate school. Having inherited Fujisawa's vision and philosophy, which is emphasize on "practical", the institute is aiming for further contribution to society through education, research and medicine.

Currently, there are 10 faculties and 14 graduate schools including literature department, economics department, medicine department, science and engineering department as well as several other departments that give students the choice to study the things they wish.
A total of more than 1,900 international students are enrolled by May 2017 and is an international university which including the international characteristic of East Asia, Southeast Asia, North America, Europe and Oceania.
Even if you do not have any basic Japanese language knowledge, the institute offers programs that allow you to enroll, take classes and graduate in English and double degree programs with partner universities. Especially in undergraduate schools, the institute offers programs that correspond to economics and interdisciplinary fields such as PEARL and GIGA as well.
https://www.keio.ac.jp/en/admissions/
Basic Information:
Establishment: year 1858

Student number: more than 33,000 students

Number of campuses: 6
Keio by the Numbers

(https://www.keio.ac.jp/en/about/by-the-numbers/)
Remarks:
Company listed with first section of the Tokyo Stock Exchange are groups of approximately 2,000 companies that are listed on Tokyo Stock Exchange, and it is said that influencing the economy of Japan.

[Survey] Traveling to Japan