【Guide to Convenience Stores in Japan & Products】Introducing the charm of 7-ELEVEn - A wide selection of souvenirs and daily necessities that can be used during your trip!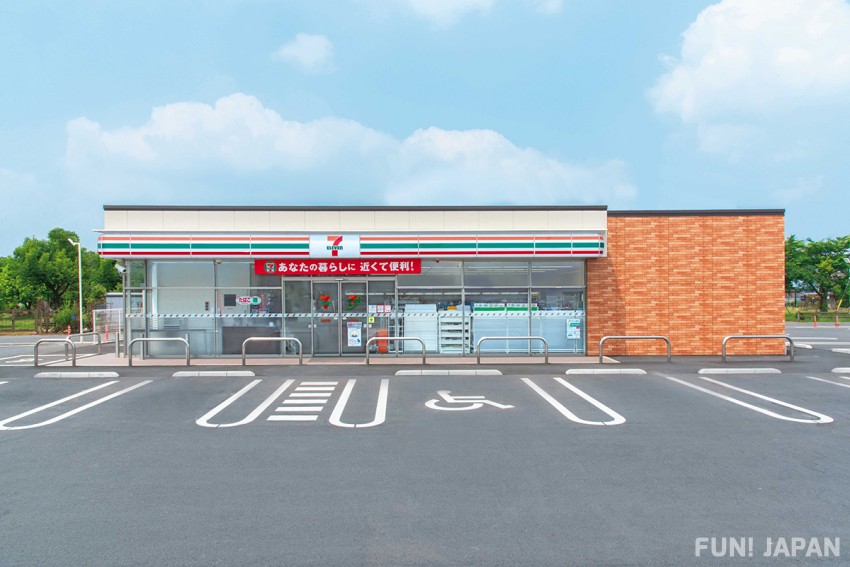 Convenience stores offer a variety of opportunities to use during your trip to Japan. Among them, 7-ELEVEn, which is the largest franchise, has many stores and offers a wide selection of items such as bento boxes, rice balls, sweets that are perfect as souvenirs, and daily necessities that can be used while traveling. In addition to that, the service is also plenty. This time, we will introduce the charm of such a 7-ELEVEn. Be sure to read until the end!

* The information posted is the information as of the time of the on-site coverage (June 2023).

Overview of Japan's largest convenience store franchise, 7-ELEVEn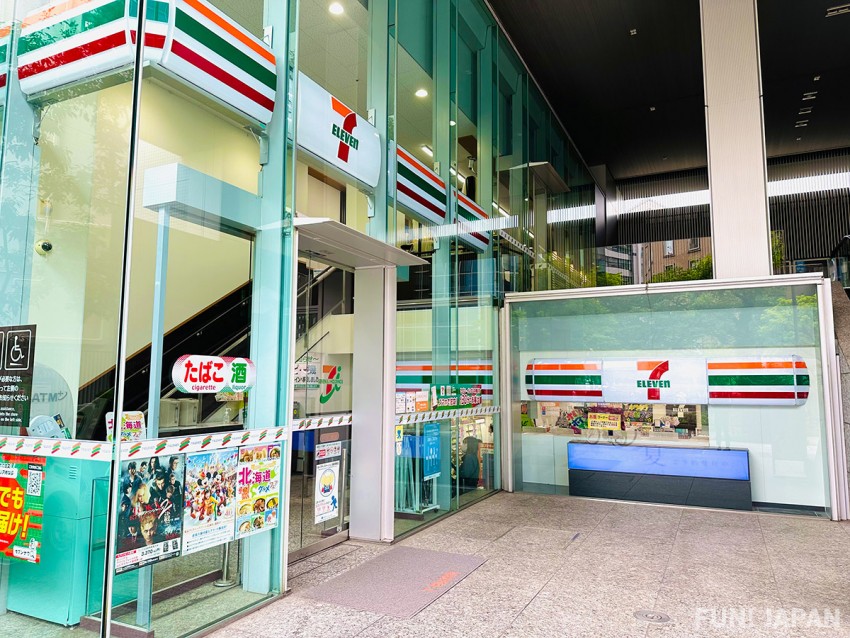 "7-ELEVEn" (commonly called Seven or セブン / Sebun in Japan) is Japan's largest convenience store franchise, boasting the largest number of stores in Japan. There are 21,402 stores in Japan (as of the end of February 2023), and 83,579 stores worldwide in 18 countries and regions including Japan (as of the end of December 2022).
Each of the three corporate colors used in the logo has its own meaning, with orange representing "sunrise", red representing "sunset", and green representing "oasis". The store wants to be your oasis from morning till night.
7-ELEVEn started in 1927. A small ice retail store in the United States started to sell daily foods such as eggs and milk at the request of customers, and thus the "convenience store" was born. In 1946, the store name was changed to "7-ELEVEn" as a franchise that operates from 7:00 am to 11:00 pm every day. In 1974, the first store in Japan opened in Toyosu, Koto-ku, Tokyo. Since then, it has expanded nationwide and continue to provide attractive products and convenient services.
A must-buy when you stop by 7-ELEVEn in Japan! Seven's popular products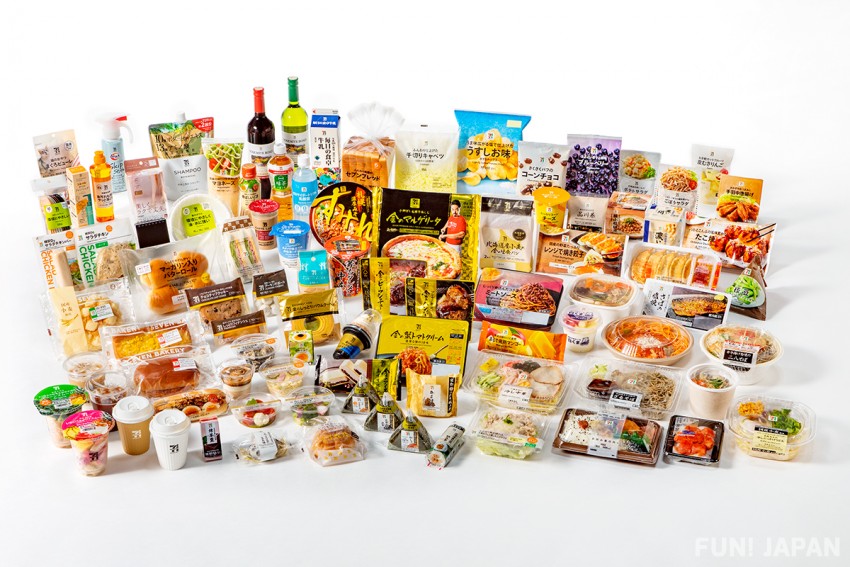 Convenience stores are always available when you're feeling a little hungry, such as when you're sightseeing or relaxing at an inn. What's more, 7-ELEVEn releases new products in various genres every week, so you can enjoy the fun of treasure hunting. Here, we will introduce popular genres of products at 7-ELEVEn. Please try them on your next trip!

Popular 7-ELEVEn products: bento and rice balls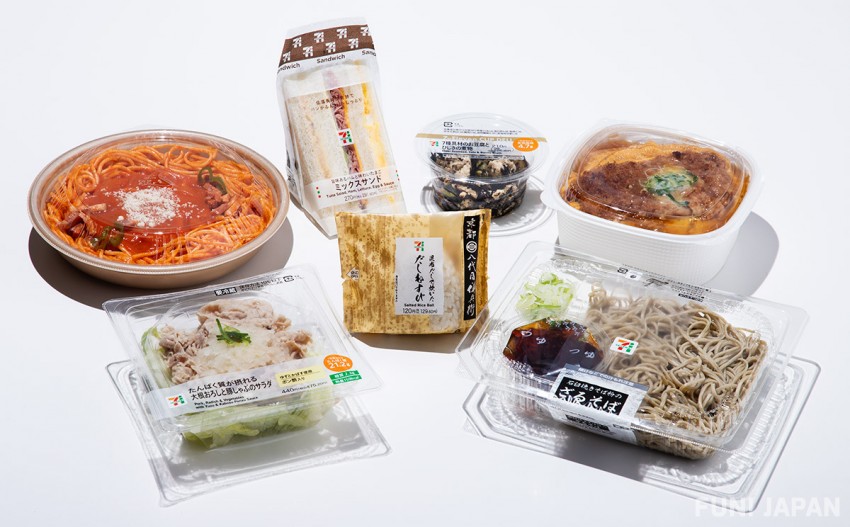 7-ELEVEn seems to release new products every week! Products that are carefully selected for their deliciousness are lined up in the store, so there is something new to discover every time you visit.

For example, in the case of refrigerated products, the quality is maintained by managing them at a constant temperature (low temperature) from the time they are transported until they are displayed in stores. It retains its flavor when cooked, so it tastes just like it was freshly made.
In addition, hand-rolled rice balls are carefully selected with rice varieties and production areas that are suitable for rice balls. 7-ELEVEn uses rice that has been polished at a controlled temperature so that the flavor does not deteriorate during polishing.
For bento boxes and rice balls that are particular about deliciousness, there are also local menus that are limited to certain areas, so if you are sightseeing in multiple prefectures, be sure to check out the local 7-Eleven products as well!
Popular 7-ELEVEn products: sandwiches and sweets
The refrigerated case is lined with sandwiches made with various ingredients such as eggs, ham, chicken, seafood, and fresh vegetables. The bread used for such sandwiches is made with a special bread, and the most delicious bread is used as a sandwich.

The secret to the deliciousness, of course, lies in the ingredients. For example, in order to maintain the crunchy texture of lettuce, temperature and hygiene are thoroughly controlled at each stage, from transportation to washing and manufacturing. It is because each ingredient and process is carefully controlled that the franchise can provide safe and delicious sandwiches.
On the other hand, sweets also have a wide variety of lineups, from those using seasonal fruits to long-selling standard sweets. The appeal of these long-selling sweets is that they are constantly being improved and updated to make them even more delicious. The quality of the Japanese sweets is also unique to 7-ELEVEn.
There are lots of things you can use while traveling or as souvenirs! Seven Premium Foods and Miscellaneous Goods
Japanese convenience stores are fully stocked with private brand (PB) products. In particular, Seven Premium has a wide variety of items, including foods by brand, as well as reasonably priced and easy-to-use daily necessities! Here, we will introduce the appeal of each brand.
Seven Premium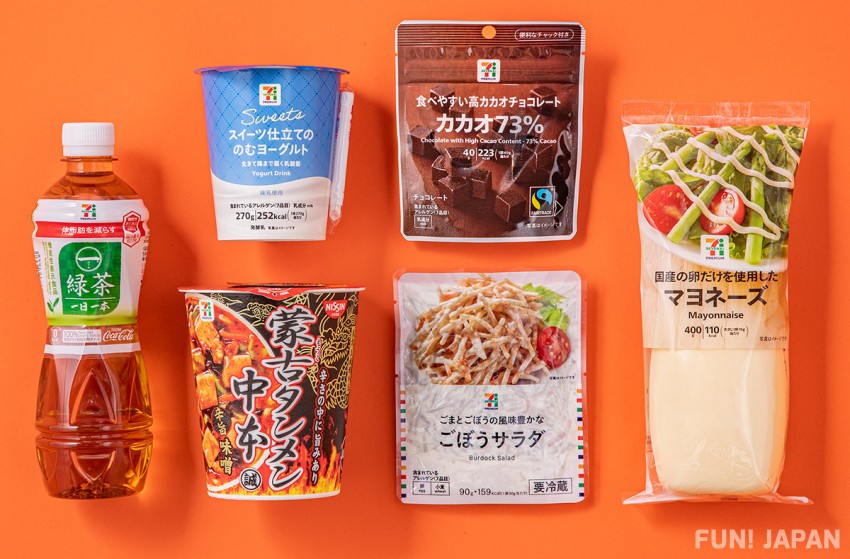 Seven Premium where you can find what you "want to eat every day". In addition to that, Seven Premium is taking on the challenge of creating products that are kind to both the earth and your health. The products handled include daily foods such as ramen, curry, sweets, seasonings, and other items that are indispensable for your daily dining table. The brand delivers deliciousness to the dining table that satisfies people who want to eat it every day.

Seven Premium Gold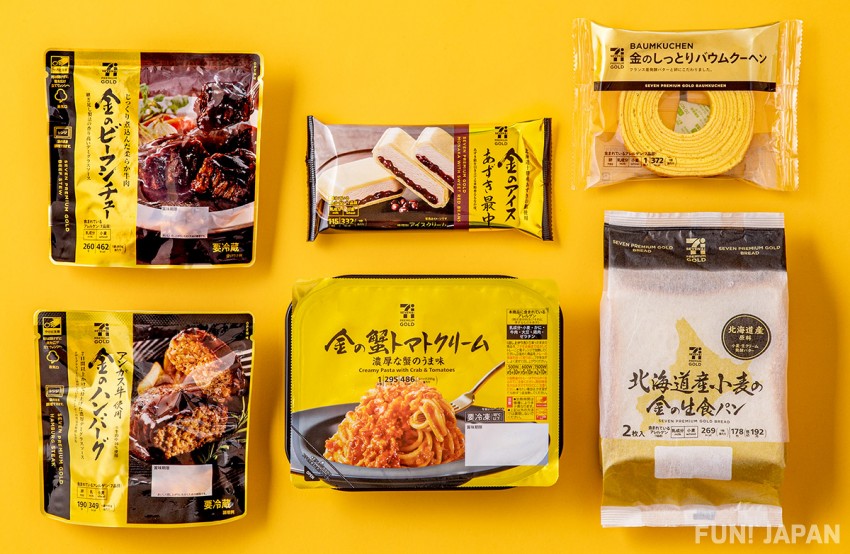 Seven Premium Gold is a higher-grade brand than Seven Premium, which is even more particular about high quality. Developed together with top chefs and experts, the brand brings to your table "special flavors" that you'll want to share with everyone. It offers a variety of menus including hamburgers, sausages, ramen, sweets, ice cream, and wine. Room-temperature products are perfect as souvenirs.

Seven Premium Lifestyle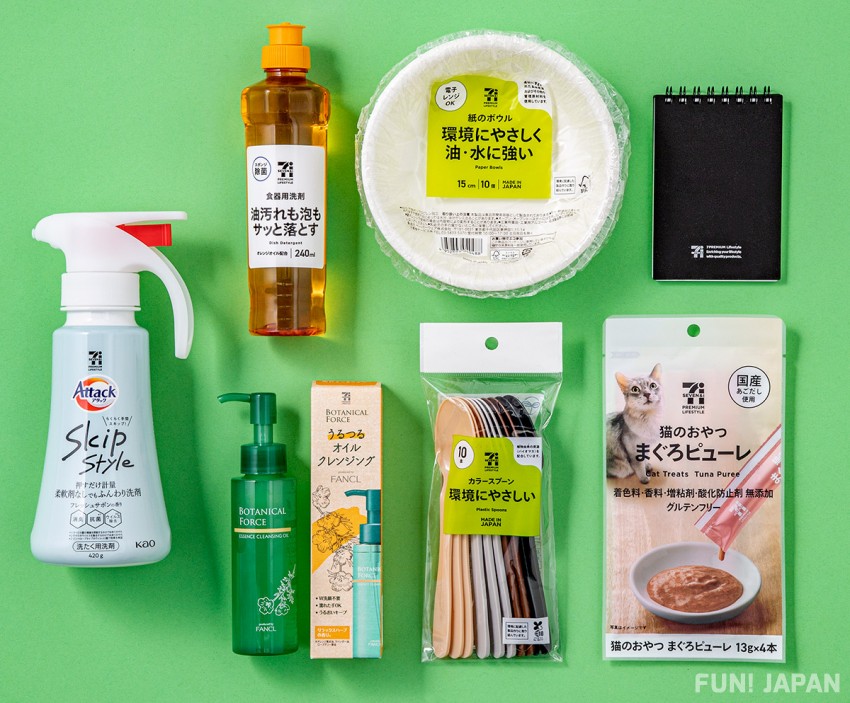 Seven Premium Lifestyle is a brand of daily necessities such as skin care products, shampoo, body soap, towels, bath towels, detergent, razors, and nail clippers. High-quality daily necessities are also recommended as souvenirs.
Seven Cafe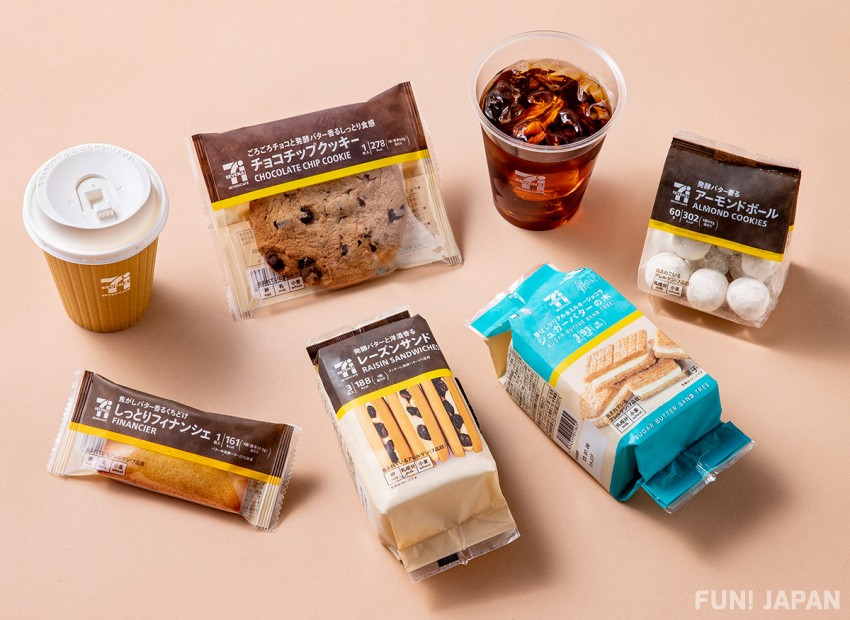 At Seven Cafe, you can buy freshly brewed authentic coffee at the store. It is particular about the coffee beans, and offer different roasting methods, hot water pouring methods, and extraction times for each flavor. We recommend pairing it with Seven Cafe brand sweets.

Japan's 7-ELEVEn stores are full of convenient services that you can use while traveling in Japan!
Seven-Eleven stores offer a wide range of services, and there are many that are convenient for tourists visiting Japan. Here are some of the services we highly recommend.
Tax free
You can shop tax-free at TAX-FREE compliant 7-ELEVEn stores, which are located throughout the country, mainly in tourist areas. Look for the "TAX-FREE" banner or sticker near the entrance. *Available at some stores

Click here for store search
https://ml.its-mo.com/p/en/711map/nmap.htm?lat=35.6781444&lon=139.7693167
ATM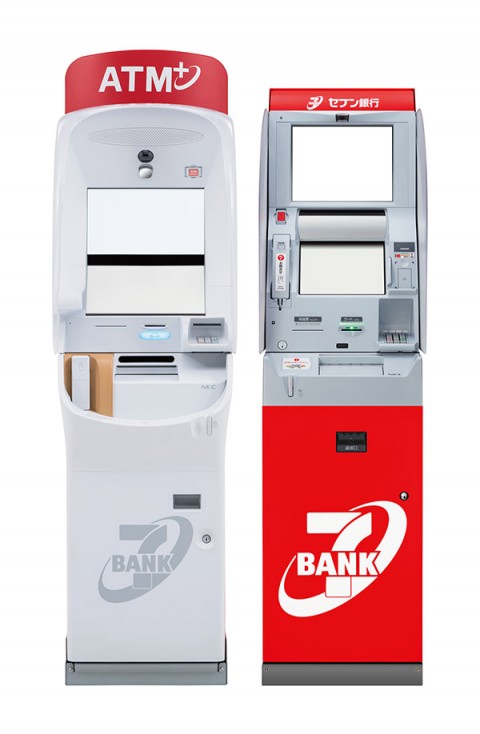 You can withdraw Japanese yen with your credit card at the Seven Bank ATM installed in the store. Supported languages include English, Chinese (simplified), Chinese (traditional), Korean, Thai, Malaysian, Indonesian, and Vietnamese. Like the store, it is available 24 hours a day.

Click here for store search
https://ml.its-mo.com/p/en/711map/nmap.htm?lat=35.6781444&lon=139.7693167
Currency Exchange Machine
Some stores in Akihabara, Shinjuku, Ueno, Asakusa, and Kyoto have foreign currency exchange machines that can exchange foreign currency notes into Japanese yen. There are 12 currencies that can be exchanged, including the US dollar, euro, British pound, Australian dollar, Chinese yuan, Hong Kong dollar, Taiwanese dollar, and Korean won. Like ATMs, they are available 24 hours a day.
Stores with foreign currency exchange machines
https://www.sej.co.jp/in/exchangelist_en.html
In addition, there are many other services such as bicycle sharing service and smartphone charging rental service. 7-ELEVEn makes traveling to Japan fun and convenient. *Available at some stores
Click here for information on how to use 7-ELEVEn, store search, etc.
https://www.sej.co.jp/in/en.html
*Products and services may not be available at some stores.
[Survey] Traveling to Japan
Recommend