Hilton Tokyo Bay is offering a "Twinkle Milky Way" Dessert Buffet for a limited time!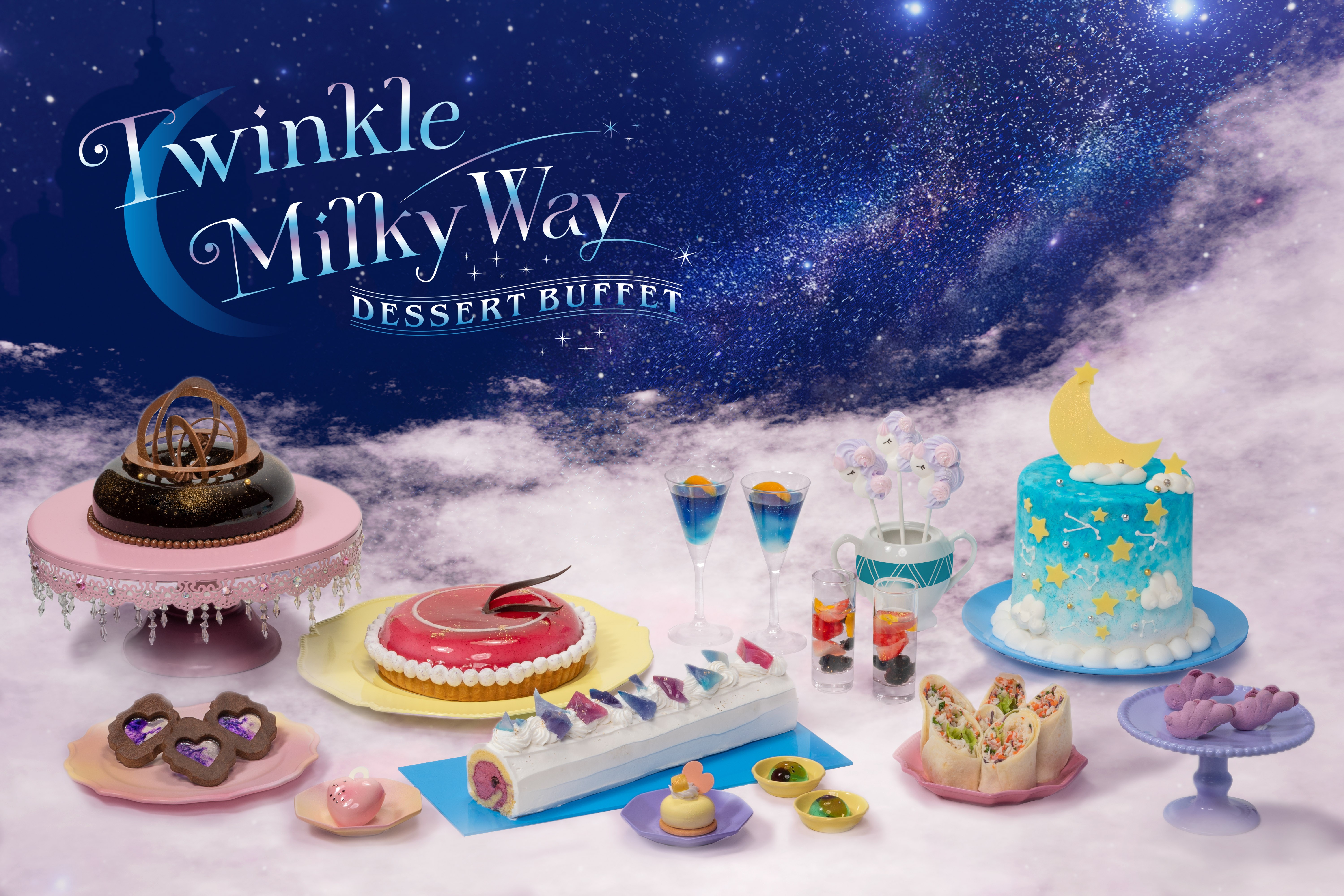 Hilton Tokyo Bay in Maihama, Urayasu City, Chiba Prefecture is to offer a dessert buffet "Twinkle Milky Way" only on weekends and holidays at the lobby lounge "lounge O" in summer 2023.

This dessert buffet is characterized by its gorgeousness through the concept of stars, constellations, and astronomy shining in the night sky. There are original menu items such as natsumikan (summer mandarin orange) shortcake inspired by the starry sky and chocolate mousse with a celestial globe motif.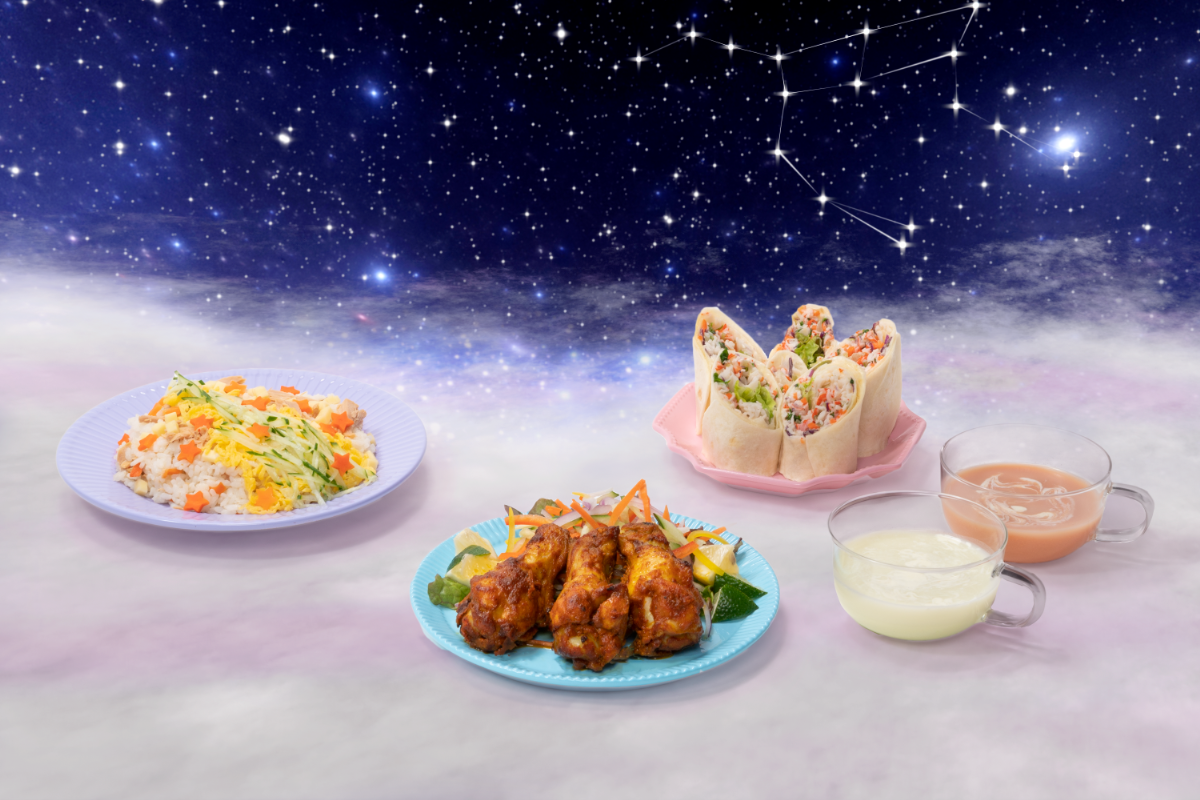 In addition to about 20 kinds of desserts, there are about 15 kinds of savory (light meals) and a drink bar, including chirashizushi inspired by the Amanogawa (Milky Way) that appears in the Japanese legend of Tanabata, two types of cold soup, and spicy tandoori chicken. How about treat yourself to this buffet as a special lunch buffet?

Dessert buffet "Twinkle Milky Way" menu (partial)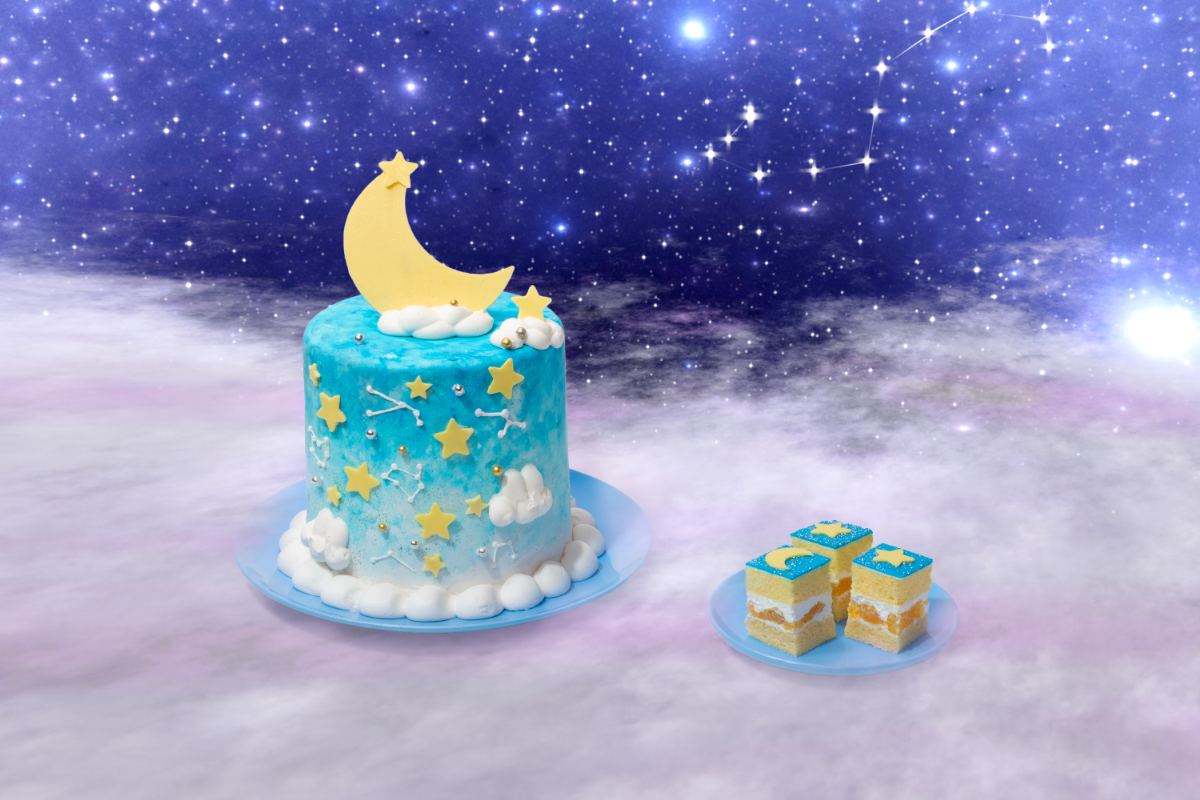 Moon and starry sky natsumikan shortcake (月と星空の夏みかんショートケーキ)
A refreshing shortcake sandwiched between Greek yogurt cream and natsumikan. The top is covered with blue glaçage and decorated with star and moon chocolates, resembling the summer night sky.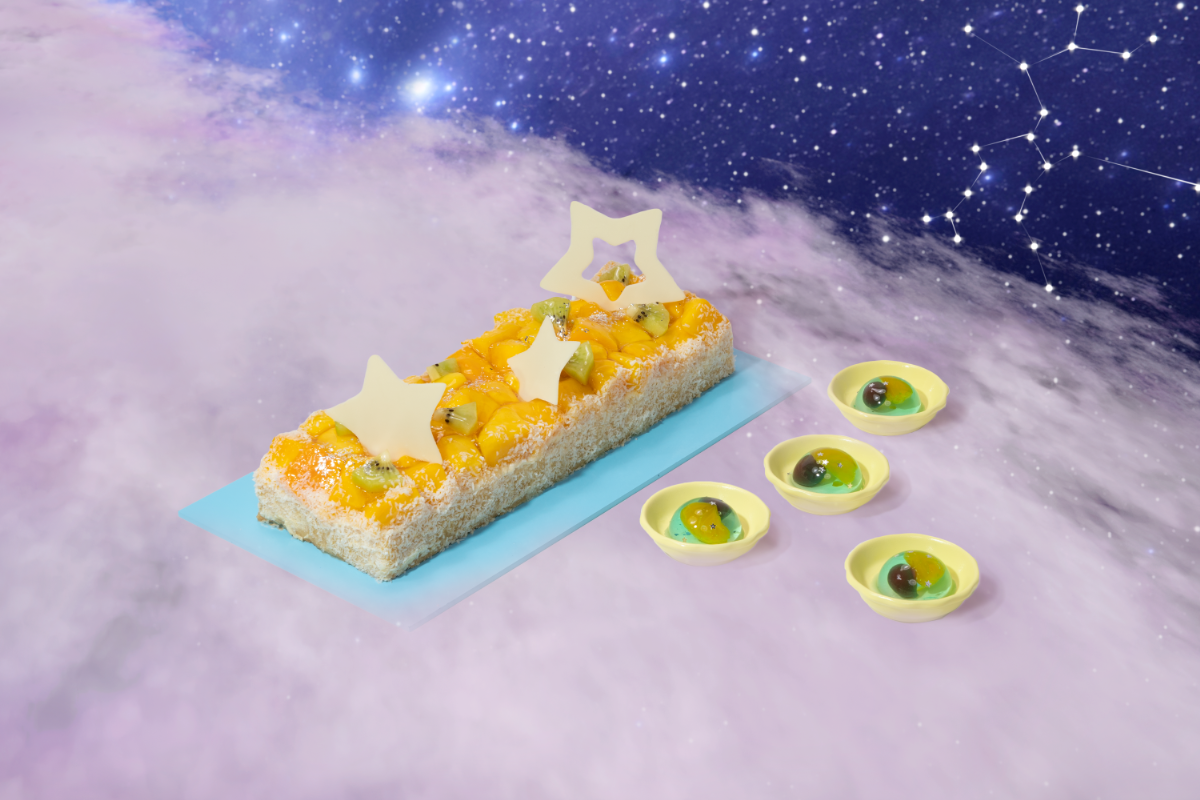 Amanogawa mango tart (天の川のマンゴータルト - left)
Squeeze whipped custard over almond tart and topped with juicy mango and kiwi. It is inspired by the image of the Amanogawa (Milky Way) using silver foil and star-shaped white chocolate.
Houkiboshi no Mizumanju (ほうき星の水まんじゅう - right)
A cold mizumanju that is typical of summer in Japan made by wrapping anko (red bean paste) and mandarin orange in a transparent agar-made dough - it's the definition of smooth.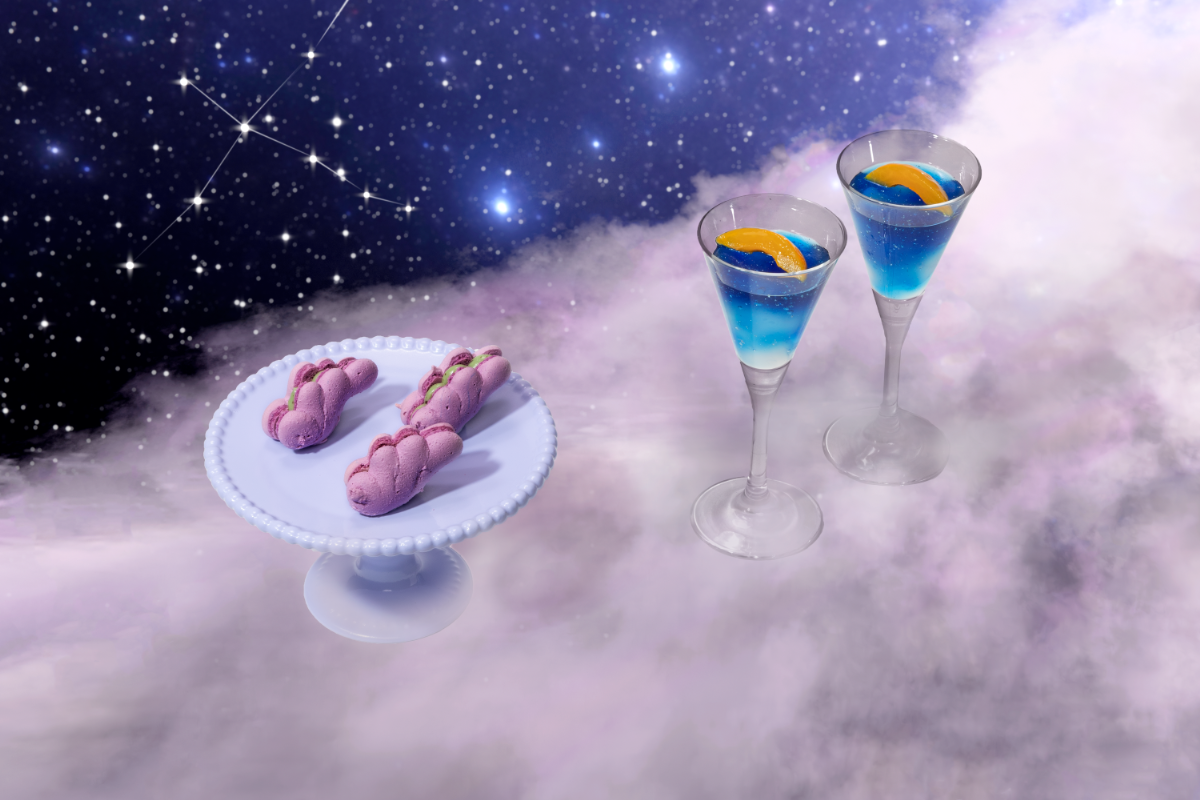 Pegasus chocolate mint macaron (ペガサスのチョコミントマカロン - left)
A macaron with a motif of the wings of Pegasus flying through the night sky. The butter cream inside is combined with a chocolate mint that gives you a refreshing feeling.

Loquat crescent moon and the night sky jelly (枇杷の三日月と夜空のゼリー - right)
Lemon jelly with nata de coco (coconut gel) and strawberry and blue syrup jelly are layered to create an image of the night sky with beautiful stars. Enjoy together with biwa fruit (loquat), which is made in the image of the moon.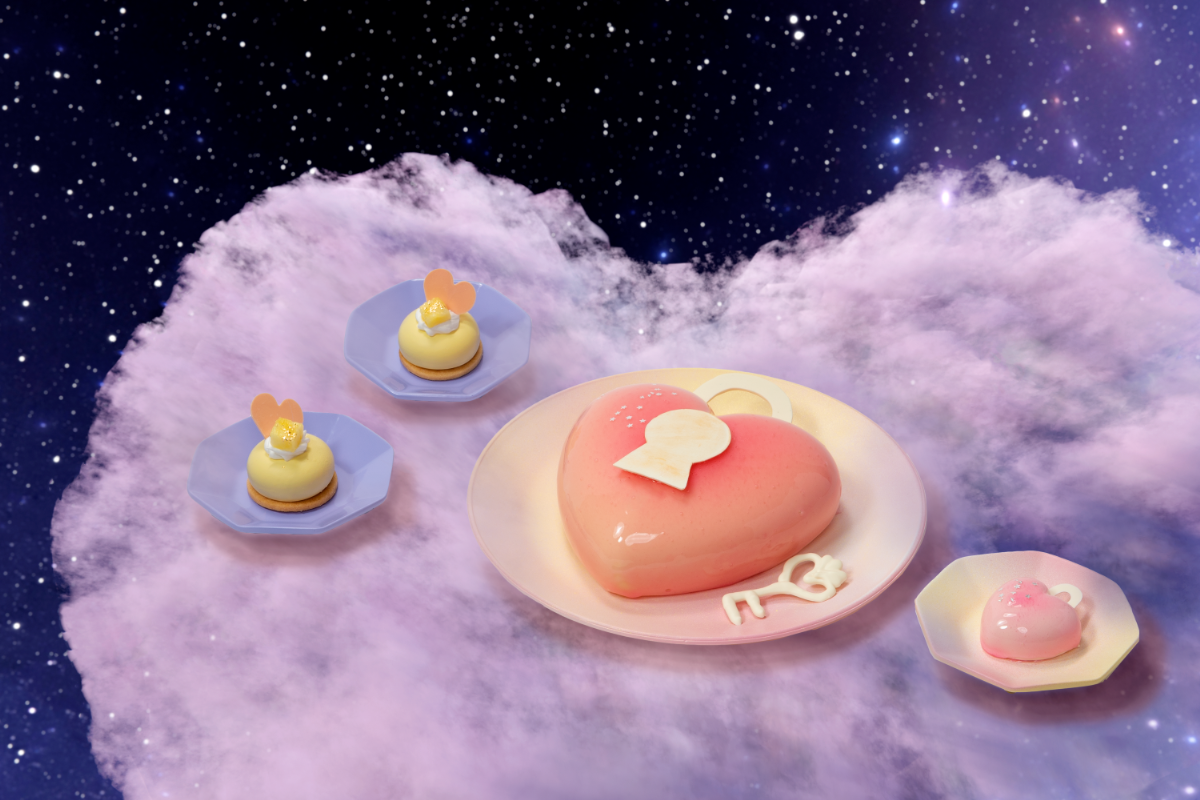 Pineapple & white rum mousse cake ~Anata ni Muchu~ (パイン&ホワイトラムのムースケーキ~あなたに夢中~ - left)
Pineapple mousse with white alcohol-free rum jelly. It is a cake that links your sincere feelings to your loved one, like the word "夢中" (muchu - absorbed, in to, crazy for) in the cocktail words for  "Havana Beach" that features pineapple and white rum.

Open the Heart Pear Mousse (オープン・ザ・ハート 洋ナシのムース - right)
A heart-shaped mousse topped with pear pulp, covered in pink glaçage and served up with a hook-lock-shaped small white chocolate.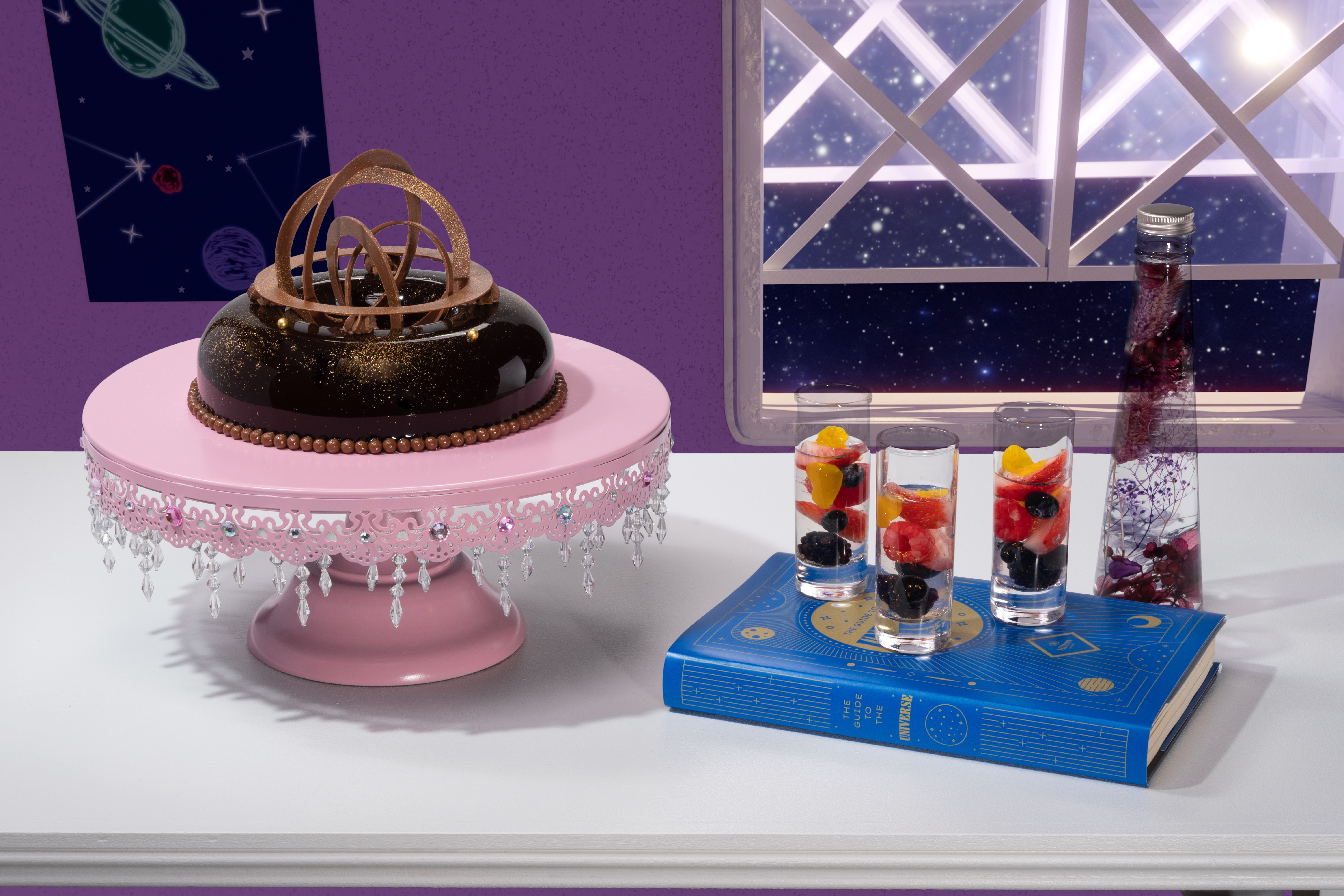 Celestial globe praline chocolate mousse (天球儀のプラリネチョコレートムース - left)
A chocolate mousse that is inspired by the celestial globe in the room of a girl who dreams of becoming an astronomer. Two layers of chocolate mousse with dark chocolate mousse and hazelnut praline mousse on top of hazelnut dacquoise.
Mixed berry herbarium jelly (ミックスベリーのハーバリウムゼリー - right)
Four types of berries - strawberries, blueberries, raspberries, and blackberries are sprinkled on clear jelly, and edible petals are placed on top to create a vivid herbarium. The sourness of the mixed berries and the orange-flavored jelly that stays refreshing until the end are a perfect match.

"Twinkle Milky Way" Dessert Buffet
Venue: Hilton Tokyo Bay lobby floor "lounge O"
Period: Saturday, June 24th, 2023 to Sunday, August 27th, 2023 *Available only on weekends and holidays
Time: 12:00-/12:30-/14:30-/15:00- (4 time slots, 2-hour system)
Price: 4,700 yen for adults, 1,800 yen for children between 4 to 8 years old, 2,600 yen for children between 9 to 12 years old
*Includes drink bars with 20 kinds of drinks
*Price includes tax and service charge
Event homepage (Japanese): https://tokyobay.hiltonjapan.co.jp/plans/restaurants/sweetsbuffet/lounge-summer
*Please note that the contents may subject to change.
*The menu may change depending on the stock status.
*The photographs are for illustration purposes only. Actual product may vary.
[Survey] Traveling to Japan