Nagoya is not just about Nagoya Meshi! Why don't you try Nagoya's unique "Deep" gourmet?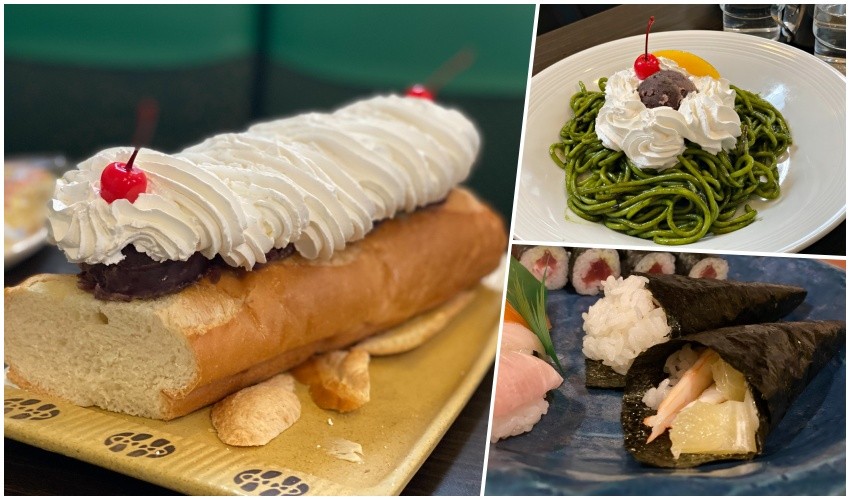 Aichi's food culture is said to be unique even in Japan. In Nagoya, which is known for its "Nagoya Meshi", simmered dishes using the soybean miso, such as simmered miso udon noodles, miso oden, and miso katsu, are famous. Ogura toast, which symbolizes the unique coffee shop  and breakfast cultures, is also a must-try gourmet dish when you visit Aichi. 
This time, the FUN! JAPAN editorial department has pulled together a list of our favourite Nagoya gourmet. What's more, we won't introduce the already famous "Nagoya Meshi", yet more unique and "deep" gourmet foods are featured. Read the rest of the article to find out what kind of gourmet they are!
Cafe "Mountain" that offers surprising dishes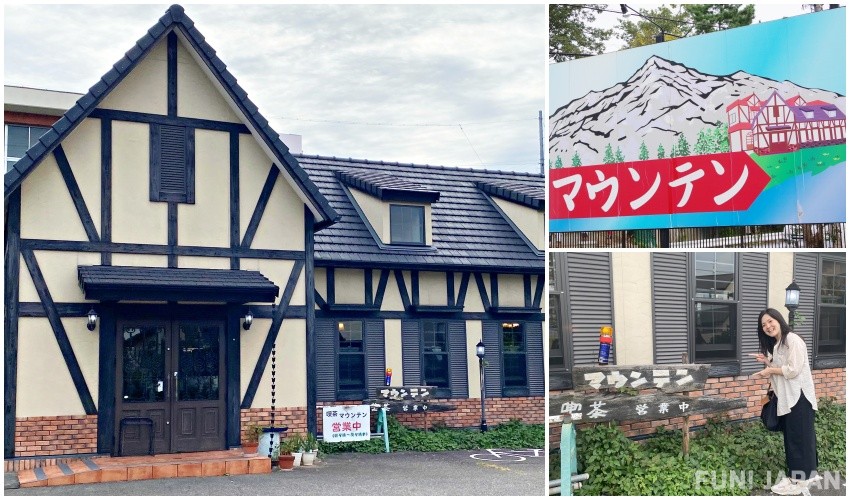 The coffee shop "Mountain" (マウンテン) is an 8-minute walk from Nagoya Subway Meijo Line Yagoto Nisseki Station. It is no oridinary coffee shop - the unique dishes that have quirks and quirks are enjoying attention mainly on social media and attracting many tourists to try them. If you finish eating the dish here, you will be honored the title "tocho" (登頂 - climb to the summit), whereas if you can't and have some leftover, you will be titled "sonan" (遭難 - go missing while climbing/trekking). 
This time, our FUN! JAPAN editorial department has taken on the challenge of these dishes at Cafe Mountain! Did we get a "tocho"? Or a "sonan"? And what kind of menus do the cafe atucally offer? Read on till the end to find out!

Even those who are matcha fans may not be able to eat it all! Amaguchi Matcha Ogura Spa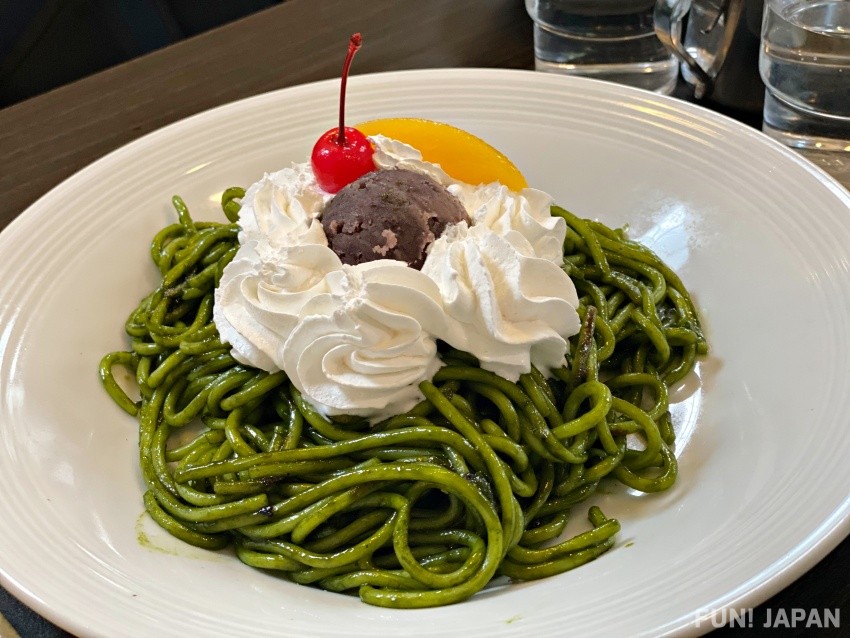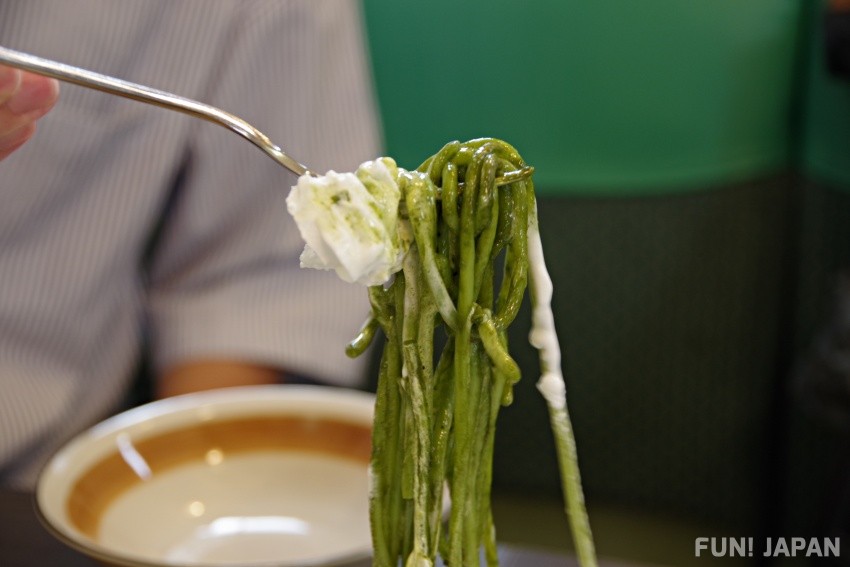 "Amaguchi Matcha Ogura Spa" (甘口抹茶小倉スパ - sweet matcha ogura spaghetti) is a dish synonymous with Mountain, featuring special pasta made with matcha, topped with whipped cream and red bean paste (known as Ogura)! It has been popular since its inception, and it is said that it boasts a strong popularity among the sweet spaghetti series. 
The aroma of matcha wafts from the moment it was brought to the table. The pasta noodles are quite thick, and it is recommended to eat it with whipped cream and Ogura read bean paste. As the whipped cream gets warmer as time goes by, the key to "tocho" is a game of speed. When you take a bite, the only word you could think of is "sweet". But as you continue to eat it, you can also feel the unique astringency of matcha!

Isn't this a wrong size? The masterpiece level of volume looks like 'heavy makeup'!?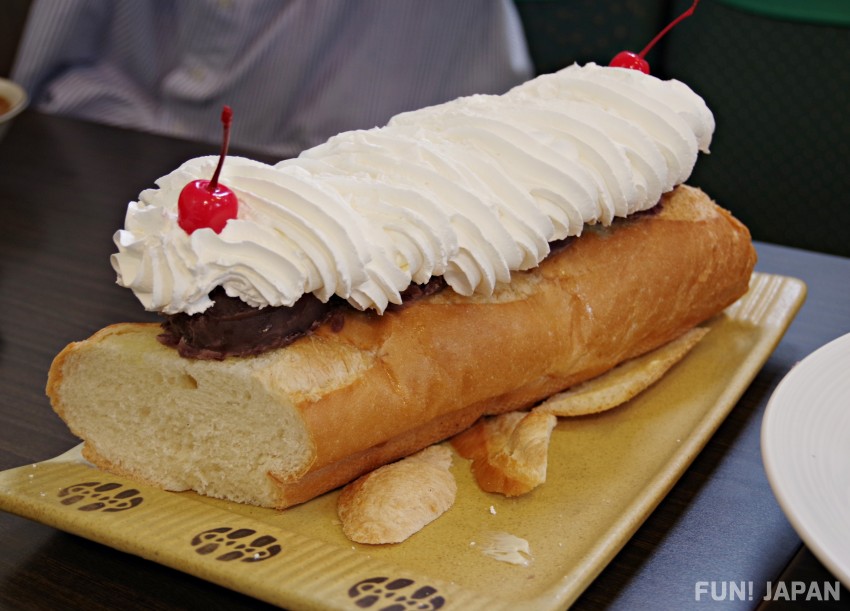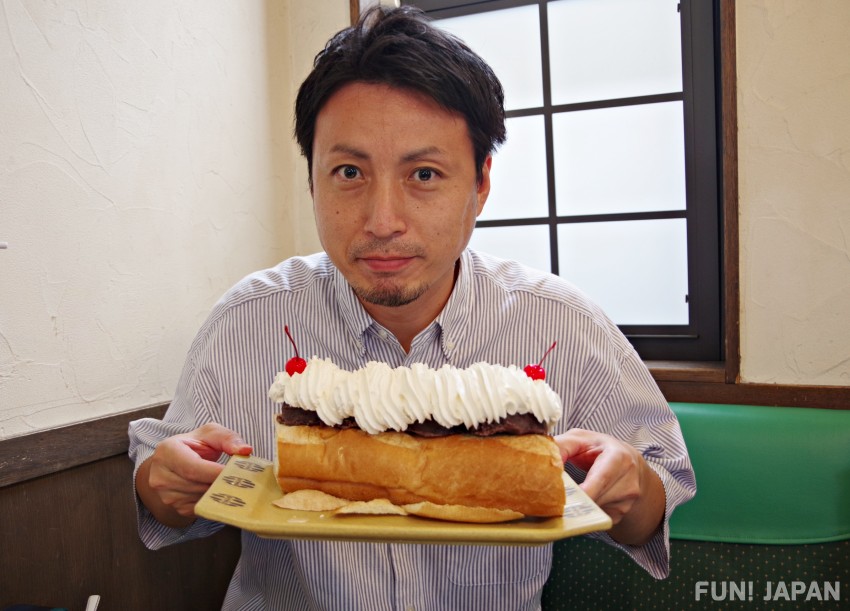 As the name suggests, "Atsugesho" (厚化粧 - heavy makeup) is a French bread coated with margarine, topped with hard Ogura red bean paste and further topped with heavy cream. The bean paste and whipped cream on top of the French bread surely make a big impact! They come in medium and large sizes, but even medium size at ¥1,350 (tax included) is still quite large yet reasonably priced on their size. Indeed, the bread was fluffy and the Ogura red bean paste was very delicious. Share it with multiple people to score a "tocho"!
So did we get "tocho" or "sonan"? Time for result!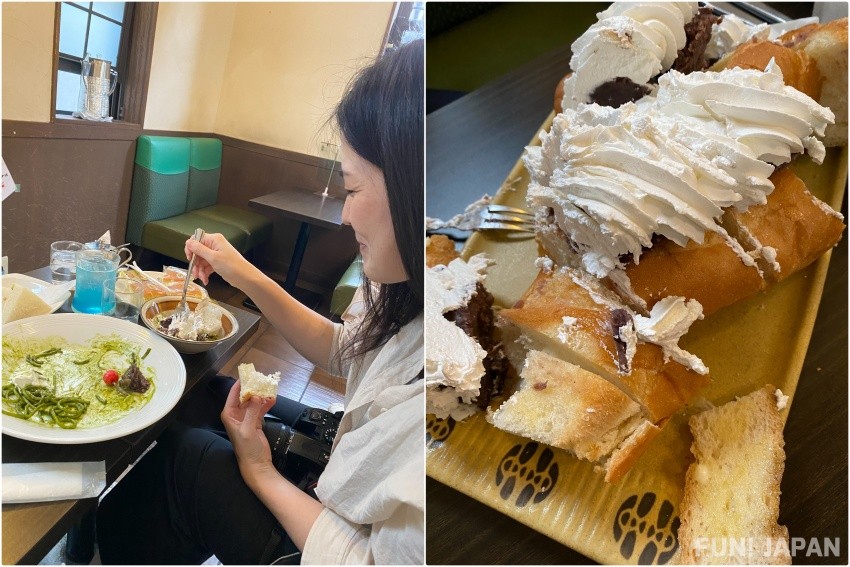 Unfortunately, even there were three of us, we could not finish all the dishes - we got "sonan". Editor M, who had a sweet tooth and was full of self-confidence, said "I was eating leisurely, then I was full before I know it'' in self-refelction. If you are confident that you can score a "tocho", please try this challenge at "Mountain" when you come to Nagoya!

Store Information
Store name: Mountain
Address: 47-86 Takikawacho, Showa Ward, Nagoya City, Aichi Prefecture
Business hours: 09:00-21:30
Closed: Mondays (opens if Monday is a national holiday and closes on the following Tuesday), year-end and New Year holidays
Payment: Cash only
Access:

8 minute walk from "Yagoto Nisseki" Station on the Meijo Subway Line
10-minute walk from "Irinaka" Station on the Tsurumai Line
"Sushi Maruhachi", a sushi restaurant with a unique naming and unimaginable toppings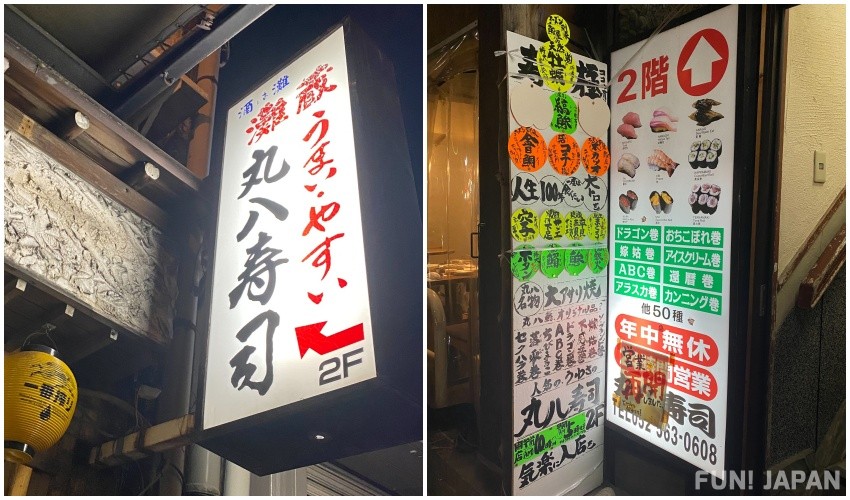 "Sushi Maruhachi" (丸八寿司) is located in a corner of Yanagibashi Central Market (柳橋中央市場), which is close to JR Nagoya Station. It looks like an ordinary sushi restaurant, but if you look closely at the sign at the entrance, you will notice that there are many unusual sushi rolls such as ABC roll, ice cream roll, and dragon roll.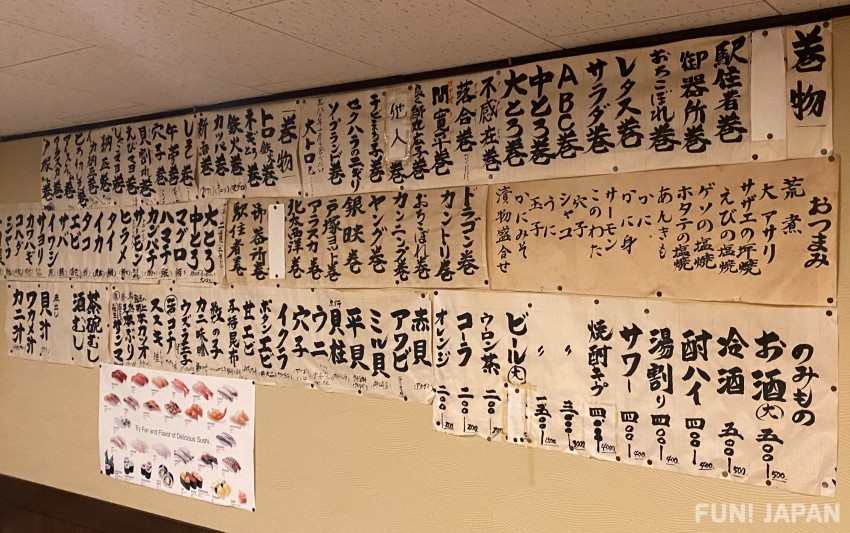 Looking at the menu on the wall! There were only sushi rolls that we don't have any idea what are the toppings at all, such as Hazama Kanpei roll (a famous comedian), Chibi Maruko roll (from the famous anime), and Tanin roll (他人 - stranger). Meanwhile, many rolls, such as Sekuhara roll (セクハラ - Japanese abbreviation of sexual harassment), clearly use words prohibited for those below 18 years old. FUN! JAPAN is a family-friendly site, so we won't be introducing any more of sushi rolls that use even stronger forbidden words (laughs).

How did the extraordinary sushi rolls at "Sushi Maruhachi" taste like?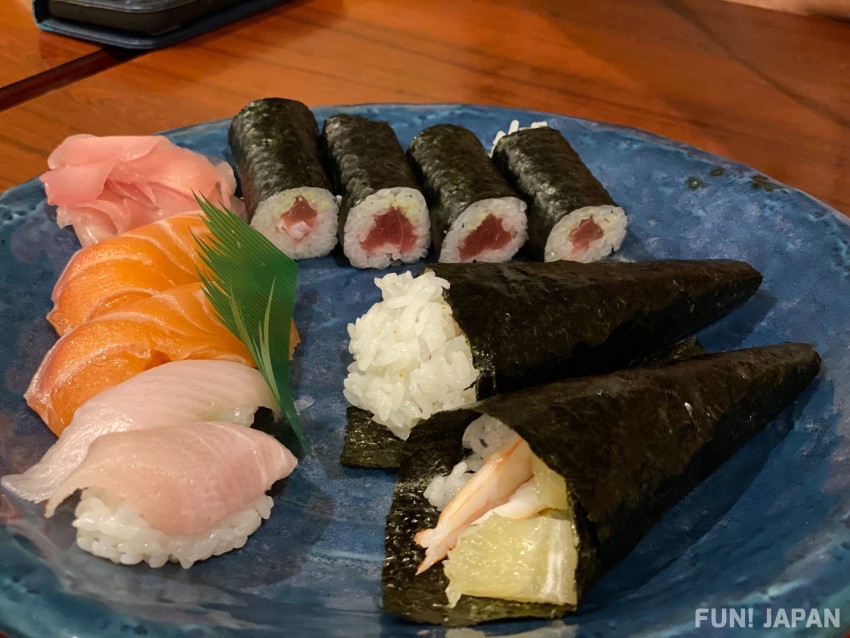 First, we decided to find out what do the general sushi tatse like. We ordered normal sushi toppings such as tekkamaki (tuna sushi rolls) and salmon. As the restaurant sits in a corner of the market that handles a variety of fresh fish, all the toppings were of good quality and highly satisfying.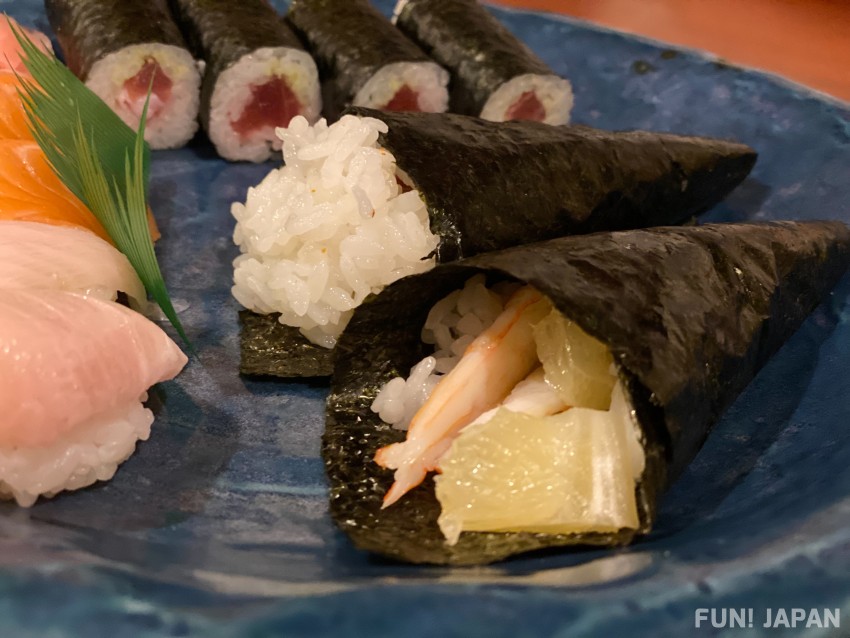 Now let's challenge some of the weirdly named rolls! "ABC roll" (front in the photo) and "Totsuka Yacht roll" looked normal, but what ingredients are actually in "ABC roll"? Surprisingly, they were "shrimp" and "vitamin C (lemon)"! As 'ebi' (Japanese for shrimp/prawn/lobster) has similar pronunciation with 'AB', after taking 'C' from vitamin C, it then becomes ABC roll. 
On the other hand, "Totsuka Yacht Maki" is a super spicy sushi made with pounded young yellowtail (hamachi). In Japan, there is a cram school called Totsuka Yacht School, and in the past there was an incident where a child was beaten (abused), so it is a dish that uses a lot of chili peppers and a snarky name relating to the beating of young...fish!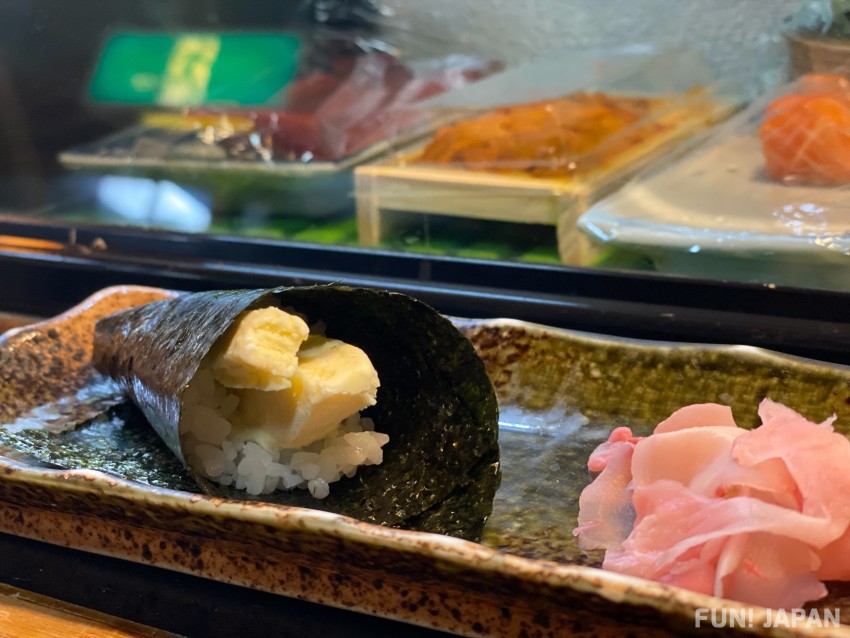 Next is "Ice Cream roll". You can imagine from its name - ice cream is inside the sushi roll. It might seem to be an impossible combination, but it was quite delicious.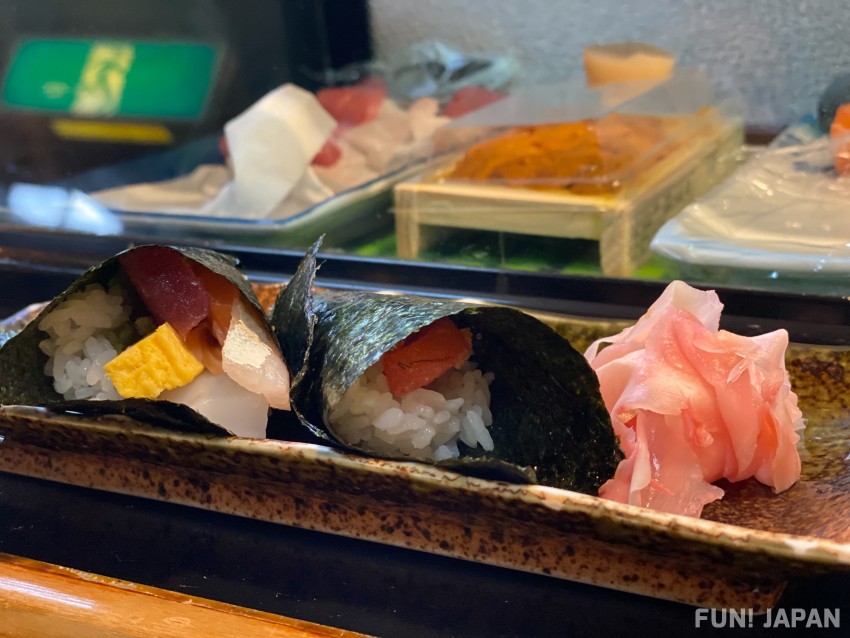 We also ordered "Ochikobore Maki" (left in the photo). Why is it called this? This is because it is a collection of surplus parts that were not used for nigiri or sashimi (落ちこぼれ / ochikobore means 'dropout'). Stuffed with various ingredients , there's no negative image of being dropout parts because it's a good deal when it comes to price and volume. There are many other uniquely named menus. If you have the courage to eat whatever comes out, please come challenge and try some!

Store Information
Store name: Sushi Maruhachi - Ekimae store
Address: 4-21-5 Meieki, Nakamura Ward, Nagoya City, Aichi Prefecture
Business hours: 24 hours (currently on shortened hours: 10:00-05:00)
Closed: No regular holiday
Payment: Cash only
Access:

10 minute walk from JR "Nagoya" Station
5-minute walk from "Kokusai Center" Station on the Sakuradori Subway Line
[Survey] Traveling to Japan