5 Recommended Gourmet Food to Eat When You Visit Shimane!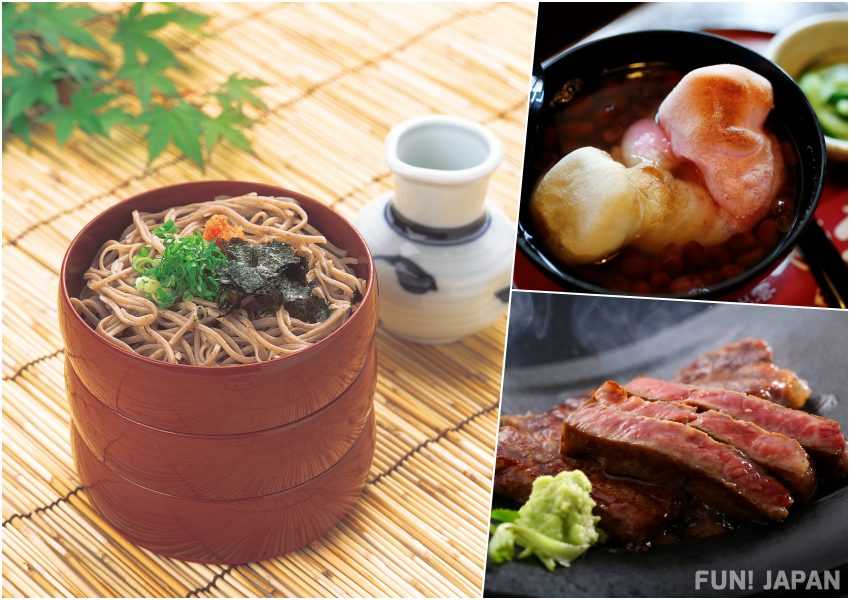 Shimane is located on the Sea of Japan side of the Chugoku region of Japan (San'in / Sanyo area), and is a prefecture with the Izumo Grand Shrine, which is famous for enmusubi (matchmaking) fortune. Bordering the Sea of Japan and blessed with nature such as the sea, rivers and mountains, Shimane has many local dishes that have evolved in this unique region and can only be enjoyed here. This time, we will introduce Shimane's specialty gourmet food carefully selected by the FUN! JAPAN editorial department.

Izumo Zenzai: A classic specialty of Izumo City, Shimane Prefecture!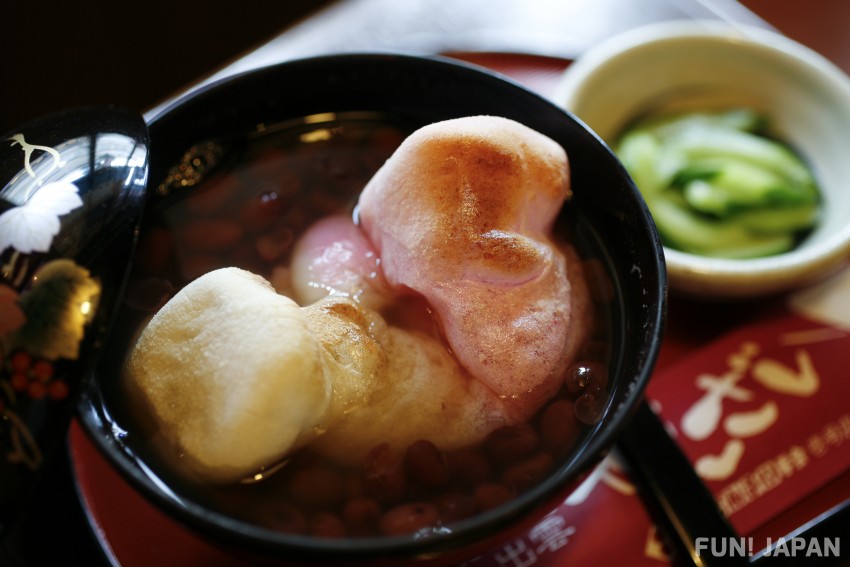 Izumo Zenzai (出雲ぜんざい) is an auspicious food that represents the Izumo region. In the 10th month of the lunar calendar, the "Kamiari Matsuri" (神在祭 - sometimes called Jinzaisai) is held in the Izumo region. The "Jinzai Mochi" (神在餅, "Jinzai" is called "Zunzai" in Izumo dialect → deviated into "Zenzai") made for the offering of the gods which was served to worshipers is said to be the origin of Izumo Zenzai.

Basically, Izumo Zenzai is a Japanese confectionery that is eaten by putting shiratama in sweet anko soup stewed with azuki beans. Now, Izumo Zenzai has evolved into various shapes and forms, such as "Enmusubi Zenzai" (縁結びぜんざい) which is made by putting baked mochi instead of shiratama in anko soup, topping with ice cream, and even putting in the Japanese waffle-like sweet 'monaka'.
If you go to the Izumo region, try eating and comparing at various stores. Among them, the famous one is "Enmusubi Zenzai" from "Nihon Zenzai Gakkai No. 1 Store" (日本ぜんざい学会 壱号店). Also, at "Kutsurogi Wa-Cafe Amaemon" (くつろぎ和かふぇ 甘右衛門), Izumo Zenzai, which is made by putting the Daikoku-sama shaped monaka in anko soup, is a cute and popular menu.
Izumo Soba: One of the three major soba noodles in Japan!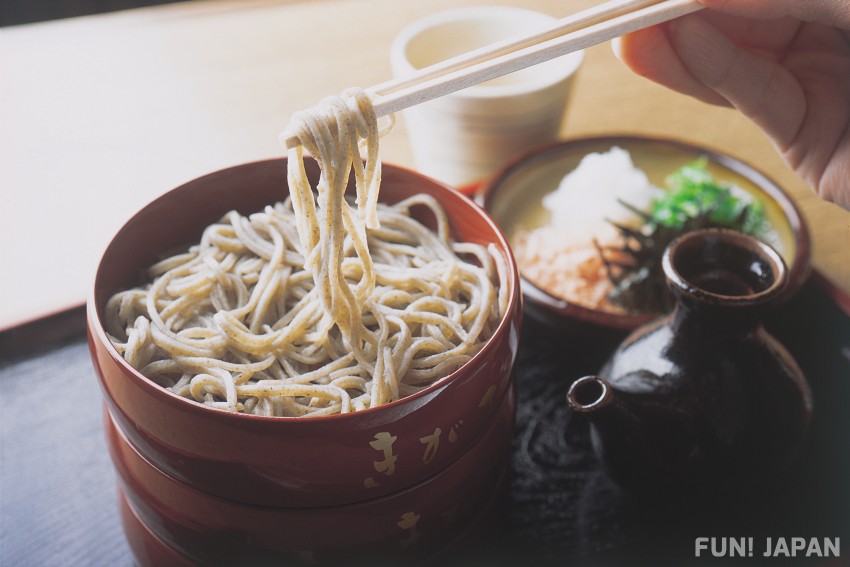 "Izumo soba" in Shimane Prefecture is one of the three major soba noodles in Japan along with "Togakushi soba" in Nagano Prefecture and "Wanko soba" in Iwate Prefecture. The characteristic of Izumo soba is that it is milled as it is without removing the bran of the buckwheat. The color of the noodles made is blackish, and the aroma, flavor and elasticity of soba noodles are also strong.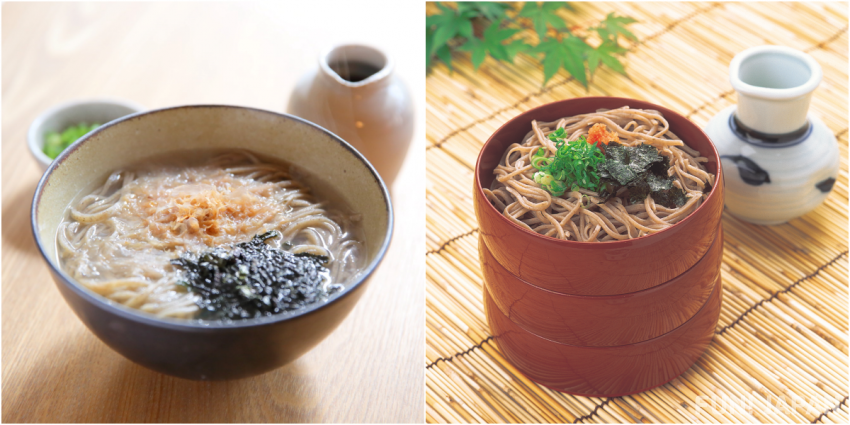 There are warm "Kamaage soba" (釜揚げそば) and cold "Wariko soba" (割子そば) in Izumo soba. If you want to taste the flavor of soba, it is recommended to try the warm version, whereas people who like firm soba noodles should try the cold version instead. In any case, Izumo's unique way of eating is to first pour the tsuyu soup into soba noodles by yourself and adjust the amount of soup to your liking. It is different from "Zaru soba", which is generally eaten by dipping soba in tsuyu soup for every bite.

In addition, cold "Wariko soba" is served in a three-tiered round container and is to be eaten from the top. When you finish eating, pour the remaining tsuyu soup to the second bowl and eat it in order. If you go to a soba restaurant in Izumo, be sure to try this way to eat locally! Recommended shops are "Soba-dokoro Kaneya" (そば処 かねや) near Izumo Grand Shrine and "Kenjo-Soba Haneya Main Store" (献上そば羽根屋本店) in Izumo City.
Shimane Wagyu: Enjoy the finest local specialty Wagyu of Shimane!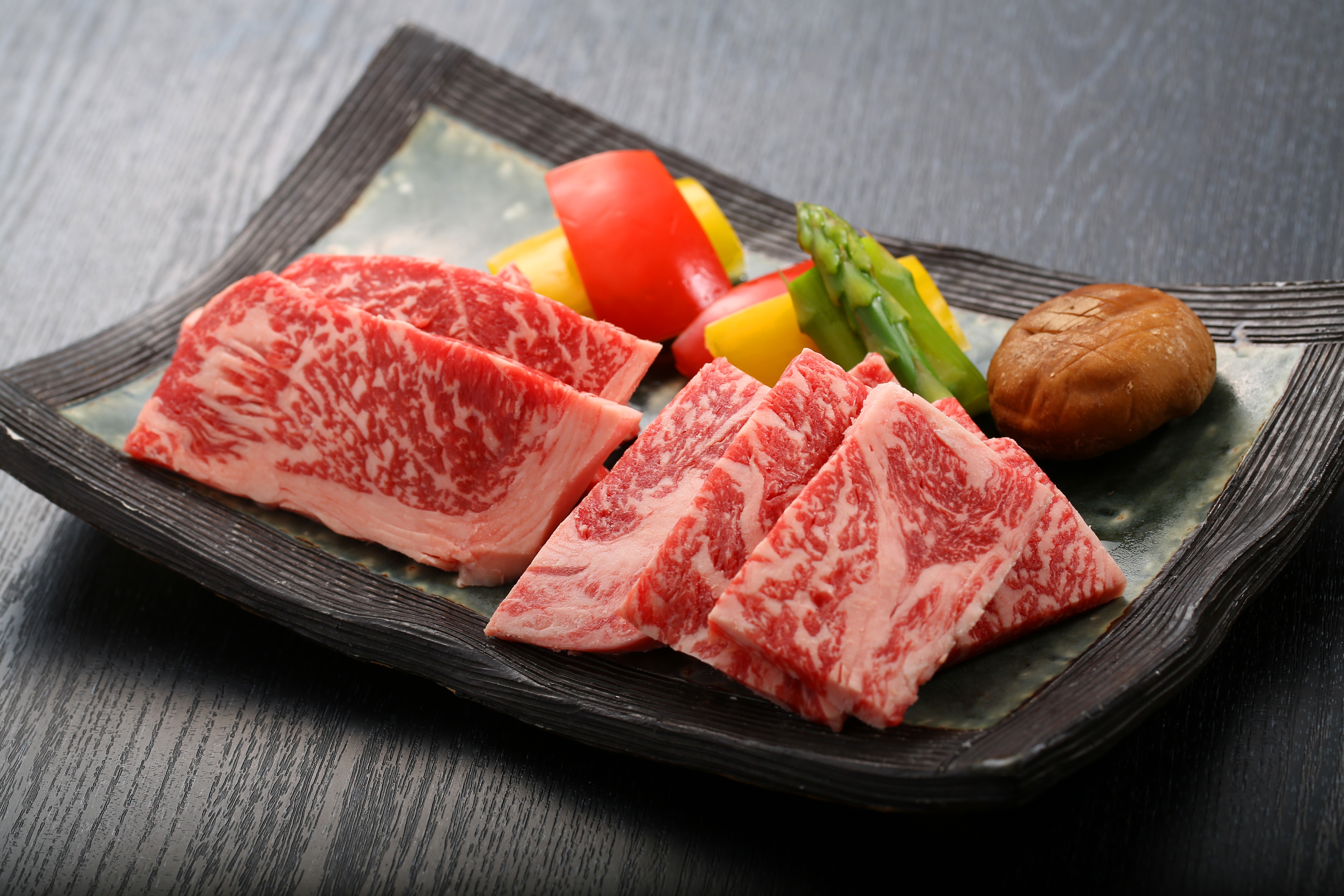 Shimane's Izumo Wagyu, Matsunaga-gyu, and Oki-gyu are collectively called "Shimane Wagyu". In the mountainous areas of the Izumo region, the steel industry has been flourishing for a long time. Cattle were needed as a means of transporting iron, so many cattle were bred and raised. However, in recent years, the number of livestock farmers has decreased thus "Shimane Wagyu" has become a rare gourmet food. If you go to Shimane, you should definitely eat it!

Shimane Wagyu is not so famous in Japan, but in fact, it has won the "Prime Minister's Award" (内閣総理大臣賞 / Naikaku Souri Daijin Shou), which is the highest award at the Japanese beef show on a national scale, twice in the past. The characteristics of Shimane Wagyu beef are vivid colors, fine marbled meat, deep richness and rich flavor.

Recommended Shimane Wagyu dishes include sukiyaki, yakiniku, steak, shabu-shabu, and roast beef. The deliciousness of Shimane Wagyu is that the taste of beef spreads in your mouth and lasts for a long time on top of its soft texture that feels like it melts in your mouth. Recommended restaurants include the yakiniku restaurant Aji ichi (味一), the barbecue house Chateau Misen (シャトー弥山), and the long-established steakhouse Mimitei (手作り厨房 みみてい) which has been in business for 30 years.

Shijimi clams cuisine: The best catch and production in Japan!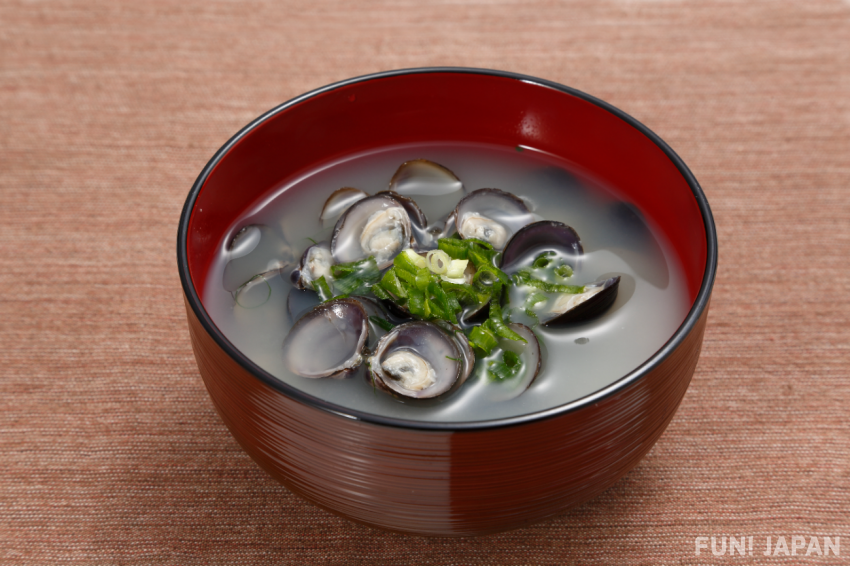 Shimane Prefecture has the highest catch and production of freshwater clams locally called Shijimi (しじみ) in Japan, and is famous for producing Shijimi clams. Thanks to freshwater rich in minerals flowing from the river and seawater derived from the Sea of Japan, the Shijimi clams are raised in a nutritious environment are large, rich and delicious.

Shijimi clams can be caught all year round, but the catch season is around July when they are fertile due to spawning, and winter catches from January to March. Recommended Shijimi clam dishes include steamed Shijimi clams, Shijimi clam miso soup, and Shijimi clam rice, which are said to be the staples of Shimane's dining table. Recommended shops include the izakaya "Konekkoya" (こ根っこや) in the shopping district within walking distance from Izumo Station, and the Japanese-style restaurant "Sanriba" (山里波) that offers a set of Shijimi-don (clam rice bowl) and Shijimi clam soup.
Steamed sushi: Matsue's unbeknown specialty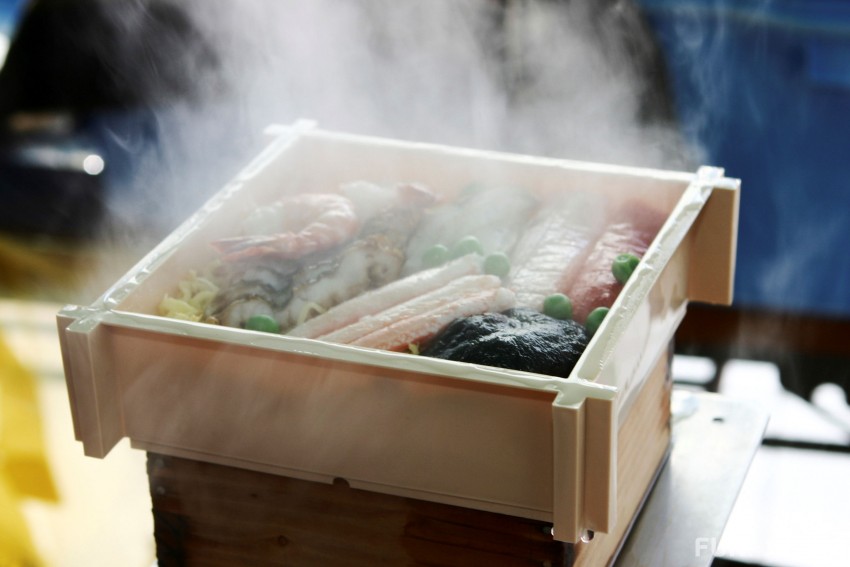 "Naniwa Zushi" (浪花寿司), a long-established sushi restaurant founded in 1887 in Matsue City, has long sold steamed and warmed "steamed sushi" (蒸し寿司 / Mushi-zushi) as a winter-limited dish. It was well received, thus other restaurants started to serve steamed sushi in winter, making it a gourmet that is widely loved in Matsue. Now you can eat it all year round, not just in winter.

Unlike ordinary sushi, steamed sushi is made by putting vinegared rice mixed with bamboo shoots and shiitake mushrooms in a bamboo steamer, then addinging plenty of ingredients such as shrimp, anago, beef, chestnuts, and kamaboko on top of it, and steaming it with a lid closed. By using a wooden bamboo steamer, it creates a fluffy texture.
It has now become traditional local gourmet that has been loved for over 100 years. If you visit Matsue, you must not miss the opportunity to try the "Original Steamed Sushi" from "Naniwa Zushi"!
[Survey] Traveling to Japan