【Tohoku】Let's play with "Akita Inu", who is the main character of Hachikō the faithful dog, in Odate City, Akita!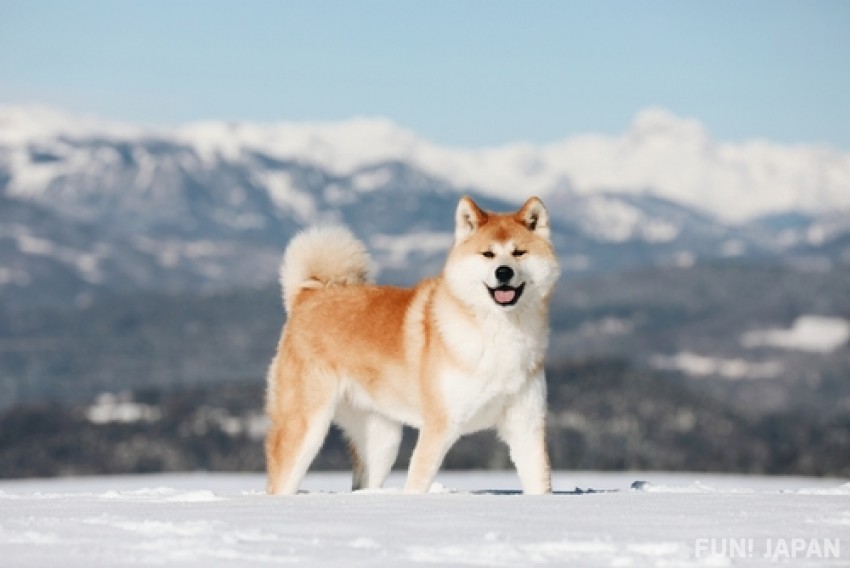 Dear readers, do you know "Akita Inu" (秋田犬 Akita Dog)? Akita Inu is a large dog native to Japan, has a gentle personality, and is a breed that is faithful to its owner. The popular Akita Inu can be seen in various parts of Europe and the United States. It was Hachikō the fairthful dog, a world-renowned dog, who ignited the Akita Inu boom overseas. This time, the FUN! JAPAN editorial department will introduce not only knowledge about Akita Inu, but also places where you can meet Akita dogs directly.
About "Akita Inu" designated as a National Natural Monument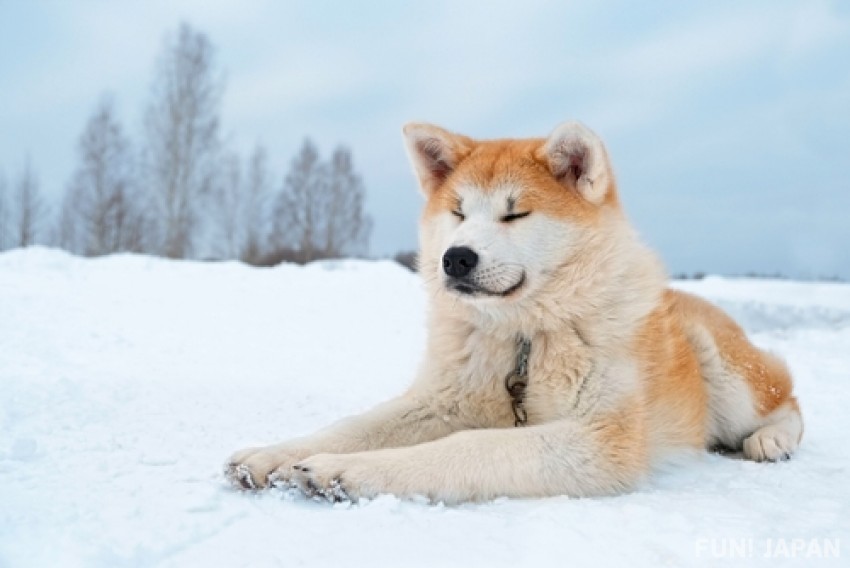 Among the 13 existing "Japanese dogs", only 6 species designated as Natural Monuments - Shiba Inu, Kai Ken (Yamanashi), Kishu Ken (Mie, Wakayama), Shikoku Ken (Shikoku Region), Hokkaido Ken (Hokkaido) and Akita Inu (Akita). Moreover, Akita Inu is the only large breed of dog among them. The ancestor of Akita Inu is a hunting dog called "Akita Matagi Inu", which is smaller in body shape than Akita Inu and has a completely different appearance. Since the Edo period, fighting dogs have been popular in Akita Prefecture, Odate and Noshiro in the north focused on raising dogs with strong fighting capability. The breed named "Odate Inu" (大館犬) was positioned as the ancestor of Akita Inu.

As a result of repeated mating with other breeds due to the advancement of Western dog breeds to Japan, pure Akita dogs were temporarily in danger of extinction at the end of the Meiji era. However, after the Taisho era, interest in pure Akita dogs increased again. Since the establishment of the "Akita Inu Preservation Society" (秋田犬保存会 / Akita Inu Hozon-kai) in the early Showa period, Odate City has been making efforts to preserve the beloved Akita Inu.
How to distinguish between Akita Inu and Shiba Inu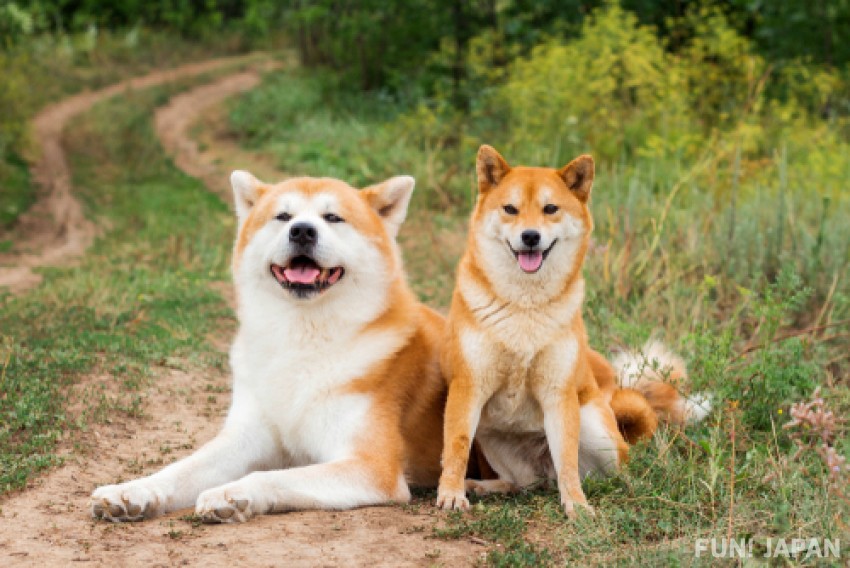 Because the breeds are similar, Akita Inu and Shiba Inu, which have characteristics such as brown (red) and white coat colors, standing ears, and curly tails, are often mistaken. And since there are more people who have Shiba Inu than Akita Inu, it is a daily occurrence that when someone meet a Akita Inu, it is mistaken for a large Shiba Inu instead.

However, as shown in the photo above, when the two are placed side by side, the difference in body shape is obvious. The height and weight of Akita Inu is more than double that of Shiba Inu.
And if you look closely, the faces of both are different. Even though they have the same standing ears, Akita Inu's ears are triangular, and while the facial parts are concentrated around one point, they have small drooping eyes. On the other hand, the ears of the Shiba Inu are long and slender, and the facial parts are not concentrated on one point. Overall, Akita Inu's facial expression is calm and well-behaved, but Shiba Inu is more naughty.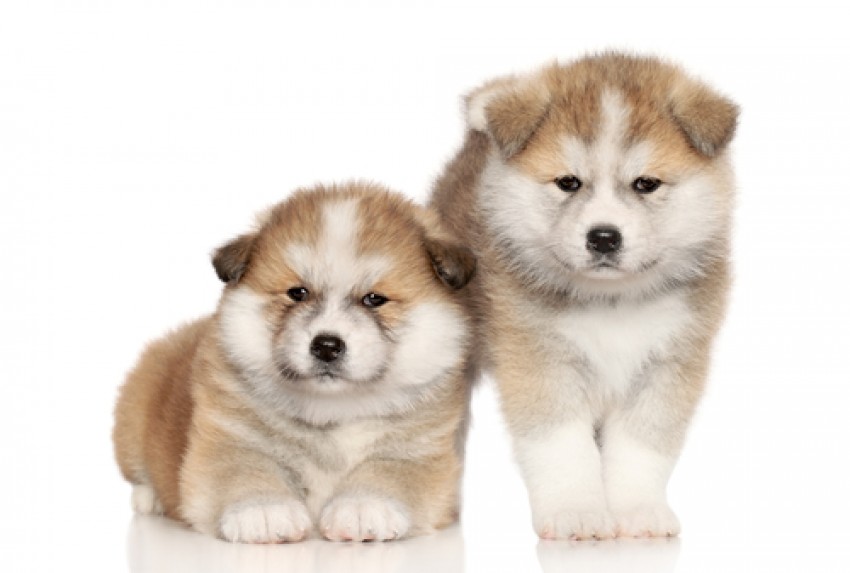 In addition, young Akita Inu have drooping ears, but as they grow up, the ears become standing ears. This is also the easiest way to distinguish between Akita Inu and Shiba Inu puppies.

Akita Inu coat colors and types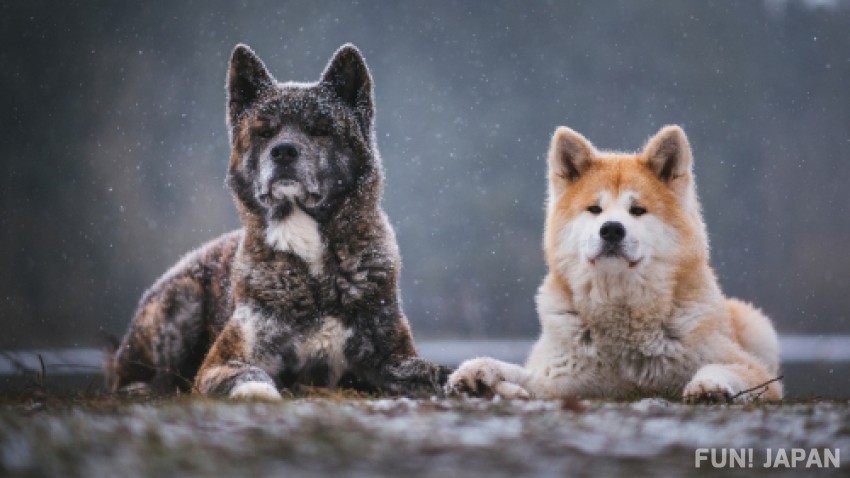 There are four types of coat colors for Akita Inu: "Red" (茶 / Cha = brown in Japanese), "White" (白 / Shiro), "Brindle" (虎 / Tora = tiger in Japanese), and "Sesame" (胡麻 / Goma). The most common is red, which is usually mistaken for a Shiba Inu. "Brindle" or tiger pattern is characterized by white hair mixed with black hair. If subdivided, red tiger hair, black tiger hair, and marbled tiger hair are typical shades. "White" is the only monochromatic color of Akita Inu, but there are not so many. In addition, the color of the facial parts that require pigment has become lighter, so the color of the nose has also become pink. The "Sesame" coated Akita Inu is an extremely rare breed that is rarely found at present.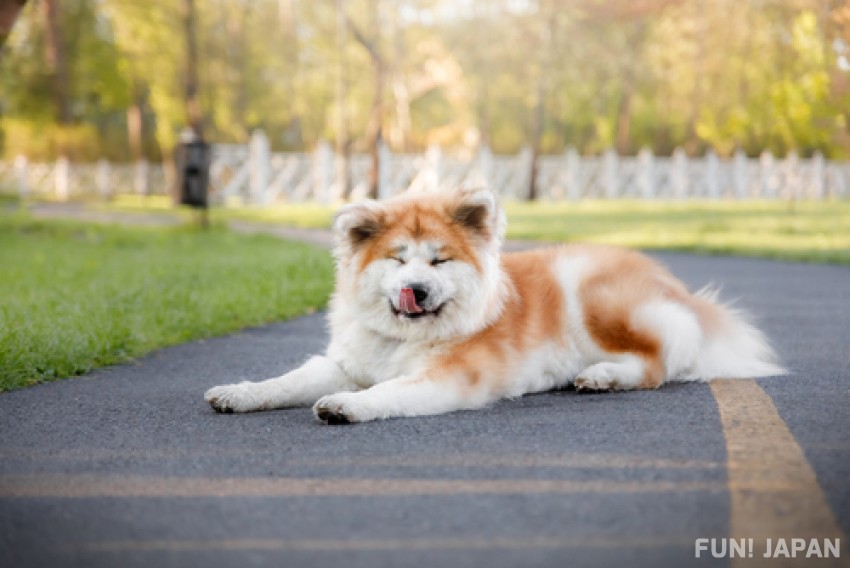 Akita Inu's standard has short hair, but sometimes long hair type is also born. "Wasao" (わさお), who was the stationmaster of Ajigasawa Station in Aomori Prefecture, left for heaven in 2020, is a representative example. The story of the warm bond between Wasao, who has a rare white long coat, and his owner was made into a movie and became famous. However, on the other hand, according to the definition of "Akita Inu Preservation Society", long-haired Akita dogs do not actually meet the conditions for pure breeds. Nevertheless, as Wasao's popularity increased, more and more people were attracted to the unique charm of the long-haired Akita Inu. However, long-haired Akita Inu are a rare breed.

In addition to the "Akita Inu" native to Japan which has garnered attention, there is a breed called "American Akita" in Europe and the United States. The ancestor of "American Akita" is the Akita Inu that was brought back to the United States after World War II. Its appearance is also quite different from that of Japanese origin, and it has become a unique type.
"Hachikō, the faithful dog" with worldwide recognition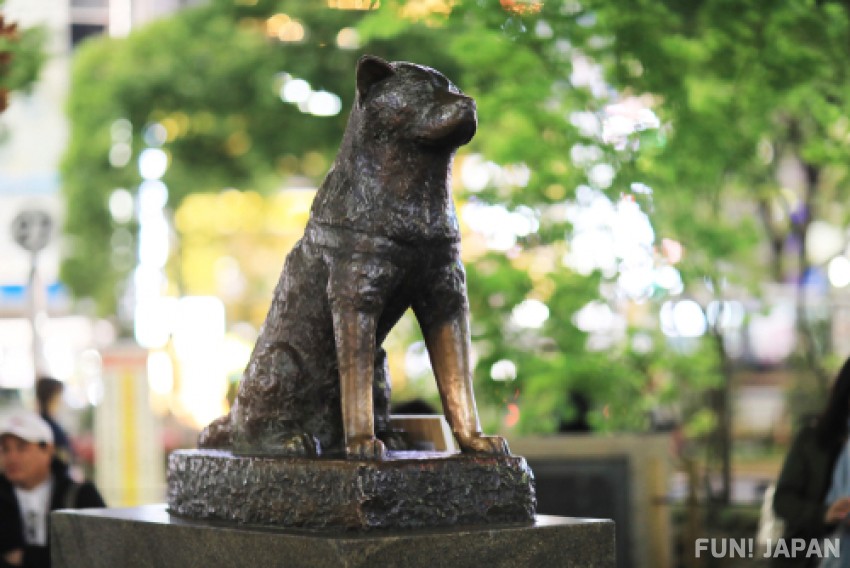 The reason why Akita Inu became famous all over the world was the influence of "Hachikō, the faithful dog". Hachikō at that time went to Shibuya station every day to meet its master, Dr. Ueno, and one day Mr. Ueno died suddenly due to cerebral hemorrhage. Hachikō, who had been waiting for the master's return every day for the following decade, went to see its master in heaven in March 1923. After Hachikō's story was contributed to the newspaper, the name "Hachikō, the faithful dog" spread instantly throughout Japan. After that, this moving true story was made into a movie, and even into a Hollywood remake in the USA. Thanks to that, the boom of Akita Inu ignited in Europe and the United States. In addition, a statue of Hachikō has been erected in front of the entrance of Shibuya Station, the place where Hachikō had been waiting for its owner, and it has become a symbol of Shibuya as well.

Let's go to the birthplace to meet Akita Inu!
Odate City in Akita Prefecture is the birthplace of Akita Inu, even Hachikō was also born here. Although it is a holy land for Akita Inu, it does not mean that you can just meet them on the roadside. If you want to play with cute dogs, you have to go to specific places...

Akita Dog Visitor Center (Akita Inu no Sato)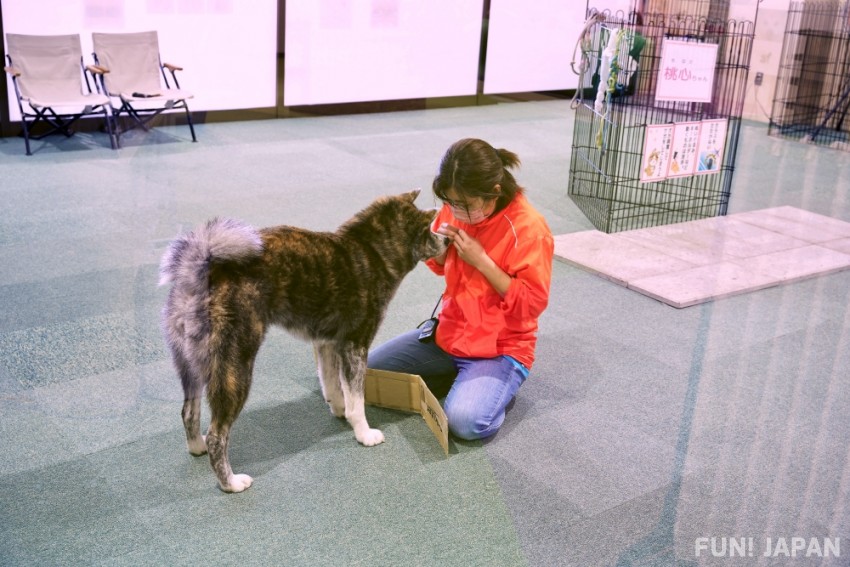 "Akita Dog Visitor Center" or Akita Inu no Sato (秋田犬の里) in front of JR Odate Station is a facility built by Odate City to introduce the characteristics and history of Akita Inu to as many people as possible. A statue of Hachikō is also erected at the entrance of the facility. In addition to the exhibition about Akita Inu, you can also see the cute gestures of the Akita dogs through the glass in the large "Akita Inu Exhibition Room". In addition, the staff will guide the dog in front of the windowpane, so you can take the picture (no flash) while being healed by their innocent facial expressions. Occasionally, you can see the scenery of Akita dogs taking an exciting walk too.

Tourist Information
Name: Akita Dog Visitor Center (秋田犬の里 / Akita Inu no Sato)
Location: 1-13-1 Onaricho, Odate City, Akita Prefecture
Access: Immediately outside of JR Odate Station
Opening hours: 09:00-17:00, Akita Inu Exhibition Room 09:30-16:45
Closed: 12/31, 1/1, Akita Inu Exhibition Room Closed on: Monday (If Monday is a national holiday, the next weekday will be closed instead)
Akita Dog Museum
The Akita Dog Museum is the headquarters of the "Akita Inu Preservation Society", and a statue of Hachikō is installed in front of the doorway here too.

The statue of Hachikō here is named "Bōkyō no Hachikō Zō" (statue of Hachikō bewishing hometown) because it faces the direction of his hometown. Two Akita dogs are looking forward to your visit in the preservation society office on the first floor on weekdays. Sometimes cute puppies also come to play. If you want to know more about Akita Inu, please visit the "Akita Dog Museum" on the 3rd floor.
Tourist Information
Name: Akita Dog Museum (秋田犬会館 / Akita Inu Kaikan)
Location: 13-1 Sannomaru, Odate City, Akita Prefecture
Access: 15 minutes walk from JR Odate Station
Opening hours: 09:00-16:00
Closed: December 28th-January 3rd, August 13th afternoon
Admission: Adults 200 yen, Children 100 yen
Furusawa Onsen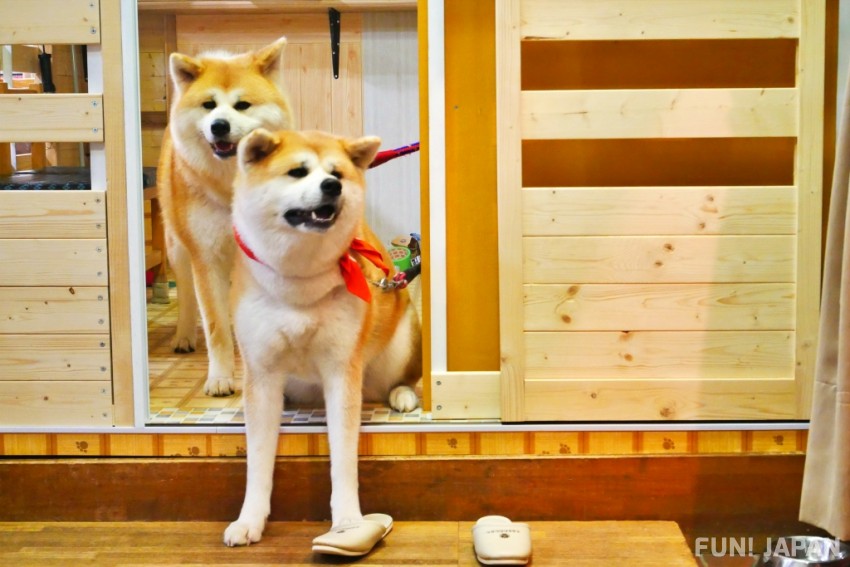 Our top recommendation is "Furusawa Onsen". At a small hot spring inn full of emotion, there are Akita Inu's mother and child "Haru" (温) and "Hana" (華), who are super cute mascots. They look forward to everyone's visit here every day. The innocent face of the daughter "Hana" is irresistible, in contrast to her mother's "Haru" who has an elegant expression; both are too cute to handle. It is recommended to stay overnight here and enjoy gourmet food and hot springs while playing with Akita Inu.

Tourist Information
Name: Furusawa Onsen (ふるさわおんせん)
Location: 27 Niizuna, Odate City, Akita Prefecture
Access: Approximately 7 minutes by taxi from JR Odate Station
Closed: Tuesday
[Survey] Traveling to Japan