Experiencing Okayama's Exciting Activities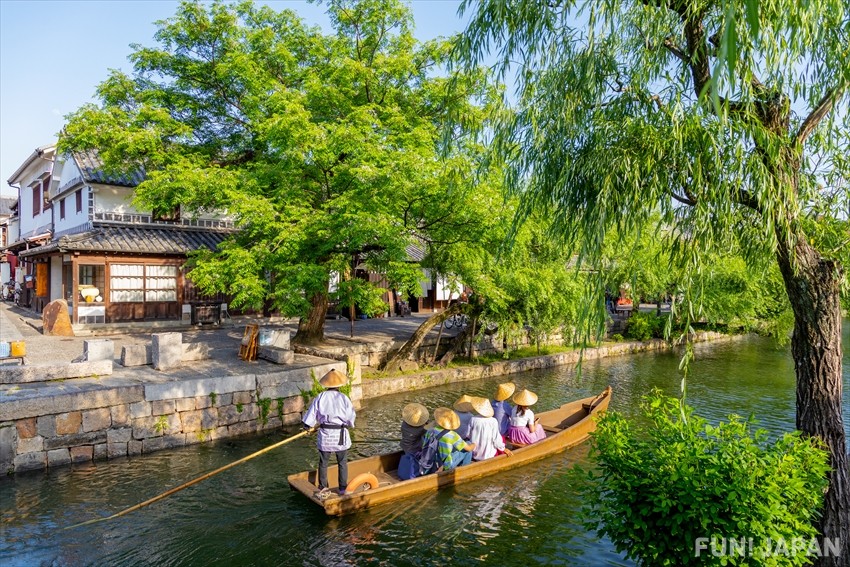 Getting to know a prefecture as beautiful as Okayama needs a variety of sightseeing experiences. While bus tours may work in busy cities, getting immersed in nature is the best way to enjoy this area, with activities and accommodation that brings visitors out into the wild.

Stand Up Paddling in Okayama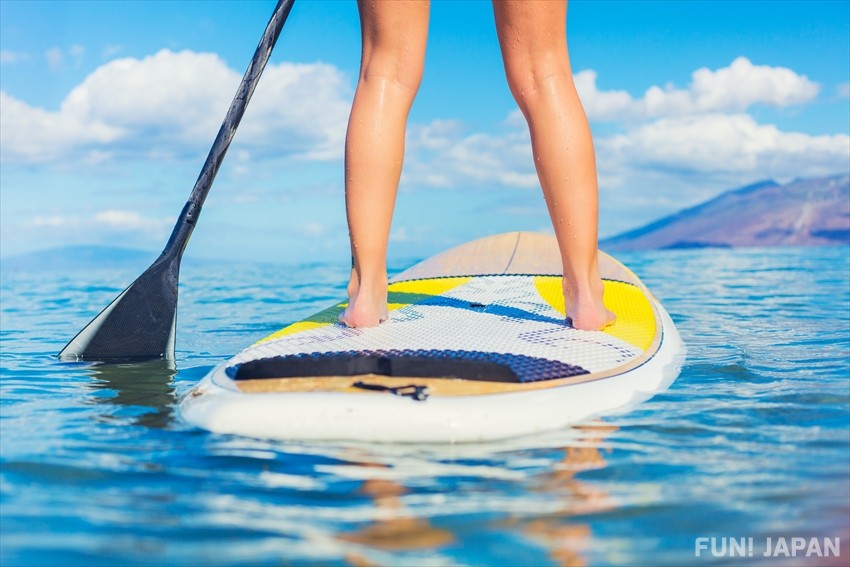 A water sport with roots in Hawaii, Stand Up Paddle Boarding is known as SUP worldwide and in Japan. Boarders stand upright on a surfboard and use a paddle to move along the water. It's a great way to enjoy new places ad see a different side to those you already know, with some exercise thrown in as well. The activity can be done on calm rivers, in the sea or on lakes, and Okayama has plenty of great locations to try it.
Try SUP on the Seto Inland Sea
Ozi Marina offers SUP rental in the Seto Inland Sea, with visitors able to explore the waters on their own. Turquoise waters are calm and relaxing, with views of the Great Seto Bridge from an unusual viewpoint. Dusk is recommended as a particularly beautiful time to enjoy this sport, and those confident enough can paddle out to explore the uninhabited Tateba Island. The rental includes the boards, paddles and safety jacket, as well as an instruction session on how to SUP if you have not tried it before.
* Please contact the official website in advance for the status of the activity.

Spot Information
Name: Ozi Marina (王子マリーナ)
Address: Ozi Marina, 4-12-26 Kojimakarakoto, Kurashiki, Okayama
Location: The rental spot is in the town of Koji on the Karakoto Coast,
Access: The rental spot is on the Karakoto Coast of Okayama, near the Karakoto Fishing Port
Price: 1-2 hours is 5,000 yen for adults and 4,000 yen for children
Try SUP at HOTEL LIMANI
Located in the Setouchi City, HOTEL LIMANI is on the coast facing Maejima Island. They offer SUP from July to October with two courses to choose from. The Beginner course takes visitors to the uninhabited Kuroshima Island by boat, offering a unique chance to enjoy the incredible scenery of Venus Road with a trained guide. The course lasts 90 minutes and costs 8,800 yen for adults, 5,500 yen for middle/high school students, and 4,950 yen for elementary school students. The Island Tour Course takes visitors to the different local islands including Kuroshima, Maejima, Kijima nd Aoshima, and is a longer, 150-minute tour costing 12,100 yen for adults, 7,700 yen for middle/high school students, and 5,500 yen for elementary school children. All tours include ship transfer fee and the board and safety jacket rental. (*Prices are as of April, 2022)

Spot Information
Name: HOTEL LIMANI (ホテル リマーニ)
Address: 3900 Ushimadocho, Ushimado, Setouchi, Okayama
Location: The hotel is on the waterfront in Ushimado, southeast of Setouchi City and close to the Setouchi-City Art Museum.
Access: The hotel is a 40-minute drive from Okayama Station or visitors can catch the JR Ako Line from Okayama to Oku Station and take the bus to Ushimado, alighting at Olive-en Iriguchi bus stop, which is two minutes away from the hotel.
Glamping in Okayama
A luxury version of camping, glamping has become a popular outdoor holiday around the world, and Japan is no different. Combining 'glamorous' and 'camping' it offers a more comfortable stay of a hotel but with the outdoor benefits of camping. The location is key and luckily Okayama isn't short of stunning scenery.
Try Glamping at Washuzan Shimoda Hotel
Located in the grounds of the Washuzan Shimoda Hotel in the Setonaikai National Park, this glamping spot offers not only high-quality pods, but access to the hotel facilities too. Each of the 5 glamping pods has comfortable beds, a relaxing terrace, a specially designed seasonal menu and is fitted with items made locally by craftsmen such as wood flooring and soft furnishings. Places beside the sea, the pods offer a chance to immerse into nature and see the stars, whilst also enjoying the comfort of a hotel experience.
Spot Information
Name: Washuzan Shimoden Hotel (鷲羽山下電ホテル)
Address: 1-6662 Obatake, Kurashiki, Okayama
Location: The hotel is located to the south of Kurashiki, close to Hitsuishi Island.
Access: The hotel is a 30-minute drive from Kurashiki and a 40-minute drive from Okayama. Alternatively, it is a 10-minute drive from Kojima Station, with local buses and a hotel shuttle connecting the hotel and station.
Kawabune Nagashi Boat Rides in Okayama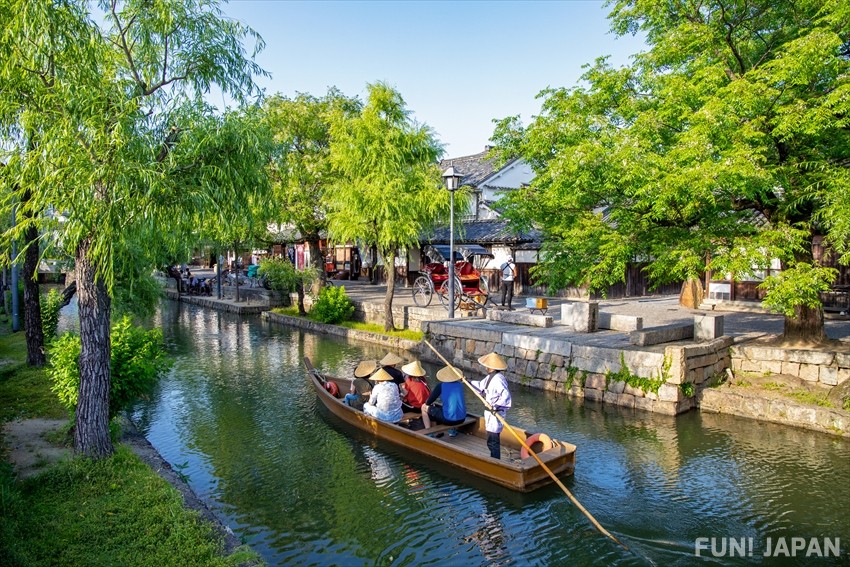 A traditional boat once used for transporting goods along the rivers of Kurashiki, Kawabune Nagashi are a great Okayama experience. Offering a peaceful way to view the city, a boat ride is a relaxing option for those with weary feet or those seeking to see the city from a new angle. Traditional hats can be worn to protect from the sun and many opt to try on kimono or yukata rental for the day, with boat rides offering a special opportunity for photos.
The Kawabune Nagashi are only available from an official provider, and are run throughout the year, with schedules changing depending on the season. Tickets are sold at the Kurashikikan Tourist Information Center on the day and reservations cannot be made, so it is a first-come-first-served system. The boats are closed on second Mondays (excluding holidays) from March to November and only operate on weekends and holidays from December to February. They are also closed for year-end and new-year holidays.
Spot Information
Name: Kurashikikan Information Center (倉敷館 観光案内所)
Address: 1-4-8 Chuo, Kurashiki, Okayama
Location: The Information centre is located alongside the canal, in the heart of the city.
Access: The centre is a 15-minute walk from connected Kurashiki and Kurashiki-shi Stations on the JR San-yo, JR Yakumo, the Hakubi and the Mizushimarinkai Lines.
Cost: 500 yen for adults, 250 yen for elementary school children and free for those under five.
Cycling in Okayama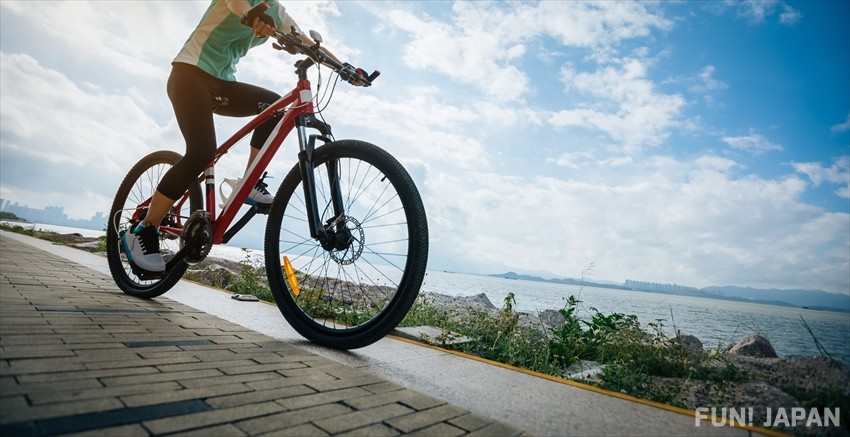 Cycling is the bests of both worlds when it comes to exploring - outdoors and self-powered, but helping you see much more in a day than walking. The terrains available include quiet towns, rolling hills and coastal roads, with a mix of bikes available to suit everyone, from road bikes to electric-assist options.
Where to try Cycling in Okayama
Hareiro Cycling is a prefecture-wide plan for cycling in Okayama, with routes designed for every traveler, and to display every special element of the area. They have broken down the prefecture into eight routes, creating longer and shorter options with differing levels of difficulty.
The routes are as follows:
Kurashiki Tamano Seaside Route - 90km - Intermediate Level
Bicchu Around Historical Visiting Route - 108km - Intermediate Level
Okukibi Yamabiko Route - 83km - Advanced Level
Maniwa Shinjo Yamanami Route - 100km - Intermediate Level
Katatetsu Roman Kaido Route - 76km - Intermediate Level
Okayama Kagamino Through Route - 114km - Advanced Level
Kibiji Cycling Route - 25km - Beginner Level
Hiruzen-Kogen Heights Cycling Route - 29km - Beginner Level
They also have 37 subroutes in local towns and villages, with over 100 participating bike rental stores taking part across Okayama. Be sure to check the guidance maps for your chosen routes and which bike rental shops operate in the area!
[Survey] Traveling to Japan
Recommend