What is Hiroshima's Comfort Food Okonomiyaki? 3 Recommended Stores Included!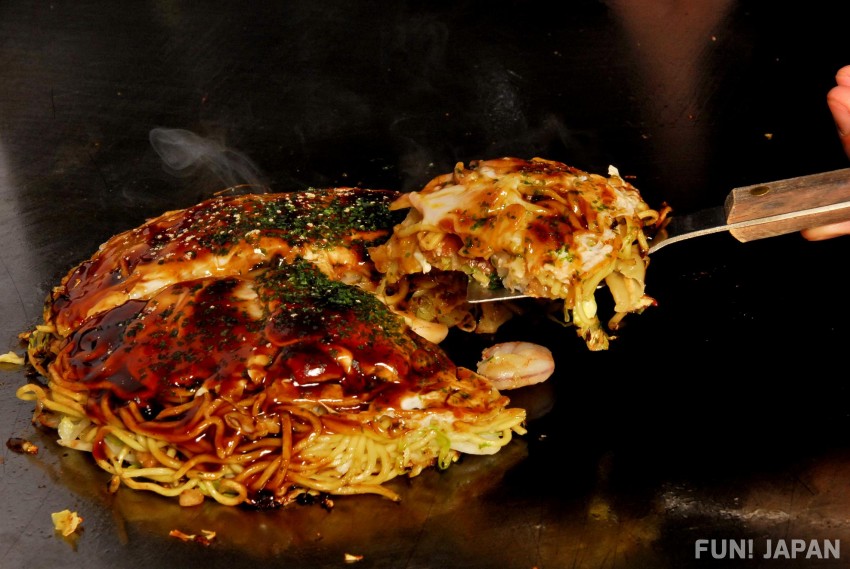 Osaka and Hiroshima are known as the two major sacred places for okonomiyaki.
Even for the same word "okonomiyaki", the origin and method of making "okonomiyaki", which is popular in each of the two prefectures, is completely different.
This time, we will introduce the history of okonomiyaki, which is loved as a comfort food of Hiroshima citizens, its charm, and popular shops in Hiroshima prefecture! Be sure to use this as a reference when traveling in Hiroshima.
※The store information in the article is as of March 2022. Business hours may differ due to the spread of COVID-19.
History of Hiroshima's Comfort Food, Hiroshima Okonomiyaki
According to one theory, the roots of Hiroshima okonomiyaki are said to be "Issen-yoshoku" (一銭洋食, lit. 'one-sen western food'), which was popular in the Kansai region from the Taisho era to the Showa era.
Issen-yoshoku is made by dissolving wheat flour in water, adding spring onions, dried shrimp, red pickled ginger, etc., and grilled until well-done. Back then it could be bought at a candy store in the town for about one sen (*about 10 yen in modern time). It was like a "snack" that you could easily eat.

It was after the war that Issen-yoshoku, which was a substitute for snacks, became a full meal. Immediately after the war ended, wheat flour, which came in as relief supplies, was baked with spring onions, cabbage, and bean sprouts. After that, as the restoration effort progressed, noodles and pork toppings were added, the ingredients used increased steadily, and the sauce was improved, becoming the source of the current okonomiyaki.
In the 30's of the Showa era (around 1950's), many households renovated a part of their houses and run okonomiyaki restaurants. Many of the shop owners were widows who lost their husbands in the war. There is also a theory that many okonomiyaki restaurants at that time were called "○○-chan" in order to make it easier for separated families to find their whereabouts. Even now, there are many shops in the prefecture that use the name of the female shop owner just like the old time.
Hiroshima Okonomiyaki Dough, Ingredients, and Features

Unlike Osaka's okonomiyaki, Hiroshima's okonomiyaki is a style in which ingredients are not mixed with the dough and are layered. Put plenty of cabbage and meat on a thin dough like crepe and steam-bake it, then put yakisoba (Japanese stir-fried noodle)  and thinly roasted egg on top then grill like millefeuille. By the way, in Hiroshima, the basic okonomiyaki with ingredients such as pork, egg and soba is called "nikutama soba" or "soba nikutama".
In addition, okonomi-sauce is particulared with Otafuku sauce as one nationwide famous brand, plus various other brands such as Carp Sauce and Mitsuwa Okonomi Sauce. Sauce varies with the okonomiyaki restaurant, so it is recommended that you pay attention to the sauce and compare!
3 Popular Okonomiyaki Restaurants in Hiroshima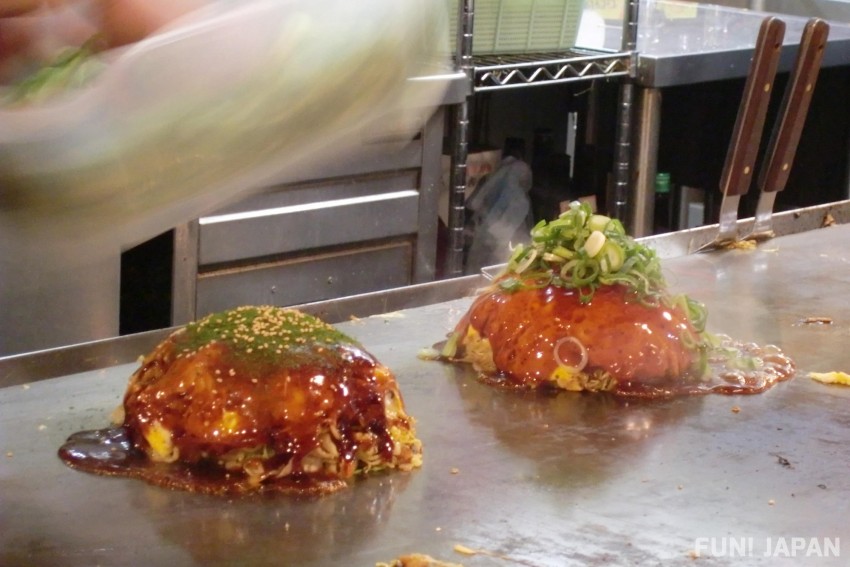 Here we will introduce okonomiyaki restaurants which are loved by locals in Hiroshima prefecture.

Mitchan Souhonten Hatchobori Main Store
Founded in 1950, it is a popular store that people are waiting in line on Saturdays and Sundays.

The store is particular about the division of labor style to ensure the taste of okonomiyaki is the same every day. Several people share each process such as stretching the dough, filling the ingredients, cooking, and finalizing. If one person grills one serving of okonomiyaki by him/herself, the taste will change depending on the griller, so the focus is to cook it with multiple people even for just one serving.
The finalizing uses plenty of special sauce, but the taste is lightly seasoned so that you can eat it every day. Once you eat it, you will be addicted to it!
The Hatchobori main store is located in the Hatchobori area, which is known as the largest downtown area in the Chugoku-Shikoku region. Let's enjoy the taste of the locals along with sightseeing and shopping!
Name: Mitchan Souhonten Hatchobori Main Store (みっちゃん総本店 八丁堀本店)
Address: 1F, Churis Hatchobori, 6-7 Hatchobori, Naka-ku, Hiroshima
Access: 5 minutes walk from Hatchobori Station
Business hours: 11: 30-14: 30, 17: 30-21: 00 (Last order: 30 minutes before closing)
Regular holiday: Thursday
Teppanyaki & Okonomiyaki Denko Sekka
This popular restaurant has earned stars in popular gourmet guides and restaurant rating rankings.
Its feature is vegetables and eggs that are full of volume and the store is particular about how to stack and how to cook. Especially, the dome-shaped egg that wraps around vegetables and meat has a texture that makes you feel like you are eating an omelet!
There is an okonomiyaki menu called "Nikutama Kaki (meat ball oysters)" using popular Hiroshima specialty oysters, and there is also a wide variety of side menus that go well with sake. Be sure to try it!
Name: Denko Sekka Ekimae-Hiroba Branch (電光石火 駅前ひろば店)
Address: 6F, Full Focus Building, 10-1 Matsubara-cho, Minami-ku, Hiroshima-shi, Hiroshima
Access: 3 minutes walk from Hiroshima Station
Business hours: 10:00-23:00 (Last order: 22:30)
Regular holiday: none
Reichan, inside JR Hiroshima Station 'ekie'
This okonomiyaki restaurant can be found in the commercial facility ekie, which is directly connected to JR Hiroshima Station on the Shinkansen line.
When you enter the store, the first thing that comes to your eyes is the counter seats lined up in a row. There are 15 counter seats and 20 table seats, so you can come alone as well.
It is a long-established store founded in 1957, and of course it has a convenient location, even if there is a long continuous line, its deliciousness is guaranteed. You can't underestimate it just because it's a restaurant inside a train station.
The store is thoroughly picky about the ingredients used such as water, eggs, and vegetables, and especially for cabbage the store seems to be particular about changing the supplier depending on the season. The dough is kneaded into a chewy texture and left to rest for 4 hours before baking.

It is also strict about the cooking method of the Issen-yoshoku era, which is folding the okonomiyaki in half and adding sauce twice before serving.
The store has a wide variety of menus such as egg-free and noodle-free menus or those with squid tempura, mochi, and Kimchi-san's authentic kimchi, making it flexible enough to choose your meals according to your allergies and inedible ingredients when consulted.
Name: Reichan (麗ちゃん), inside JR Hiroshima Station 'ekie' (JR広島駅ekie)
Address: 1F, Hiroshima Station 'ekie', 1-2 Matsubara-cho, Minami-ku, Hiroshima-shi, Hiroshima
Access: direct walk from Hiroshima Station
Business hours: 11:00-22:00
*For the time being [Sun-Thu] 11:00-21:30 [Fri-Sat] 11:00-22:00
Regular holiday: Irregular holiday * Same as ekie
If you have trouble choosing a store, then go to this place! "Okonomimura" in Shintenchi, Hiroshima City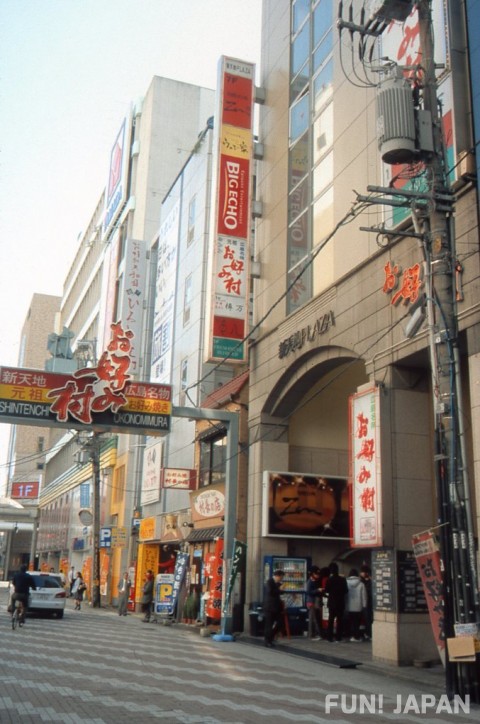 Among all famous okonomiyaki restaurants in Hiroshima city, we highly recommend Okonomimura for people who want to go to various restaurants and compare their tastes.
Okonomimura is a popular gourmet spot with 24 long-established okonomiyaki restaurants on the 2nd to 4th floors of this restaurants-packed building. Since it is located in the center of the Shintenchi which is known as the city's number one downtown area, it has long become a tourist attraction that represents the Hiroshima City. By the way, the okonomiyaki restaurants in Okonomimura use Mitsuwa Okonomi Sauce, which is certified as a sauce exclusively for "Okonomimura".
Name: 

Okonomimura

Address: 5-1 Shintenchi, Naka-ku, Hiroshima City
Access: From JR Hiroshima Station, take the Hiroshima Electric Railway (streetcar for Ujina / Eba / Nishi Hiroshima / Miyajima) for 10 minutes, get off at "Hatchobori" station, and walk for 3 minutes
Business hours / regular holidays: Please check the website of each store
[Survey] Traveling to Japan