Aichi Mikawa-wan Quasi-National Park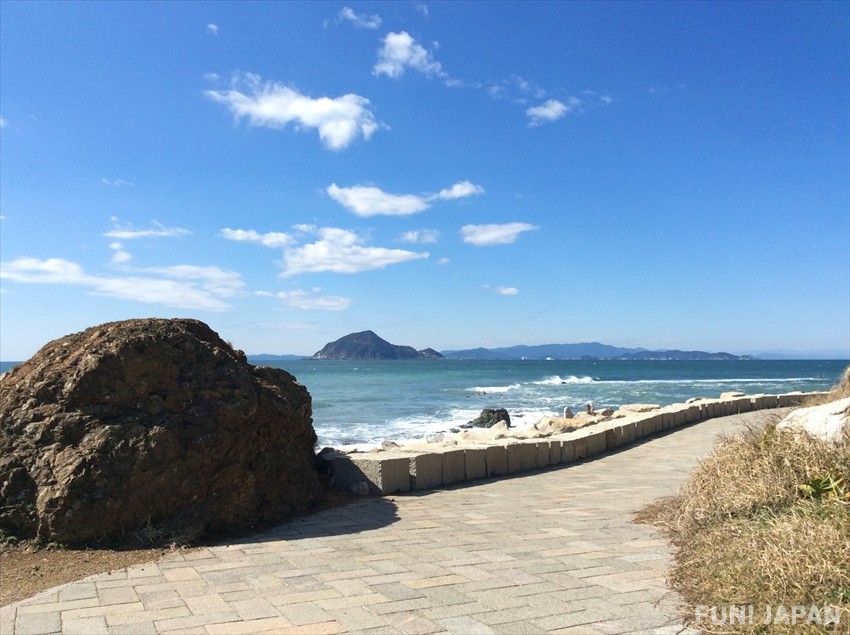 Mikawa Bay is home to remote islands, loggerhead turtles and stunning scenery. A natural spot deserving of protection, it encompasses hot spring towns and beautiful beaches alike, drawing visitors for long romantic weekends or summer holidays with the family.

Where is Mikawa's Quasi-National Park?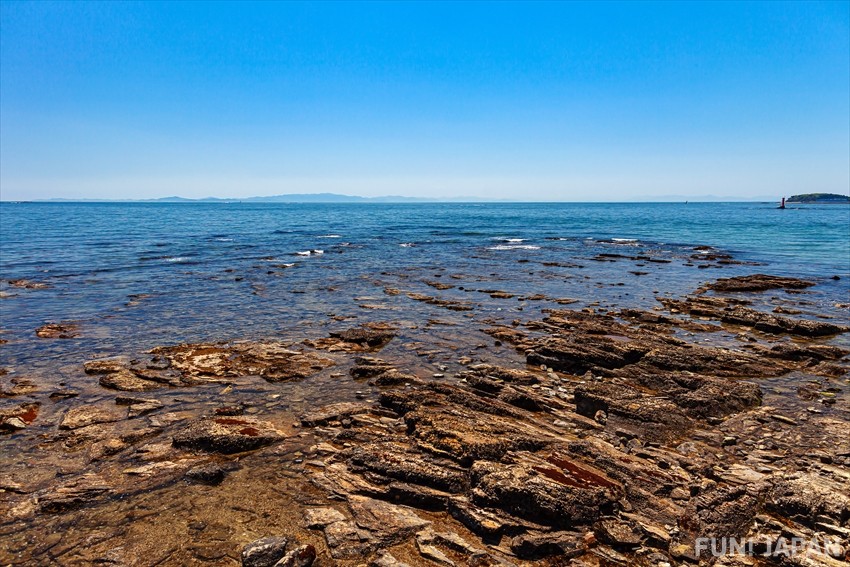 Mikawa Quasi-National Park is in Aichi prefecture on Japan's mainland island of Honshu. It is to the southeast of Aichi's capital city Nagoya and is also close to Hamamatsu City in Shizuoka. The park contains the Pacific shoreline of Chita Peninsula, the Northern Shoreline of Mikawa Bay, the coastal areas of Atsumi Peninsula and a number of remote islands.
What is a Quasi-National Park?
Called Kokutei Koen in Japanese, Quasi-National Parks are places protected for their scenic beauty in Japan. Quasi-National Parks are one step below National Parks and are managed by the prefectures, with supervision from the government ministry.
Highlights of Mikawa Bay National Park
Mikawa Bay is a large area with countless scenic spots to enjoy, including natural wonders and man-made sights.
Loggerhead Turtle Spawning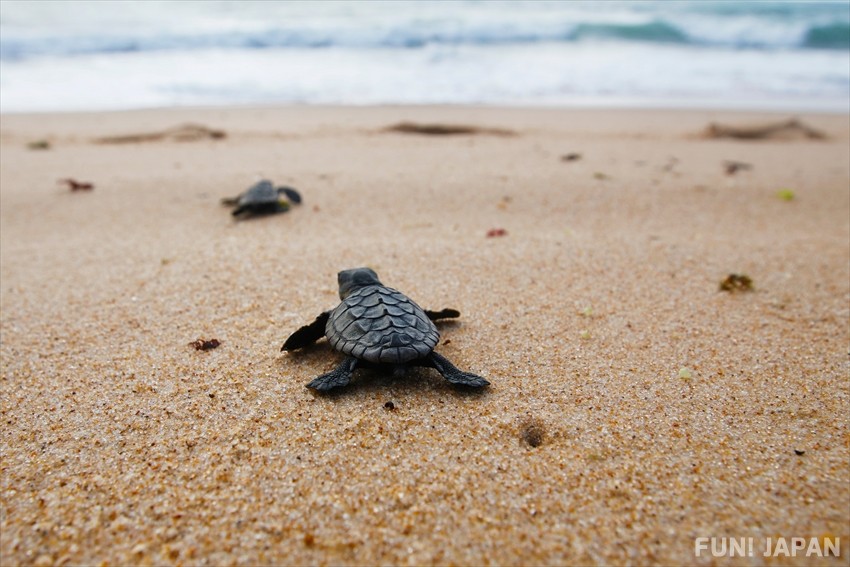 Loggerhead turtles are brought to the coastlines of the area by the currents of the pacific and choose these sandy beaches to lay their eggs from May to August each year. Over 100 turtles are believed to land in the area each year, with over 600 nests counted in past years. Some areas have dedicated conservation teams who carefully relocate eggs once laid to safer areas. After two months, the eggs hatch and the hatchlings make their way to the water, with only one in a thousand making it to adulthood. In neighbouring Shizuoka it is possible to join the release of hatchlings with Sanctuary Nature Center, with reservations accepted in advance and costing 800 yen per person. In Mikawa, the Omotehama beachline near Toyohashi City is another observation spot, although visitors are asked to refrain from disturbing the laying turtles or hatchlings.
Noma Lighthouse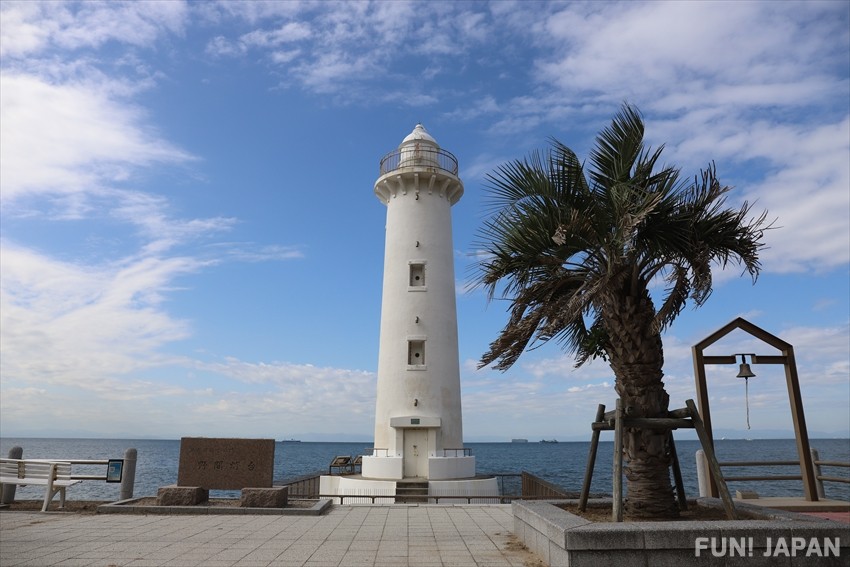 Aichi's oldest lighthouse, this 1920's example is 18m tall and is the symbol of Mihama district. Both a disaster-preventer and a popular sightseeing spot, the lighthouse has a classic design and is painted a fresh white. The lighthouse underwent an energy efficient makeover in 2008 and now has LED bulbs. When couples visit, it's a fun tradition to put padlocks with initials on the iron fence around the lighthouse, with locks sold at the nearby shop. There is also a bell for couples to ring as a symbol of good luck in relationships. The views from the lighthouse are particularly beautiful at sunset, with stunning sea views.
Spot Information
Name: Noma Lighthouse (野間埼灯台)
Address: Iwanari-20-1 Onoura, Mihama, Chita, Aichi
Location: The lighthouse is on the Noma coastline on the west side of the Chita Peninsula.
Access: The lighthouse is along Route 247 and is easiest accessed by car. There is a local loop bus from Noma Station on the Meitetsu-Chitashin Line which takes visitors to the lighthouse for 200 yen.
Kira Onsen
An onsen resort with Hawaii-like beaches, Kira Onsen is has been a popular spot for relaxing since the Meiji Era. The sandy shoreline of Kira Waikiki Beach is perfect for family breaks with shallow waters and plenty of space for spreading out, with opportunities to try clam-digging as well. The beach is open for swimming from late July to the end of August with lifeguard towers manned from 09:00 until 17:00. As far as sea-related activities go, visitors can try sea-kayaking, sea fishing and salt-making at the Kira Aibajio Salt-making Museum. There are hot springs to enjoy in local resorts and ryokan, with some accepting day guests - although this has been paused during the Covid-19 Pandemic. The water is a thermal chloride variety believed to be good for neuralgia, muscle pain and fatigue.
Spot Information
Name: Kira Onsen (吉良温泉)
Address: Kiracho Miyazaki, Nishio, Aichi
Location: Kira Onsen is located in the center of Mikawa Bay, on the mainland of Aihi prefecture.
Access: There are busses running from Mikawa Toba Station on the Mikawa-Gamagori Line to the beach area, costing a few hundred yen per person.
Mikawa Bay's Remote Islands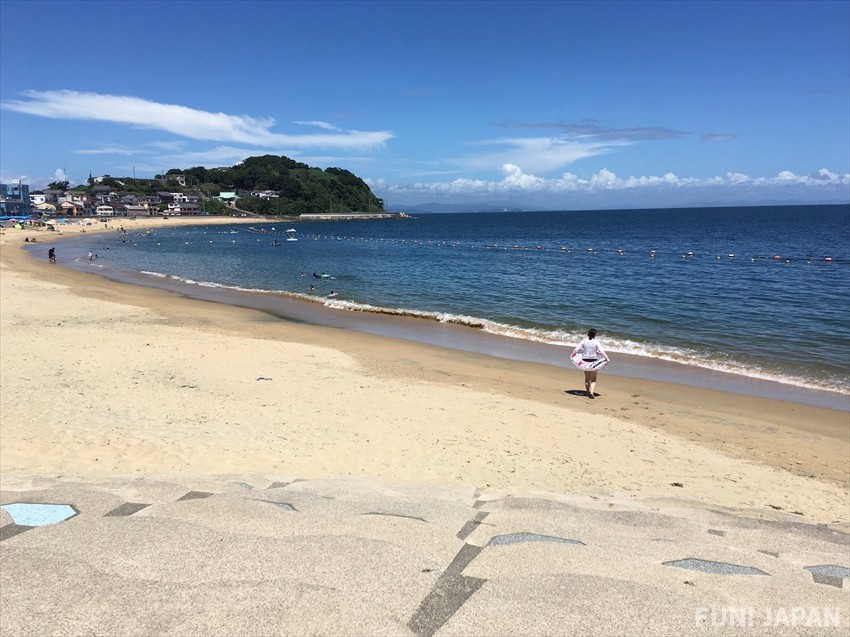 Mikawa Bay is home to a handful of remote islands that make for wonderful day trips or weekend escapes. With stunning beaches, beautiful sunsets and incredible seafood, they're the island break visitors dream of.
Shinojima: Known as one of Japan's top 100 sunset viewing spots, Shinojima is a popular fishing spot thanks to its location at the meeting points of Ise and Mikawa Bays. The island has only 6km of shoreline but plenty to see and a reputatio for its pufferfish catch.
Himakajima: Only 10 minutes from Chita bay, Himakajima is famed for octopus and fugu - a poisonous pufferfish that can be eaten when prepared by trained specialists. The island has great beaches with both sunrise and sunset beaches to enjoy along with children-friendly swim spots.
Sakushima: The largest of the three islands, Sakushima is home to 300 residents and draws visitors throughout the year. The islands highlights include Ooura swimming beach, the 88 shrines, a number if art installations and the unspoiled nature.
The first two islands are accessible by ferry from Ports on the Minamichita peninsula - for full details please refer to our guide to exploring the remote islands of Mikawa Bay [link].
Accommodation Options in Mikawa Quasi-National Park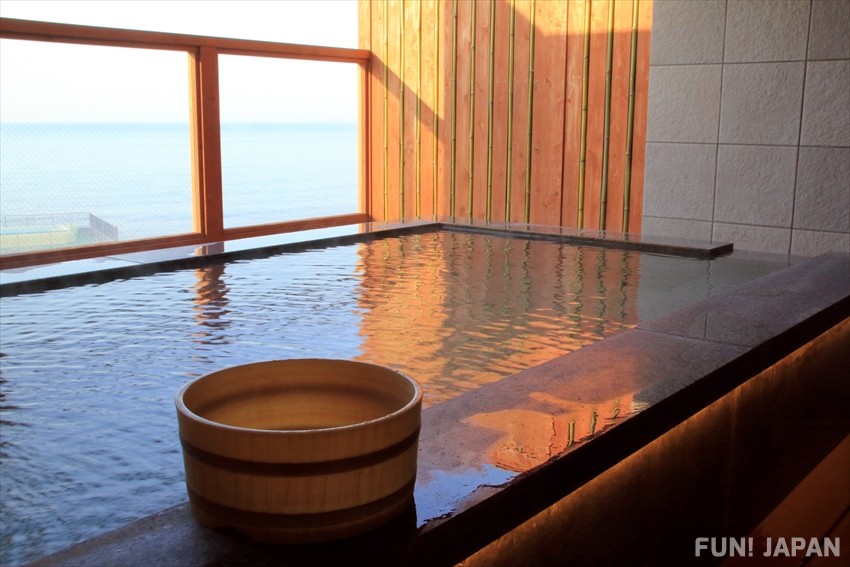 There is a wide range of choices when it comes to accommodation in the area, with traditional ryokan, resort hotels and campsites to choose from.
Kira Onsen: The Mikawa Bay Resort LINX
A large resort hotel popular for weddings, this is a busy spot for those booking to relax in Kira Onsen. The resort is located within walking distance of Waikiki Beach and has wonderful views of the water from its rooms, dining halls and hot springs.
Spot Information
Name: Mikawa Bay Resort LINX (三河湾リゾートリンクス)
Address: 15 Miyazaki Nakamichishita, Kira, Nishio, Aichi
Location: The hotel is located to the northeast of Kira Onsen, between Waikiki Beach and the Kira Sunrise Park.
Access: The hotel offers a shuttle bus by request from Kirayoshida Station on the Meitetsu-Gamagori and Meitetsu-Nishio Line.
Himakajima: Taikairo
Taikairo is an affordable ryokan with traditional Japanese rooms, sea views and beautiful sunset hotsprings. The hotel is modest but has everything guests need for a comfortable stay, in a charming old-fashioned Japanese style. The restaurant serves the freshest seafood and the hotel is located on the west side of the island, directly across from Sunset Beach.
Spot Information
Name: Taikairo (大海老)
Address: 40 Araihama, Himakajima, Minamichita, Chita, Aichi
Location: The hotel is located to the west of the island close to the West Port and Hachiman Shrine.
Access: The hotel is a short walk from Himakajima West Port, which as ferry services from Morozaki Port in Minamichita and Kowa Port in Mihama.
Noma Coastline: Ryokan Shuku Kaifu
The main draw of this waterside hotel is the stunning rooftop hotspring with ocean views of Ise Bay. Along the coast from Noma lighthouse, it's the perfect romantic getaway, with an in-house restaurant and close to the popular Utsumi beaches. There are a number of indoor bags with impressive views as well as the rooftop options, and rooms are available in traditional Japanese style with private dining available.
Name: Ryokan Shuku Kaifu (和風旅館 粛 海風)
Address: Minamichita, Chita, Aichi
Location: The ryokan is located on the southwest cost of the Chita Peninsula, a 10-minute drive south of Noma Lighthouse.
Access: The ryokan is 5-minute drive from Utsumi Station on the Meitetsu-Chitashin Line, one hour from Meitetsu-Nagoya Station on the Meitetsu Limited Express, costing 1500 yen.
How to Get To Mikawa Bay and the National Park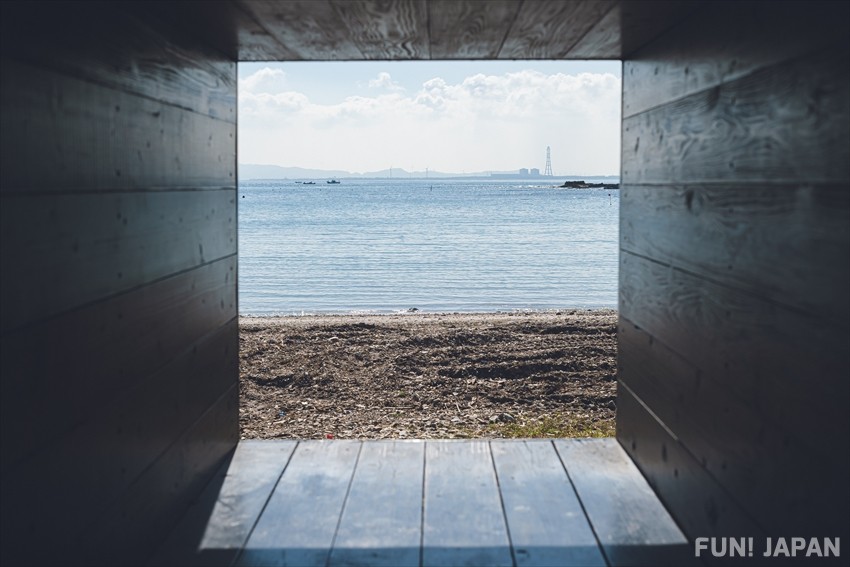 Parts of the Mikawa Bay Quasi-National Park are just a short journey from Nagoya, the capital of Aichi Prefecture. There are a number of train lines reaching different areas in the Quasi-National Park.
In the Chita Peninsula, the Meitetsu-Chitashin Line extends to Utsumi Station, with Limited express trains running as well as local trains. The longest journey takes under an hour from the Meitetsu-Nagoya Station and costs 1,500 yen.
Along the mainland coast, the Meitetsu-Gamagori and Meitesu-Nishio Lines run to Gamagori. Kirayoshida is a popular stop for Kira Onsen and the journey from Nagoya takes just over one hour and costs just over 1,000 yen. The Tokaido Mainline also runs from Nagoya to Gamagori, with a 40-minute journey costing 990 yen. It is possible to catch the bullet train from Nagoya to Toyohashi, taking 28 minutes and costing 3830 yen.
In the Atsumi Peninsula, the Toyohashi Testudo Atsumi Line runs to Mikawa-Tahara Station, which is closer to Toyohashi and Hamamatsu than Nagoya. It is a 35-minute ride from Toyohashi, costing 520 yen.
Chubu Centrair International Airport is located on a small island to the west of the Chita Peninsula. It's connected by the Meitetsu-Tokoname Line with connection to the rest of the Peninsula or onward to Nagoya available. Rental cars are an excellent way to explore the area, while local buses can also be used. 
[Survey] Traveling to Japan
Recommend