Toyota City: A Traditional City with Cars and Culture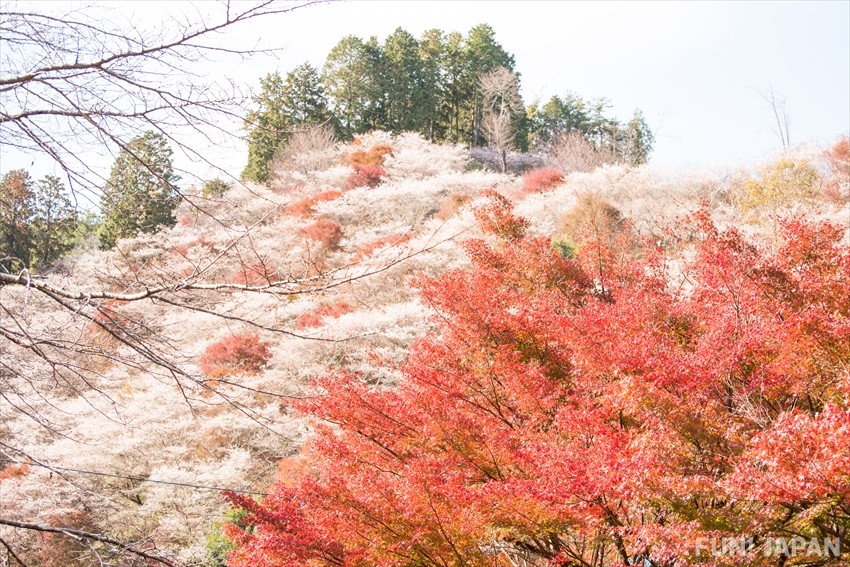 Toyota City may sound familiar but many visitors to Japan miss this beautiful city in Aichi Prefecture. Connected to the major car manufacturer, it is surprisingly green and filled with parks, gorges and double-blossoming cherry trees. Only about an hour from Nagoya, it's a beautiful day trip and an excellent weekend away.

Where is Toyota City?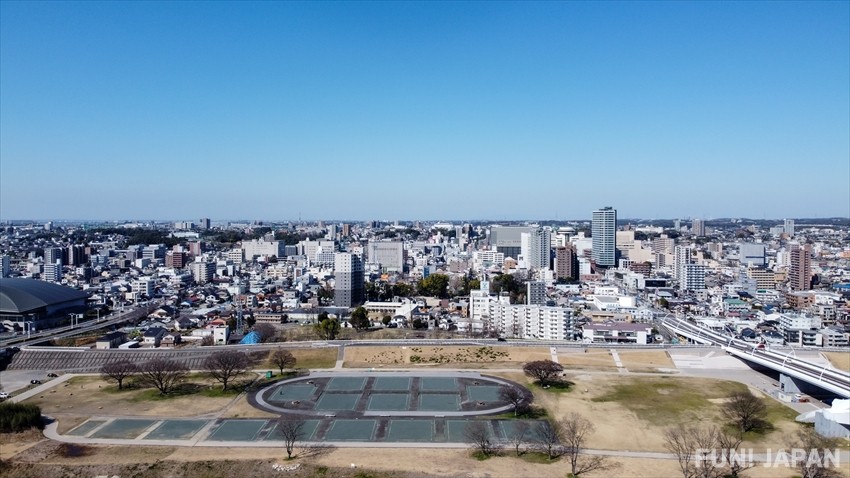 Toyota is a city in north-central Aichi prefecture, in the Chubu region of Japan's main island, Honshu. It is home to around 400,000 people, the second most populated city and the largest city in term of area in Aichi, and located just outside Nagoya, the capital of Aichi prefecture and the largest city in term of population in the Chubu region. Toyota has mountains to the north forming the Aichi Kogen Quasi-National Park and is about an hour drive from Nagoya.
What is Toyota City Famous For?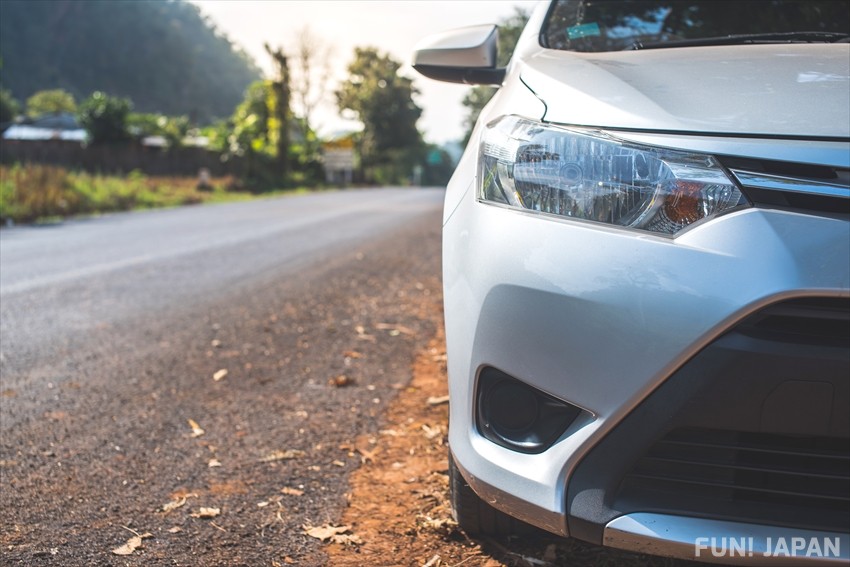 This small city's name is no coincidence - it is home to the Toyota Motor Corporation. The firm was founded by Kiichiro Toyoda in 1937 as a spinoff of his father's company, Toyota Industries. The company has grown to a global manufacturer, but the headquarters remain in Toyota, Aichi. The city was originally named Koromo, but in 1959 it changed to Toyota in honour of its largest employer.
Prior to the automotive boom, however, the city was famed for silk production in the Meiji and Taisho periods. As demand fell, the Toyoda family looked for alternative uses for their loom company, leading them to create Toyoda Industries. Today, the area produces peaches and is also known for handmade paper called Obara Washi.
Sightseeing in Toyota City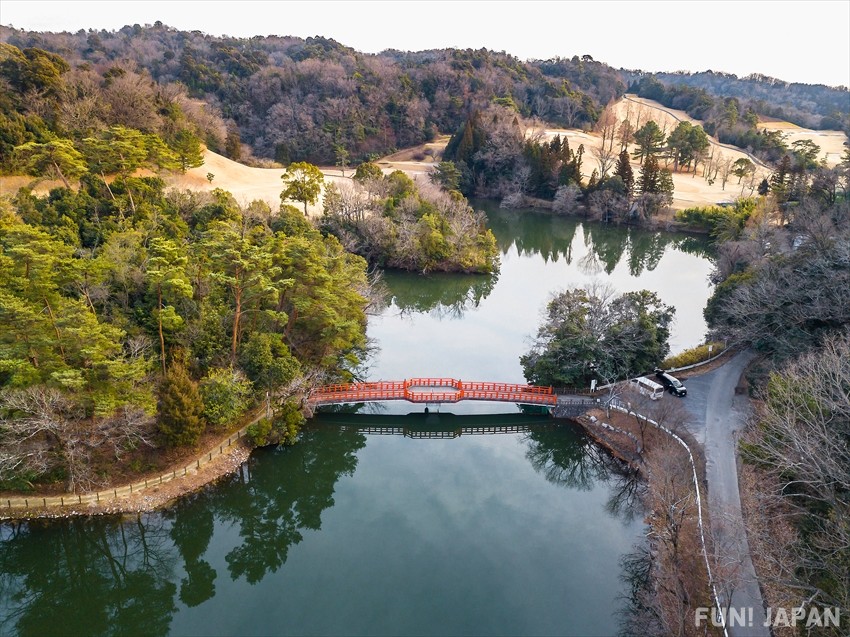 Toyota has a wide variety of interesting historical and cultural sites, from hot spring towns to double-blooming cherry trees. Even for those not interested in cars, there are exciting things to see in this small city.
Museums in Toyota
The Toyota corporation funds many significant museums, including the Municipal Museum of Art and the Toyota Kaikan, showcasing their history as a car manufacturer. There is also the Toyota City Museum of Modern Industry and Living, which includes displays on silk making and domestic living through the ages. The City Museum of Local History favours ancient historical living, with Yayoi Period displays while the Toyota-Shi Mingei-kan is a craft and folk museum with displays on arts and crafts in the region.
Shiki Sakura Park: Autumnal Cherry Blossom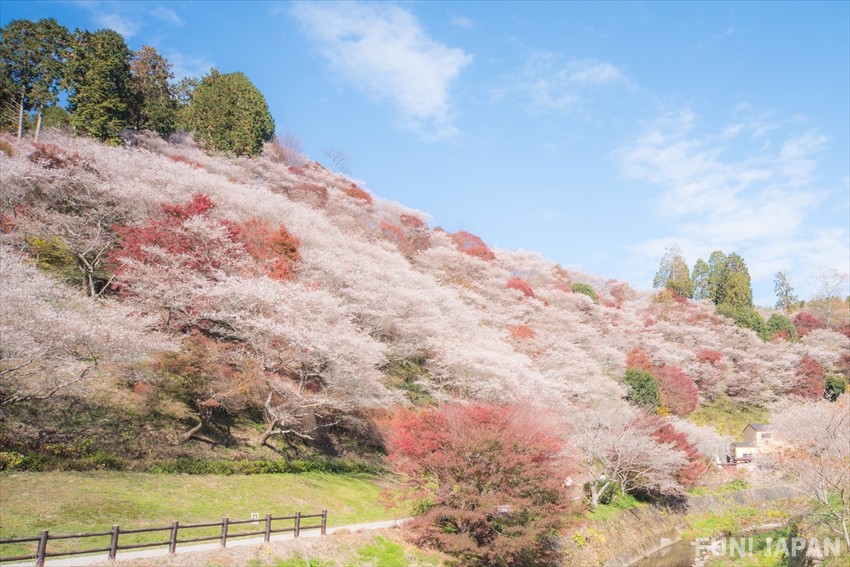 Known as the four-season cherry blossom, Toyota is the only city where you can combine sakura (cherry blossom) with autumn leaves. The rare Shikizakura variety of cherry tree grow in their thousands in the Obara region and bloom both in spring and in autumn. Believed to have been presented from Nagoya as a gift to a local physician, there are now approximately 10,000 trees in the area. The main site is Obara Fureai Park and the nearby Shikizakura Park, which are to the northeast of Toyota City. There is a local festival held during the blossoming period, from mid-November to early December across multiple locations, including the parks, the Obara Paper Art Museum, the Ichiba Castle Ruins and the Kakigairi Walking Path.
Spot Information
Name: Shikizakura Park (四季桜公園)
Address: Obaracho, Toyota, Aichi
Location: The park is to the northeast of Toyota City, close to the Obara Paper Art Museum.
Access: The park is easily reached by car and is a 30-minute drive. The local Toyota Oiden Bus to Obara leaves from the Toyotashi Station, taking one hour and costing approximately 600 yen.
Korankei Gorge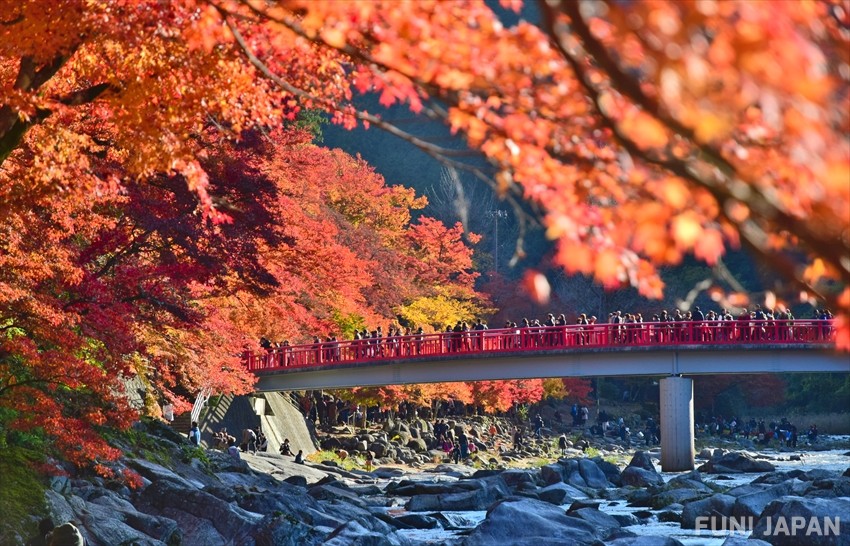 A beautiful gorge on the Tomoe River, Korankei is found to the east of Toyota city. The area is especially popular during autumn as it turns gold, orange and red with the changing leaves, with views from the Tomoebashi bridge offering stunning views. It is close to Asuke Castle as well as Sanshu Asuke Yashiki Mura - a collection of preserved and reconstructed Edo-period houses with a chance to try traditional arts and crafts. The gorge has walking paths, a Momiji tunnel and parks and shrines to admire. There is an annual autumn leaves festival during November with illuminations and food stalls.
Spot Information
Name: Korankei Gorge (香嵐渓)
Address: Iimori Asukecho, Toyota, Aichi
Location: The Gorge is located to the east of Toyota city.
Access: The Gorge is best accessed by car as it is a half-hour drive from Toyota City. There are limited buses from Toyotashi Train Station, taking approximately one hour and costing 800 yen.
Sanage Onsen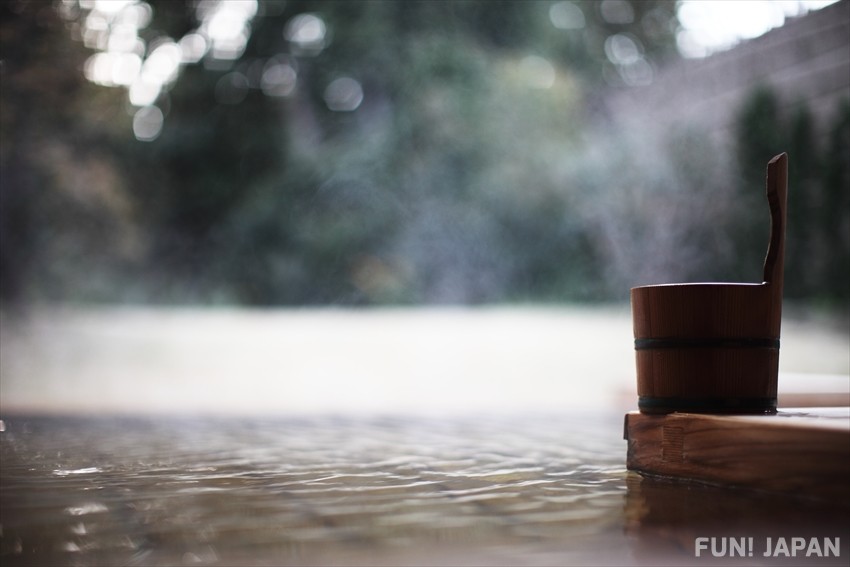 Sanage Onsen is a popular hot spring resort close to Mount Sanage in Aichi Kogen Quasi-National Park, to the north of Toyota City. The radon hot springs were founded in 1554 and are sourced from 1,200m underground. The water is said to have medicinal properties and is one of the first to be approved for drinking in Japan. The area is close to walking paths along Lake Suzugataki and the nearby Suzugataki waterfall is a popular power spot. The hotel accepts day guests, with bath use costing 1,500 yen for adults and 300 yen for children aged between 3-12 years old.
Spot Information
Name: Sanage Onsen Hotel Kinsenkaku
Address: 21 Kanocho, Umamichi-dori, Toyota, Aichi
Location: The onsen is to the north of the city, at the foot of Mount Sanage.
Access: The resort is best reached by car and is a 20-minute drive from the city of Toyota.
Hours: 09:00 - 23:00 (weekdays) and 08:00 - 23:00 (weekends)
Entry: 1,500 yen for adults, 300 yen for children aged between 3-12 years old.
Kuragaike Park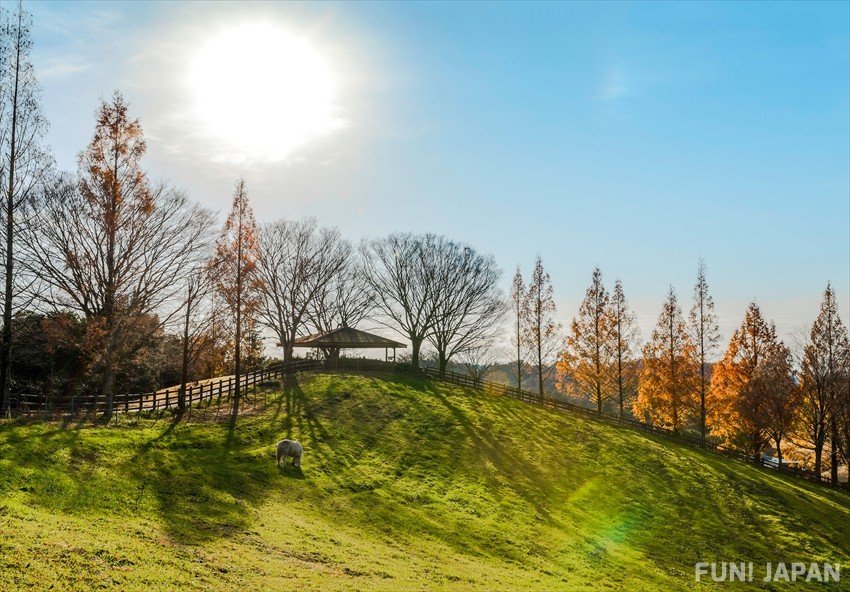 This is a large multi-purpose park filled with walking trails, a botanical garden and a zoo. The park surrounds the beautiful Kuragaike Pond which has rowboats and there's even a Starbucks to sit in and enjoy the view. The park is popular with families and has a petting zoo in addition to the small regular zoo. Play areas are dotted throughout with a park train connecting spots.
Spot Information
Name: Kuragaike Park (鞍ケ池公園)
Address: Hozawa-713-2 Yanamicho, Toyota, Aichi
Location: The park is located to the east of Toyota city, not too far from the center.
Access: There are Meitetsu Toyota and Mikawa Line buses running from Toyotashi Station with passengers alighting at Kuragaike Koen-mae bus stop.
Hours: 09:00 - 17:00 (Park) 10:00 - 16:30 (Zoo) 13:10 - 14:50 (Petting Zoo)
Entry: Free
Festivals in Toyota City: Dolls and Dancing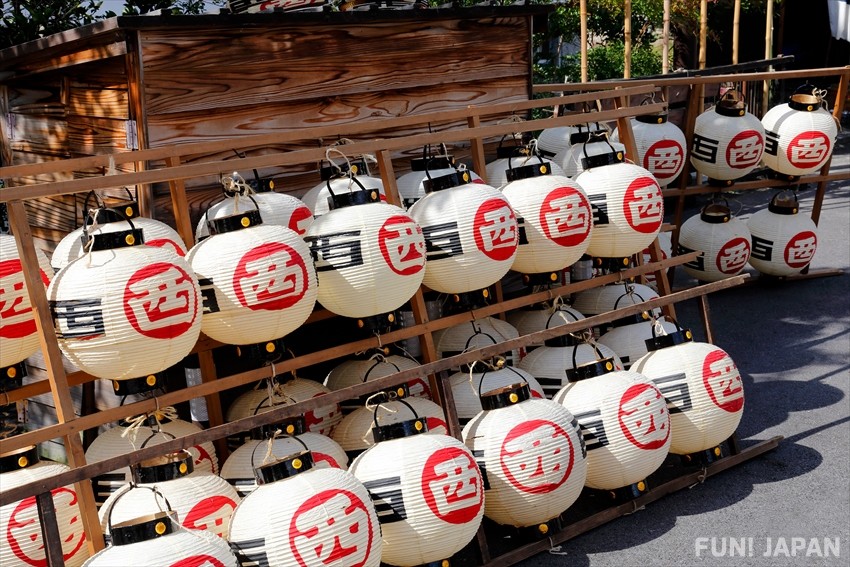 There are many local festivals in Toyota city but two are particularly famous. The Toyota Oiden Festival is held annually in September, with a run of events starting in June. It is a large-scale dance festival, with teams made up of citizens from all over the region. The processions involve traditional and contemporary dances as well as bright costumes. The main events are held on the last weekend of September, including a large dance procession and an impressive fireworks display the following evening.
The Asuke Hinamatsuri is a Japan-wide festival that is particularly famous here thanks to the town's large collection of dolls. Usually stored at home and only displayed in the lead-up to Girl's Day (Hinamatsuri) and even then, remaining in the home, here dolls are displayed for all to see. The event is held for one month from mid-February to mid-March.
How to Get to Toyota City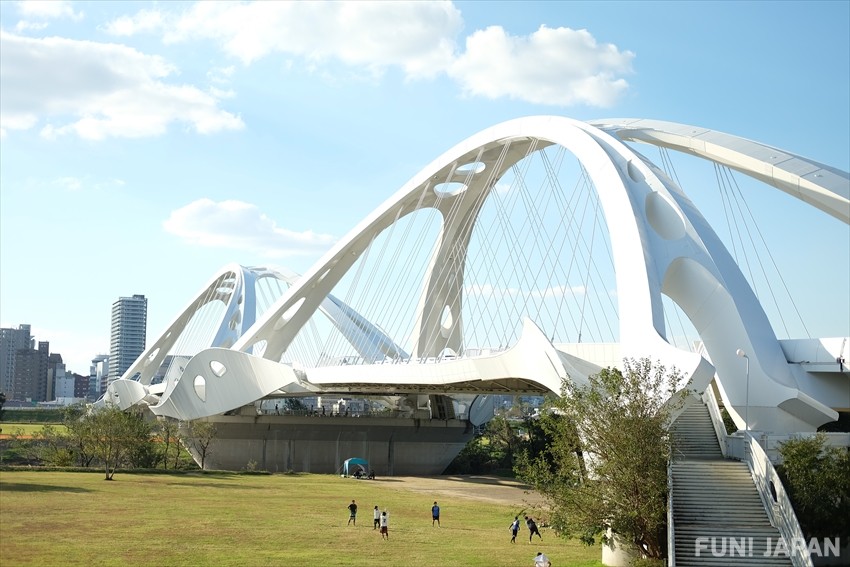 Toyota City is only around an hour from Nagoya on the Meitetsu Toyota Line, which has a through service to the Nagoya Subway. The journey costs 780 yen, with one change, arriving at Toyotashi - the central train station.
From Osaka, visitors can take the bullet train from Shin-Osaka to Nagoya, taking 50 minutes and costing 5,940 yen (unreserved) before taking the route outlined above to reach Toyota. From Tokyo, the bullet train to Nagoya takes 100 minutes and costs 10,560 yen (unreserved). 
[Survey] Traveling to Japan
Recommend