FUN! JAPAN PR
[Osaka, Nara, Japan] A Journey Through the Kansai Area on the Kintetsu Railway Learning About Japanese Sake!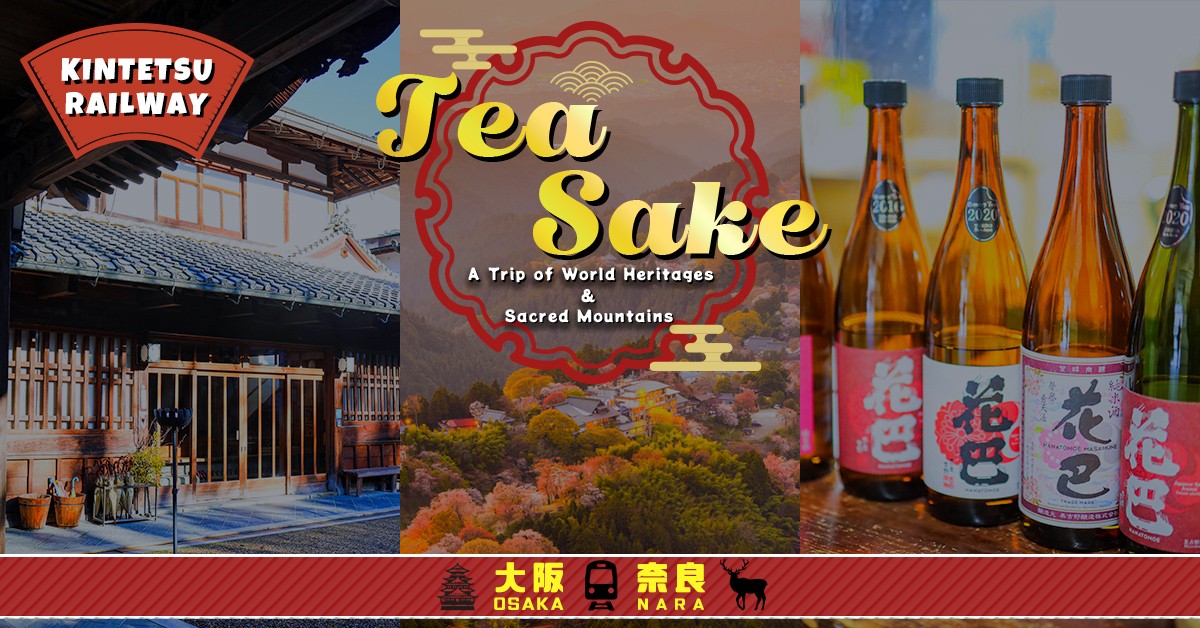 Taking a single breath atop Mount Yoshino is an experience worth visiting in and of itself.
It's a 1 hour and 15 minute Kintetsu Express train ride away making it perfect for a quick adventure in the spur of the moment. Exploring the town you'll find temples, shrines, stores, and more amazing locations to discover.
In fact, there's so many amazing places to check out you'll be stuck for choice, but it's also the perfect place to take it at your own pace and make your own discoveries through exploration.
In this article, we're going to be introducing Mount Yoshino, found in Nara, which is sure to purify both your heart and soul. Well then, let's head out to the World Heritage Site and Historic Mount Yoshino and feel its holy breeze!
※How about checking out this video which was shot on-site allowing you to feel like you're really there while reading this article?
Take Home the Wisdom of Nara's Ancestors… and some Sushi!
Since Nara doesn't actually have any nearby oceans, seafood is a rarity and a treat. However, it's because there's no nearby oceans that some local food culture is born! Slice some salted mackerel thinly, wrap it over some rice, then further wrap it in Japanese persimmon leaves to avoid it drying out, finally place it in a wooden box and you've got yourself a sushi bento box.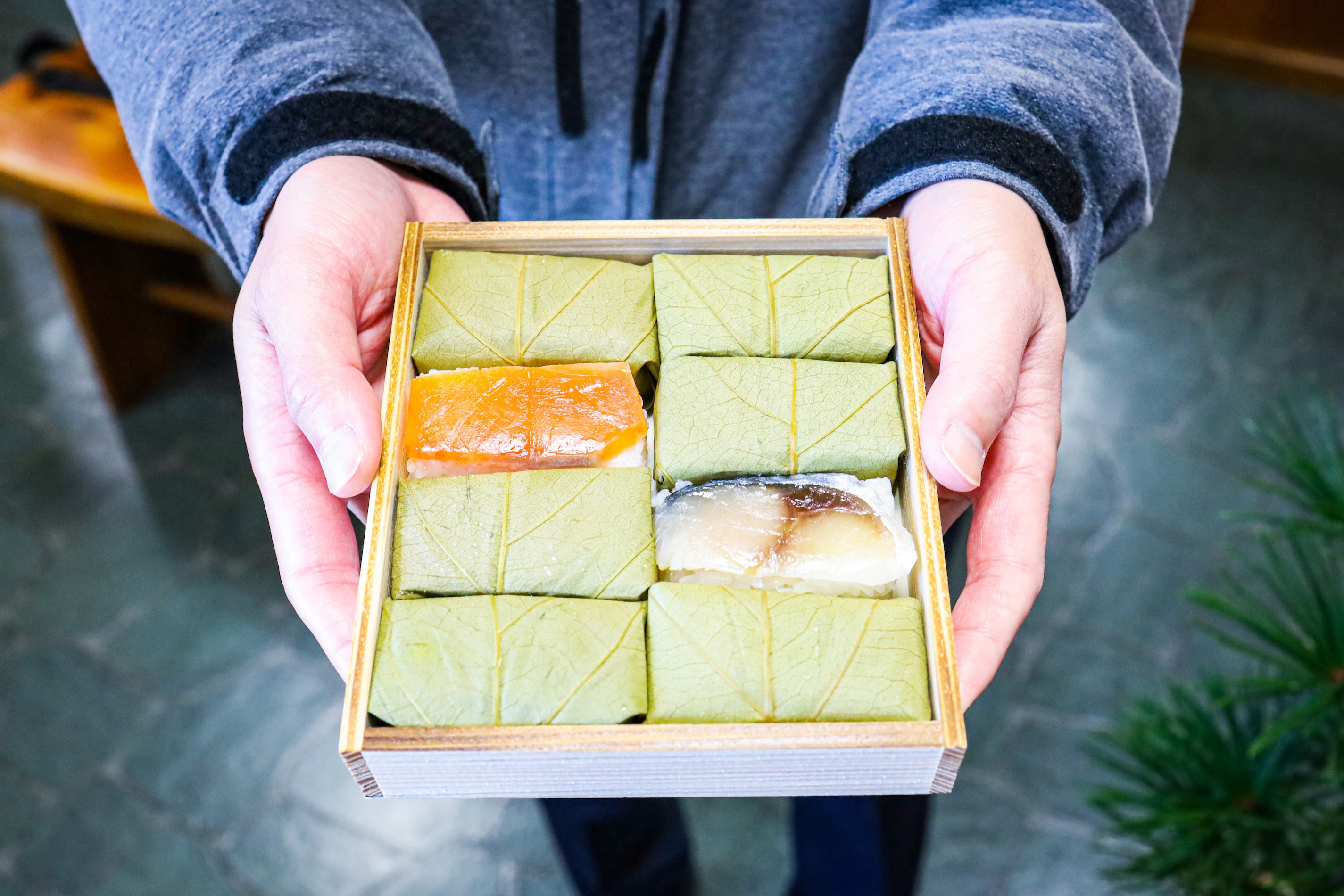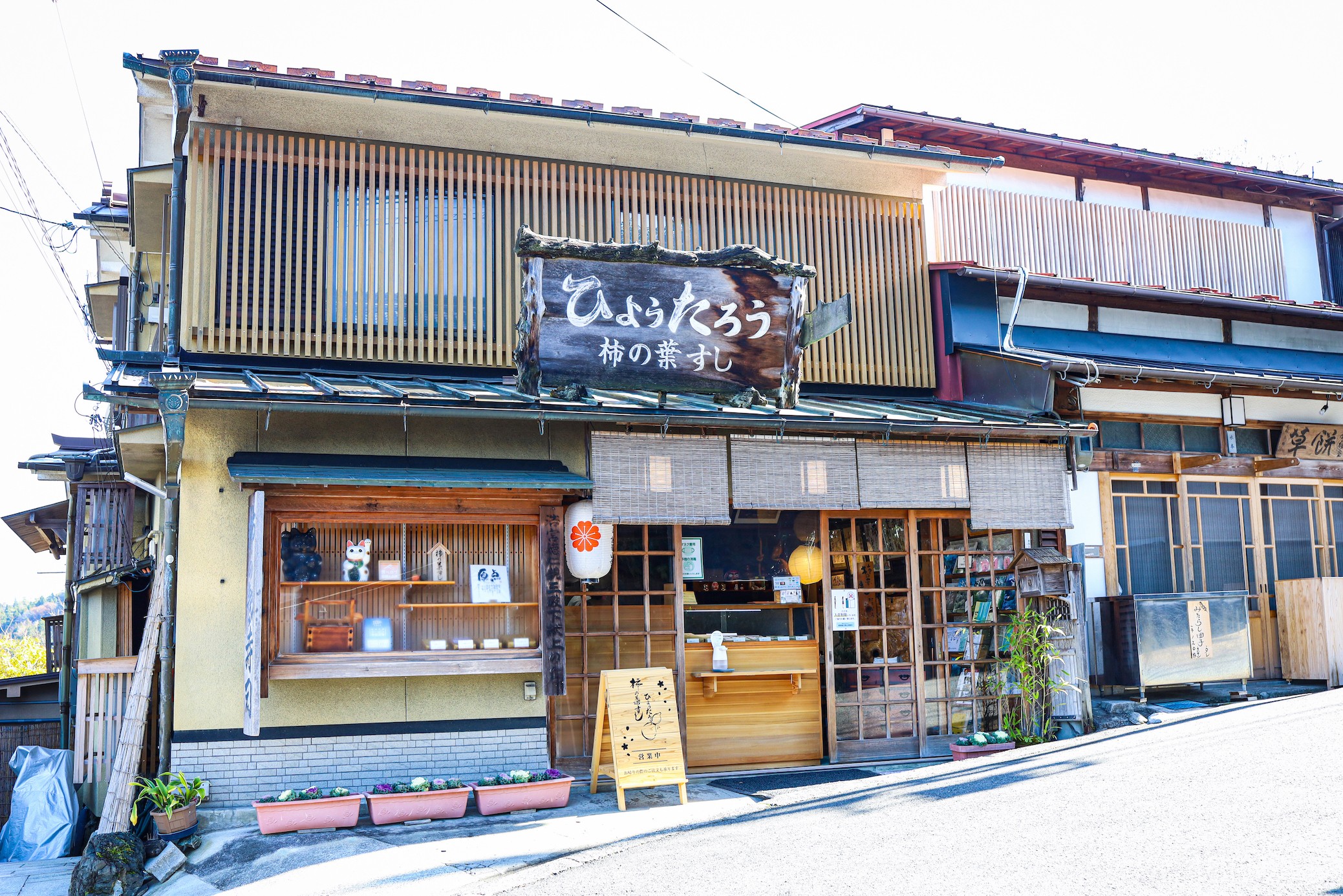 What was originally born as a food preservation method for the summer months has now made its way to being one of the local foods of Nara. At Kakinohasushi Hyoutarou, you're able to order this classical flavor that has been passed down for generations, as a takeout meal. While simple, it's all very profound. What you will eat is fish so soft it'll melt in your mouth alongside a delicious saltiness, and you're also sure to learn some local knowledge and wisdom along the way.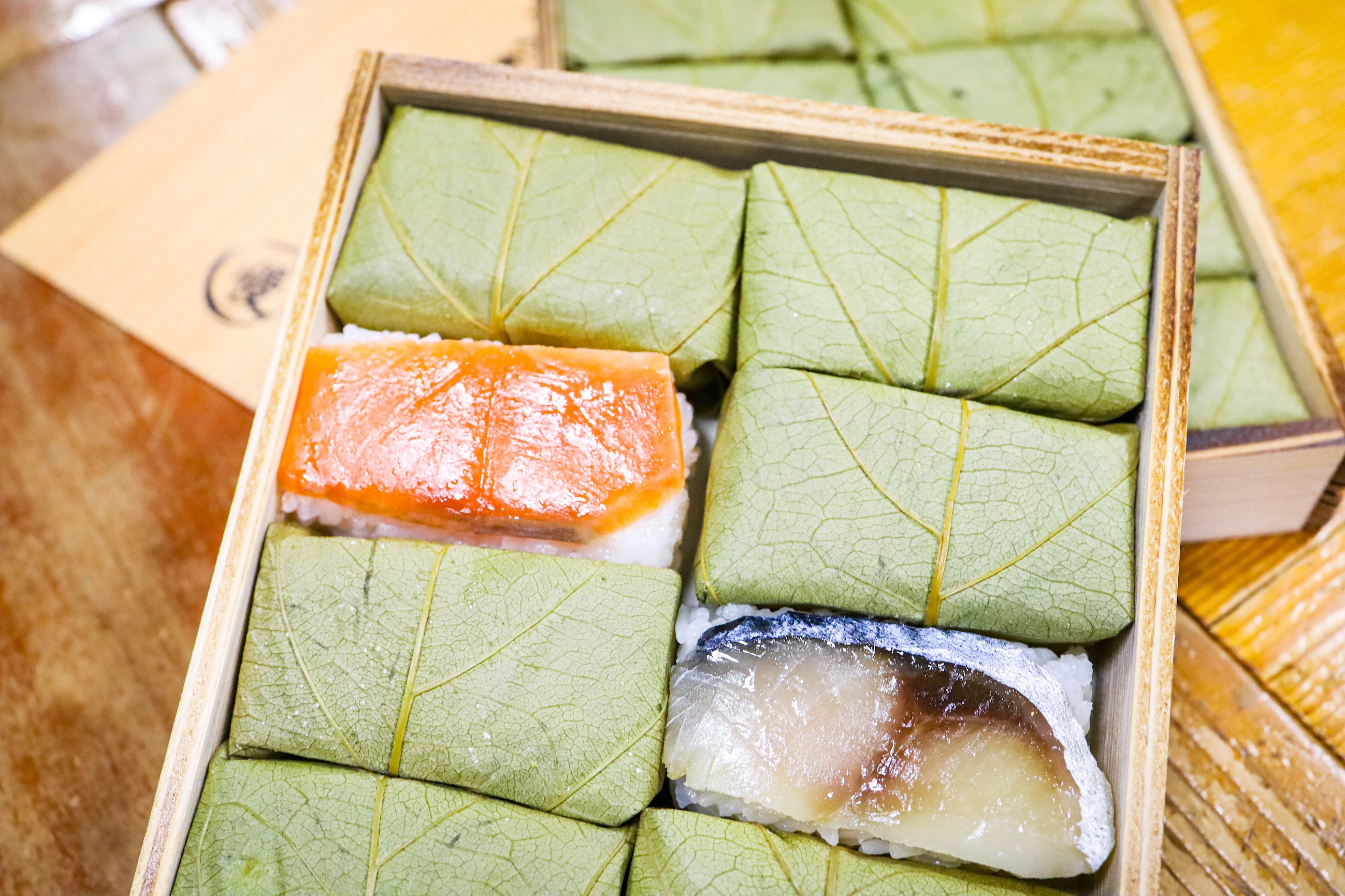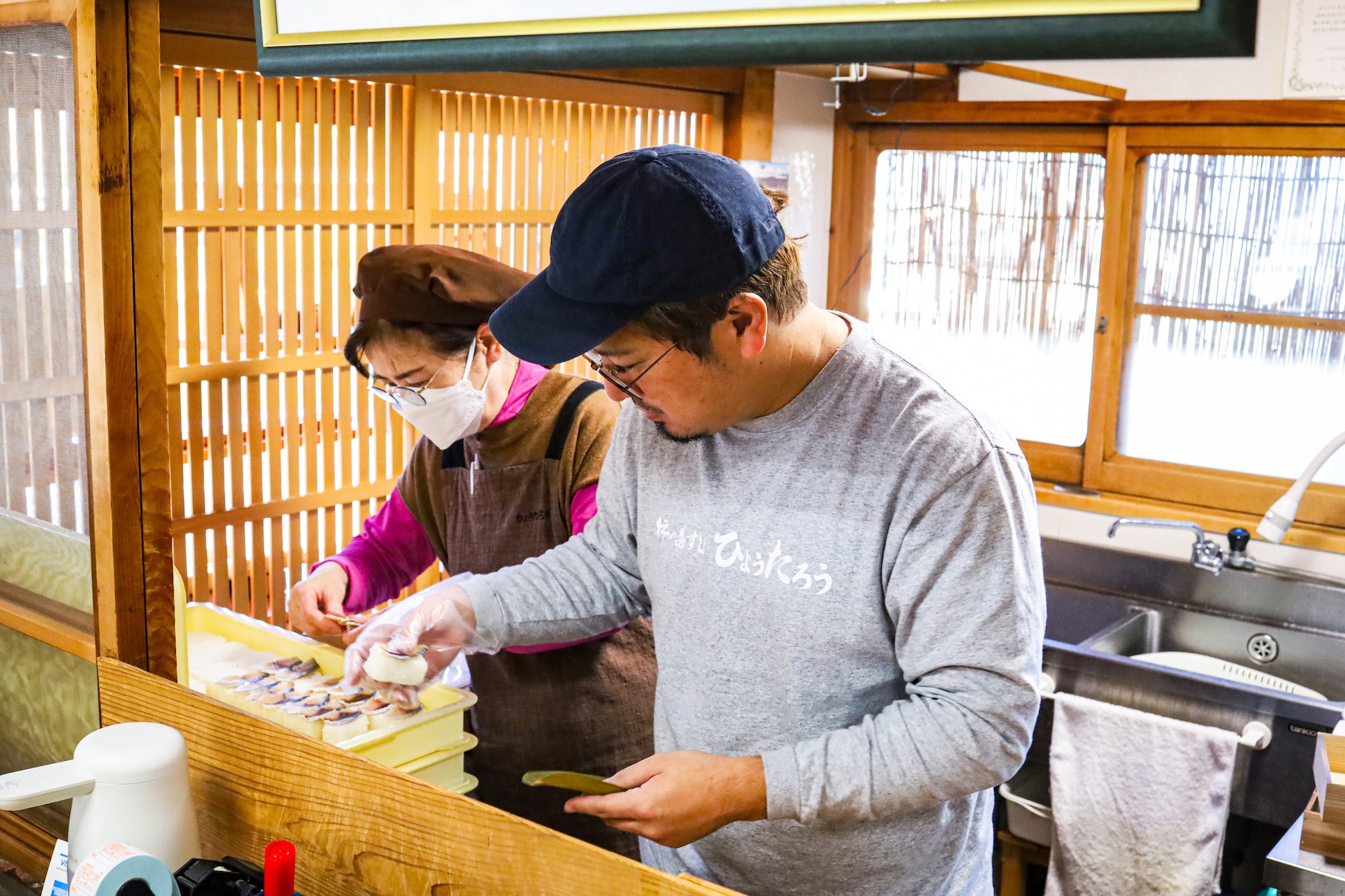 These cooks take salmon and mackerel caught in local Japanese seas, coat them in salt, place them on a bed of Japanese rice, and finally wrap them in the skin of a Japanese permission which has antibacterial and antiviral properties. It's a product born from an era when refrigerators didn't exist.
Kakinohasushi Hyoutarou

Address:429 Yoshinoyama, Yoshino, Yoshino District, Nara

Business Hours:09:00~16:00(Store will close once all products sold)
Holidays:Monday(the following business day in the event that Monday is a public holiday)
Access:10-minute walk from Yoshinoyama Ropeway Yoshinoyama (Sanjo) Station
Sour Sake? Nope! It's Sake with Sourness.
Yoshino's topography hasn't birthed just the aforementioned food. We were also made aware of a cellar which has been gaining attention recently, knowing we needed to check it out for ourselves, we headed to Miyoshino Sake Brewery.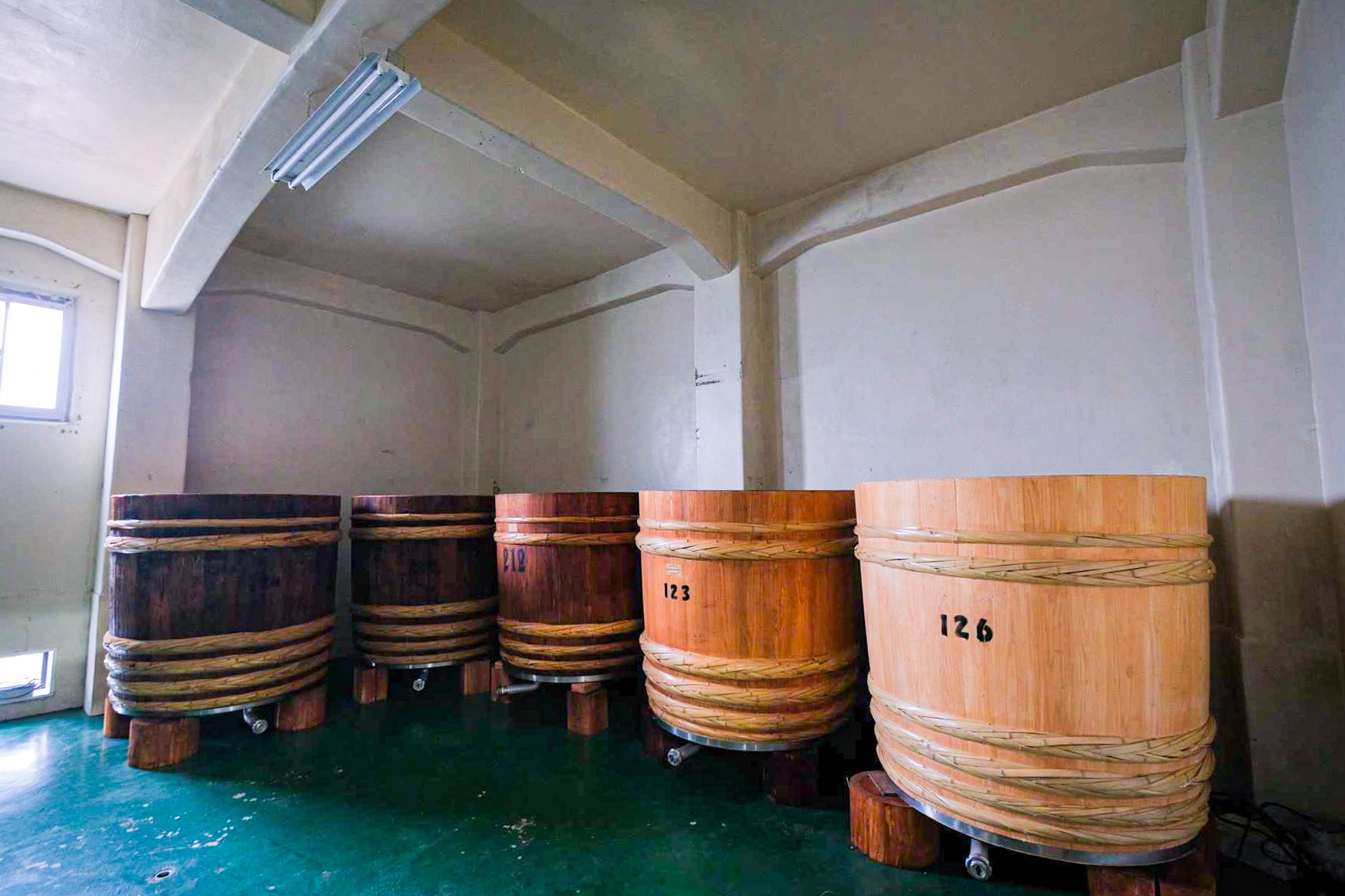 Miyoshino Sake Brewery opened its doors in 1912, and is a rare sight even in the sake brewing industry. Due to Yoshino's high temperature and humidity, yeast fungus thrives allowing for rice from Nara Prefecture to be extremely flavorful, with the brewery here deciding to, instead of controlling the sourness, make use of it and make it the characteristic of the brew. It's an all-round unusual yet astounding setup.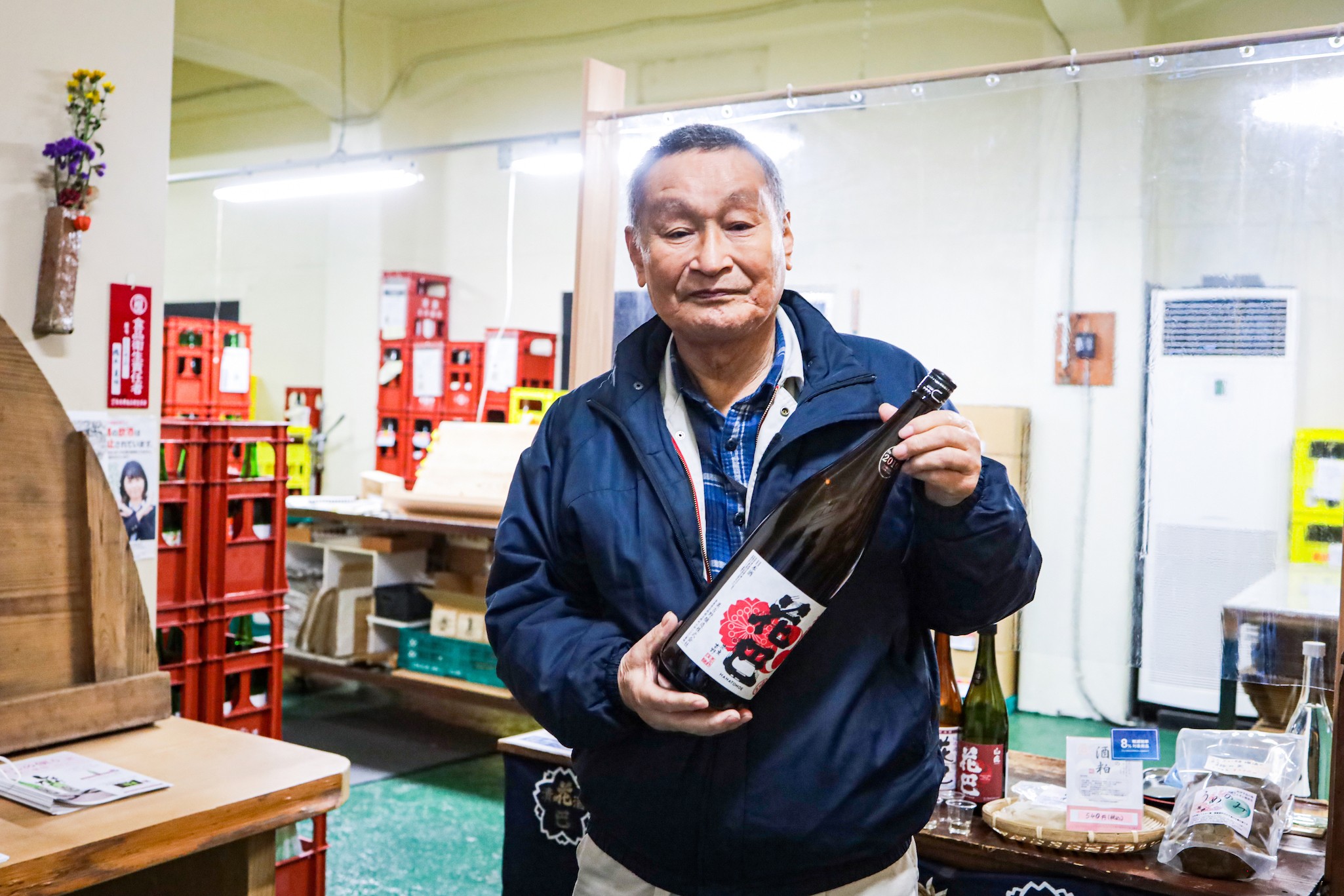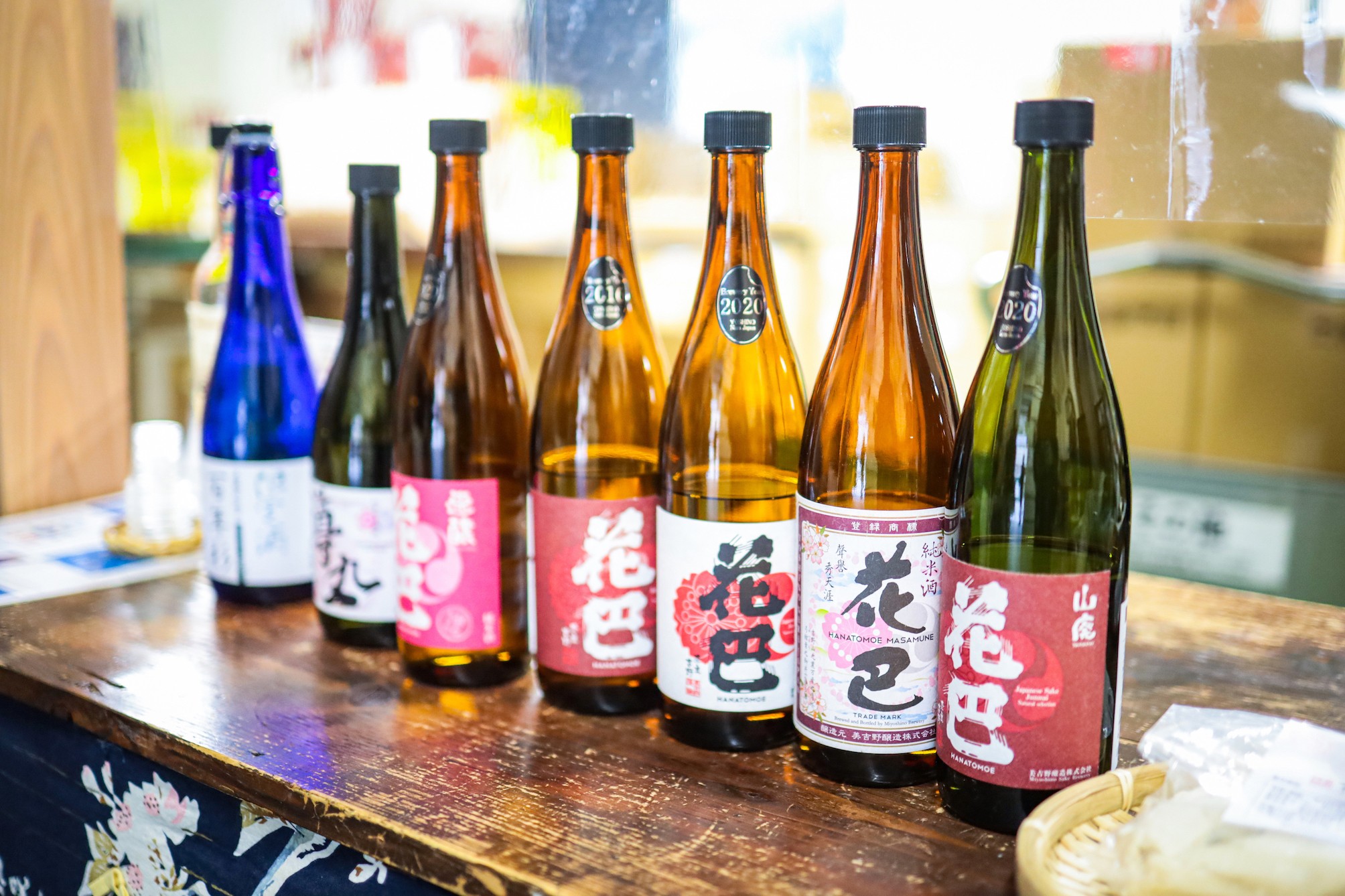 While we're talking about sourness in general, it's not like the sake itself is purely sour, instead it's a great balance of sweet and sour. The strength of the majority of the sake on sale here in between 16-18, with their most well-known sake "Hanatomoe" representing their brand. The design depicts the expansion of mountain cherry blossoms, with the thoughts that similar to each and every tree on the mountain, each bottle is delivered to the customer with love and compassion.
At the brewery store you're also able to try around 10 types of this sake. However be careful, taste this delicious sake just once and you might not be able to hold yourself back from buying a full bottle!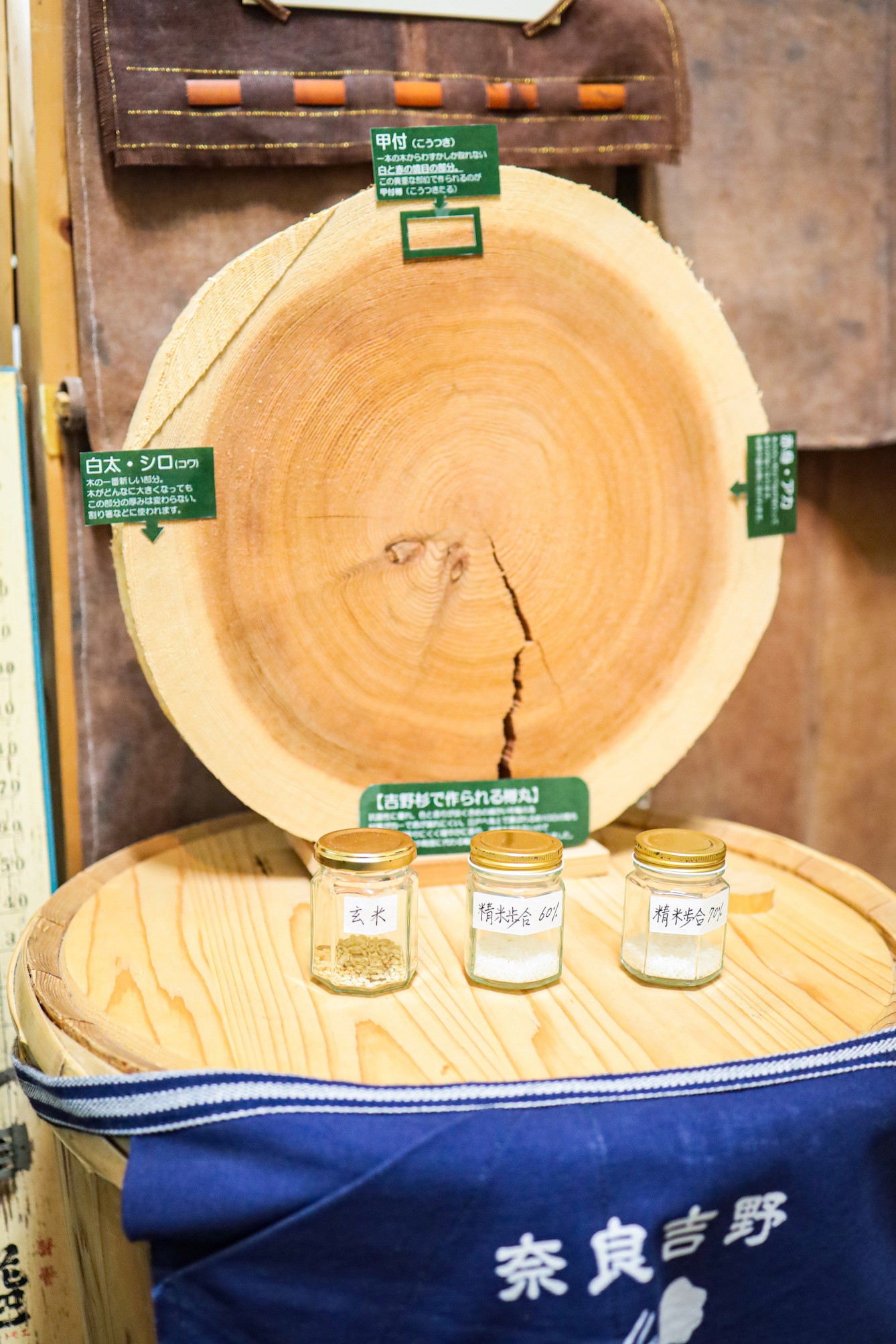 Some of the key components in brewing sake are the caskets and pales used, all of which specifically use Yoshino Cedar tree wood. Some of the merits include being resistant to leaks as well as having great sealability.
Miyoshino Sake Brewery

Address:1238-1 Muda, Yoshino, Yoshino District, Nara

Business Hours:09:00〜17:00
Holidays:New Year's Period(may have shortened business hours)
Access:10-minute walk from Kintetsu Muda Station
Relaxing at the Long Awaited 100-Year-Old Japanese Inn
As editors, we are always very thrilled to being able to wind down in a beautiful Japanese inn after a busy day. The Scenic Inn Hounkan we found in Yoshino is one spot of choice, and we were much looking forward to it since the beginning of our journey!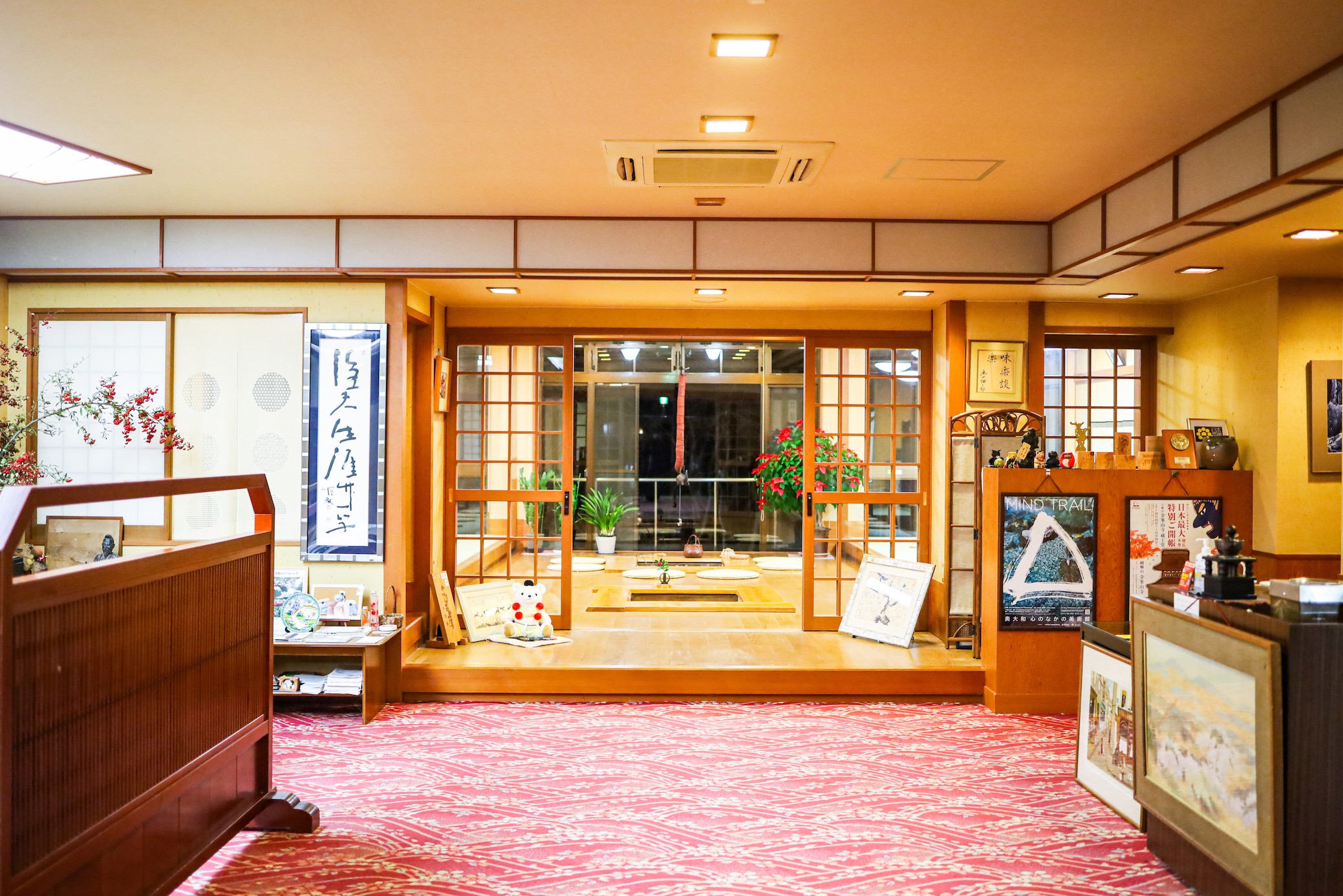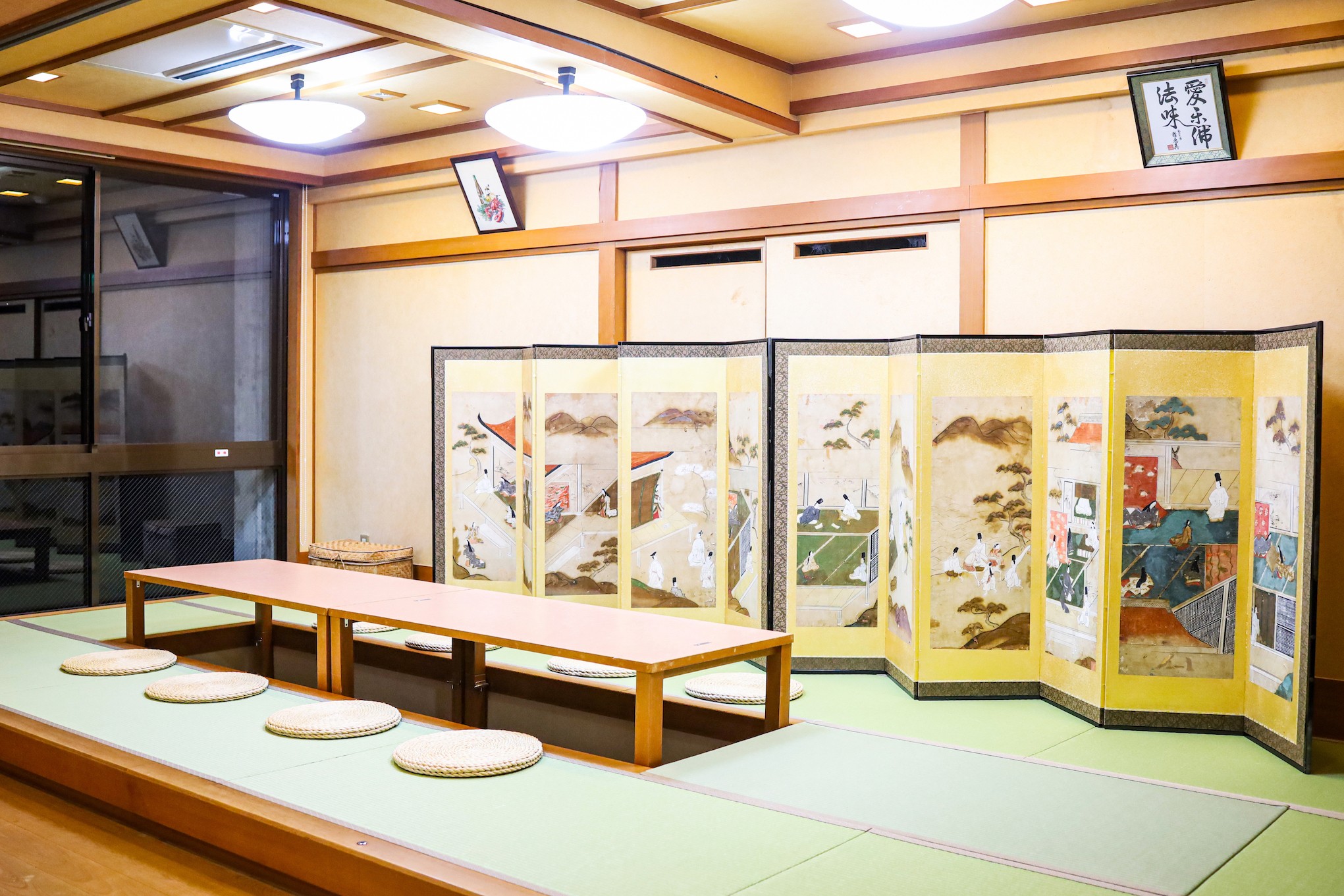 This Japanese inn which has been open since the year 1754 did not disappoint. With a large bathroom from which you can view both Naka Sebon and Kami Senbon parks, the dinner you'll be served at the end of the day uses chicken raised in Nara Prefecture which is boiled then served with dipping sauce, as well as seasonal Kaiseki (sophisticated traditional Japanese cuisine brought in courses) plans available as well.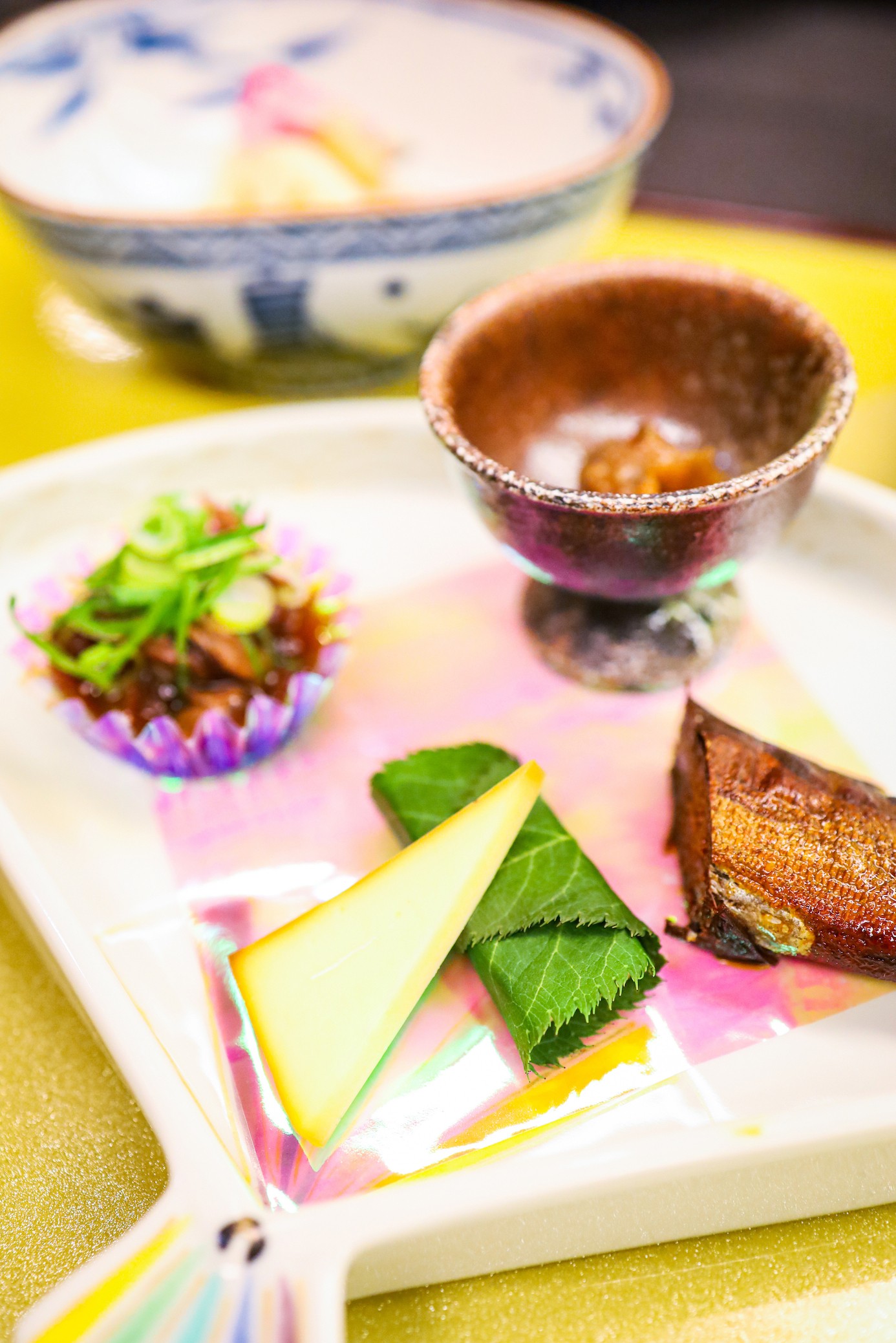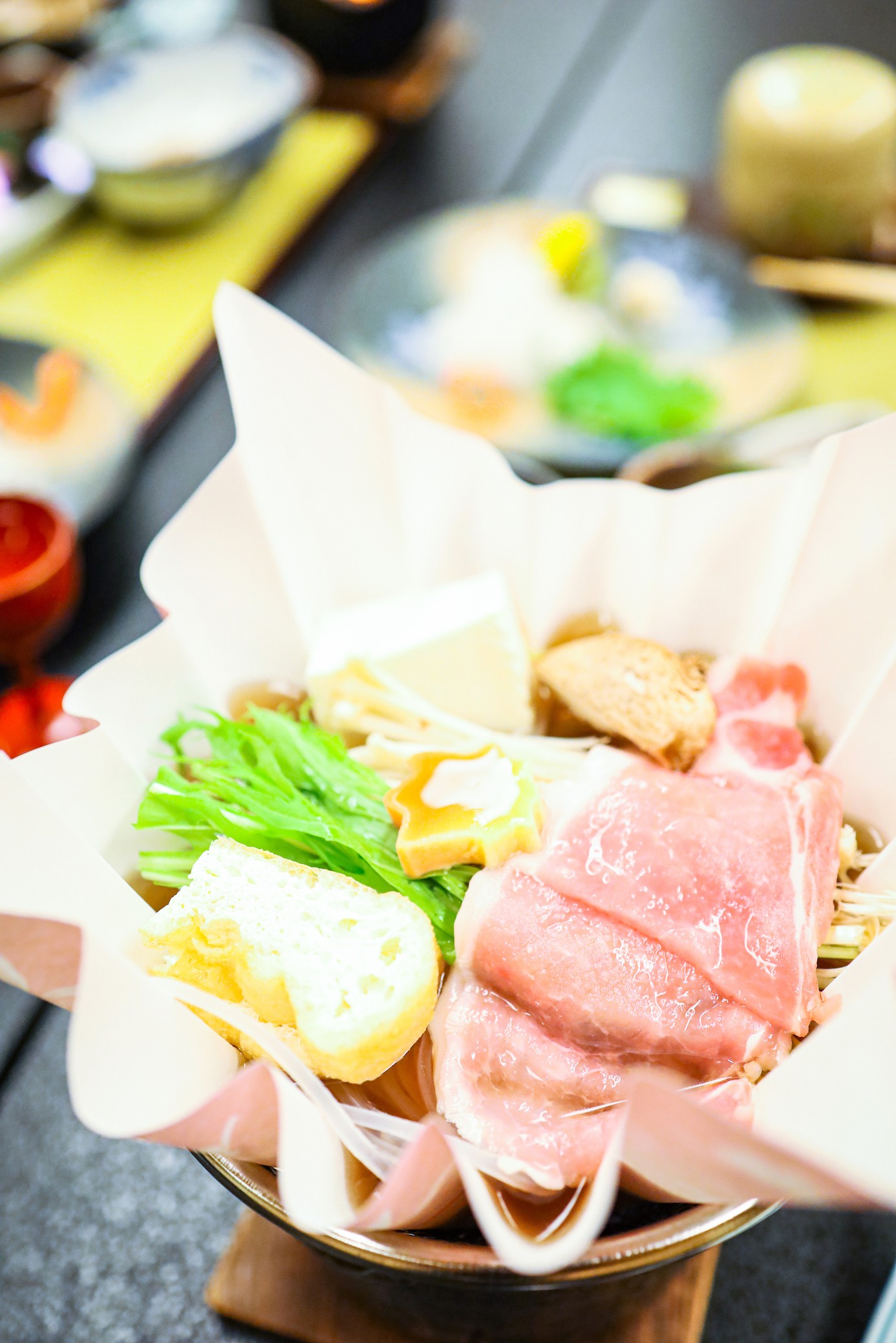 When trying the flavors of Japan's seasons, it's not the time to worry about calories. More than anything, all of these dishes go extremely well with Japanese Sake! It's time to gather our strength for tomorrow and eat our fill!
Scenic Inn Hounkan

Address:2340 Yoshinoyama, Yoshino, Yoshino District, Nara

Access:Free Transit Bus Available from Kintetsu Yoshino Station Naka Sebon and Kami Senbon Entrance.
Enjoy Picturesque Landscapes around Mount Yoshino's World Heritage Sites
Last night we had a treat when eating, today, we're going to have a treat seeing!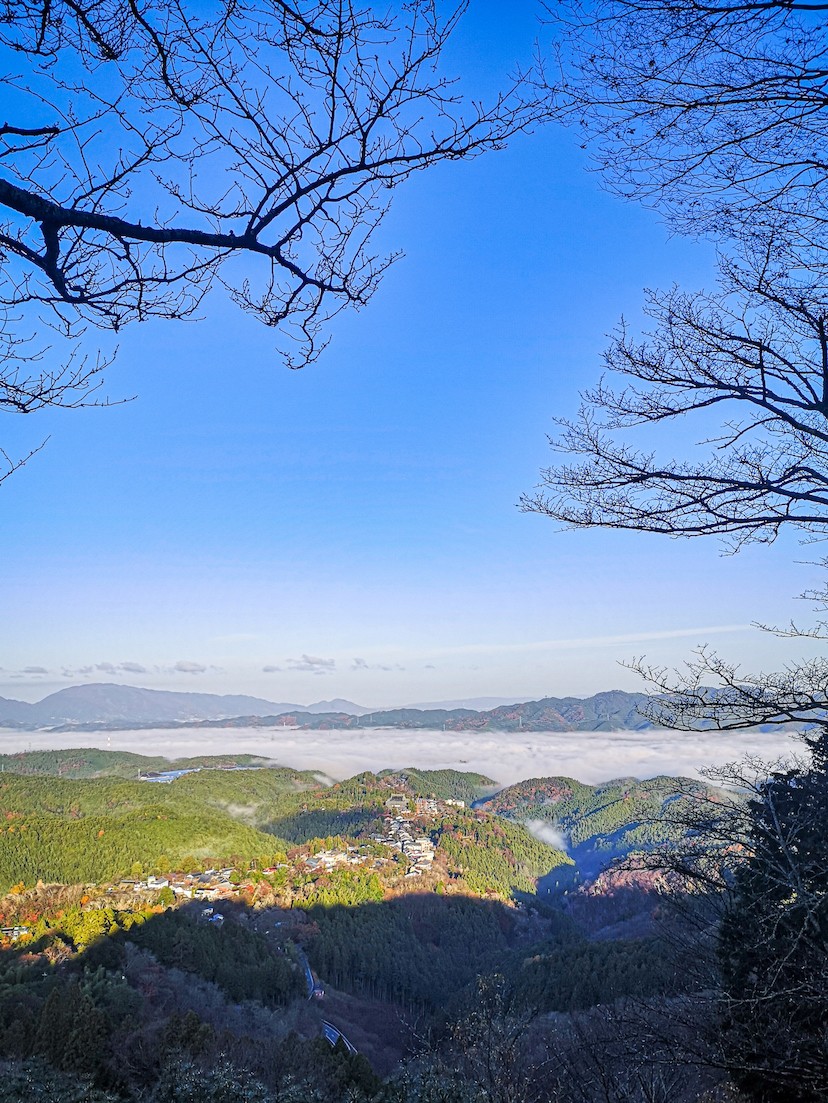 The sublime morning sun will cleanse your body and mind, and alongside that you can see some amazing views if you head to Hanayagura Observatory. You can even see the boundary of Osaka and the mountains around it as you are in VIP seats. If you stand on top and look down, it almost feels like you can reach your hand out and touch Kami Senbon and Naka Senbon trees.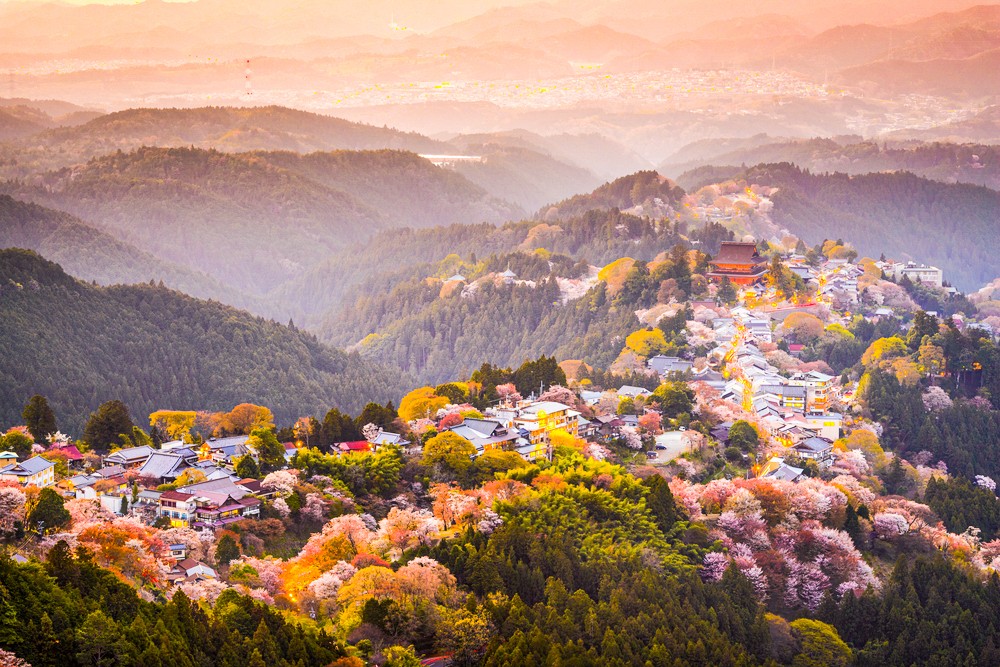 This sight is one eye-witness better than many hearsays. It's perfect as a panoramic wallpaper for your mobile phone, to gloat on your Instagram stories, or pretty much anything else you can think of. If you visit when the cherry blossom trees are blossoming it's said to be an even greater sight, so we'll make sure to return during spring when we next get the chance.
This amazing landscape is the perfect sight to wake up to!
Hanayagura Observatory

Address:1711 Yoshinoyama, Yoshino, Yoshino District, Nara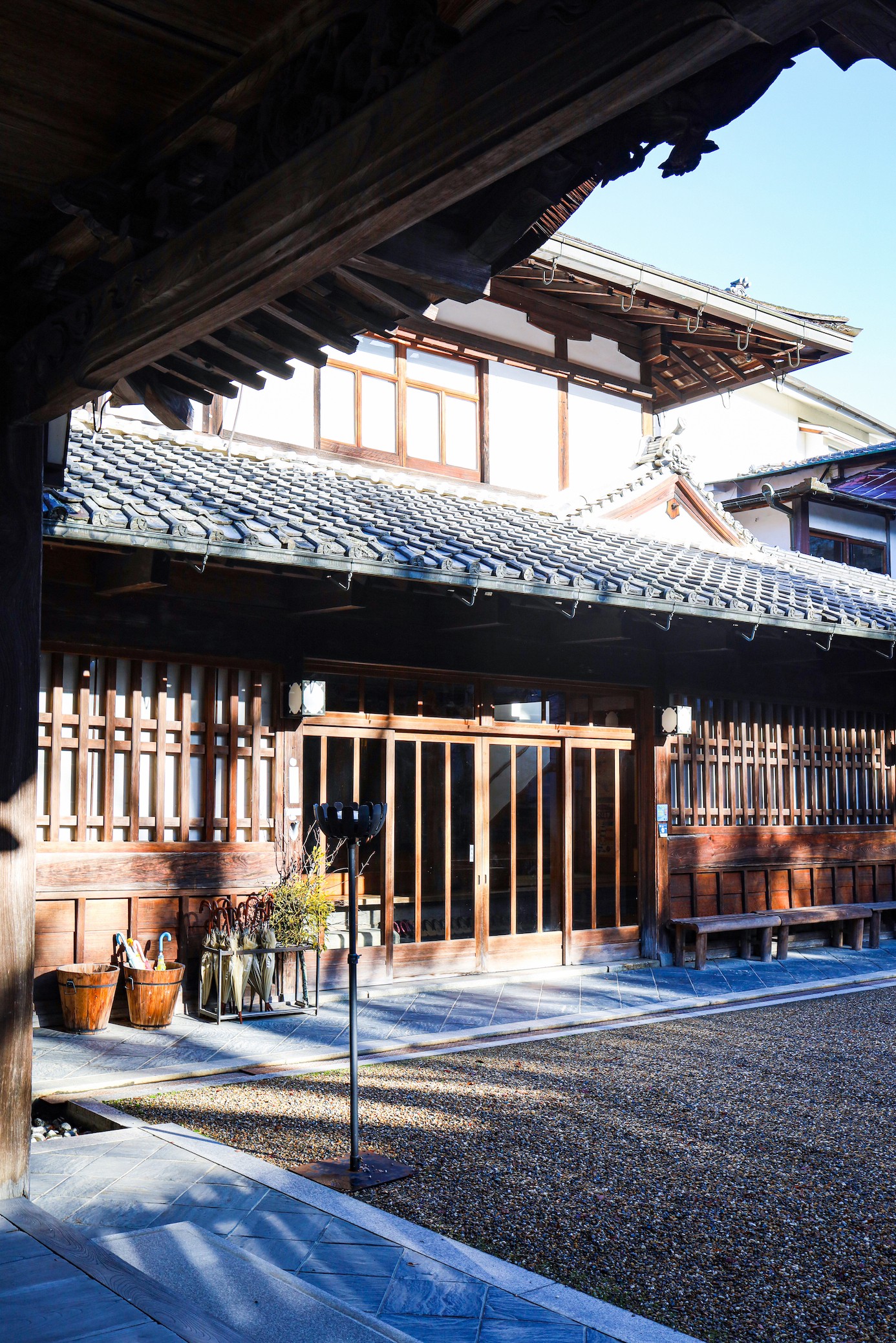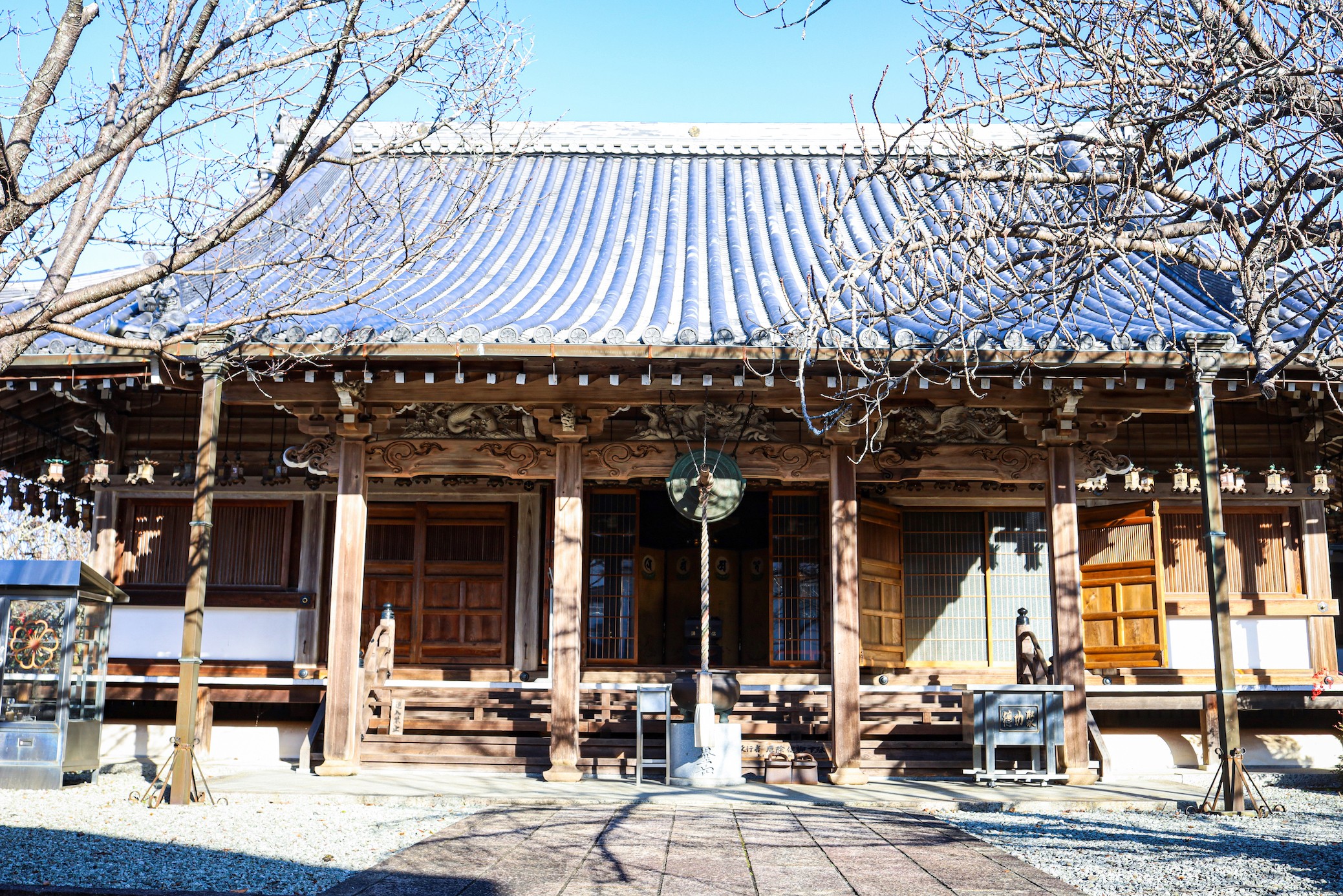 There are still many more spots to check out on Mount Yoshino. You'll find Chikurin-in Gumpoen (1st pic above) where the Showa Emperor and Empress stayed, Sakuramotobou (2nd pic above) which has cherry blossom trees that are over 1,300 years old, the National Treasure and World Heritage Kinpusenji Temple, and more!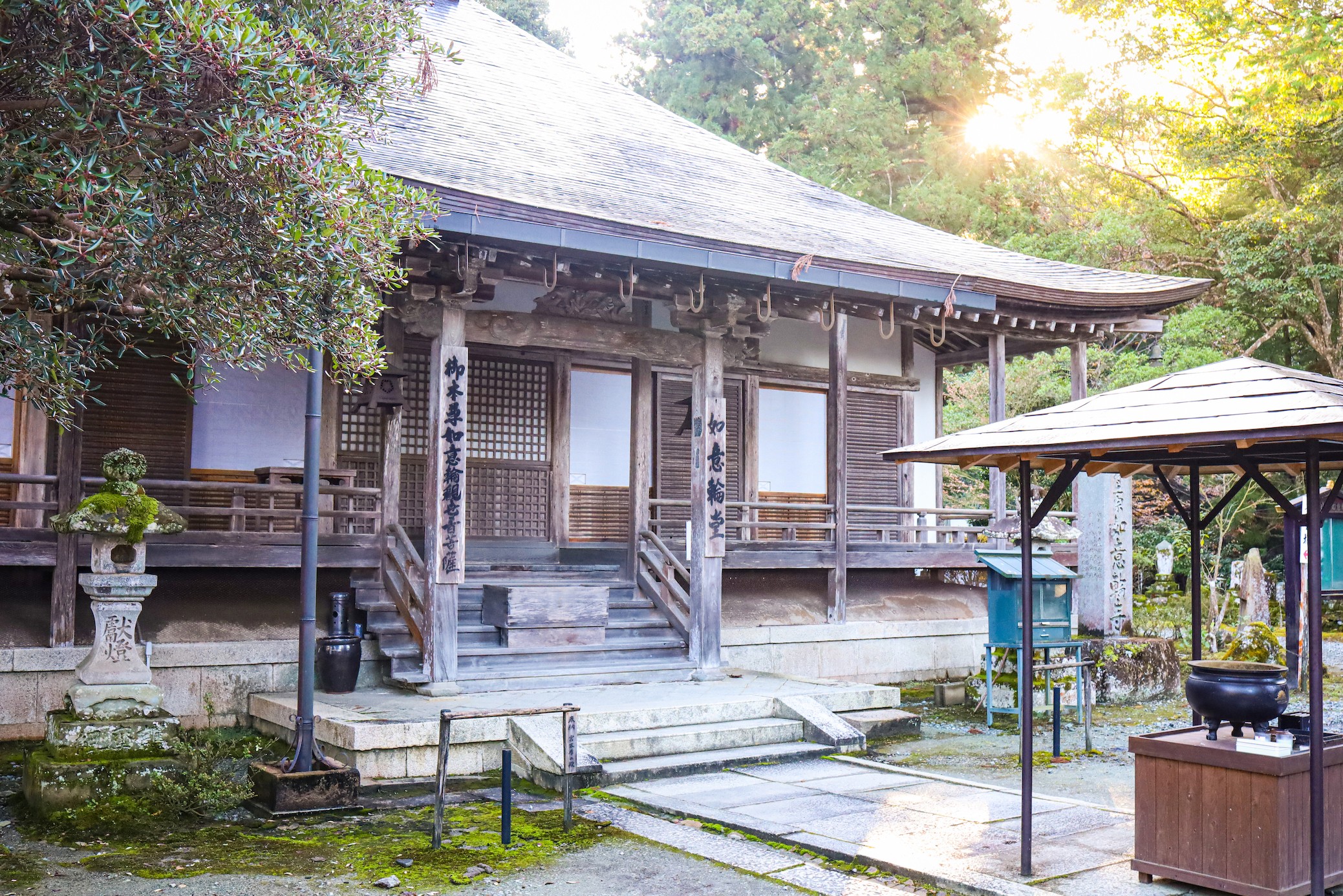 The final location we visited here is Nyoirinji Temple, located halfway up Mount Yoshino. It was built between the year 901 and 923 by order of Emperor Go-Daigo and is said to house a god that helps with traffic safety, and also has many treasures and relics from the Kamakura period (1185-1333 CE) that you can check out.

A Bright Finish to a Bright Adventure on the Blue Sightseeing Limited Express
While the fun of the recent Mount Yoshino journey is still lingering, the next fun adventure is just around the corner.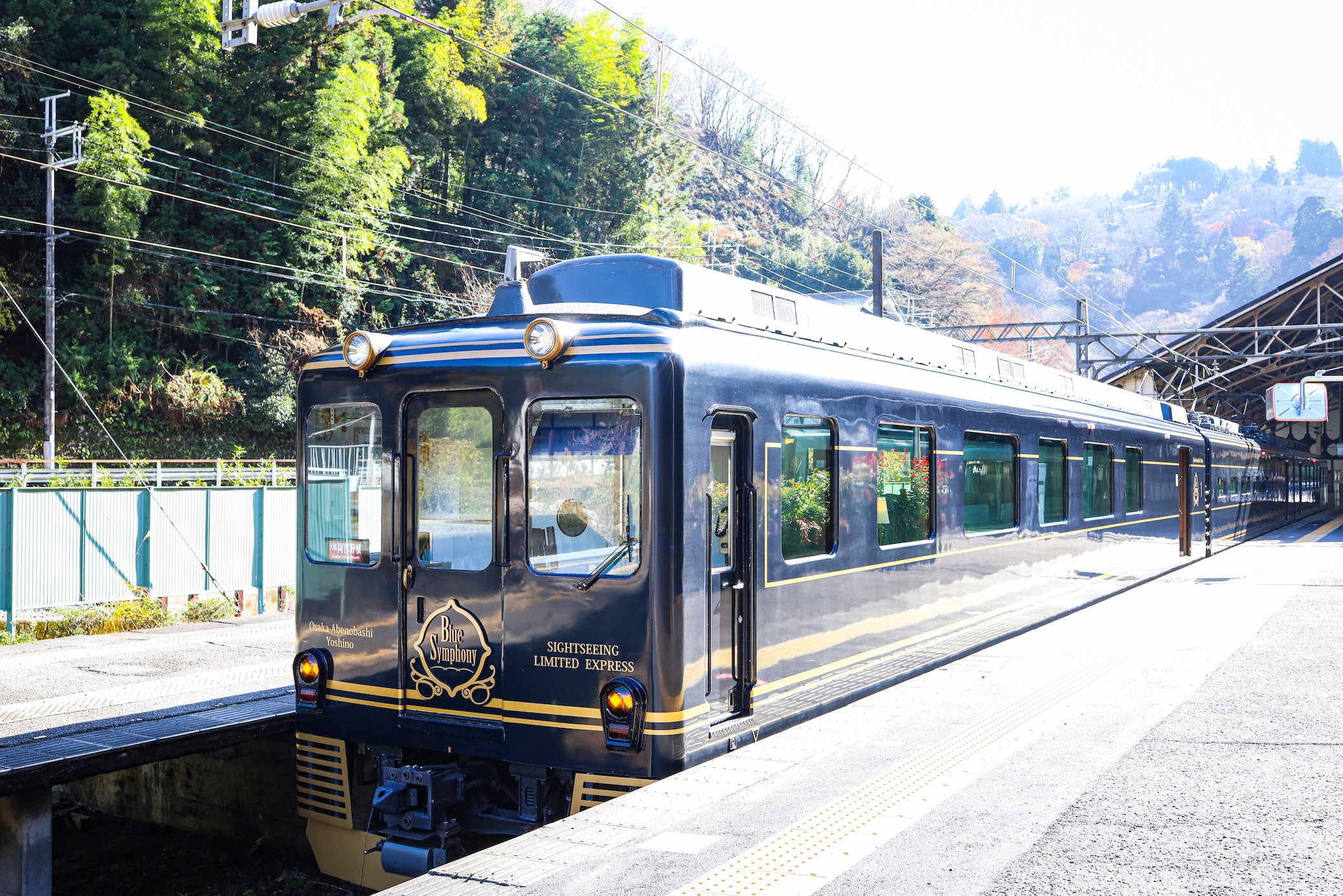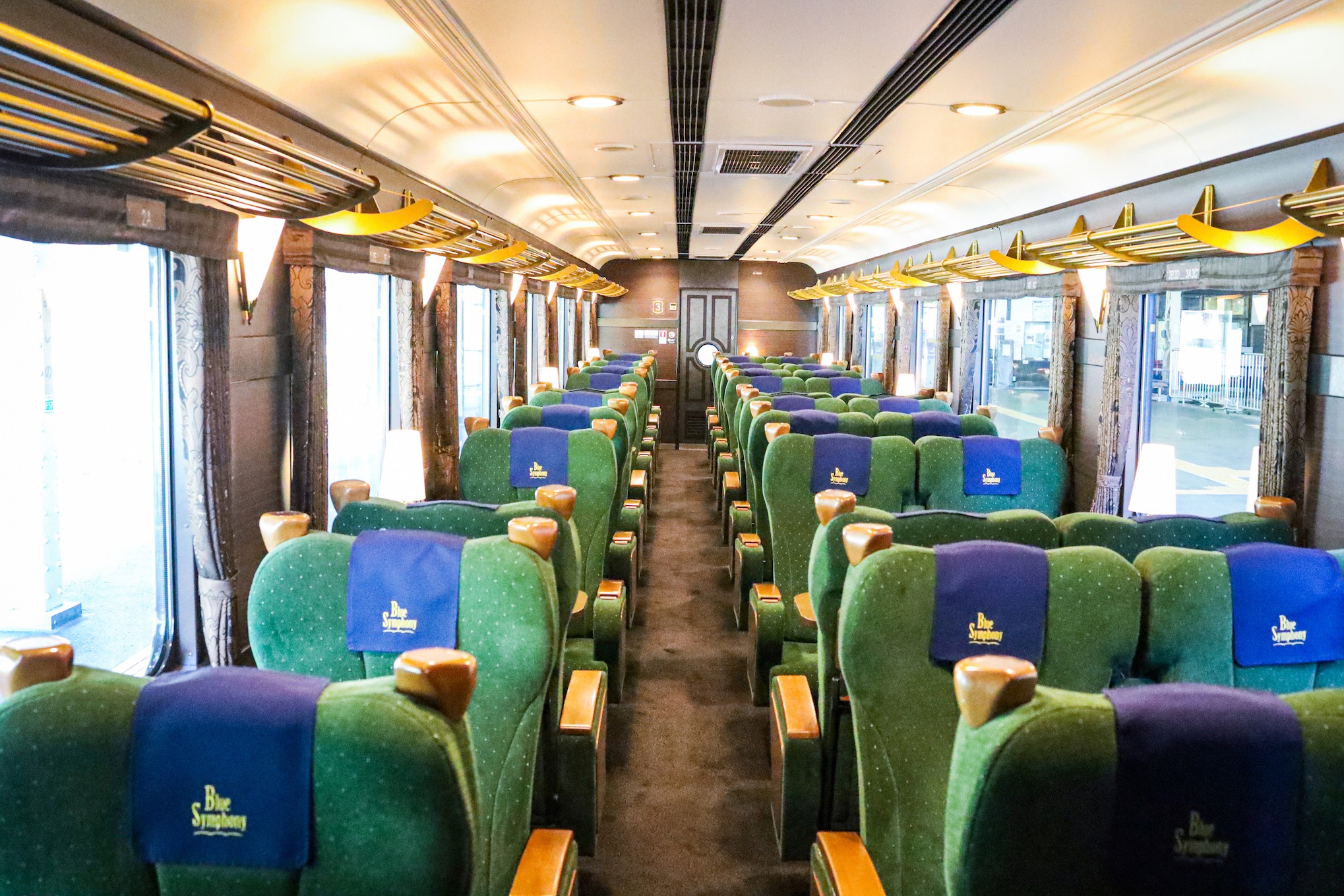 Heading home, take a ride on the Blue Symphony, an Express Sightseeing train where you can enjoy the sights and sounds of Nara and Osaka during your trip home.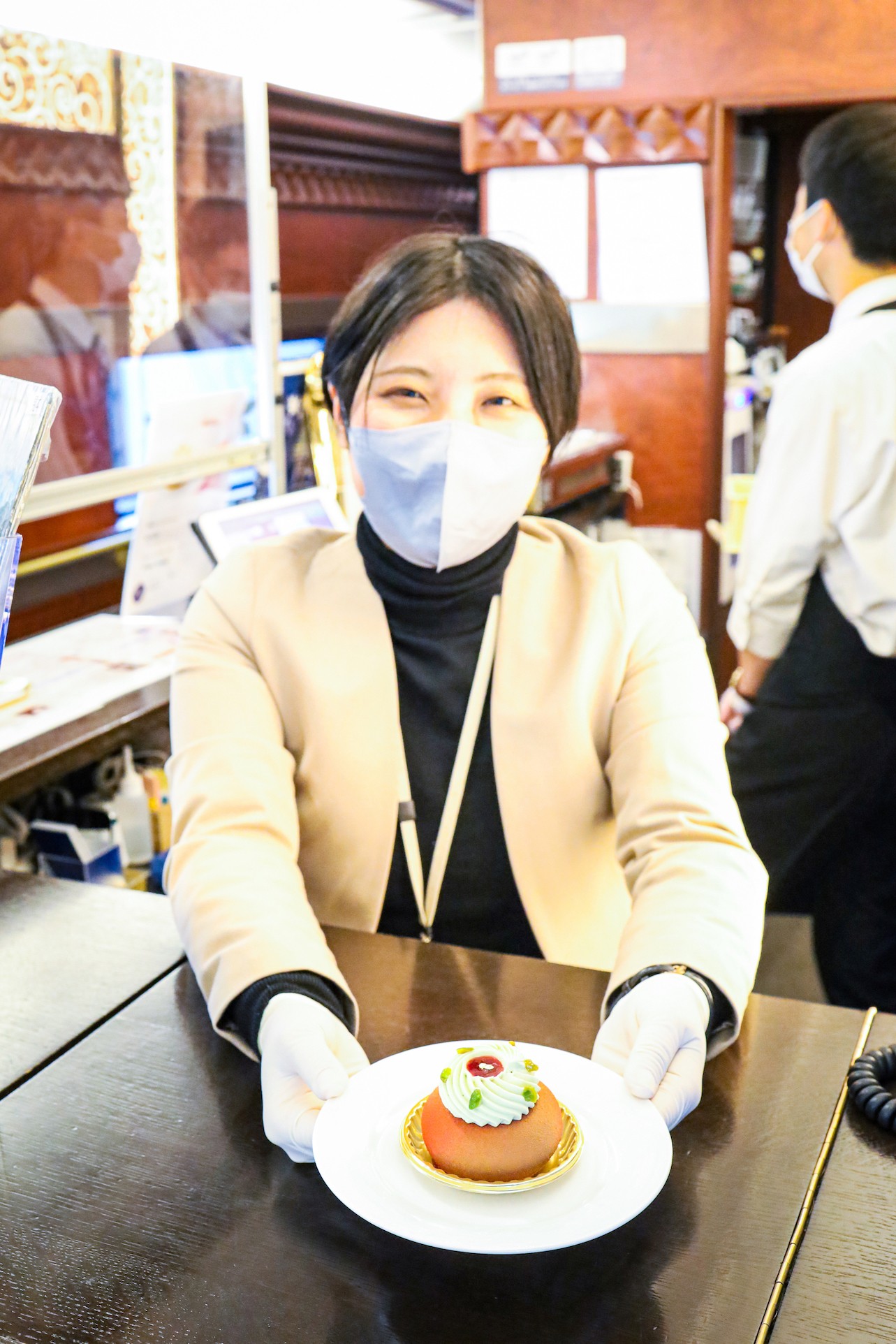 At the onboard sales counter you're able to purchase some seasonal and original cakes, persimmon sweet sets, macarons, and more, there's even some local sake from Nara breweries and craft beer available.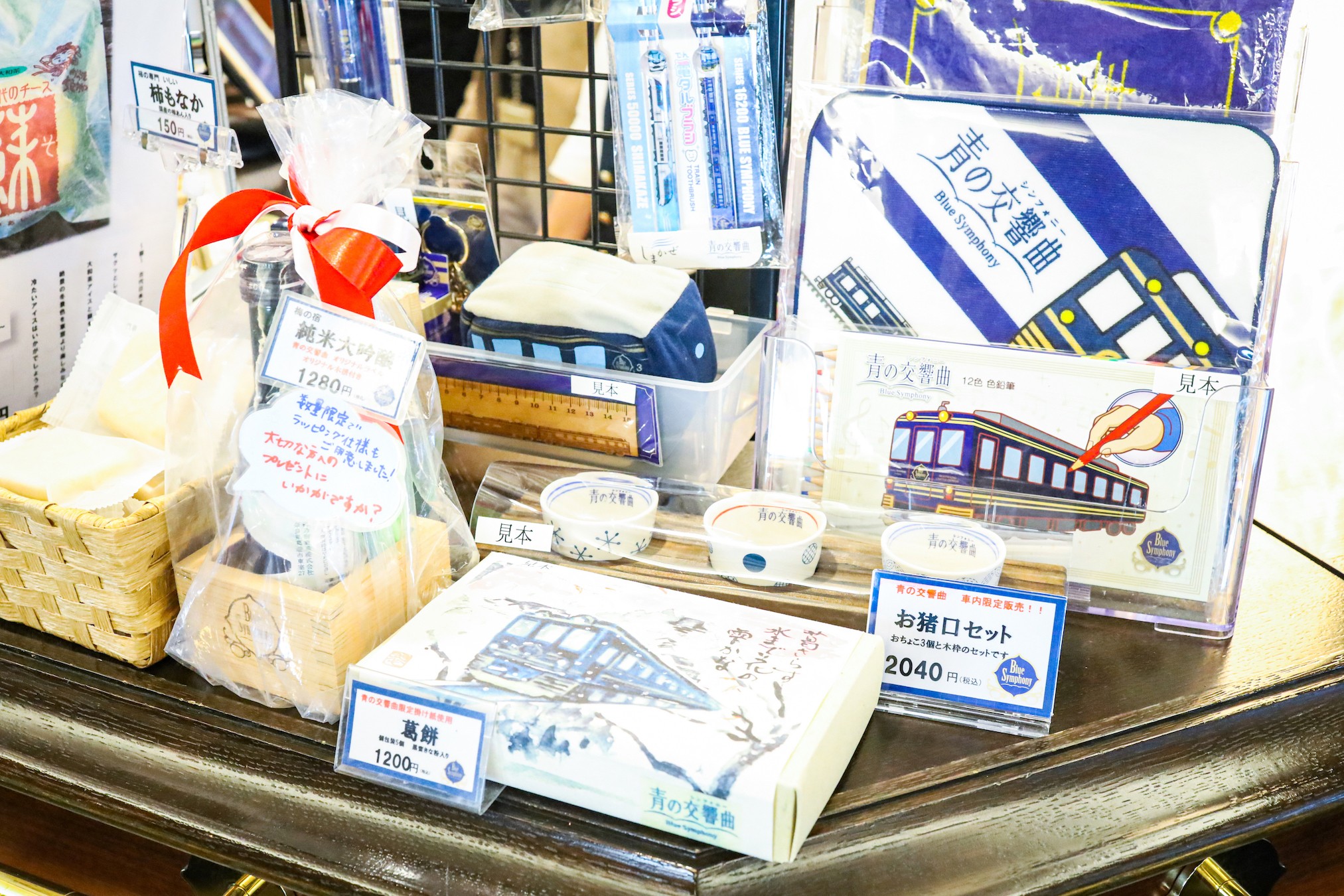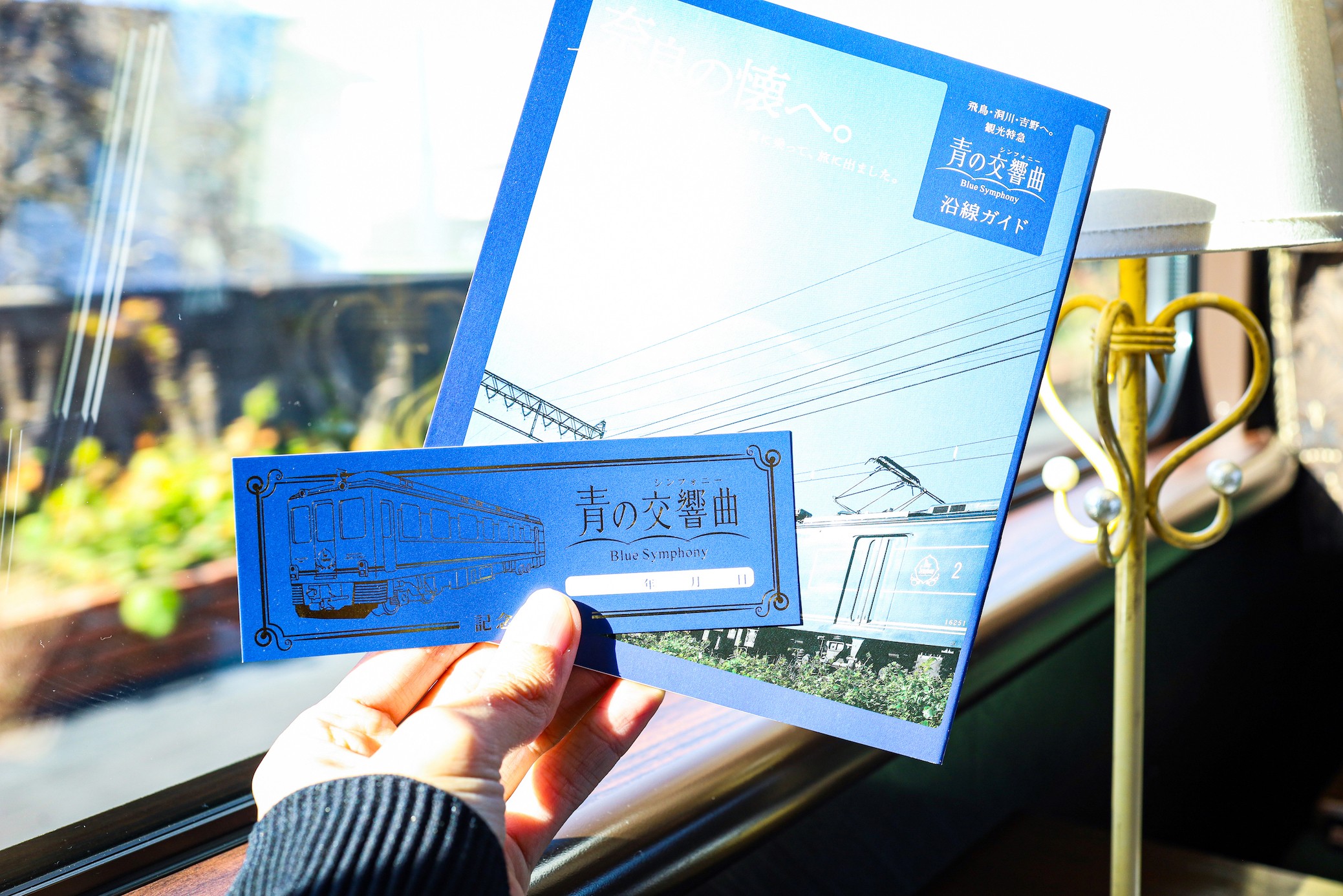 Make sure to take your transport pass home with you to commemorate your trip.
While blue is often called the color of melancholy, the blue of the Blue Symphony will warm your heart with the memories you made.
Blue Symphony

Route:Osaka Abenohashi Station〜Yoshino Station

Fare:Adult ¥730, Infant ¥370(Including Express Fees & Special Carriage Fees)
※A normal ticket alongside the above ticket is required to ride. (One-way Ticket from Osaka Abenohashi Station 〜 Yoshino Station: Adult: ¥990 / Infant ¥500)
Service Dates:basically every day (apart from Wednesday)
Great Value Ticket to Travel Yoshino Town and Mount Yoshino
The KINTETSU RAIL PASS 2DAY allows you to not only ride the Kintetsu Railway which has access to Osaka, Kyoto, and Nara, it also allows you to ride Nara's prefectural buses (designated routes only) for 2 days! There are also some bonuses for various institutions around these areas. There are many more areas you can visit using the Kintetsu Railway we weren't able to introduce in this article such as Nara Park, Tōdai-ji Temple, Kasuga Taisha Shrine, and more!
KINTETSU RAIL PASS 2DAY