Lemon & Shrimp Peperoncino Pasta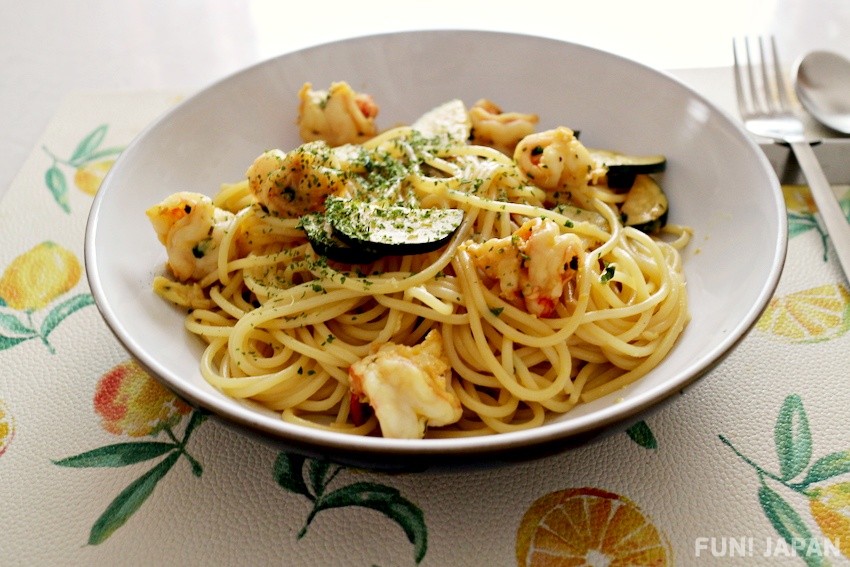 A harmonious combination of Italian and Japanese cuisine. While it may not sound it at first, the soy sauce, scallion oil, and lemons go extremely well together. It's the perfect dish for hotter seasons thanks to its refreshing flavors. Try making it yourself!

Ingredients (2 Servings)
200 g Spaghetti 
12 Shrimps
1 Zucchini
2 cloves of Garlic
1 Lemon - Juice + Shredded Lemon Skin
4 Tablespoons Otoko-no-Negiabura
1 Tablespoon Kaminari-no-Kakushiaji Soy Sauce
Cayenne Pepper (To Taste)
Parsley (To Taste)
1000 ml Water
1 Tablespoon Salt (For Boiling)
2 Tablespoons Broth
Recipe
Remove the shrimp's shell, wash well, then dry well with kitchen paper.
Slice garlic and parsley.
Cut Zucchini into half-moons.
Place water into a deep pot, boil pasta as instructed on the package, then take 2 tablespoons of broth and place into a bowl on one side.
Pour Otoko-no-Negiabura into a frying pan, fry garlic, and cayenne pepper on low heat until fragrant.
Add shrimp and lemon juice into the pan, then the zucchini, parsley, lemon skin, and finally the 2 tablespoons of broth. Heat until shrimps heated fully. Add soy sauce.
Leave on medium heat, then place spaghetti into the pan, ensure the pasta is mixed well, then plate.
We hope you enjoy this quick and easy menu which is popular with adults and kids alike!
[Survey] Traveling to Japan