Enjoy Apple Picking in Aomori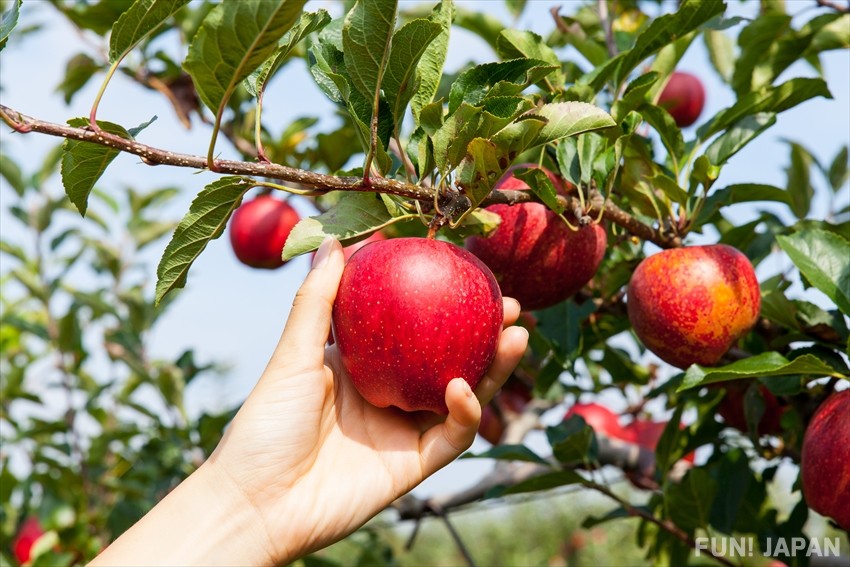 Japan's prime apple grower, Aomori is a fruit-packed prefecture with dozens of opportunities for visitors to try their hand at harvesting. Growing apples since 1875, the people of Aomori have developed a knack for growing crisp, sweet, tangy apples that are shipped around the world. No trip to Tohoku would be complete without an afternoon spent picking apples in a beautiful orchard, and there are plenty of varieties to try.

Why Go Fruit Picking in Aomori?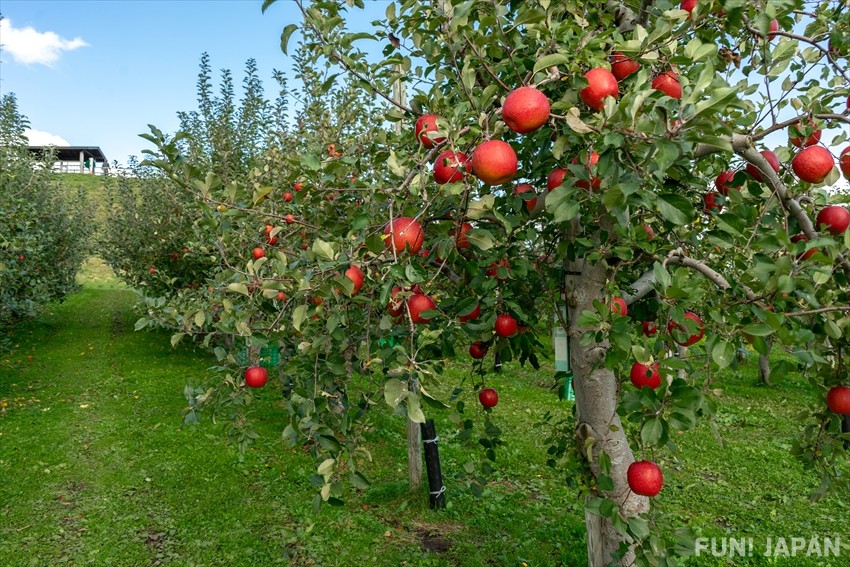 Aomori is a stunning prefecture famed for its delicious apples. While you can pick one up at a local grocery store or market, picking your own is a unique way to experience the fun of an autumn apple harvest. There are dozens of farms offering apple-picking along with other fruits, so you can enjoy the taste of fresh fruit that's as fresh as it gets.
Why Are Aomori's Apples Famous?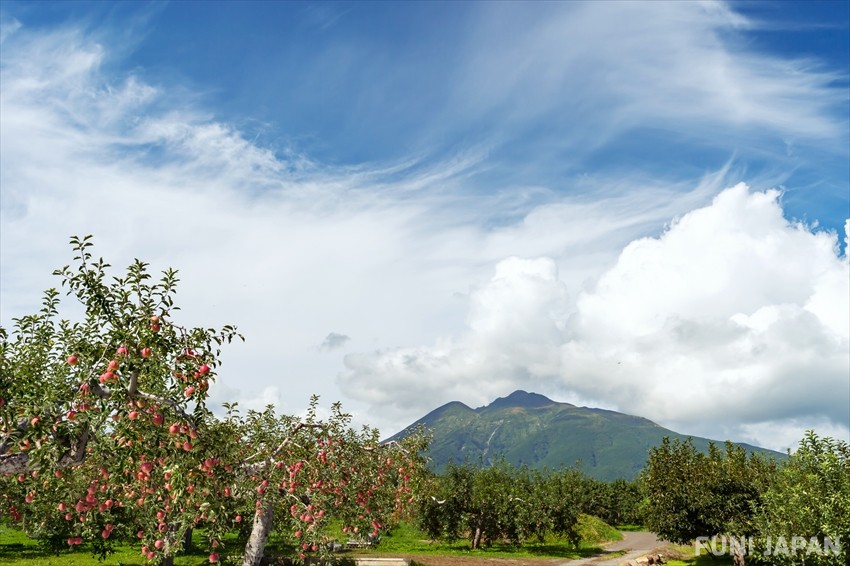 Aomori is the largest apple producer of Japan and grows over 50% of all apples eaten in the country. Known for having dozens of varieties, dedicated apple growers and the perfect climate, the apples of Amori are especially delicious. The northern prefecture has the perfect cool climate for apples, with temperatures falling in the evening, even during summer. The ash from Mt Iwaki's many past eruptions provides mineral-rich soil while the now-dormant mountain also blocks the north-westerly sea wind. The apple growers are known for their 'joppari' spirit which is a mix of dedication, stubbornness and protectiveness. The growers have a year-long process for growing apples, with ten stages requiring true love and care and resulting in bountiful harvests of perfect, delicious apples.
When To Go Fruit Picking in Aomori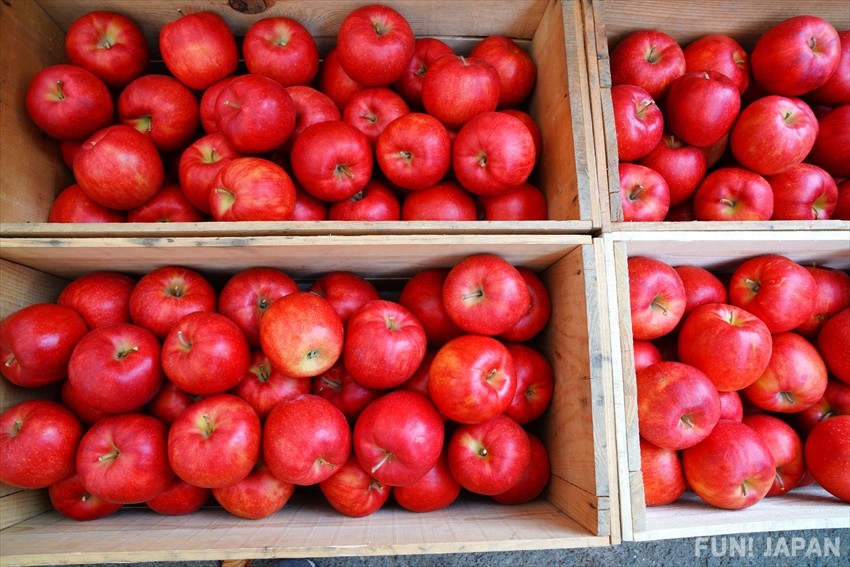 The apple-harvests in Aomori begin as early as June, but the majority of farms offer picking from July to November. There are many varieties of apple grown here and all have slightly different harvest times, so you'll have plenty of opportunities whether you visit in late, mid or early-season. Be sure to read our guide to Aomori's apple varieties to help pick out your favourite!
1. Iwaki-san Kanko Ringo-en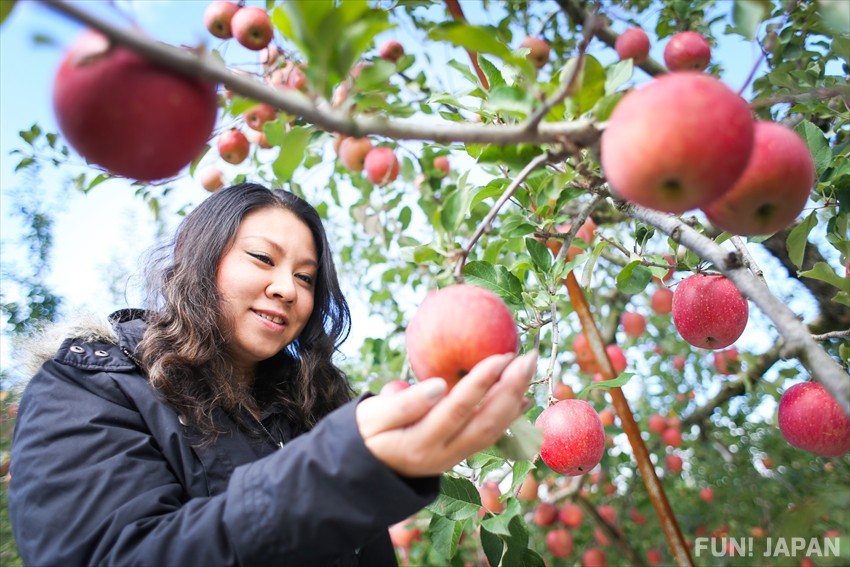 At the foot of Mt. Iwaki, the Iwaki Kanko Apple Garden is home to over 2000 trees and 40 apple varieties including Fuji, Tsugaru, Toki and Hirosaki Fuji. Surrounded by fantastic scenery, it is a great spot to enjoy the best Aomori has to offer. Alongside apples visitors can also pick cherries, plums, peaches and corn. As well as apple picking, you can adopt an apple tree for 16,250 yen per year, including a name plaque on the tree, updates and shipping of apples, with harvesting experience optional. Owners can expect to receive about 30kg of apples per harvest, with a selection of apple varieties available.
Apple picking is available from mid-July to mid-November, costing 800 yen per person or 2,000 yen with additional souvenirs.
Spot Information
Name: Iwakisan Kanko Ringo-en or Iwaki Kanko Apple Garden (岩木山観光りんご園)
Address: Terasawa 120-3 Hyakuzawa, Hirosaki, Aomori
Location: The orchards are located to the West of Hirosaki city at the foot of Mt. Iwaki.
Access: The orchards are best reached via car, they are a 20 minute drive from JR Hirosaki Station
Hours: 9am - 5pm (apple picking from 9.30am to 4.30pm)
Activity Fee: 800 yen
2. Kuroishi Kanko Ringo-en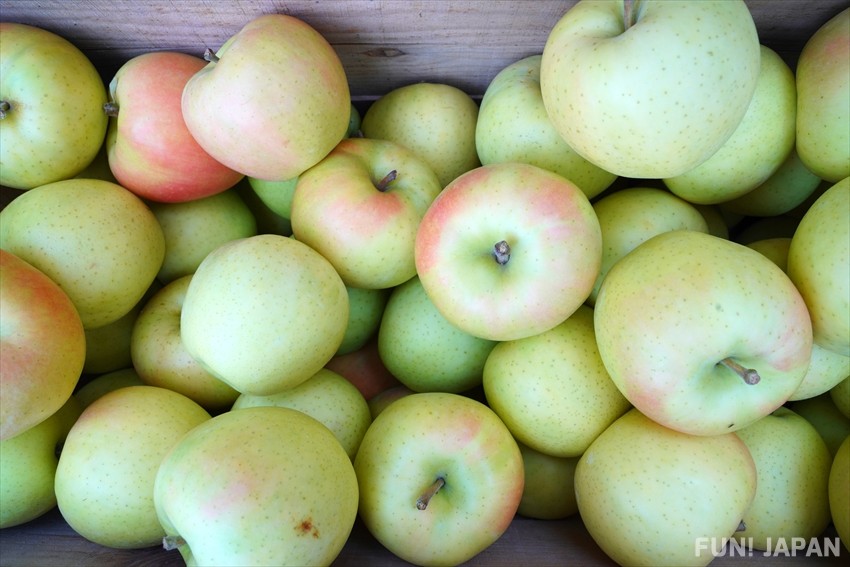 Right in the heart of the Hakkoda mountains, Kanko Ringo-en is an apple and cherry picking farm. The farm grows a variety of apples including Orin, hokuto, Jonagold, Fuji and Tsugaru and visitors can enjoy comparing the apples as they pick them.
Apple picking is available from early September to mid-November, with different apples available depending on their harvest schedule. The experience costs 1,100 yen per person allowing visitors to pick 1.5kg of apples as well as presenting them with a souvenir and an apple basket.
Spot Information
Name: Kuroishi Kanko Ringo-en or Kuroishi Tourist Apple Orchards (黒石観光りんご園)
Address: Tatsunokuchi Aseishi, Kuroishi, Aomori
Location: The park is located close to Nakano Momijiyama Mountain, close to Hirosaki.
Access: The park is best accessed by car from the Tohoku Expressway by the Kuroishi Interchange onto Highway 102. It is a five minutes drive from there. By bus, you can catch the Kuroishi-Ogami line from Konan Railway Kuroishi Station alighting at Kogano bus stop - the journey takes around 20 minutes.
Hours: 9am - 4pm
Activity Fee: Apple picking costs 1,100 yen per person.
3. Hirosaki Apple Park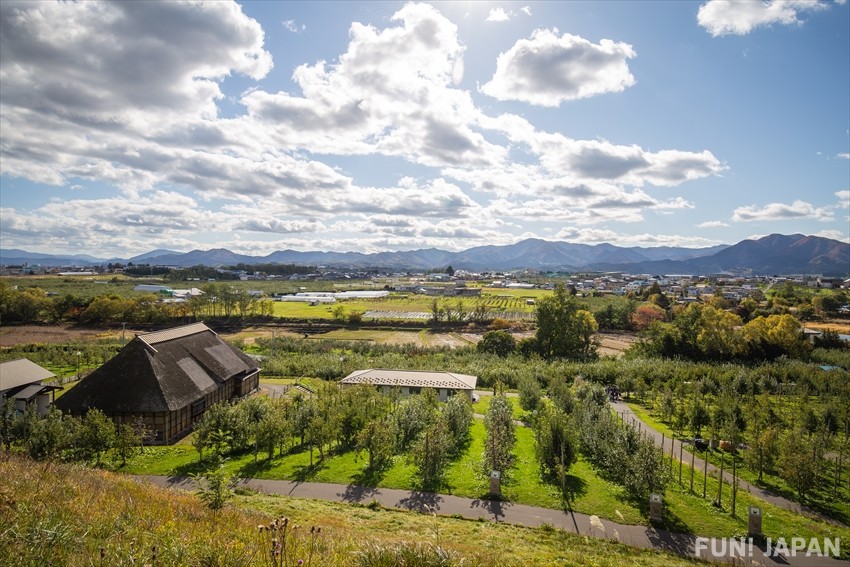 A great sightseeing spot for visitors in Hirosaki, the city's apple park has over 1300 trees with 65 different apple varieties. There is a special experience section of the park where visitors can try their hand at different stages of the apple-growing process, such as picking, sorting and bagging apples. There is also a cafe with a large range of dishes featuring apples, a special apple shop with over 1000 items and a Cider brewery. There is a weekend-long Apple Harvest Festival in late September with food and music from Ringomusume.
Apple Picking is available from August to November and costs 350 yen per kilogram of apples picked. If you are visiting during apple blossom season, you can try the apple blossom picking experience in early May. If you visit between late May and early July, you can join staff in picking unwanted apples to help crops grow stronger.
Spot Information
Name: Hirosaki Apple Park (弘前市りんご公園)
Address: Terasawa 125 Shimizutomita, Hirosaki, Aomori
Location: The park is located to the south-west of Hirosaki city.
Access: The park is best reached by taking a bus from JR Hirosaki Station, with special Tamenobu loop buses available for 100 yen.
Hours: 9am - 5pm (picking available until 4pm)
Activity Fee: Park entry is free but apple picking costs 350 yen per kg
4. Aomori Ringo-no-Sato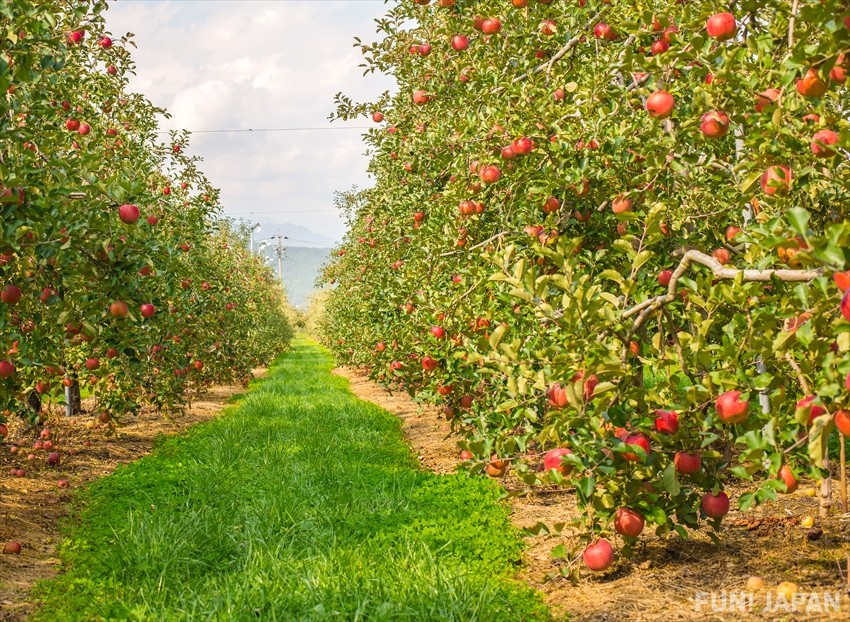 With over 1000 apple trees and 35 varieties of delicious Aomori Apples, RIngo-no-sato is a great place to experience apple-picking. Apple picking is available from August to November costing 200 yen per person which includes two apples. Cherries can be picked from late June to July, costing 1000 yen per adult for an hour of all-you-can-eat (reduced prices available for children).
Spot Information
Name: Aomori Ringo-no-Sato (青森りんごの里)
Address: 1-6 Abeno, Tamoginno, Aomori
Location: The orchard is located to the south-east of Aomori city.
Access: The park is best accessed via the Naka Tsutsui Line which leaves from bus stand three and takes around 35 minutes, alighting at Tamogino Kominkan mae bus stop.
Hours: The orchard is open from 9am - 4pm.
Entry Fee: Apple picking costs 200 yen per person while cherry-picking is 1000 yen per person. 
[Survey] Traveling to Japan
Recommend