Exploring Magnificent Kamikochi in Nagano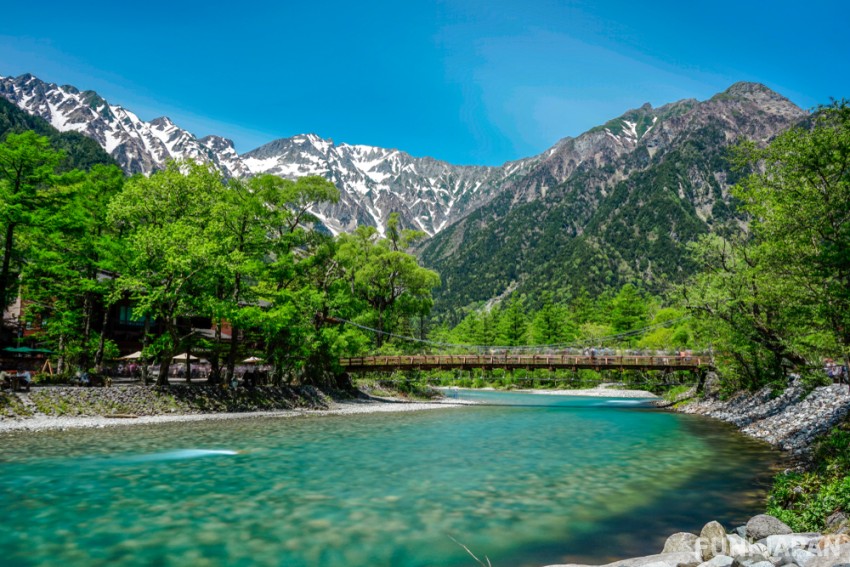 Up in the Northern Japanese Alps, Kamikochi is an alpine escape that draws keen hikers every year. The area is part of the Chubu Sangaku National Park and is a 15km plateau surrounded by towering mountains and lush green forests. The area has long been protected, with only a handful of hotels and restaurants, and access only allowed via public transport. At an elevation of 1,500 meters, it stays cool and is especially popular in summer, with many visiting from Tokyo and nearby Matsumoto.

It's worth noting that Kamikochi is closed from mid-November to Mid or late April each year.
Scenic Spots in Kamikochi
The entirety of Kamikochi could easily be considered a scenic beauty spot in itself, but there are some especially picturesque places to visit. If you follow the Azusa River you can't go far wrong - its trails will lead you to magnificent ponds and suspension bridges - all surrounded by beautiful mountain reigns, dusted in snow or draped in autumn leaves.
Taisho Pond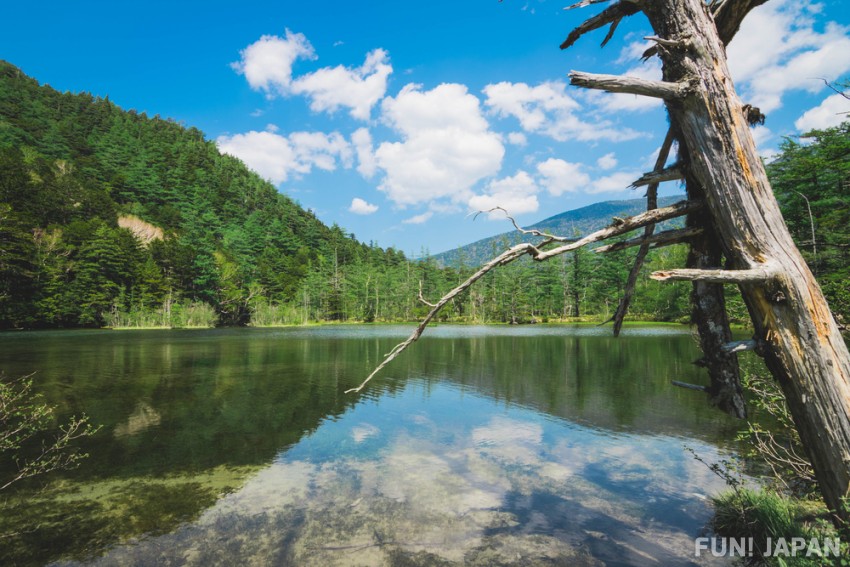 Taisho Pond is the product of an eruption from Mt. Yakedake back in 1915 and has since become one of the most beautiful sightseeing spots in Kamikochi. The pristine waters still hold a few decayed trees, serving as reminders of the potentially dangerous nature of the mountain range. The peaks of Mt. Hotakadake and Mt. Yakedake are often reflected in the mirror-like surface and in Autumn the golden leaves add an extra layer of beauty. Nearby are some additional spots worth a visit including Tashiro Pond and Tashiro Marsh.
Spot Information
Name: Taisho-ike Pond (大正池)
Address: Kamikochi Azumi, Matsumoto, Nagano, Japan
Location: Taisho Pond is an hour's pleasant walk from Kappa Bridge or a short bus ride away.
Kappa Bridge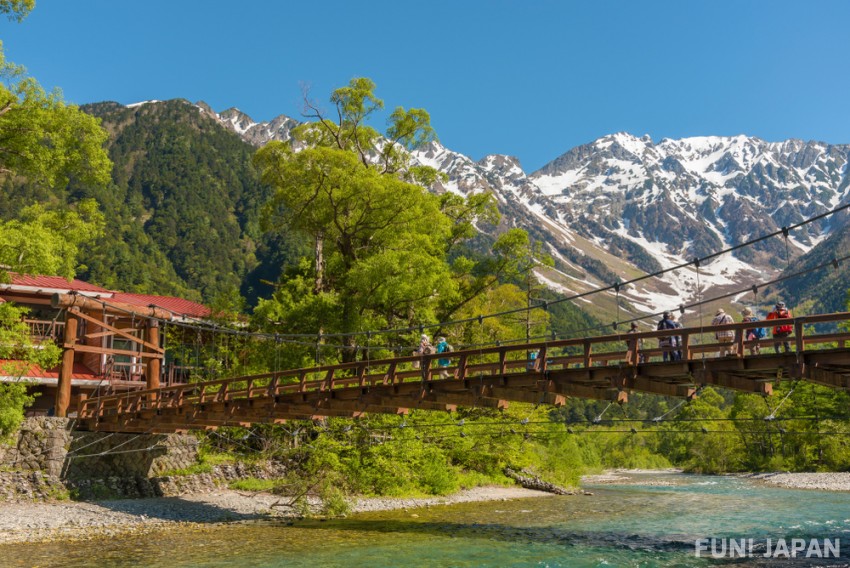 At the heart of the Kamikochi area, Kappabashi (Kappa Bridge) is a stunning spot with blue waters and mountains in the background. There are a handful of restaurants and cafes nearby and it's one of the first places many visit when arriving in Kamikochi. The Azusa River runs beneath the suspension bridge while the peaks of Mt. Yakedake, Mt. Myojindake and the Mt. Hotaka are visible in the distance.
Spot Information
Name: Kappabashi (河童橋)
Address: Kamikochi Azumi, Matsumoto, Nagano, Japan
Location: The bridge is a short walk from the Kamikochi Bus Terminal which has direct bus services from major cities and local towns.
Myojin Pond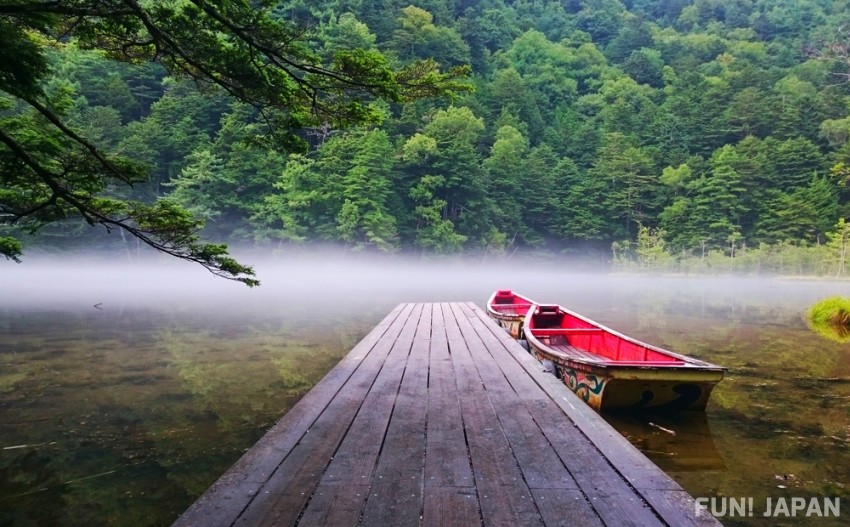 Made of two smaller ponds known as Myojin first and second ponds, this is a slightly out-of-the-way destination with lovely views. Beside the pond is the small Hotaka shrine which holds an impressive Omizugaeshi festival on the water each year. The area is an hour's hike from Kappa Bridge and if you've worked up an appetite luckily the Kamonjigoya cafe has delicious snacks and drinks to enjoy.
Spot Information
Name: Myojin Pond (明神池)
Address: Myojin Pond, Matsumoto, Nagano, Japan
Location: The pond is an hour's walk from Kappa Bridge along clearly signposted trails.
Cost: Entry to the pond is 300 yen (adults).
Hiking Trails in Kamikochi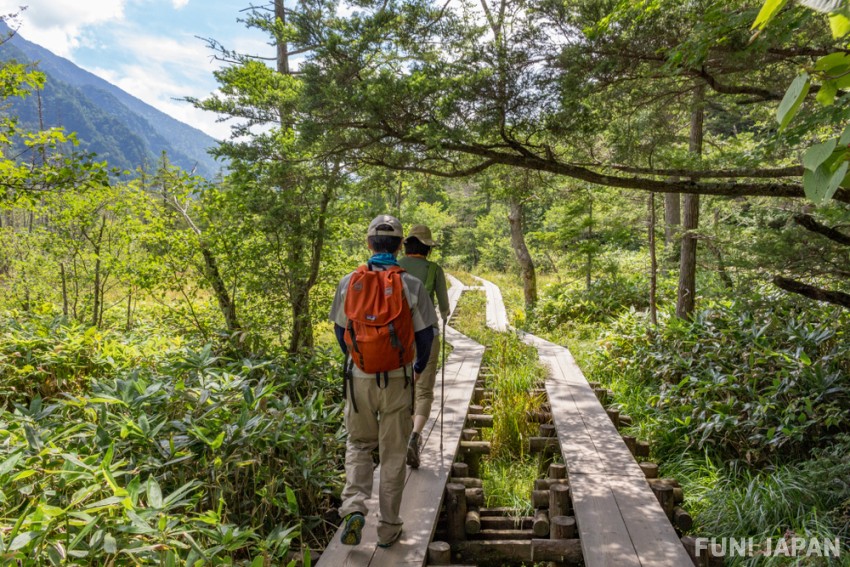 Hiking in Kamikochi involves a wide variety of trails with varying levels of difficulty thanks to the surrounding mountains. For many of the more serious hikes, it is necessary to fill in the Trekking Itinerary to detail your plans and ensure you are aware of the risks and preparations required to hike safely. The season is relatively limited as the weather quickly turns icy. However, the central area of Kamikochi has some great beginner-level trails that require no more than comfortable shoes to enjoy!
Azusa River Trail - An Easy Stroll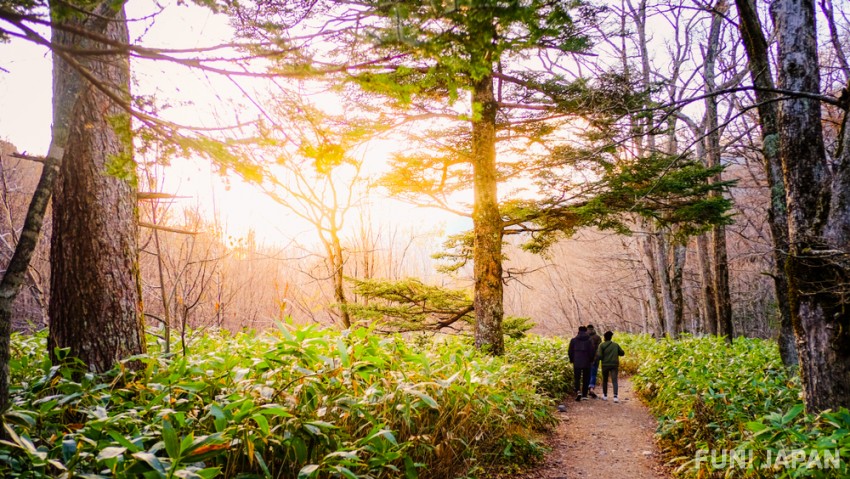 Possibly the best place to start when you arrive in Kamikochi, the riverside trails run either side of the beautiful Azusa river. You can follow them north for around an hour to reach the popular Myojin pond and its neighboring Hotaka Shrine. If you head south for a similar time you'll find the Taisho and Tashiro Ponds. The trails are very well maintained and are boarded in many sections, so it is a popular route for those seeking a casual stroll with some sightseeing along the way.
Difficulty: Beginner
Length: 6-7km
Time: Around 2 hours depending on additional sightseeing breaks along the way
Access: Can be started either from Taisho Pond, Myojin Bridge or the central point of Kappa Bridge - all accessible by bus.
Mt. Yakedake - Beginner's Volcano Hike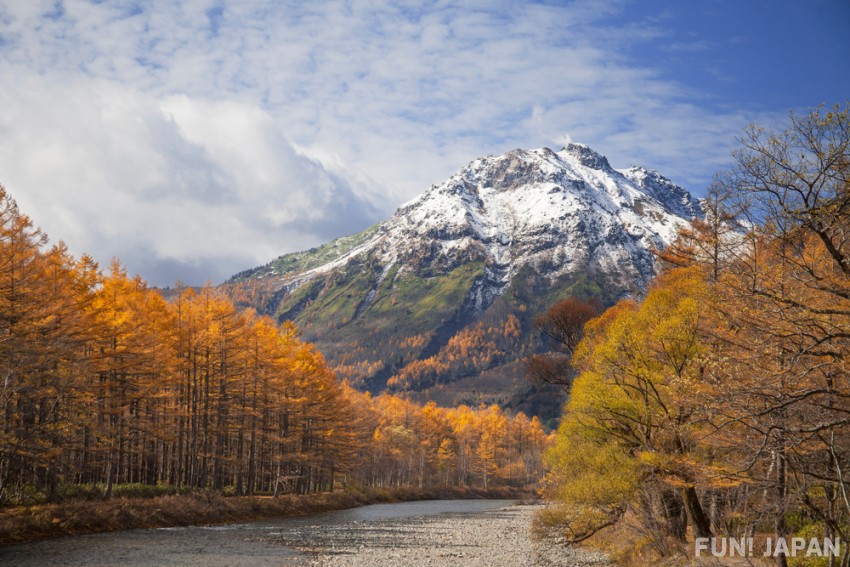 The only remaining active volcano in the Northern Japanese Alps, Mt Yakedake is a surprisingly manageable hike for those with some experience. Starting from Kamikochi the route to Nakanoyu takes around a day as it is only 6.4km. You'll be greeted with amazing views from the top and can enjoy a rest at the popular Butterfly rock. Taisho pond can be found at the foot of the volcano and was formed by an eruption in 1915. As it is still an active volcano be sure to heed all warnings and look out for updates and advice on what to do if an eruption occurs.
Difficulty: Beginner
Length: 6.4km
Time: 5-6 hours
Access: There are parking areas at both trail points. Access to Nakanoyu via bus requires an additional 3km walk with buses available from Shinshimashima Station which is a 30-minute train journey from Matsumoto Station.
Mt. Chogatake - Intermediate Hike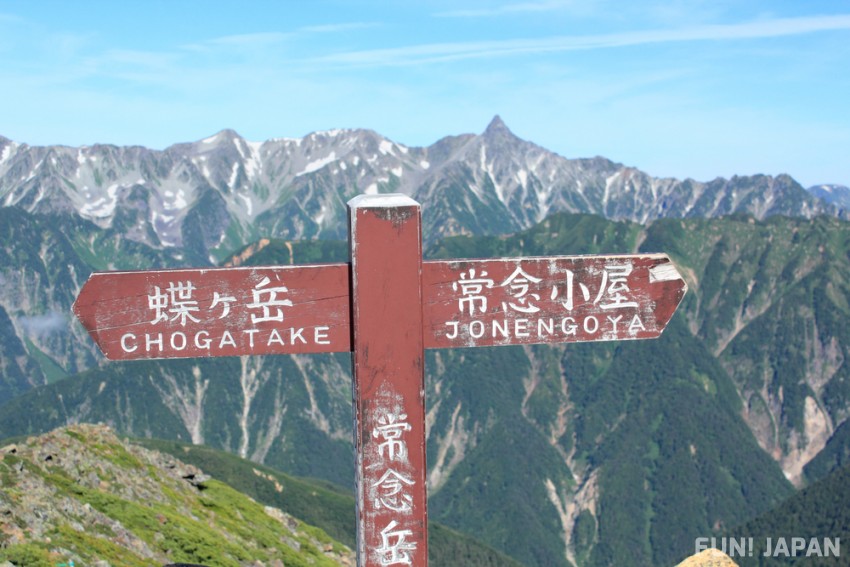 Mt Chogatake is an intermediate level hike that generally requires an overnight stay either camping or in the Mountain Lodge along the route. It is best started from Tokusawa which is a meadow area formed from old pasture land and now provides a great camping spot for hikers. Alternatively, you can stay at the mountain lodge, waking up to amazing sunrise views of the Mt. Yari and the surrounding Japanese Alps. The mountain also has trails starting from Yokoo, which has great views but a ridgeline that can be dangerous in windy weather.
Difficulty: Intermediate
Length: Dependent on route
Time: Dependent on route
Access: Tokusawa can be walked to in approximately 2 hours from Kappabashi Bridge.
Mt. Oku-Hotakadake: More Advanced Hiking Trails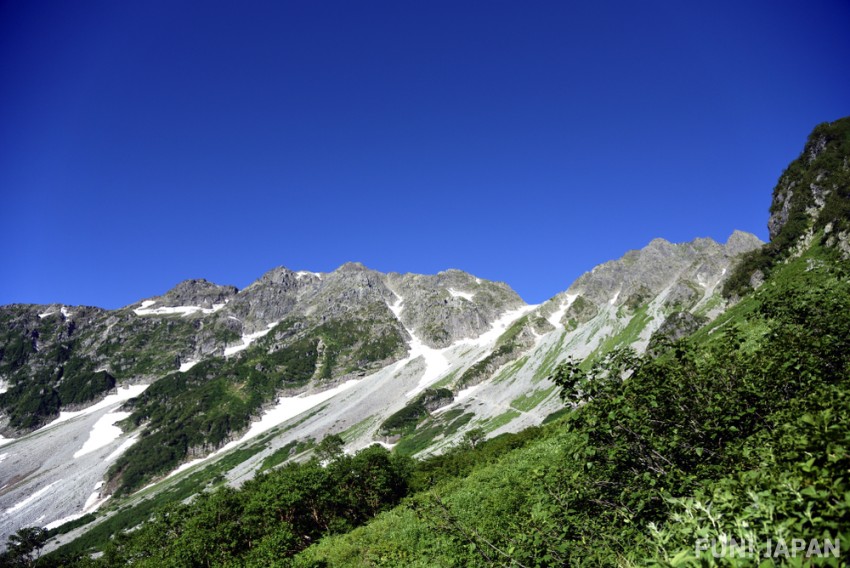 One of the more advanced level mountains with a world-wide reputation, Mt. Oku-Hotakadake is one of the Hotaka Mountains. There are now mountain lodges and guides who can make the journey more manageable, but the trails are still dangerous and require careful preparation and planning. From Kamikochi the most common route is the Karasawa Route which takes you via Tokusawa and Yokoo. Alternatively, you can climb the Dakesawa route although this is considered an expert-level route.
Difficulty: Advanced
Length: 38.7km
Time: Two nights, three days
Access: Tokusawa can be walked to in approximately 2 hours from Kappabashi Bridge.
How to Get to Kamikochi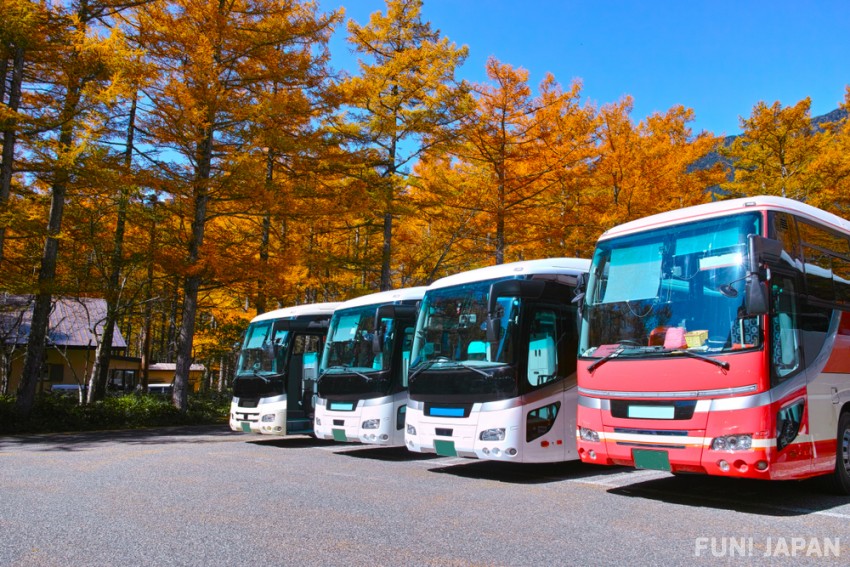 Kamikochi is not directly accessible by private vehicle, so you will need to use public transport or bicycle for at least some of the route. There are direct bus services from Tokyo, Osaka and Kyoto (between 5-7 hours) and Nagano (2.5 hours). From Matsumoto you can take the train to Shin-Shimashima Station and catch the bus (no reservation required) to Kamikochi, which takes approximately one hour. Cars can travel as far as the Sawando and Hirayu Parking lots before taking a bus or taxi to Kamikochi (about 20-30 minutes). Cyclists can reach the area by bike, but are not permitted to cycle within the Kamikochi area, so must bring bike-bags to store bicycles while using public transport.
[Survey] Traveling to Japan
Recommend