Where to Go Fruit Picking in Nagano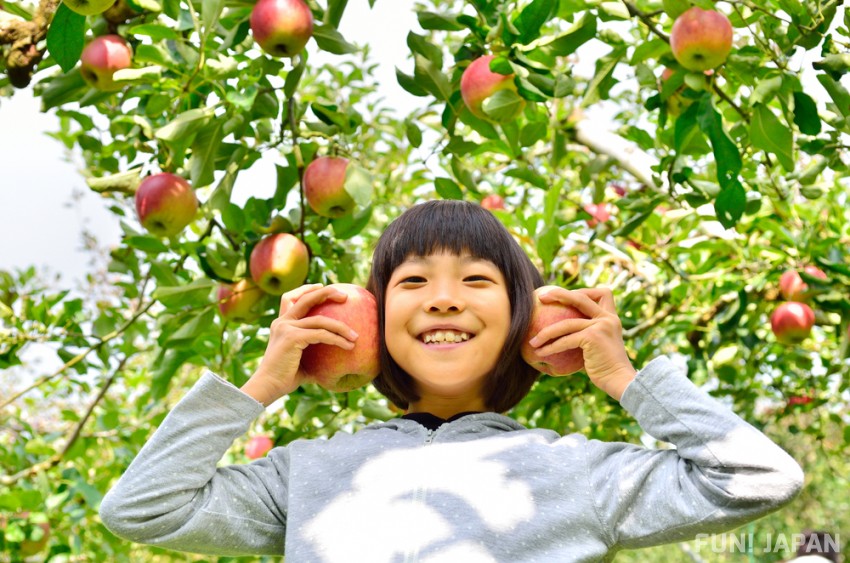 It's true that Japan's fruit is exceptionally delicious, it doesn't have to be prohibitively expensive. One way to try local fruit is to go fruit picking at a local farm, and Nagano is the perfect place to try it.
What is Fruit Picking?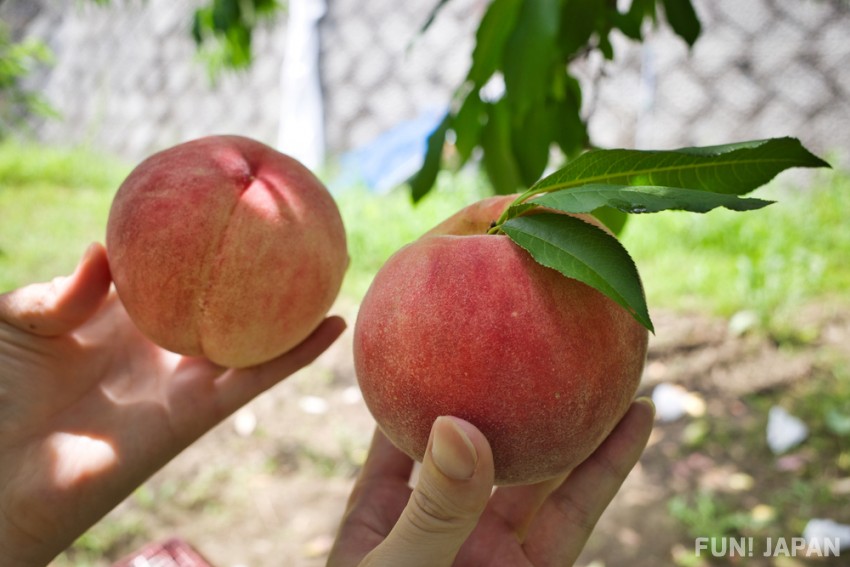 Fruit picking is a fun activity for everyone - from families to couples to groups of friends. Whether you wander through an orchard collecting apples or stroll through rows of strawberries, it's an enjoyable and delicious experience. As you eat to your heart's content, you can also learn about the fruit varieties, the best growing conditions and the farm's history. It is a great way to meet local farmers and learn about rural life - as well as trying some of the amazing high-quality fruit grown in Japan. Most experiences are all-you-can-eat, while some allow you to select a certain number of expensive fruits such as peaches to take home or enjoy there. There are also often many options for souvenirs and fruit to take home as a snack or gift!
Seasonal Fruit From Nagano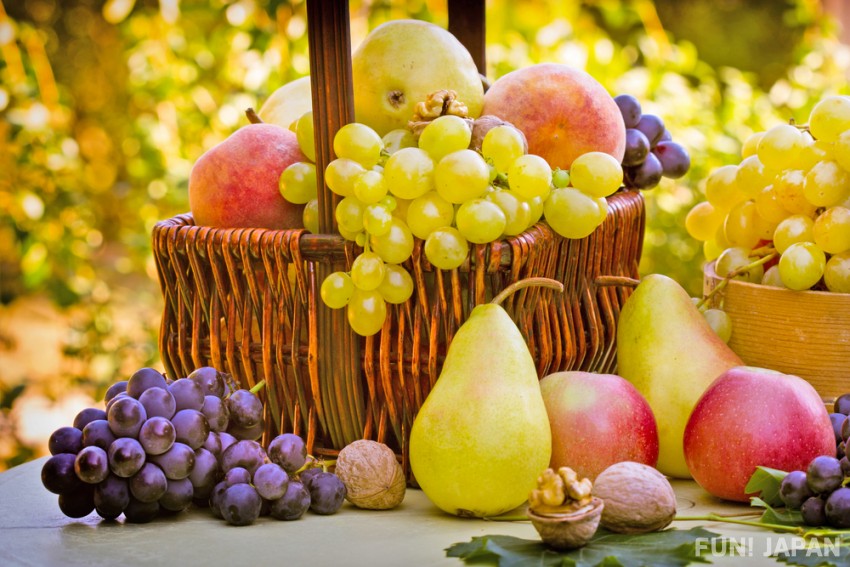 Nagano is known across Japan as the home of fruit and owes its success to some of the longest hours of sunlight in the country, mineral-rich volcanic soil and warm days with cool nights thanks to its high elevation. While there are many fruits you can try in Nagano, there are some that are especially famous.
Apples: From Tsugaru to San Fuji
Apples are the most famous of Nagano's fruits, with many varieties to choose from. The season lasts from late-August to late-December which is unusually long for apples. While Aomori is the main prefecture associated with apples in Japan, Nagano is a close second and grows varieties like the juicy San Fuji and the sweet Tsugaru. There are also a group known as 'The Three Apple Brothers': Shinano Gold, Shinano Sweet and Akibae.
Grapes: The largest you've ever seen
Grown for eating rather than wine production (such as grapes in the Tokai region) the grapes of Nagano are likely to be some of the biggest you've seen. They grow from mid-August to mid-October, with some of the most popular varieties being Kyoho, Nagano Purple and Shine Muscat.
Peaches: Sweet and delicious
Peaches are a popular fruit across Japanese culture - from legendary characters like 'Momotaro' to cute characters like Princess Peach, they are a fun fruit as well as delicious. Often costing upwards of $10 per peach in stores, picking them is a great way to try the best varieties for less. Kawanakajima is popular varieties and the best time to pick them is in August.
Where to Try Fruit Picking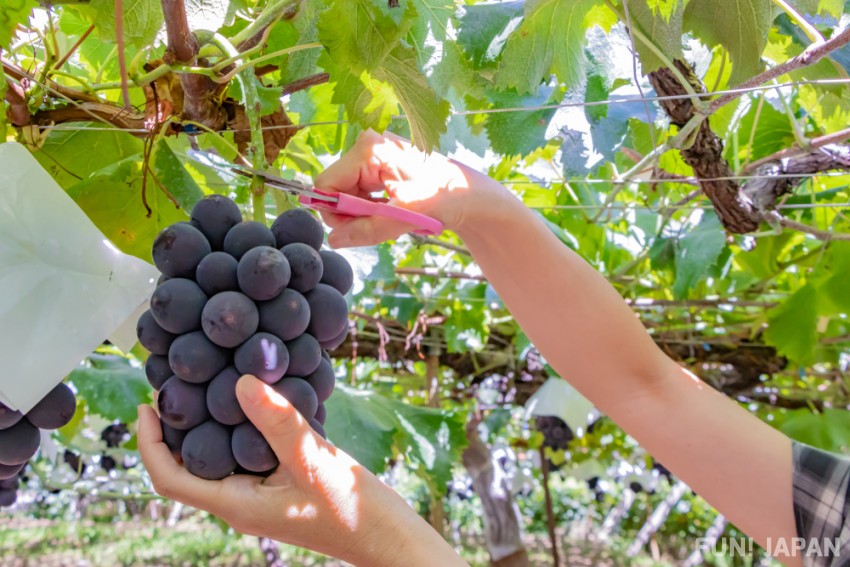 There are many different farms that offer fruit-picking experiences in Nagano. Many are small local farms, which you will likely spot when driving. Some farms are larger and have a mixture of fruits and cafes to try the fruits in new ways, while some even have fruit-guides and cooking classes!
Azumino Fruits Land: Blueberries, Grapes, Prunes and Pears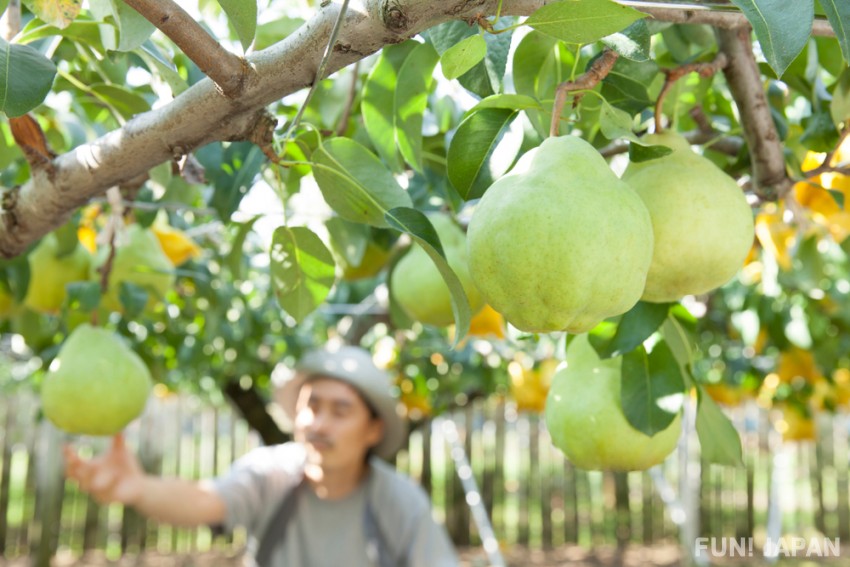 Azumino farm is a mixed-fruit farm with a mixture of all-you-can-eat, pay-by-weight and even the chance to become an apple-tree owner! For fruit-picking, they have blueberries and strawberries (all-you-can-eat) with many varieties. They also offer a mixture of grapes including seedless and seeded varieties. An unusual option, their prunes are sour but sweet and great to take home to make jams and cakes. Last but not least, their pears are a popular choice with the Aurora variety known for being very large. Aside from the blueberries and strawberries, all fruits are pay-by-weight and range from 70-150 yen per 100g depending on type and variety. If you like, you can buy an apple tree for 10,000 yen or 20,000 yen, receiving 25kg or 50kg each year respectively, but don't worry - the farm staff will take care of your tree until you visit!
Spot Information
Name: Azumino Fruits Land (あづみ野フルーツらんど)
Address: 4644 Misato Ogura, Azumino, Nagano, 399-8103
Location: Azumino Fruits Land is close to Matsumoto City. The nearest train station is Hitoichiba on the Oito Line, but it is over an hour's walk from the station, so a car or taxi is required.
Hours: 10:00 - 16:00 (Reservations Required)
Regular Closing Days: Mondays
NTA Farm: Apple Picking and Cycling Tours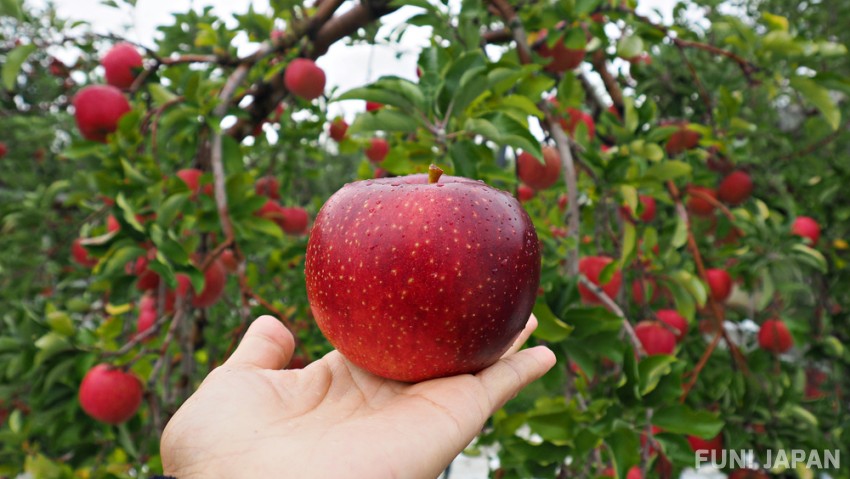 NTA Farm is an excellent option for picking fruit as there are dedicated English-speaking guides to help explain the different fruit varieties and farming experience. Located in northern-Nagano, they offer cycling tours with apple picking as well as a simple apple-picking experience. No reservations are required for this farm, making it perfect for last-minute plans. While it feels like a large farm, it is still family-run and a close-knit community of guides and workers. Apple picking is available between late-September and late October and costs 1,100 yen per person. There is also an opportunity to make candy-apples on certain days - check the schedules ahead of your visit for more details.
Spot Information
Name: NTA Farm (日本旅行ファーム)
Address: 669-4 Iiyama, Nagano, 389-2253
Location: The farm is a seven-minute walk from Iiyama Station which is served by the Hokuriku Shinkansen.
Hours: 10:00 - 16:00
Mirahashi Farm: Fruits, Vegetables and More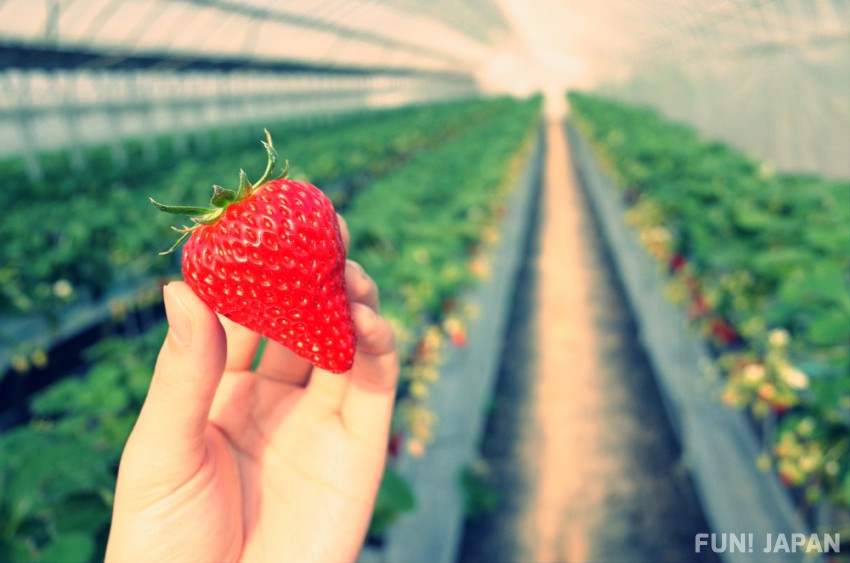 Another spot with a wide variety of fruits, Miharashi Farm is especially popular as it offers cooking classes, accommodation and outdoor activities as well as fruit-picking. Here you can pick strawberries, Blueberries, Apples and Grapes, as well as vegetables like asparagus and sweetcorn. They have fruits in season from January to November, so there is almost always something to try. Prices range from 1,200 yen - 1,900 yen for strawberries (depending on the month) for strawberries, 1,100 yen for blueberries, 600 yen for apples and 1,300 yen for grapes. All courses are all-you-can-eat with no time limit for strawberries, but one hour for the other fruits. There are jam, bread, soba and tofu-making classes to try as well as a hot spring, making it a full day to enjoy.
Spot Information
Name: Miharashi Farm
Address: 3416-1 Nishiminowa, Ina, Nagano, 399-4501
Location: Miharashi Farm is in Ina-city and is a 20-minute bus ride from the Ina Bus Terminal at Inashi Station. The closest bus stop is Miharashi Farm Mae.
Hours: 09:00 - 17:00
Regular Closing Days: None (but no Fruits & Vege Picking in December)
[Survey] Traveling to Japan
Recommend